10+ Brilliant Hamilton Views for Sunrise, Sunset, Nature & More
Residing on the shores of Lake Ontario with the added bonus of the Niagara Escarpment running right through the city, it's not hard to find some great views in Hamilton. Whether you're an early bird looking for an epic sunrise, hoping to catch golden hour after a day of hitting the trails or just want a spot to enjoy some nice sights, these stellar Hamilton views won't steer you wrong.
Disclaimer: This post contains affiliate links where if you make a purchase, I may receive a kickback at no extra cost to you. It helps keep IBB alive so thank you!
Stunning Spots for Sunrise & Sunset in Hamilton
Whether you're an early bird (or a complete night owl, depending on your perspective!) or a fan of chasing the golden hour, these Hamilton views are stunning. The city's orientation along the southern shore of Lake Ontario means you can enjoy some pretty spectacular sunrises and sunsets. The choice is up to you!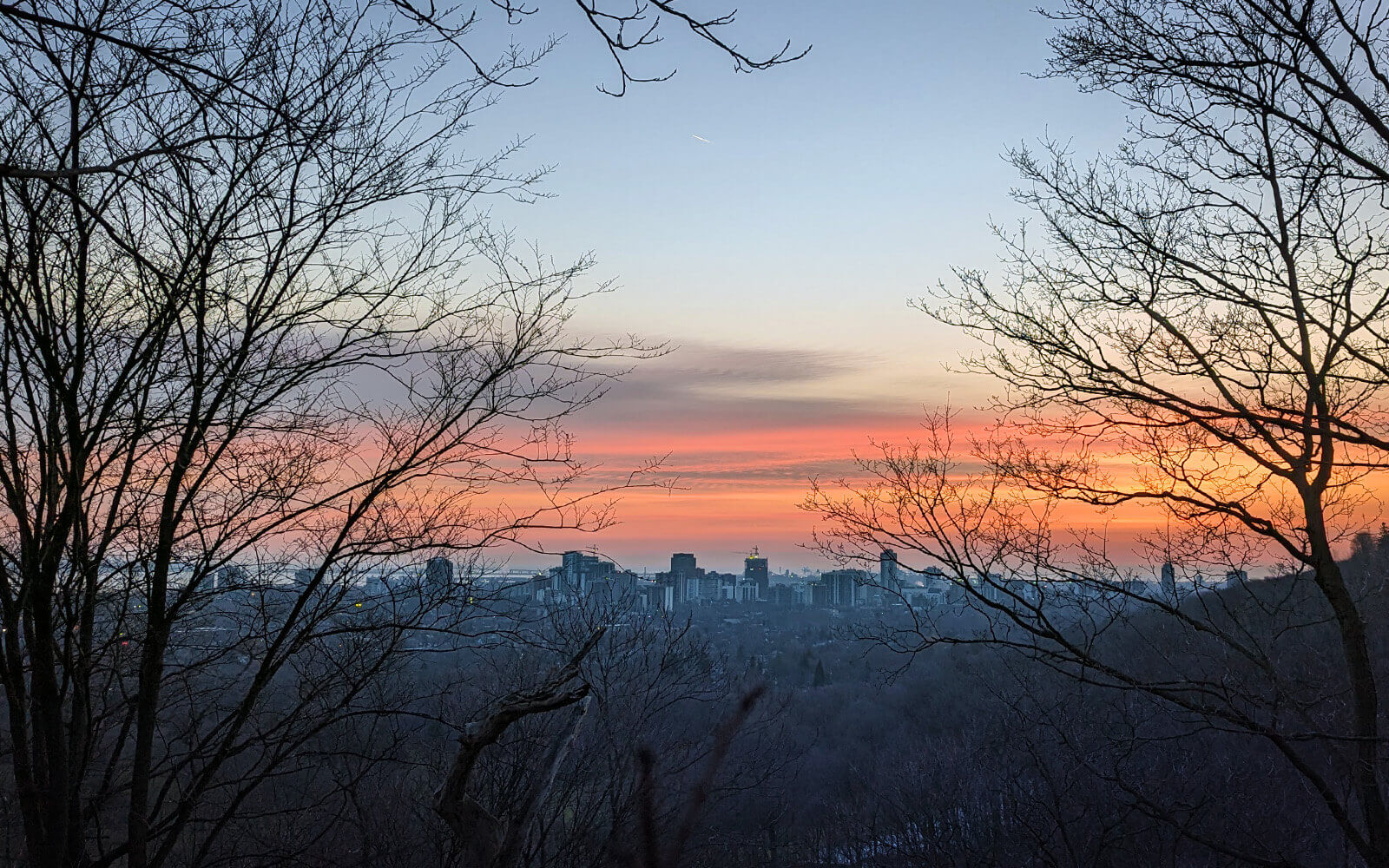 Cliffview Park
Perfectly situated on the edge of the Niagara Escarpment, Cliffview Park is located at the junction of Scenic Drive and Upper Paradise Road. Its unique topography allows for both great views of sunrise and sunset, though I do believe sunrise is a wee bit better. The views are best admired before the trees regain their foliage after the chilly winter months. You can also combine this with a great hike as the park is at the top of the Chedoke Stairs which directly connect to both the Bruce Trail and the Chedoke Radial Trail, two of the many fantastic trails in Hamilton.
If you're wondering why you're hearing rushing water, that's because there's a small waterfall adjacent to the park! Head to the edge of the western side of the park to admire this beauty. If the leaves are on the trees and you can't see much, follow the sidewalk a few metres where you'll find a viewing platform that should offer a better view.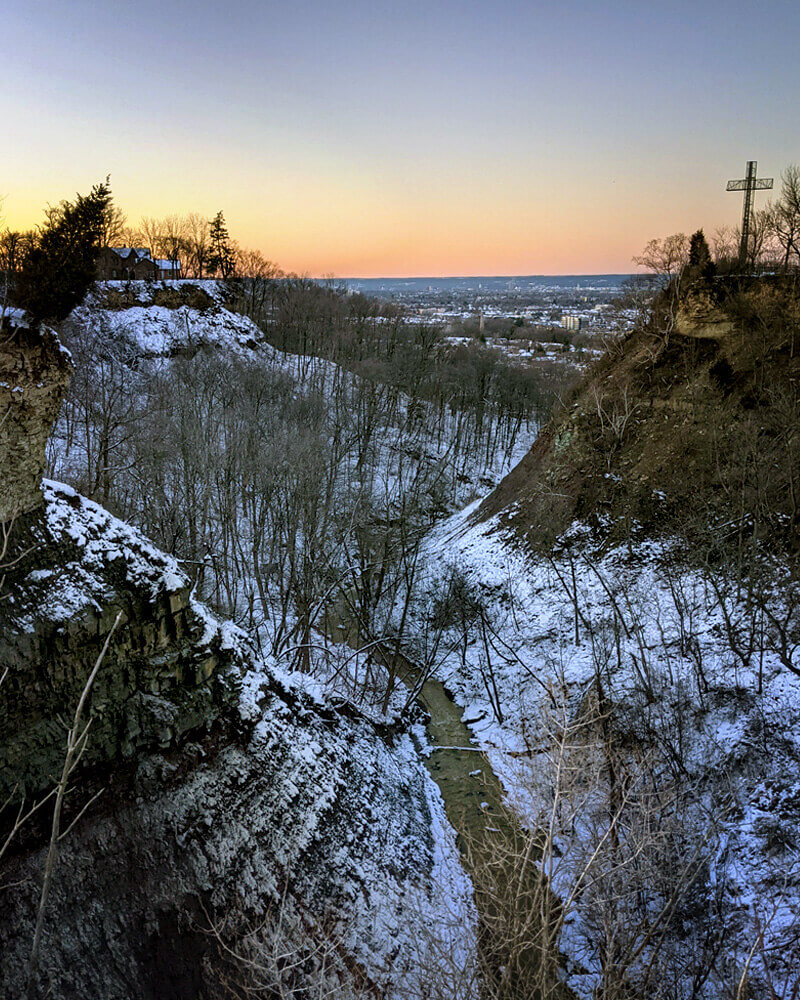 Devil's Punchbowl
Head to the outskirts of Hamilton where you'll find the Devil's Punchbowl Conservation Area in Stoney Creek. From the parking lot atop the Niagara Escarpment, head to the edge where you'll find a fabulous lookout platform. Your eyes will be treated not just to stellar views of Hamilton but also the Upper Punchbowl Falls. Sunset is certainly the best time to soak up these sights as the lookout area faces west, crafting some incredible golden hour views as the sun sets behind the tree line.
Naturally since there's an upper, there's also the Lower Punchbowl Falls. While there used to be a trail from the top of the Escarpment by the lookout area, this is no longer the case. In order to see the Lower Punchbowl Falls, you will have to hike the Bruce Trail to the creek that feeds the waterfall and then follow it upstream. However, you won't get much of a view for sunset as it'll be blocked by the layers of bedrock. 
Parking will run you $8 for the day. However, it's possible to find free parking if you don't mind a bit of a walk. While the sunset will always be stellar, if you want to actually see the Upper Punchbowl Falls then it's best to visit in the winter, spring or after a rain in the summer months as the heat has a tendency to reduce her to a trickle.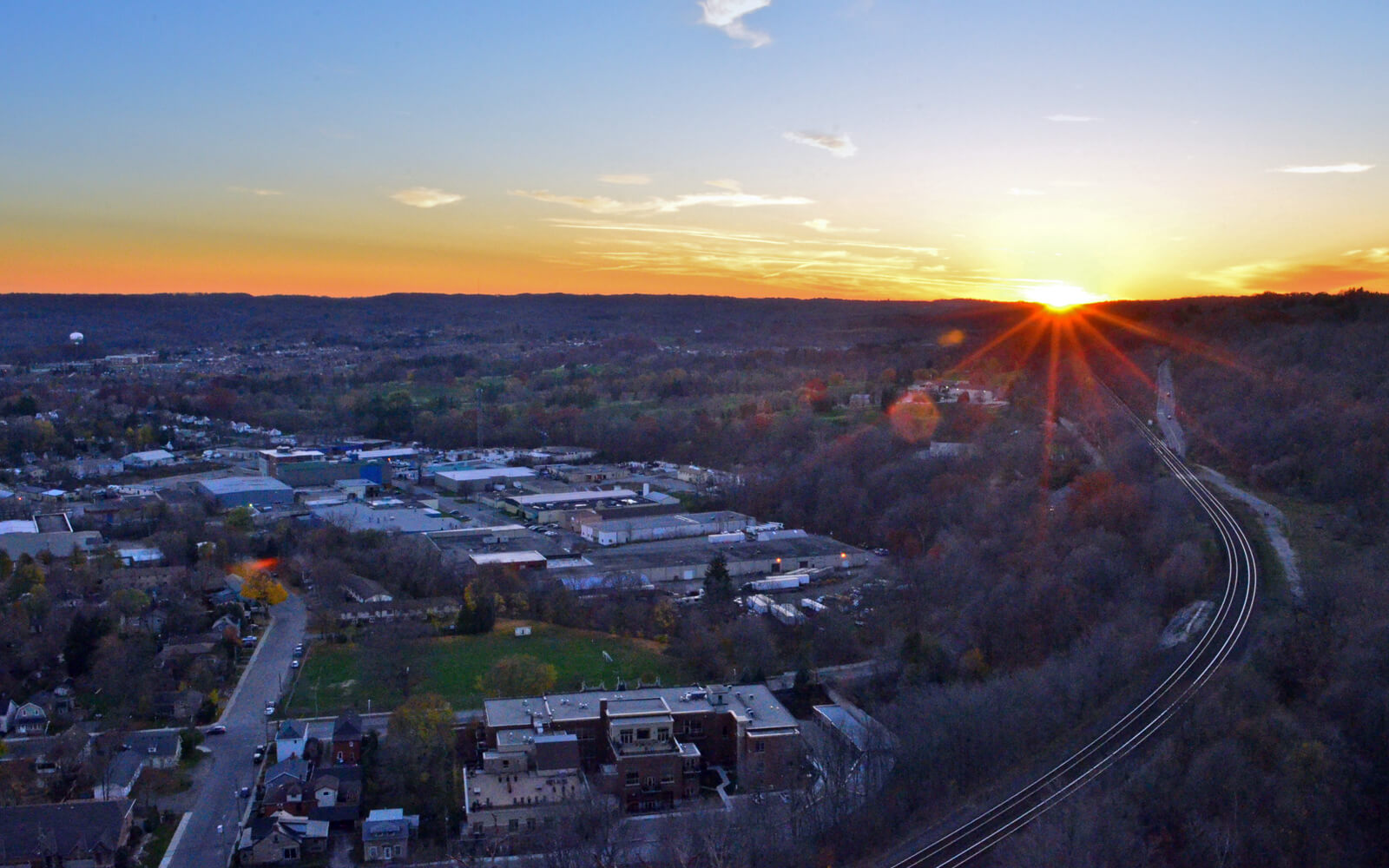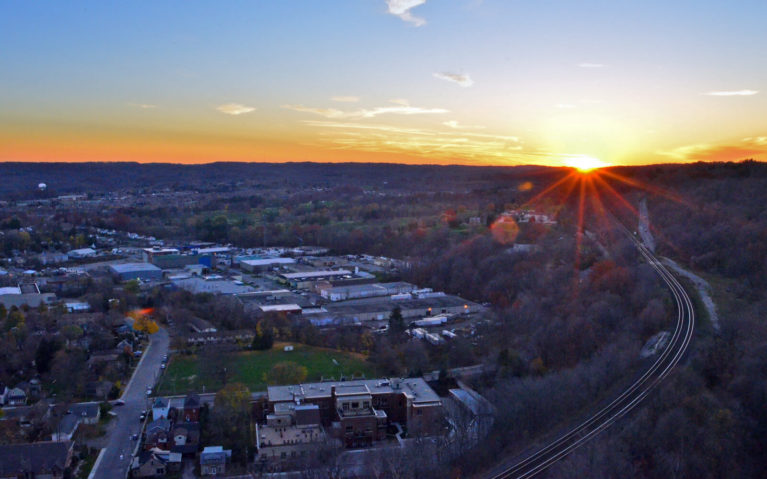 Dundas Peak
Easily one of the most epic lookouts in Hamilton, Dundas Peak is a popular spot thanks to the incredible views it offers of the Dundas Valley. Formed by a river breaking through a highly fractured zone of the Niagara Escarpment, this valley has over 10 bowl-shaped basins that are stacked on top of each other, illustrating earlier positions of waterfalls in the gorge. While Tews Falls now has a crest of just 30 metres, its predecessor from long ago once had a crest of 350 metres, similar to that of the mighty Horseshoe Falls! If you didn't visit before heading to the lookout, make sure you follow the Tews Falls Side Trail to its namesake waterfall before you depart.
SOMETHING TO NOTE: Depending on what time of the year you visit, the Hamilton Conservation Authority's reservation system might be in place. Find out more in my full guide to Dundas Peak.
Dundas Peak's southwest orientation makes it the perfect spot for one of the best sunsets in Hamilton. However in 2021, the Hamilton Conservation Authority installed fencing around the edge of the popular lookout at Dundas Peak. I have mixed feelings about this but it means you can still enjoy the views, they just look a little different than the photo above. And yes, I know Dundas is often referred to as its own separate town but it's technically in the geographical confines of Hamilton so Dundas Peak counts.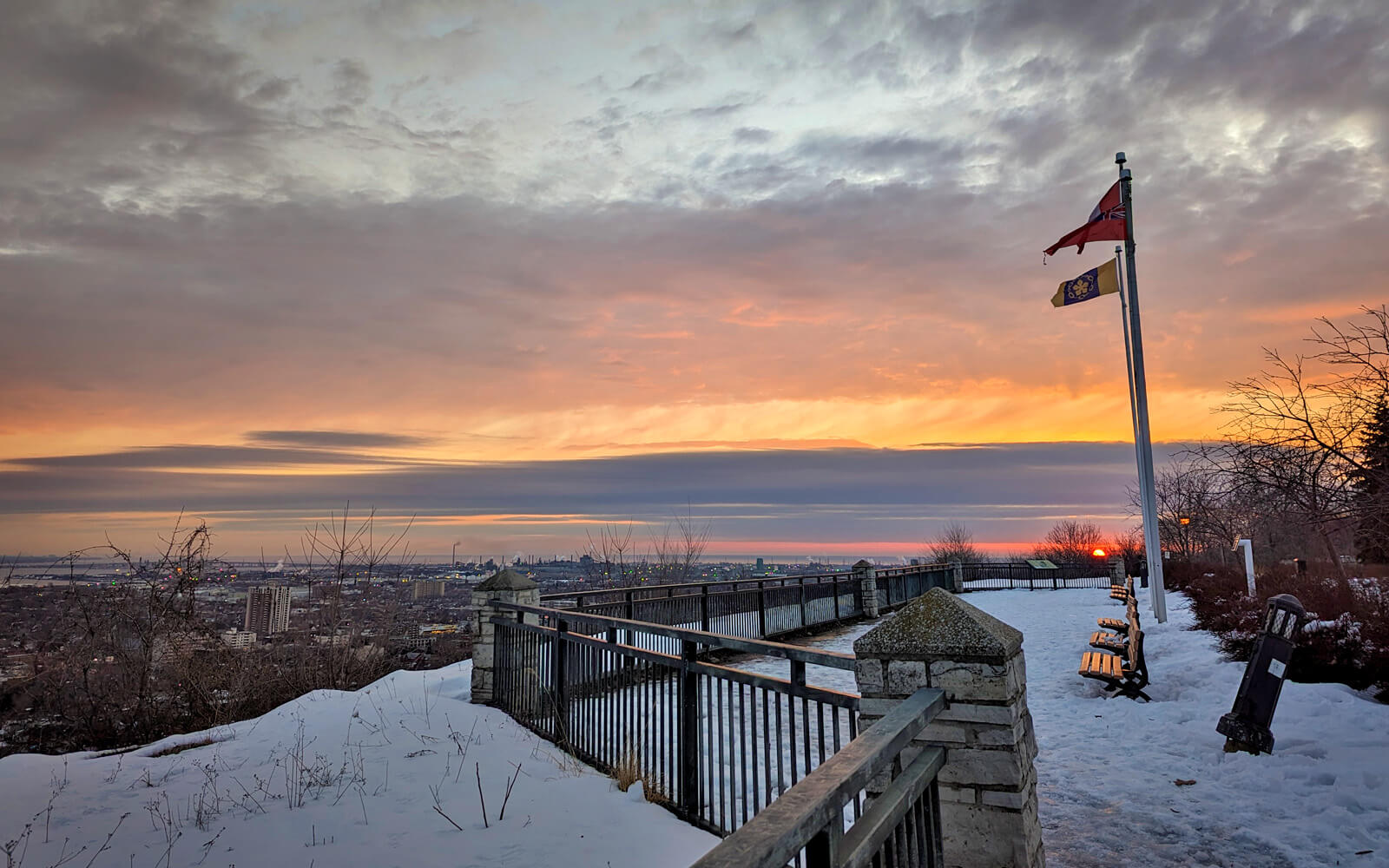 Sam Lawrence Park
Another location up on the mountain, Sam Lawrence Park offers some incredible views of Hamilton and Lake Ontario.  On a clear day, you'll be able to spot the Toronto skyline across the way. A great vista to admire at any time of the day, Sam Lawrence Park is fantastic for sunrise as it faces northeast. Meander along the paved pathways throughout the park or settle in on one of the benches as amber and cerise morph into the day's cerulean skies.
One thing you may not realize is that this park is comprised of three sections – and navigating it isn't the most intuitive. There are two parking lots that will allow you to access different areas of the park. The first is on the left side of the park directly across from Highcliffe Avenue and the other is on the right side across from 13th Street East. Both sections of the park offer fantastic views though I tend to prefer the eastern side of the park a little more!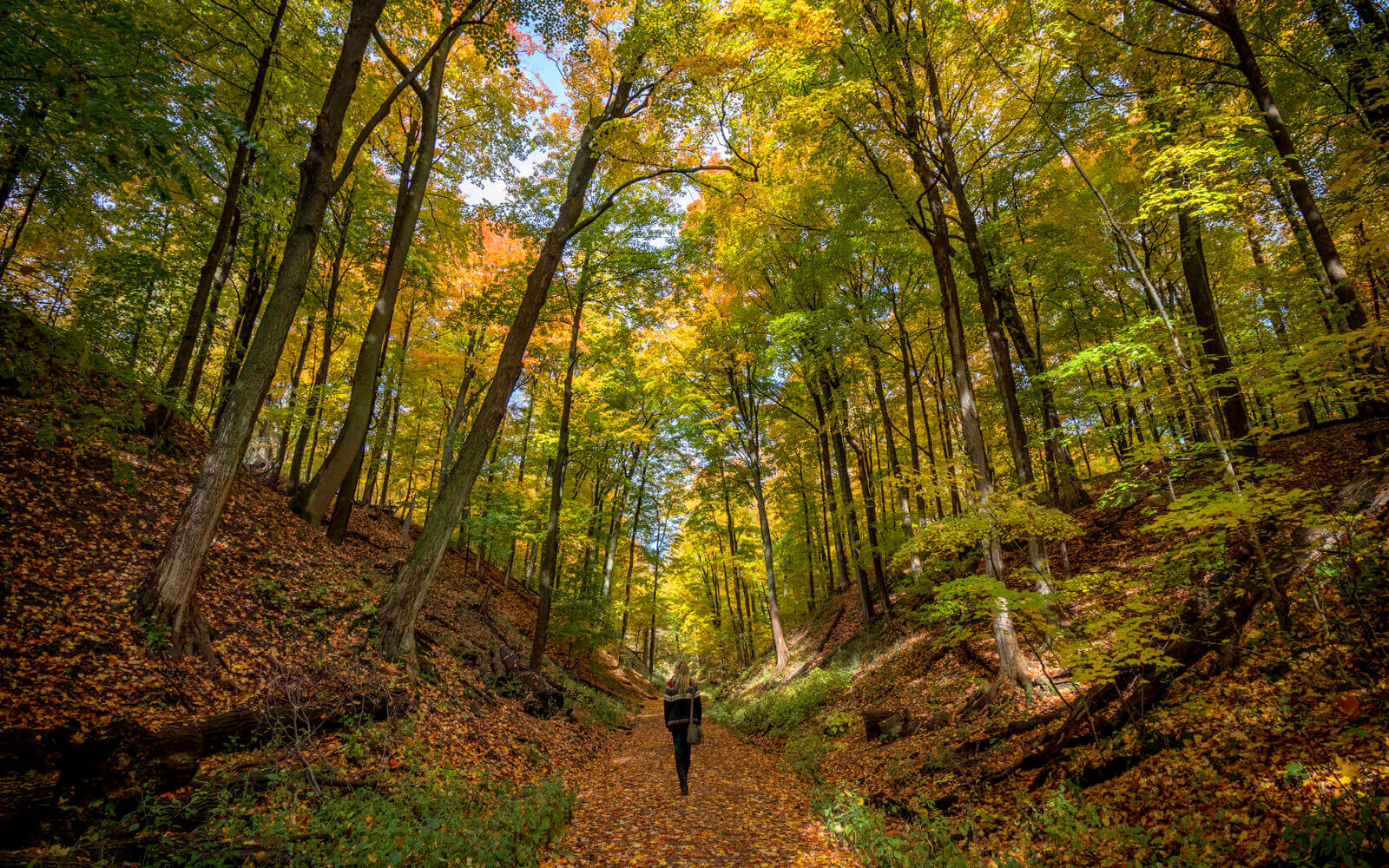 Gorgeous Hamilton Views for Nature Lovers
For a city with such an industrial reputation, it has a plethora of green spaces. Hit the trails and get out for a dose of fresh air as you check out these natural wonders in Hamilton!
Sassafras Point Trail
Located in the Royal Botanical Gardens' Cootes Paradise, the Sassafras Point Trail offers some incredible natural views in Hamilton. You'll walk through a cathedral of towering trees as you explore this 2.6 kilometre long out-and-back trail as you make your way to the Sassafras Lookout Point. While it's stunning in all seasons, I personally think fall is the best time to explore this trail. The autumn foliage makes it look like the sky is on fire! Many believe that Princess Point offers some of the best views in Cootes Paradise but I think Sassafras beats it by a long shot.
The Sassafras Point Trail is accessible from the Ravine Road Trail which also connects to both Caleb's Walk and the Ginger Valley Trail. This makes it a great option to admire these Hamilton views, enjoy a solid dose of nature and walk off some of the great eats you'll find in the city's Westdale neighbourhood.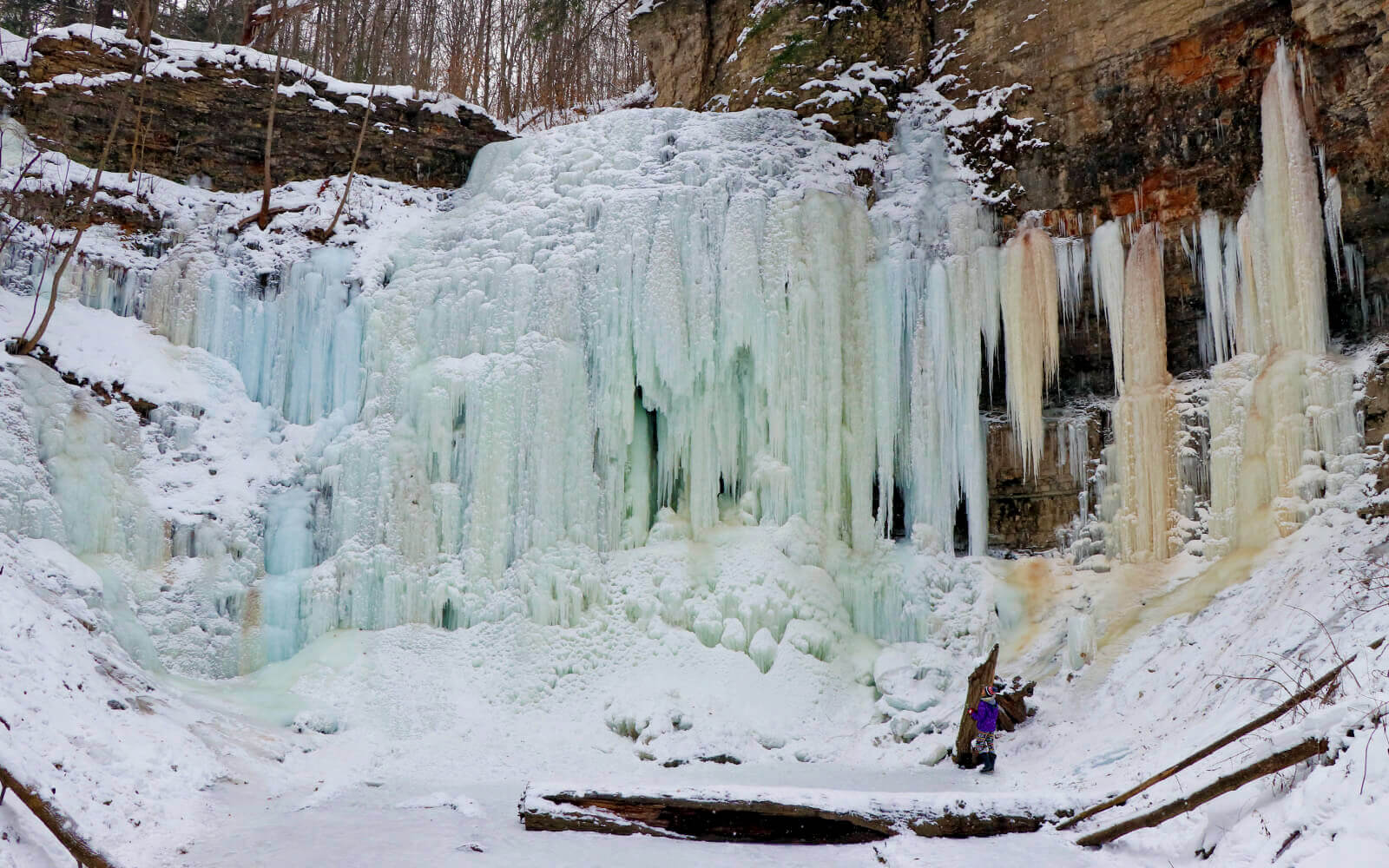 Hamilton Waterfalls
With over 100 waterfalls within the city limits, there is no shortage of incredible Hamilton views featuring these beauties. The trails leading to them can vary in length and difficulty, but they're all worth trekking to!
Tiffany Falls is arguably the most popular waterfall in Hamilton for a multitude of reasons. This 22 metre high waterfall is located within the Dundas Valley and is fed by the Spencer Creek tributary. At less than a kilometre out and back, this hike is an easy one with a quaint bridge along it. She can be low flow in the summer but her expansive crest makes her quite the sight to see in the winter months. Be careful though as the trail can be quite treacherous with!
Tiffany's close neighbour, Sherman Falls, stands at 17 metres tall as she flows year round. Following the Bruce Trail, you can easily visit both Tiffany and Sherman on the same hike. Sherman Falls is on private property though so while it's tempting to hike right to her base, this is considered trespassing and you can be find or access may be revoked.
Lastly, Albion Falls is another one of the most popular waterfalls in Hamilton. This 19 metre tall beauty can only be admired from afar as access to the bottom is restricted. To the left of the falls, you'll find a parking lot and lookout area with interpretive signage about Albion Falls and the surrounding area. As she faces east, the sun will rise behind her for a gorgeous shot or you can capture her basking in the glow of golden hour as the sun sets, illuminating the entire waterfall.
RELATED: For even more of these cascades throughout Steeltown, check out my guide to the best Hamilton waterfalls!
Additional Unique Sights in Hamilton
So this may be personal preference but these Hamilton views may not fall into your typical category of brilliant vistas. However if you've followed me for any period of time, you know I'm not exactly one to follow the norm. If you'd like a unique sight that you can appreciate in its own right, check out these unique Hamilton views. And if you don't like them, let's agree to disagree and you can go look at the other views on this list.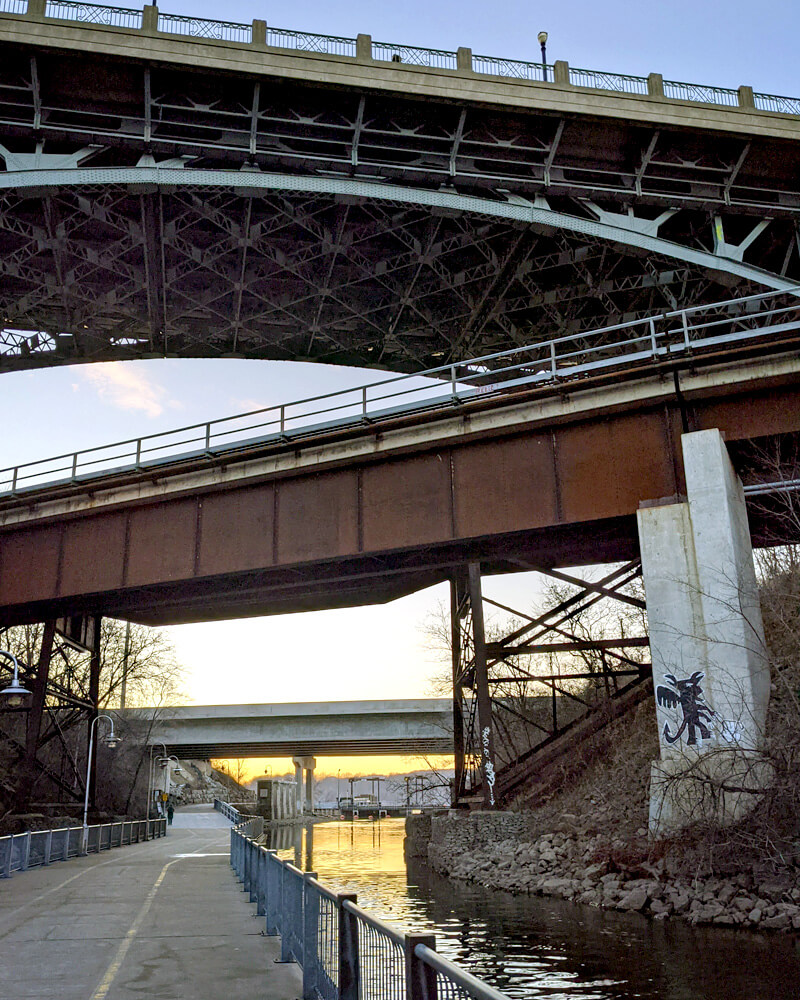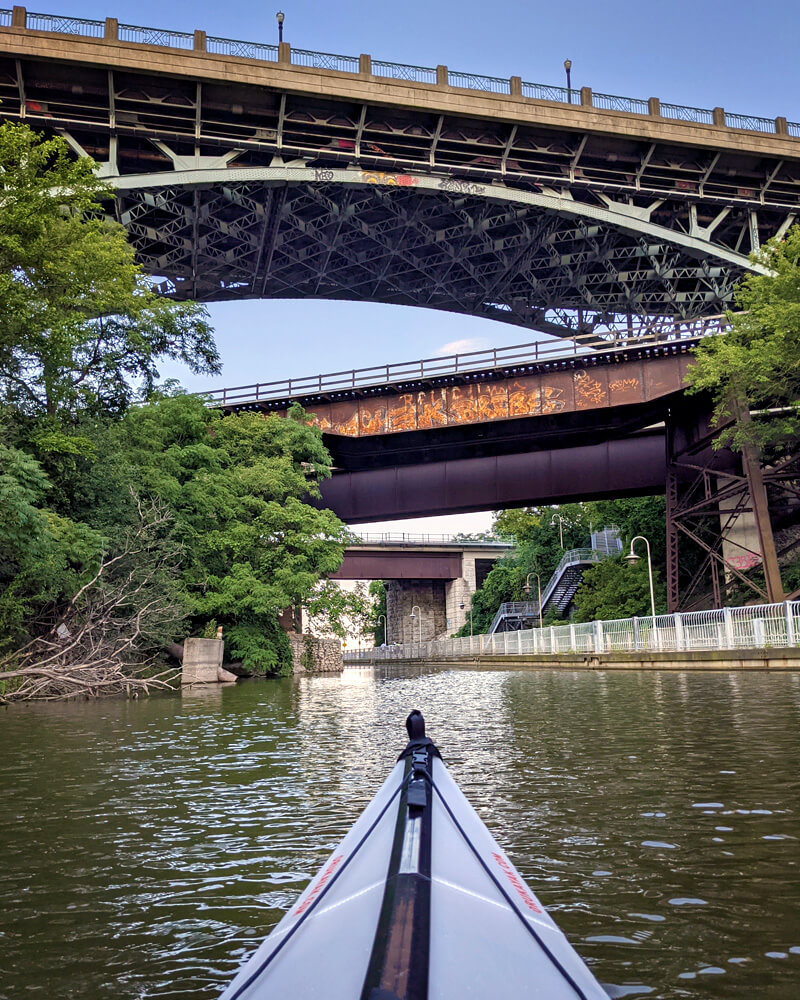 Desjardins Canal near Bayfront Park
Personally, I'm a sucker for the juxtaposition of industry and nature. You know those sites with old ruins that Mama Nature reclaims with plants and vines? That's definitely my jam – and where I'm going with this location. The Desjardins Canal is a part of the Hamilton Waterfront Trail that you can follow from Bayfront Park. While the views are still pretty in their own way from the footpath, I enjoy this one most from the water. If you're a paddler, grab your watercraft to launch from the ramp by the parking lot and paddle your way over to fully admire the asymmetry of the canal!
FUN FACT: The Desjardins Canal was the site of Hamilton's worst train accident back in 1857 and the area is said to be haunted! You can read more in my guide to the haunted side of Hamilton.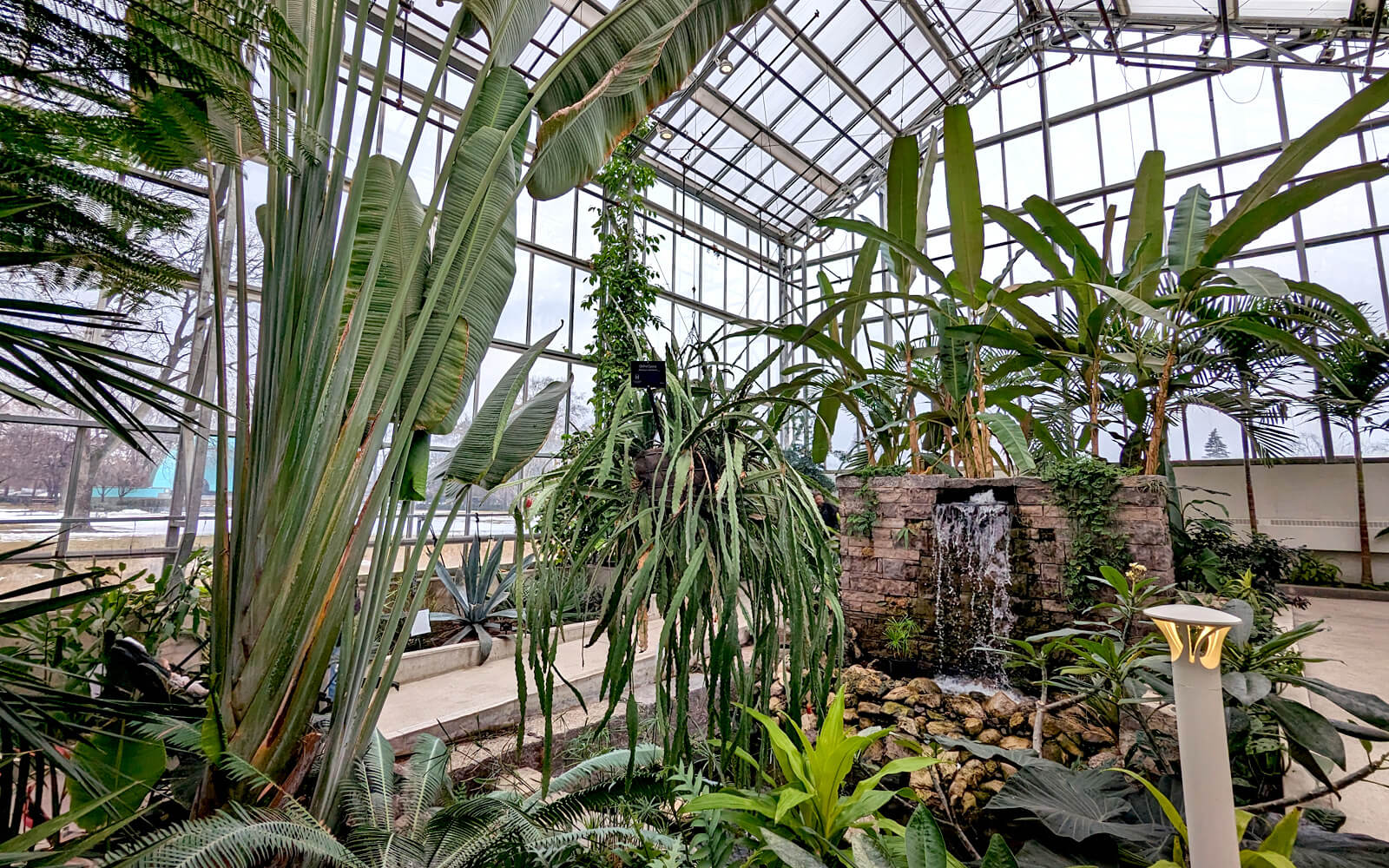 Tropical Greenhouse in Gage Park
Did you know that the city is home to a tropical greenhouse? If you're jonesing for some warmer weather but can't get away, surround yourself with the gorgeous green foliage at the Gage Park Tropical Greenhouse! Open daily (except holidays), the greenhouse is home to plants from all over the world. Australia, Cuba, Mexico – you name it! Bring a book to read and spend some time amongst the vegetation. It won't take long for you to forget that you're even in Hamilton!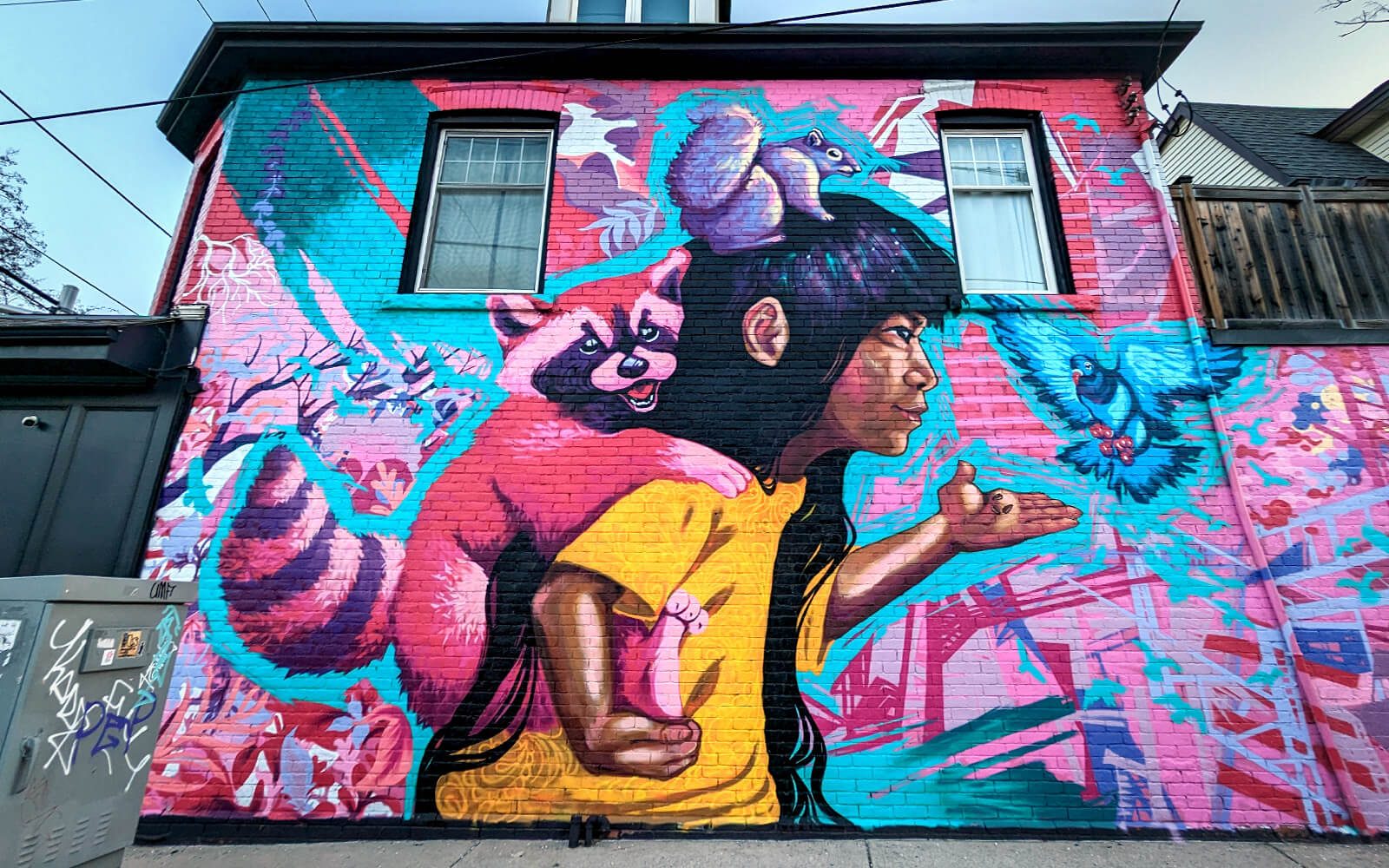 The Plethora of Street Art
Hamilton is home to so much street art that there's a big chance you won't know where to start. Areas like Downtown Hamilton near Hess Village, Barton Street, Concession Street and Ottawa Street offer a number of gorgeous murals from a variety of artists. Again, these aren't views in the typical sense of a lookout or natural vista but I bet you'll be blown away by the skills necessary to craft these public art pieces!
I always recommend picking a neighbourhood and just wandering with a latte or tea in hand but if you're looking for a few extra special paintings, here are some of my favourite Hamilton street art pieces:
Procession at 250 King Street East by Lester Coloma
Raven at 26 Hess Street South by Mique Michelle & Kalkidan Assefa
Mother Nature at 21 Rebecca Street by Alexander Bacon
Harmony at 223 Queen Street South by Robyn Lightwalker (pictured above)
Collective Arts Wall Project at 207 Burlington Street East by numerous artists
Seven Sacred Grandfather Teachings at 576 Concession Street by Kyle Joedicke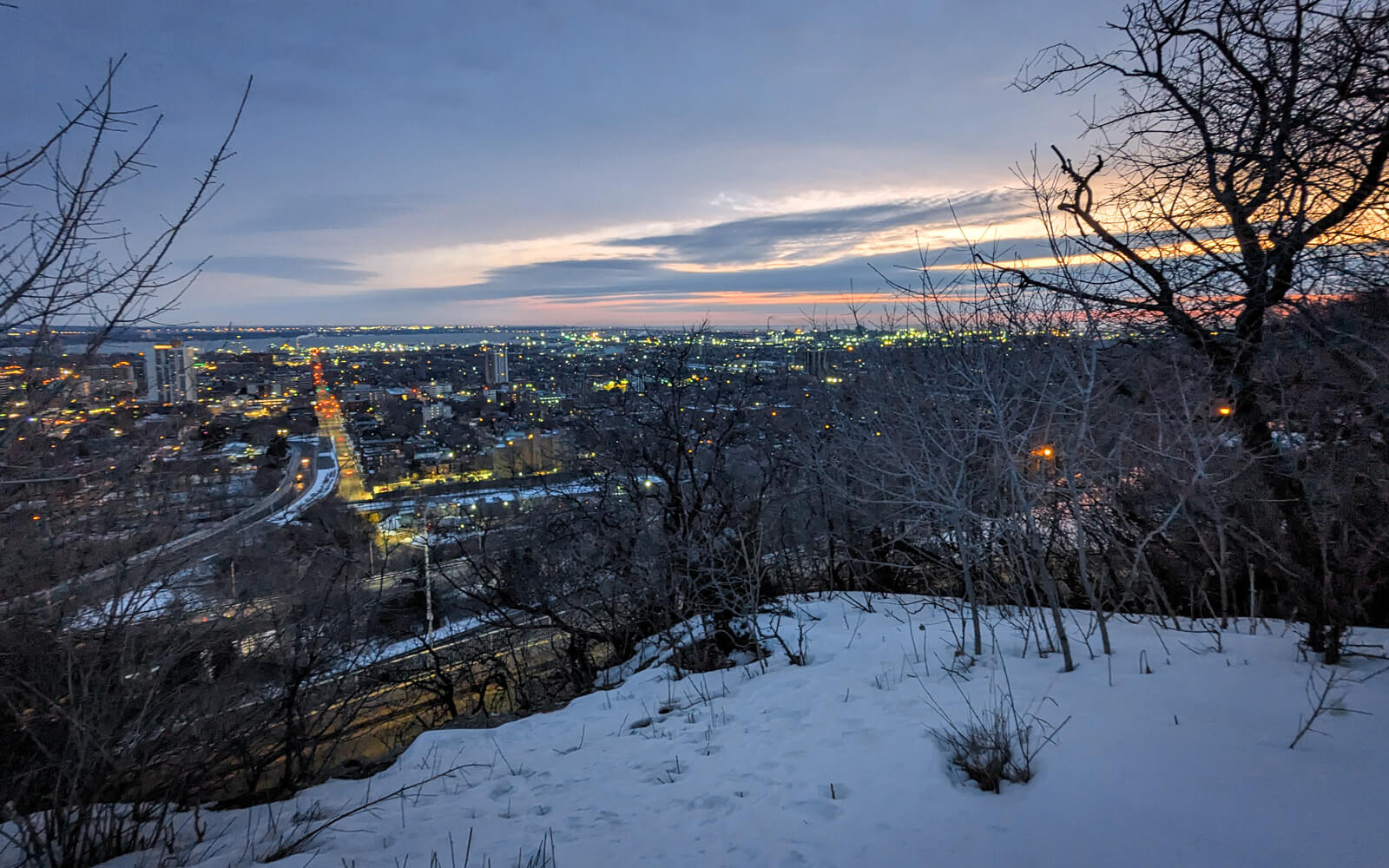 Which of These Hamilton Views is Your Favourite?
Whether you're on the hunt for a superb spot to catch sunrise or sunset, some gorgeous views of the forest or some more urban-esque style sights, Hamilton is a pretty stunning city. It certainly has a lot to offer, you just have to dig a little deeper!
Are there any of your favourite views that didn't make this list? Let me know in a comment below as I'm always looking for more brilliant vistas to enjoy!
For More Ideas on What to Do in Hamilton:
Here Are the Best Free Things to Do in The Hammer
Check Out These Amazing Hamilton Art Galleries
Stretch Your Legs With These Top Hiking Trails in Hamilton
Explore Some Crevices at the Eramosa Karst Conservation Area
See A Spooky Side of Hamilton with These Haunted Spots Across the City
Check Out These Top Indoor Attractions in Hamilton
Everything You Need to Know About the Best Hamilton Waterfalls
Plan a Visit to the Largest Botanical Gardens in Canada
Experience Dundas Peak: Hamilton's Epic Lookout
Don't Forget These Amazing Hamilton Views & Pin It For Later!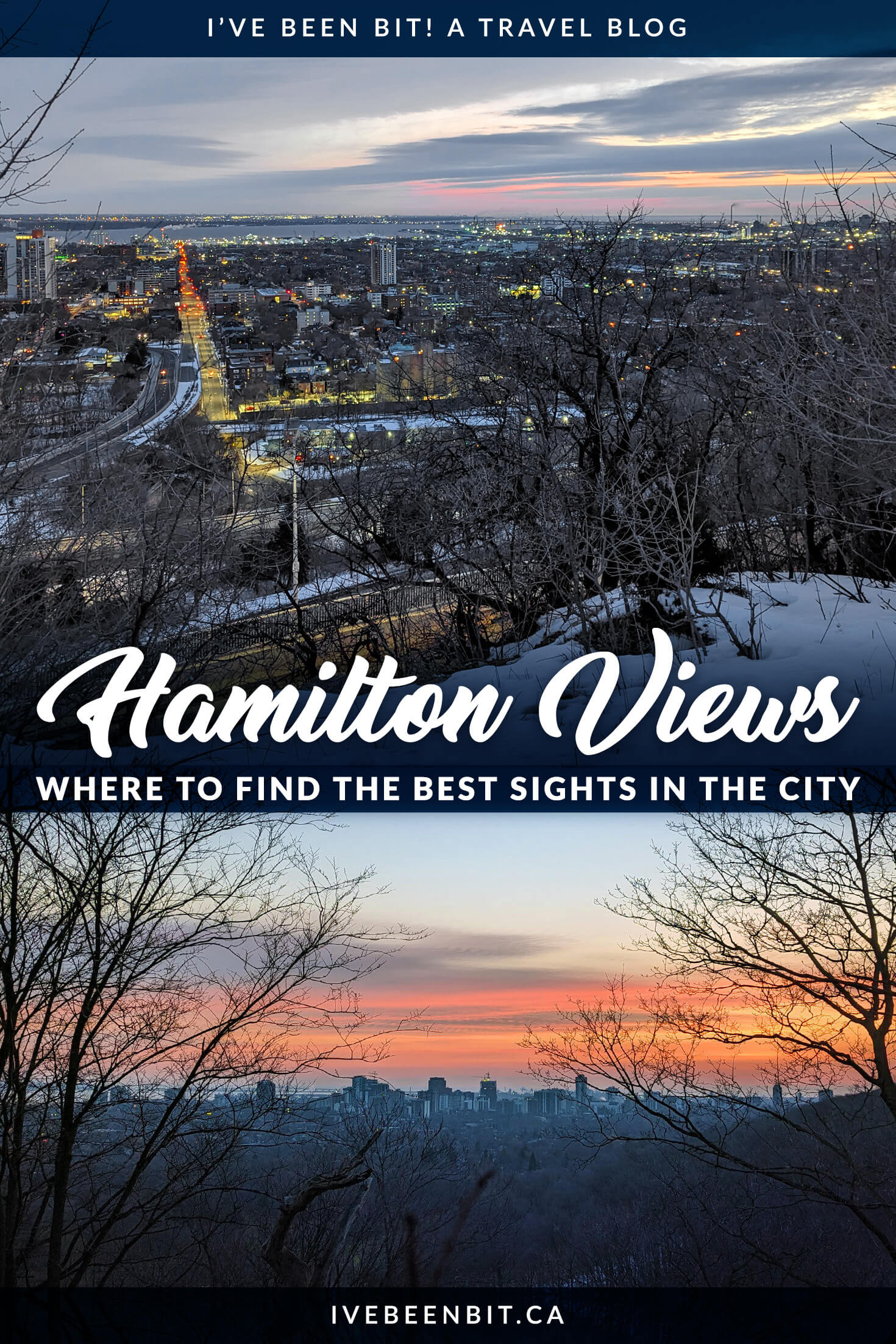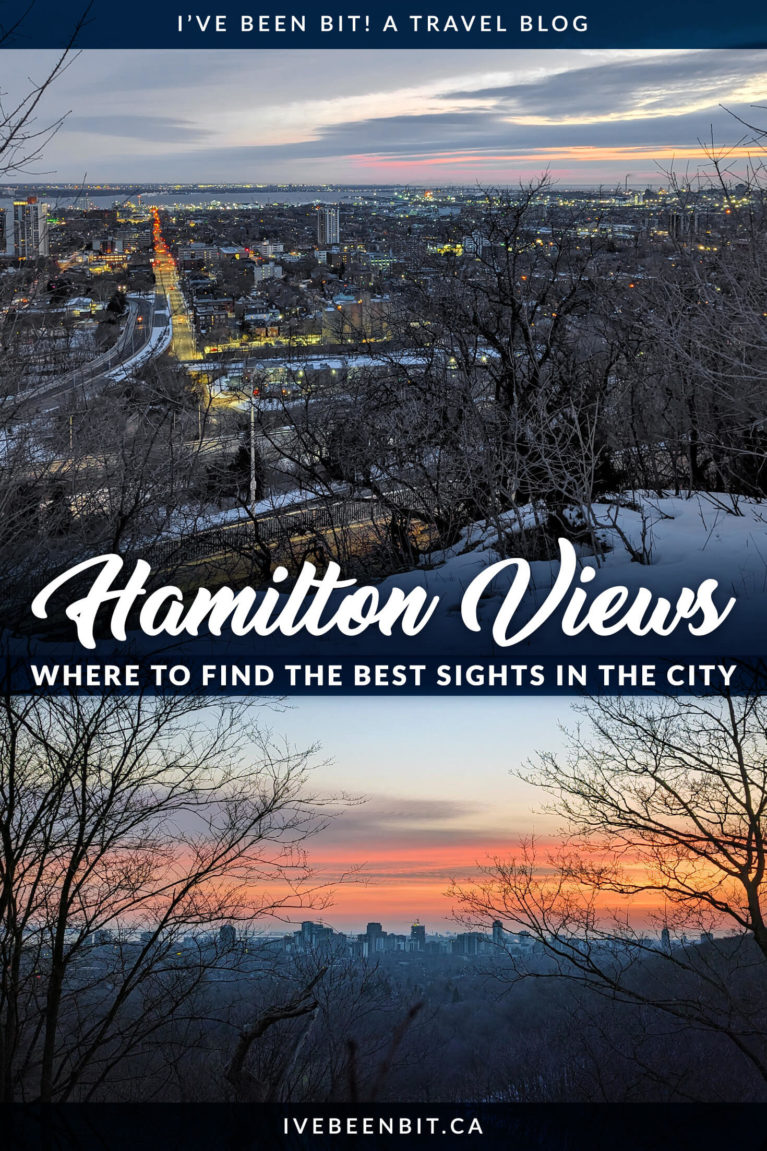 The post 10+ Brilliant Hamilton Views for Sunrise, Sunset, Nature & More appeared first on I've Been Bit! Travel Blog.