10 Dollar Tree Valentine's Day DIY Ideas
Why settle for one DIY craft when you can learn ten and make most of them in just a few minutes? What makes this tutorial even better is that most materials you'll be needing are either available at your house or you can easily purchase them from the dollar store! Fill your house with the symbol of love with these DIY ideas by Bargain Bethany on YouTube.
Materials:
Wooden hearts, small and flat
Quick-drying paint, light pink, key west or teal, white, yellow, and purple
Paint pen, white or printed vinyl sheets
Jute twine
Hot glue
Glitter vase filler
Needle and thread
Sticker wooden hearts
Command strips or double-sided tape
Large wooden heart plaque
Sticker letter
Large flat wooden heart
Hanging wall piece of heart gnomes
Small wooden heart plaque
Picture frame
Small wooden crate
Artificial flowers
Straw stripes
Button container
Candy hearts or lollipops for décor
Directions:
DIY #1
Paint each of the wooden hearts with light pink, teal, yellow, purple, and white using a sponge. Write words on them (except the white heart) using a white paint pen, insert jute twine on the hole of each heart located at the top and knot, hang the ornament.
DIY #2
Using the same painted hearts, place them together in a circle manner, then place a heart outside and in between each top of the hearts, add more hearts on top and between those hearts to fill in the gaps using hot glue. Fill other empty holes with smaller hearts to make the wreath look full, insert a twine at the hole of a wooden heart at the top then hang it.
DIY #3
Get the glitter vase filler, then insert a thread on each bead to connect them, you can make them how long you want. Insert a painted wooden heart at the end, then seal the thread on the ball with hot glue. Add a heart sticker at the other end of the beaded garland, then hang.
DIY #4
Get another vase filler ball, then insert a thread on each bead to connect them, you can make them how long you want. Get the painted wooden hearts and attach them on the front and back of the bead with the painted part facing the front of the garland. Once done, attach them with command strips.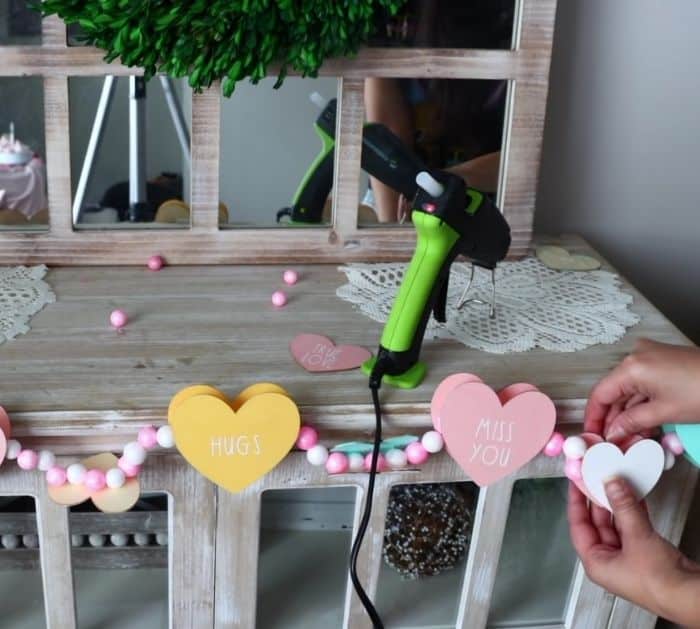 DIY #5
Paint the large wooden heart plaque with either pink, teal, or yellow, then add sticker letters. Display them.
DIY #6
Paint the large flat wooden heart with pink. Get the hanging gnome décor and remove the paper heart it is attached to. Reattach the gnome to the painted wooden heart, then add smaller painted wooden hearts on the gnomes so that it looks like their holding them. Decorate the large wooden heart with smaller sticker hearts, then hang it on the wall.
DIY #7
Paint each of the small wooden heart plaque with blue, pink, and yellow. Add either white painted or printed vinyl sheet letters, glue the plaques on a picture frame. Then, hang or simply make it stand.
DIY #8
Paint the small wooden crates with whichever pink, glue the two wooden crates together, and glue small painted hearts at the front. Fill the crate with artificial flowers, then glue a wooden heart on top of a striped straw, and insert them on the crate as well.
DIY #9
Place the painted hearts in a row with its unpainted part facing up, attach hearts in between them with hot glue, then attach them to the window with command strips.
DIY #10
Take the button container and remove the label from the body and the lid. Add candy hearts inside, then attach a pink candy label at the front. You can also do another version with lollipops, glue them at the bottom of the jar then label.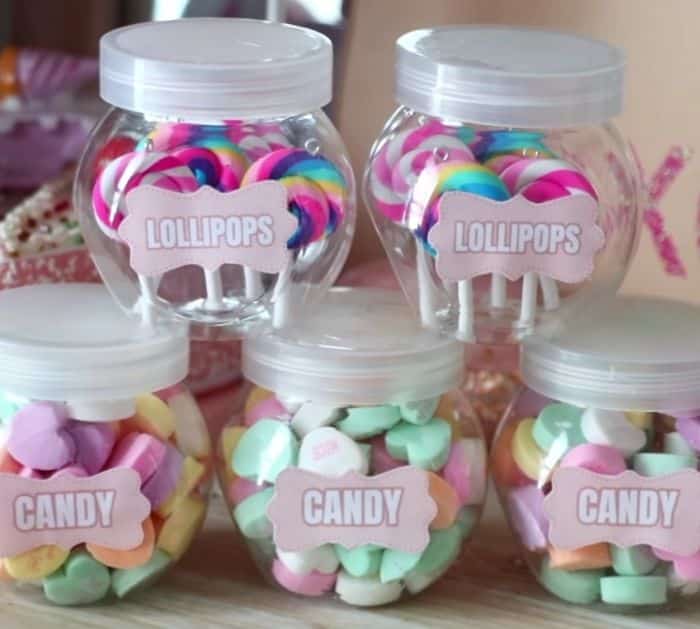 *All image credit belongs to Bargain Bethany via YouTube. Follow and subscribe to her channel for more!
10 Dollar Tree Valentine's Day DIY Ideas
The post 10 Dollar Tree Valentine's Day DIY Ideas appeared first on DIY Joy.