10+ Incredible Hamilton Art Galleries to Feed Your Inner Artist
Art probably isn't the first thing that comes to mind when you think of Hamiton but you'd be surprised! Home of the epic Supercrawl festival, the city has an eclectic side that many skim over. If you're an artist yourself or just an admirer of those who have honed their craft, you'll want to check out these top Hamiton art galleries!
Disclaimer: This post contains affiliate links where if you make a purchase, I may receive a kickback at no extra cost to you. It helps keep IBB alive so thank you!
11 Hamilton Art Galleries to Check Out
From icons such as William Blair Bruce, one of Canada's first impressionist painters to new-age media, there's undoubtedly something for everyone at these art galleries in Hamilton.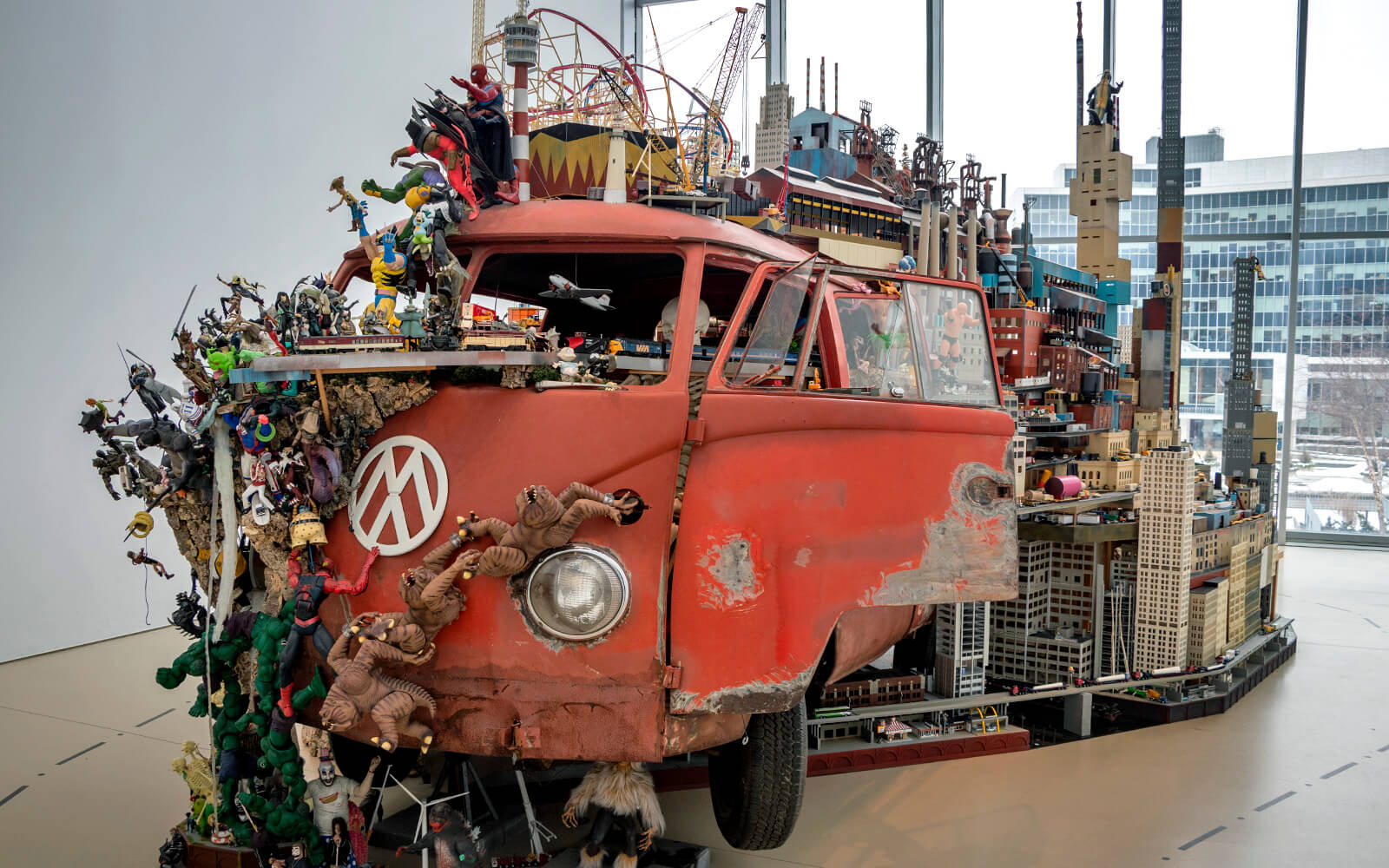 The Art Gallery of Hamilton
Address: 123 King St W, Hamilton, ON L8P 4S8
Hours of Operation: Thursdays from 11:00 am to 8:00 pm, Fridays from 11:00 am to 6:00 pm, Saturdays & Sundays from 11:00 am to 4:00 pm
Admission: $15 for adults, $12 for seniors 65+, free for students & children under 5
The Art Gallery of Hamilton is the oldest as well as the largest art museum in the area. Founded in 1914, it had a humble beginning as the inaugural exhibition consisted of 33 paintings by Hamilton-born artist, William Blair Bruce (1859-1906). They were donated to the city by his widow and family, therefore becoming the foundation of the gallery's collection. Now, the Art Gallery of Hamilton's permanent collection consists of more than 10,000 works, making it one of the finest in the entire country! 
One of the gallery's main mandates is to maintain an open conversation in regard to their exhibitions and programming. They're consistently working to make art more accessible, educate those who visit through artistic channels, and do their best to represent artists from across the region. I'm continuously impressed with their commitment to making this a safe space for all, especially their work in including Indigenous voices. Artists like Norval Morrisseau and Christi Belcourt are often represented as well as up-and-coming Indigenous artists, offering a much-needed perspective in the realm of art.
Tickets are required for some of the gallery spaces but level 2 as well as the Jean and Ross Fischer Gallery are always free thanks to the generosity of Orlick Industries. In addition, admission to the Art Gallery of Hamilton is free every Thursday and hours are extended until 8:00 pm!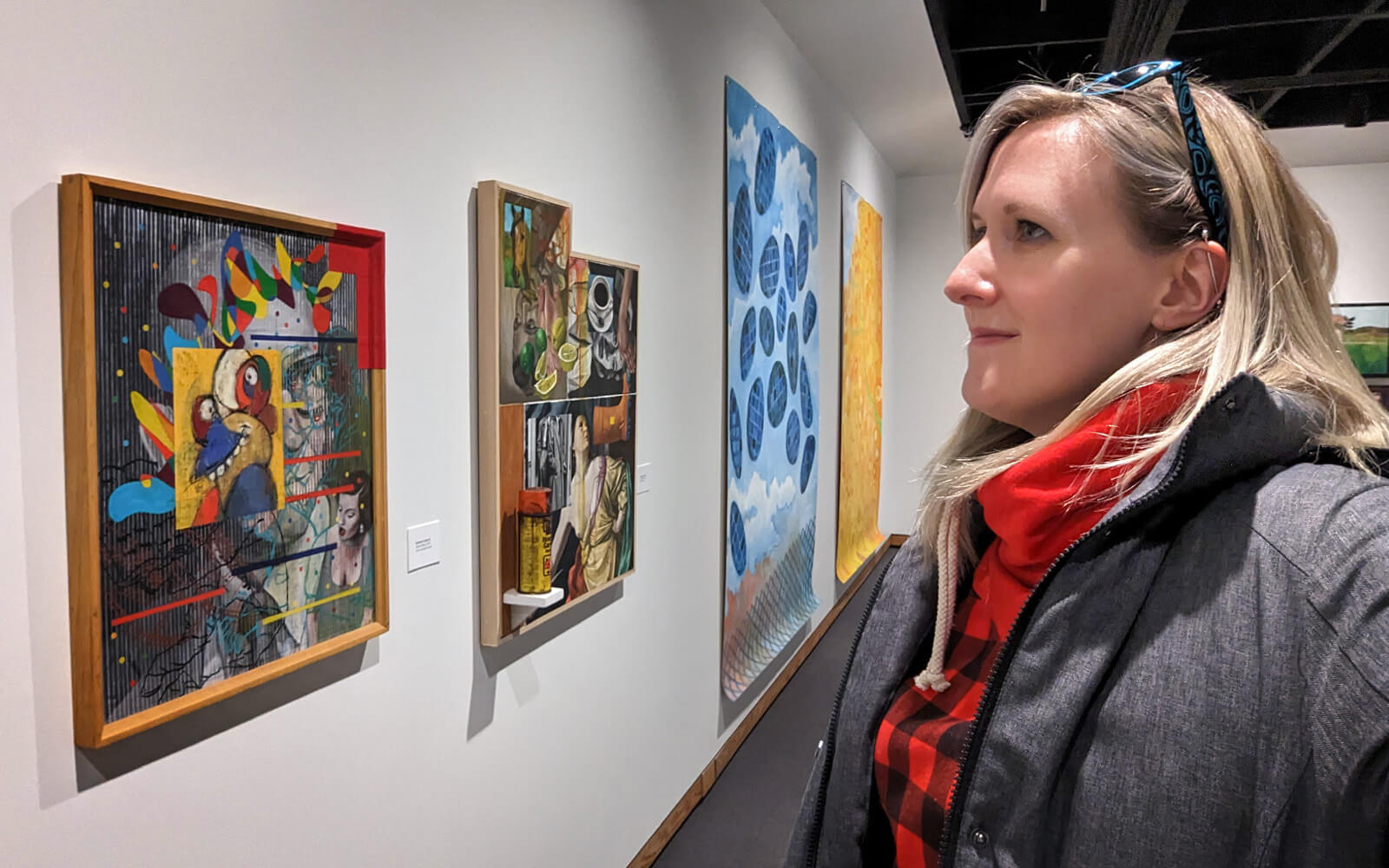 McMaster Museum of Art
Address: 2nd Floor of McMaster University, 1280 Main St W, Hamilton, ON L8S 4L6
Hours of Operation: Tuesdays, Wednesdays & Fridays from 11:00 am to 5:00 pm, Thursdays from 11:00 am to 7:00 pm
Admission: Free but Donations Are Welcomed
The McMaster Museum of Art is looking to shake things up by disrupting the traditional portrayal of the museum. With a focus on creating a more dynamic and inclusive relationship between people and art, they look to the interconnectivity of the past and present to build a better future. Their goal is to engage and educate while advancing de-colonization through purposeful collaborations and partnerships in order to diversify their collection and grow their capacity to include more perspectives and voices.
Here you'll find McMaster University's permanent collection of over 6000 objects. Ranging from the late 15th to the 21st Century, it encompasses the history of art as well as a number of coins and antiquities from China and the Mediterranean. The McMaster Museum of Art is also internationally recognized for its specialist collection of early 20th Century German prints and European drawings, paintings and prints. Lastly, their collection has a sizeable amount of Indigenous and Inuit art since 1960.
Before you depart, explore the grounds with the self-guided McMaster Campus Sculpture audio tour! You can find it online here.
Earls Court Gallery
Address: 215 Ottawa St N, Hamilton, ON L8H 3Z4
Hours of Operation: Tuesday through Friday from 10:00 am to 5:00 pm and Saturdays from 10:00 am to 4:00 pm
Admission: Free
Nestled along Ottawa Street North, the Earls Court Gallery strives to entice conversation around the local art scene in Hamilton as well as across Canada. They firmly believe that art is for everyone and can be found everywhere, the only thing you need to do is take a moment to appreciate it. Since it was originally established in 1973 as a print and framing gallery, the Earls Court Gallery has grown not just in size but stature. The move to its current location saw the gallery expand exponentially to include a 1600 square foot main gallery, a 1000 square foot framing facility and an additional 1000 square foot gallery dedicated to historically significant pieces.
Pop into the Earls Court Gallery where you'll be welcomed by local art experts who are happy to share their knowledge of the art realm. Hosting approximately 9 exhibitions each year, visitors will admire a wide range of works including local and Canadian printmakers, oil, acrylic, and watercolour painters as well as those versed in mixed media. The most important aspect of the Earls Court Gallery is its dedication to supporting the unique perspective and voices of the artists they showcase. Owners Bob Daniels and Doug Nixon are constantly looking to demolish barriers to enable anyone and everyone to acknowledge the full impact of an art piece.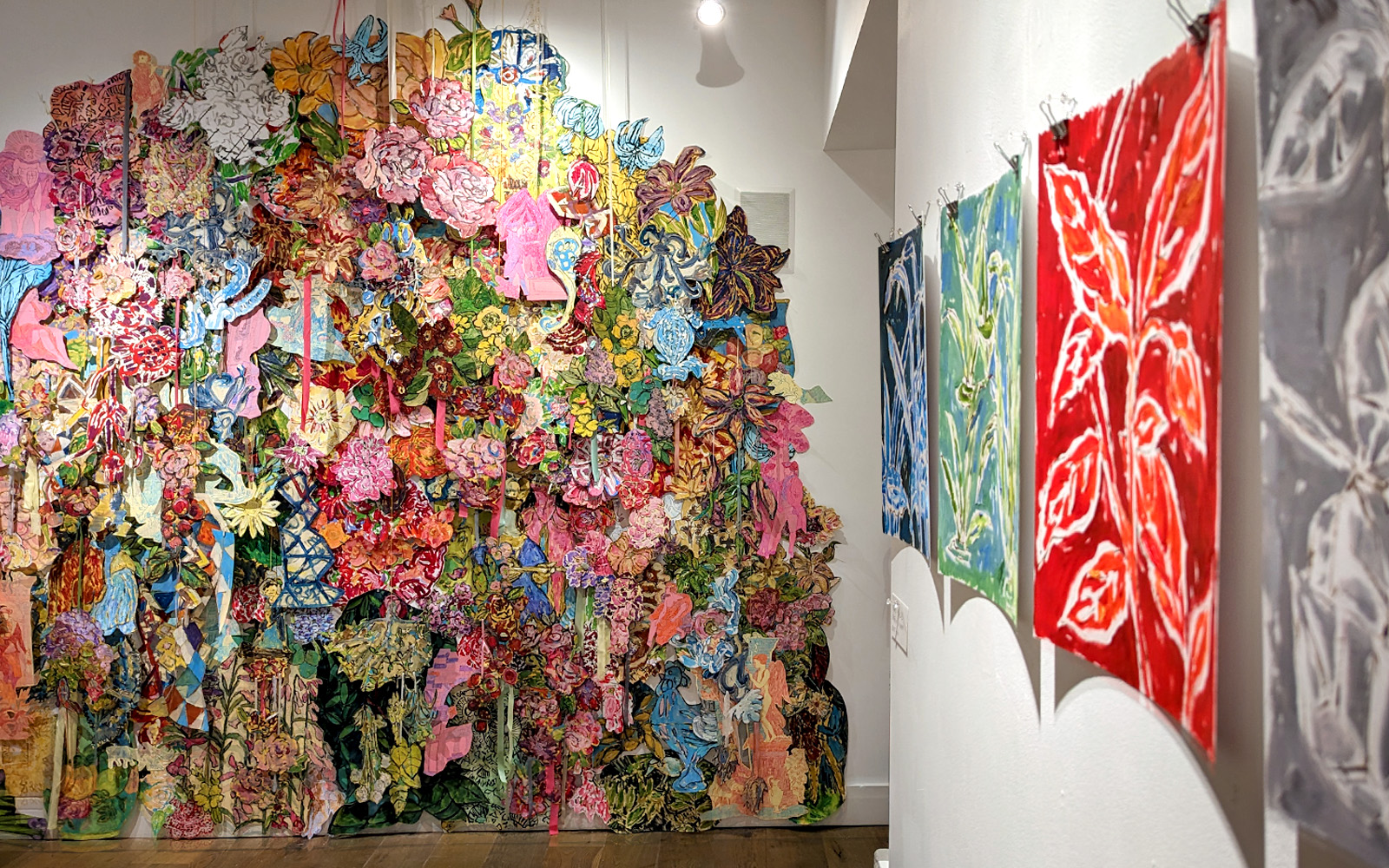 Red Church Cafe & Gallery
Address: Victoria Hall at 68 King St E, Hamilton, ON L8N 1A6
Hours of Operation: Monday through Friday from 8:00 am to 6:00 pm, Saturdays & Sundays from 9:00 am to 5:00 pm
Admission: Free
A coffee shop and an art gallery? Talk about the best of both worlds! If you make your way through the Red Church Cafe to the back, you'll find a neon gallery sign hanging from the ceiling. This is your entrance into the artistic world located at 68 King Street East!
The Assembly was established in 2016 as a cooperative of 19 contemporary artists, all with their own unique style and spectacle. Rotating on a monthly basis, they take over the back room of the cafe to showcase up-and-coming works that often contribute to the larger dialogue found within today's contemporary art world. Whether it's mixed media, sculpture, painting or otherwise, the artists of The Assembly will have you challenging the typical narrative as you interact with their work.
Hamilton Conservatory for the Arts
Address: 126 James St S, Hamilton, ON L8P 2Z4
Hours of Operation: Monday through Thursday from 9:00 am to 9:00 pm and Saturdays from 9:00 am to 4:00 pm
Admission: Free
The Hamilton Conservatory for the Arts has always had a focus on making the arts accessible to the local community. While it has seen a number of transformations throughout the years, the Hamilton Conservatory has always been one of the top facilities for music education across a wide range of ages and experience levels. It may have a heavy focus on music but the visual arts are also a crucial part of the Hamilton Conservatory for the Arts!
Housed in the heart of the building, the HCA Gallery is where the arts are immersive. You'll be admiring a painting as you hear the opera's stunning harmonies or even a theatre performance's murmurings. Don't be surprised if you hear cackling children as the HCA hosts a  number of classes geared to get children involved in the art world. Stop in and see what artist is on display as exhibitions typically run on a two-month basis.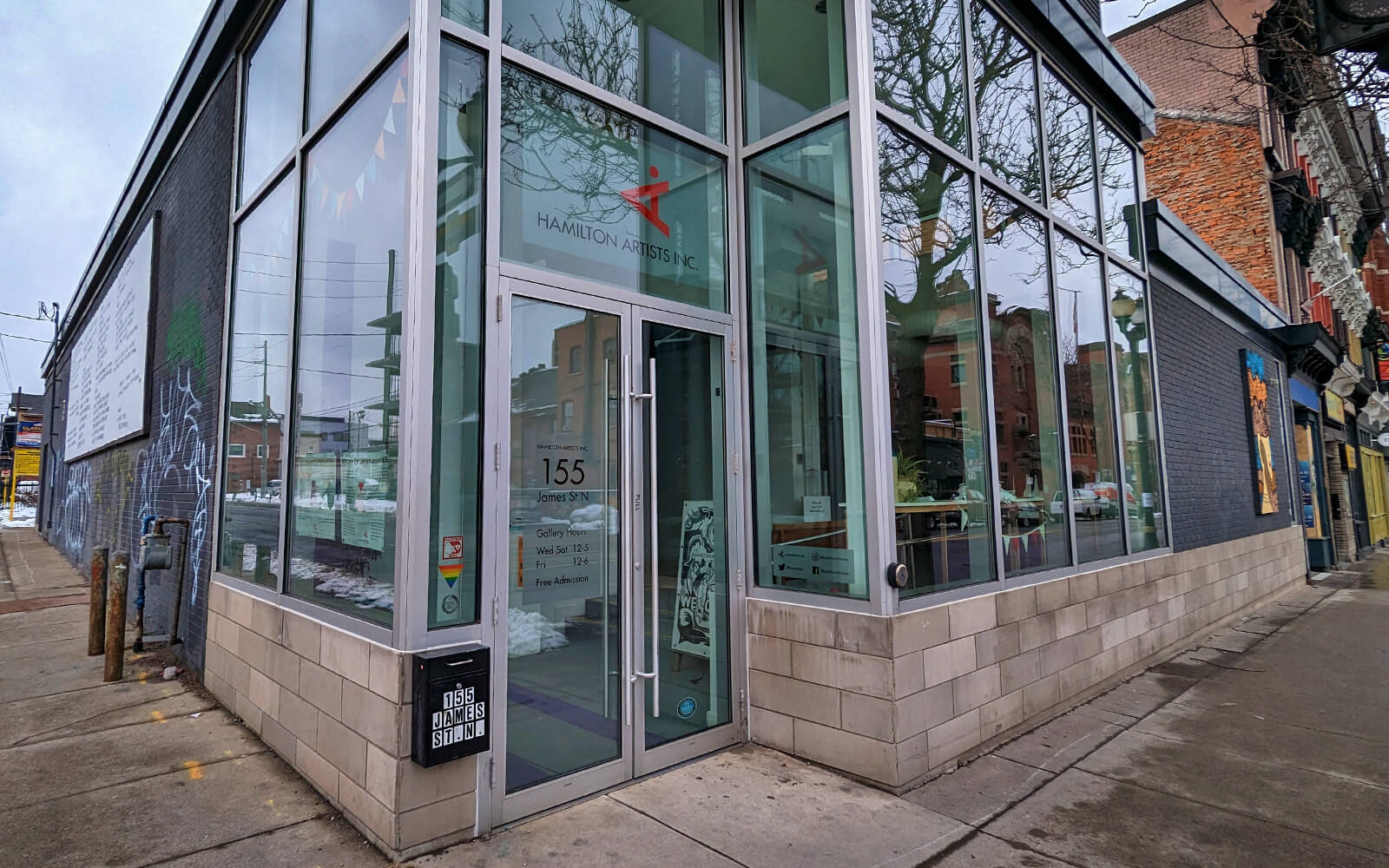 Hamilton Arts Inc
Address: 155 James St N, Hamilton, ON L8R 2K9
Hours of Operation: Wednesdays, Thursdays & Saturdays from 12:00 pm to 5:00 pm and Fridays from 12:00 pm to 6:00 pm
Admission: Free
Founded in 1975, Hamilton Arts Inc (often referred to as The Inc) is a not-for-profit charitable artist-run centre. It was established by a crew of local artists who found there was a shortage of professional exhibition spaces available in the city. After receiving funding for operations just a year later and charitable status in 1981, it has become an alternative space to public galleries and museums for artists to showcase their work.
Hamilton Arts Inc looks to consistently provide a space for artists of all sizes and experience levels to explore, take risks and become critically engaged with the work of others as well as in their own practices. With over 300 members and counting, their doors are open in order to support the community through local, national and international exhibitions, artist talks, workshops and professional development services. Hamilton Arts Inc continues to put in the work as they established The New Committee in 2016-2017 to pursue partnerships and arrange events to increase the representation of Indigenous Peoples and marginalized groups in the art world.
The Cotton Factory
Address: 270 Sherman Ave N, Hamilton, ON L8L 6N4
Hours of Operation: Mondays through Friday from 9:00 am to 5:00 pm
Admission: Free
A prime example of where Hamilton's art and history mix and mingle, The Cotton Factory is the former site of the Imperial Cotton Company. This is one of the most complete historic textile mill complexes remaining across Canada. This is not surprising once you know that textile production was one of Hamilton's largest industries, second only to the infamous steel mills.
What was once home to giant looms and spinning machines used to craft items such as sails and awnings now has a new life as a creative industries complex. Now there is space for small manufacturing operations, offices for creative professionals, space to house workshops as well as artist studios. You'll find curators, designers, painters, photographers, potters, textile artists and woodworkers amongst the 100+ tenants that call The Cotton Factory home! There is plenty of talent to be appreciated within the complex with workshops and artist talks happening constantly so keep an eye on their Facebook Page for details of any upcoming events.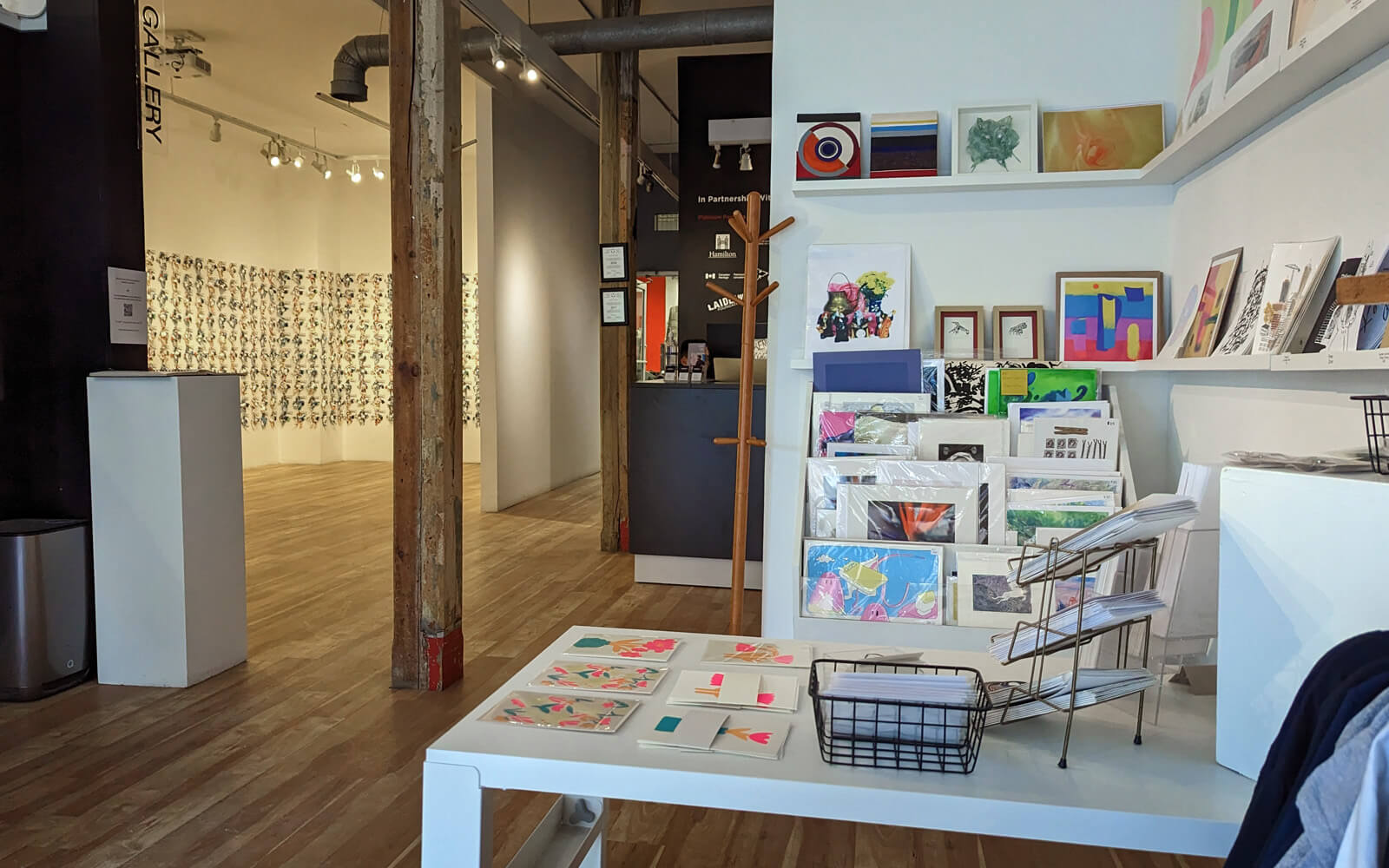 Centre [3] for Artistic + Social Practice
Address: 173 James St N, Hamilton, ON L8R 2K9
Hours of Operation: Monday through Friday from 10:00 am to 5:00 pm
Admission: Free
The brainchild of Colina Maxwell and Katherine Zarull, Centre [3] was once known as The Print Studio and the answer to a vision of providing affordable printmaking facilities for Hamilton area artists. Another pillar in Hamilton's artistic community, Centre [3] has grown to provide opportunities for research, innovation and above all, crucial conversation through contemporary art practices. This not-for-profit centre collaborates with local communities to create social change through the arts via educational programming.
While it started with printmaking, Centre [3] has expanded into the digital art realm as well which was a large motivation for changing the name. Reflecting on their three floors, it also references the integration of art, community and education. Centre [3] has the space and equipment for artists to create contemporary art, they offer programming to both elementary and secondary school boards as well as offering courses and workshops including the development of professional skills, and they provide access to the processes of art creation via key community groups to ensure a collaborative process that fosters inclusion and diversity.
Beckett Fine Art
Address: 196 Locke St S, Hamilton, ON L8P 4B4
Hours of Operation: Tuesday through Saturday from 11:00 am to 5:00 pm
Admission: Free
Established in 1966 in Hamilton, Beckett Fine Art represents a selection of established and emerging artists from Canada, the USA, the UK and Japan. You'll find painters, photographers, printmakers and printmakers represented as well as a stunning collection of Indigenous works. Owner Tom Beckett has been surrounded by art his entire life as his dad established the gallery and his grandfather Hubert Beckett, a famed Hamilton photographer. It's no wonder he has a keen eye for art!
While he has spent a lot of this time in Toronto, Beckett Fine Art returned to Hamilton in 2020 where it now resides on Locke Street. Admire the range of styles from realism to the abstract. One thing I want to note is that the Beckett family has recognized the importance of respecting Indigenous artists as well as their history and culture which can be seen by this Indigenous collection, fittingly titled Respect.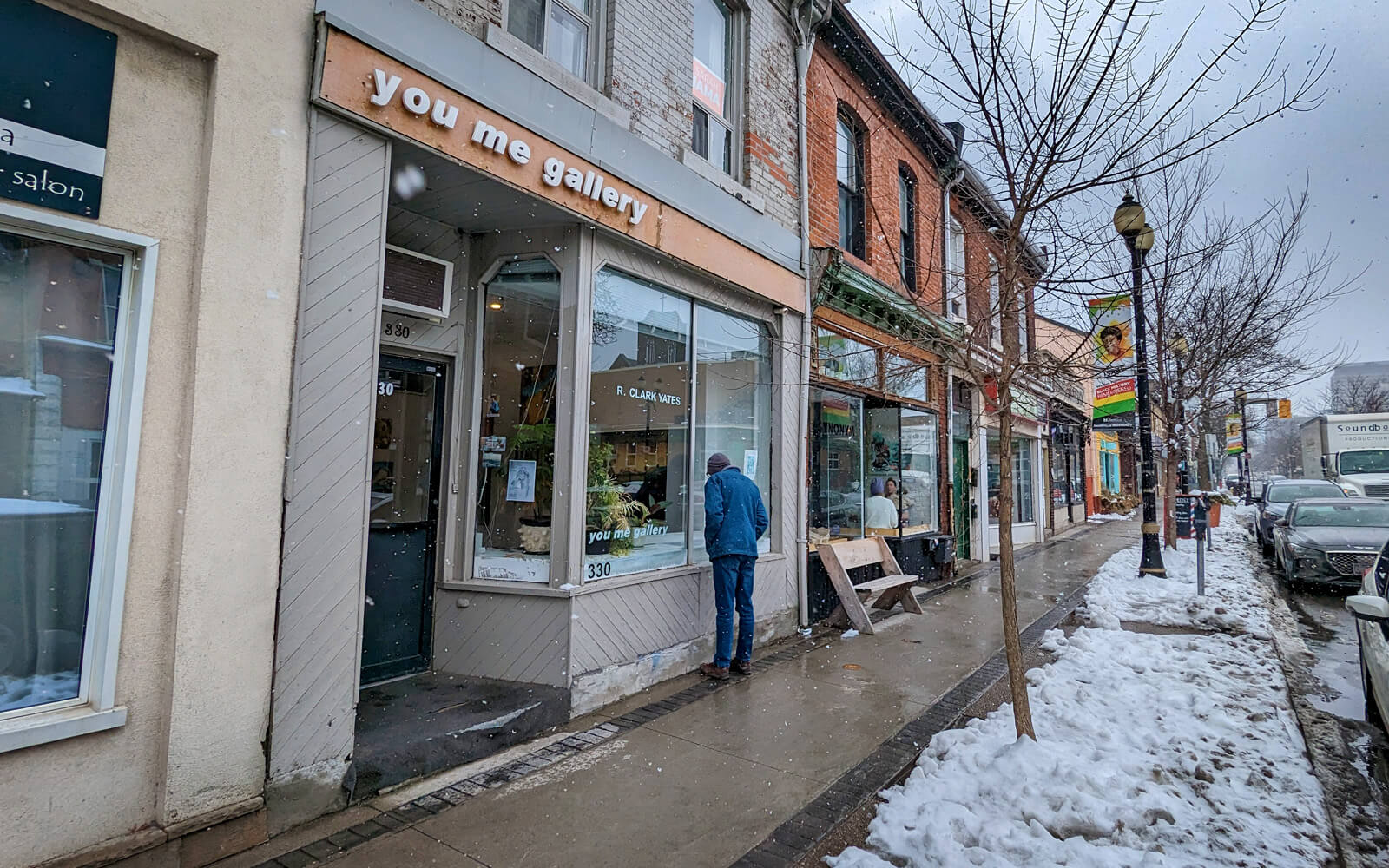 You Me Gallery
Address: 330 James St N, Hamilton, ON L8L 1H2
Hours of Operation: Wednesday through Sunday from 12:00 pm to 5:00 pm
Admission: Free
Part of that core group of creatives who established Hamilton Arts Inc, Bryce Kanbara has since returned to James Street North and founded the You Me Gallery in 2002. A reference to the small red and white department store sign across from his father's ancestral house in Urasaki, Japan, it's a nod to human relationships and connection.
The area has come a long way since then as he finds himself in the heart of Hamilton's first artistic neighbourhood. While it's no longer a lone soldier as James Street North continues to grow, his purpose for the gallery is to awaken those who visit with the power found within art. Those eye-opening and mind-widening moments that challenge your perception of reality and make you ask questions about what's around and within you. It's a place where art and artists will always matter. 
While the best way to see the art he exhibits is by appointment, the works are always viewable through the front window. You may even catch him by chance though days like the James Street Art Crawl on the second Friday of every month certainly increase those odds.
Turnpike Art Collective
Address: 319 King St E, Hamilton, ON L8N 1C1
Hours of Operation: Tuesday through Saturday from 11:00 am to 5:00 pm
Admission: Free
The art world can be a controversial one as some believe you need to be well-versed within it in order to contribute to it. This is not the case at the Turnpike Art Collective. Owners Jane Pike and Jeff Turner firmly believe that art is for everyone and have created a space where you don't need a fine art degree to understand or participate in deeper discussions surrounding art. Their mission is to bring art back to the people – and they mean ALL of the people. 
As the past few years turned the world on its head, many in the realm of art didn't know what to do as art fairs disappeared, in-person sales died off and many had no clue where to begin with online sales. The Turnpike Art Collective seeks to bring as many local artists as possible under one umbrella in order to mitigate these obstacles. Everyone in the collective is located in Ontario with the majority calling the GTA home. We're very fortunate to have a vibrant art scene in the province and so Jane and Jeff look to promote these talented people. Because if nobody supports local art, there won't be any and what a dull world we would live in!
BONUS: The Carnegie Gallery
Address: 10 King St W, Dundas, ON L9H 1T7
Hours of Operation: Tuesday through Saturday from 10:00 am to 5:00 pm and Sundays from 12:00 pm to 4:00 pm
Admission: Free
Okay so this is technically in Dundas and not quite Hamilton but it's close enough I'm adding it to the list! The Carnegie Gallery has been housed in the town's Andrew Carnegie Library since 1980 with the purpose of promoting the appreciation and production of Canadian art, especially from the Hamilton area. Spearheaded by the Dundas Art & Craft Association, this group of local residents banded together to establish an exhibition space for Hamilton artists and craftspeople.
While the building itself opened its doors in December 1910, it wasn't until 70 years later that it changed over from a library into an art gallery. A great addition to any visit to Dundas, stop in to see what's happening or at least walk by to admire the beautiful example of the Beaux-Arts neoclassical architectural style. It's especially prominent in the exterior staircase leading to the main entrance as well as in the columns and windows. This was commonly used for Carnegie-funded buildings constructed within the province after 1905.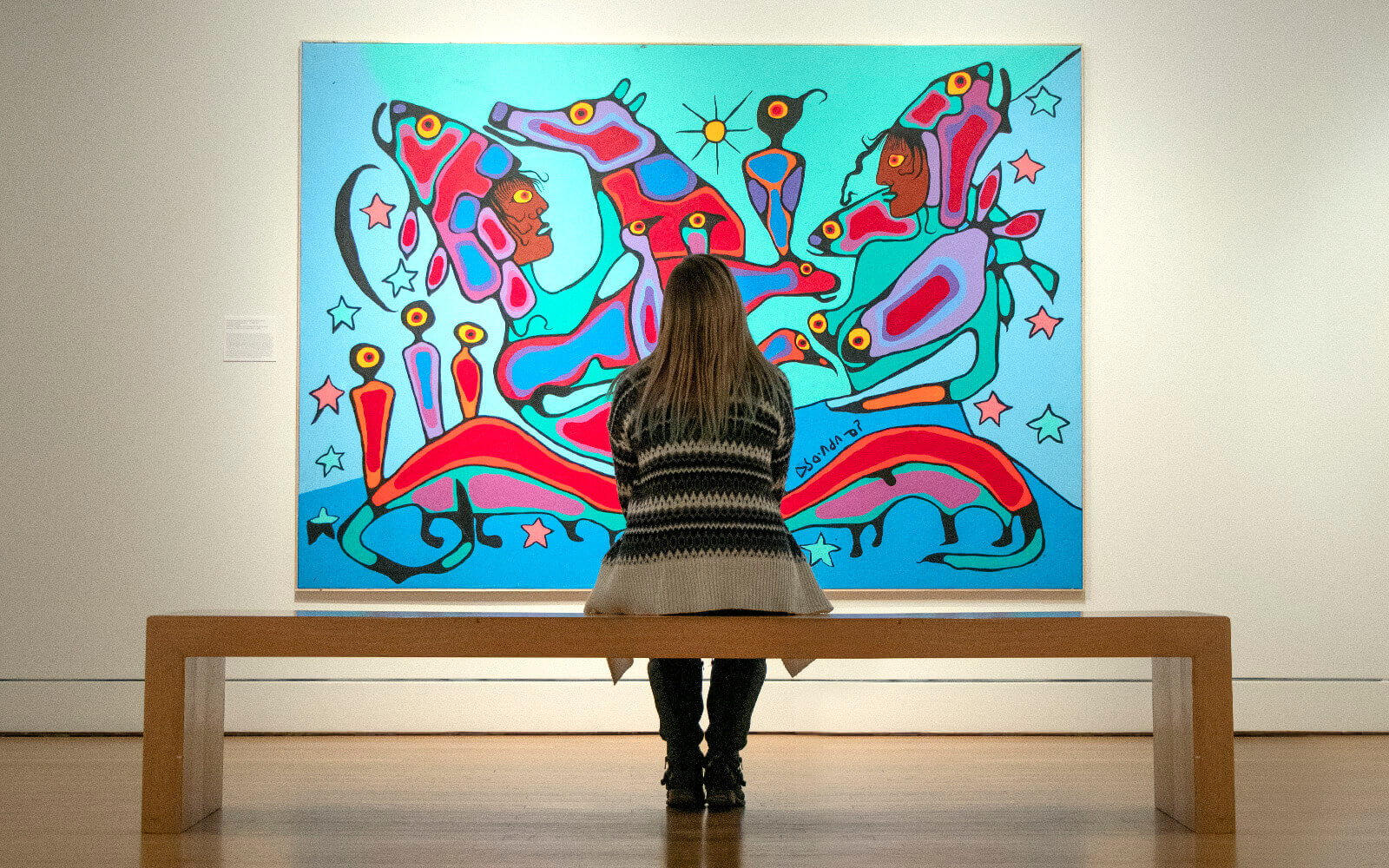 Things to Know When Visiting These Hamilton Galleries
As you can see, the creative scene in Hamilton is a colourful patchwork of talent in all aspects of the arts! If you're ready to check out some of these art galleries in Hamilton, here are some tips and tricks for your visit.
What About Private, Artist-Dedicated Galleries?
There are a number of artist-dedicated galleries scattered across the city. Give it a search on Google and you'll see what I mean! For the purpose of this article, I stuck with larger Hamilton galleries that encompass multiple artists rather than just one.
What is Parking Like in Hamilton?
To be honest, parking in the city can be a nightmare. Some Hamilton galleries such as The Cotton Factory have dedicated parking lots since they encompass such a large footprint while you'll have to find street parking for others such as the You Me Gallery. It all adds to the adventure!
What is Hamilton Known For?
Hamilton has a reputation for being an industrial city (hence the nickname, Steeltown) however, what many don't realize is how much it has changed over the years. It's actually the waterfall capital of the world, has a plethora of great hiking trails, a wide variety of amazing restaurants, and much more. Not to mention, it's home to the Hamilton Tiger-Cats CFL Team as well as the Hamilton Bulldogs AHL Team.
Looking for More Ideas for Your Visit?
Check Out These Fantastic Hiking Trails in Hamilton
You Don't Want to Miss These Top Indoor Activities in Hamilton
Visit The Most Haunted Places in Hamilton… If You Dare!
Your Ultimate Guide to the Best Waterfalls in Hamilton
Don't Forget These Top Art Galleries in Hamilton & Pin It For Later!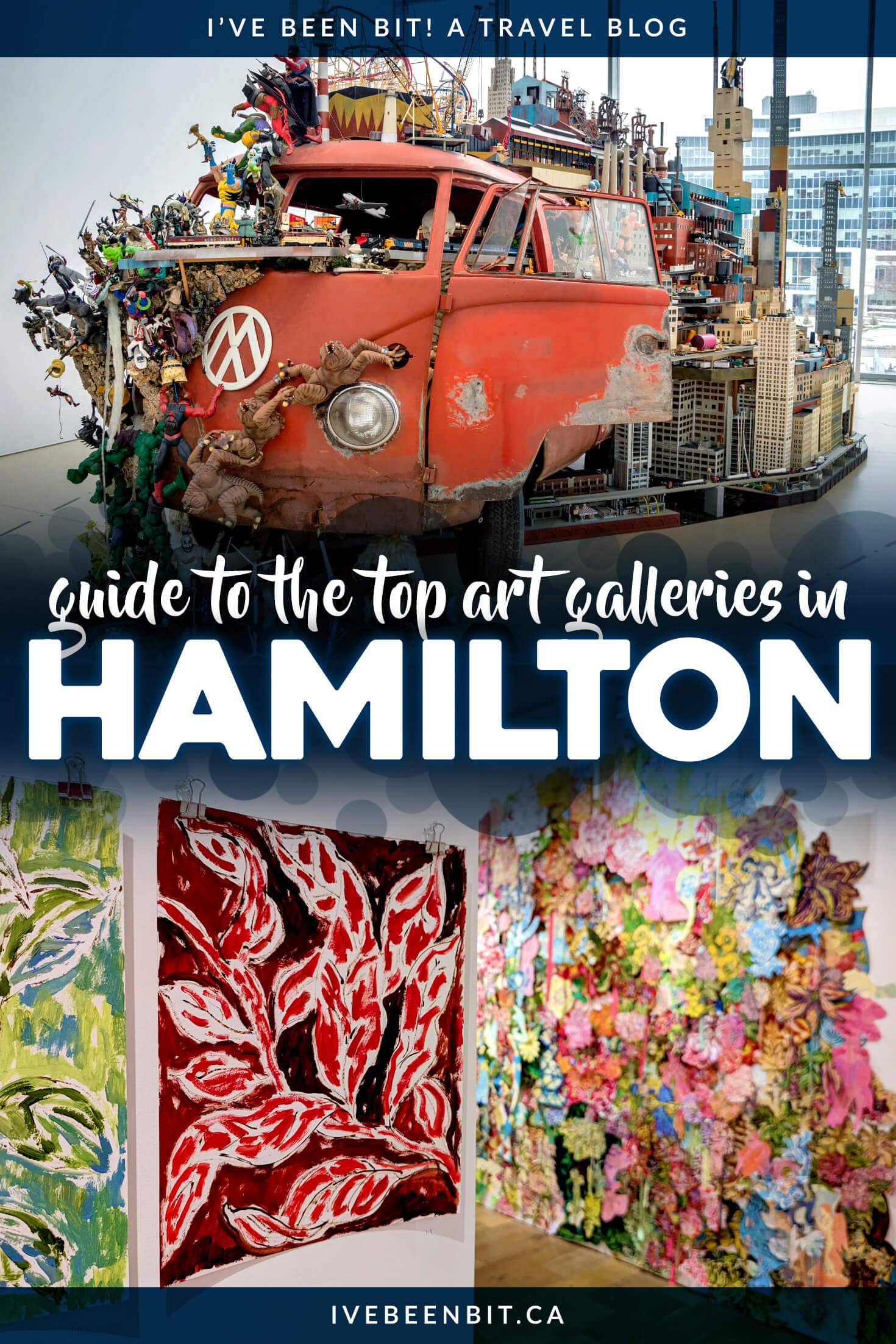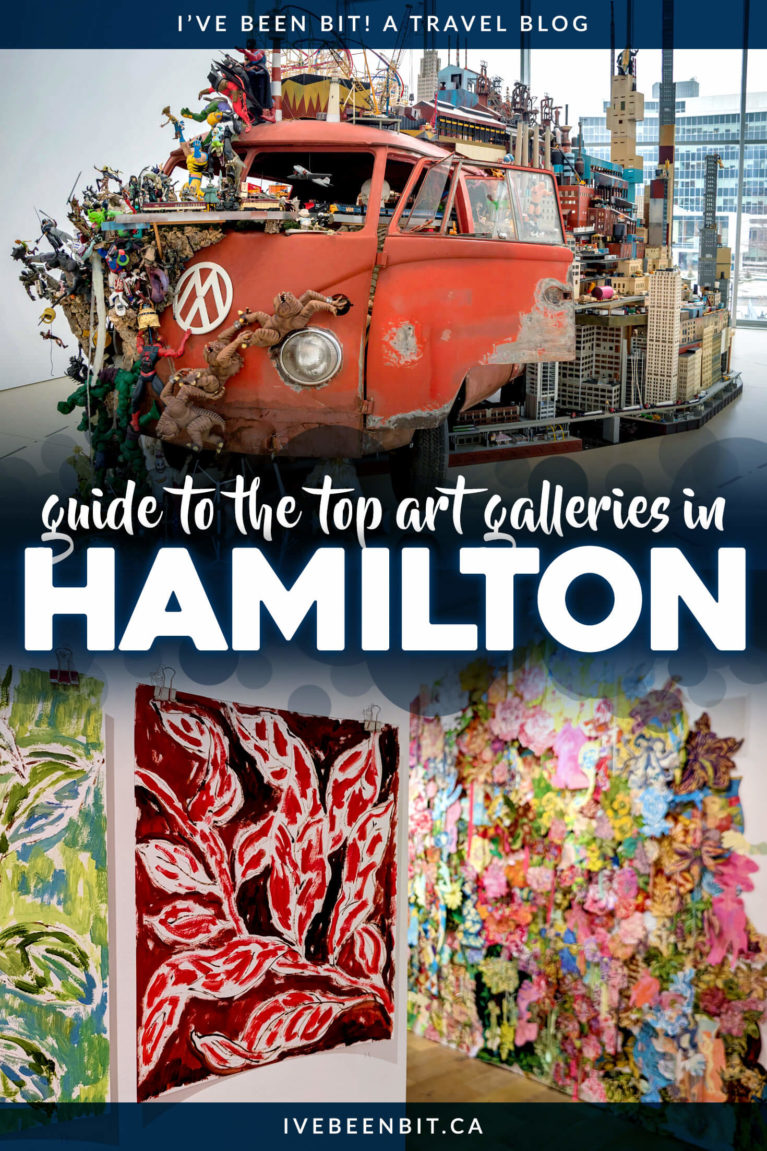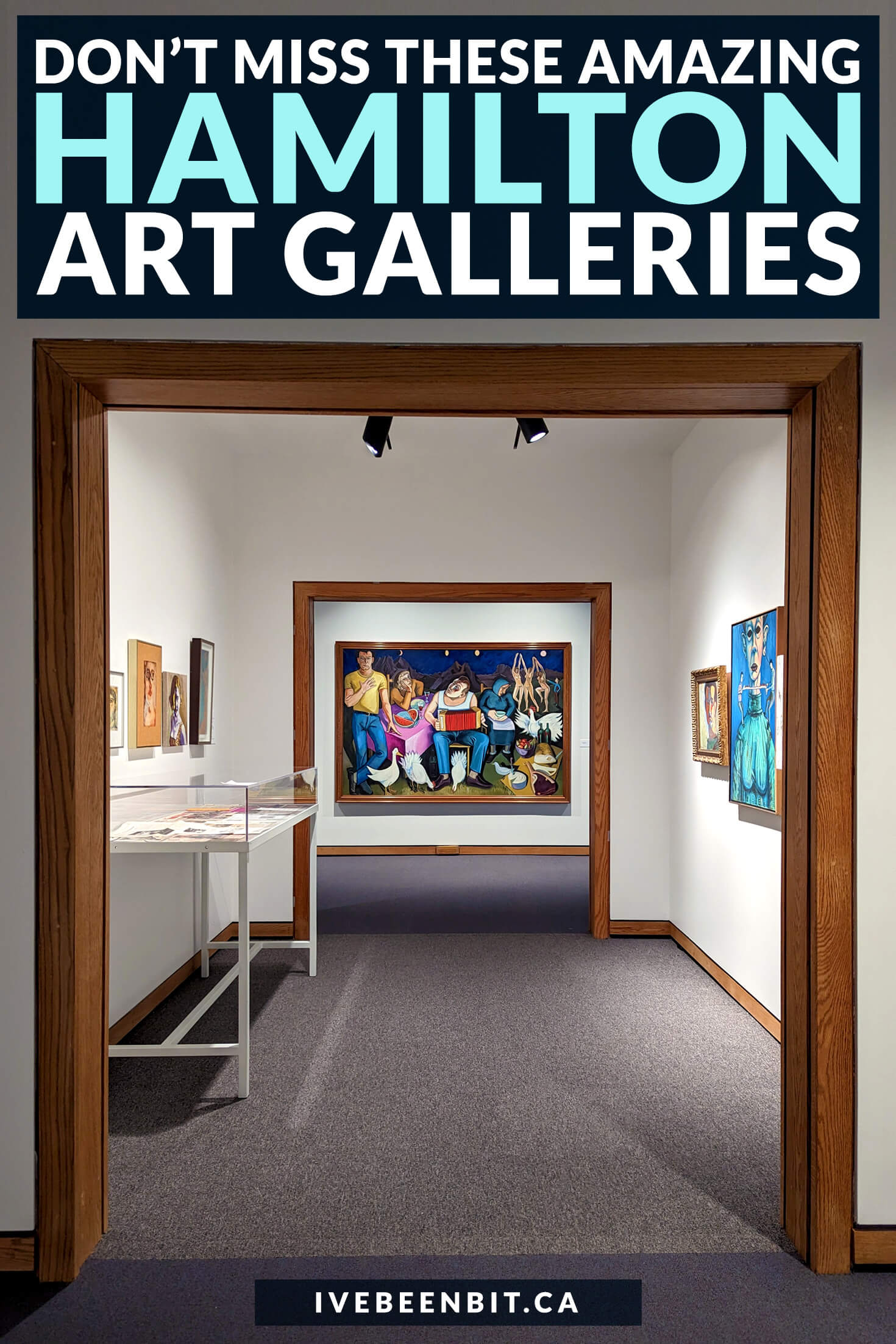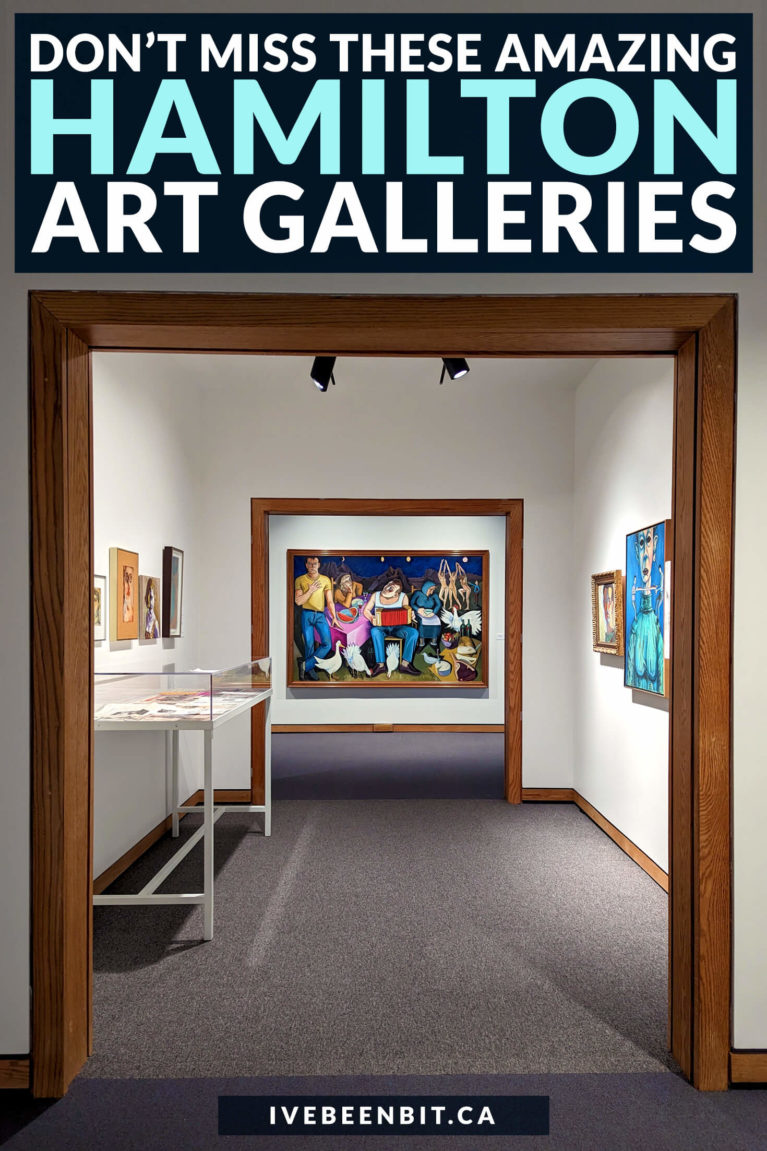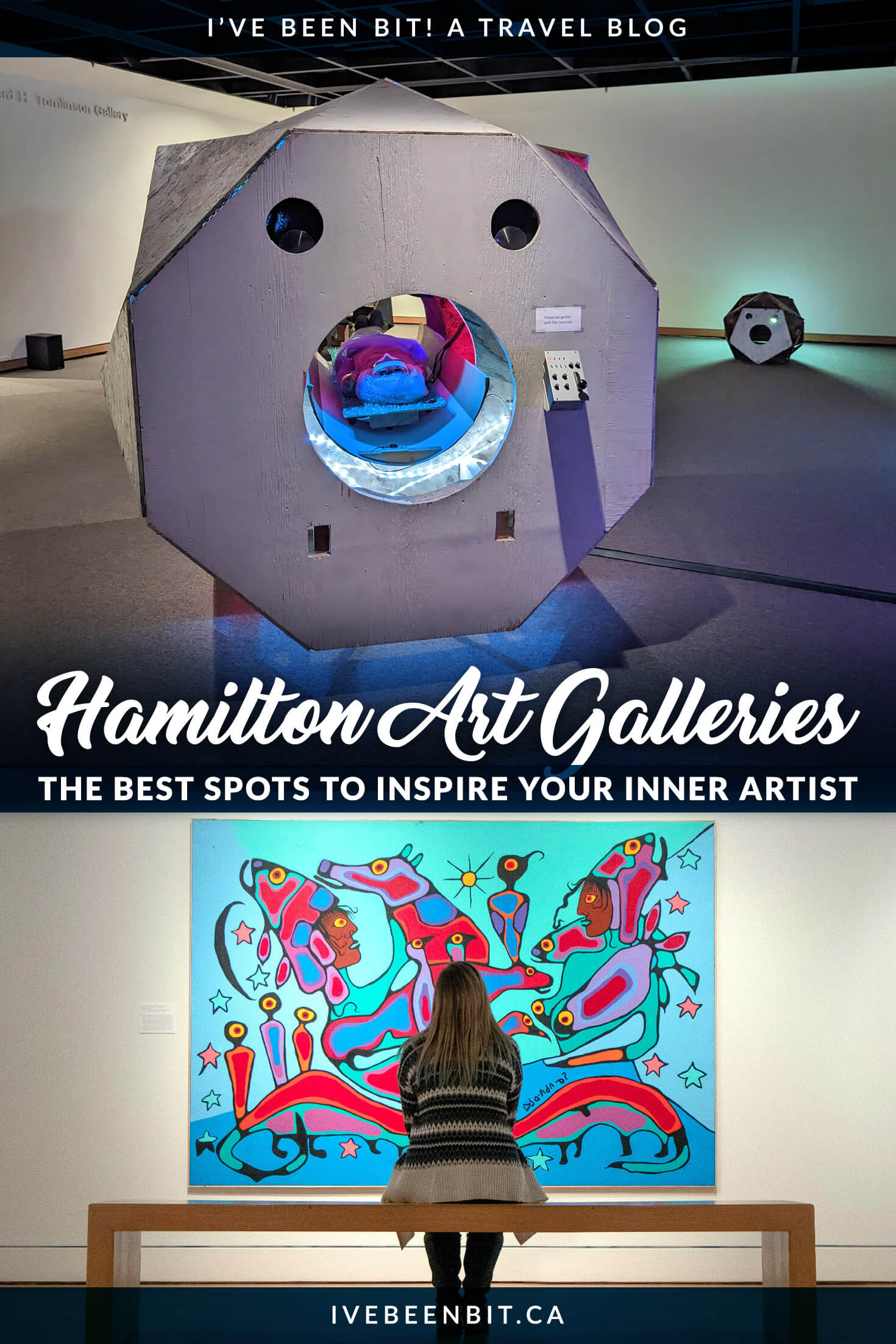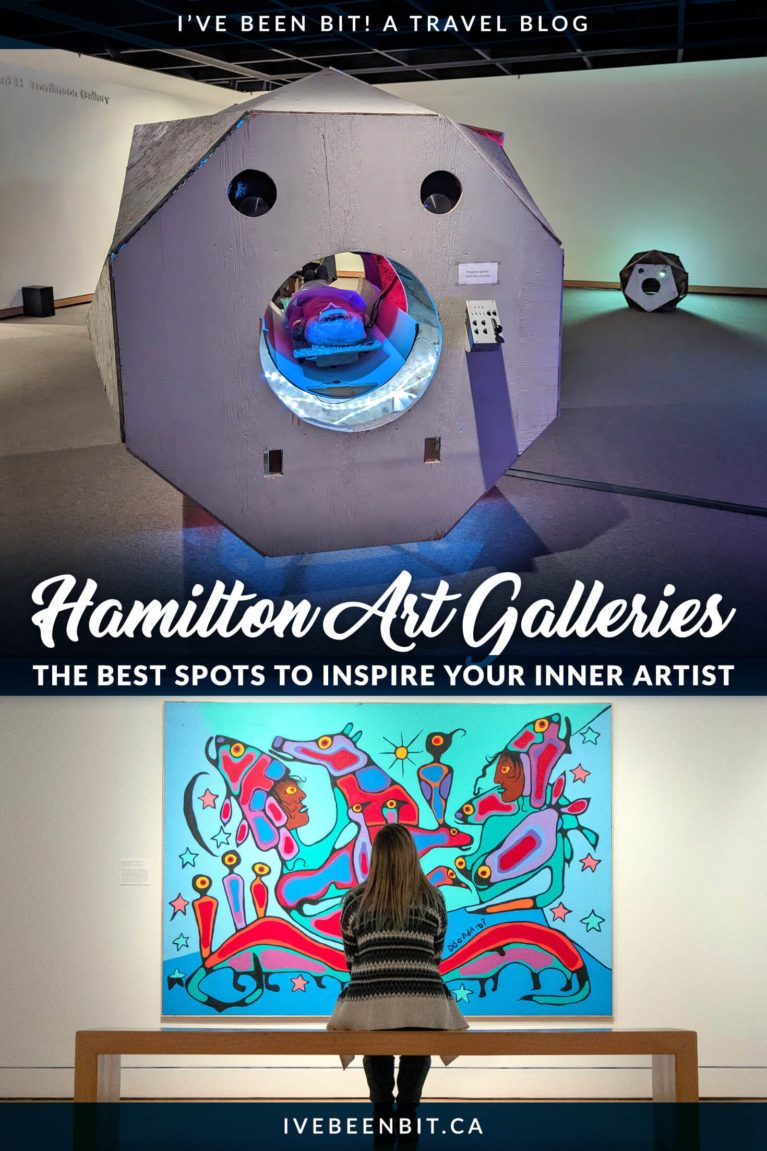 The post 10+ Incredible Hamilton Art Galleries to Feed Your Inner Artist appeared first on I've Been Bit! Travel Blog.