12 Best Salma Hayek Movies, Ranked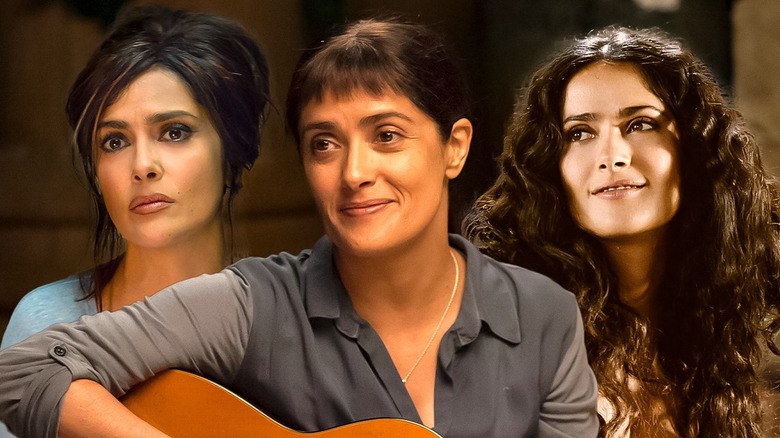 Salma Hayek gets a lot of attention for her stunning looks, but her oeuvre proves she's a versatile and formidable actress. From action to drama to comedy, Hayek takes on every role with consummate aplomb. Her talent has garnered Oscar, Golden Globe, and Emmy award nominations.
Hayek started her acting career in the novela "Un Nuevo Amanecer" in the late-1980s. She then appeared in television shows, including "Teresa," "Street Justice," and "Dream On." She made her big screen debut with 1993's "Mi Vida Loca," portraying Gata -- a small yet memorable role. Her feature film debut led to bigger and bigger parts, leading her to become one of the most sought-after actresses in Hollywood. While the 1990s saw her cultivate a reputation as a sex symbol, she's since lent her impressive acting chops to a wide range of films, such as experimental indie flicks, superhero blockbusters, and everything in between. Let's look at Hayek's best movies.
Mi Vida Loca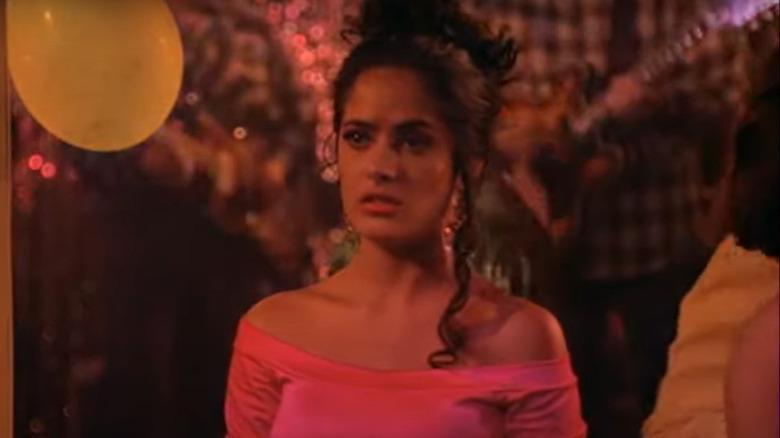 Set in the L.A. neighborhood of Echo Park, "Mi Vida Loca" follows two young women recruited into a gang. They receive new nicknames: Mona is called "Sad Girl" (Angel Aviles) while Maribel is called "Mousie" (Seidy Lopez). Mousie soon gets into a romantic relationship with gang leader Ernesto -- whose nickname is "Bullet" -- and gives birth to his child. While she takes care of her baby, Bullet has an affair with Sad Girl and gets her pregnant, too. Bullet becomes a drug dealer to make ends meet, as Mousie and Sad Girl's friendship disintegrates.
The early-1990s saw a spate of films that examined the Mexican-American experience like "American Me" and "Blood In, Blood Out." "Mi Vida Loca" doesn't quite pack the same punch as these other films, but it's still a thoughtful look at gang life in L.A. The film asks hard moral questions about loyalty but offers no easy answers. The movie ranks lowest on this list not because of its quality (it's a great watch), but because of how little Salma Hayek is in it. However, she makes a splash with her small role as Gata, the ultra-possessive girlfriend of the pimp Juan "El Duran" Temido (Jesse Borrego). Although her screen time is brief, she displays a manic intensity that foreshadows the commanding characters she'd later play in her career.
Timecode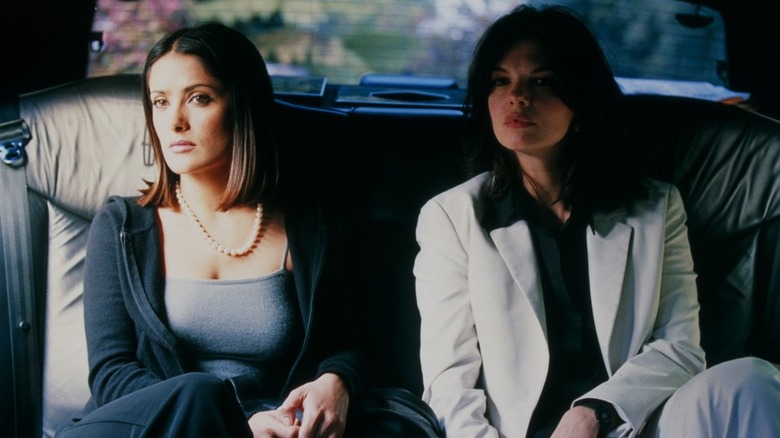 In "Timecode," Red Mullet Productions is gearing up for their latest project. However, there's hidden turmoil plaguing members of the film. One of its producers, Alex Green (Stellan Skarsgård), is missing from an important meeting because he's in an affair with Rose (Salma Hayek), an aspiring actress using him to get a part in the film. Rose's girlfriend, Lauren (Jeanne Tripplehorn), suspects Rose is cheating. Lauren hides a microphone in Rose's purse to spy on her. Meanwhile, Alex's wife, Emma (Saffron Burrows), is in a session with her therapist discussing her future with her husband, whose drug use and extramarital affairs have strained their relationship. Basically, it's a typical day in Hollywood.
The description above barely does this film justice. Director Mike Figgis depicted the film's events in four quadrants. Each subplot takes place in real-time, intersecting with one another in startling ways. Hilarious and tragic, "Timecode" is a satirical look at the self-destructive people running the entertainment industry. Hayek shines as the eager Rose -- doing whatever she can to succeed. Her desperation to get ahead blinds her to the toll her ambition takes on her relationship. This film is a wonderful demonstration of how Hollywood ruins more than just its stars. But there are more complex roles for Hayek to have!
Bandidas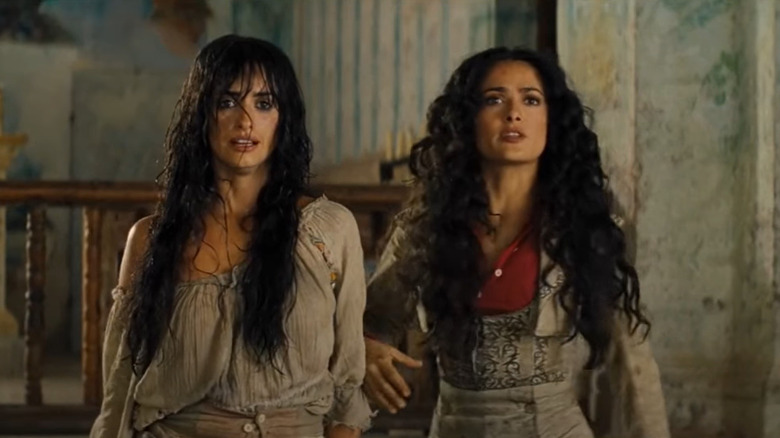 María Álvarez (Penélope Cruz) and Sara Sandoval (Salma Hayek) are two women in 1890s Mexico who come from completely different backgrounds. María was raised by a poor farmer and spends her life tending the land. Sara was raised by a wealthy landowner who sent her to prestigious European schools. However, when both fathers have their land taken away from them by the American baron Tyler Jackson (Dwight Yoakam), María and Sara become a bank-robbing duo and share their loot with those who had their property stolen from them. The two women can't stand each other. Still, they forge a tight partnership when the veteran thief Bill Buck (Sam Shepard) trains them in combat so they can avenge their families. 
Hayek and Cruz are a spectacular duo in this Western action comedy. Hayek plays the sophisticated and snobby Sara, whose goal is to avenge her father's death. Cruz portrays the wiser María, who has her sights set on rectifying a greater injustice. Not all jokes stick their landing, and the overall plot is predictable. However, the cheesiness of the script is more than compensated by some stellar stunts and action scenes. But the real highlight is the chemistry between Hayek and Cruz, whose constant -- yet priceless -- bickering reminds me of Robert Redford and Paul Newman in "Butch Cassidy and the Sundance Kid."
Across The Universe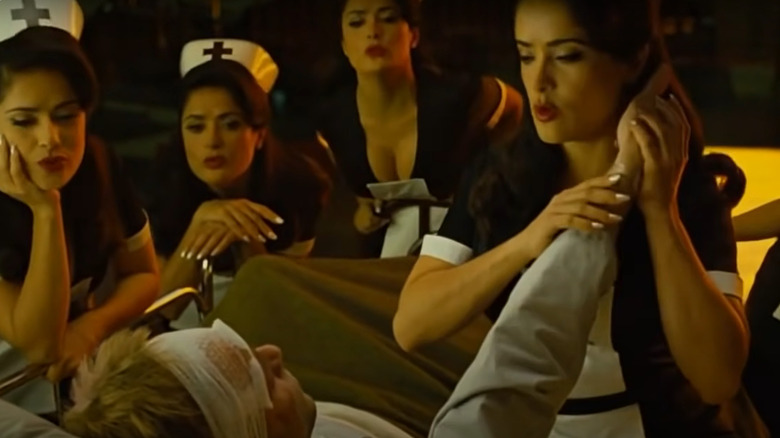 "Across the Universe" follows a group of young people navigating life in turbulent 1960s America -- and set to the immortal music of the Beatles. Jude Feeney (Jim Sturgess) leaves England for the U.S. to look for his father, who left him when he was a boy. But when Jude's father rebuffs him, he confides in his new friend, Max (Joe Anderson). The two join a thriving hippie community in New York's Greenwich Village. They enjoy a bohemian existence with their creative pals and Jude strikes up a romance with Max's sister Lucy (Evan Rachel Wood). But their lives are turned upside down with the turmoil of the era -- facing things like the Vietnam War and political upheaval.
Director Julie Taymor delivers a visually dazzling musical with numerous kaleidoscopic sequences. This may be one of Hayek's shortest performances, but it's one of her most sensational. In this film, she plays a nurse in the hospital where Max is recuperating. Actually, she plays multiple nurses. Each one lends their surprisingly mellifluous pipes to "Happiness is a Warm Gun." What makes this scene so enduring is that it shows off Hayek's multiple talents. Unlike other films on this list, she demonstrates her captivating dance moves and singing skills throughout "Across the Universe" -- showing the world what a true Renaissance Woman really is.
The Hitman's Bodyguard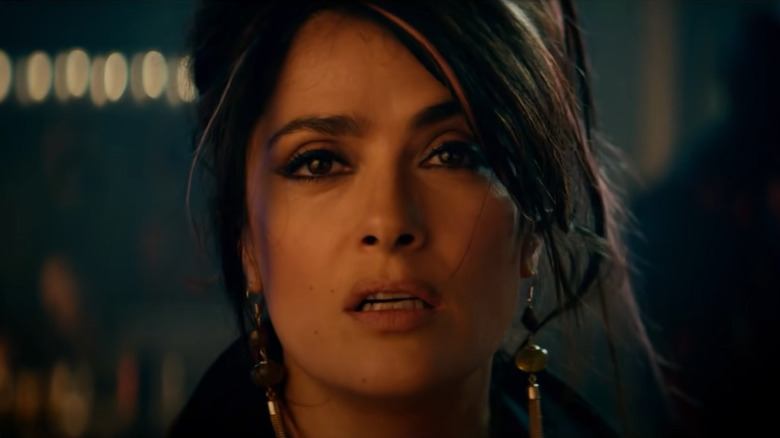 In "The Hitman's Bodyguard," the once-illustrious private bodyguard Michael Bryce (Ryan Reynolds) now scrapes by as muscle for wealthy London executives addicted to drugs. However, he gets a chance to redeem himself when he's offered a job to protect Darius Kincaid (Samuel L. Jackson). Darius is an imprisoned assassin who's made a deal to have his wife Sonia (Salma Hayek) freed from prison if he testifies against Vladislav Dukhovich, a brutal autocrat from Belarus. Accused of human rights violations, Vladislav will stop at nothing to ensure his freedom, including killing the one man targeting him. Michael figures it's an easy gig, but he has second thoughts when he learns that the man he's been assigned to escort was also responsible for ruining his career.
Hayek may have only played a supporting role in "The Hitman's Bodyguard," but she steals every scene and the chemistry with her co-star here beats previous entries on this list. It takes a lot to out-swear Samuel L. Jackson's Darius, yet Hayek makes it look easy. The two play a killer couple -- literally -- whose deep love for one another becomes matched by their violent tendencies and gutter mouths. Her best scene is when Darius tells Michael about when he fell in love with Sonia: At a bar, Darius sees her beat up some rowdy patrons with her fists, feet, and broken beer bottles -- all set to Lionel Richie's "Hello." For him, it was love at first stab.
If you or anyone you know needs help with addiction issues, help is available. Visit the Substance Abuse and Mental Health Services Administration website or contact SAMHSA's National Helpline at 1-800-662-HELP (4357).
From Dusk Till Dawn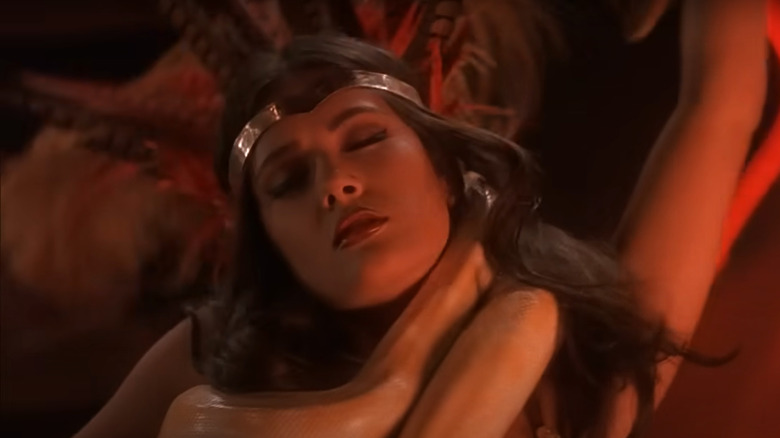 Brothers Seth (George Clooney) and Richie Gecko (Quentin Tarantino) are murderers and thieves with plans to meet their contact at a safe haven in Mexico. To travel across the border, they kidnap Jacob Fuller (Harvey Keitel) and his children Scott (Ernest Liu) and Kate (Juliette Lewis). The brothers commandeer the family's RV and arrive at their destination: a strip club filled with outlaws in the middle of the desert. Seth and Richie have the time of their lives waiting for their contact to show. But after they get involved in a bloody bar fight, the strip club's dancers and bouncers reveal themselves to be vampires. All hell breaks loose when the Gecko brothers must team up with their hostages and the surviving bikers to make it to sunrise.
Tarantino joined forces with Robert Rodriguez to deliver one of the most uproarious blood-soaked crime-horror films ever made. Hayek plays the lead dancer, Santanico Pandemonium, and, boy, does she suck. That's not a comment on her acting! After she gives a seductive dance to Richie (who satisfies his foot, ahem, fascination with the aforementioned striptease), she turns into a demonic creature -- showcasing her horror talents, too! She bites a big chunk out of his neck. Let that be a lesson to you, fellas: stay away from dancers who have an unusual aversion to garlic, crucifixes, and sunlight!
Puss In Boots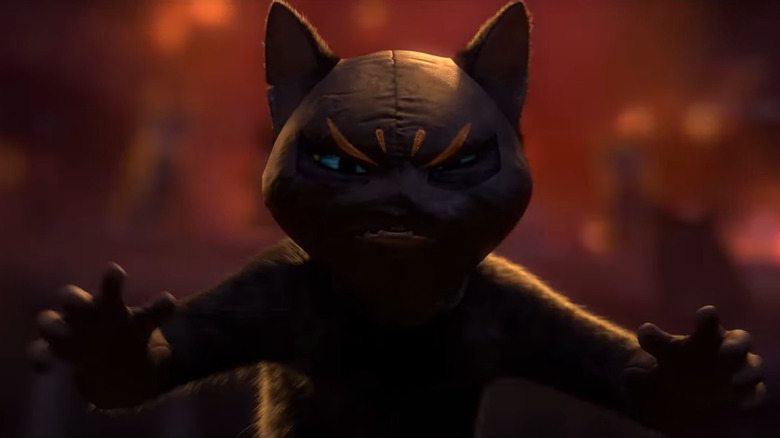 The swashbuckling Puss in Boots character (Antonio Banderas) first appeared in "Shrek 2." Since then, he's struck out on his own adventures in a tie-in film series. In "Puss in Boots," the cat wants to clear his name after being wrongfully accused of committing a bank robbery. Step one of his plan involves stealing fabled magic beans. However, he's interrupted by the sultry feline Kitty Softpaws (Hayek). She's also looking for the magic beans, under the orders of Humpty Alexander Dumpty (Zach Galifianakis). There's bad blood between Puss and Humpty, but Puss' budding feelings for Kitty persuade him to reluctantly team up with them as part of a larger scheme to attain the universe's legendary golden eggs.
I initially thought that giving a supporting character from the "Shrek" films a spinoff film series was a contrived idea. However, I was pleasantly surprised at how well "Puss in Boots" honored beloved fairy-tale characters while putting a clever modern twist on them. Banderas and Hayek are inspired casting choices. The two already had experience working together in Robert Rodriguez's "Desperado" and "Once Upon a Time in Mexico." Of course, their chemistry is still very much intact here -- even if it's just their voices coming through in this animated film. Hayek's a natural at portraying swagger and spiciness in equal measure, but she balances her character's sassiness with grounded passion and affection.
Tale Of Tales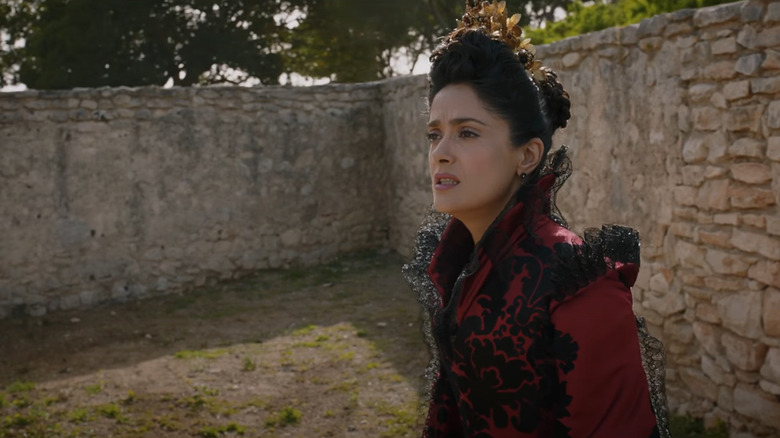 "Tale of Tales" is a fantasy-horror anthology film that retells three fairy tales by the Italian poet Giambattista Basile. The first one, titled "The Enchanted Doe," is about the King and Queen of Longtrellis' struggle to bear a child. A sorcerer instructs them to kill a sea dragon and have a virgin cook its heart for the Queen to eat. This will ensure that she can have a child, but only at the cost of another life. The plan succeeds and the Queen births a healthy boy, but the King dies from the injuries incurred by the sea dragon. The virgin who prepared the heart gives birth to an identical boy, and they become friends. But this doesn't sit well with the Queen.
If "Puss in Boots" is too cutesy for you, give "Tale of Tales" a watch -- there's graphic gore and lurid sex for those in the mood for something more mature. But this is no exploitation film. Each story explores a different facet of obsession and its resulting atrocities. As shown in many films on this list, Hayek is often cast in the role of a seductress. But here she demonstrates a greater intensity and range as the Queen of Longtrellis. Her desperation to have a child grows into tenderness. But this affection devolves into jealousy when another woman conceives a doppelganger of her son. In "Tale of Tales," Hayek proves that she can convey many sides of even the most heinous characters.
Beatriz At Dinner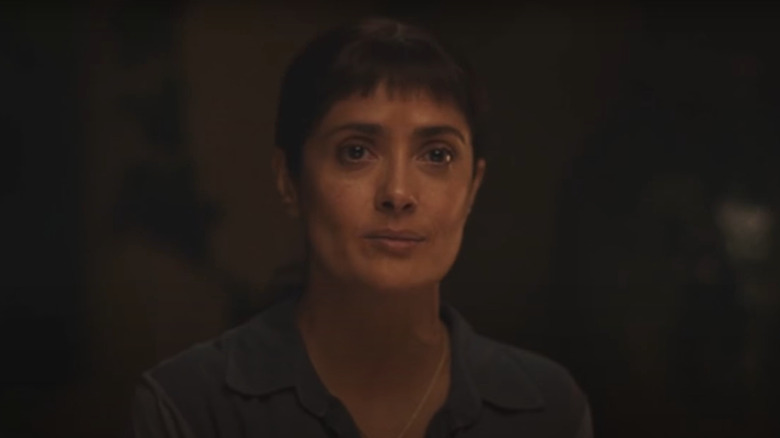 Beatriz Blanco (Hayek) is a holistic masseuse who helps cancer patients adjust to chemotherapy. One of her clients is a wealthy woman named Cathy (Connie Britton), who invites her to stay at her home when Beatriz's car breaks down. But this is also the night Kathy hosts a small dinner party. Kathy's husband, Doug (John Lithgow), isn't thrilled about having Beatriz over because their guests are affluent business associates. Kathy assures him it won't be a problem. The evening gets off to a shaky start as Doug's thinly veiled snobbishness towards Beatriz's Mexican heritage becomes hurtful, and the proceedings become increasingly awkward.
While "Beatriz at Dinner" can get a little heavy-handed at times with its political commentary, its stirring performances make it worth the price of admission. There's plenty of comedy on tap as Hayek's down-to-earth Beatriz struggles to fit in with a group of tone-deaf socialites. Over the course of the dinner, the levity morphs into discomfort when Beatriz suspects there's more to Doug than she thought, refusing to let propriety stop her from voicing her disdain. Don't let the simple premise fool you! You'll step into a comedy of manners, but go on an emotional ride.
Puss In Boots: The Last Wish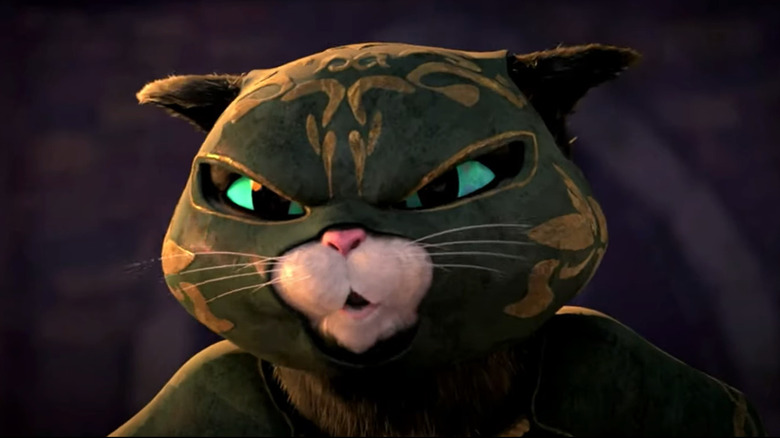 Following his most recent battle with a mythical monster, Puss in Boots considers putting his swashbuckling days behind him in "Puss in Boots: The Last Wish." However, he soon learns of a map that has the location of the Wishing Star, which can give him back his eight lives. Puss in Boots decides to steal it from Goldilocks (Florence Pugh) and her Three Bears Crime Family. Kitty Softpaws joins him, as she wants the Wishing Star for her own purposes. The two abandoned each other at their wedding years earlier, but they put aside their differences long enough to keep the map out of the hands of their enemies. Puss and Kitty may hate each other, but will one last adventure rekindle their romance?
Hayek's chemistry with Banderas is even better than it was in the previous installment. She brings the same contrarian energy that made her a blast the first time around. But this time, she's tempered by maturity and wisdom. Kitty is less interested in going on dangerous quests and more interested in settling down with someone she trusts. "Puss in Boots: The Last Wish" doesn't skimp on the action and humor that young audiences will love. But it doesn't shy away from exploring the importance of commitment in relationships -- giving older audiences something to appreciate.
Desperado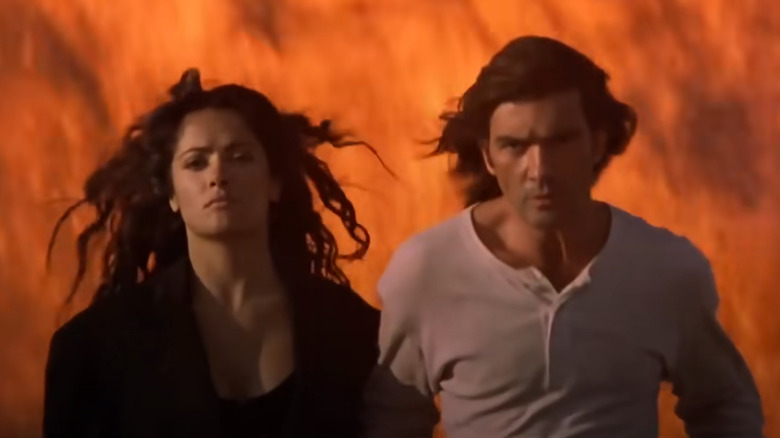 In "Desperado," El Mariachi (Banderas) is on the trail of drug lord Bucho (Joaquim de Almeida). El Mariachi has become something of an urban legend after taking out a local crime boss. He learns that the Tarasco bar has connections to Bucho, so he shows up to get some answers. However, he blows his cover and a massive gunfight breaks out. He becomes critically injured, so the kind -- yet tough -- Carolina (Hayek) tends to his wounds in her bookstore. Little does El Mariachi know that Carolina's business is also a front for Bucho's drug empire. Nonetheless, she helps him in his bloody quest for revenge.
Writer and director Robert Rodriguez made quite the splash with 1992's clever low-budget "El Mariachi." This sequel to the critically-acclaimed indie hit sees Rodriguez play with a bigger budget, casting Banderas as a modern-day version of Clint Eastwood's Man with No Name. But Carolina isn't just mere eye candy or a damsel in distress. She's every bit as capable as El Mariachi -- jumping across rooftops and cooly walking away from explosions. "Desperado" may lack an intricate story, but as long as the bullets fly in this stylish shoot-'em-up, we couldn't care less.
Frida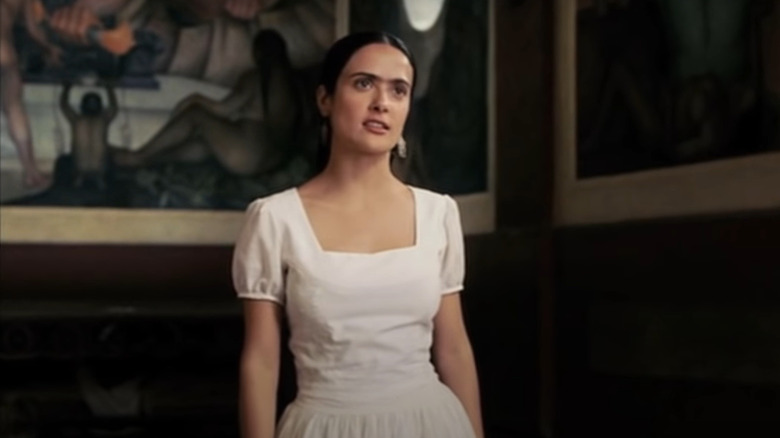 "Frida" follows the events of Frida Kahlo's tumultuous life. At the start of the film, Frida Kahlo (Hayek) suffers a serious car injury, so she began painting to help her recuperate. Years later, she's a talented artist and marries another artist, Diego Rivera (Alfred Molina). However, theirs is not a storybook romance: Both engage in extramarital affairs. The rest of their marriage is full of drama and turmoil. Rivera's communist convictions cost him a major commission by the Rockefeller family. Kahlo's sister Cristina (Mía Maestro) sleeps with Rivera. The couple takes in Russian revolutionary Leon Trotsky (Geoffrey Rush). Sadly, Kahlo has a miscarriage. Yet, no matter how difficult Kahlo's life was, she transmutes her pain into art.
Here it is, folks! This is Hayek's best film. No one could've brought the legendary Mexican painter to life better than Hayek, who displays the full extent of her acting prowess in the role. From Kahlo's fiery passion for her craft to her destructive dependency on an unfaithful husband, there's no emotion left unexplored. Hayek's performance garnered much-deserved Oscar, Golden Globe, and Screen Actors Guild award nominations, marking the highest recognition of her career thus far. Kudos to director Julie Taymor for giving us an unflinching glimpse at a complicated historical figure, refusing to pass judgment on her multifaceted character.
Read this next: Jordan Peele's Most Brutal Movie Moments Ranked
The post 12 Best Salma Hayek Movies, Ranked appeared first on /Film.