13 Welcome Porch Signs To Showcase At The Front Door
Are you looking for some porch decor inspiration? How can you make it more warm, cozy, welcoming  and maybe add a bit of personalization too? Well, with the designs we've collected below, you will surely grab some great ideas to spark that creativity. You can DIY some of these items yourself or snatch them up on your next shopping adventure. Check out these 13 welcome porch signs to showcase at your front door now!
These wooden rustic welcome signs come in a variety of neutral tones and sizes. They have a wonderful selection of phrases and ideas to snag as well as some charming accents that enhance the overall design. They're also made in a selection of woods from cedar to faux blush.
If you want to stay away from the farmhouse style, then this modern vertical welcome sign may be more your speed. This has a more contemporary, polished finished without too much texture or distraction from the simplicity of its design. You too can recreate this with a recycled piece of wood, black paint, and wooden stencils.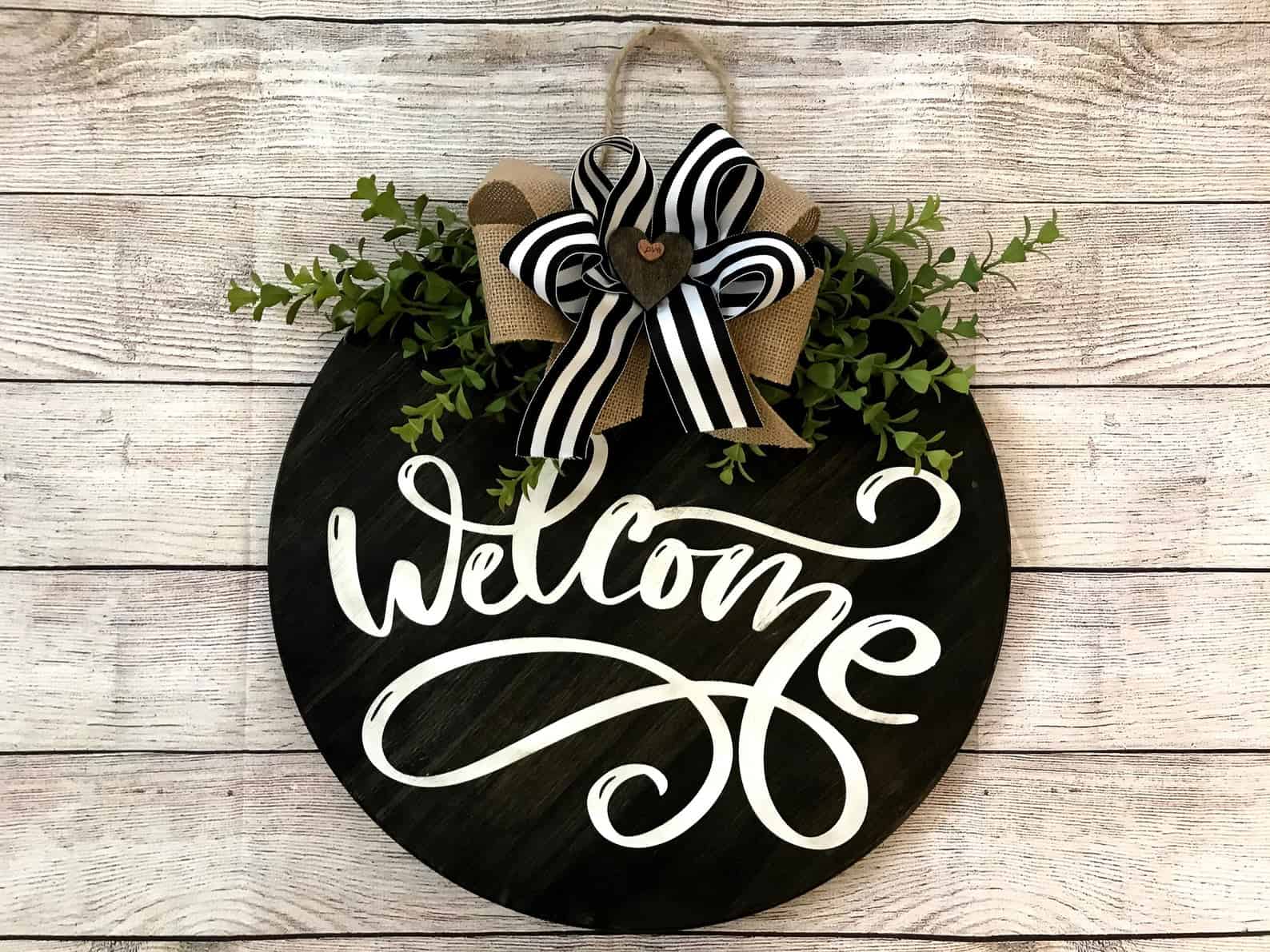 Something sweeter may look a bit like this round cottage style welcome sign. The gorgeous lettering, the greenery, and the burlap and striped bows all come together nicely to create a feminine finish. You can even gather the supplies and your gal pals and make this a craft to do on a Friday night accompanied by a glass of wine.
For larger front porches you may want to think about investing in a larger welcome sign. This home sign with greenery is just one of the many options floating around the Internet to provide you with the right kind of inspiration. We love its mixed of modern and farmhouse touches as well as the warmth that those greens bring to the space.
Sometimes you need height and not width and that's where this tall, slender welcome sign comes in. Again, you can easily make these yourself in various ways or you can just find the perfect design for you and snag it off line. This particular sings comes in various colors such as weathered gray and honey as well as an array of sizes to suit your needs too.
For those that want a little more pep in their step, add some color to your welcome sign. Just check out this sunflower welcome sign for inspiration! A floral design, stripes, or any other additions of color can really bring about the right amount of life to your front porch.
We had to show off this version of a home porch sign with wreath as well because this one is displayed with a bit more of a country style. The lettering feels a bit more down-home and less crisp and that burlap bow sends it into farmhouse overdrive. You can match this look with such ease and style its surroundings accordingly.
We love this style for the kitchen or to top off your plantation-style home. If you have a farm, why not add this wooden farmhouse welcome sign into the mix. A cow inclusion really brings the vision full circle don't you think?
Here's a more traditional welcome wood sign as its displayed horizontal, can be leaned on the wall while sitting on a console table or threaded and hung on the front porch siding or door. We love the mix of feminine lettering and country wood.
For a more weathered look, check out this personalized welcome sign! The white-washed wood is right on trend but we love how you can easily add your family name to the design for a more unique feeling. Welcome your guests in style and with a touch of your own pizazz!
A shabby chic wedding sign is one of the most versatile. Its simplicity makes it easy to be embedded into a more contemporary space but the wood and white stenciling makes it just as easy to fit into a more farmhouse feel. Recreate this at home this weekend, it's a novice-level craft!
Of course your welcome sign does't have to be made of wood. Instead, you can have a family name metal sign to welcome guests to your home and add some personalization to your porch. Here's a mock up of how one could look in your space.
And finally we leave you with just one more personalized family name welcome sign. This is just another way you can style your sign, with your name and with a thinner, stenciled lettering just depending on your preference. We also love how easy this piece of decor is but how much life it brings to a bare space.
The post 13 Welcome Porch Signs To Showcase At The Front Door appeared first on DIYs.com.