15+ Best Things to Do in Gananoque for a Taste of the 1000 Islands
If you're looking for a fantastic Ontario road trip to tackle this summer, Gananoque is certainly a fantastic option. Said to have several meanings such as "water rising over rocks" or "garden of the great spirit" in Iroquoian languages, there is no doubt that Gananoque is magical place to explore. Bursting with small town charm, beautiful river views and plenty of fun to offer, you'll quickly realize why this town is highly sought after. Whether you spend a day, night or weekend here, you don't want to miss the best things to do in Gananoque for a taste of the 1000 Islands!
Disclaimer: This post contains affiliate links where if you make a purchase, I may receive a kickback at no extra cost to you. It helps keep IBB alive so thank you!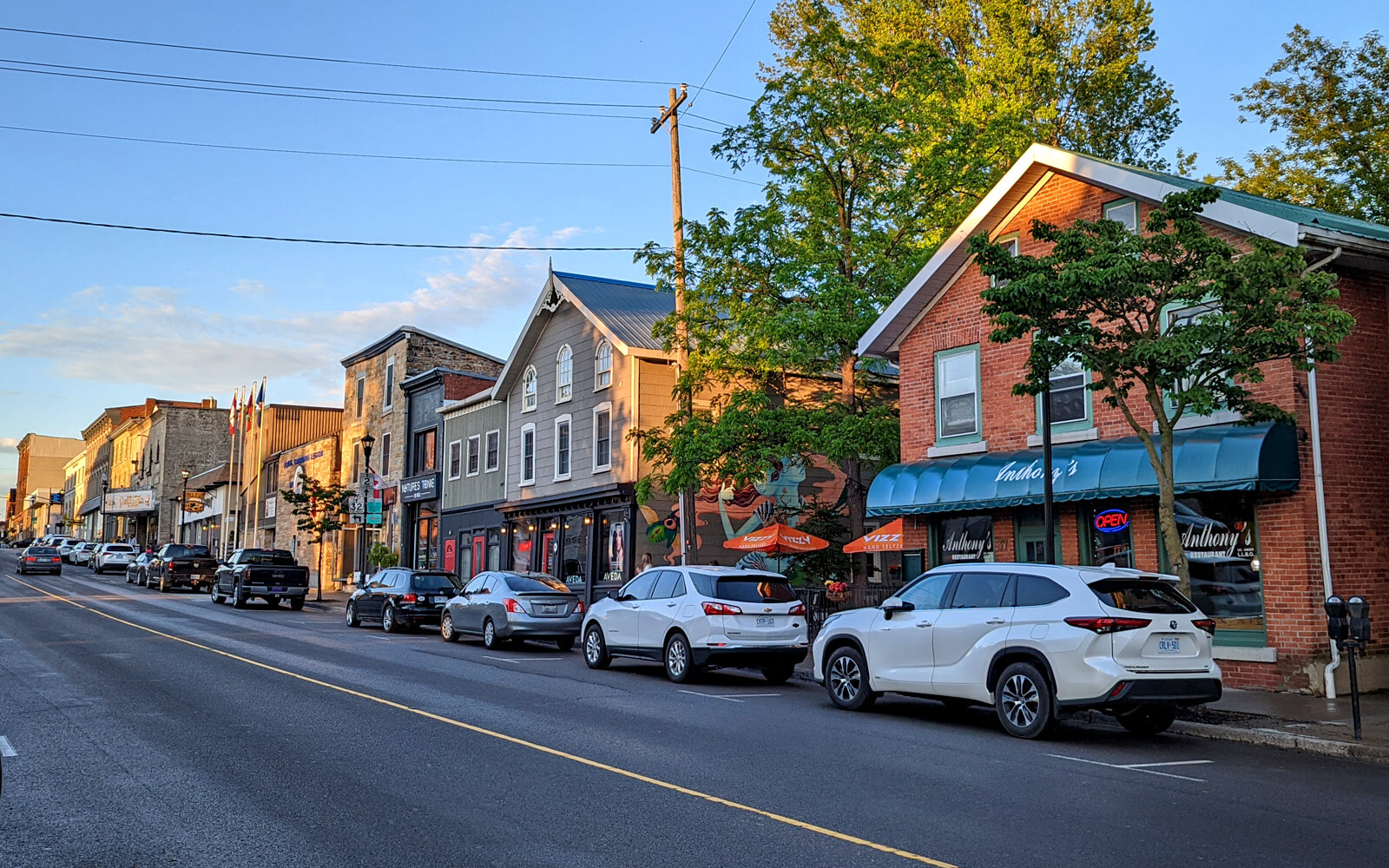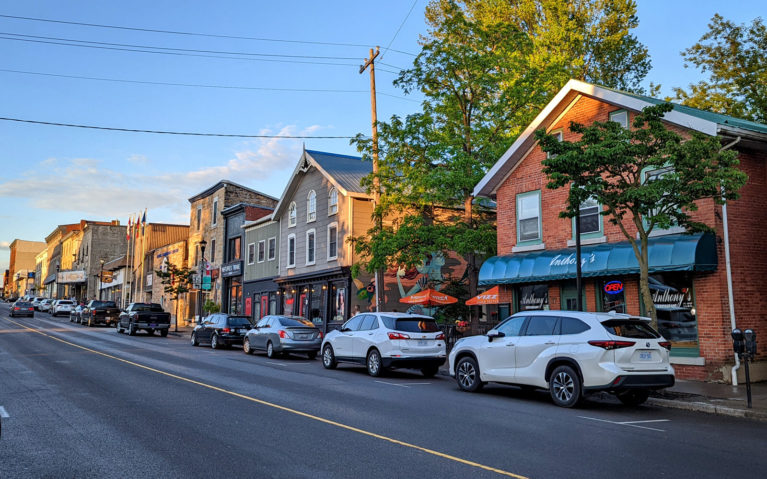 Best Things to Do in Gananoque
The area certainly looks a lot different compared to hundreds of years ago before the Haundenosaunee (Mohawk, Oneida, Onondaga, Cayuga, Seneca, and Tuscarora) made contact with Jacques Cartier when he first visited what is now known as the St Lawrence River. However, the area certainly has a lot to offer. Here are the best things to do in Gananoque for your visit!
Explore the Heart of Town
One of the biggest things I always recommend is to spend a little time meandering in town. Take a stroll down King Street and check out some of the sights and sounds of Gananoque! 
There are a number of public art pieces like murals and sculptures to be enjoyed as you stroll around. Be sure to pop over the old railroad path to Confederation Park and enjoy the beautiful views of the Gananoque River as it feeds into the St Lawrence River.
If you're looking for more information on the area, head to the visitors centre where their knowledgeable staff can answer any questions you may have about Gananoque and the 1000 Islands.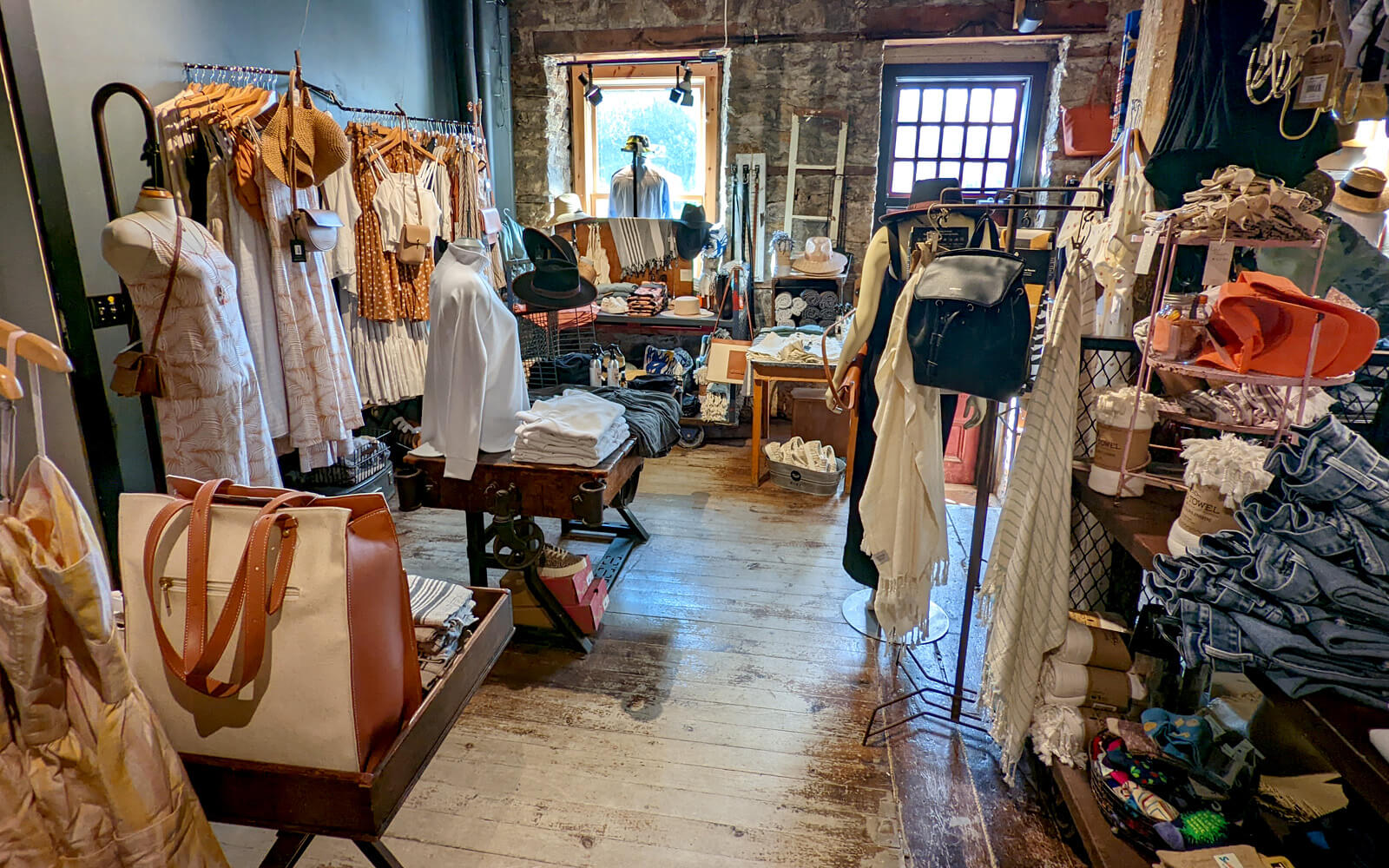 Go Shopping in Gananoque
If some retail therapy is in order, Gananoque has you covered. As you're exploring King Street, pop into some of the great boutiques along the way. Here are a few of my recommendations!
Steel Style Garage is a wonderful clothing store featuring surf style enveloped in rustic charm that's a part of the Axleworks collective.  If that's not enough of a reason to visit, they are a part of the 1% for the Planet initiative where 1% of their revenue is donated to non-profits that are working to protect the environment.
The Drawing Room Vintage is just down the road and is a must stop for anyone who loves shopping in thrift stores. They have a wonderfully curated selection of items that is certainly worth taking a peek at! It's not uncommon to see handmade items and even some from local artisans!
However, if you're going to shop anywhere in Gananoque then it has to be at Lighthouse Provisions. This fantastic little shop offers fine eats from local Ontario companies with a heavy emphasis on women-owned businesses. It's also the perfect spot to grab a picnic lunch as they make fantastic sandwiches as well as specialty dishes in-house. Of course, you can always grab some goodies to go for snack time later on!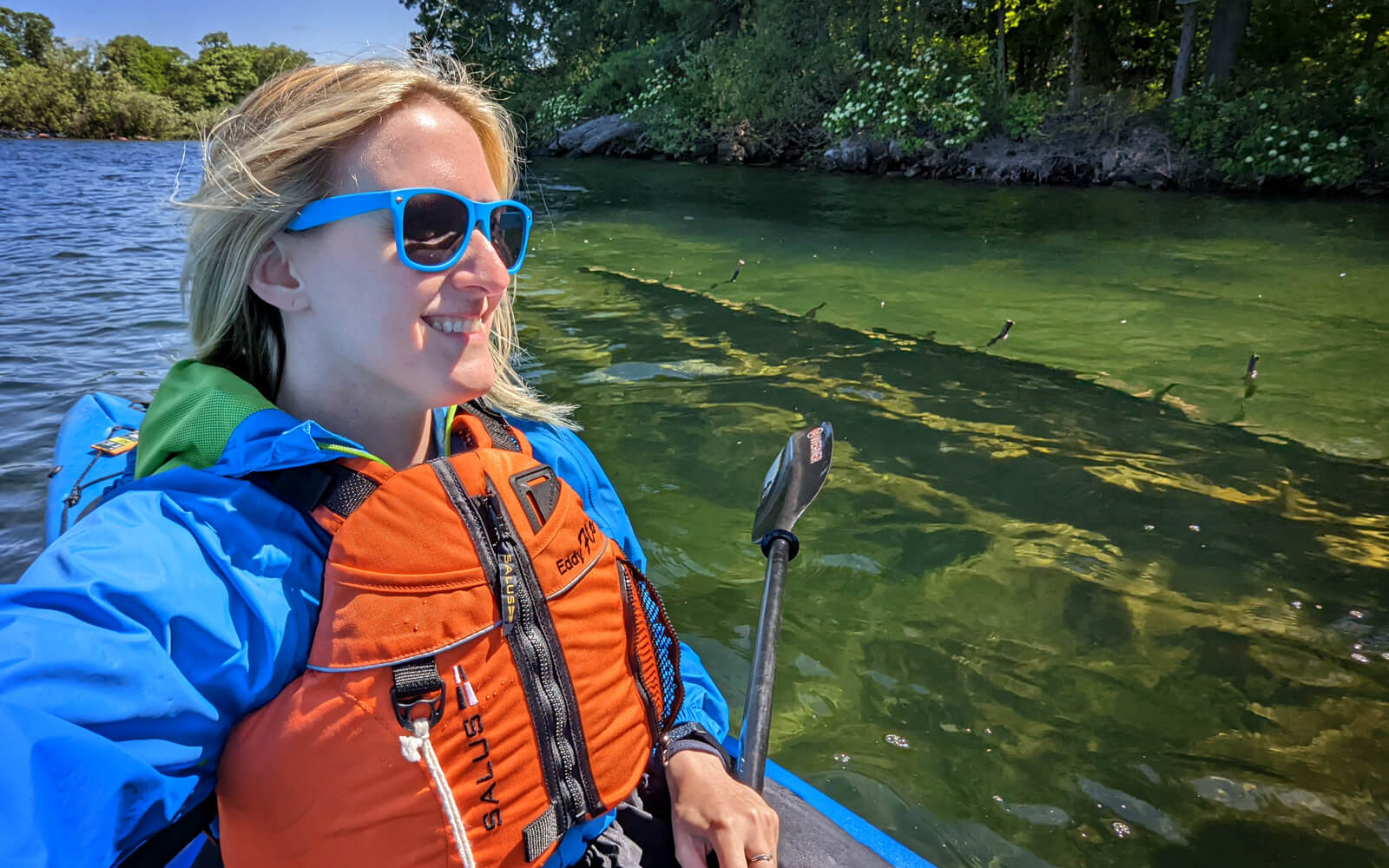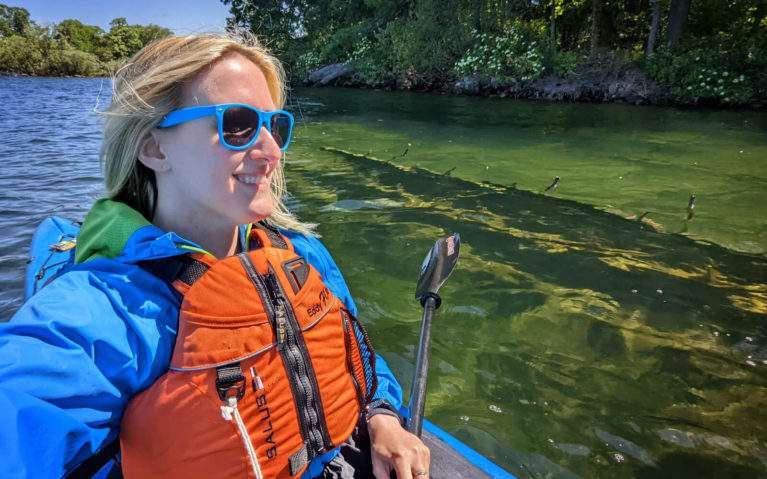 Paddle the 1000 Islands
Leaving from Gananoque, 1000 Islands Kayaking offers guided half-day, full-day, sunset and overnight kayaking tours so that you can get up close and personal with a number of the islands close to Gananoque. These tours are great for beginners or those nervous about heading into the St Lawrence on your own.
As part of the Frontenac Arch Biosphere Reserve, you'll learn about the history of the area on a guided sea kayaking adventure. Fun highlights include exploring a number of islands like McDonald Island and The Towers, checking out a gravestone with a unique significance, paddling beside a shipwrecked schooner and enjoying the calm of Half Moon Bay. 
If you're an experienced paddler or wish to meander at your own pace, you can also just rent the gear and enjoy a self-guided tour as they'll outfit you with everything you need for a sea kayaking adventure!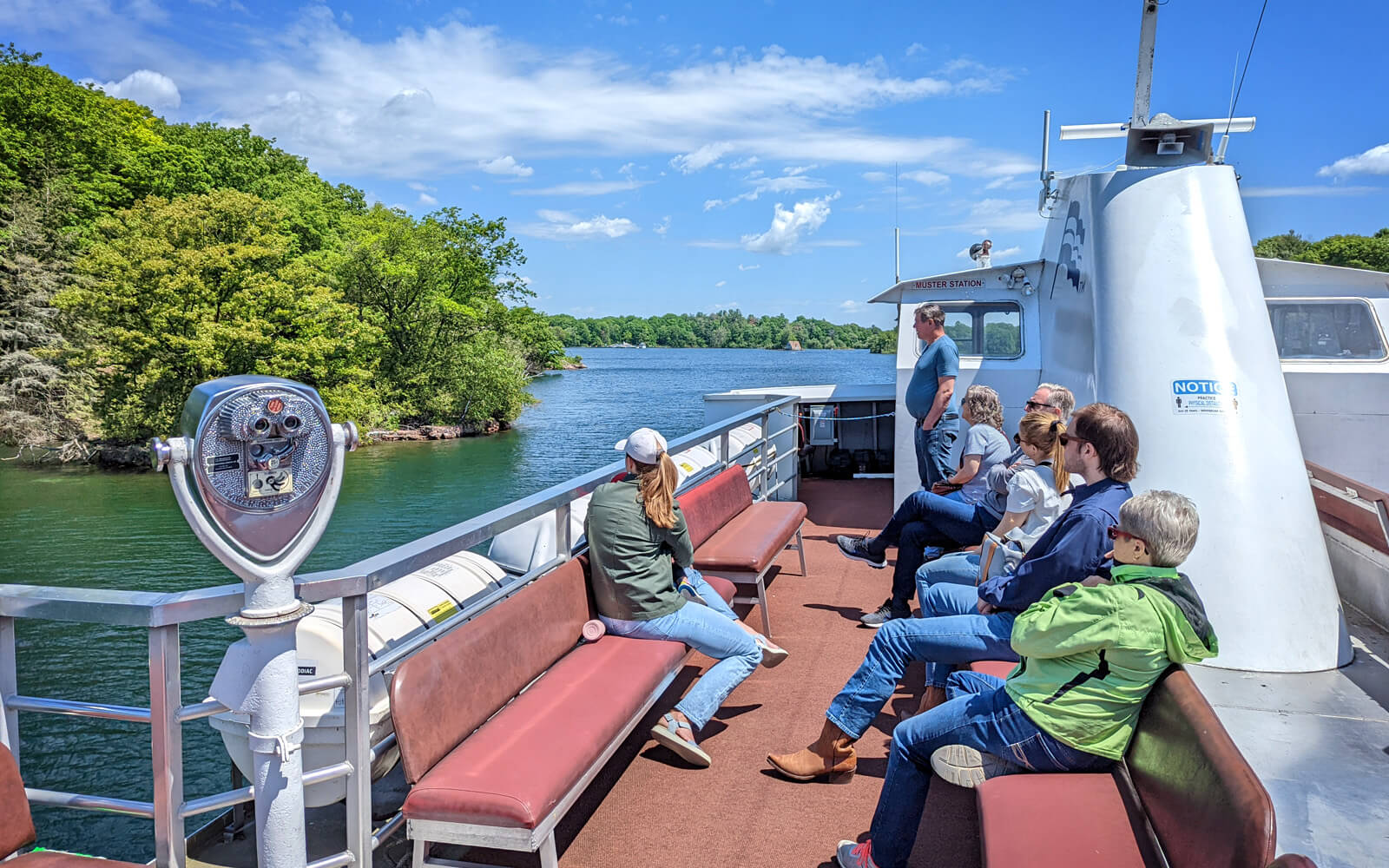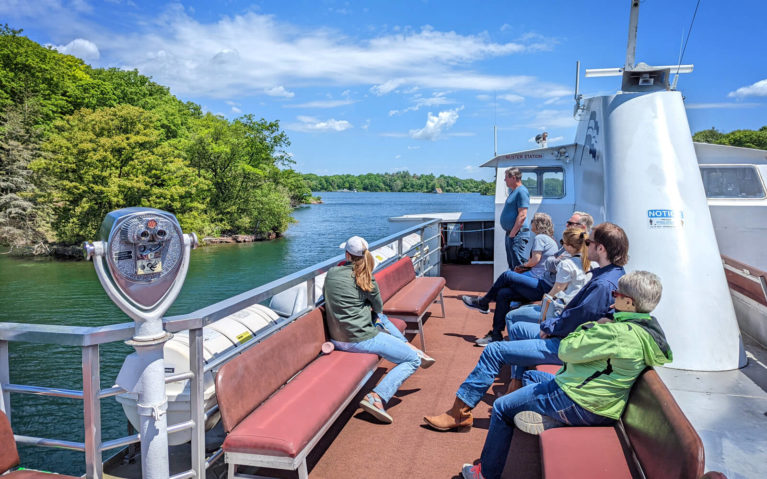 Tour the 1000 Islands with City Cruises Gananoque
If you'd like to see more of the Thousand Islands without the arm workout, book a tour with City Cruises Gananoque! I hopped onto their one hour long Heart of the 1000 Islands cruise to get re-acquainted with this stretch of the St Lawrence River.
This cruise takes you through the Admiralty and Navy group of islands. As you take in the sights, you'll hear about the history of the area over the loudspeakers thanks to a pre-recorded narrator. Topics include some of the wars and rebellions this area has experienced, environmental restoration efforts, quirky things about the islands such as Napoleon's Hat and more. Don't be surprised if you miss some of the information though, you'll certainly be distracted by the beauty of the area. You'll quickly understand why the Iroquois referred to it as the "Garden of the Great Spirit"!
As summer gets underway, this Gananoque boat line offers additional tour options from sunset cruises to shipwreck-focused tours and one where you can even get out and explore the famous Boldt Castle! If you have your heart set on a specific tour, it's best to book in advance to ensure availability and avoid any disappointment.
RELATED: Gananoque isn't the only spot to hop on a boat tour! Check out my Thousand Islands boat cruises guide for more details.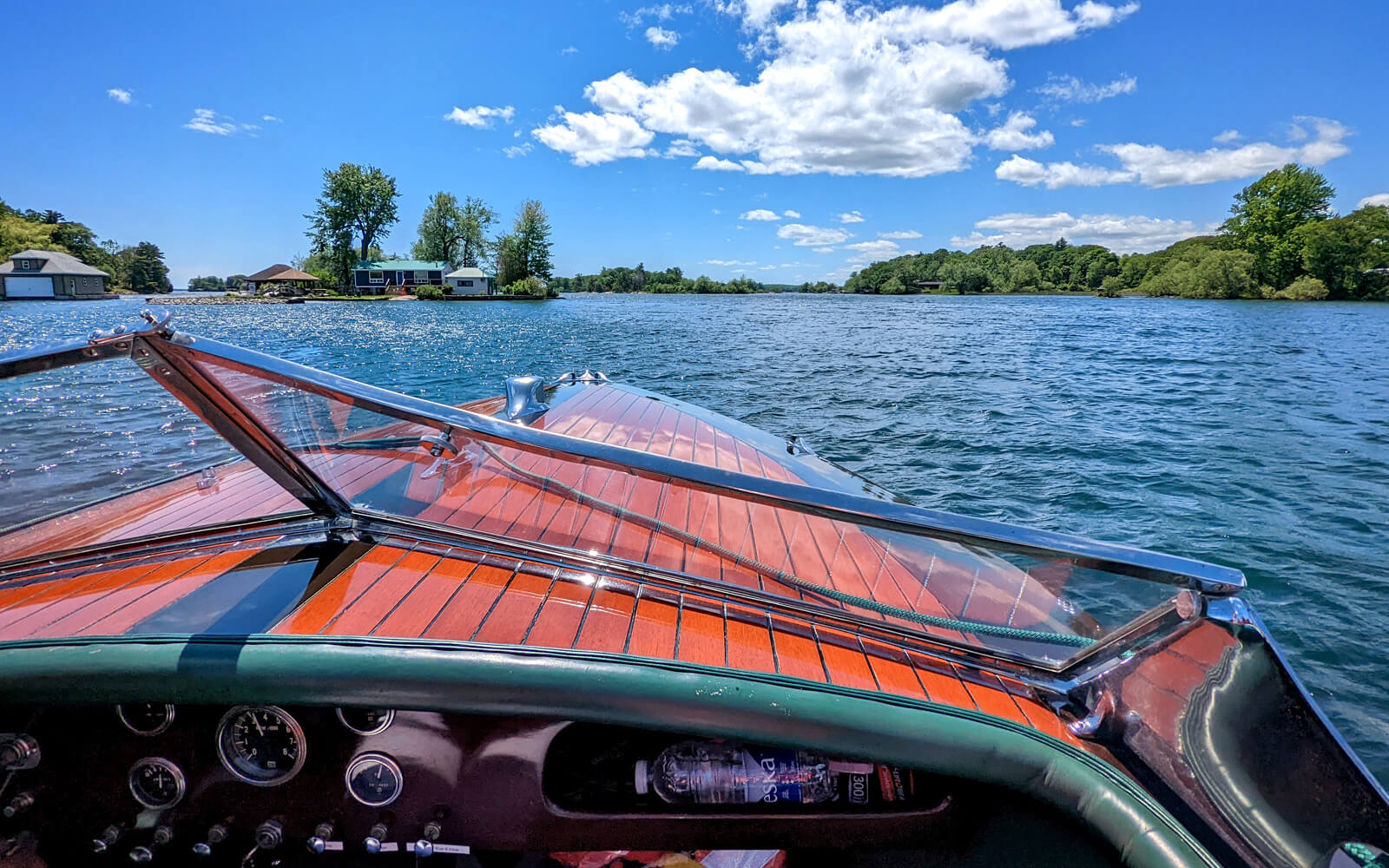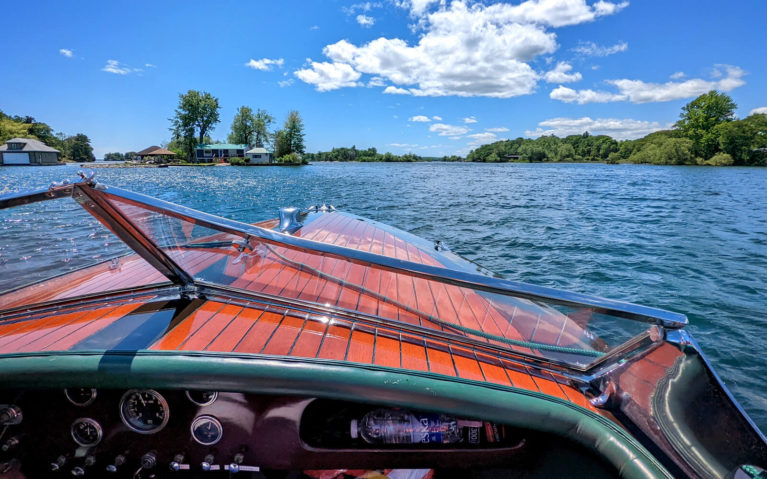 Experience the Thousand Islands Boat Museum
The Thousand Island Boat Museum brings the history of the St Lawrence River to life. In the final stages of multi-million dollar overhaul, this outdoor museum allows you to get up close and personal with an emphasis on experiential learning. Head to Gananoque's waterfront and get acquainted with their wide range of 36 vessels that have shaped life along this stretch of the St Lawrence River. Be sure to spend a few hours exploring as you learn about each boat with the museum's interactive displays.
Entrance to the Thousand Islands Boat Museum is free however they offer a number of paid experiences that are worth every penny. While the City Cruises are a great way to get familiar with the area, a tour in the Thousand Islands Boat Museum's fully restored 1989 Gar Wood is honestly a real treat. You'll get insider information from a local's perspective while enjoying the adrenaline rush of zipping around the islands in this fantastic vessel! 
They also offer a number of other paid experiences such as a guided Voyageur Canoe journey, special concert fundraisers, boat shows and more. Keep an eye on their website for more information about upcoming events and new experience offerings.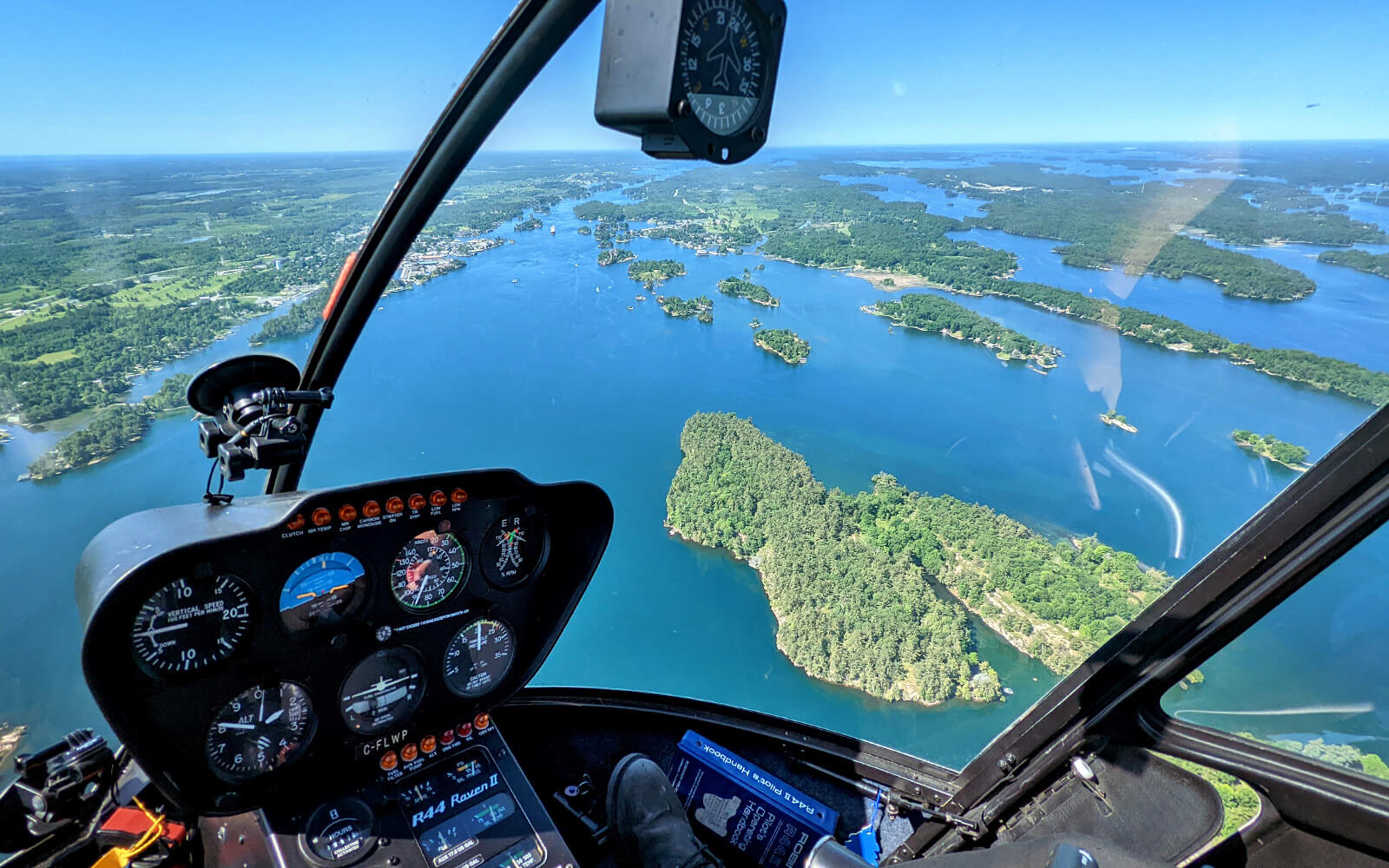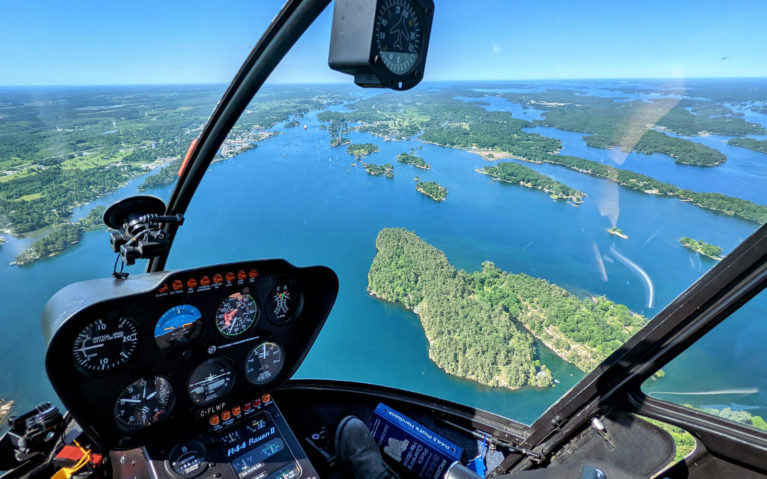 Get a Bird's Eye View With 1000 Islands Helicopter Tours
We've seen the islands from the water so now let's take to the skies! If you really want to see as many of the 1864 islands as you possibly can, you'll want to book an adventure with 1000 Islands Helicopter Tours. Trust me when I say your jaw will drop as you take in the sights across Gananoque and Alexandria Bay! 
This gal definitely has some vertigo but I felt right at home on my helicopter tour. Since I was on the first tour of the day, I got to spend some quality time with my pilot Bri as she went through the daily safety checks. If you're lucky and get her, you're in great hands. She's an absolute riot and has plenty of stories to share as you admire the incredible beauty of the Thousand Islands.
Starting with just three tour options when they first opened in 2014, 1000 Islands Helicopter Tours has since expanded to offer five tour options as well as three unique packages that are guaranteed to make your visit a memorable one. While their least expensive tour is one of their most popular options, I highly recommend the 20 minute tour as you'll get to see so much more of the area AND the stunning Boldt Castle from the sky! Click here to book your tour now.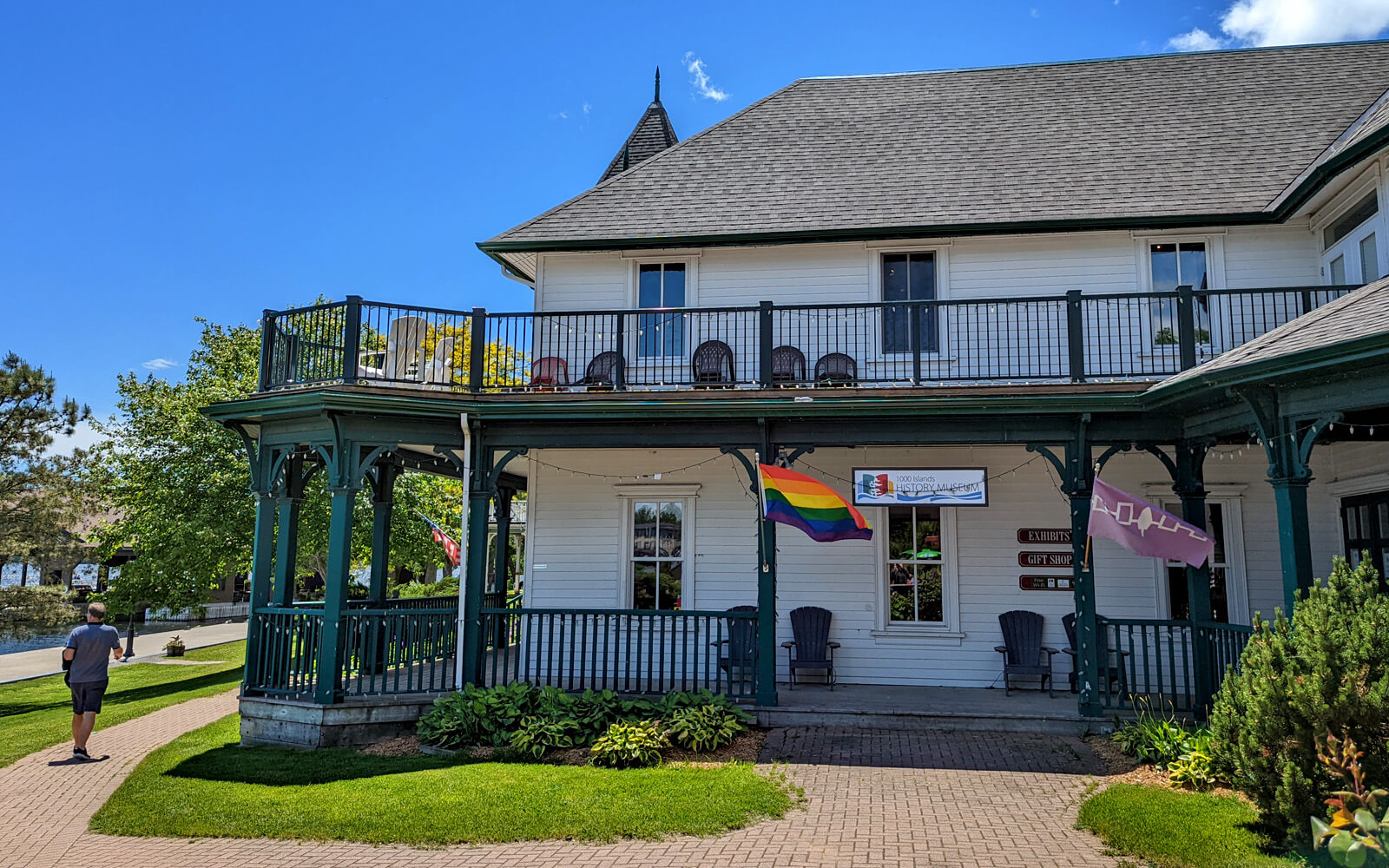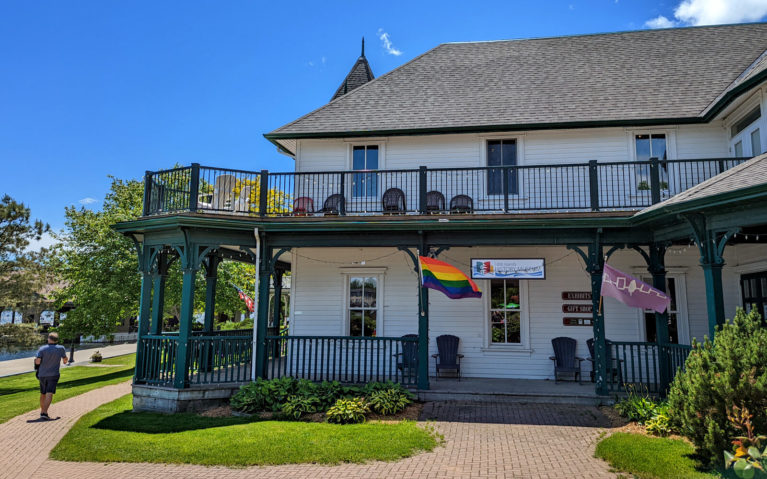 Learn About the Area at the Thousand Islands History Museum
As you can imagine, there is plenty of 1000 Islands history to be told. Founded in 1995, the Thousand Islands History Museum shares Gananoque's story from geology to ecology to those who have walked these lands since time immemorial within its permanent exhibits. Spend some time exploring them either on your own or with a self-guided tour. Guided tours are also available but must be booked in advance.
New this summer is the "Unmasking Influenza" exhibit which I feel is very poignant for the time. This travelling show features artifacts from Kingston's Museum of Health Care as well as our nation's capital. You'll learn about just how greatly the Spanish Flu has affected our society as well as some of the darker sides of treatments that occurred during the outbreak.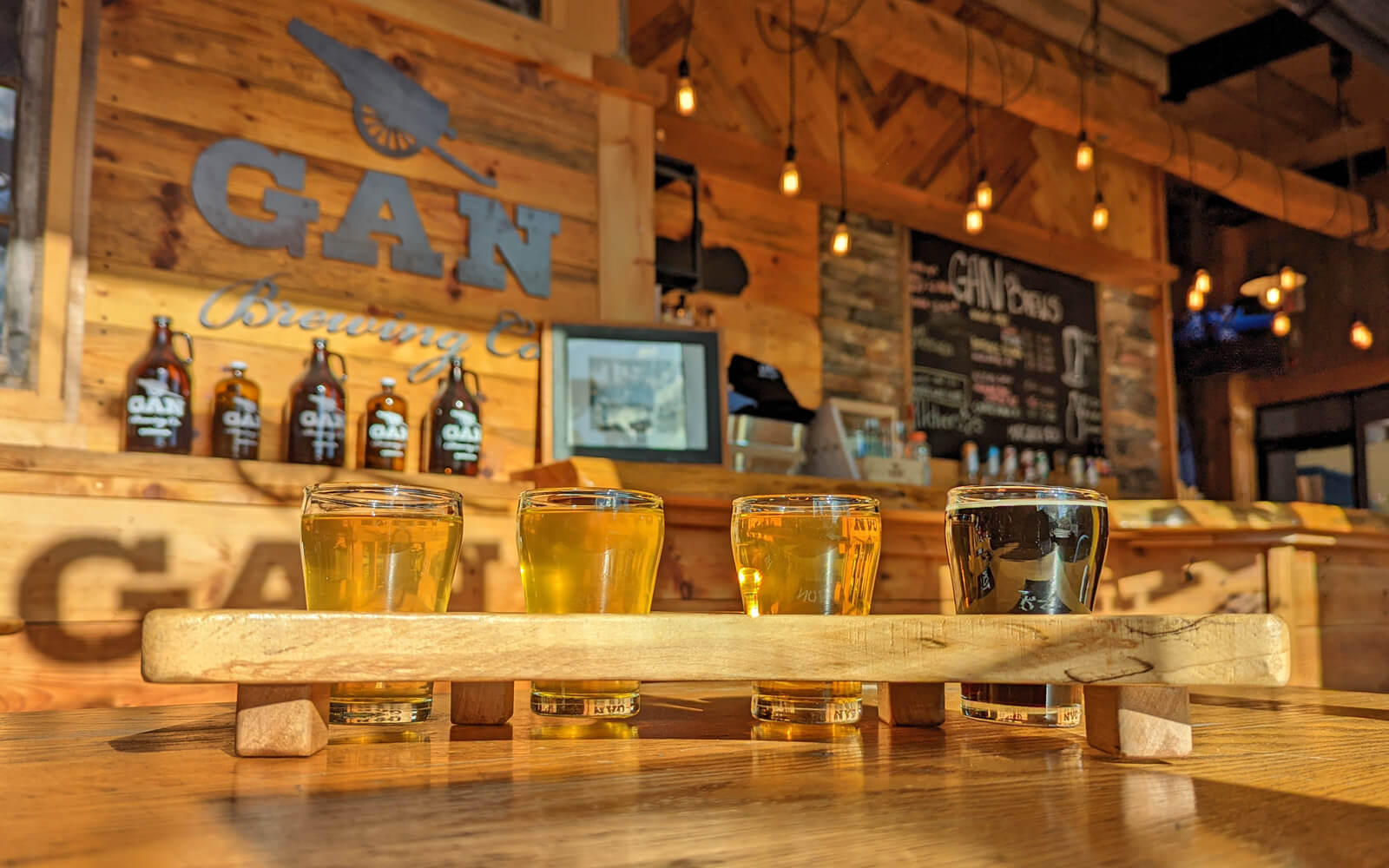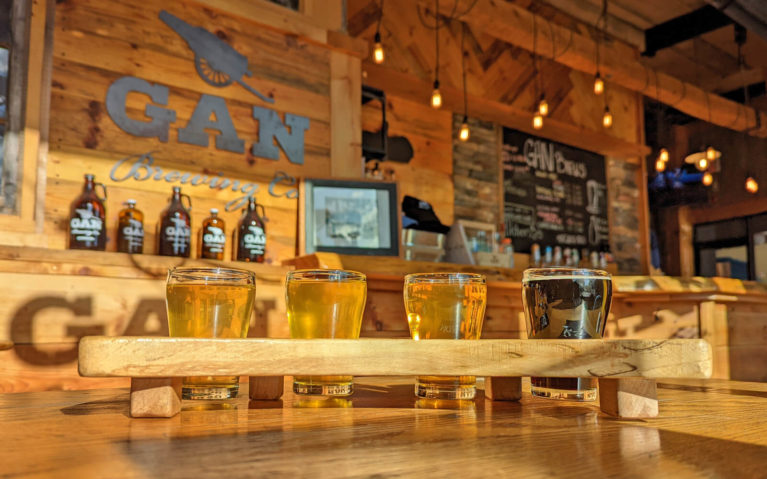 Grab a Pint at Gananoque Brewing Company
I don't know about you but indulging in some craft beer is always a good idea in my books! You'll find Gananoque Brewing Company right on King Street in the heart of town. It's not uncommon to see the patio full to the brim, especially on a hot summer weekend when they have live music! They have great down to earth staff that are always happy to help you decide what to drink.
Not sure what to order? Personally, I'm always a fan of flights since that way you can enjoy a number of brews. Why have just one when you can try three or four? I indulged in their Naughty Otter lager and pilsner, Boathouse blonde ale and the revival stout with my favourite being the pilsner. If beer isn't your thing, you might be in luck as during my visit they had freshly made margaritas available. It's not a regular occurrence but they sure looked refreshing!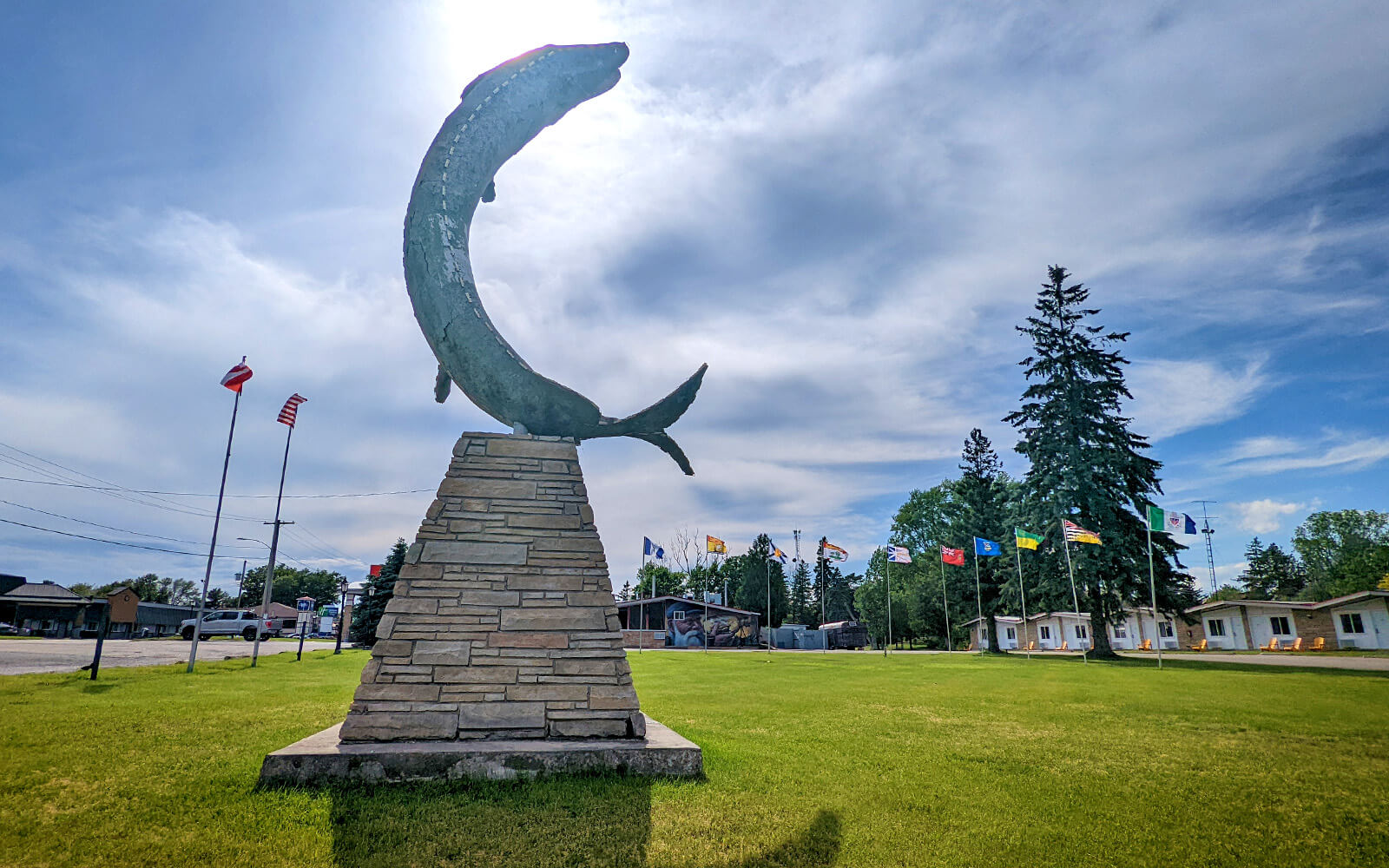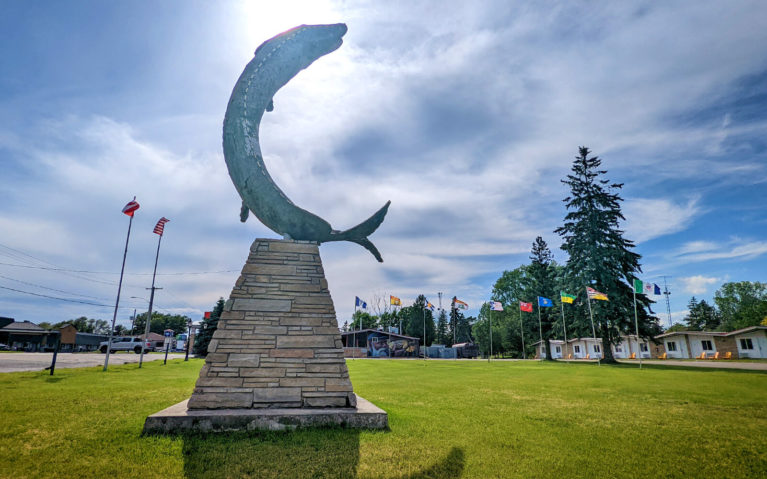 Snag a Selfie with the Giant Muskie
I can't resist a kitschy roadside stop and I know I'm not the only one! So why is there a giant muskie in Gananoque? Apparently this is where the world's largest recorded muskie of over 69 lbs was caught by H.A. Dooley McCarney. To add to this, the town is also the home port for the legendary fishing guide, "Muskie Jake".
This is certainly one of the more quirky Gananoque attractions and while it doesn't have much else to offer, it's an amusing stop on your way into town.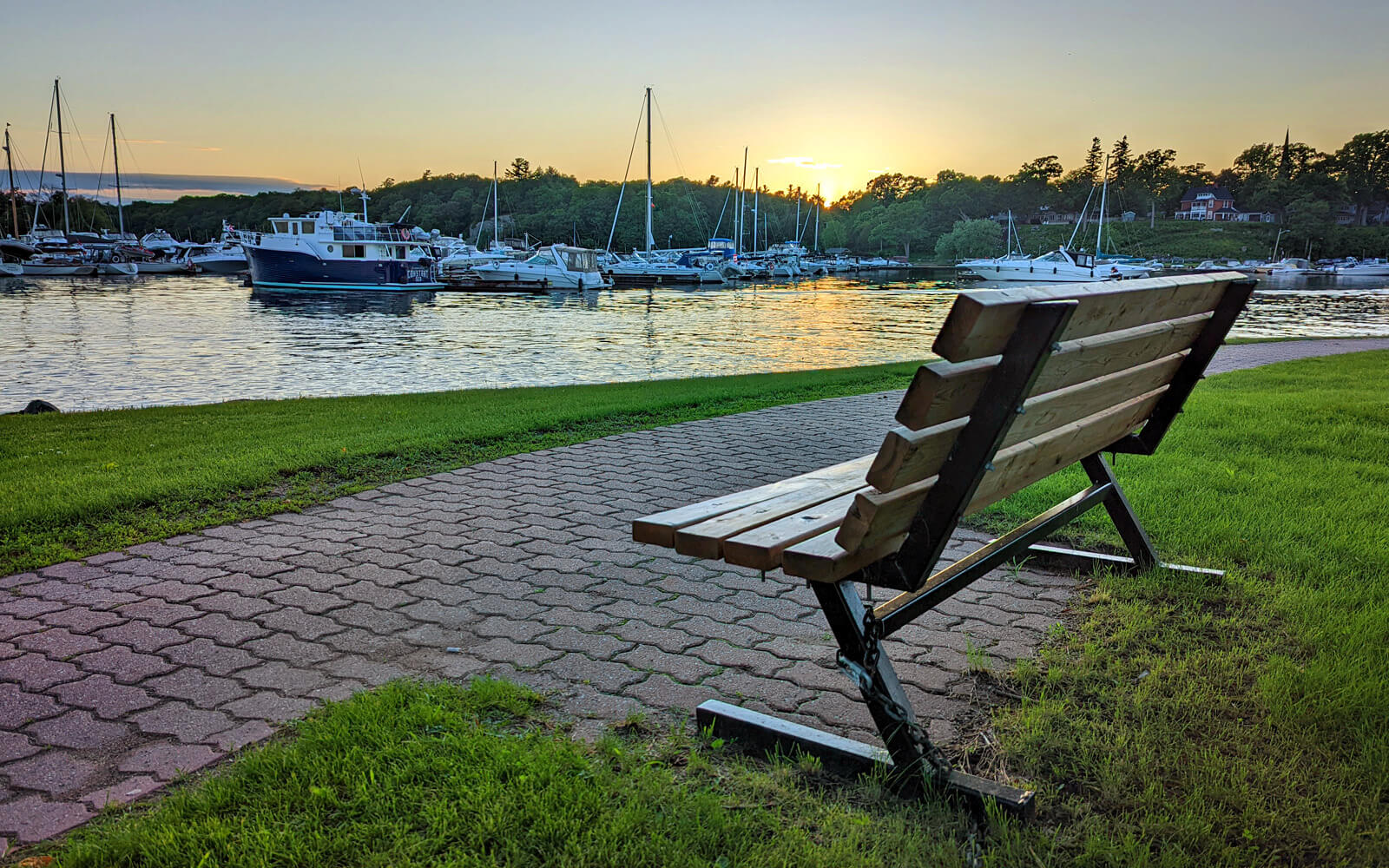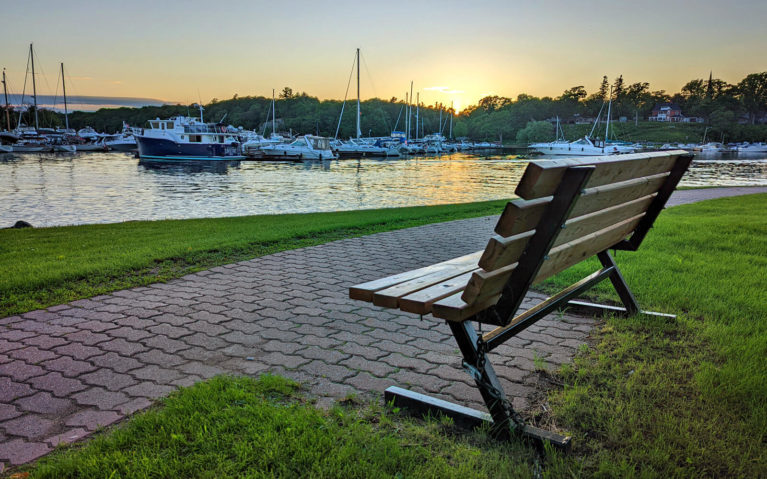 Catch the Sunset at Joel Stone Heritage Park
With everything in Gananoque being within walking distance, there's no excuse not to enjoy an evening stroll for sunset! Joel Stone Heritage Park offers some fantastic golden hour views as you admire the beauty of the St Lawrence River. Named after the father of Gananoque, Joel Stone was key in establishing the town you see today as he invested in creating saw and grist mills in this area. 
Follow the pathway as it leads around the waterfront and enjoy some of the public art and sculptures you'll find here. There's also a children's playground as well as Gananoque's iconic lighthouse that sits right on the edge of the harbour. It's the perfect way to end a day of adventure in the Thousand Islands!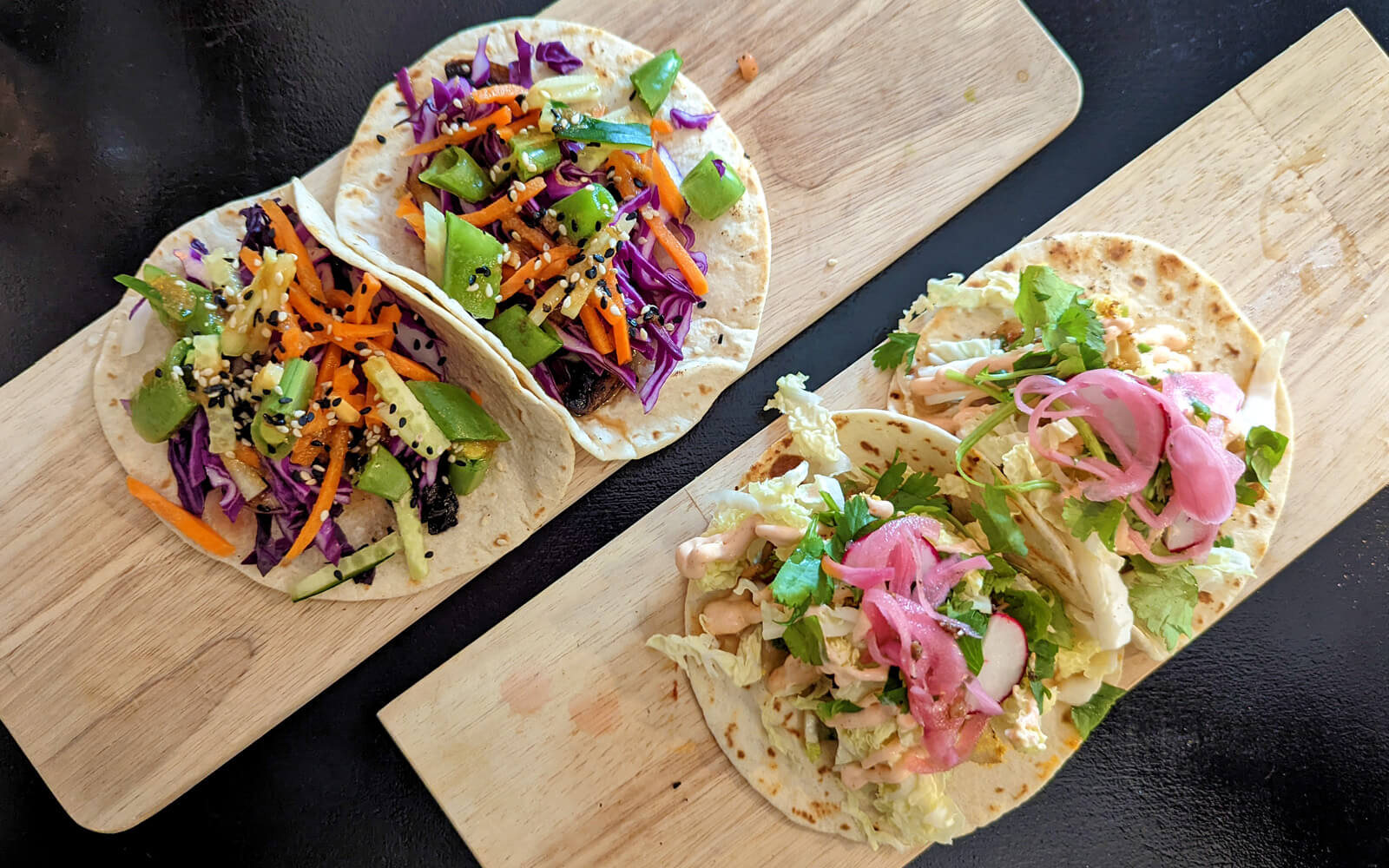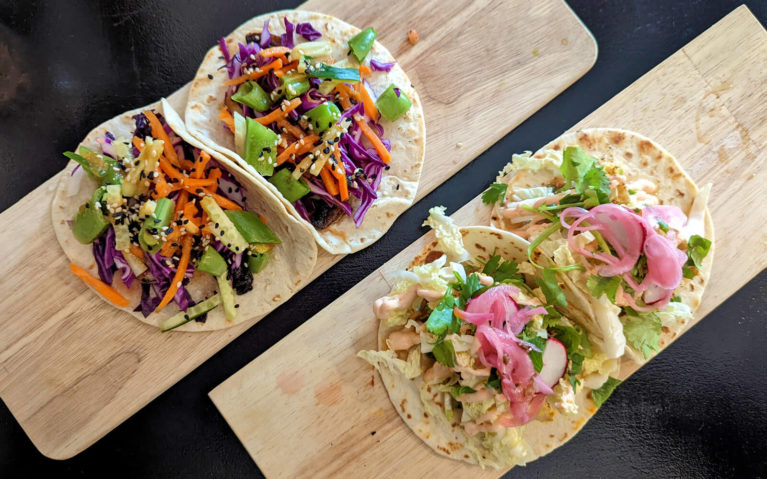 Restaurants in Gananoque to Eat At
There aren't just a number of amazing things to do in Gananoque but plenty of incredible eats to be devoured as well! Plus, you have to stay fuelled for your adventures, right? Here are just some amazing restaurants in Gananoque to keep your belly full and happy.
Laverne's Eatery
Owner and chef Ray Stedman never thought he'd have to use his middle name, however that fun-loving quirk is what makes Laverne's such a charming destination for a meal. Everything is made with fresh, seasonal ingredients and Ray's passion for food shines through in every bite.
Depending on when during the week you visit, you'll be treated to a different menu. Mondays, Tuesdays and Thursdays have an emphasis on handheld items such as sandwiches and delicious breakfast concoctions to start your day right. On weekends, you'll find elaborate brunch eats that will tickle your taste buds. However, Fridays are where it's at with Laverne's Fiesta Friday which I had the pleasure of enjoying. With tacos, burritos and fajitas, each dish is packed full of flavour pairings that bring out the best in each dish. Oh and trust me when I say you need to order their sweet corn.
Settle in at one of the tables inside or grab a seat on their charming patio. Whatever you do though, make sure to wear stretchy pants or don't be surprised that you'll have some leftovers!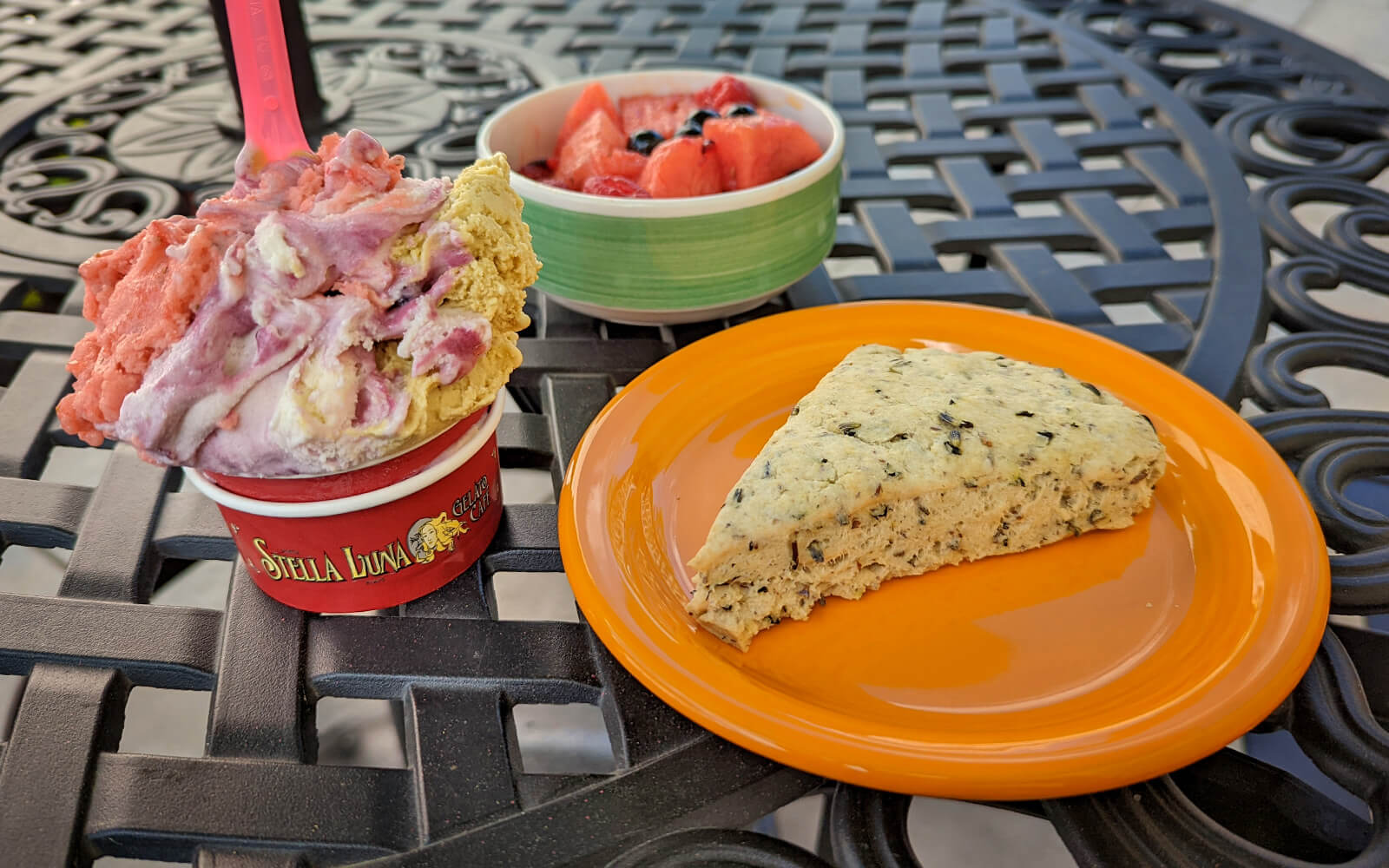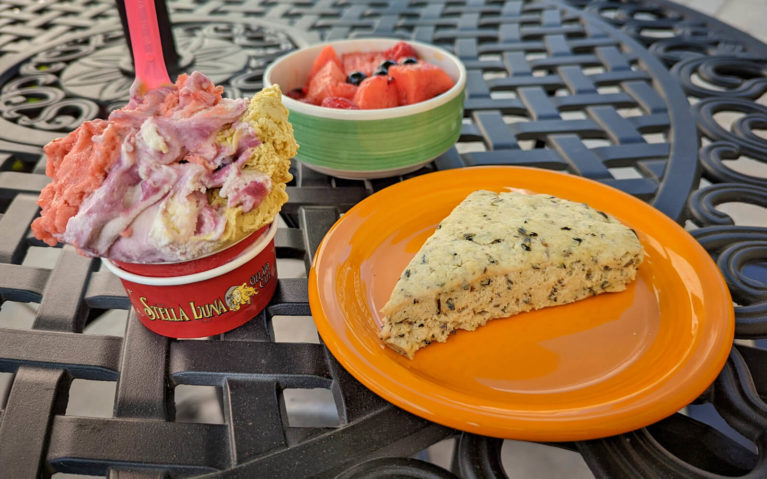 Pistachio Cafe
One of the newest additions to Gananoque, Pistachio Cafe is an adorable little restaurant with fantastic eats and treats. Not only are they family run but they will make you feel like part of the family with their warm, welcoming hospitality!
Whether you're looking to pop in and grab something quick or sit down to enjoy your meal, you can't go wrong with the Pistachio Cafe. Everything on their menu is made fresh daily with items like lavender earl grey scones, spicy corn and coconut chowder, caramelized onion and mushroom grilled cheese, blueberry cheesecake and more. They have a number of vegan items too for my herbivore readers!
Whatever you do, make sure you get some of their gelato. While I haven't had all of the options in town, I've heard from a few people that it's some of the best in the region – and I can confirm that it's full of rich flavour that will have you coming back for more. You cannot go wrong with their signature flavour and yes, it's pistachio!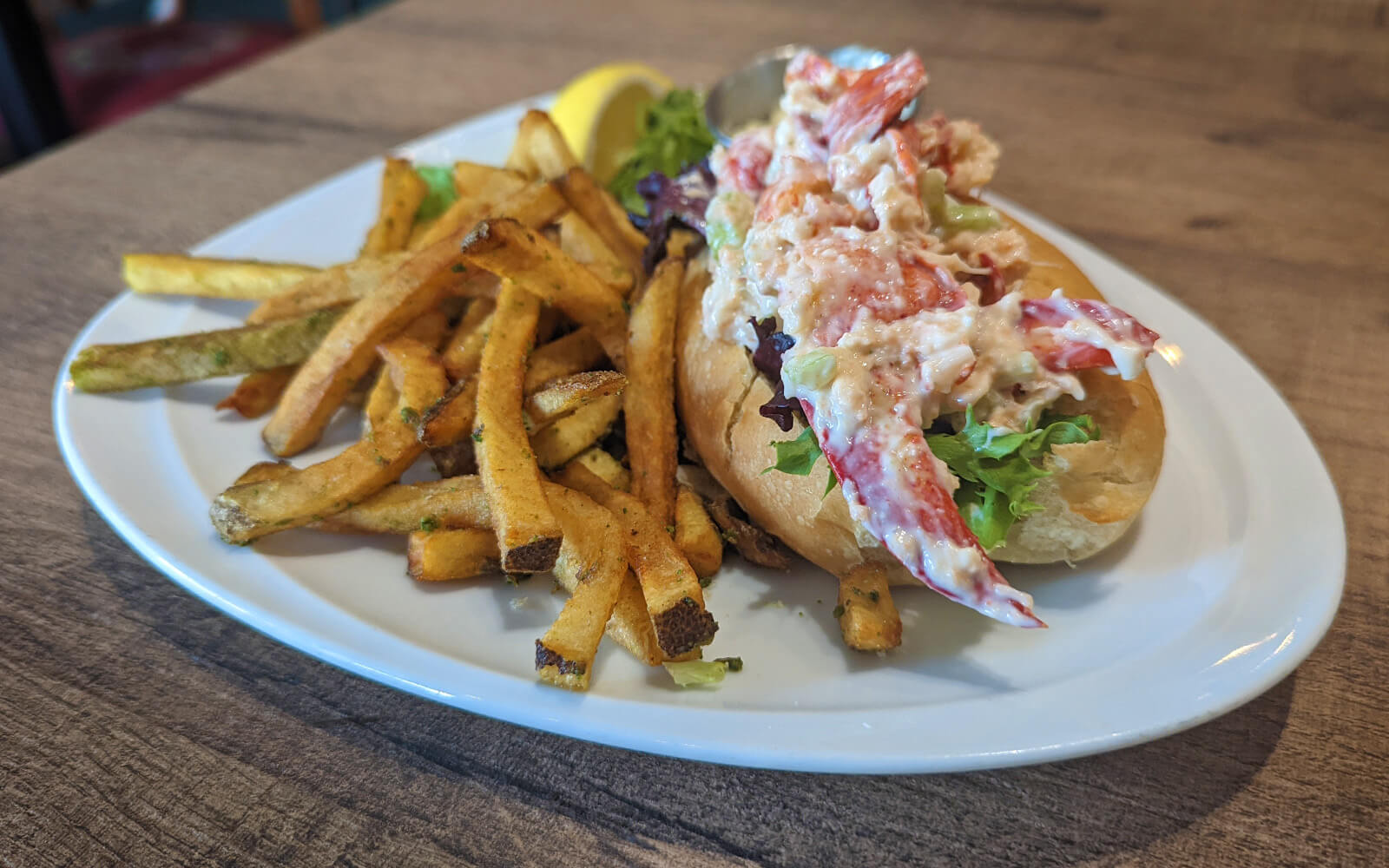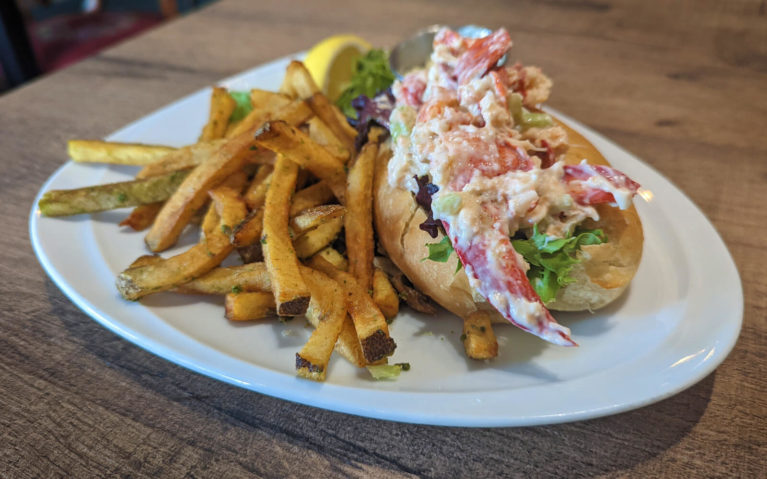 The Old English Pub
If you're looking for a taste of Britain in this quaint corner of Ontario, The Old English Pub has you covered. They have a number of craft beers on tap as well as plenty of great cocktail options. Serving up a number of items like bangers and mash as well as liver and onions, you need to eat here if pub food is your jam.
Personally, I indulged in their lobster roll which was heaping with the good stuff. Not too heavy on the mayo, it was extremely flavourful and hit the spot after a long day of exploring. It comes with their rosemary garlic fries which are absolutely incredible. I recommend getting them with any dish that has fries. You will not be disappointed! Oh and if you're visiting during the week and looking for a fantastic sweet treat, I've heard to ask for Bonnie and see what concoction she has created. 
Grab a seat in a cozy booth and put your feet up or snag a seat on their gorgeous outdoor patio. Most recently, they've expanded into the building next door known as Churchill's and yes, it's certainly a nod to Sir Winston Churchill himself. With exposed brick and walls painted to look like a library, it certainly adds to the old world feel of the pub. Let's just say it's the perfect spot to grab a pint and a bite to eat after a day of exuding "Blood, Toil, Tears and Sweat".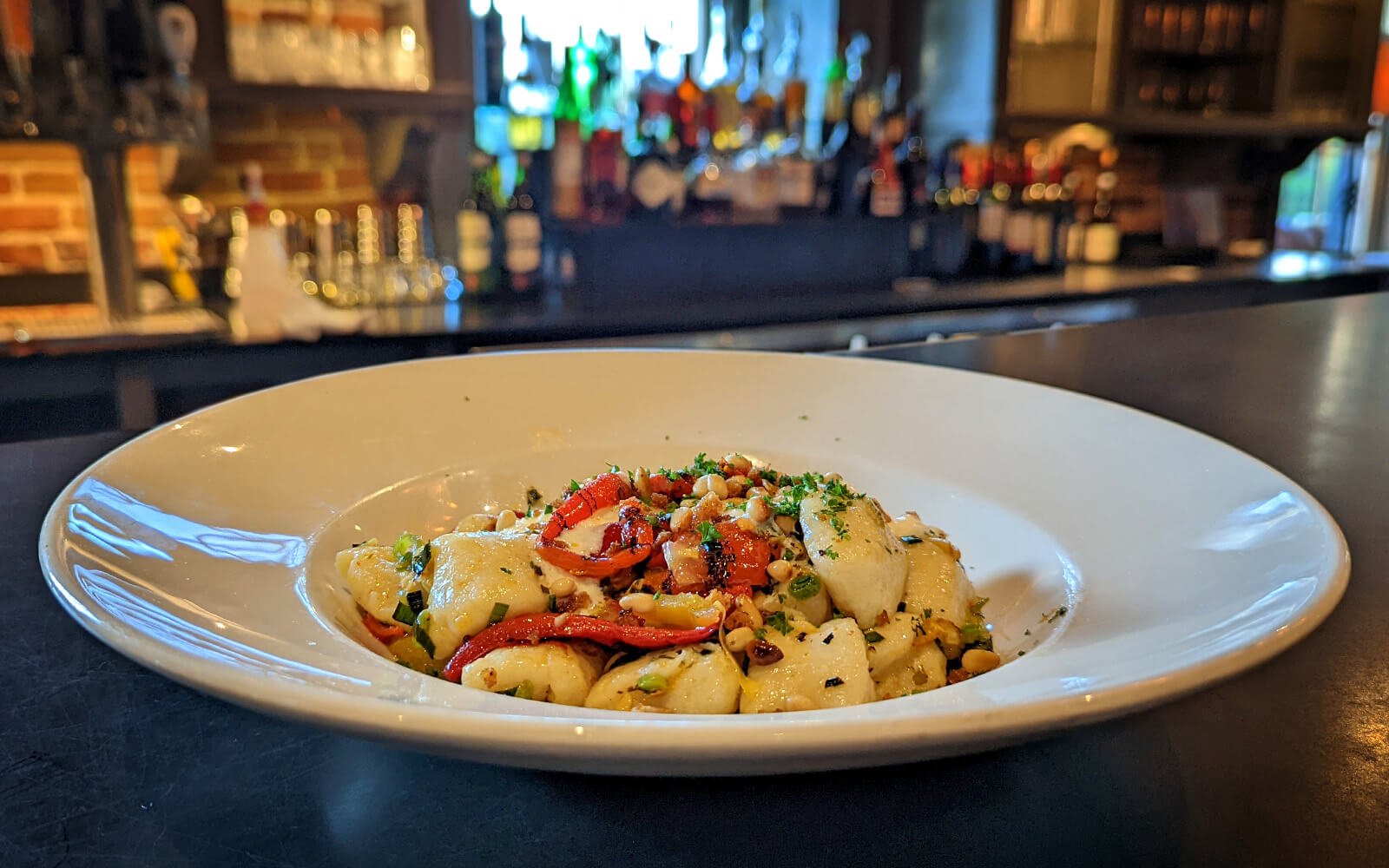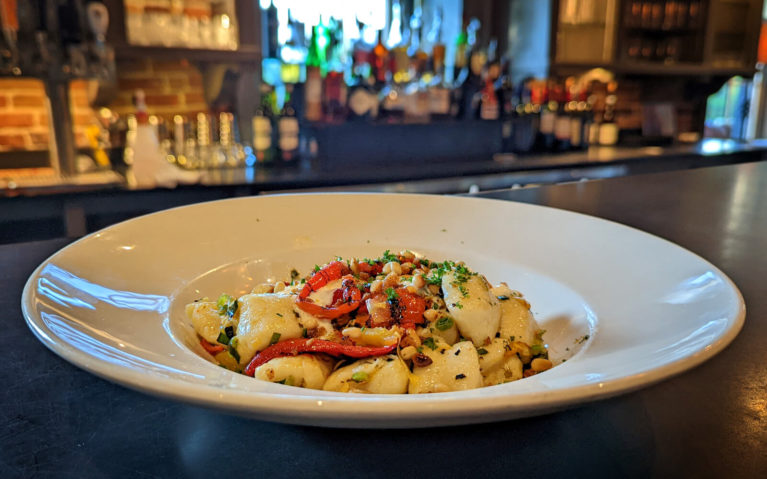 Riva Restaurant
Built in 1800, what was once the town's first rivet factory is now one of the finest restaurants in Gananoque. It was previously known as the Golden Apple Restaurant from 1928 until a fire caused it to shut down from 2008-2010. Now owned by Chef Stev George, it has been home to Riva since 2014.
Riva's menu is inspired by Stev's worldly travels with an emphasis on Italian fare. On it, you'll find pizza, pasta, burgers and entrees featuring meats of the land and sea. They also have daily specials showcasing some of the finest ingredients they can find. I highly recommend indulging in their gnocchi as it is made fresh in-house. In the summer, enjoy your meal on one of their two gorgeous garden patios or grab a seat at the bar if you're flying solo like I was. The staff are wonderful and will chat with you throughout your meal!
If you're looking for upscale dining in Gananoque without that unwelcoming pretentious air, Riva Restaurant is the perfect spot. Riva also has a sister restaurant, Olivea, which you should check out if you find yourself in Kingston!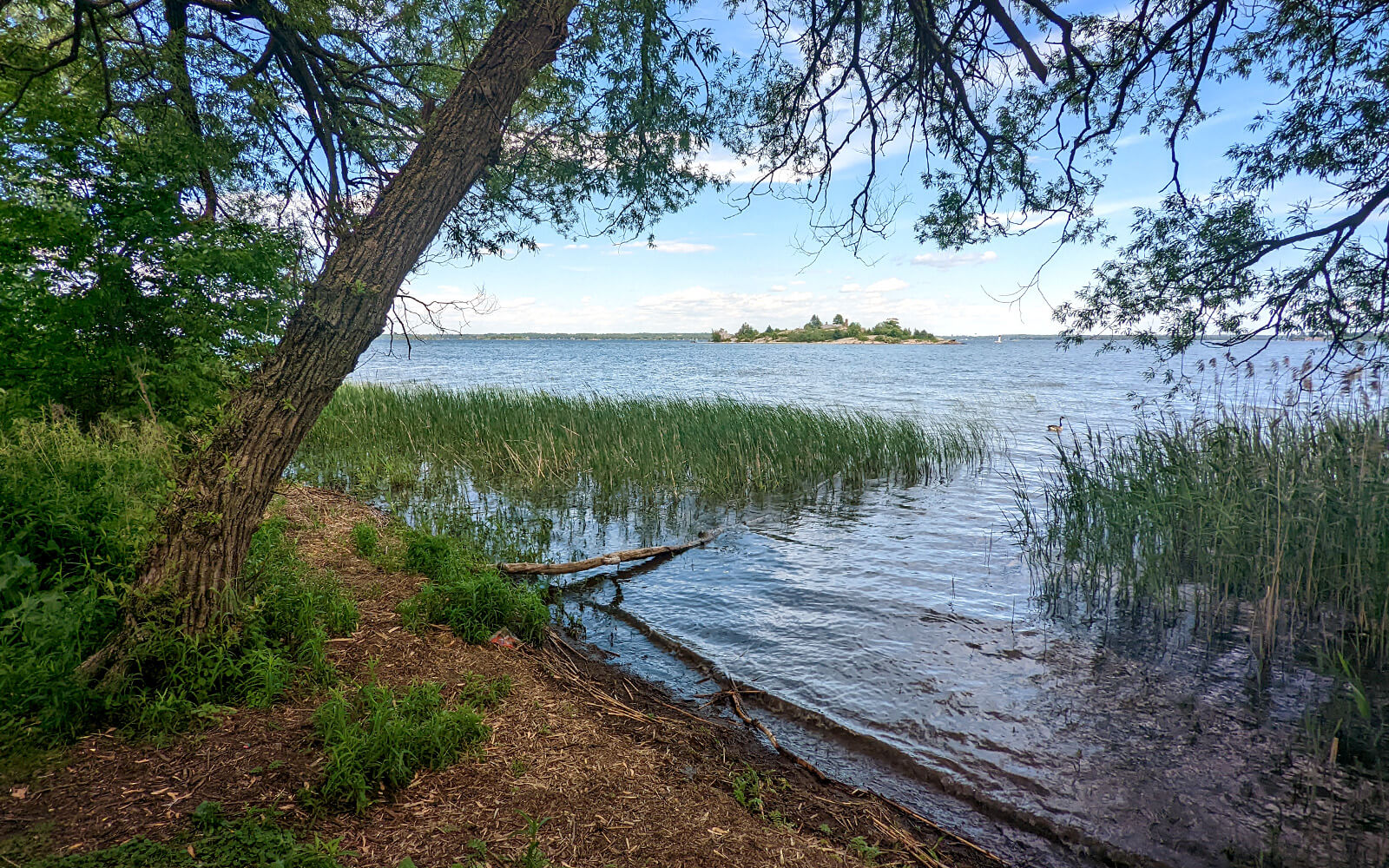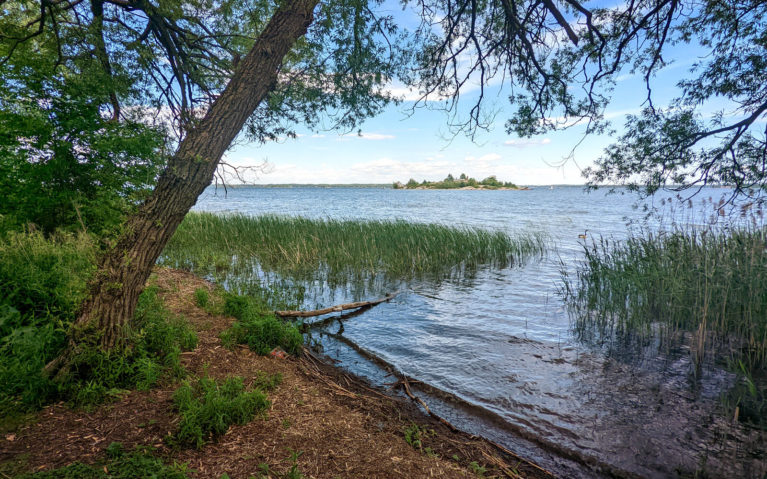 More Things to Do in 1000 Islands
While Gananoque is certainly a top destination within the area, there are plenty of other things to do in 1000 Islands! Here are a few more recommendations of things to do near Gananoque for your visit.
Take a Drive Along the Thousand Islands Parkway
Chances are you're here enjoying a fabulous Ontario road trip and you will not want to miss the beauty of the Thousand Islands Parkway!
Approximately 39 kilometres in length, it's a welcomed alternative that runs parallel to the 401. It will take you through the communities of Gray's Beach, Halsteads Bay, Ivy Lea, Darlingside, Rockport, Narrows, La Rue Mills and Mallorytown Landing. You'll be treated to beautiful views from a number of pull outs overlooking the St Lawrence River. Crank the tunes and roll the windows down for a lovely summer drive!
Even if you're just driving this stretch while on a separate trip, hop off the 401 for a nice break to enjoy the beautiful scenery.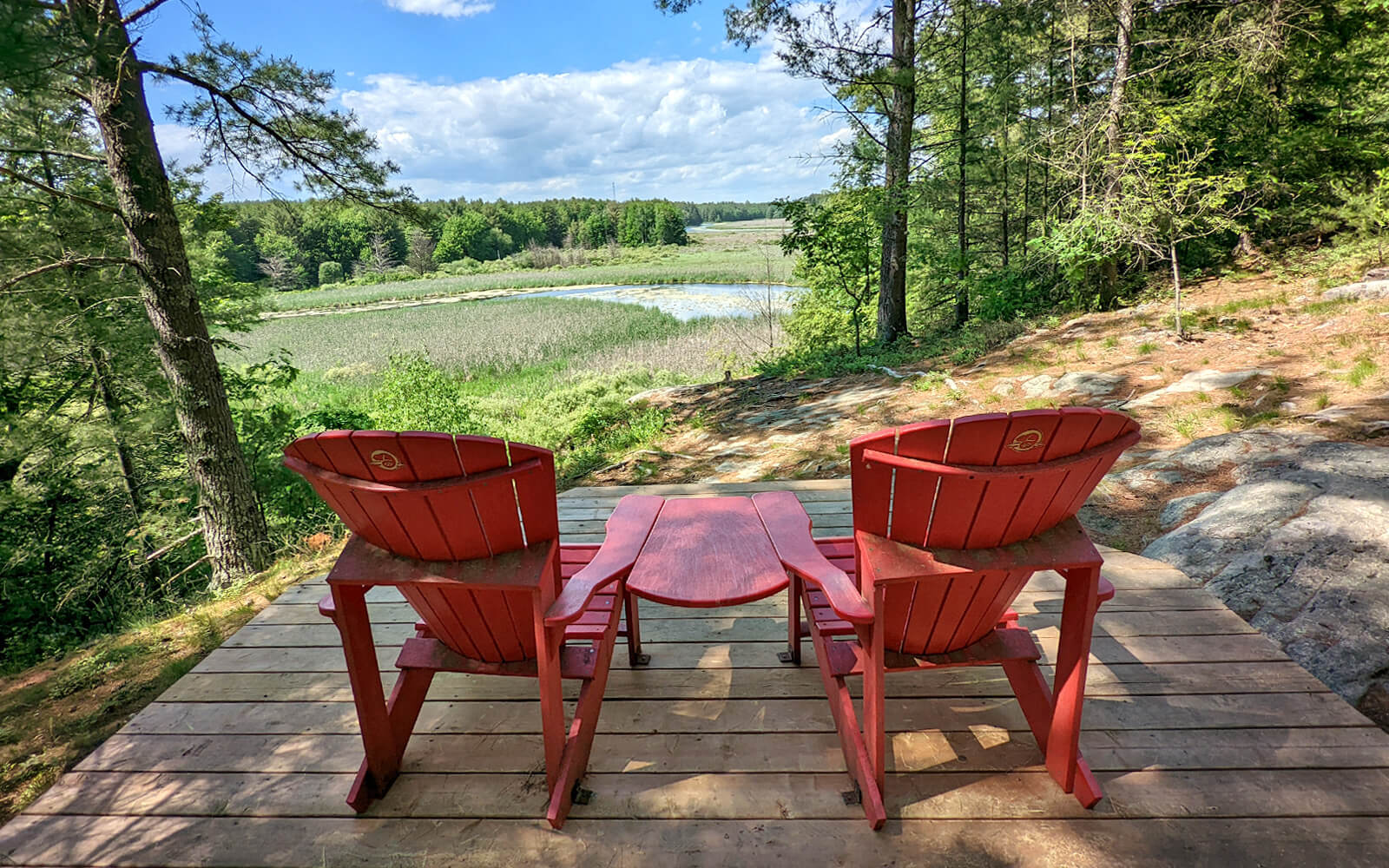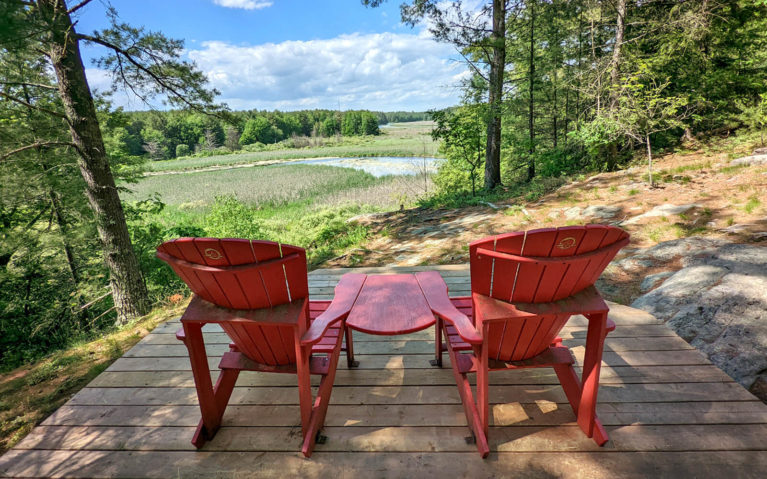 Explore Thousand Islands National Park
Along the Thousand Islands Parkway, you'll find a few spots that are a part of the expansive Thousand Islands National Park. Consisting of 21 islands in total, you can boat or paddle to a number of them as well as access three separate areas from the parkway itself. 
Landon Bay is the closest area to Gananoque. It features seven different trails throughout 225 acres of old growth forest. You'll see ancient granite outcroppings, meadows, marshlands and more. If you're going to tackle any of the hikes, check out the Lookout Trail for some fantastic views of the Frontenac Arch Biosphere Reserve.
INSIDER TIP: While the area is better for sunrise, the Lookout Trail at Landon Bay is still fantastic at sunset.
Mallorytown Landing is where you'll find the Visitors Centre as well as a picnic area, boat launch, children's play area and more. Head towards the cape where you'll find a pair of iconic red chairs as well as some interpretive signage sharing about the Haudenosaunee Peoples. There are also five oTENTiks available for rent here. Across the road are two hiking trails that make a great loop through a diverse mixed forest.
Just past here is where you'll find Jones Creek, home to six hiking trails. With two access points, one from County Road 5 and the other from the Thousand Islands Parkway, you'll enjoy gorgeous views over Mud and Jones Creek as you meander through wetlands and forests full of hemlock, white pine, red oak, beech and maple trees. It's also not uncommon to see the works of beavers as they have been known to take out a bridge or two!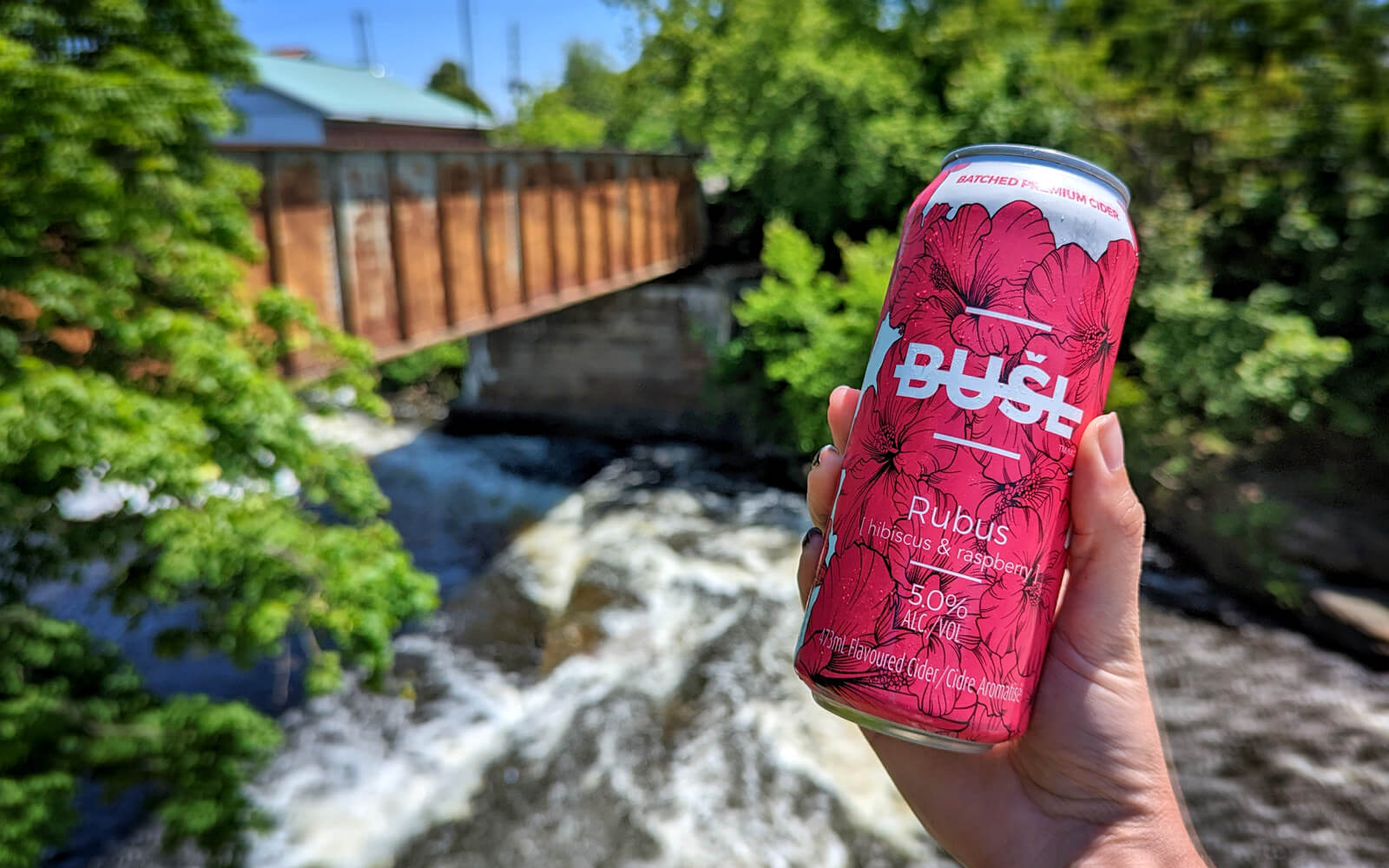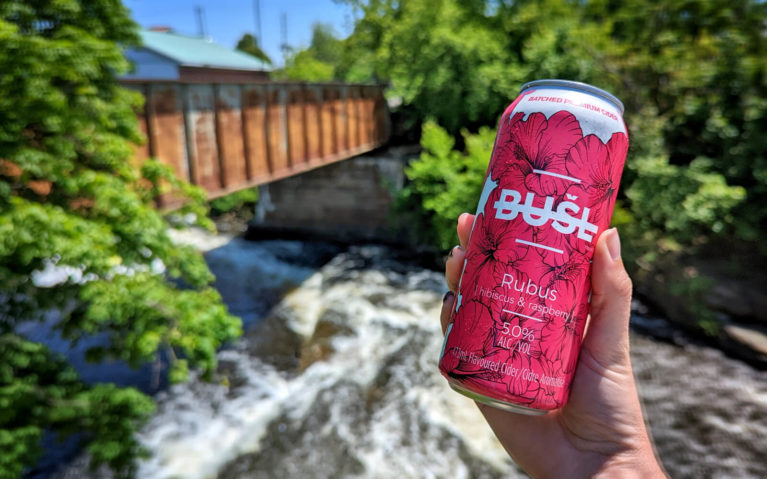 Indulge in Some BUSL Cider
If you're hiking near Mallorytown Landing, chances are you'll work up a thirst so a stop at BUSL Cider seems like the perfect place to stop next!
Pronounced bushel, this family-owned craft cidery produces apple ciders with unique flavours, many of which are grown on their property. Their 10 acres of apples combined with 2 acres of each lavender and haskap (which I've only ever heard of along the Whale Route in Quebec!) as well as many other crops, these ciders have deliciously distinct flavours.
Whether you choose to take a tour of their recently renovated 4400 square foot barn and see where the magic happens or indulge in a pint or two on their patio, you'll have a wonderful time enjoying the sights and savours.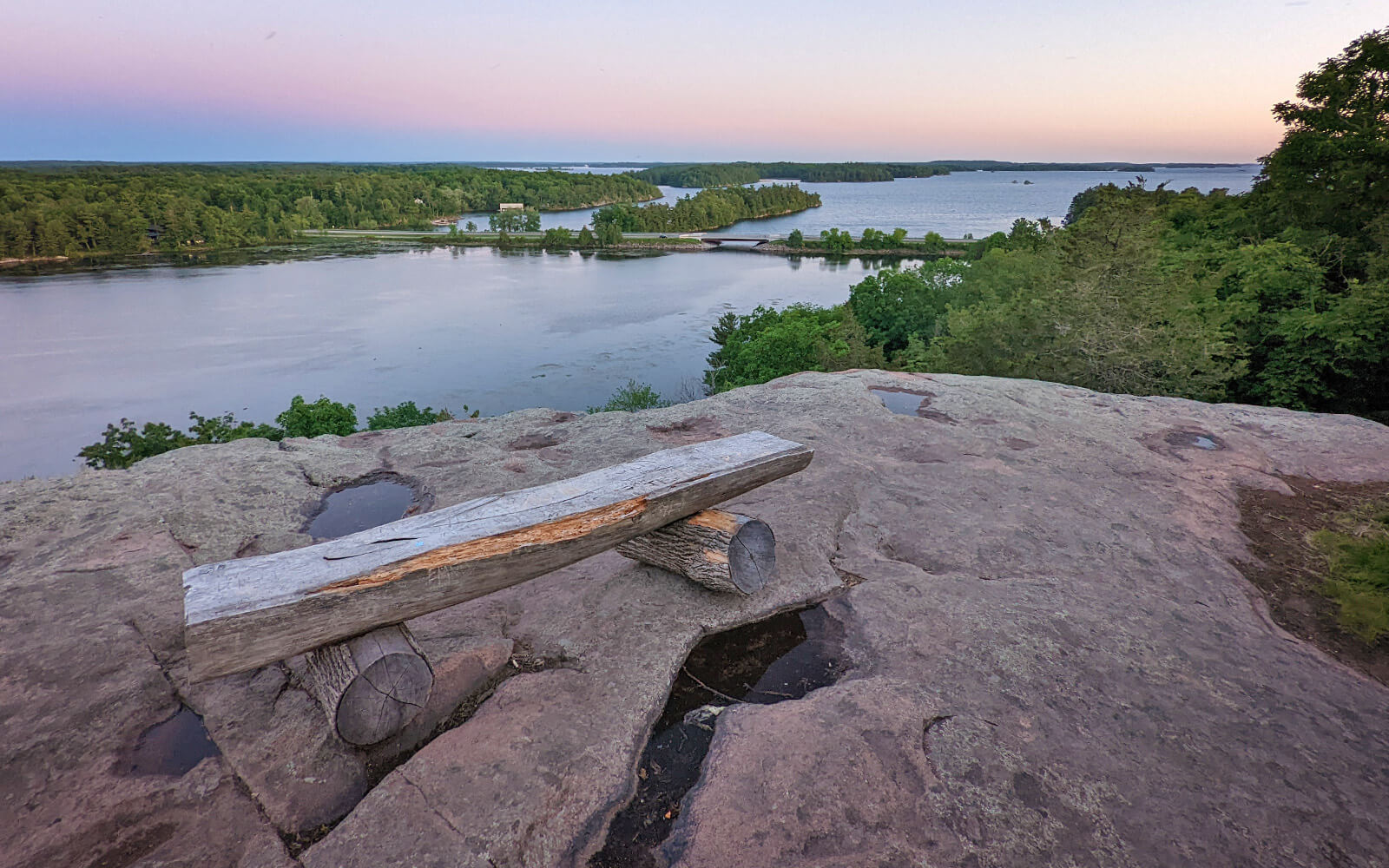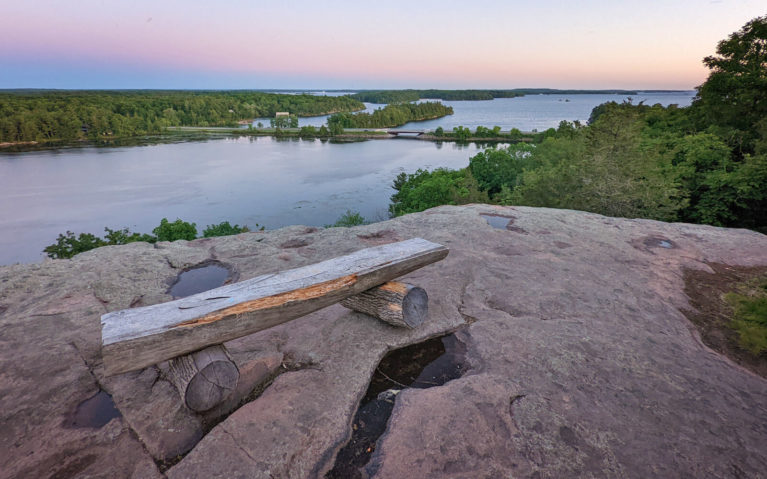 Visit One of the Neighbouring Towns
As you can imagine, there are a number of fantastic cities, towns and inlets to explore throughout the area. Gananoque makes a great home base to explore more – it is the gateway to the Thousand Islands after all!
Okay so Kingston is certainly a city more than a town but it definitely has plenty to offer. Explore the waterfront from the Royal Military College to Lake Ontario Park. Learn about the history of the area at the Fort Henry National Historic Site. Take a peek at Canada's Penitentiary Museum and experience a guided ghost tour… if you dare! That's just a small sample of the great things to do in Kingston.
If you'd like to keep to the countryside, exploring some of the Frontenac Islands is a great option. Howe Island has some great snorkelling opportunities as well as trails that are perfect for hiking and cycling. Wolfe Island has a riverfront golf course for those looking to enjoy some time on the links. It also has a few spots to grab a bite to eat and you can soak up the sun at Big Sandy Bay beach.
Just half an hour northeast of Gananoque, you'll find the town of Brockville. This is where you'll find the Brockville Railway Tunnel, Canada's very first rail tunnel, given new life with a stunning light display and musical soundtrack. History buffs will want to check out the Fort Wellington National Historic Site, Fulford Place Museum and other historical sites. It's also home to a number of fantastic restaurants, craft breweries and other foodie finds.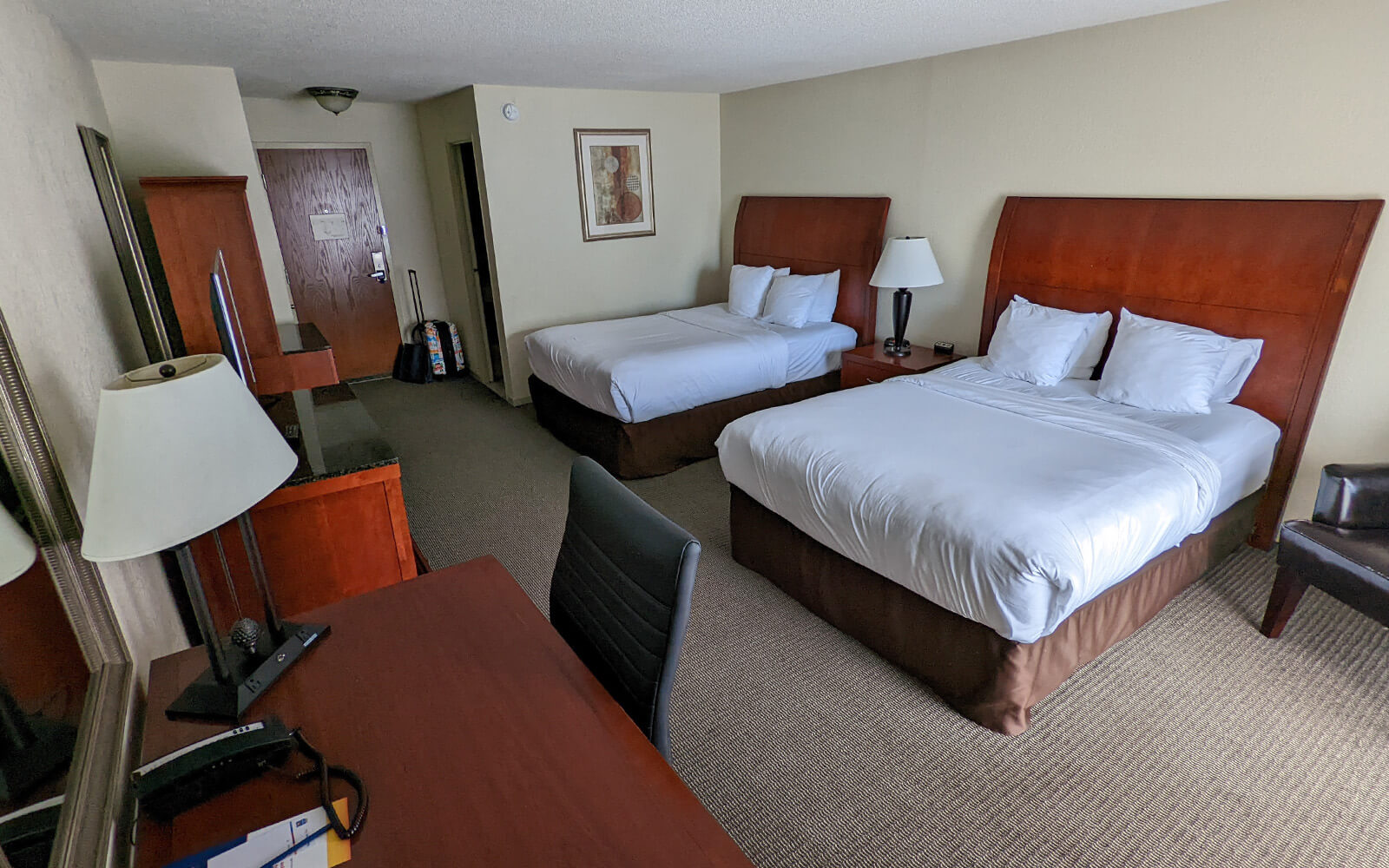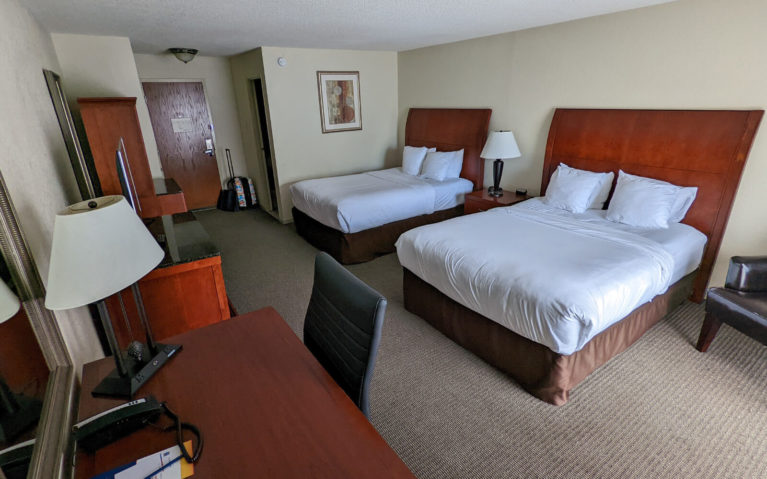 Where to Stay in Gananoque
For such a tiny, walkable town, there are a number of fantastic options for hotels in Gananoque. During my visit, I had the pleasure of staying at the Comfort Inn & Suites Thousand Islands Harbour District. Located just minutes from both the waterfront and the heart of town, its location alone makes it a top pick for hotels in Gananoque but that's not all it has to offer!
My room at the Comfort Inn & Suites was perfect for my stay. It had a coffee maker, microwave and mini fridge which always comes in handy for a chuck-full itinerary. My room had two double beds but there are options for two queens as well as king suites. Some suites also have multiple bedrooms, whirlpool jet tubs and even a fireplace! They also offer pet-friendly rooms so you can even bring your four-legged family member along for the adventure.
Your stay also comes with a free breakfast featuring both hot and cold items. Whether you're looking for some protein like scrambled eggs or prefer to grab some yogurt or oatmeal, they have a number of options to start your day right. Of course, there's always hot coffee ready which is the first rule of adulting.
As for the rest of the hotel, it's quite spacious with a few outdoor seating areas. If you're travelling with kids or like to go for a dip, their indoor heated pool is open daily. For those looking to get a workout in, they have a small fitness centre with the basics like a treadmill, elliptical, resistance bands and dumbbells. Rest up after with a visit to the sauna before heading back to your room.
If the Comfort Inn & Suites is booked for your dates, take a look at these other great Gananoque hotels. There is also the option of staying elsewhere in the Thousand Islands and driving in for a day visit, but I recommend staying in town if you can. Having the option to leave the car parked always makes a vacation that much more relaxing!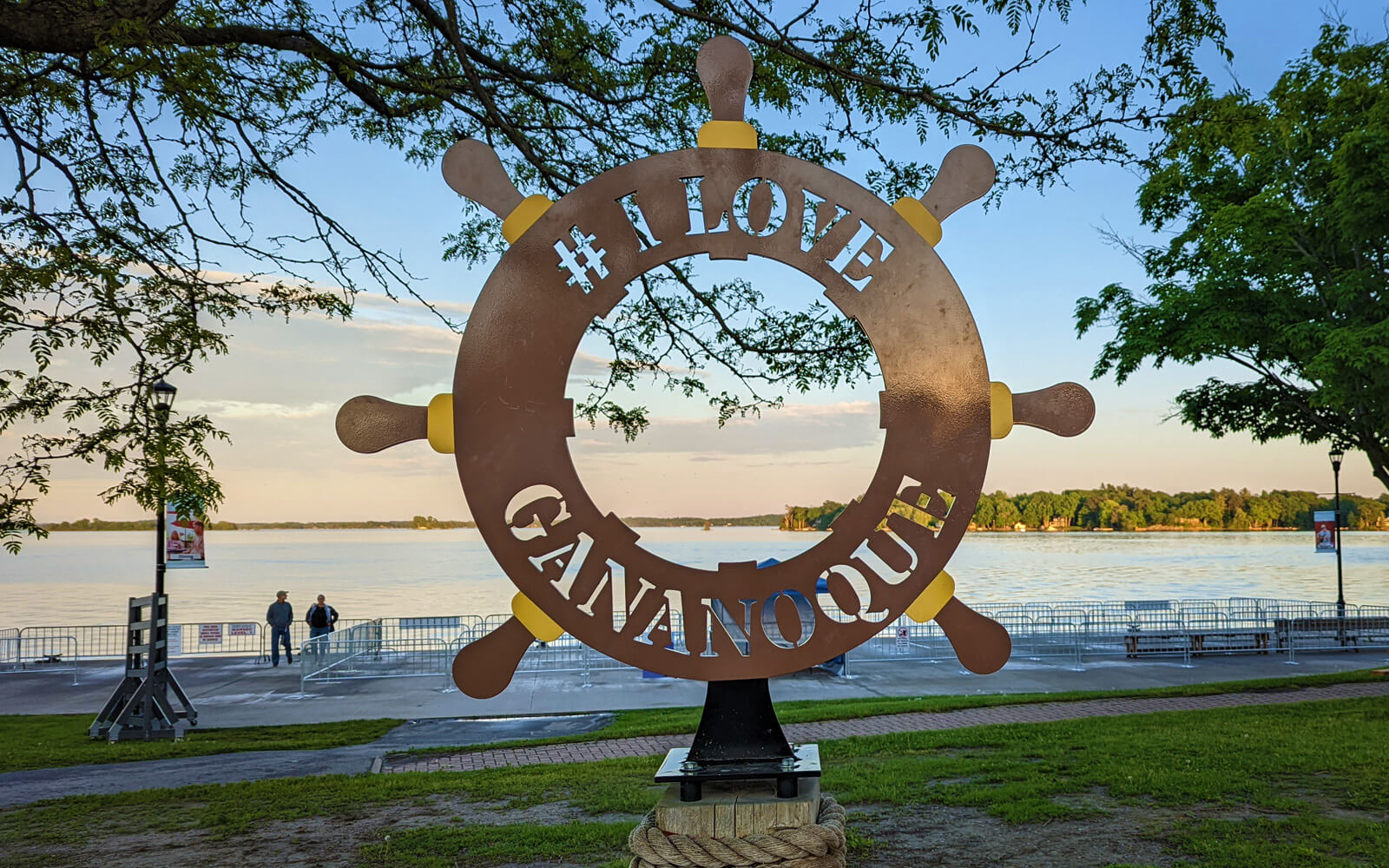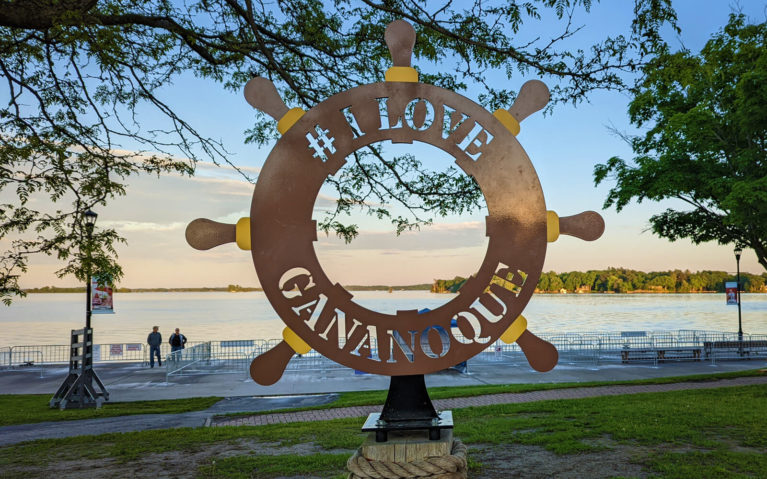 Things to Know For Your Visit to Gananoque
Take a peek at my Instagram stories for a taste of the things to see in Gananoque! Be warned though, it'll have you planning a visit as soon as possible and here's what you should know for when you do.
How Do You Pronounce Gananoque?
You wouldn't be the first person to ponder this! Gananoque is prounounced gan-an-ock-way. 
When was Gananoque Established?
This area has been home to Indigenous Peoples such as the Mohawk, Oneida, Onondaga, Cayuga and Seneca since time immemorial. However, it began forming into the town we see today when 
What is Gananoque Known For?
Gananoque is known for being an idyllic destination in the archipelago of the Thousand Islands. It's a popular spot to visit, especially in the summer months, due to the number of activities it offers (as you can see above!) in such a small area. However, what you may not know is that the iconic Thousand Islands dressing was created here!
What's One of the Most Popular Things to Do in 1000 Islands?
While hiking and cycling are certainly up there, one of the most popular things to do in 1000 Islands has to be a boat tour. You can check out the offerings at City Cruises or I highly recommend a tour with the Thousand Islands Boat Museum.
Disclaimer:
This post is brought to you in partnership with Attractions Ontario and 1000 Islands Tourism. While I was compensated for my time, all of the content and opinions here are honest and speak to my personal experience!
Don't Miss These Top Things to Do in Gananoque & Pin It For Later!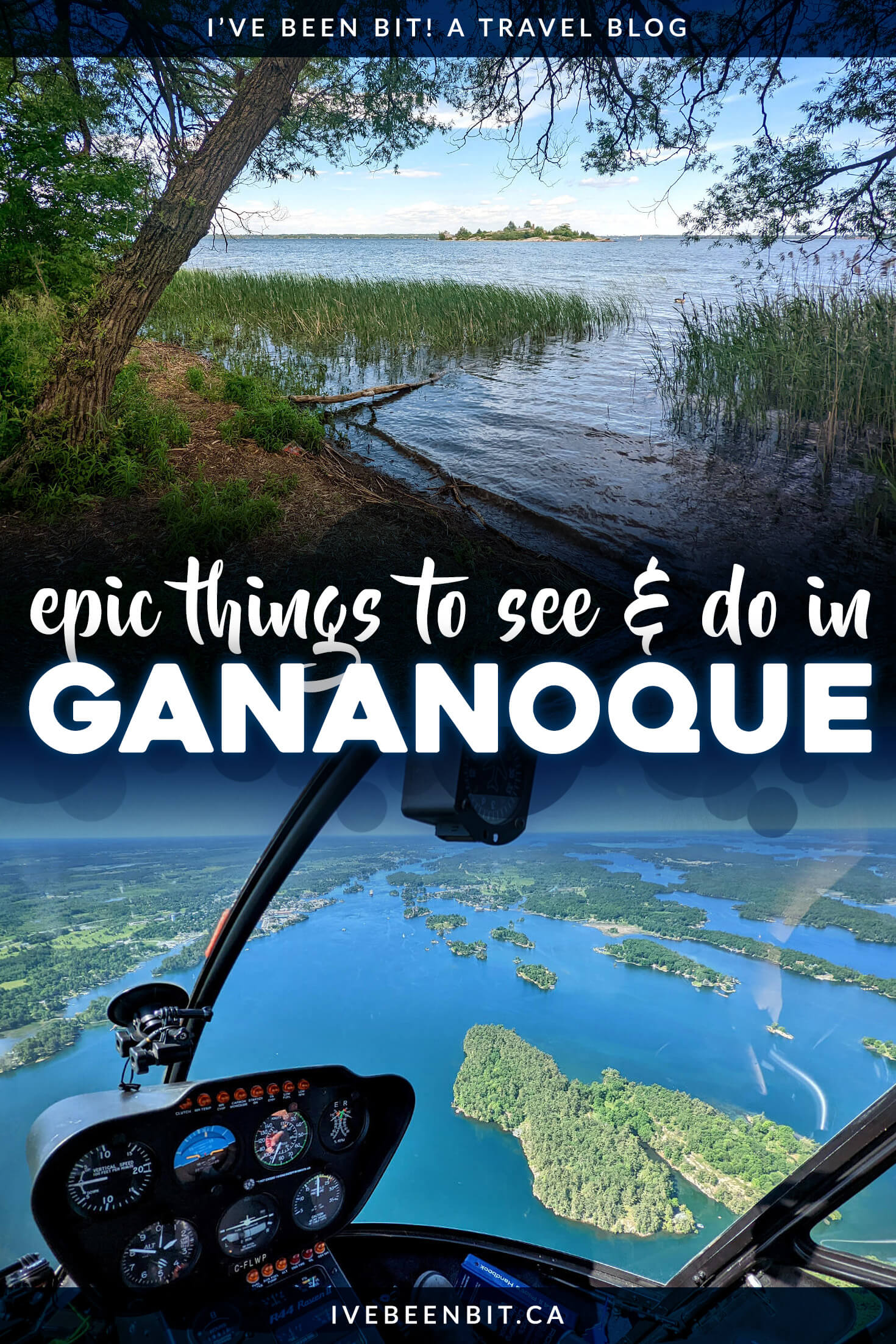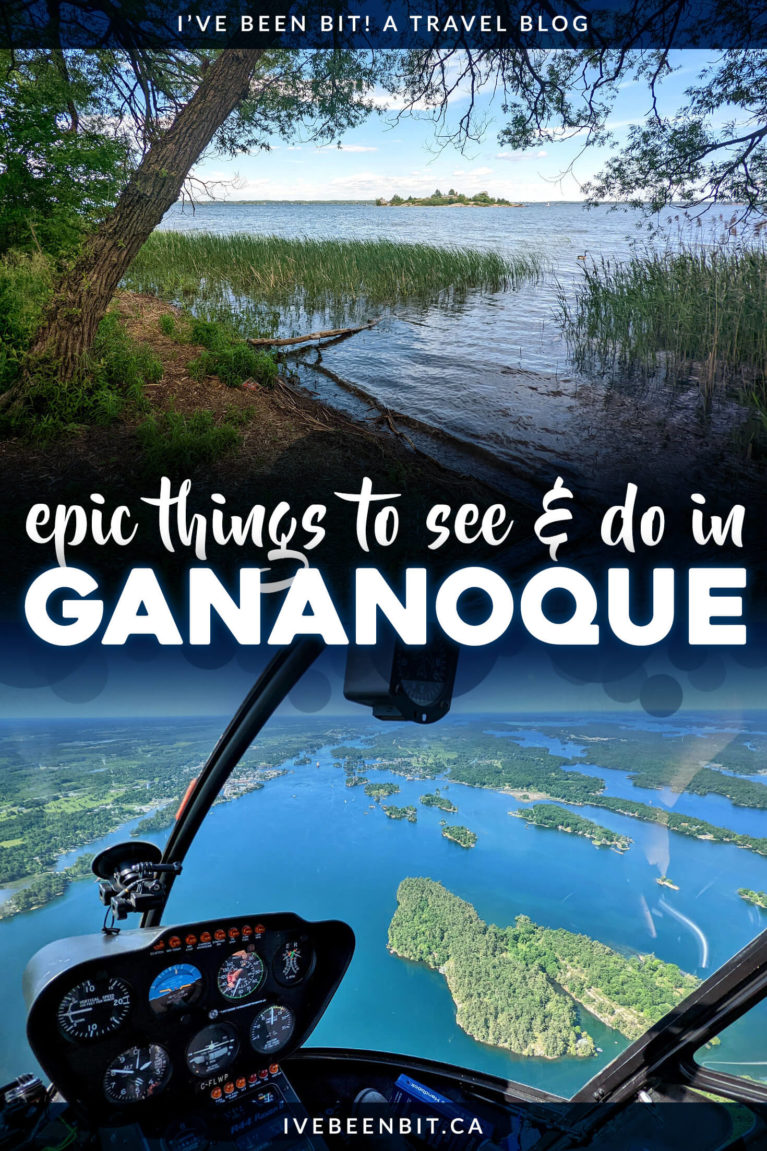 The post 15+ Best Things to Do in Gananoque for a Taste of the 1000 Islands appeared first on I've Been Bit! Travel Blog.