3 Tier DIY Wood Cupcake Stand Laser Cut File
Impress your guests with this DIY Cupcake Stand! Use the included SVG Laser File for precise cuts and easy assembly. Elevate your party! If you make a purchase using any affiliate links below, we may earn a commission.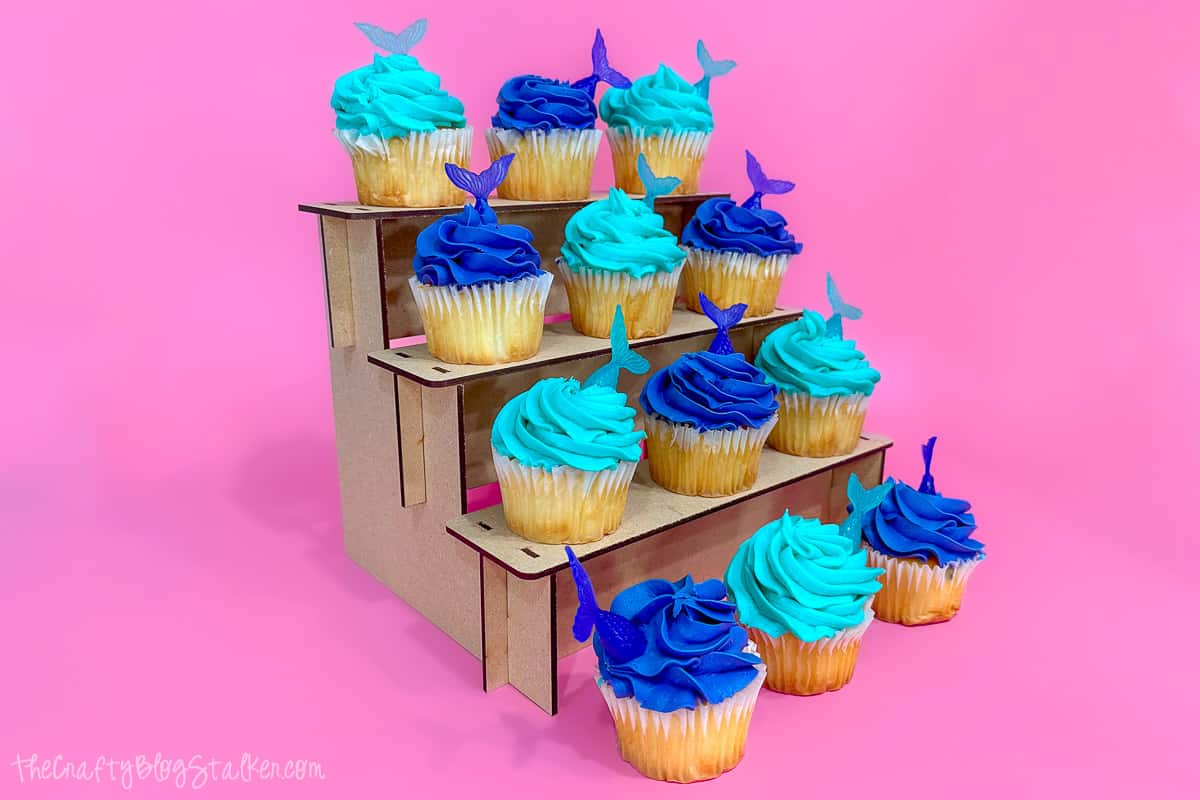 Get ready to take your cupcake game to the next level with this DIY Cupcake Stand tutorial!
Create a super fun and eye-catching display using our SVG Laser File.
With its precise cuts and easy assembly, this cupcake stand will turn your party into a tasty and vibrant celebration.
Get ready to make your cupcakes the star of the show and delight your guests with this simple project!
Grab the SVG Laser File:
Compatible Laser Cutters:
This Laser Cut File is compatible with any laser cutting software that accepts SVG files.
I cut mine using my OmTech 50-watt but will also work with any Glowforge or xTool.
Material:
The example was cut out of 3mm MDF board but will work on any 3mm material that is compatible with your laser cutter.
MDF and Wood Materials can be used in their raw form or they can be painted or stained, and sealed with a food-safe covering.
Acrylic would also be a great choice. food-safe, easy to clean, and reusable.
Cut Pieces:
The file includes all 8 pieces needed to make a 3-tier Cupcake Stand.
Two ends, three vertical slats, and three shelves.
Assembly:
The 2 stair step pieces are the two ends.
There are 3 support pieces that have slits cut out on both ends, and there are 3 shelves that have a total of 4 holes, two on each end.
Slide the supports into the slits on the two end pieces.
The shelves then fit over the notches on the end pieces.
When the stand is completely assembled it measures 10" x 7.5" x 7.625".
The width of each tier or shelf is 2 inches.
All that's left is to have a party and fill it up with cupcakes!
This stand easily holds 1 dozen cupcakes, but I am sure it could hold more. My cupcakes are quite spaced out.
This simple design is great for birthday parties, wedding celebrations, baby showers, or any event where you need a cupcake display!
Don't like cupcakes? Don't worry, this could also be a knick-knack shelf or even a great display for your products. The possibilities are endless!
Frequently Asked Questions:
How do you seal a wooden cake stand?
There are many different types of sealers that you can use to seal your cupcake stand. There are spray varieties and the kind you brush on.
In my opinion, the best option is Minwax Polycrylic Protective Finish Spray.
Our Laser Essentials List:
New to laser machines? I would highly suggest the xTool M1! This machine is super easy to learn and helps you create beautiful projects!
Craft Closet is my favorite shop for all of my laser materials. Their materials are high quality and with the lowest price, I can find anywhere!
But if you really want to get into lasers, I highly suggest you learn how to create your own files. Pen & Posh has a great course for this.
The post 3 Tier DIY Wood Cupcake Stand Laser Cut File appeared first on The Crafty Blog Stalker.