40 Kitchen Appliance Storage Ideas To Keep Your Kitchen Clutter Free
We frequently face the annoyance of lack of space, especially in functional rooms where we need to store a lot of things – in bathrooms, kitchens, and so on. Want to set all the appliances in the kitchen efficiently? There are several ideas to do that in an efficient way.
How you arrange your kitchen appliances depends on your cook type. Where you store kitchen appliances in your cabinets will depend highly on which ones you use the most. You're not going to want to pull an appliance out of the back of the cupboard if you use it daily, and if it's an appliance that rarely makes an appearance, you can pretty much stash it away.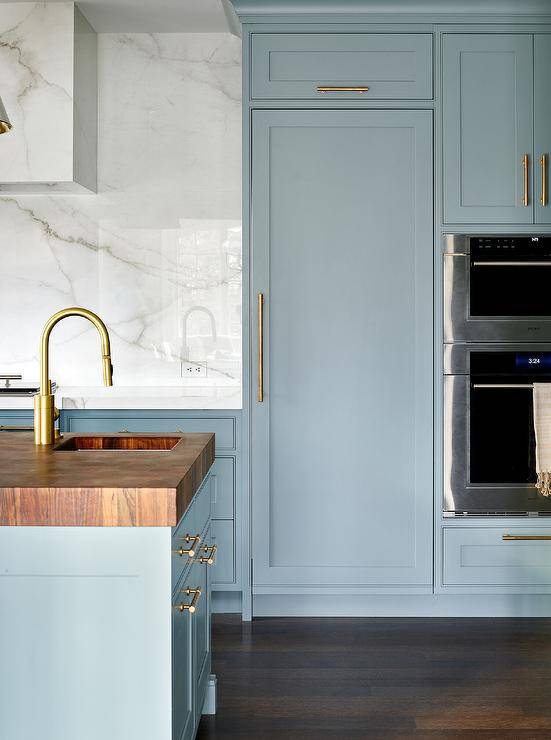 If you like simple leave-it-and-let-it-cook styles of preparing meals, a crock pot, for example, may be used quite frequently, and you will want this appliance to be easily accessible. If you have a blender and only use it the odd time, you may feel perfectly comfortable just pushing it to the back of the pantry.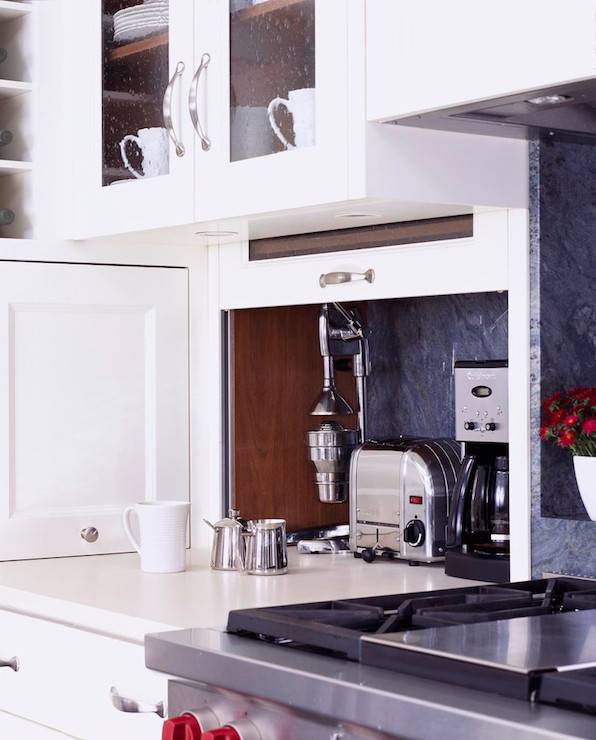 Before we show you some incredible kitchen appliance storage solutions, let us share with you some quick tips to declutter and organize your kitchen appliances, and maybe this will help start you off on your storage solution journey.
Quick Tips for Organizing Your Kitchen Appliances
Choose Groups
The foremost step to decluttering and managing your kitchen appliances is to group them by use: frequently used, rarely used, and never used. If you're working with limited kitchen storage space, it's crucial to assign it wisely by possessing appliances that have multiple uses. Examine your appliances to make sure their uses are multi-use and not one.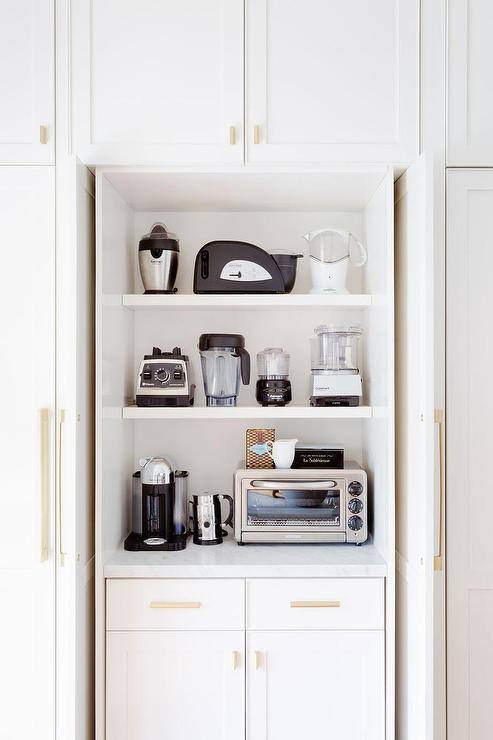 For example, contemplate buying a high-quality blender that can double as a food processor. Ditch the rice cooker if you don't cook rice daily, as a stock pot can do a fine job of cooking a batch of rice.
Do a Purge
This step may be hard for people, but if you don't use a particular kitchen appliance, it's time to let it go — regardless of if you think you would really like to use it. Think about appliances that aren't beneficial for daily use. If you use them daily — great!  But chances are if you never pull them out of the cupboard, you're not going to start.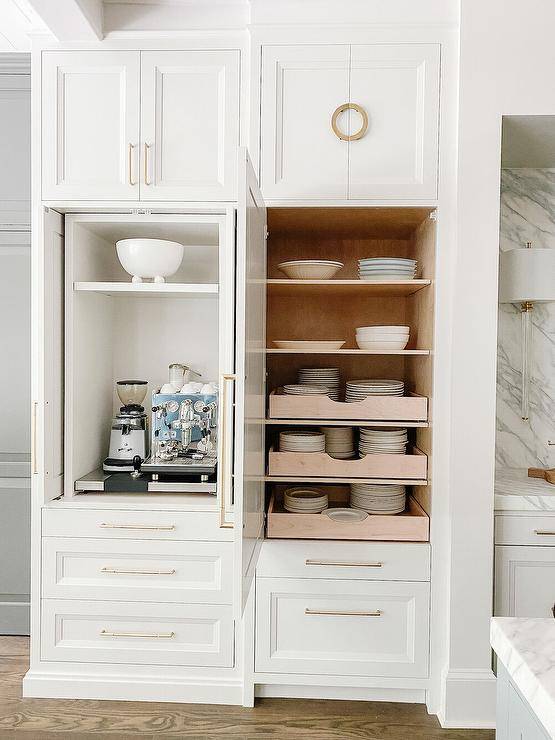 Use your kitchen cabinet storage space for appliances you really use.
Go the Donation Route
Unused kitchen appliances can easily find a new home via donation, consignment, or selling online. Donating is a wonderful way to declutter and put your tools into someone else's hands. Find a local charity to donate to, such as Habitat for Humanity or your local Goodwill, or you can even try a buy-nothing group on Facebook.
Make Use of Other Storage Areas
If you have those kitchen appliance items that you rarely use, but you still use them occasionally (and I mean like a handful of times a year) consider storing them in other areas of the home. They don't need to be in the kitchen.
For example, I have buffet warmers that I use when I have a large family gathering or on holidays about 3-4 times a year. I store these bulky kitchen appliances in attic storage above my bathroom, so they are out of the way but still accessible when I need them.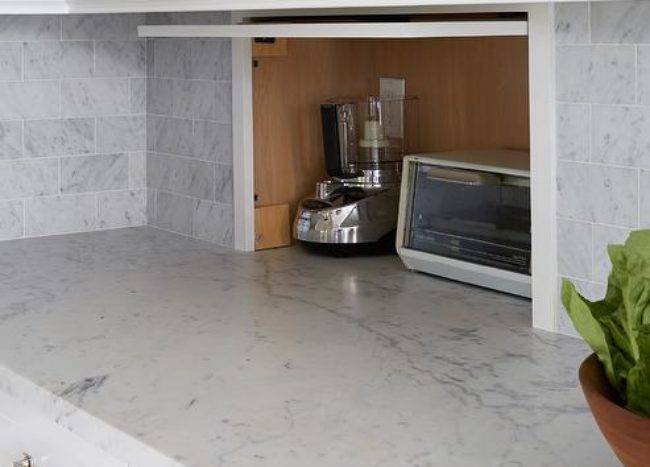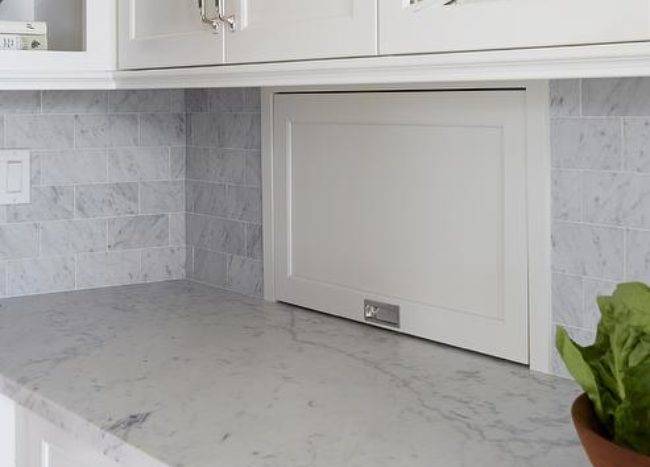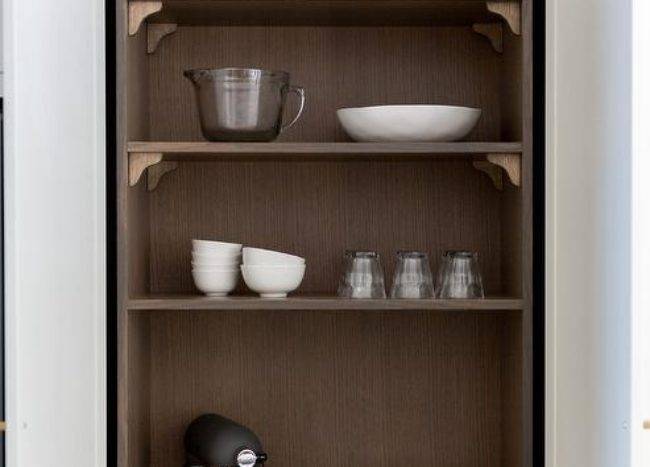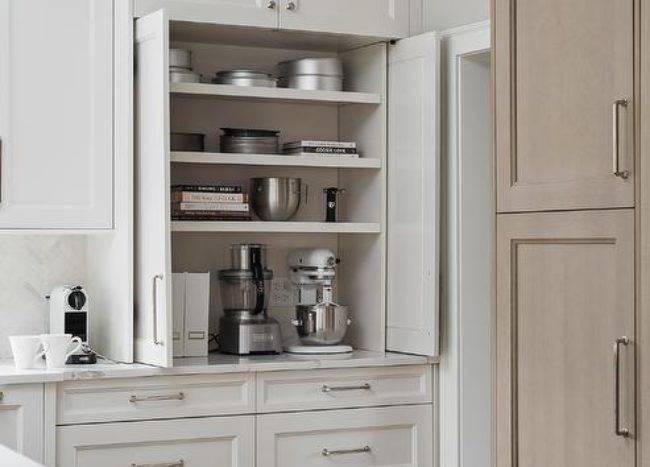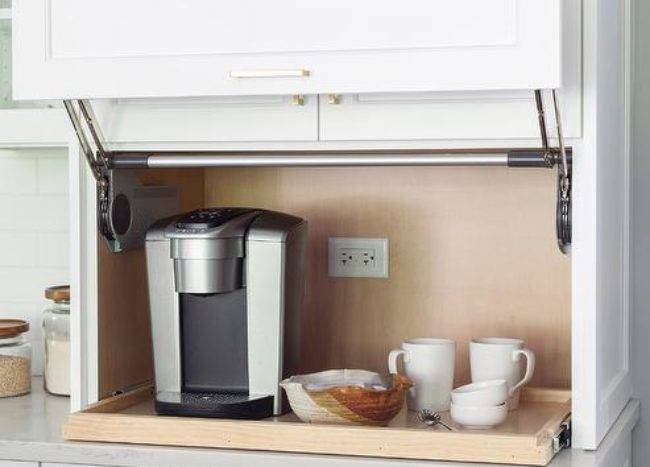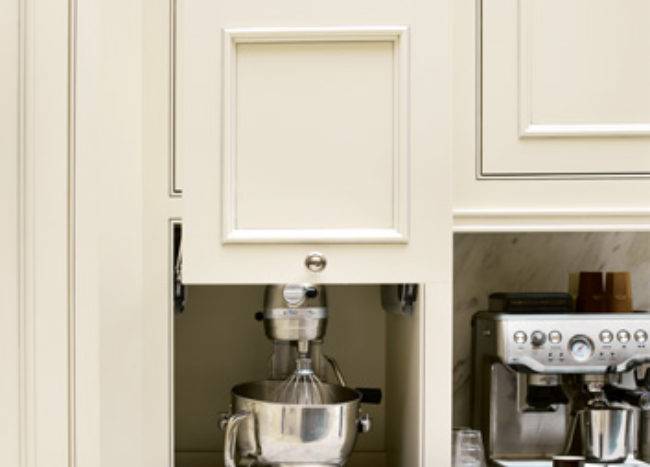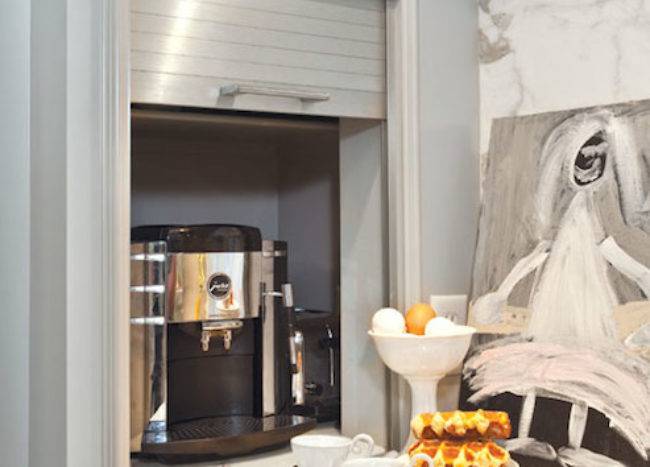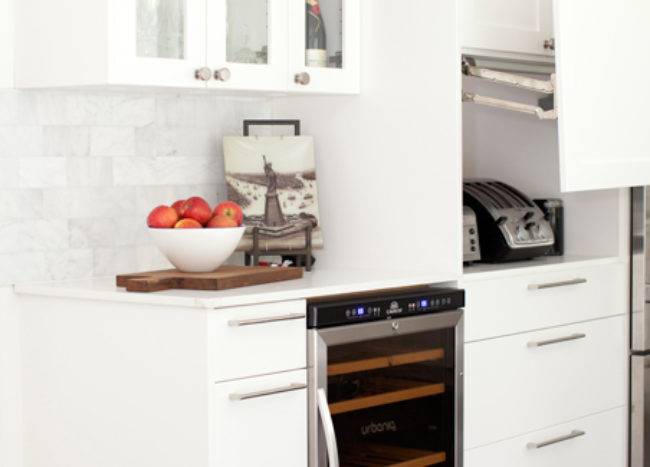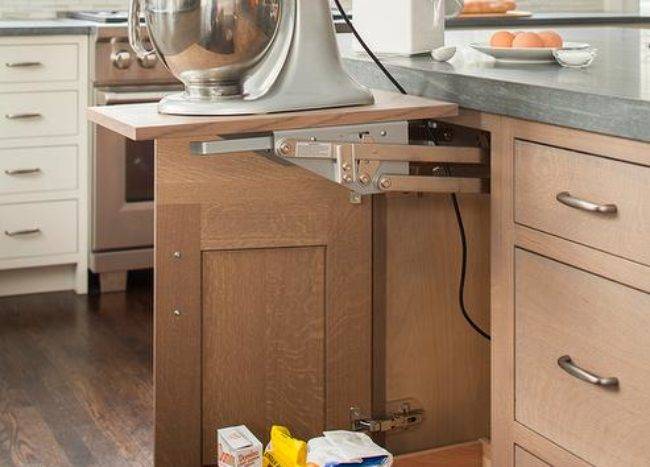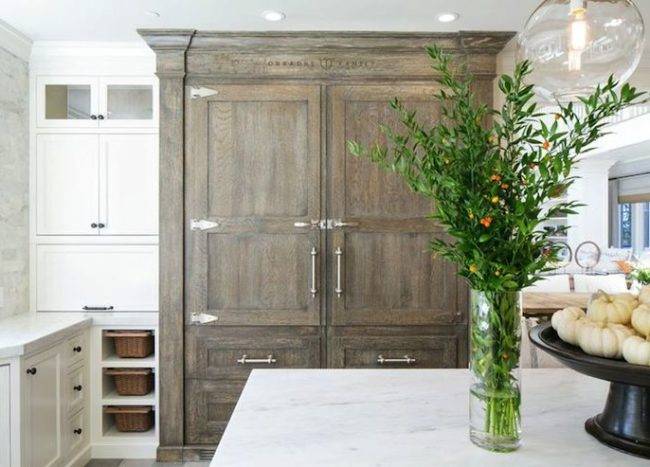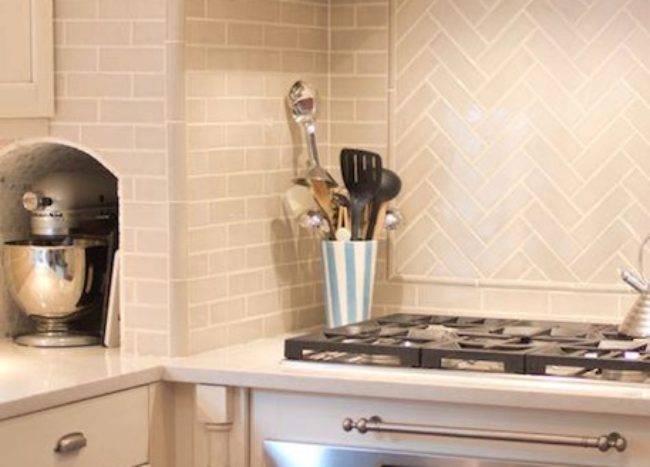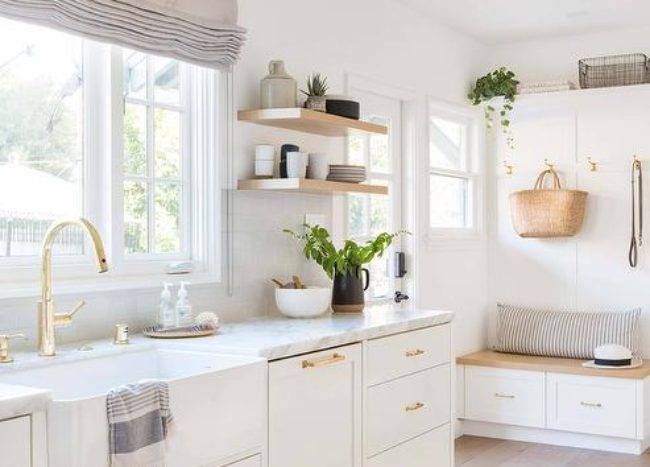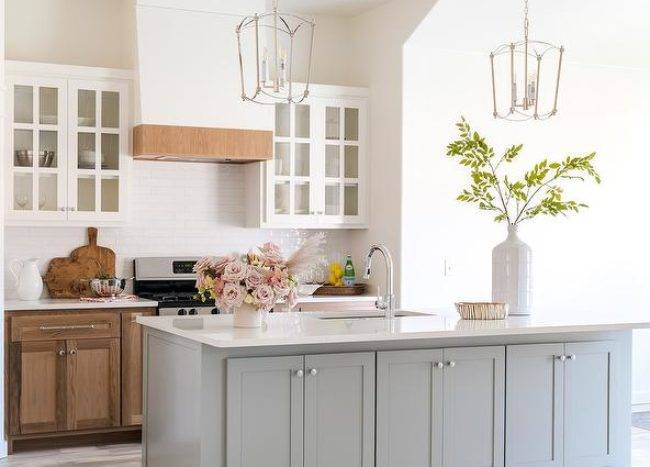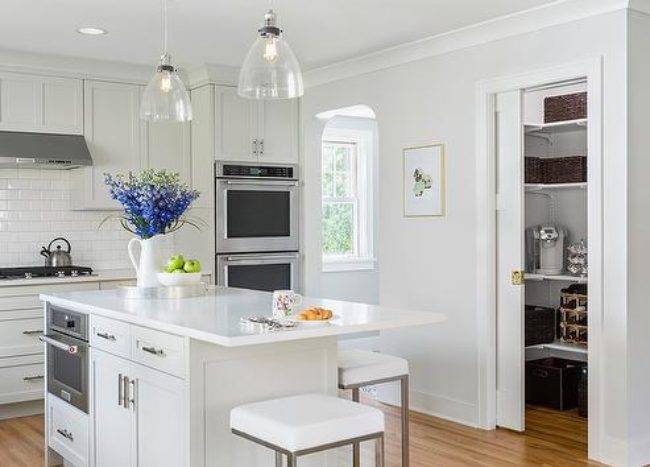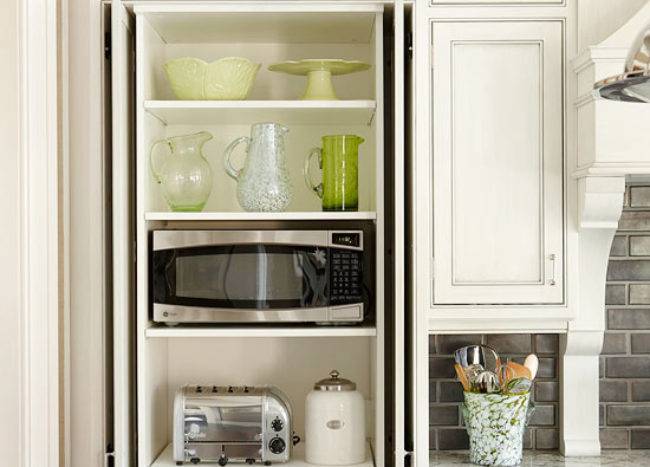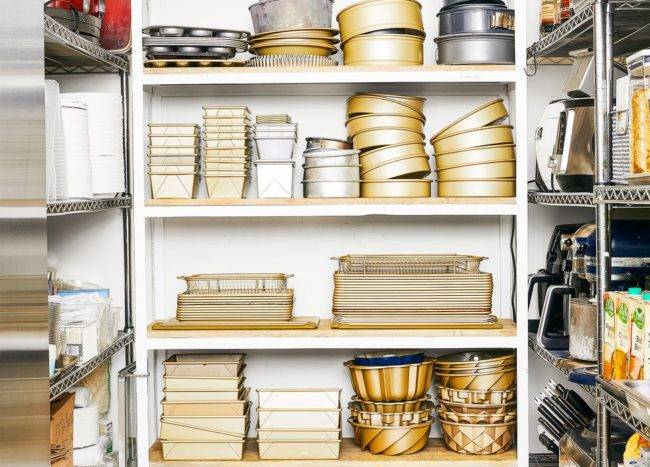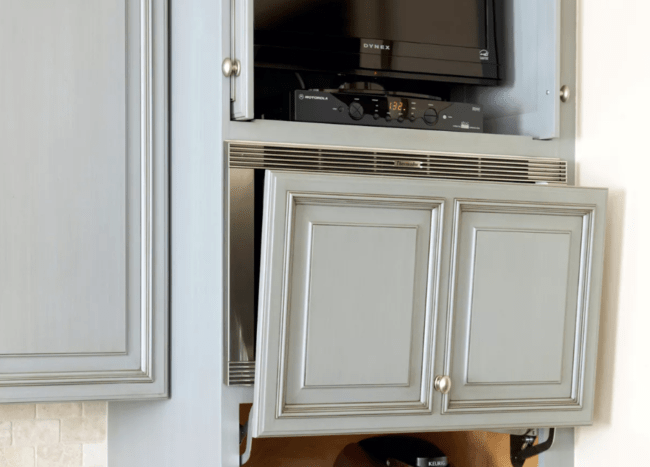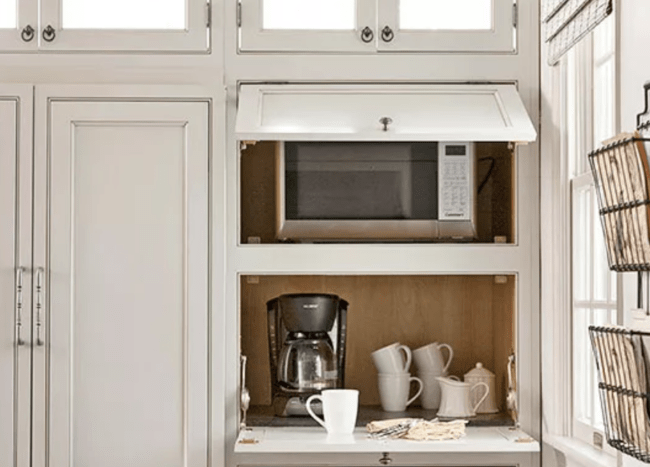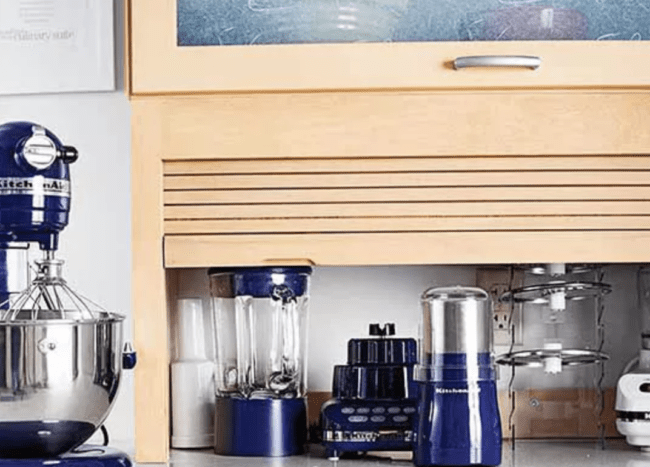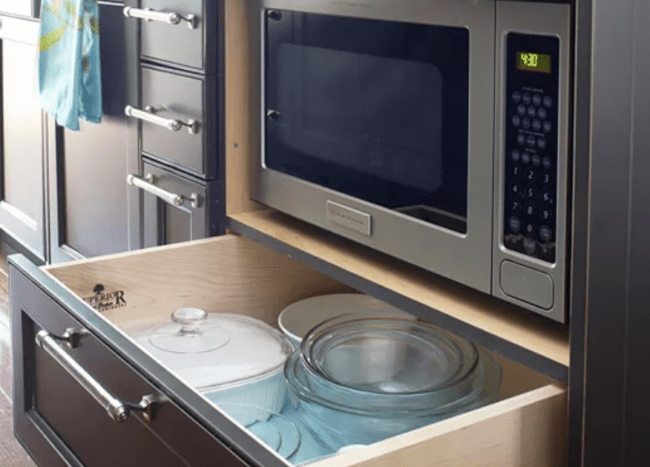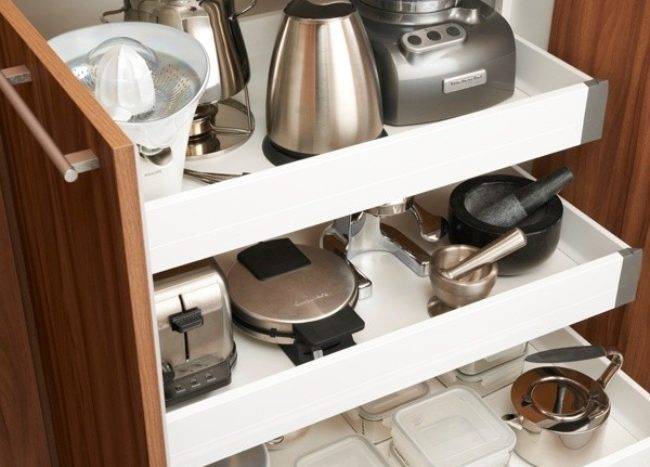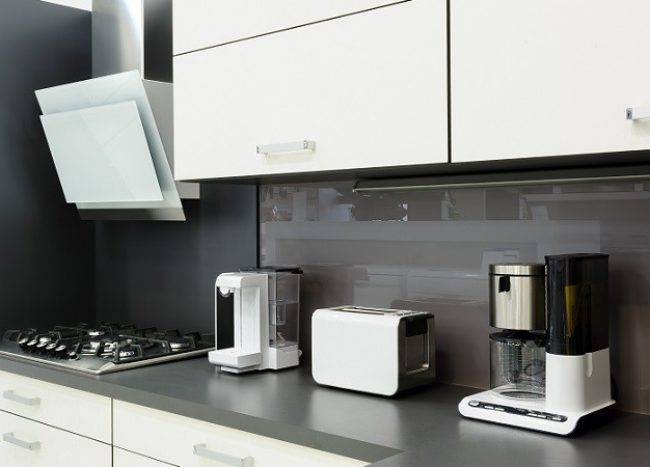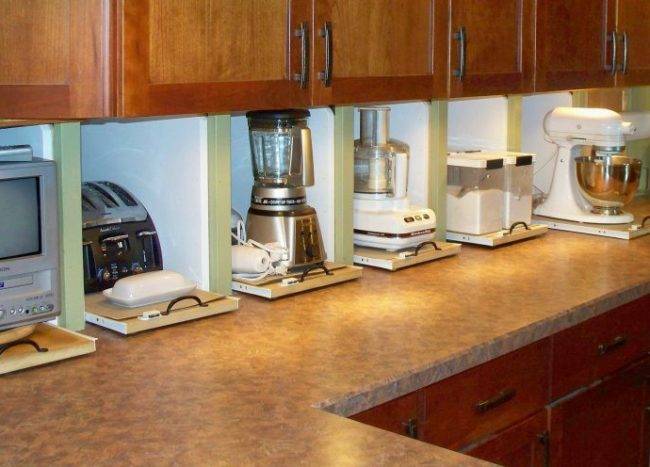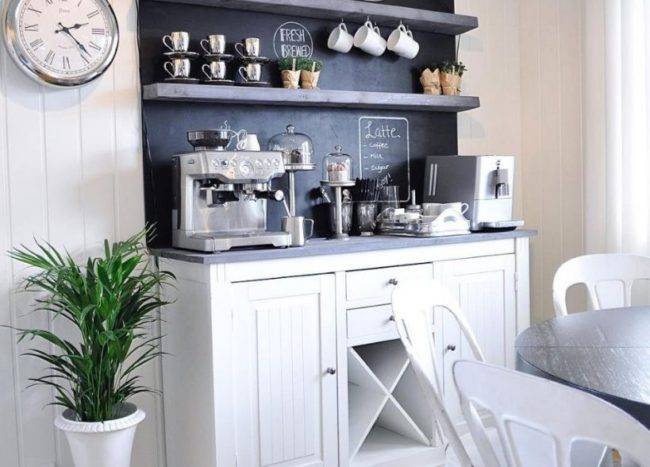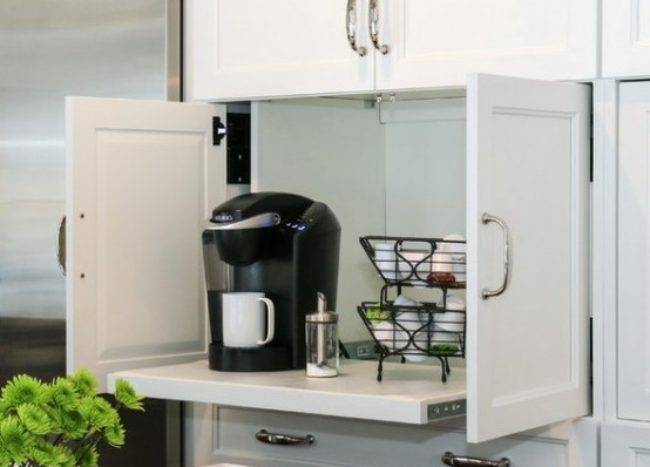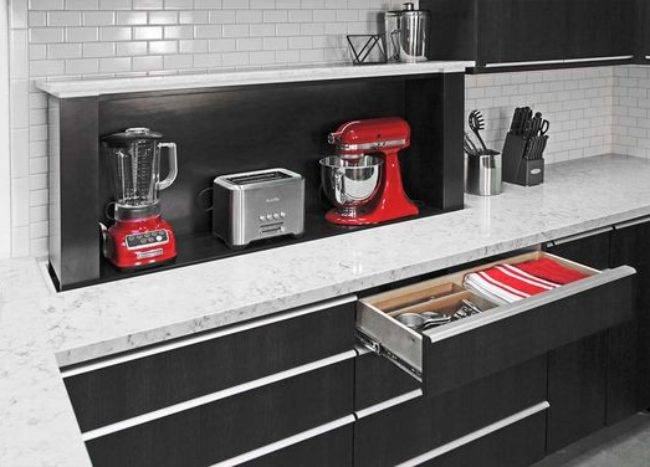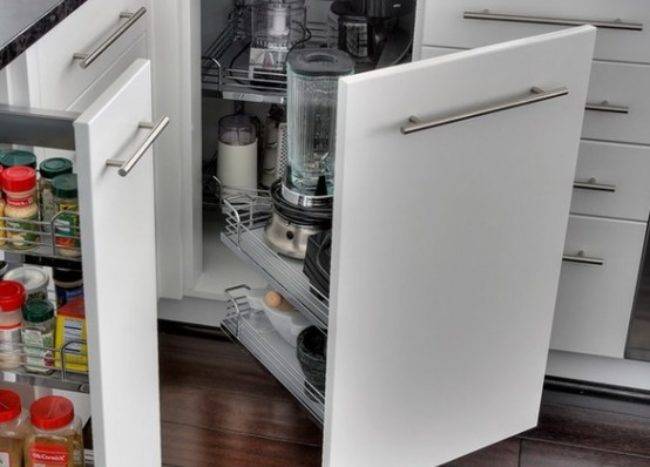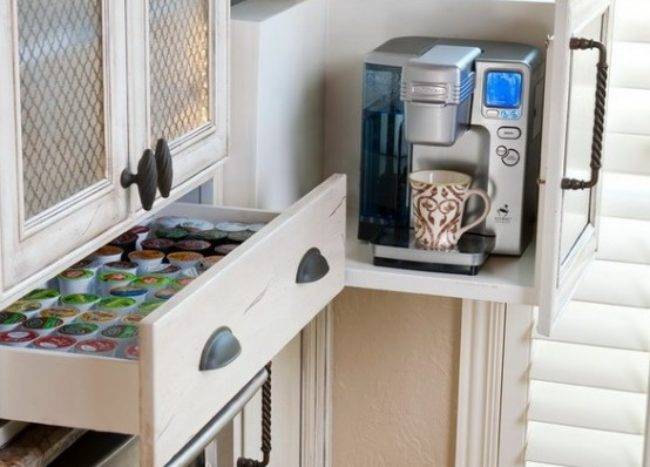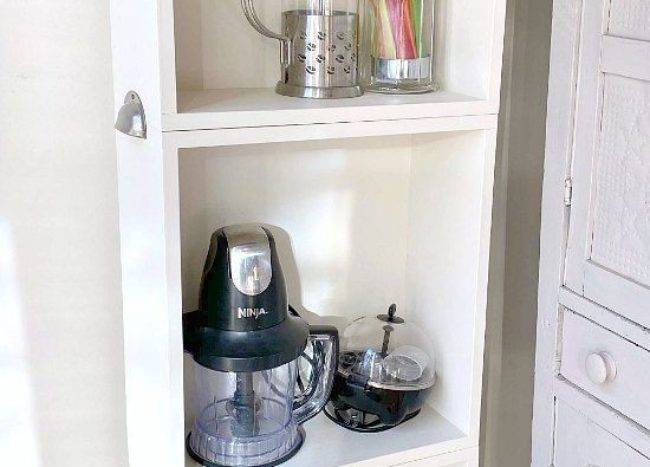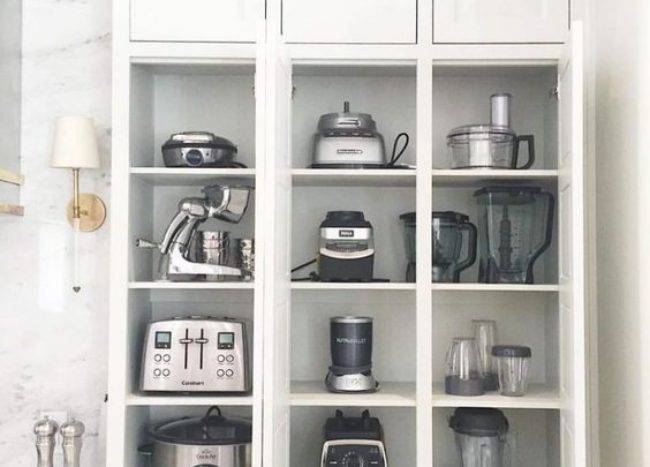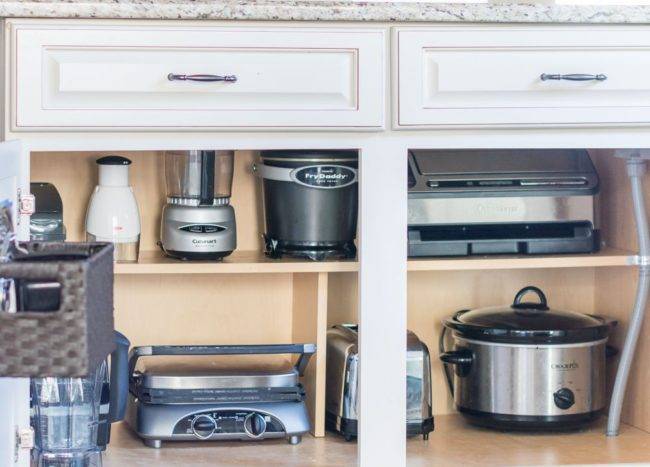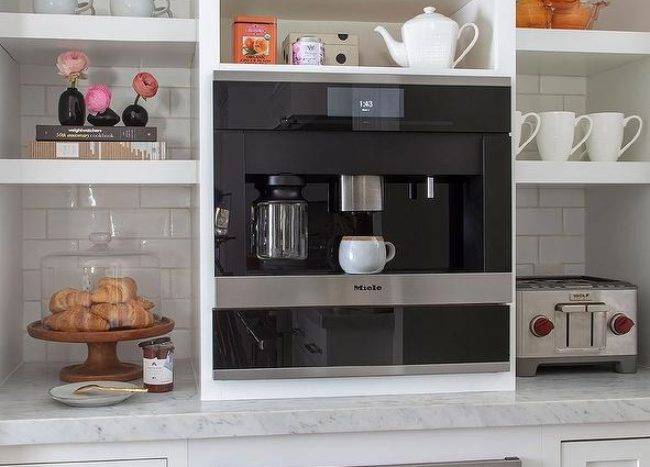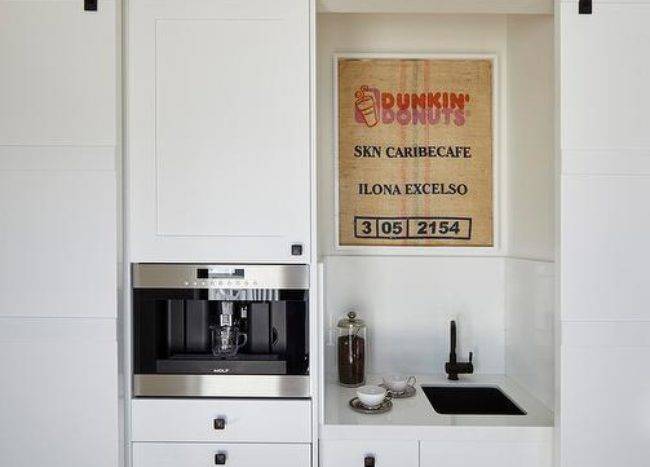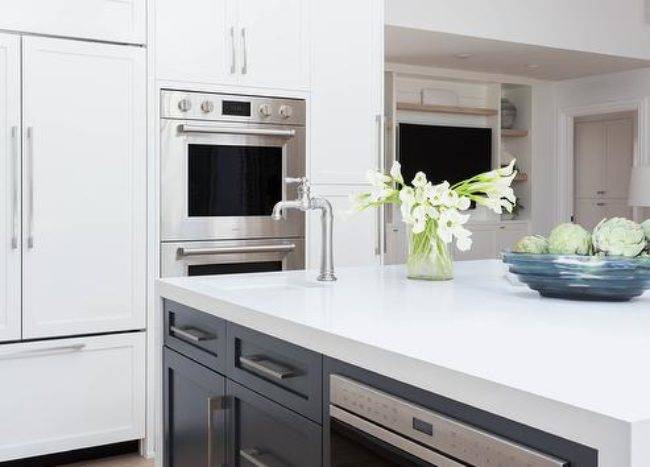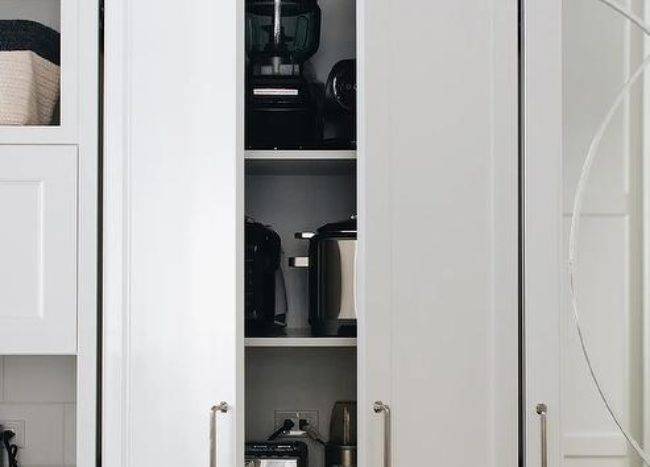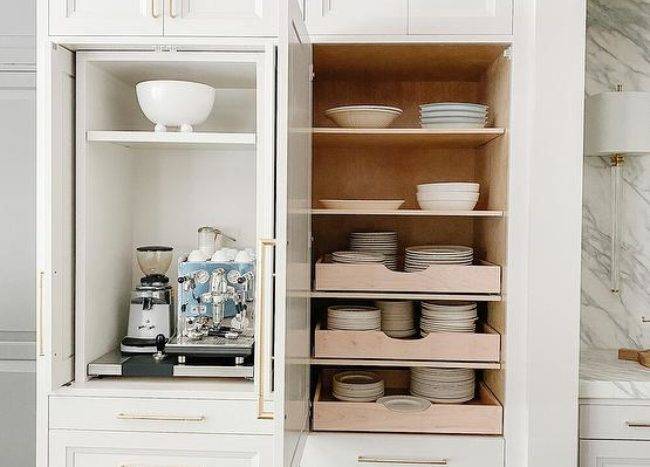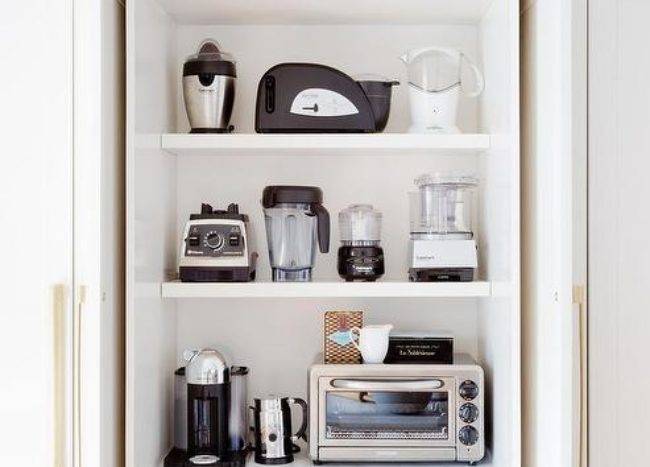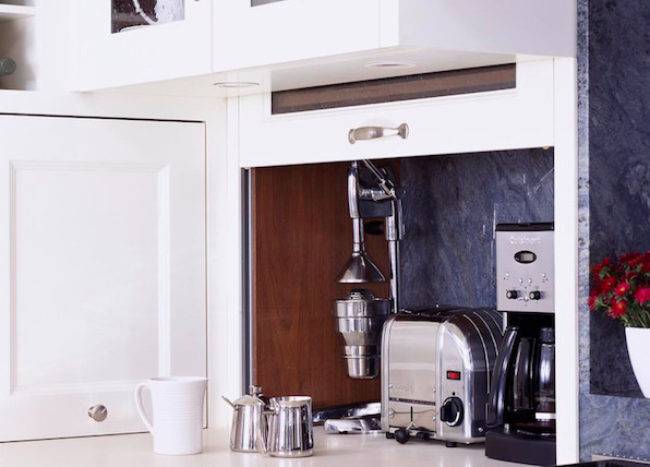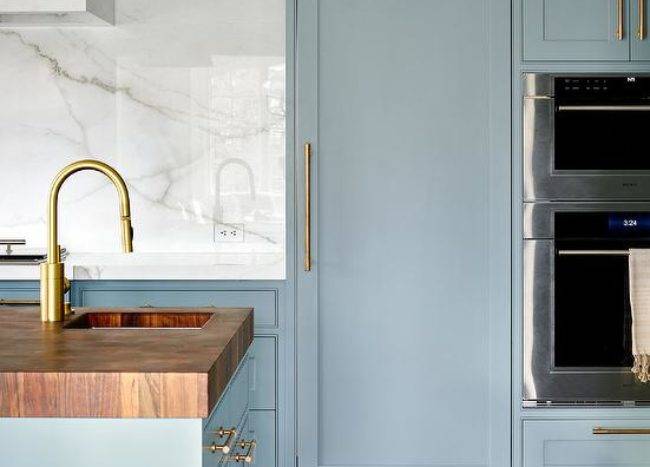 Now that we have helped you organize your kitchen appliances let's jump right into some storage solutions
Covert a Closet
If you have a closet nearby the kitchen that isn't being used otherwise, you could always convert it into a walk-in or small pantry. You can easily turn a closet into a small butler pantry or a place to store appliances by installing fixated horizontal shelves or even moveable wire shelving.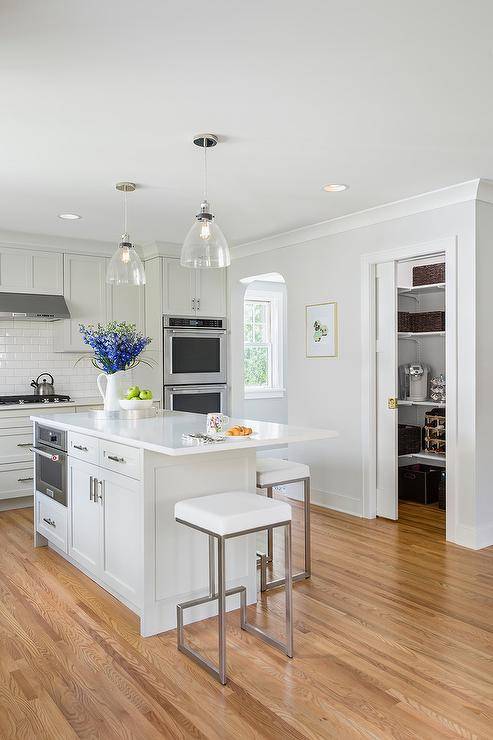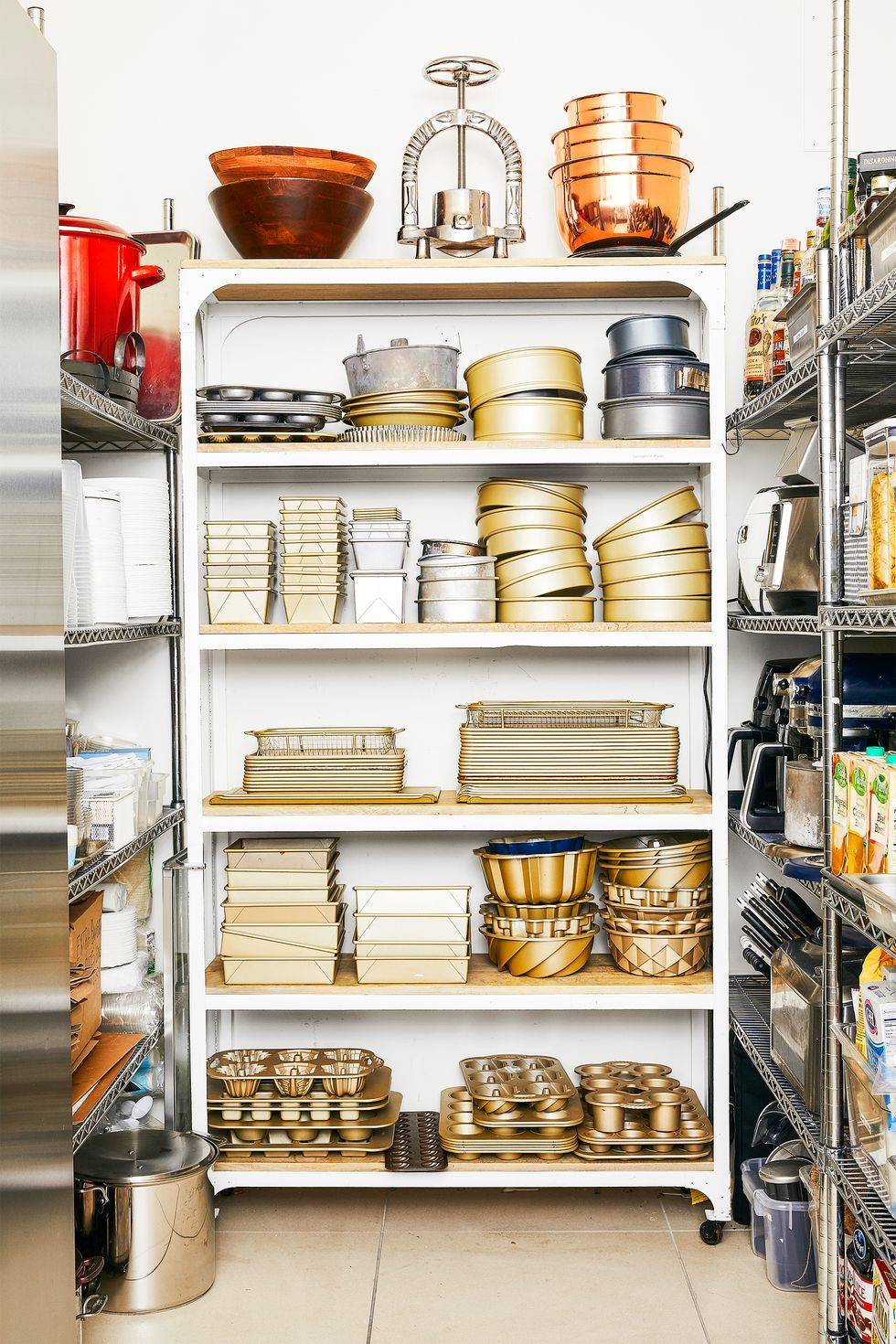 Build Everything In
If you have your choice appliances such as microwaves, air fryers, toasters, etc., and you know that you are going to use them all the time, you might as well build them in. This is, of course, more of an option for those that are building or renovating an existing kitchen.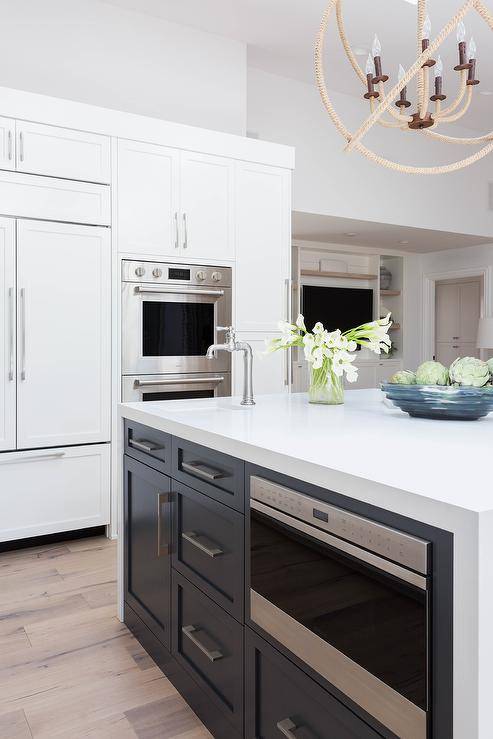 That isn't to say that you can't change your existing kitchen cabinets to accommodate built-in appliances.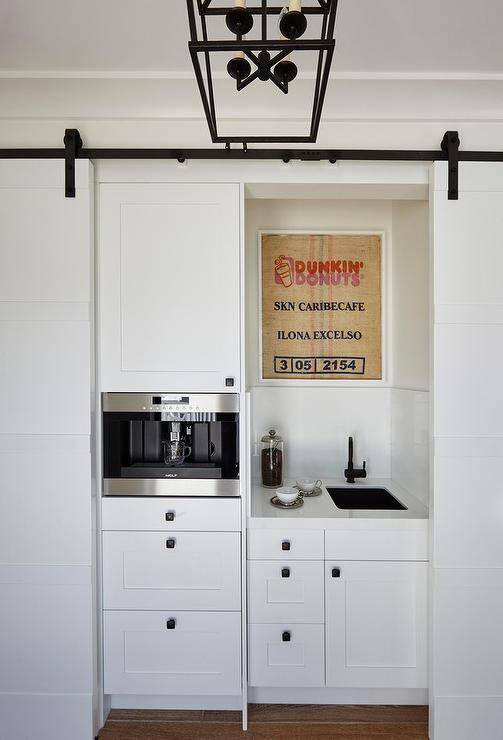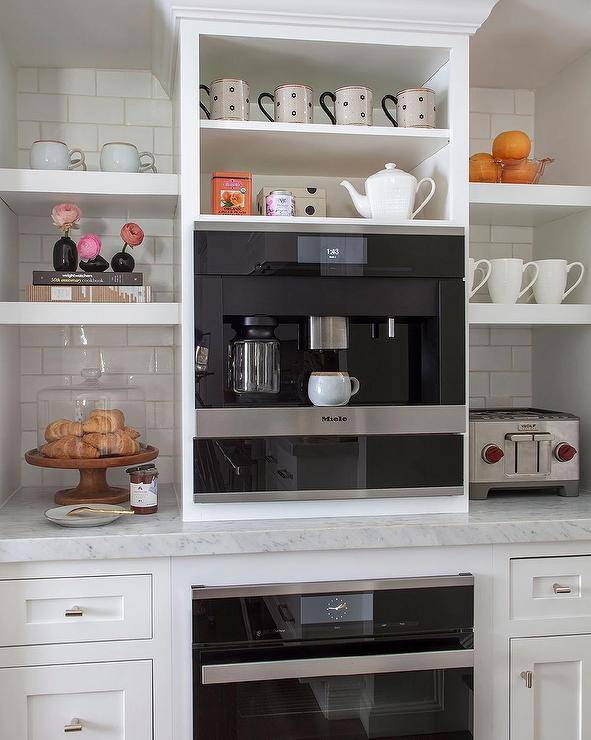 Island with Drawers
A great space to store appliances is in the back of an island. Even if you want to sit around your kitchen island, you can still make use of the back side by installing doors or drawers. You can tuck away appliances back there, and they will be easy to access when you need them.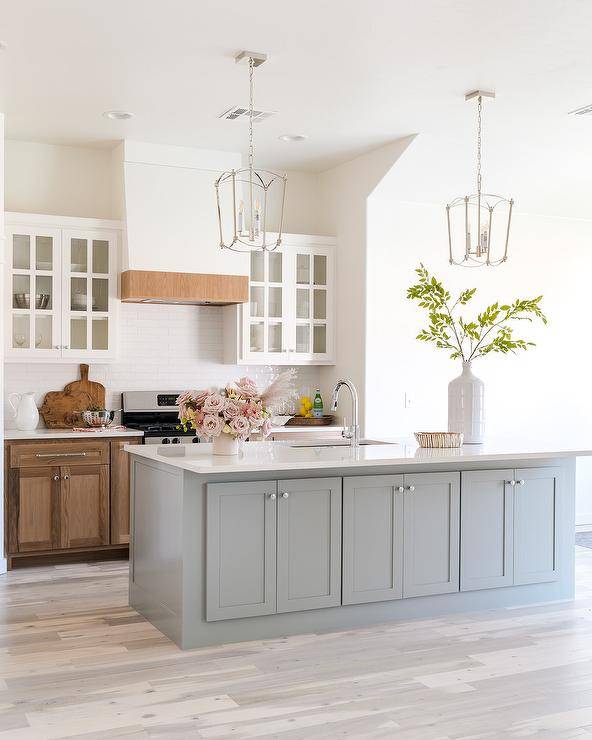 Small appliances can also be tucked away in traditional cabinetry. Equipment stored at the end of the island is accessible but out of sight. Keep appliances such as microwaves on an island so they don't clutter up wall or counter space.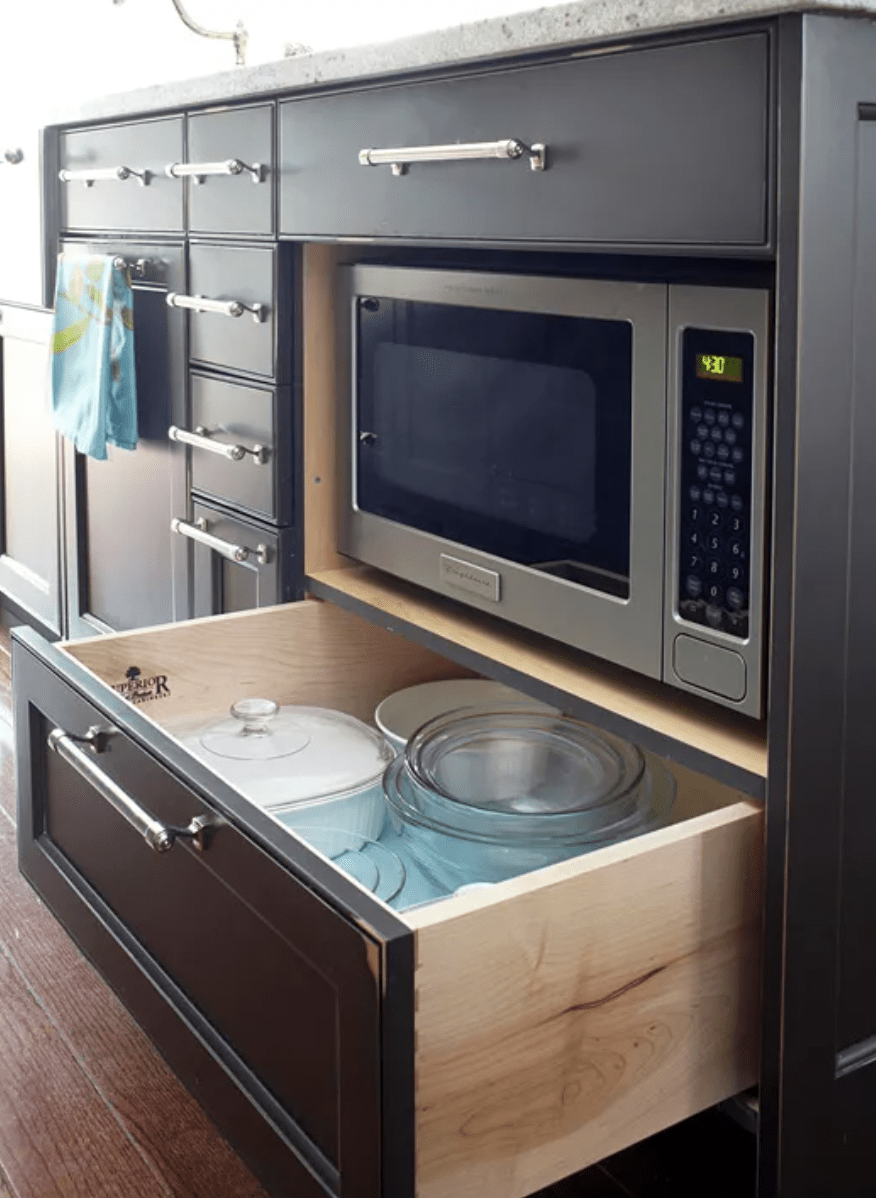 Appliance Garages
Appliance garages are favored storage solutions for small kitchen devices since they keep awkward-sized units out of sight but close at hand. These small cabinets are as varied as the items they hide. This one blends seamlessly with the existing kitchen cabinetry.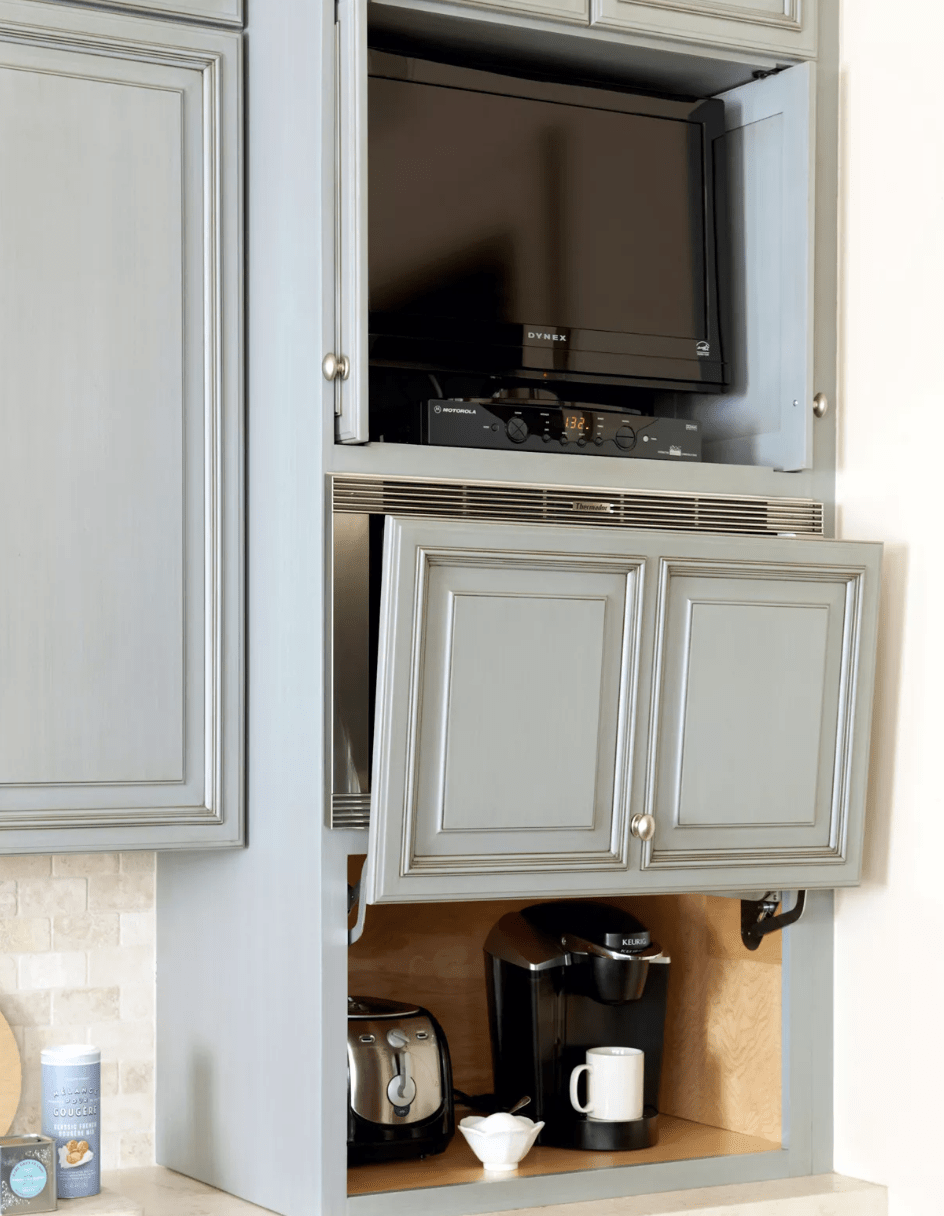 If you favor a contrasting look, this white appliance garage against the marble background looks simply stunning. When it's shut no one know what hides behind.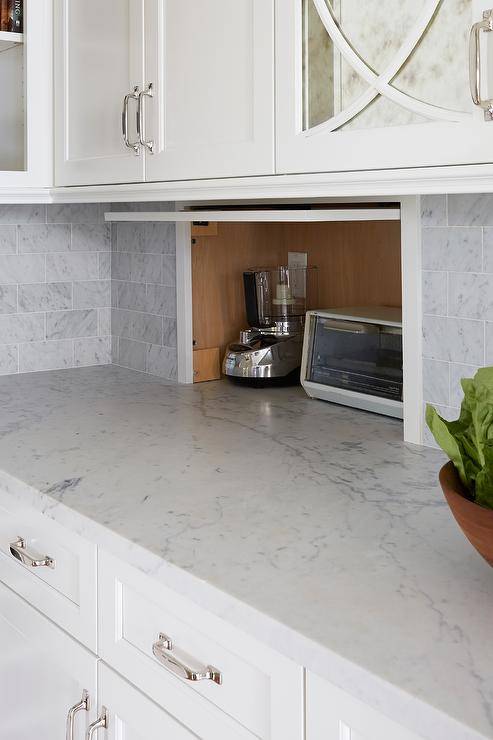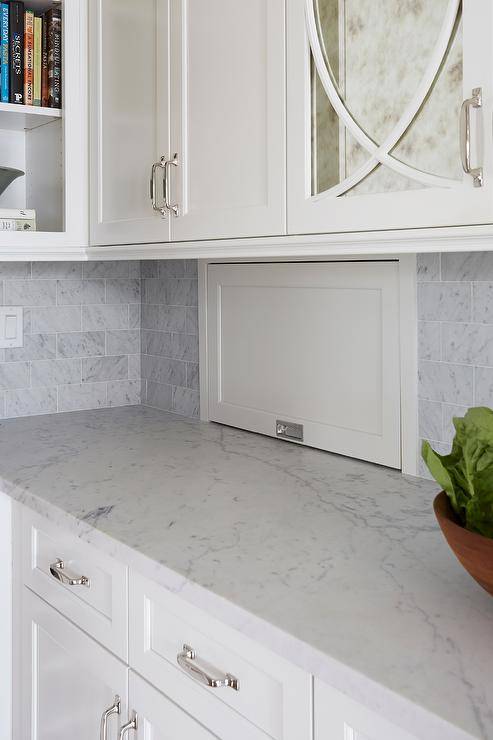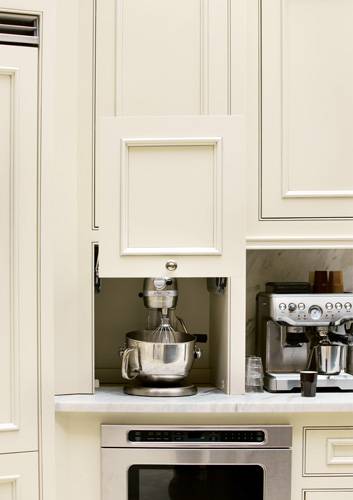 Appliance garages that are made of steel or metal give an industrial look and feel to a kitchen so if that's the look you are after, go for it! This steel slide-up door looks great in this space.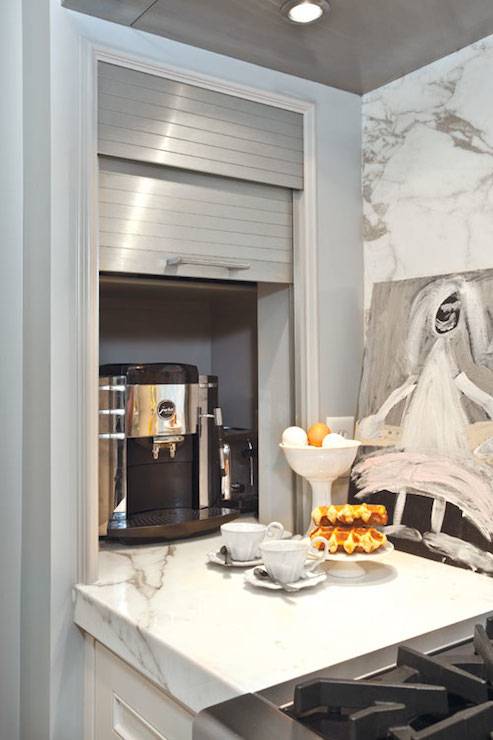 You can try this incredible kitchen possibility if one appliance garage is not enough. This storage idea is possible if you have a lot of countertop space in your kitchen.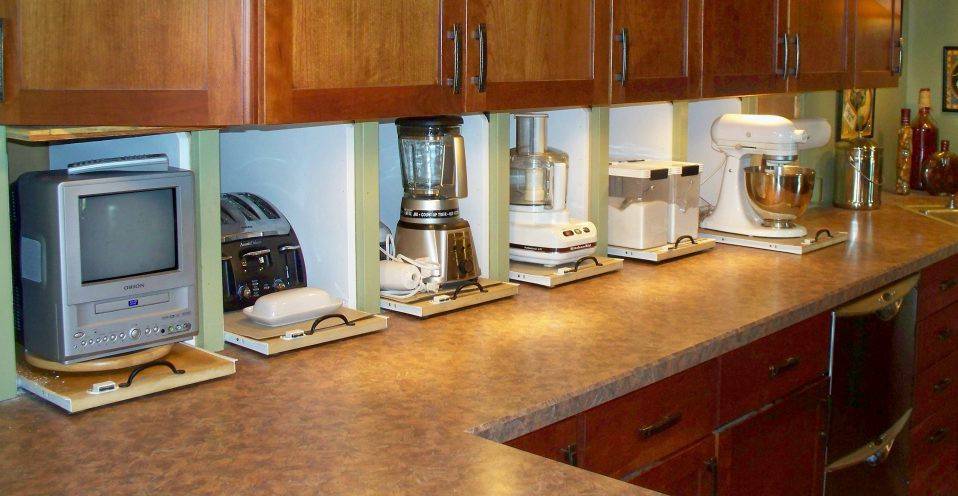 Tucked Away in a Cupboard
You can simply just work with your already existing cabinetry. You can create and designate a certain cupboard just for appliances. This makes it easy to access your small kitchen appliances when you need them, but then you can tuck them away neatly when not in use.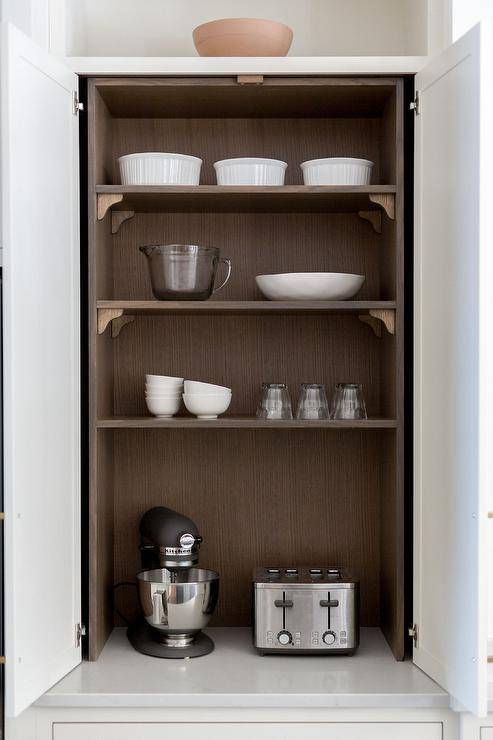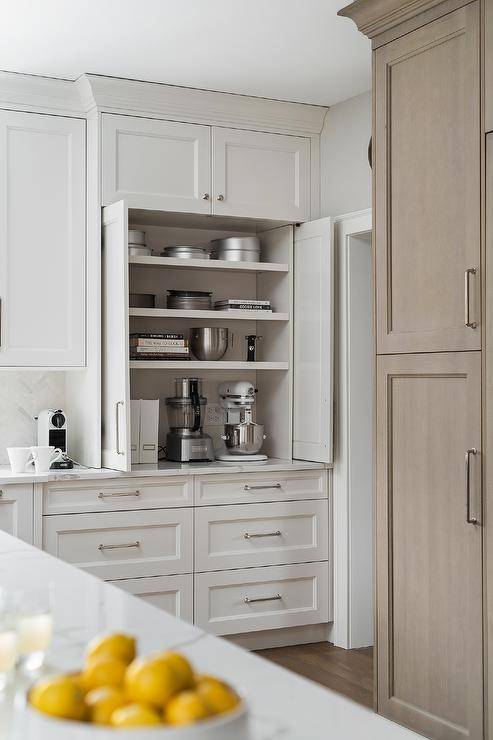 This one is quite fancy. For you to gain access to the stored kitchen appliance, you would have to open the cabinet doors and pull out the shelf. This process makes it easier for you to gain access to your kitchen appliance.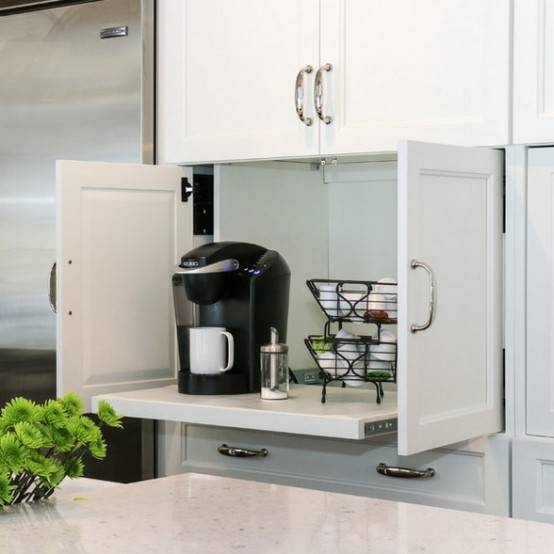 Lift Up and Pull Out
Perfectly designed cabinetry with doors that lift up and out of the way and then pull out shelving make it easy to not only store your kitchen appliances but then also when it comes time to use them this can be done effortlessly.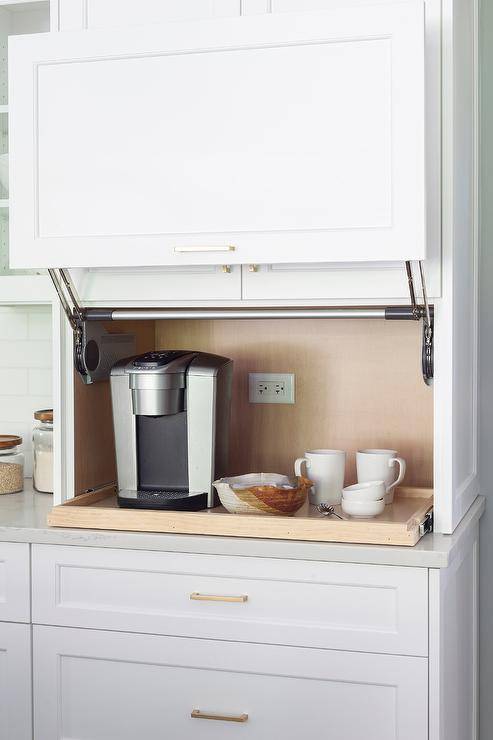 These sorts of cupboards can be installed in uppers or in lowers. This genius invention of a pull-up mixer stand that comes out of your cupboard and then easily tucks back in is something that I totally wish I had in my kitchen.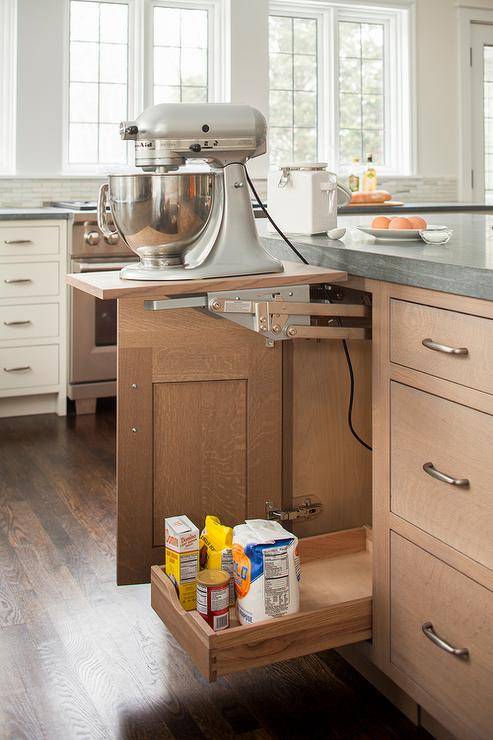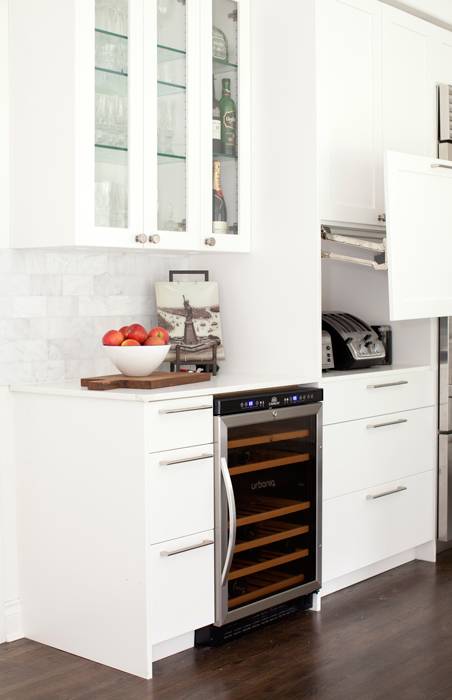 Larger Appliances
For larger appliances like refrigerators and dishwashers that don't move around the kitchen, you can also conceal them if you don't like the look of them.
They now manufacture refrigerators that can be concealed with matching cabinetry; the same goes for dishwashers. This is great for homeowners who want a more streamlined look to their kitchen.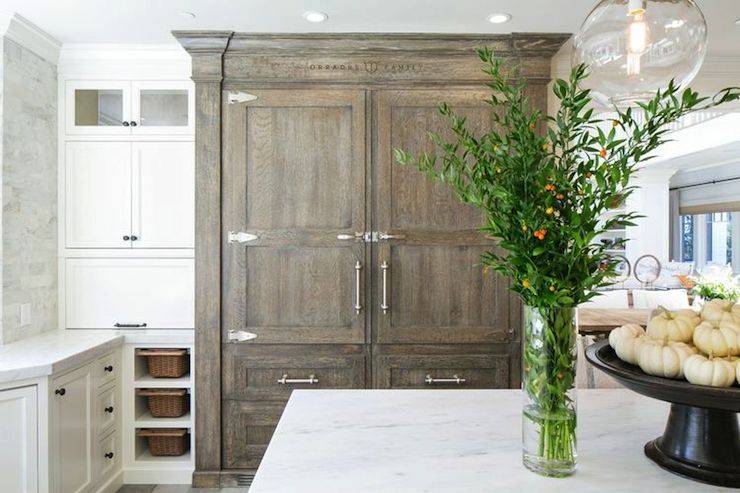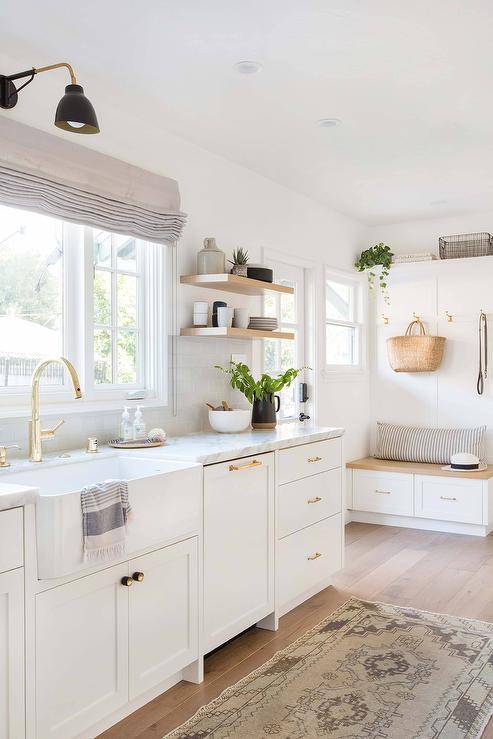 Appliance Alcove
Maybe you don't want your appliance completely hidden but rather just tucked away. This sweet little curved alcove looks so charming in this kitchen and is the perfect house for a blender, mixer or coffee maker.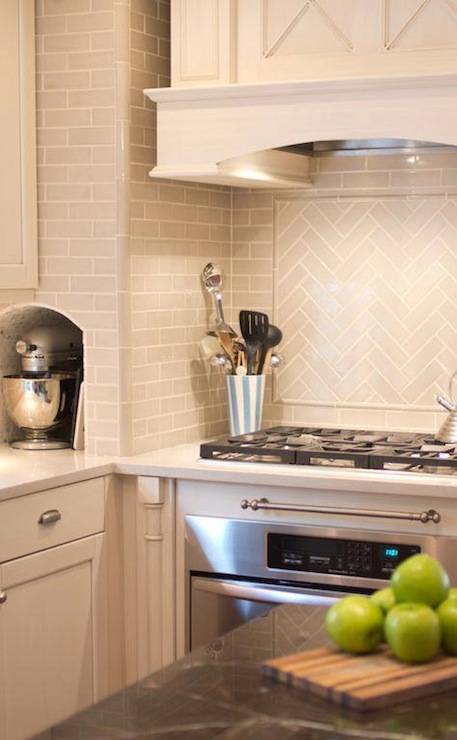 Doors That Tuck In and Away
A really neat function for appliance storage is to have your cabinetry doors tuck in and away. This is a great idea so that when you are using your appliances, your doors look neat and tidy rather than having open doors swinging out into your kitchen.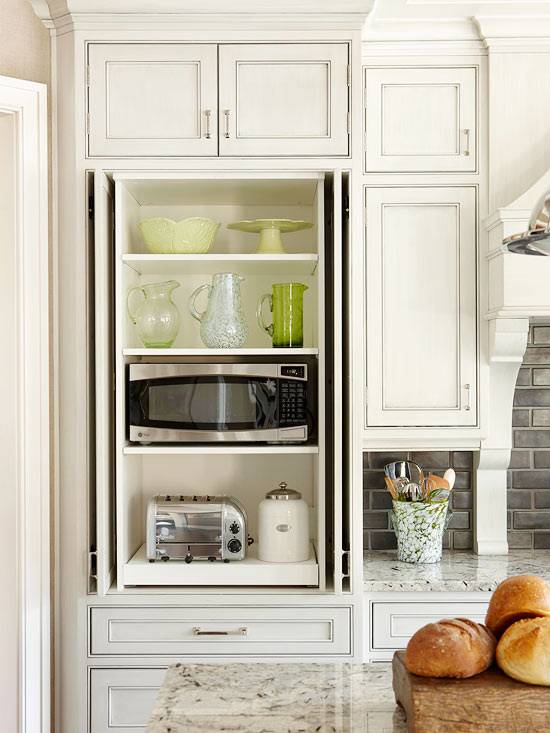 Flip Up and Open
Another style of cabinetry door is one that flips up and opens down. This also creates a working space for you when you are using your kitchen appliances.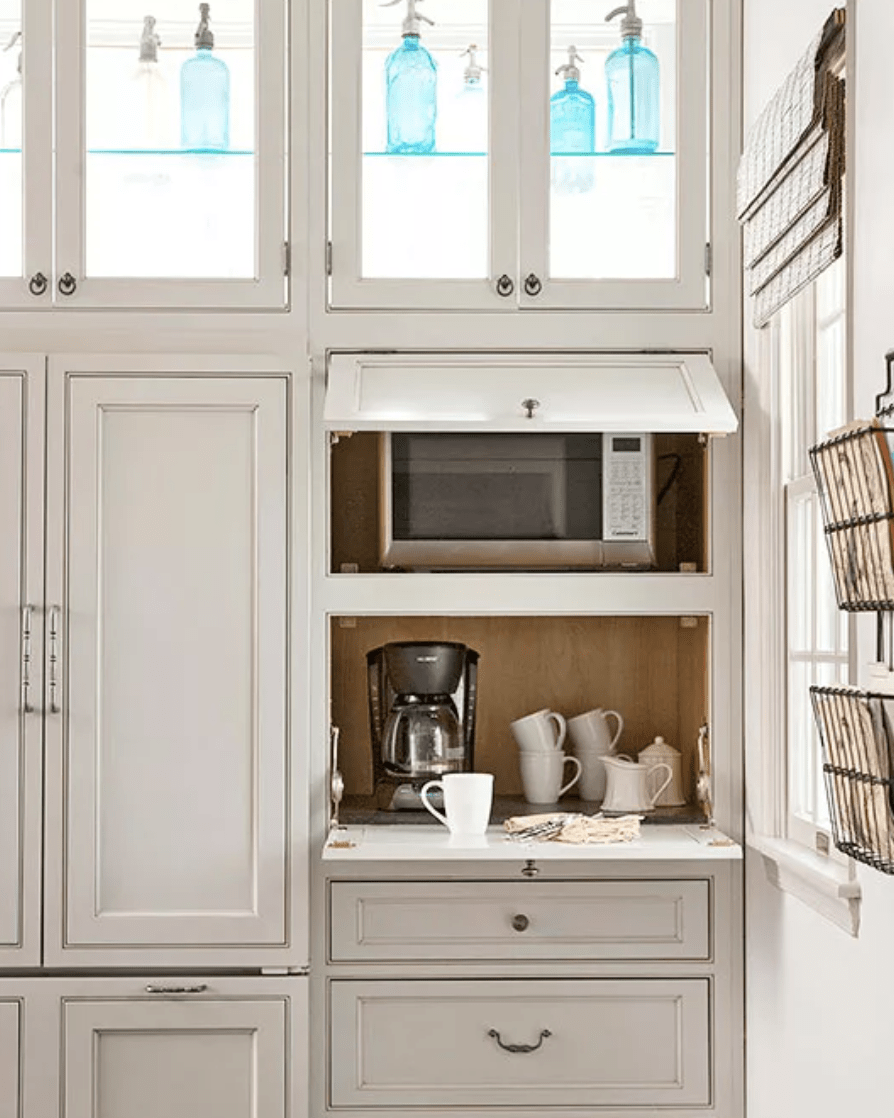 Roll Up
Inspired by old-fashioned rolltop desks, this small appliance storage features a rolling door. When the door is open, it almost disappears, leaving plenty of space to work. This style is nice for storing frequently used items because the door won't get in the way if left open.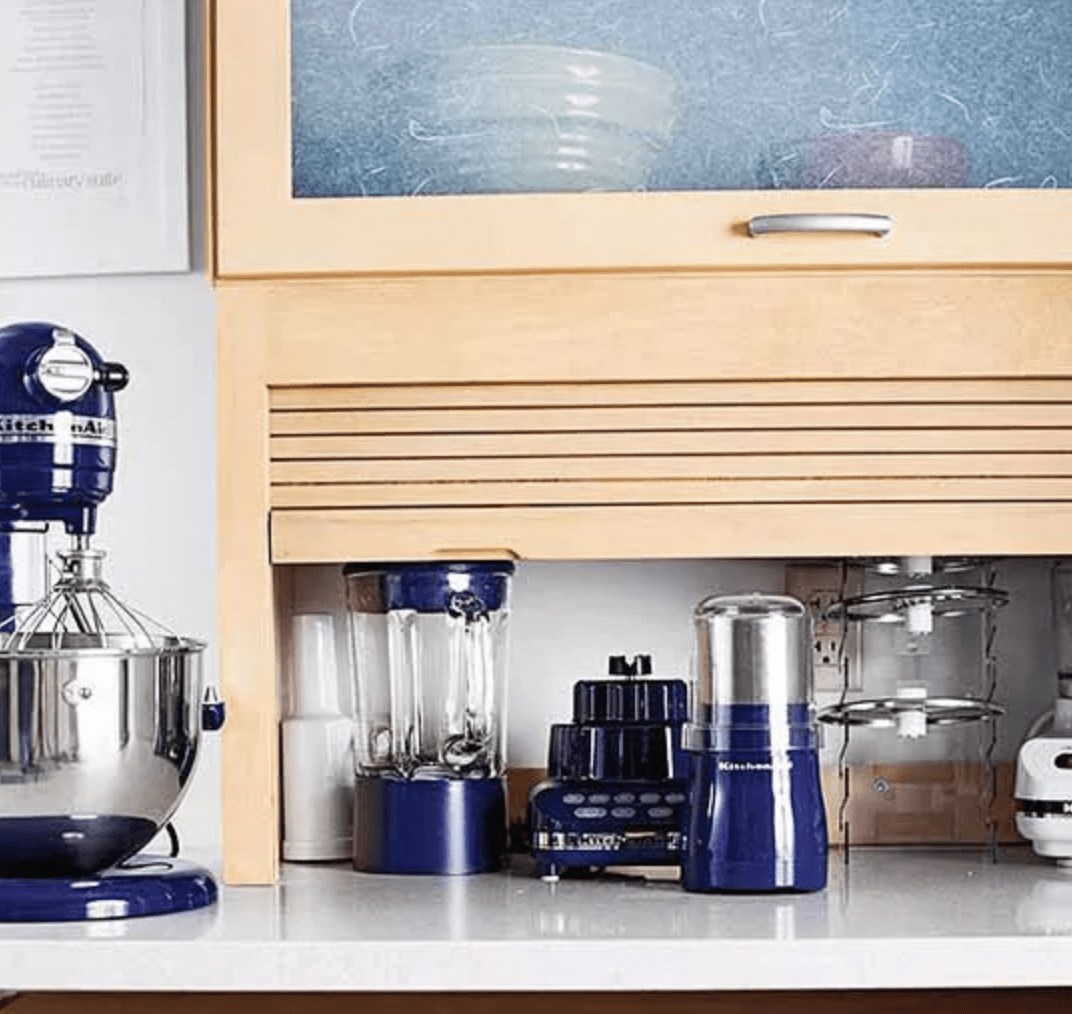 Pull Out Drawers
A pull out drawer can be the ideal place to store your kitchen appliances. Before this can work, you need to have a kitchen cabinet that is big enough to contain essential kitchen appliances like a toaster, blender, etc.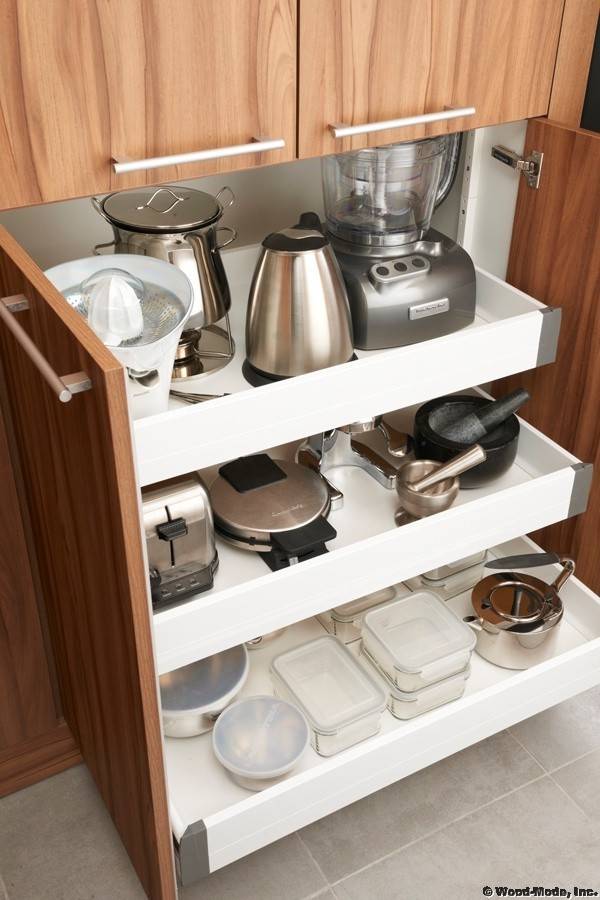 Matching Colors
Suppose you must do the normal and store your kitchen appliances on your kitchen countertop. In that case, your appliances having the same matching colors as your cabinets would give your kitchen a remarkable feel. White is an excellent color to use. If everything matches and looks cohesive, tucking the appliances away is not even a thought in your mind — now your appliances are part of the decor.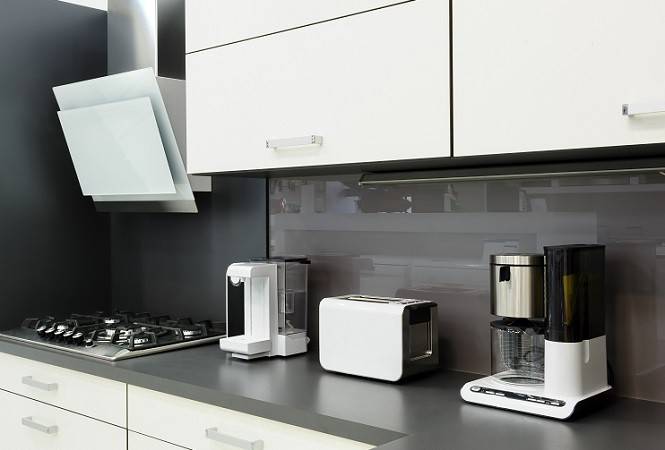 Make a Separate Area
If your kitchen is big enough, you can have a stand-alone cabinet for storing your coffee machines. This storage idea is perfect for baristas. There are lower compartments where you can store other appliances like coffee grinders and more.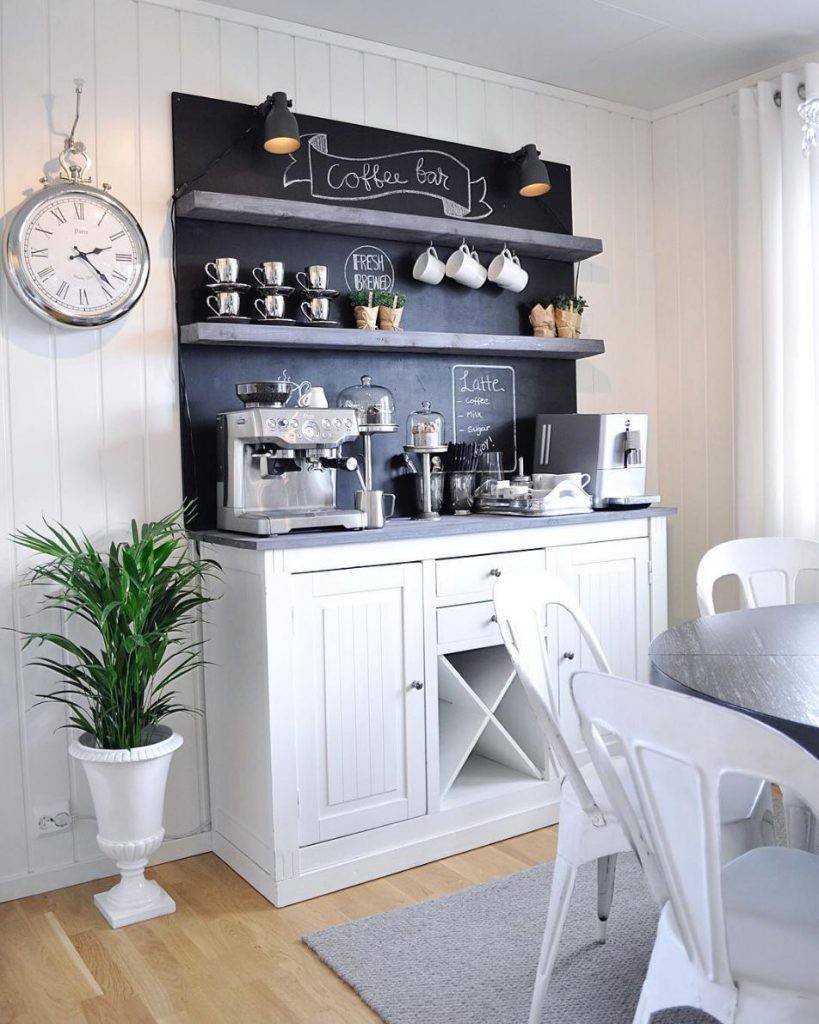 Storage Lift
You can summon your blender, toaster, and cake mixer from beneath your kitchen cabinet with this amazingly outstanding storage idea. This is a more massive storage lift that can accommodate a lot of kitchen appliances.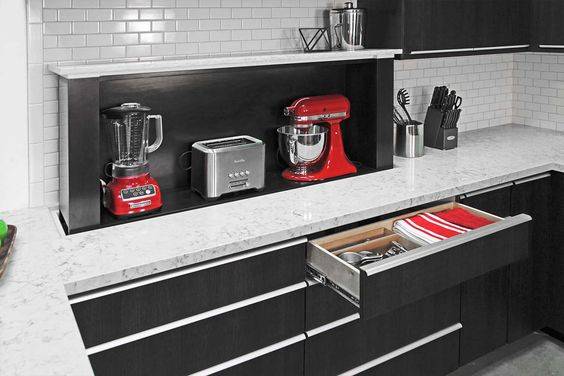 Corner Storage
Most kitchen corner spaces are often underutilized. Here you can see a corner kitchen storage space used to store all kitchen appliances.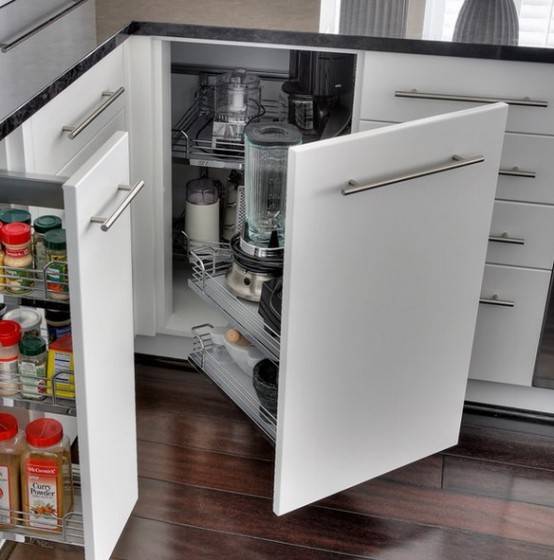 Creative Coffee Bar Storage
We really love this idea. All you have to do is pull out the cabinet, turn on the coffee maker and brew an amazing cup of coffee. Having a cabinet only for your coffee maker is a unique kitchen appliance storage idea.
DIY Rolling Storage Center
If you're of the DIY mentality, you can try this idea! With some plywood, Susan from Home Road Blog, was able to craft this amazingly awesome appliance storage shelf. It has three compartments that can be used to store blenders, toasters, and more. I love that it is rollable and can be tucked away because it's very slim. With a little woodworking skill, you can make this for your kitchen.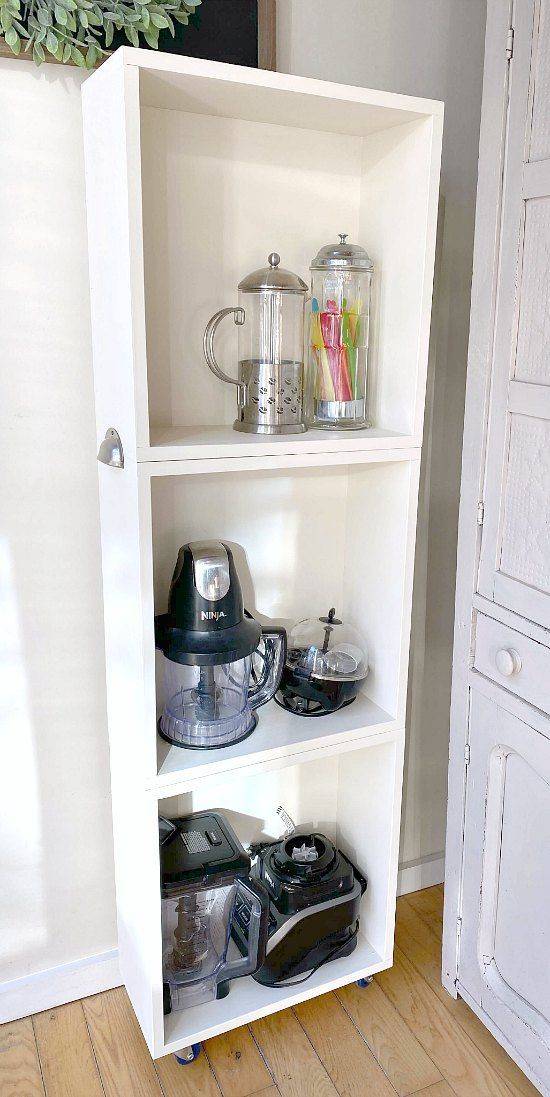 Meticulous Organization
Having one shelve for each of your kitchen appliances is a great way to organize all of your kitchen appliances neatly. You could make your own similar compartments in existing cabinetry or could easily hack an Ikea Kallax shelf into something similar.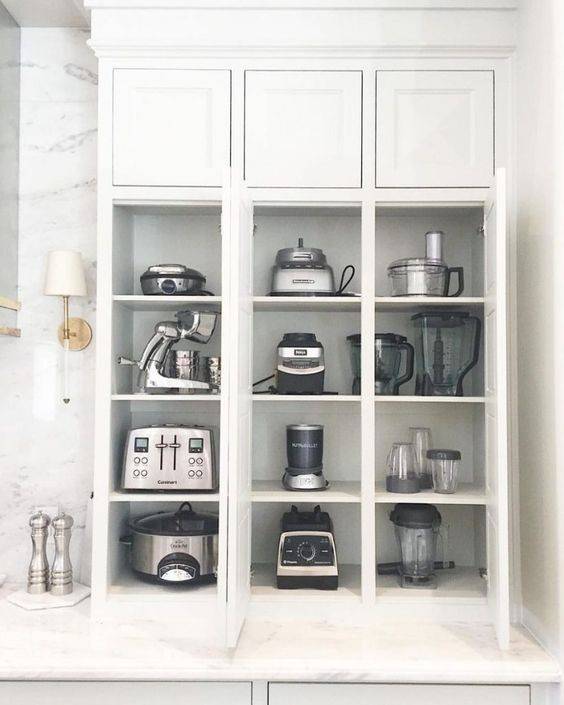 Built Into the Wall
This is one of our favorite kitchen appliance storage ideas. You can consider breaking and dedicating part of your wall to your kitchen appliances. It would give your kitchen a different look.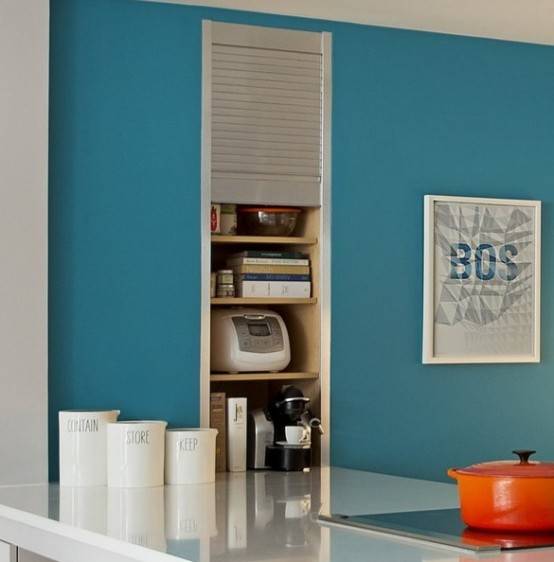 Simply use a Lower Cabinet
Most lower cabinets have enough space to accommodate a lot of kitchen appliances. We highly recommend the lower cabinet if you are looking at hiding your kitchen appliances.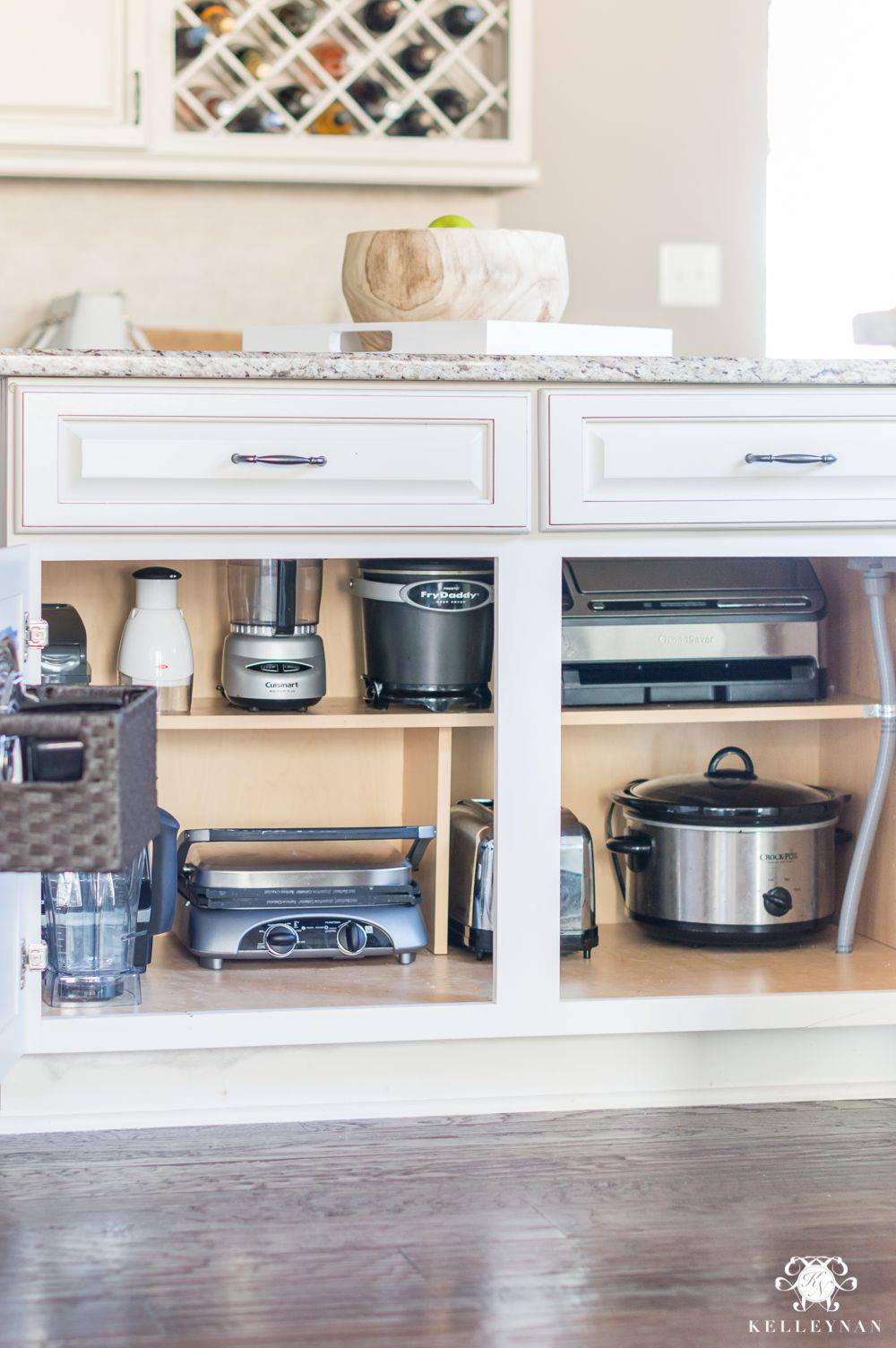 If you need other ideas for storage solutions, here are some related articles you may enjoy:
You're reading 40 Kitchen Appliance Storage Ideas To Keep Your Kitchen Clutter Free, originally posted on Decoist. If you enjoyed this post, be sure to follow Decoist on Twitter, Facebook and Pinterest.