40 Leather Projects To Make And Sell
Leather is a popular material for various products and accessories. So it can be a beneficial type of craft for handmade artisans to master. If you're looking for leather projects to add to your online store or handmade business collection, here are some to consider.
What Can I Make From Leather?
There are various fashion and decor items that you can make with leather. Some popular products include leather cuffs, purses, wallets, and keychains.
DIY Leather Projects: How To Begin Your Crafts
If you're thinking of creating new, fashionable products using leather, here are some steps to take.
Inspiration
Start by looking at other leather crafts online or in magazines. The list below should provide a good starting point for those collecting ideas.
Basic Tools
Then gather the supplies you need for your specific project. Specifics may vary by item, but basics include:
Leather
A sewing machine
Durable needle and thread
Scissors
Leather glue
Measuring tape
Practice DIY Crafting
It may take time to master the type of craft you're interested in selling. Make several iterations of your project before offering it for sale.
Start Selling
Once you've mastered your craft, take photos of your items and list them online or start selling them at local craft fairs or gift shops.
From A Leather Belt To A Leather Yoga Mat Strap: 40 Fun DIY Leather Projects.
If you're looking for a great idea for a new leather crafting project, check out the inspiration below.
1. Leather Belt
A belt can be the perfect beginner project since it's basically one long piece of material. And this product is always in high demand.
2. DIY Leather Luggage Tag
Leather is a durable option for luggage tags. This project just requires a bit of material, and there are plenty of ways to customize it.
3. Leather Key Fob
If you're looking for a small leather project, create a unique key chain design. You can even personalize it with initials or other decorations or text.
4. Leather Straps
Straps can be used for everything from bags to shelves. This project is fairly versatile but is ideal for home decor brands.
5. Leather Yoga Mat Strap
A more specific strap design, this yoga mat holder is simple yet practical.
6. Wallet
A leather wallet can be classic or trendy. These items also make popular gifts.
7. Leather Coasters
If you're looking for a home decor product to add to your line, create small coasters with unique designs.
8. Bags
There are a variety of purses and bags you can add to a fashion line using leather and other materials.
9. Leather Camera Bag
Camera bags also require a tough material. And leather can add a bit of style to this accessory.
10. Leather Cuff
Cuffs are basically simple bracelets that are perfect for those looking for a simple project.
11. Leather Flask
If you want to add something fun and unique to your product line, consider a leather flask holder or a wrapped flask.
12. Leather Stool
A leather stool can be a great way to add some larger pieces to a furniture or home decor shop.
13. Laptop Case
A leather laptop case can add both style and substance while protecting customers' devices.
14. Pencil Case
Leather is the perfect material for a simple case you can use to carry around various office or art supplies.
15. Hair Accessories
Use flexible pieces of leather to create bows or headbands for kids and/or adults.
16. Zip Pouches
Create pouches in various sizes that people can use to store toiletries and other travel essentials while on the go.
17. Makeup Brush Holders
You could also create a more tailored design that keeps makeup brushes organized.
18. Cord Keepers
Cord keepers are small pieces of leather that snap together to corral cords when they're not in use.
19. Gift Tags
Create small tags that people can use to put on special gifts. These will usually be customizable products, so you'll need a way to add messages or initials.
20. Drawer Pulls
Help homeowners customize their fixtures by creating leather drawer pulls they can install on their own.
21. Earrings
There are tons of unique earring designs that you can make using leather, including tassels, dangle earrings, and simple studs.
22. Napkin Rings
If you want to make small, decorative items, consider selling napkin rings that customers can use when entertaining.
23. Magazine Racks
Attach leather to a wood or metal frame so people can use it to hold books and magazines.
24. Upholstered Cushions
Leather is a popular material for couches and chairs. You can even create small cushions that fit dining or accent chairs.
25. Catch-All Baskets
These small containers can be used on nightstands or countertops to hold everything from jewelry to keys.
26. Wall Art
Create a fun sign that customers can hang as decor on their walls.
27. Place Cards
Offer customizable place cards that people can use at weddings or other special events when creating their seating charts.
28. Watch Band
Craft bands that attach to various types of watches for those who want to customize their pieces.
29. Shoes
Leather can be used for a variety of shoes. But the easiest option for those just breaking into this type of DIY is likely baby shoes.
30. Passport Holder
Serve travelers by offering sturdy holders for their passports made out of stylish leather.
31. Tie Clip
Tie clips are tiny accessories that won't require much material and should be fairly quick to make.
32. Plant Labels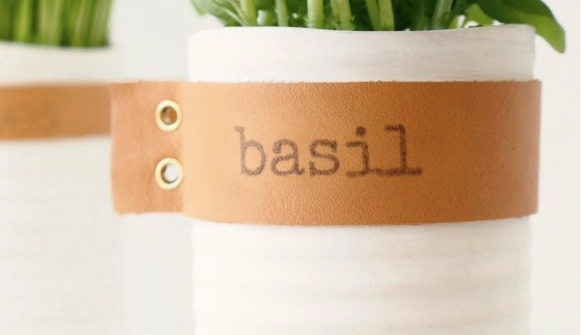 Make small labels that can go around a plant pot or even stick up out of the soil with names of each houseplant, flower, or herb stamped onto the leather.
33. Dining Chairs
Dining chairs are definitely a larger and more involved project than many others on the list. But it's still possible to DIY them and sell them locally or at special events.
34. Ottoman
An ottoman is another larger project, but it can be ideal for those who sell at local markets or who have relationships with retail stores.
35. Basket Handles
Basket handles can add both style and functionality to bins used around the home. And they're fairly small and simple to make.
36. Storage Bins
However, you can also make entire bins out of leather to bring even more of this style into various spaces.
37. Business Card Holder
If you're looking for a simple project to get started, a simple leather pouch can serve as a stylish business card holder.
38. Necklaces
There are various popular necklace designs and styles that can work well with leather.
39. Pencil Caps
Pencil caps are small covers that go over the tops of pencils to protect them in bags or pouches.
40. Backpack
Leather backpacks provide a classic look and are on trend right now.
If you are looking for more inspiration, look no further than 50 craft business ideas.
What is leather crafting called?
The process of making things out of leather is often called leatherworking.
What can I make with upholstery leather?
Upholstery leather is fairly thick and can be used for a variety of projects, including bags, baby shoes, wallets, laptop cases, and journals.
What Is The Easiest Thing To Make In Leather?
There are several small, easy objects to make out of leather, including keychains, coasters, and hair bows.
READ MORE:
Image: Envato Elements
This article, "40 Leather Projects To Make And Sell" was first published on Small Business Trends