6 Halloween Decor Ideas That You Must Try
The scariest day of the year, as well as the official holiday for those of us with a sugar addiction, falls at the end of October. Having said that, it is time to get ready for a spooky good time with our Halloween ideas, including costume ideas.
Halloween is an ideal chance to put your creative skills to work and make and display your decorations. From spooky lights to plastic tubing cables, these methods can help keep your creepiest props and decorations safe over the scary season while still providing a delightful thrill for your trick or treat.
Halloween Will Never be Perfect Without Costumes and Decors
Halloween, the first few things that come to mind are usually easy Halloween costumes and the tastiest Halloween candy that you can not wait to eat. But, because this is the one time of year when you can dress up in your favorite hilarious DIY Halloween costume, why not get creative with Creative Halloween decorations for your home as well? Whatever method you choose to celebrate, you will need some Halloween decorations to set the witchy mood. So here is a compiled set of DIY Halloween decor ideas that are so simple they are frightening.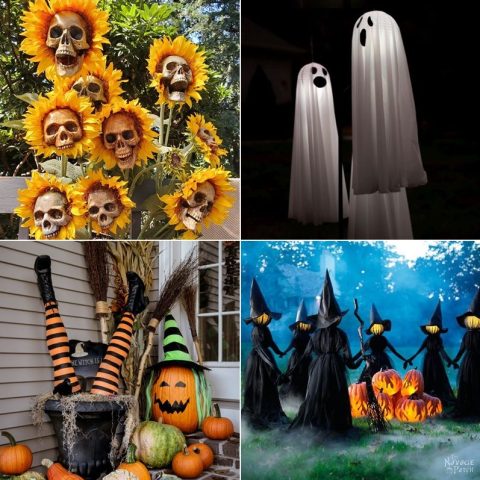 Amazing Halloween Decor Ideas
① Pumpkins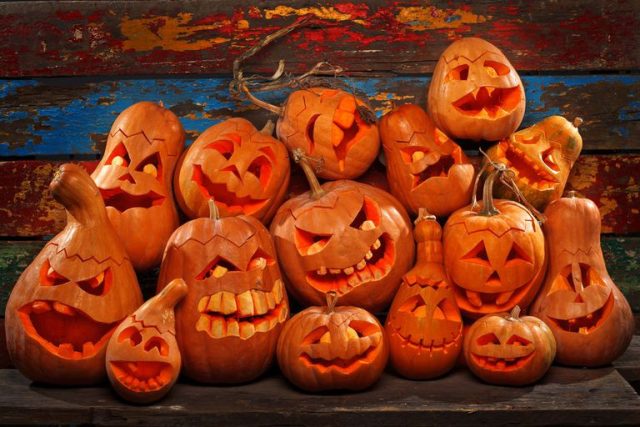 Consider making a pumpkin topiary out of painted plastic pumpkins,  lights, and hay for a wickedly good welcome. Paint one black to add some gloom and then build a little Halloween-themed "street sign" to place in a pot of plants.
Carve the Pumpkins
Carving pumpkins is the ultimate Halloween activity for showcasing your creative abilities and getting your hands a bit messy. Plus, it gives you an excuse to whip up a bunch of delicious pepita recipes. You are probably sick of the standard toothy smile and triangle nose design at this point. Don't worry, there are lots of inventive ideas to excite your imagination. From pumpkins that appear to be eating other little pumpkins to designs inspired by your favorite movies, there is something for everyone.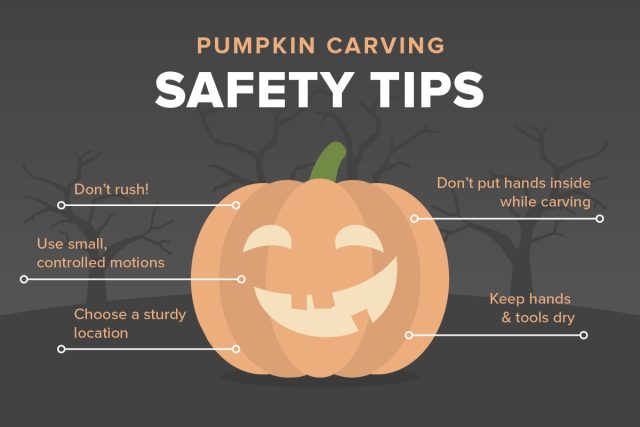 Rather than carving this detailed wicked tree trunk pattern, just lay a printout of it over a large oval cut into your pumpkin. You'll be all set if you light it with a battery-powered candle inside. Craft a creepy scenario by carving a topsy-turvy haunted home surrounded by an ominous tree, flying bats, and a little graveyard.
This two-in-one pumpkin is frightening, inventive, and amusing all at the same time—the Halloween trio. Aside from carving talents, the hard aspect is cutting the mouth at the proper size to suit a smaller gourd. Toothpicks can be used to assist keep it in place.
② Bunch of Spiders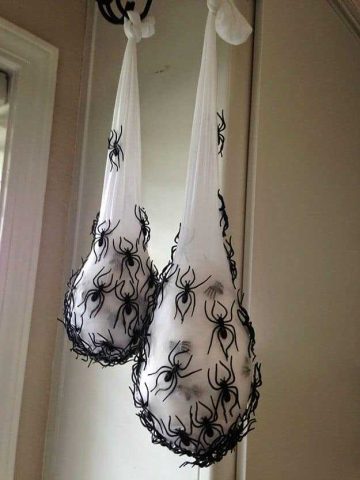 Fill jars with sweets and decorate your table with skulls and spiderwebs. Isn't this ridiculously chic? Spread spider webs around a traditional white berry wreath. Then, using a glue stick, adhere plastic spiders of varying sizes to the wreath and webs. If your visitors do not already have phobias, they could after seeing this.
Spiders Will Keep Everyone Occupied
Your guests' dread of spiders will keep them occupied. Arrange a skeleton in the window to represent a deceased defender who overlooked one crucial fact: he is no longer living. Put a dummy cleaver in one of his hands, because a rolled-up newspaper isn't going to cut it against 6-foot spiders.
Get a robotic spider of giant size with audio effects. Even the boldest trick-or-treaters will get the heebie-jeebies from this spider's sheer size. When humans pass by, the spider leaps forward—much quicker than you might imagine. all-nighters this Halloween mimic will provoke shocked cries.
Get Enormous Spiders
Oversized monsters covering your house walls, door, and even porch floor are quite frightening and eerie. You may either cover the home with false or more authentic spider-web, skip it, or create a horrific scenario with spider-web, spiders, and a mummy hanging down to frighten everyone. Actually, you don't need much to make the outside environment frightening, and a single large genuine spider on the grass is plenty.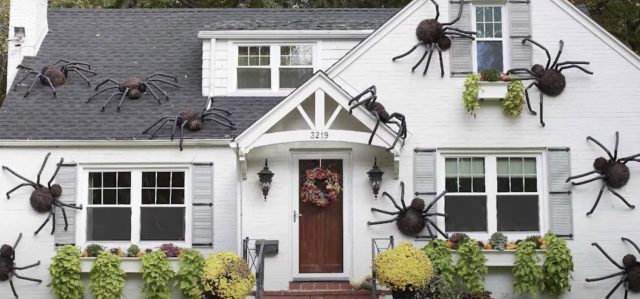 ③ Wine Bottles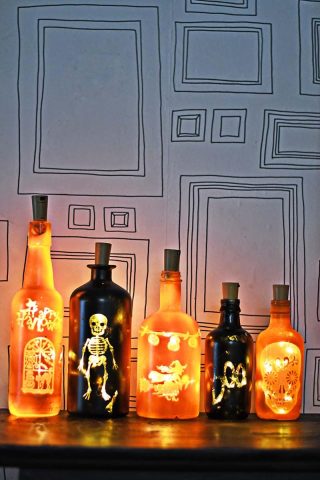 If you have empty wine bottles lying around your house and want to utilize them for eerie Halloween decorations. There are several ways to incorporate wine bottles into home decor, ranging from a smiling Jack-o'-lantern and chalkboard-painted wine bottle to ghost-inspired Halloween decorations. Remove the label of the wine bottle, paint it in matte-black or red color. Once they are dried up, insert burning candles inside or at the top of bottles.
Paint the Corks Black
Assemble the standard wine corks into the skeleton's body and use the Champagne (or sparkling wine) cork for the head. White paint should be used to cover the "bones." Connect the head, torso, and pelvic corks with the bamboo skewer, with pony beads in between functioning as "vertebrae." Cut the popsicle sticks. Use the central part as the "clavicle," and the spherical tips as the hands and feet. Paperclip halves are used to join the limbs.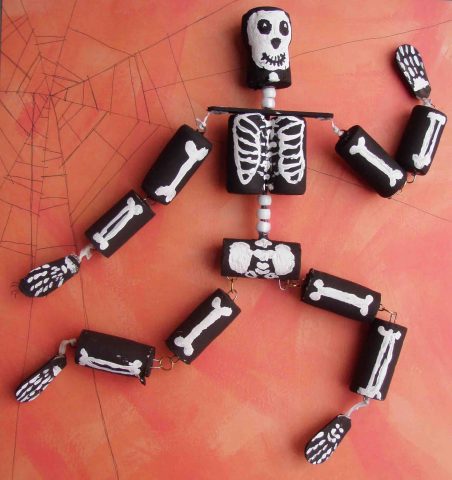 Paint the bottle black and sprinkle glitter on top while it's still wet. Paint the top of the bottle white and add a dripping design. Glue googly eyes on and use a hot glue gun to top off the rim of the bottle to create a wax dripping impression. Allow drying before painting white. Insert a black candle inside the bottle's top.
④ The Lighting Effects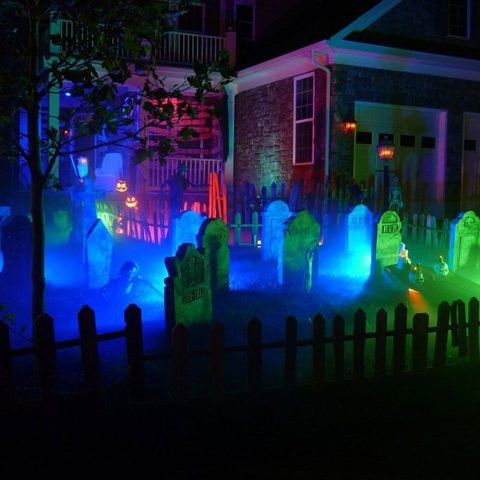 Lighting is one of the most key aspects of creating a haunting vibe in your house. With so many different types of lighting to choose from, you can easily add a little or a lot of scariness to your Halloween party, depending on the effect you want to produce. Orange, Purple, and Green are the season's iconic light shades, and when combined in different ways, they provide a one-of-a-kind background of illumination to emphasize your wickedly creative style.
Signs of Happy Halloween
A simple string of orange pumpkin-shaped lights is a great place to start if you want to create a basic light show that yells "Happy Halloween." However, if you want to terrify your trick-or-treaters and have the scariest yard in the area, there are a variety of methods to decorate with lights.
Place lights low to the ground and slightly upward to make shadows look huge and frightening. When someone (or anything) passes in front of the light, the angle causes elongated, distorted shadows. Even the household dog casts a dreadful shadow. Paint or partially cover lenses to generate more precise shadow effects, or place cutouts or other figures in front of the lights to create more unique shadow effects.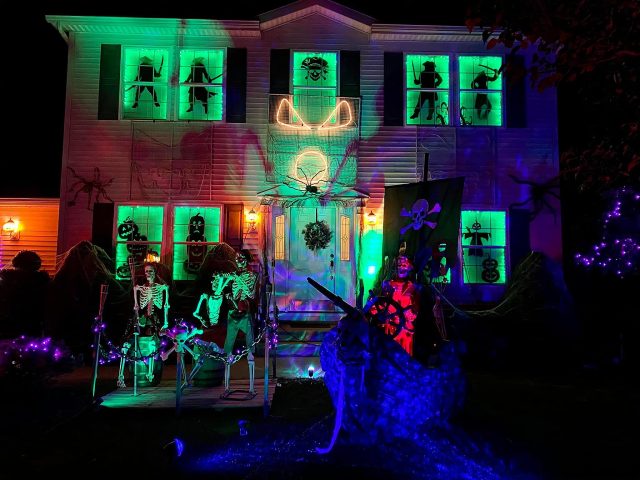 Fire is an excellent technique to create a spooky atmosphere. The flickering orange light appears to deepen neighboring shadows and causes them to move and change or is it just something hidden in the darkness? Place a candle inside a traditional jack-o'-lantern, which may throw some genuinely unsettling shadows if carved and positioned correctly. You could also line your pathway with tiki torches, or simply place a pair on each side of your porch. Make sure your open flames are in a safe location, away from where others would walk, and are not a hazard. If you're unsure, utilize flashing orange lights or electronic candles.
Fog Generators Can Come Handy
Using a fog generator, you can create the greatest and scariest Halloween illumination conceivable. Flashing or moving lights at varying levels might indicate the presence of ghosts or something with luminous eyes hiding in the fog.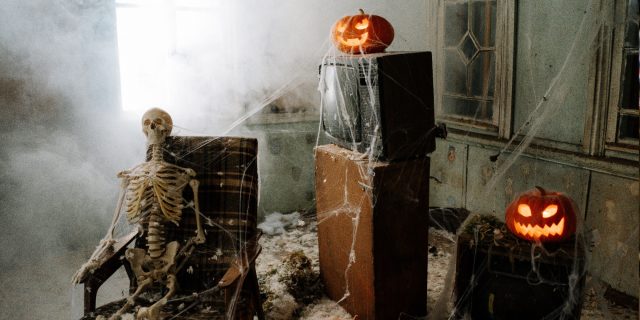 You may also make some beautiful effects using track lighting on the ground, where the color is reflected and distributed throughout the fog. Use it to create an eerie glow emanating from a beautiful tomb or a blood trail emanating from a grisly exhibition. Red lights may be used to suggest blood, while brilliant green lights can make your fog appear radioactive or deadly.
⑤ Front Door Decoration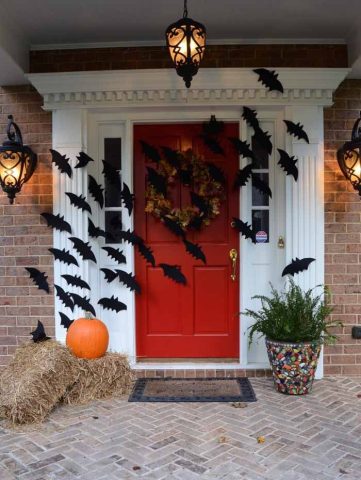 Any Halloween enthusiast understands that Halloween decorations are not restricted to those displayed inside your home. After all, your front door deserves a Halloween costume just as much as you do, especially because you'll be providing your fellow ghoul-loving neighbors with the opportunity to enjoy your outdoor Halloween decorations as they pass or drive by.
Create this one-of-a-kind Halloween front door decoration to welcome guests inside, if they dare. Little trick-or-treaters will be entertained and a little startled by your ingenuity and originality, while most parents will find it hilarious. Stuff the striped socks with newspaper for increased depth and weight. Finish with a worn-in pair of pointy-toe heels.
Create a Purple Monster
Perhaps you would want to transform your front door into a massive purple monster, a morgue entry, or a creepy graveyard tunnel. Perhaps you're searching for some simple yet gorgeous Halloween wreaths to place on your front entrance or something to complement your amazing carved pumpkins. These Halloween door decorating ideas will help you get your house into the scary holiday atmosphere no matter how much time or money you're willing to invest.
Trick-or-treaters would love the hairy purple monster with its slithering tongue doormat. Build the eyes, paint two 8-inch foam half balls with black rings and let them dry. Paint a white highlight, then cut black foam eyelashes and brows. Cut two 16-inch squares of imitation purple fur from 3 yards of false purple fur and hot glue each to a 12-inch foam wreath. Glue the eyeballs in the center and the eyelashes across the top. Add a horizontal string across the back of each eye for hanging. Once the eyes are in place, use hem tape tacks to frame the entrance with fur strips. Hang the eyes above using Command Hooks, then tack or tape the brows in place. Attach foam cones to the top of the door frame using hem tape to make teeth. Finally, use a floor mat to sketch and cut a tongue form. Allow drying after spray painting it red.
Dummies for Your Haunted House
You should definitely include a few stuffed dummies in your haunted house. They are extremely flexible and simple to build. A stuffed dummy provides not only immediate victims but also a home for some terrifying critters. These also make excellent scarecrows.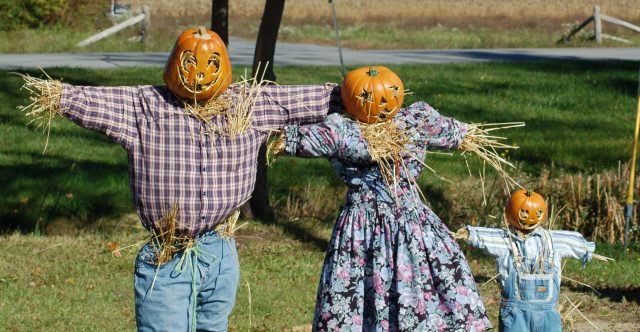 DIY Prop Ideas are Splendid
Halloween decorations do not have to be purchased from a store. There are several scary-cute DIY Halloween accessories that you may construct yourself. Even if you're not a natural DIYer, don't be afraid to try out some unique DIY Halloween prop ideas.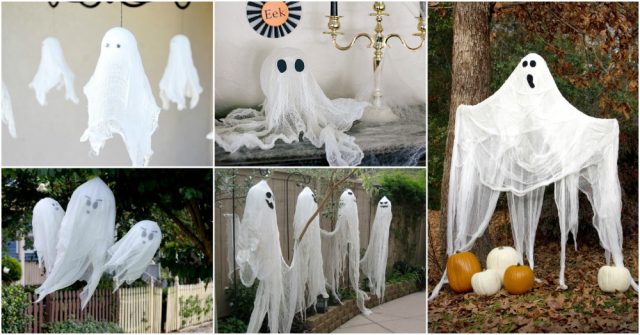 Use snakes if you are throwing a Halloween party and want your visitors to be afraid of your concept. I'm afraid of snakes, so if I opened a cooler to get a drink and a snake sprang out at me… well, I'd definitely need a minute to stop weeping. For additional realism, use a rubber snake and some thread to rig the snake to pop up once the cooler is opened, or simply throw it in there for people to leap at.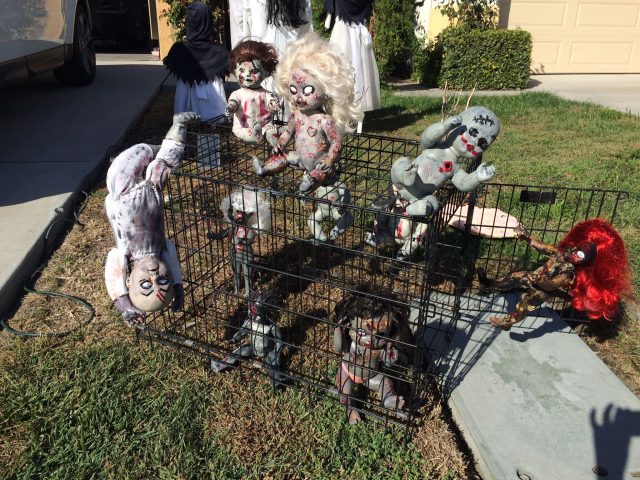 Most people will be terrified by spooky dolls. Use spooky dolls around your place, if they come with the audio effect too, that would definitely make more sense. You may purchase a scary-looking baby doll. When no one is looking, scribble something spooky on a notebook and place it in the doll's hand. When guests return, they will probably avoid the doll for the duration of the party.
Conclusion
Halloween is the most celebrated thing, and to decorate your home, we have listed some amazing decor ideas that could be helpful to you.
The post 6 Halloween Decor Ideas That You Must Try appeared first on Dumb Little Man.