7 Places to Buy Sustainable Gift Wrap for the Holidays
The Best Sustainable Wrapping Paper
Unwrapping gifts is undoubtedly one of the best parts of the holiday season. Whether you're swapping secret Santas or celebrating with your kids during Hanukkah, gift wrap is what makes the giving season so special.
However, aiming for a more sustainable holiday season can complicate the subject of wrapping paper. From the waste it creates to the plastic it's made with, gift wrap is one of the least sustainable aspects of the holiday season—yet many people aren't aware of the true implications.
Read on to find out why ordinary gift wrap isn't sustainable and how to swap it for options that are more eco-friendly (without sacrificing the spirit of the season).
Why Isn't Normal Wrapping Paper Sustainable?
The obvious problem with conventional wrapping paper is that it creates a considerable amount of waste. Earth 911 estimates that 2.3 million pounds of gift wrap winds up in landfills each year. 
This is the case even when people aim to recycle their gift wrap. That's because many people assume wrapping paper can be recycled since it's a form of paper when in reality, the shine and glitter on gift wrap makes it unrecyclable. These sparkling additions may look festive, but they're made from plastics that can't be recycled.  
And when someone tosses something unrecyclable into a recycling bin? It doesn't just send the gift wrap to the landfill—it contaminates the entire batch. In other words: Wrapping paper from a single gift can send an entire truckload of recyclables straight to the landfill. Yikes.  
Another thing to consider about the glitter and shine on wrapping paper is that it results in microplastics. These tiny particles of plastic can infiltrate our waterways and threaten bird and marine life. That's also the case for bows and ribbons, which are often made from, or coated in, different types of plastic. 
Similarly, wrapping paper on a gift is often secured with plastic tape. If a type of wrapping paper is recyclable, but it has plastic tape or a shiny metallic bow attached, it will likely still wind up in landfill, even if you put it in the recycling bin. 
Lastly, conventional wrapping paper is often made from virgin paper, meaning it may have contributed to deforestation, pollution, and massive water consumption. It's especially disheartening to think we're wrapping our gifts in material that directly degrades the environment when landfills and recycling bins are full of material that could've been repurposed three times over into beautiful, sustainable gift wrap.
 The truth about conventional wrapping paper is grim, but it doesn't have to negatively impact the holiday season and the way we give gifts to loved ones. 
 In fact, there are dozens of brands focused on creating eco-friendly wrapping paper. The following seven brands boast a range of sustainability perks in their gift wrap, including cotton materials, renewable fibers, compostability, and more. We also include options for recyclable, plastic-free tape and adhesives, plus bows and other gift additions made from renewable resources.
our top picks for eco-friendly wrapping paper:
Wrappily is a company that's deeply informed about the ills of ordinary gift wrap. That's why all their gift wrap is made from repurposed newsprint, making it 100% compostable and recyclable. Newsprint has a robust recycling rate of 75%, and such fibers can be recycled up to seven times—the highest recyclability rate of any material in the United States! 
All these eco-friendly positives aside, their wrapping paper is adorned with cute, colorful, and creative designs, some of which are double-sided.
They also have accessories like twine made from hemp and cotton ribbon. We also love that they offer a DIY macrame gift topper. With this craft kit, you can create a macrame decal and attach it to the outside of the present for a truly unique, creative, and memorable gift.
Shop Wrappily
---
Finding eco-friendly gift wrap for your small business can be a challenge, but Noissue makes it easy.
Their selection of mailers, tissue paper, totes, tags, stickers, and more can all be customized with your own design and branding, giving your customers a sustainable way to keep you top of mind.
While their bulk gift wrap is foremost for businesses, it could also be a helpful asset for charities, schools, or events that require gifted invitations or thank yous.
All of the products at Noissue also belong to a circular framework—meaning they're either compostable, recyclable, or reusable. Noissue emphasizes the circular economy as a core sustainability feature because it reduces the consumption of finite resources while helping businesses grow in a way that benefits both the environment and society. What's not to love about that?
Shop Noissue
---
You already know Etsy is a haven for recyclable gifts, but did you know they have a large selection of sustainable gift wrap, too?
A search for eco-friendly wrapping paper on Etsy returns over 5,000 results, and the variety is vast.
Choose from sustainable gift wrap options like Furoshiki Japanese wrapping cloths, hand screen-printed paper made from renewable fibers, and gift wrap handmade from grass and mango leaf.
You can also find sustainable and upcycled ribbon to wrap it all together.
Be sure to check out their options for sustainable, recyclable tape, too. This one is an adhesive you can activate with water, making it totally plastic-free. As a bonus, many Etsy sellers display their ethical manufacturing and product sourcing standards.
Shop Etsy
---
If you want a truly unique gift wrap idea, look no further than Furoshiki—the art of wrapping gifts with scraps of fabric.
Wrappr's Furoshiki wrapping cloths are made from materials like organic cotton and recycled polyester and can be easily reused again and again.
These wraps are available in multiple colors and patterns in four different sizes (19.5 x 19.5 to 51.18 x 51.18 inches).
You can find multiple How-To tutorials for gift wrapping different presents with their fabric, and there's no need to buy plastic tape or extra accouterments for this already-lovely gift. The best part about Furoshiki is that it's a gift in itself. The person you're gifting it to can reuse the Furoshiki for storing special items or regifting with style.
Shop Wrappr
---
Wearth London sells a wide range of sustainable home and lifestyle items, but their gift wrap is especially impressive.
You can find eco-friendly packing tape in cheetah print, sustainable folded gift tags, damask fabric gift wrap, and of course, recyclable wrapping paper.
The wide range of designs and materials makes it easy to personalize gifts, and we love that you can filter by different levels of sustainability in your search—including plastic-free, recycled materials, and more. 
Another reason to love Wearth London is their mission. Not only do they sell a wide range of zero-waste and eco-friendly materials, but they also have a blog named "Eco Inspo," where they share tips on all things conscious (and affordable) living. It's important to know that a company is actually practicing what they preach, and that's never a worry with Wearth London. Sustainable and trustworthy? Now that's something we can get behind!
Shop Wearth London
---
Food gifts are inescapable during the holidays, and whipping up a batch of homemade goodies is more sustainable than buying a plastic-laden gift on Amazon. 
That being said, you can take the eco-friendly nature of your gifted food item a step further with Bee's Wrap.
Made from organic cotton, beeswax, organic plant oil, and tree resin, Bee's Wrap replaces plastic containers that can leach chemicals into your food when heated (not to mention their eventual death in the landfill).
If you're vegan or abstain from bee products for other reasons, Bee's Wrap has a dedicated section with vegan food wraps. Last but not least, we just love the assorted packs available from Bee's Wrap. These packs offer a range of sizes and patterns—perfect if you're planning on delivering a big batch of cookies or bread to different loved ones.
Shop Bee's Wrap
---
Olsen + Olsen food wraps are another Beeswax food wrap company, albeit with their own designs and variations. Beeswax food wraps eliminate single-use plastics, like Ziploc bags, but they're just as water resistant (and more breathable). This family-owned company is committed to creating a food container alternative that's all-natural and free from plastics and silicone. 
Olsen + Olsen's wrappers come in a range of bright colors and patterns, so there's truly something for everyone.
We love that this gift wrap itself is a gift because the person can reuse it in their own kitchen once they've finished the sweet treat you made for them. These wraps last up to a year, after which they can either be composted or used as a fire starter. 
Shop Olsen + Olsen
---
Choosing More Sustainable Gift Wrap
Gifting and opening presents is an essential part of the holiday season, but ordinary wrapping paper simply doesn't meet sustainability standards. Fortunately, these options make it possible to still participate in the giving season while doing our part for the earth, too.
---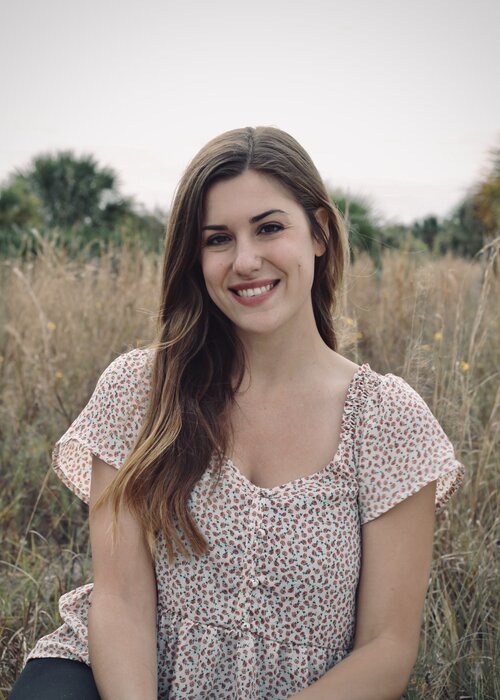 About the Author
Michelle Polizzi is an independent writer and storyteller with 7 years of experience creating content online. Her writing has appeared in leading publications like Bitch, WELL+GOOD, Insider, and Healthline, and she covers topics like sustainable living, mental health, and intersectional feminism. Currently, she's pursuing an MFA in creative writing.
---
MAKE SURE TO PIN THE PHOTO BELOW TO SAVE THIS POST FOR LATER!
---
WANT MORE SUSTAINABLE BRANDS? VISIT OUR BRAND DIRECTORY!
Our Brand Directory is home to hundreds of sustainable brands, from makeup to cleaning supplies, from underwear to shoes. We have broken everything down by category for easy shopping, along with discount codes unique to Sustainably Chic viewers.
Shop the Sustainable Brand Directory
---
RELATED READING YOU MAY ALSO ENJOY: