Amazingly Clever Toilet Paper Tube Hacks & Crafts
You know those cardboard paper tubes you throw away? Stop doing that! Those cardboard tubes can come in handy.
From thrifty packaging for gifts and favors to smart tricks that will help you get organized, here are our favorite toilet paper tube hacks you don't want to miss.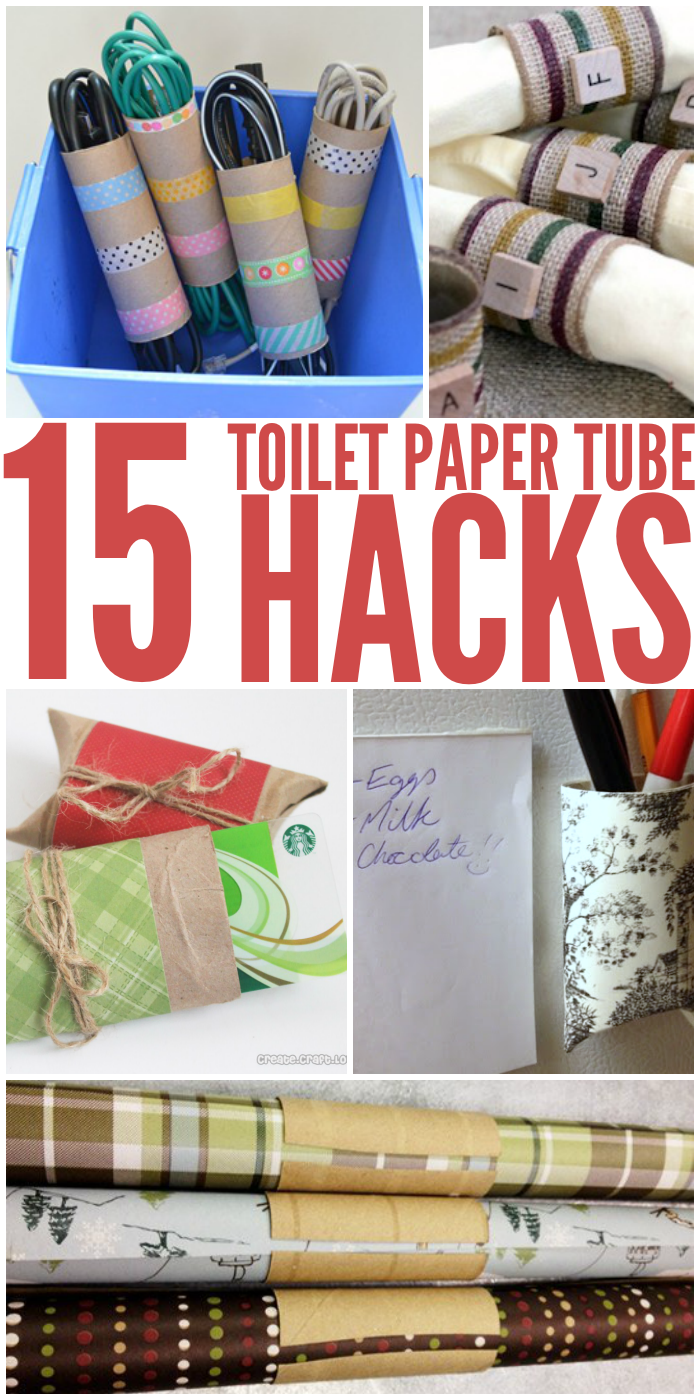 Things to do with Cardboard Tubes
Cardboard Tubes are also known as craft rolls.  You can also use empty toilet paper rolls, paper towel rolls or wrapping paper rolls from your recycling bin.  These common household items are super useful for all sorts of crafty and DIY ideas.
Organize your Home
Cardboard Tube Office Supply
Make a pretty pen holder for your refrigerator using scrapbook paper, tape and a magnet. If you keep a shopping list in your kitchen, then you need to make sure you have a pen close by. This will do the trick.
Desk Organizer from Craft Rolls
Revamp some cardboard tubes and cereal boxes to make a fabulous desk organizer. If you use toilet paper tubes and kitchen roll tubes, you will have different heights. You can also cut down some tubes so you end up with a selection of heights. This looks really good and gives the most versatility for storing everything from pens and pencils to rulers.
Using Toilet Paper Rolls to Organize Cords
Keep your cords organized and untangled by separating them into toilet paper tubes. Add a decorative touch with washi tape. Another idea that I love. No more jumbled mess!
Decorating hacks with cardboard tubes
Cardboard Roll Stamp Technique
If you are looking for a way to add your personality to your home decorating then here is a novel idea. Sometimes a plain wall just needs a little accent area to liven it up. Dip a toilet paper tube end in paint to stamp out a wall border. I know it sounds crazy but takes a look. Seriously, it works!
Texture Roll
Create texture when painting by covering a toilet paper tube with bubble wrap. Apply the paint to the bubble wrap, and roll across the surface for a pretty polka dot look.
Faux Technique Roll
Love the look of faux metal wall art? Make some yourself with cardboard tubes, paint, and a lot of patience.
Organize your accessories
DIY Jewelry Rack
Display jewelry with a nifty bracelet and necklace rack made using cardboard tubes from paper towels and toilet paper.
Hair Clip Storage with Toilet Paper Rolls
Store hair clips and elastics on an empty toilet paper tube so you'll always know where they are.
Cardboard Tube Ideas for your Garden
Seed Starter Rolls
Start your seeds indoors by planting them in toilet paper tubes. The tubes are biodegradable, so you don't even have to worry about pulling them out of the tube. Put them straight into the soil. Great tip as you don't disturb the roots so your plants get off to the best start.
DIY Bird Feeder
Feed your feathered friends by making a bird feeder out of toilet paper tubes, peanut butter, and birdseed. Your kids will love this way of encouraging birds into your garden.
Firestarter Rolls
Going camping soon? Make these fire starters using toilet paper rolls, dryer lint and newspapers. Who knew dryer lint could be useful?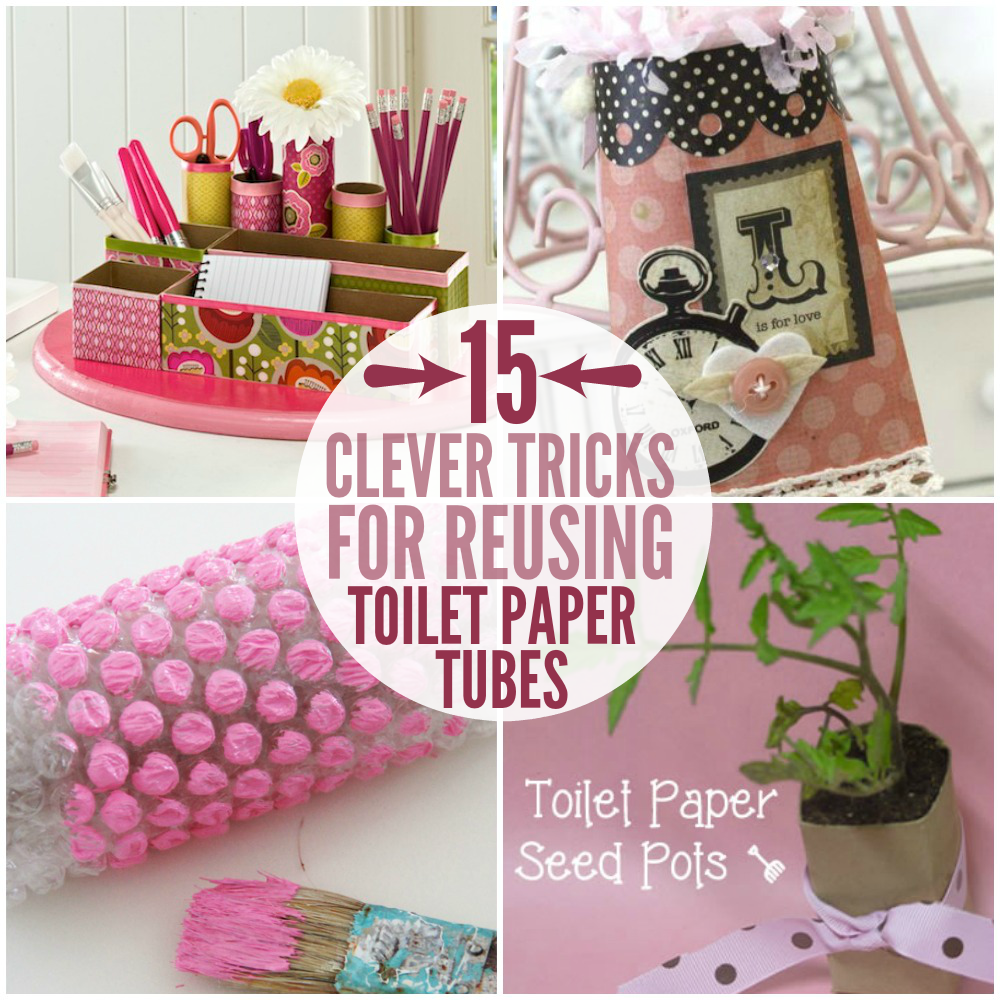 Cardboard Tube Hacks for Gifts and Parties
Pillow Box Rolls
Create pillow boxes for gift cards and small items. Decorate them with scrapbook paper, twine, ribbon, washi tape, or anything else that tickles your fancy! I love these. Simple to make and really cute. Why not personalize them for each recipient?
Storage Roll
Keep wrapping paper in place by securing it around the middle with a toilet paper tube. We all know that wrapping paper usually comes wrapped round a cardboard tube but have you thought about using one on the outside? Stop the paper unraveling for easy storage. Why didn't I think of that?
Cardboard Roll Favor Boxes
Make your own favor boxes for a wedding or shower using scrapbook paper, toilet paper tubes and lots of frilly embellishments.
Cardboard Napkin Rings
With a little creativity, toilet paper tubes make fantastic napkin rings for your dinner parties. Love the addition of the scrabble tiles!
One of the great advantages of making your own decorations like these is that they are easy to personalize with names of your guests.
Toilet Paper Roll Crafts for Kids
Some of the following ideas may take you straight back to your school days. Well, there is nothing wrong with that. Below are a variety of crafts you can do using toilet paper rolls!
While you have a variety of hack options above that are great for organizing your life, let's not stop there. No, let's keep rolling out fun and creative ways to use up toilet paper rolls! Grab your paint, googly eyes, construction paper, and let the fun begin!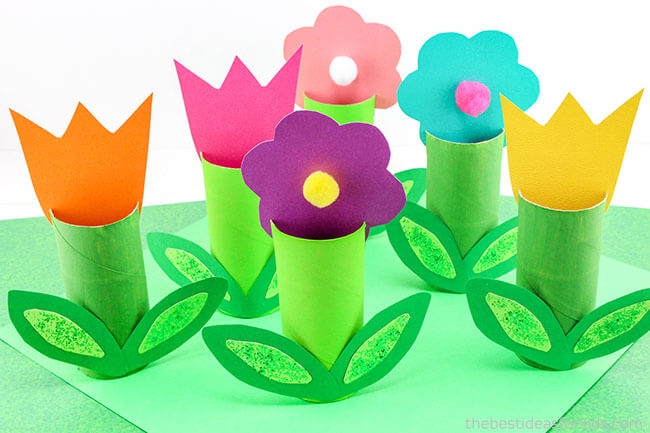 Toilet Paper Roll Flowers
I am in love with these toilet paper roll flowers, they are so cute and add a pop of color to any room. Great for giving to your child's grandparents, teacher, or to decorate your own home.
Paper Roll Fish Craft
I don't know any kid who wouldn't love to play with these paper roll fish, they look like so much fun. A little paint and some scissor action and you have a fun little fish you can pretend with.
Make a Bee with a TP Roll
This bee craft is so simple and easy to make, and your kids will love joining in. It is a great craft as they will get more practice at cutting straight lines and more.
Craft Roll Easter Basket
Let your kid's make their own Easter baskets using old toilet paper rolls. I love the chicken style basket they made, it is super cute. She gives you multiple options to make.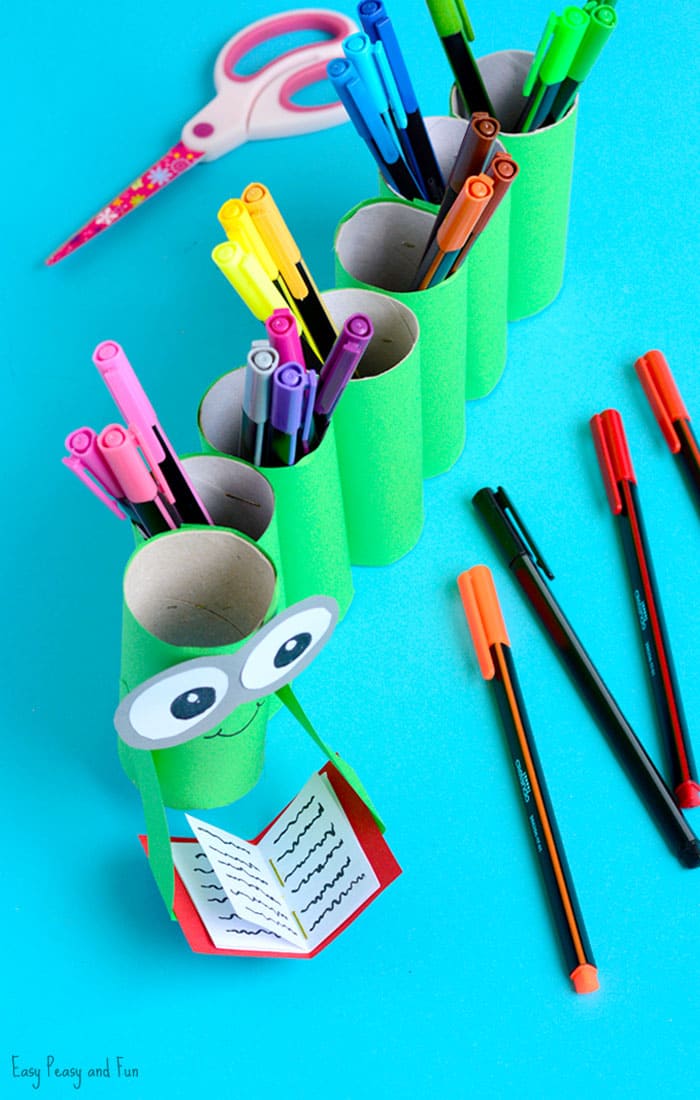 Craft Roll Pencil Holder
Here is a modification to the desk organizer idea that makes it perfect for kids. This DIY bookworm pencil holder is absolutely darling. Sit this on your desk where your child does crafts or works on homework for a fun way to dress up the table.
Toilet Paper Roll Creeper Craft
If you have a child who loves Minecraft, they might love making these toilet roll creepers. Perhaps you are not a Minecraft fan so maybe you don't know what a Creeper is, A Minecraft Creeper is a monster that creeps around silently and blows up when it nears the player, damaging both the player and the surrounding area.
Koala Made with Craft Rolls
If you are learning about Koala's let your child have fun creating their own little koala at home. With a toilet paper roll, felt, and a few other supplies you can start crafting the day away.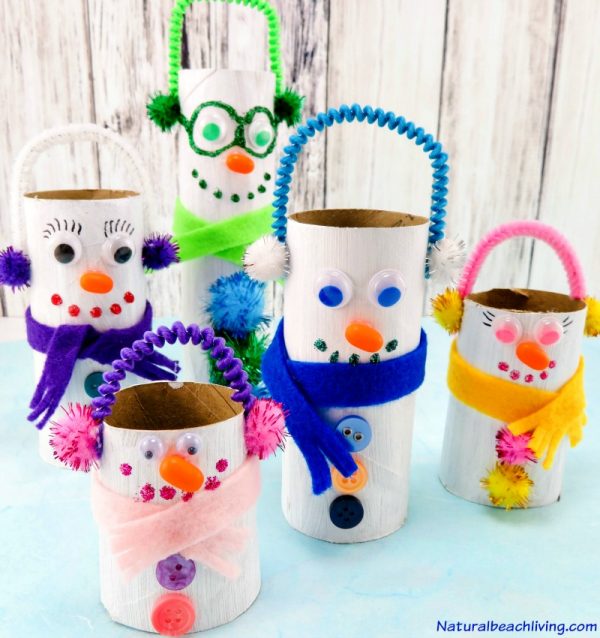 Toilet Paper Roll Snowmen
Do you wanna build a snowman? On a cold day stay indoors and make these adorable DIY toilet paper roll snowmen!
Spooky Cats Craft
Here's a Halloween party idea. These spooky cats make a fun decoration.
Traditional Toilet Paper Roll Turkey
Gobble Gobble says the turkey! Head outdoors and find some fun leaves to create tail feathers for this easy toilet paper roll turkey.
Super Hero Cuffs from Craft Rolls
What kid doesn't dream of becoming a superhero these days? Create homemade superhero cuffs at home with some supplies and of course, toilet paper rolls. I reckon you will be the hero when your little superhero sees these.
Toilet Paper Roll Ninjas
Create these fun ninjas for your kids to play with during playtime! You can get creative with colors and designs and let your child's imagination run wild.
Craft Roll Train Craft
Choo Choo, coming through! Your child (or you) will have a blast making this toilet paper roll train.
Toilet Paper Roll Fox
I love animals and the outdoors. This toilet paper roll fox craft is absolutely precious as can be. A woodland animal that is adorable and would be so cute sitting on a shelf in your child's room or letting them play and use their imagination.
Owls from Craft Rolls
Grab your cupcake liners, toilet paper rolls and get to making these fun owls. I love that your child can color it to fit their personal style, or find colorful cupcake liners and let them mix and match colors and prints.
Make a Beautiful Peacock Craft
These toilet paper peacocks are just perfect for a rainy day. Stay indoors and have fun creating personalized peacocks of any color of your choice. Grab your craft supplies and just enjoy your time.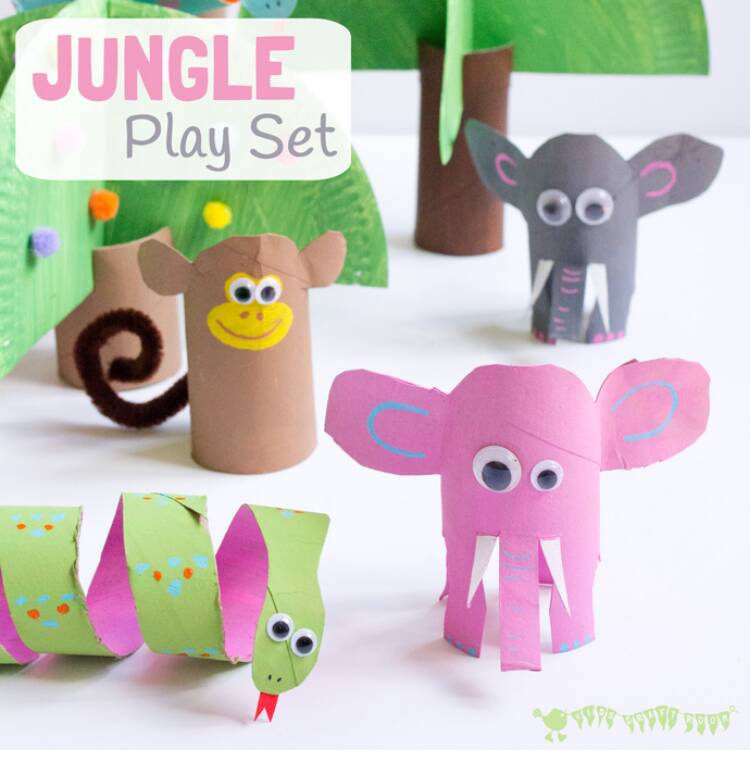 Jungle Animals Made from Toilet Paper Rolls
Make a whole jungle theme using toilet papers. Elephants, monkeys and more. A great little play set for your child to play with after they have fun making them.
Craft Roll Fish
If you loved the movie Finding Dory, you will love this Finding Dory inspired craft. Create Nemo, Dory and more.
Craft Roll Wreath
I saw this and thought it was really fun, it is an Advent wreath. Celebrate the four Sundays before Christmas eve with this wreath that your child would enjoy making.
Logic will get you from A to B. Imagination will take you everywhere.
—Albert Einstein
Use Your Own Imagination
Hopefully all these ideas have inspired you. Many of the examples are easy to modify. For instance, lots of the animal examples can be changed into other creatures by changing the colors, the ears and the eyes in particular.
Really you are only limited by your imagination. You will probably find that your children have plenty of ideas of their own. Give them some ideas and then let them loose to explore their own creative ideas.
Provided your children are old enough to be safe using scissors then any of these ideas will be a great way to keep them occupied during the vacations. I have a feeling that you will have a hard time leaving them to it. You will probably have as much fun as your child. So enjoy yourself!
If you liked these ideas you may like these other ideas for creative ideas you can make at home
The post Amazingly Clever Toilet Paper Tube Hacks & Crafts appeared first on DIY House Hacks - One Crazy House.