Best Iron for Sewing: Top 7 Options in 2022
As a sewist, you know that having a good sewing machine is essential. But what about an iron? A good sewing iron is just as important as a good sewing machine. Here's why:
Your sewing iron is one of the most important tools in your sewing room. It's responsible for pressing your fabric and giving it a professional finish. If you're using a poor-quality iron, it can ruin your fabric and cause problems with your seams. That's why investing in a good quality iron is so important.
There are a few things you should look for when purchasing an iron. First, make sure that the soleplate is made of smooth ceramic. It will ensure that your fabric doesn't stick to the iron and that it glides smoothly over the fabric. Second, make sure that the iron has a steam function. It will help to remove wrinkles from your fabric and give it a professional finish. Finally, make sure that the iron has adjustable temperature settings. This will allow you to tailor the heat of the iron to your specific fabric type.
By following these tips, you can be sure that you're choosing a quality sewing iron that will serve you well for years.
Is an Iron Necessary for Sewing?
A common phrase in sewing is, 'There's no sewing without pressing/ironing'. This phrase summarizes the importance of iron for sewing or quilting.
Ironing is involved in every step of the sewing process, from preparing the fabric to applying fusible interfacing to adding the finishing touches.
Many newbies ask, 'Should I press the fabric before sewing?' The answer is yes. Pressing the fabric before sewing evens out the surface and removes wrinkles. Although you can use a dry iron, a steam iron is considered the best for sewing.
I've listed the best mini steam irons for sewing that I regularly use for my projects. There's also something called a mini dry/steam iron. It is much smaller than a regular iron and is suitable for crafts, quilting, sewing, and patchwork.
If you're buying an iron for sewing, you should know the difference between ironing and pressing.
Ironing and pressing are both ways of getting your clothes to look their best. However, there are some key differences between the two. Here's a quick rundown of what those differences are:
– Ironing uses a flat surface and an iron to press clothes. This is ideal for getting wrinkles out of shirts, pants, and skirts.
– Pressing uses a steam presser to smooth out clothes. It is perfect for delicate fabrics or for getting stubborn wrinkles out.
– Ironing can be done by hand or with an ironing board. Pressing requires a steam presser machine.
So, which should you use? It really depends on the garment and the level of wrinkling. Ironing will do the trick if you're trying to remove a few light wrinkles. But pressing is the way to go if you're dealing with deep creases or delicate fabric.
What Should I Look for When Buying an Iron for Sewing?
Buying an iron for sewing becomes easy once you know what to look for in an iron. As an experienced sewist, I confess that not all irons are created equal. Some features matter more than others.
If you're buying an iron for your sewing or quilting projects, here are the things to inspect:
For quick steaming, buying an iron with high power is necessary, ideally in 1,500-2,000 watts range. High power translates to quicker heating and faster pressing and ironing. It'll also save you time.
But make sure to abide by the power capacity of your circuit. Overloading the circuits may lead to fire hazards.
The ironing capabilities of an iron are judged by how well it cures wrinkles. Irons with high power and more steam holes do better than inferior ones.
Therefore, along with power, you should look at the soleplate, the number of steam holes, and heat distribution.
You wouldn't want to pause now and then to fill water. Therefore, look for an iron with a sizeable water reservoir. Some irons have a water reservoir capacity of 15 oz.
But bigger tanks often result in bulkier irons. Therefore, I'd recommend irons with a 10-12 oz water reservoir.
The perfect iron should make it easy to switch between low and high temperatures. Most irons are equipped with temperature control panels. But the difference is the degree.
Some irons will allow you to fine-tune the warmth level to suit the fabric. These are the best irons in my experience.
Pressing fabric during the sewing process means working from varying angles. To have this level of flexibility, you must buy an iron with a minimum cord length of 7 feet.
There are irons with cords extended up to 11 feet. Also, you'll find irons with no cords, i.e., cordless irons. I've recommended one such iron in the list below.
You need to ensure that the iron you're working with is safe. Ideally, it should have an auto-shutoff feature that turns the iron off when left idle. It prevents accidental burns. Along with that, the iron should have an anti-drip and anti-calc system.
That being said, here are the top 7 irons I'd recommend to both beginner and advanced sewists:
Best overall – Rowenta DW9280
Best entry-level – BLACK+DECKER IR1350S
Best premium – Rowenta DG8624U1 Perfect Pro Station
Best mini iron for sewing – Steamfast SF-717 Mini Steam Iron
Best cordless – Panasonic Cordless Iron NI-QL1000G
Best of the rest:
Professional Grade 1700W Steam Iron
Best overall sewing iron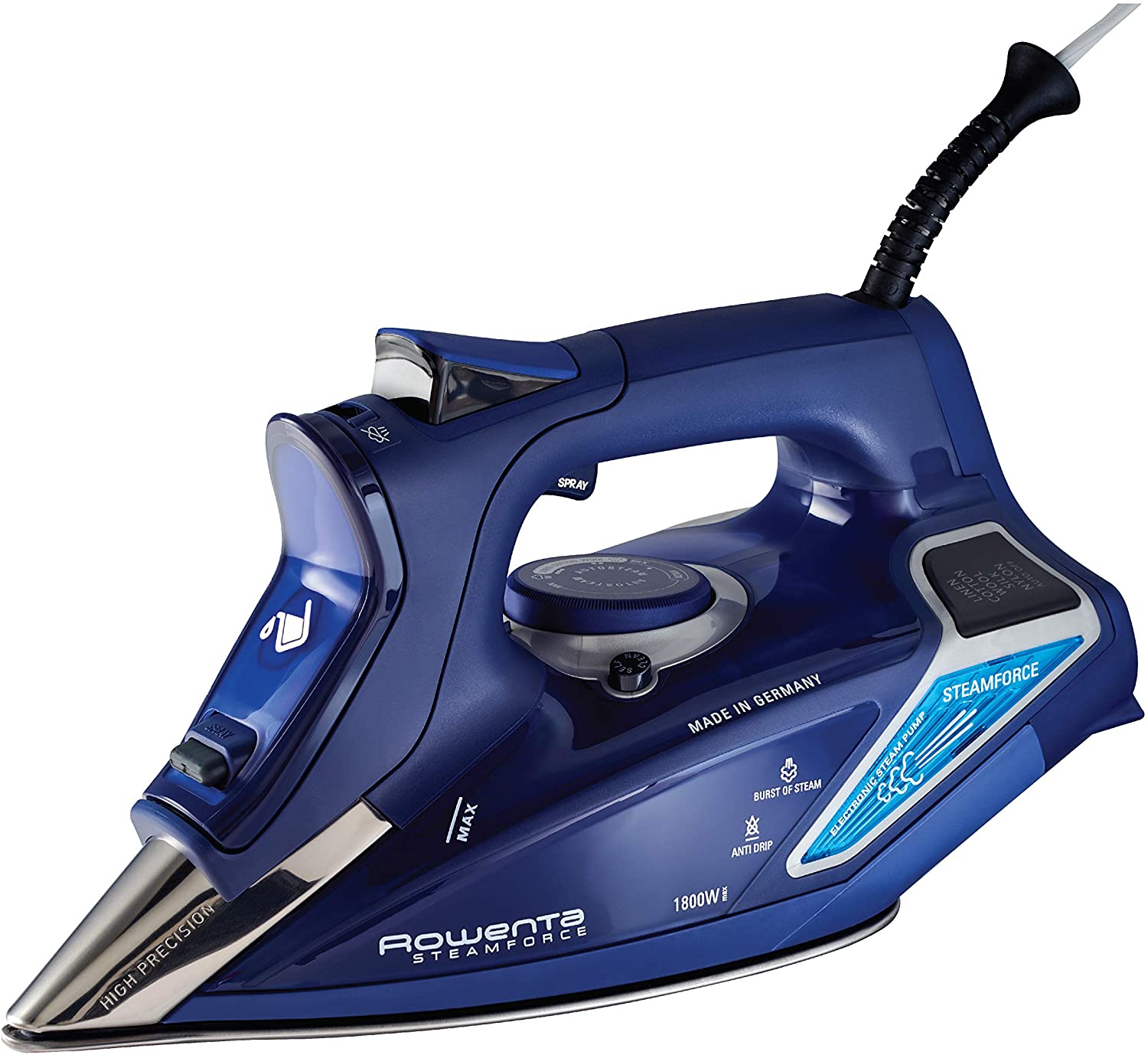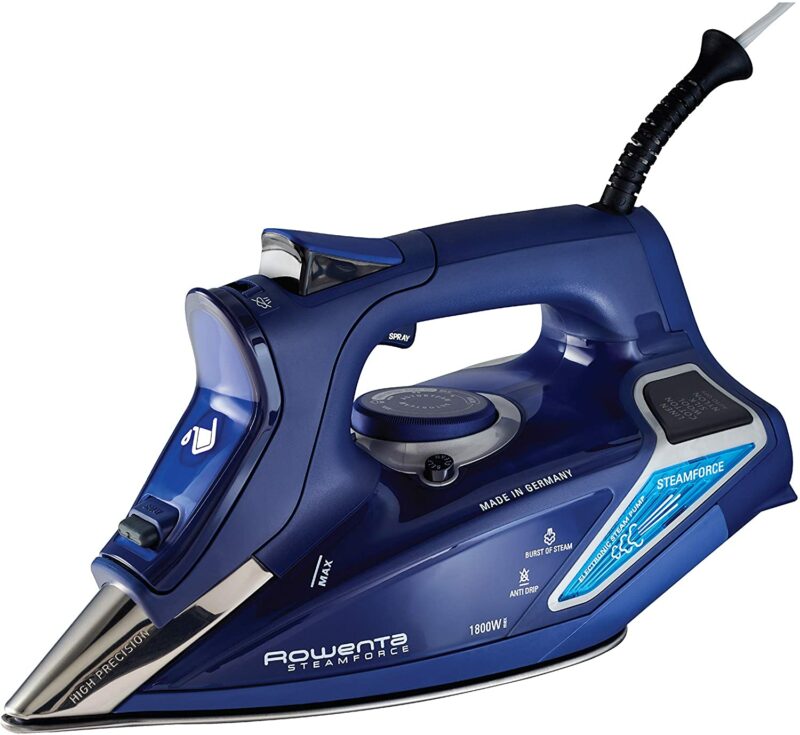 Brand – Rowenta

Power – 1800 Watts

Size – 11.4 x 4.9 x 6″

Weight – 3.86 lbs

Cord length – 7′ 

Cost – $149.50

Product guarantee – 1 year
The DW9280 is among the best steam irons in the marketplace. Its powerful stream delivery and even distribution ensure wrinkle-free fabric every time.
The iron is equipped with pump injection technology that delivers 30% more steam into the material than regular iron. The rate of up to 210 grams per minute of on-demand steam ensures deeper penetration and faster results.
The soleplate features 400 active steam holes, which help with the even distribution of steam. The precision tip makes it easy to iron collars, along seams, and between buttons.
You can also use it as a vertical steamer for general curtains, pet beds, suits, and larger garments.
DW9280 has an XL water tank measuring 11.8 oz to enable you to work for longer hours. So you aren't going to exhaust the tank sooner.
Furthermore, there are smart motion sensors that stop the flow of water when the iron is static. This conserves water and prevents filling the tank frequently. The LED digital display will keep you informed anyway.
It has an easy refill system and is optimized to work with tap water. The cord length is 7 inches, which isn't impressive but isn't bad either.
All in all, it's a perfect steam iron for all levels of sewers and quilters.
Pros
Powerful steam and even distribution

Large water tank

Precision tip to iron hard-to-reach places
Cons
Check the Rowenta DW9280's latest prices on Amazon
Best entry-level sewing iron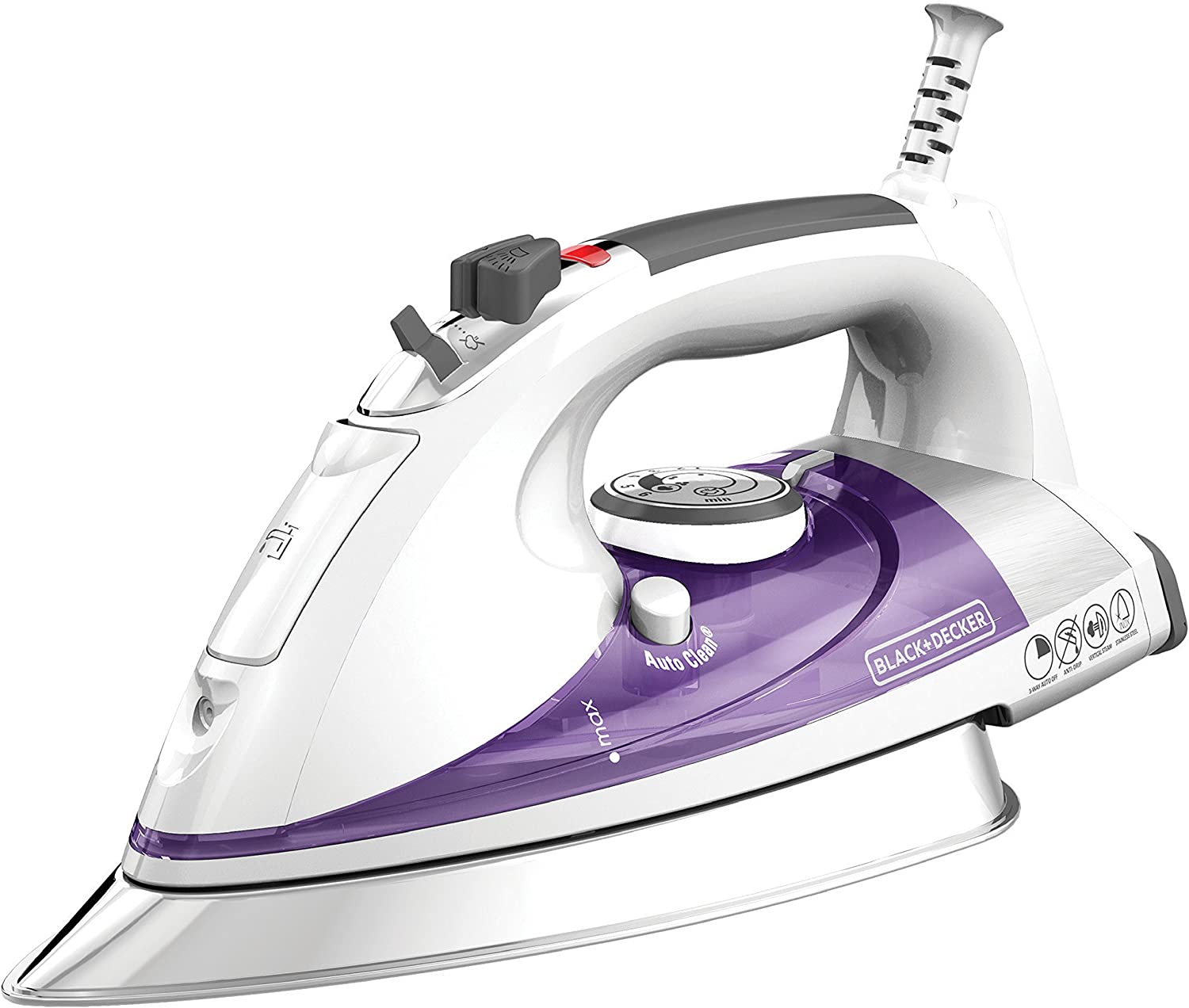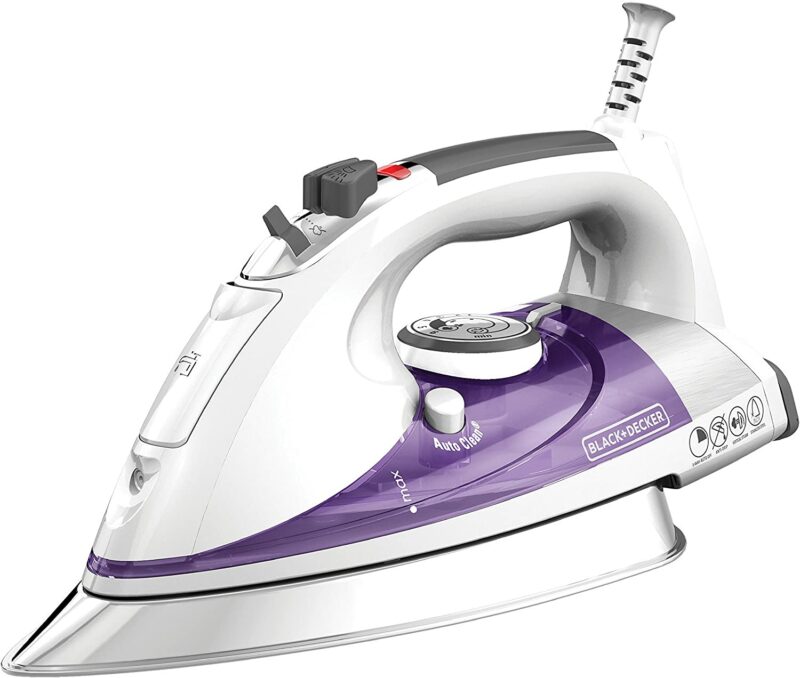 Brand – BLACK + DECKER

Power – 1500 Watts

Size – 11.8 x 6 x 4.8″

Weight – 3.1 lbs

Cord length – 10′ 

Cost – $18.90

Product guarantee – 2 year
At under $20, the IR1350S is among the cheapest models. Despite the limited budget, BLACK + DECKER has managed to incorporate some much-needed features for sewists.
The first notable feature is the anti-drip system that prevents dripping by regulating water temperature to generate steam. But you can always manually adjust the temperature using the control dial.
The stainless steel soleplate is smooth, making ironing or pressing hassle-free. Furthermore, it has hundreds of steam holes that deliver powerful steams. The 10-foot cord ensures easy reach away from the socket board. 
Another valuable feature is the auto-clean system. Over time, minerals may clog the steam holes, especially if the water in your area is very hard. This system clears the holes and removes impurities.
Beginners are prone to making mistakes when ironing. Keeping that in view, the IR1350S has an auto-shutoff feature. It will power down automatically if left unmoved for 30 seconds. It will turn off after eight minutes while on the heel rest to conserve electricity.
The iron comes with a 2-year service warranty. This asserts the quality of the product even at such a low price.
Pros
Auto clean system to prevent mineral deposits

Prevents dripping

Affordable
Cons
Check the Black and Decker IR1350S's latest prices on Amazon
Best Premium iron for sewing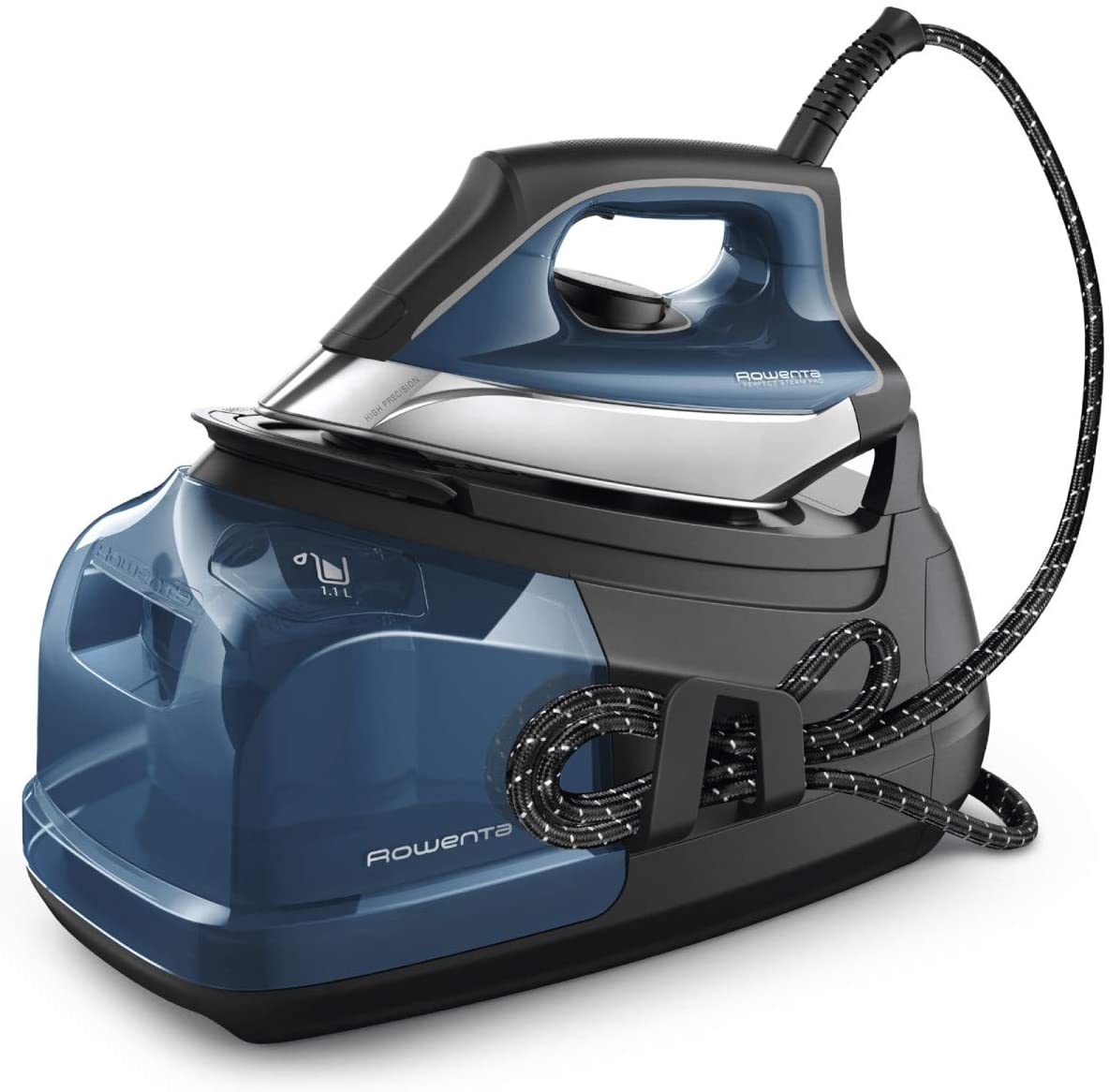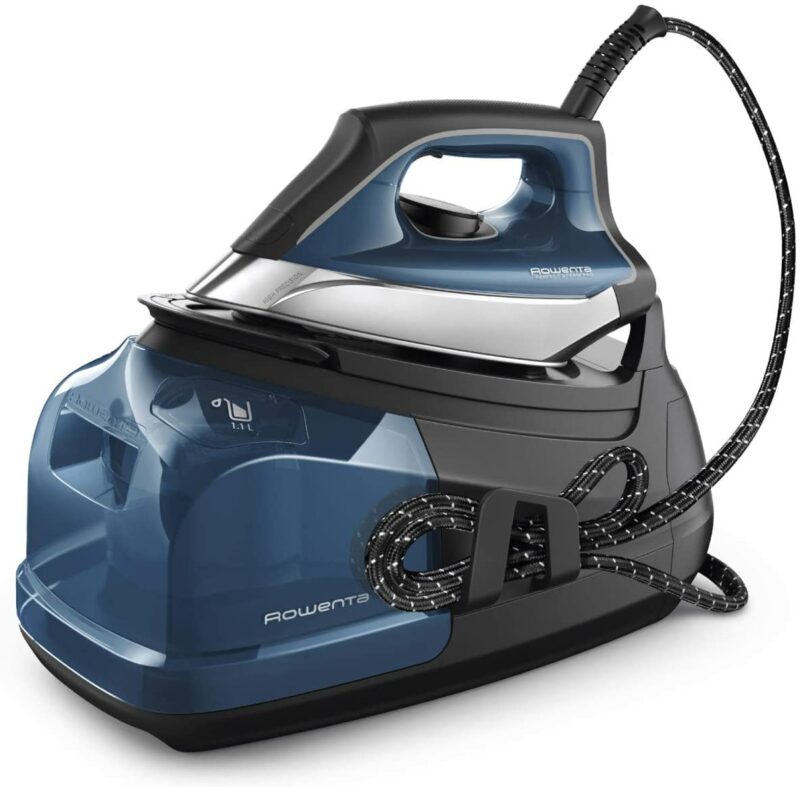 Brand – Rowenta

Power – 1800 Watts

Size – 29.85 x 35.56 x 45.72″

Weight – 15.2 ounces

Cord length – 11′

Cost – $299

Product guarantee – 1 year
Rowenta has some of the best irons designed for sewists. The DG8624U1 is undoubtedly one of them.
It has a powerful built-in boiler system that produces hot water within two minutes. The water is then delivered at a pressure of 7.4 bars, forcing steam to penetrate deep into the fabric. You'll save up to 35% more time with this iron.
The soleplate is made from stainless steel and has over 400 steam holes. These are evenly distributed across the surface to ensure even steam distribution. The soleplate is the only metal component, and the rest is made from plastic. Therefore, the iron weighs less than a pound, which is a bonus while traveling.
The powerful iron is complemented by a separated water container with a capacity of 37 oz. It has a container with a lock system. Thus, it is portable, and you can carry it anywhere.
Another feature that helps the DG8624U1 stand out is the patented calcium collector. It clears calcium build-up and makes ironing safe.
Because of such impressive qualities, this iron is loved by both hobbyists and professionals alike.
Pros
Powerful steam saves time

External water storage tank

Patented calc collector to prevent calcium build-up
Cons
Consumes more storage space
Check the Rowenta DG8624U1's latest prices on Amazon
Best mini iron for sewing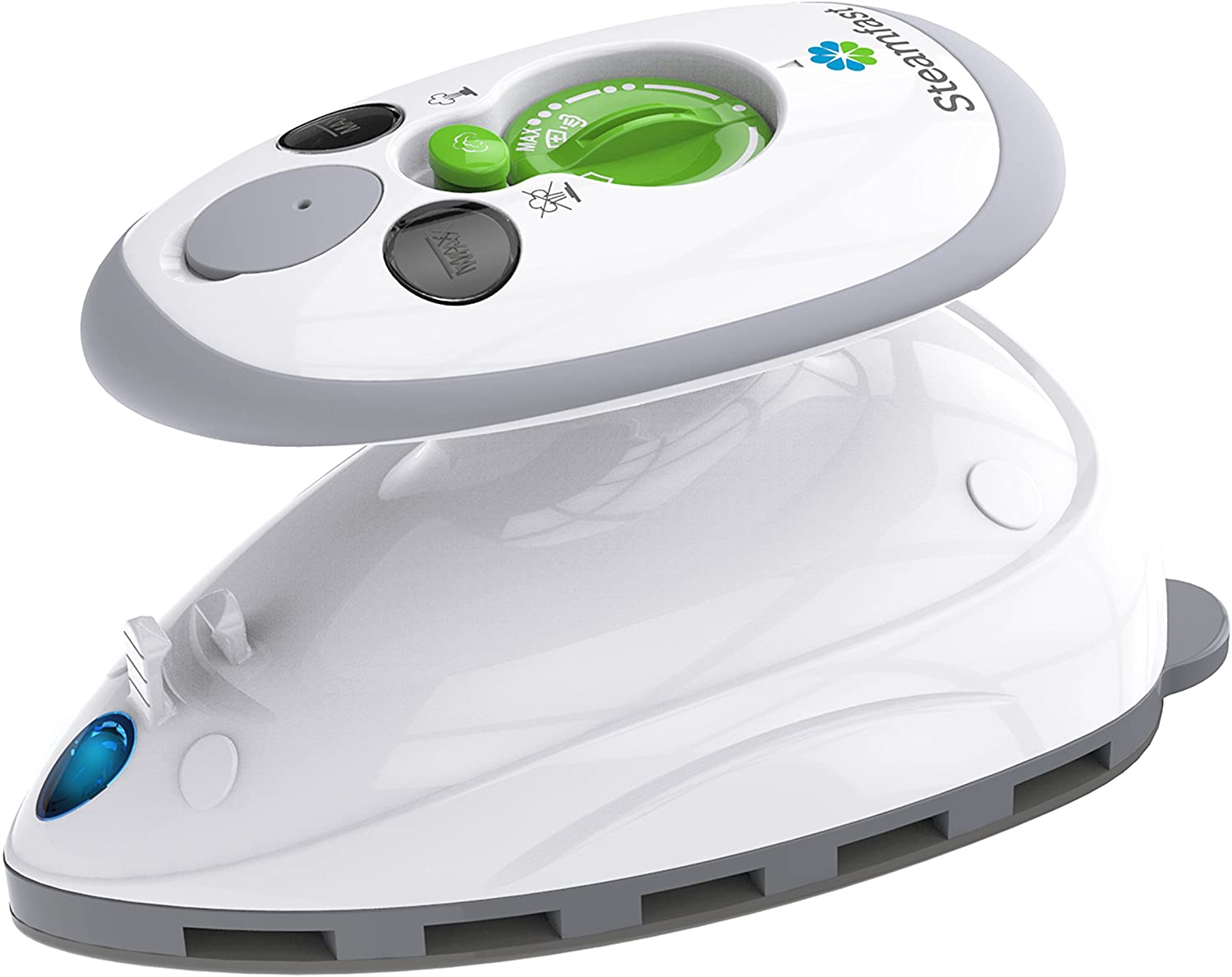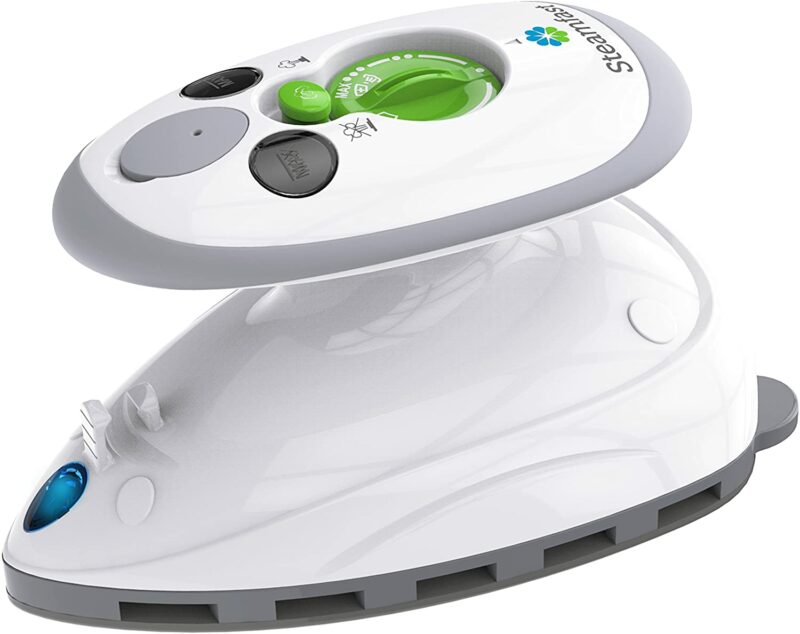 Brand – Steamfast

Power – 420 Watts

Size – 5.2 x 3 x 3.1″

Weight – 1 lbs

Cord length – 7.5′

Cost – $19.99

Product guarantee – 2 years
This mini steam iron is a traveler's dream. It has a dual voltage electrical system that works with a 120V and 240V power supply. So you can travel the world and keep your clothes ready with this mini iron.
It has a 1.4-ounce water tank that heats up quickly within 15 seconds. The steam is delivered via four steam outlets in the soleplate at high power to remove wrinkles effortlessly.
The one-touch steam control enables you to adjust between continuous steam or bursts. You can use it for shirts, dresses, curtains, and quilts. Just below the button is a knob that is meant for controlling the temperature to suit the fabric.
Steamfast SF-717 is easy to work with. It has an anti-slip handle for better grip and a 7.5-foot long cord for maneuverability.
You get a travel bag and a measuring cup along with the mini iron. The compact size and low weight mean you can easily stuff it in any luggage bag.
Pros
Adjusts to two voltages: 120V and 240V

Heats up within 15 seconds

Small and compact size
Cons
Not suited for bigger projects
Check the Steamfast SF-717's latest prices on Amazon
Best cordless sewing iron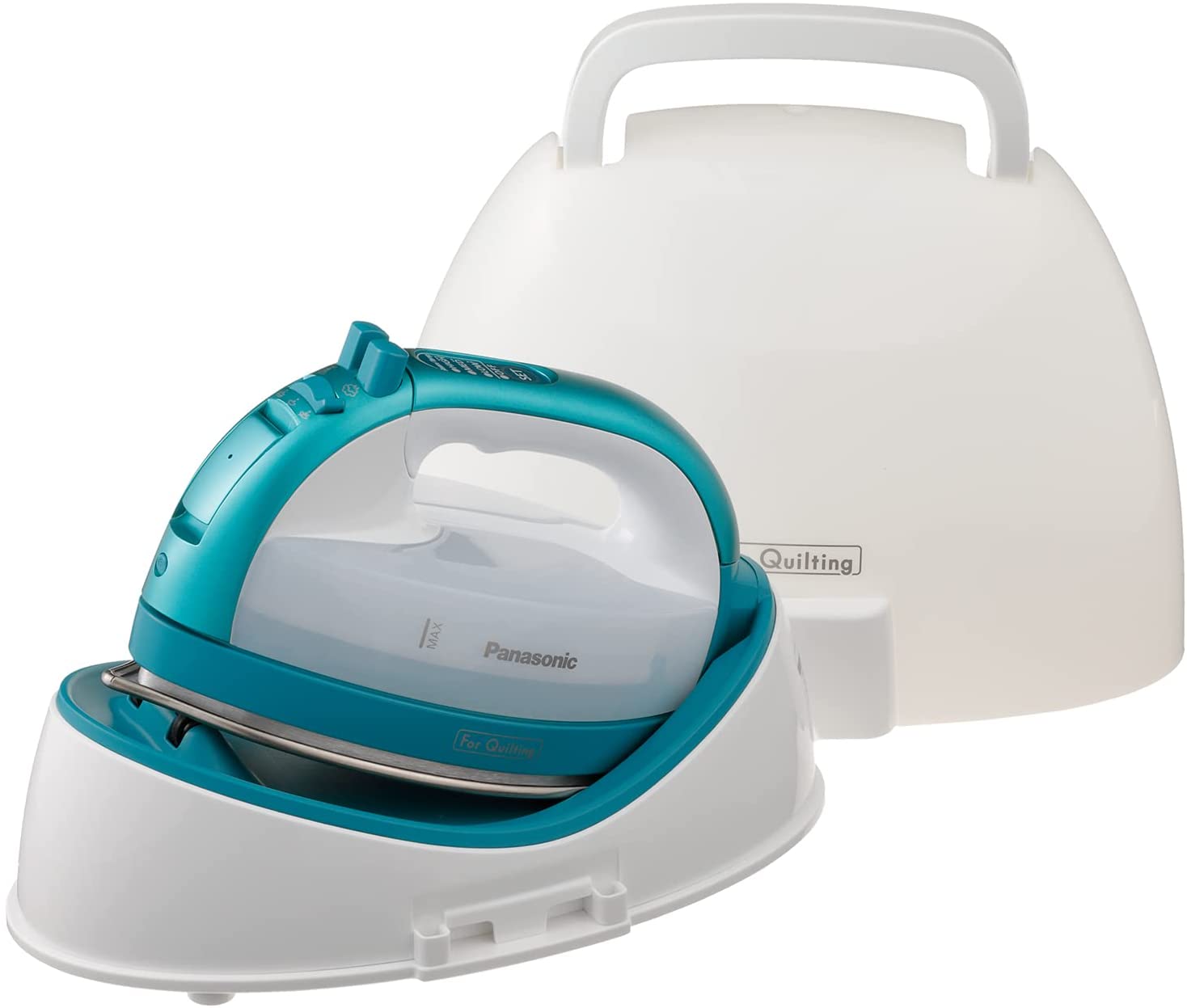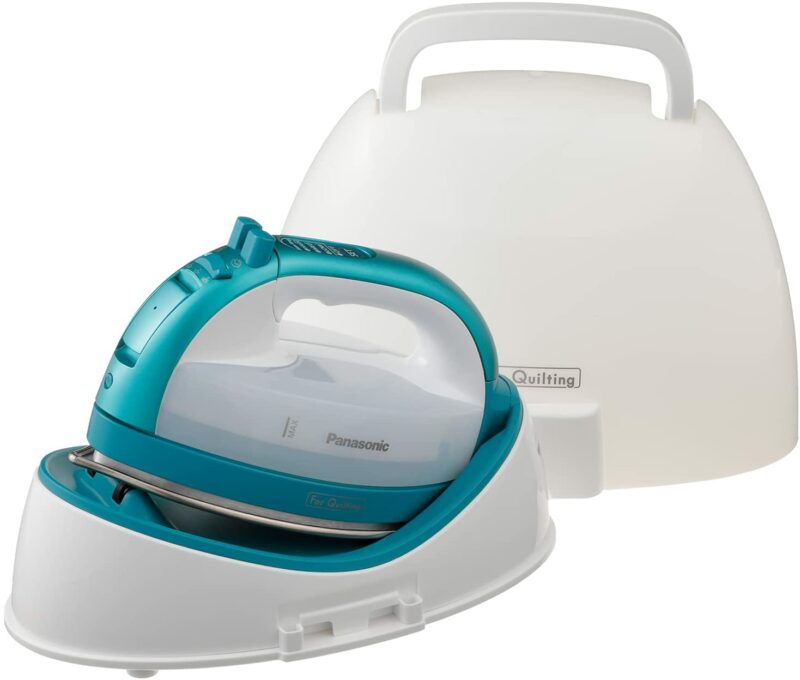 Brand – Panasonic

Power – 1500 Watts

Size – 7.13 x 11.5 x 8.95 "

Weight – 1 lbs

Cord length – N/A

Cost – $121

Product guarantee – 1 year
Enjoy the freedom of pressing without tangled wires with this cordless iron from Panasonic. Provided with natural 360-degree movement, ironing garments, quilts, or crafts projects are painless.
The stainless-steel soleplate is coated with non-stick nickel, ensuring ultra-smooth glide on all fabrics. The soleplate is double-tipped, thus aiding detailed work.
You can use the iron vertically or horizontally. The powerful steam vents deliver steam that penetrates deep into the fabrics to cure stubborn wrinkles.
Another safety feature is the 30-minute auto shutoff, which turns the iron off if left unattended for 30 minutes.
The NI-QL1000G comes in a complete set, of which the cordless iron is one part. There's also the corded heating base and a heat-resistant carrying cover. 
The heating base has retractable wires that you can connect to the plug and heat the cordless iron. The carrying case, made from plastic, encompasses the iron and the base, offering total protection against dust and accidental fall.
Pros
Full control and flexibility while ironing

Non-stick soleplate for ultra-smooth glide

Portable
Cons
Takes more time to heat than corded irons
Check the Panasonic NI-QL1000G's latest prices on Amazon
Sewing irons: Best of the rest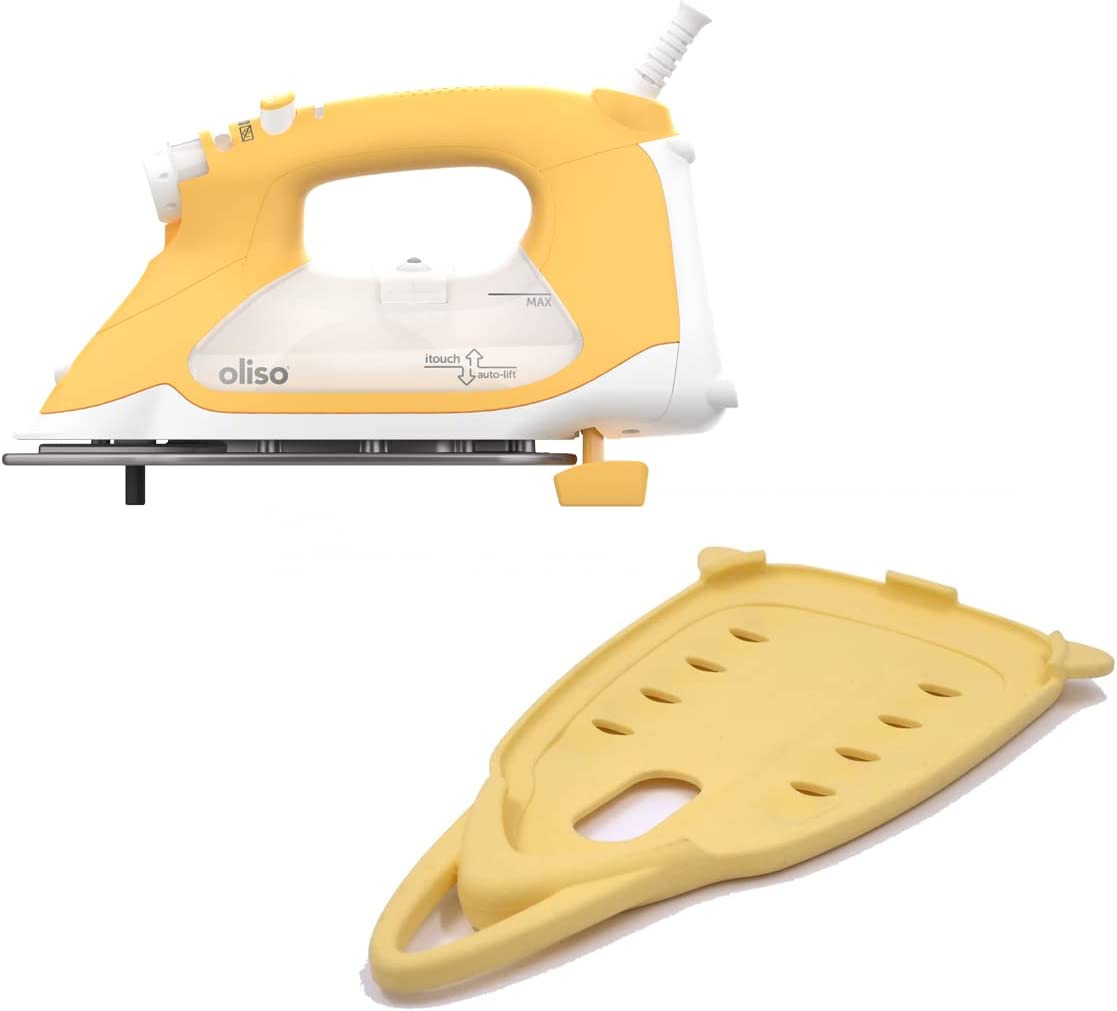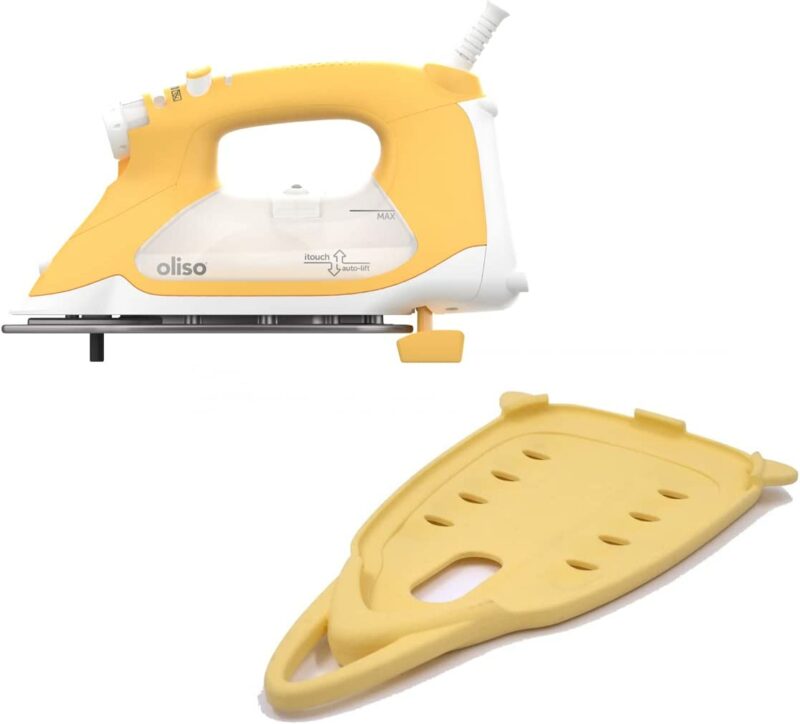 Brand – Oliso

Power – 1800 Watts

Size – 12.6 x 7.9 x 6″

Weight – 4.35 lbs

Cord length – 12′

Cost – $203

Product guarantee – 3 years
The irons from Oliso often create a buzz because of their advanced features. The TG1600 is equipped with many of the features that sewists and quilters will appreciate.
Like other Oliso irons, the TG1600 has a smart auto-lift system. When you take your hands off, it retracts to its vertical position, thanks to the patented scorched guard. To start pressing clothes, simply touch the handle to lower the iron. 
The soleplate has a diamond ceramic coating, which ensures quick heating and durability. The non-stick coating makes ironing smoother than with typical irons.
Furthermore, TG1600 is among the few steam irons with a soleplate protector cover that safeguards the ceramic soleplate from an accidental fall.
The steaming capabilities of this iron are next to none. Equipped with the Rapid-Response Triple Play System, the iron delivers intense steam busts in three ways: vertical, horizontal, and variable. These can get rid of the toughest of wrinkles on any fabric.
The 12.7oz water tank ensures you work for a longer period. The 12-feet long cord and the 360-degree swivel cater to the demands of sewists and quilters.
Pros
Auto-lift system for ease of use and safety

Powerful steam delivered in three ways

360-degree swivel for convenient ironing
Cons
Check the Oliso TG1600's latest prices on Amazon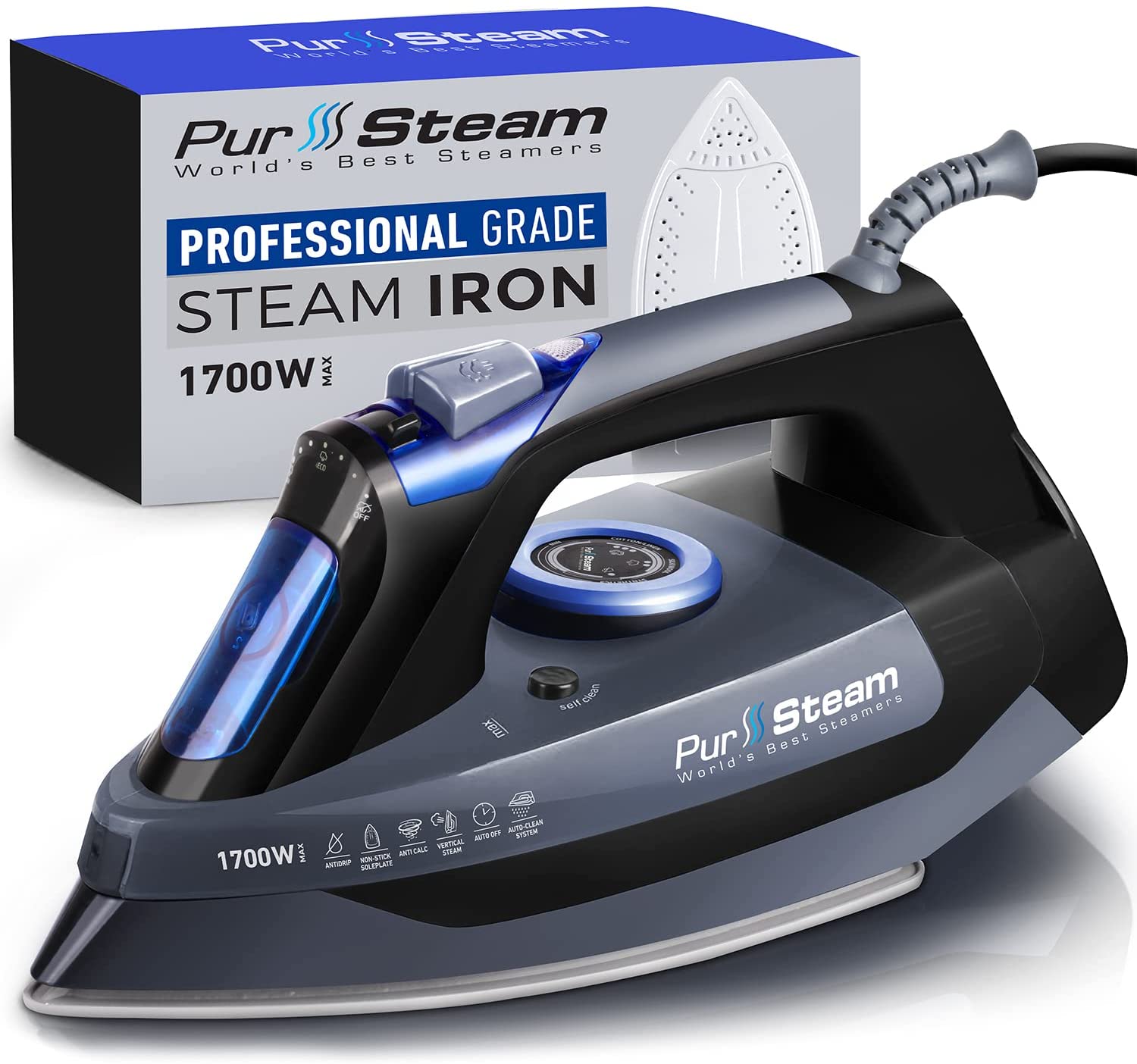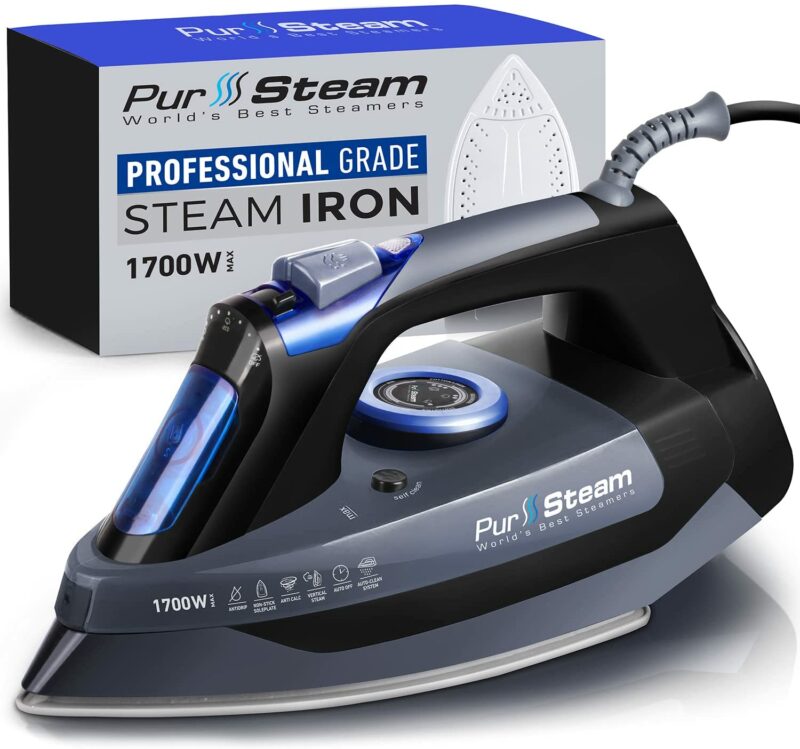 Brand – PurSteam

Power – 1700 Watts

Size – 13.31 x 7.09 x 5.55″

Weight – 2.2 lbs

Cord length – 8′

Cost – $59.99

Product guarantee – 1 year
This steam iron from PurSteam is perfect for sewists in every sense. It heats the water quickly, has an 8-feet cord, is lightweight, and comes with an auto-shutoff feature—all of this at an affordable price range.
The USP of this iron is rapid heat technology. The 1700-W power heats the water in minutes, thus cutting the ironing time in half. It also distributes heat evenly across the soleplate. You can adjust the steam output and the temperature to suit the fabric you're working on.
The soleplate has a thick chromium finish layer, which ensures unparalleled glide and durability.
Besides being utilitarian, the iron is safe for use. It has advanced 3-way shutoff systems that prevent burns and accidents. It will power off automatically if left idle for eight seconds vertically and 30 seconds horizontally.
Also, you'll find that the iron has an anti-drip system, which prevents excessive steam flow. If you're always worried about calcium build-up, worry no more as it has an anti-calc system.
This iron from PurSteam is a perfect choice for sewists looking for a reliable tool.
Pros
Heats water fast

Powerful steam busts

3-way auto shut off to make ironing safe
Cons
Check the professional grade's latest prices on Amazon
What is an Ironing Board Used For in Sewing?
An ironing board lets you quickly press the newly sewn seams on a flat and stable surface while doubling up as a working area.
Most ironing boards designed for sewing or quilting have a large surface area, measuring around 45 X 18″. So you'll have to spend less time repositioning the fabric and more time pressing. You'll also have a small working area to set up a portable sewing or quilting machine.
Another essential feature of ironing boards for sewing is height adjustment. The lever allows you to adjust the board position from elbow to hip level.
The Bartnelli Pro Luxury Ironing Board is among the best you can find for sewing/quilting.
The post ​​Best Iron for Sewing: Top 7 Options in 2022 appeared first on Art & Craft, DIY ideas and Tutorials - Craftbuds.