Bornholms Keramikfabrik: A strong tradition for authentic Danish quality ceramics
Bornholms Keramikfabrik, on the small Danish island of Bornholm, is a small ceramic factory and shop that spotlights local traditions and high quality craftsmanship
The building that houses Bornholms Keramikfabrik – meaning 'Bornholm's ceramics factory' – has a storied past. It was an old ceramics cooperative and, when the owner Frans Truelsen and his wife Mille took over in 2019, the first great challenge was to clean up the production hall and to reorganize the warehouse – today, an essential part of the factory.
Truelsen and his wife bought the business in search of change. "The idea was to dedicate ourselves to a space where it would be possible to have all production in Denmark. We wanted to explore how viable it is to run a small-batch production factory on the island of Bornholm and, in that way, to contribute to keeping alive a proud tradition for craft," Truelsen explains.
Sustainable collections
Truelsen came from a career in fashion and was looking for a new challenge. Though not a resident of the small Baltic Sea island, to the east of Denmark and south of Sweden, he and his wife had a strong connection to it after holidaying there for years.
He was attracted to the idea of starting a product line that was entirely made in Denmark. "In the fashion industry, it was almost impossible to avoid producing goods in China and India so this was a new way for me to approach production," he says but adds that, though the two sectors are not comparable, they do have some similarities. "There are changing collections in fashion, and in this business too – they just don't change as frequently. We make something here that is more sustained and sustainable that you can collect over time."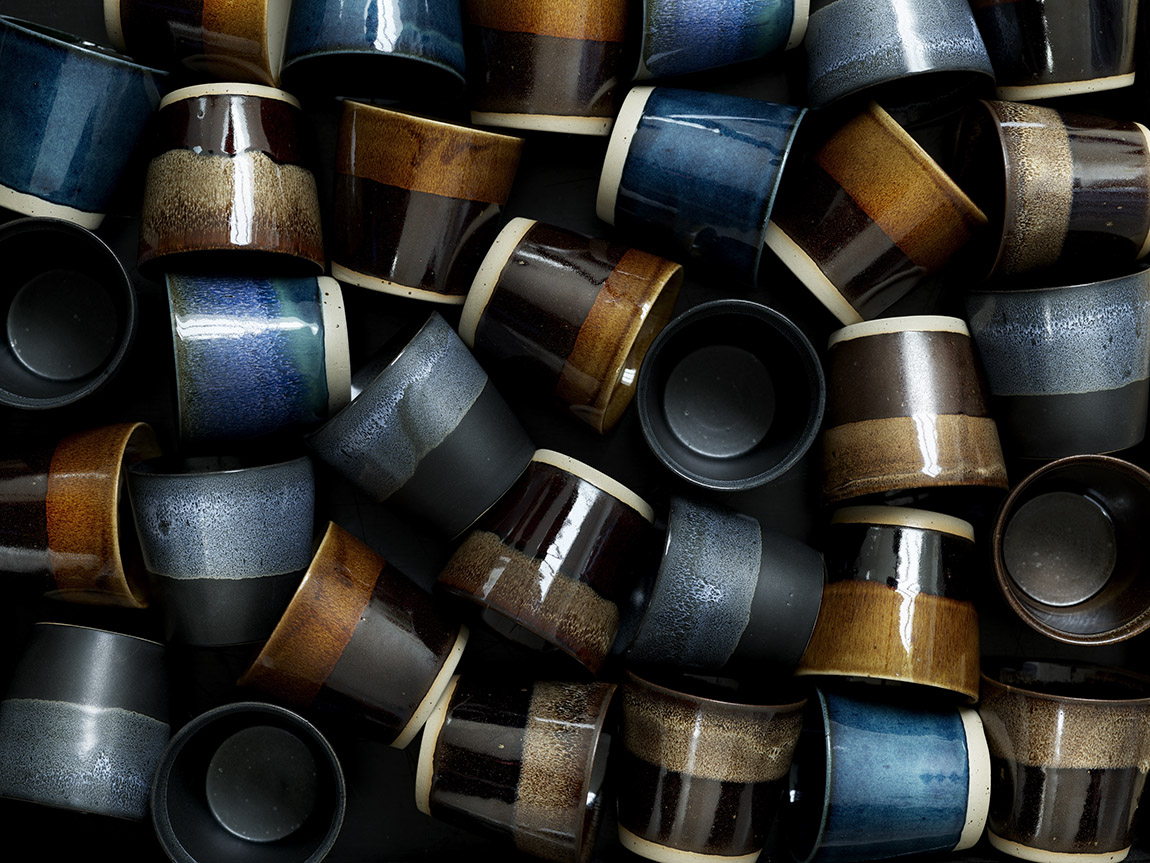 A strong tradition for ceramic art
Bornholm has a strong and proud tradition for producing ceramics due to the fact that clay is accessible on the island. This discovery kickstarted a whole new industry, and many new factories and independent potteries opened. In broader Denmark, too, a renewed interest in ceramics is keeping craftspeople busy.
The Royal Academy for Glass and Ceramics is also on Bornholm, in Nexø, which has drawn more craftspeople to Bornholm. This, in turn, makes it easier for Truelsen to find a qualified workforce for his business. "We are very lucky to have the opportunity to work with ceramicists from all over the world. It really adds a different dimension to the work we do in the factory," he explains.
The factory is powered by alternative energy from wind, solar and biomass. The factory production is focused around the Ø (meaning island) collection – Bornholms Keramikfabrik's own unique ceramics range, all produced at the factory in Nexø, on the south-east side of the small island. "It is a way for us to contribute and participate in maintaining a local craft and tradition," says Truelsen.
All production is handled by the dedicated ceramicists working in the factory. They exercise two techniques when making the ceramics: wheelthrowing and 'jiggerjollying' – techniques that result in clear traces of the skilled hands through which the pieces have passed.
Truelsen says that they welcome the appearance of the occasional fingerprint or the like, which underline the fact that there is a unique process behind each cup, bowl or jug. "The aim is not perfection, but authenticity and obviously high quality," he says.
Something for everyone
The cups, bowls, plates and other products are all in a very simple designs and appeal to a broad customer base. "Everyone, from the more mature customer who might want to replace some of the ceramics from the 1970s with more recent and Danish produced, to the younger group who are enthusiastic about products that are designed and produced here in Denmark, enjoys our work," says Truelsen. The universal appeal, he adds, is down to the simple and elegant design and a palette that spans many colours and nuances. "The combinations and possibilities are endless," he says.
So, what does it take to produce high quality ceramics? Before anything else, says Truelsen, you need to employ skilled, devoted and hard-working people who love the craft. "They need to have an eye and a passion for delivering quality over quantity," he adds. "In order to produce high quality ceramics, you need time, patience, contemplation and a pleasant atmosphere."
Customers can buy through the website and in the factory shop where they can also catch a glimpse of the ceramics being produced. Bornholms Keramikfabrik products are also found in the shops of highly regarded museums, such as Louisiana, the iconic museum for modern arts north of Copenhagen, and the Danish Design Museum. In the summer season when the island is busy with tourists, the shop moves to the boathouse on the harbour.
The post Bornholms Keramikfabrik: A strong tradition for authentic Danish quality ceramics appeared first on Scan Magazine.