Critically-Panned Comedy Movies That Are Better Than Expected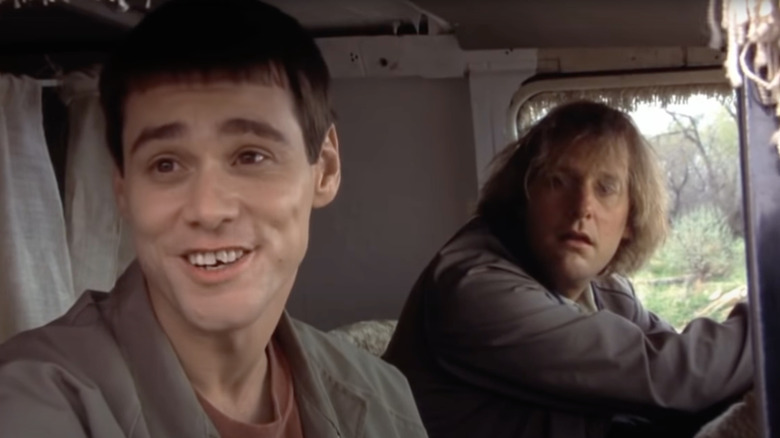 Hollywood comedies are a dime a dozen. Yet, many receive flak for their attempts to tickle our funny bones, while only a select few earn rave reviews or accolades from critics. Honestly, I can only think of a handful of comedic films that made their way to the tops of end-of-year lists ("As Good As It Gets," "Silver Linings Playbook," and anything made by Wes Anderson, for example), while also recalling hundreds more that drew the ire of bigwigs like Roger Ebert and Gene Siskel for accomplishing what they set out to do.
Don't get me wrong. Bad comedies exist, but everyone's sense of humor is different. Some people get a good chuckle from the physical pratfalls enacted by Chris Farley, while others revel in the low-brow antics of Will Ferrell and Jim Carrey. At any rate, the purpose of a comedy is to supply laughs and entertain its audience. The purpose of this article is to highlight a handful of poorly reviewed comedies that are not as bad as the critics say and are worth adding to your watchlist. 
Christmas With The Kranks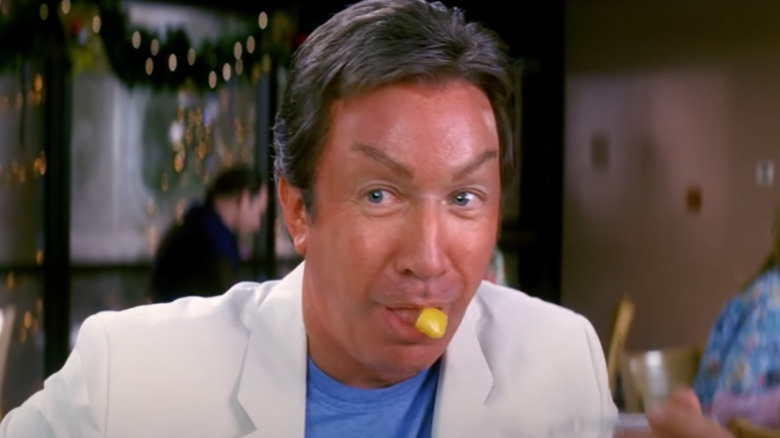 "Christmas with the Kranks" gets a bad rap. Based on John Grisham's "Skipping Christmas," this holiday comedy may lean too hard on silly slapstick but still features enough hilarity to ensure the whole affair goes down like a warm glass of hot chocolate.
Tim Allen and Jamie Lee Curtis star as Luther and Nora Krank, empty nesters adjusting to life without their daughter, Blair (Julie Gonzalo), who heads off to college at the start of the holiday season. One day, Luther gets the bright idea to ditch Christmas in favor of a Caribbean cruise, and the couple sets out preparing for their journey. Unfortunately, the Kranks' decision doesn't register with their neighbors, who launch a full-on holiday assault to reinvigorate the couple's Christmas spirit. Matters take a drastic turn when Blair decides to return home for Christmas, leaving our hapless couple fighting against time to craft the perfect Yuletide fest.
Empire's Anna Smith scoffed at the broad comedy and found the Joe Roth-directed picture lazy and unfunny. I disagree. Luther's botox session alone induces enough laughs to justify the ticket price, while the Kranks' efforts to dodge their nosy neighbors result in some finely-tuned shenanigans. Screenwriter Chris Columbus also injects a warmhearted finale that will delight anyone searching for a cozy holiday dish.
Beverly Hills Ninja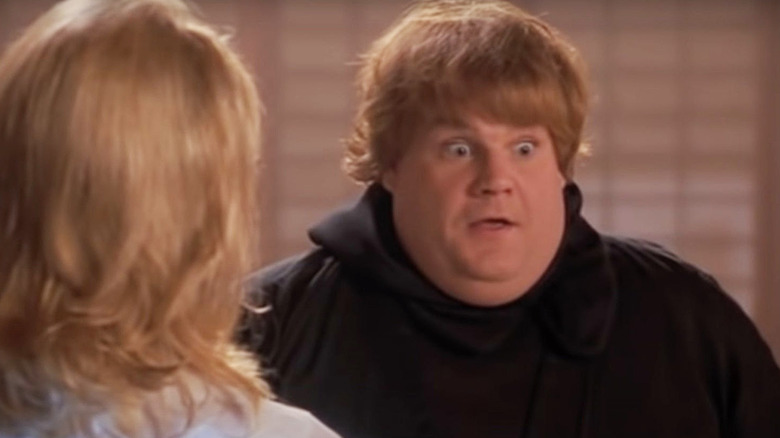 Critical hate towards Chris Farley is strong. Take a gander at any of his efforts on Rotten Tomatoes, and you'll see a collection of poorly reviewed movies criticized for their abundant slapstick, corny plots, and cheesy acting. I would happily go to bat for any of Farley's films — even "Almost Heroes" — but will not accept any "Beverly Hills Ninja" slander. This goofy 1997 comedy finds adopted young ninja warrior Haru (Farley) leaving the comforts of Japan for the bright lights of California to protect a young woman (Nicollette Sheridan) from corporate bad guys.
"Beverly Hills Ninja" does one thing (pratfalls) but does that one thing so well that you hardly notice the lack of nuance in the comedy. If you like Chris Farley, then this is the film for you. If you don't like Chris Farley, then you may kindly show yourself out. The man makes me laugh in a way few can, and his astonishing ability to perform dangerous stunts for our viewing pleasure deserves more recognition than is given.
Critics such as the Washington Post's Rita Kempley found Farley's antics tiresome and felt he lacked John Belushi's edge and John Candy's big heart. Sure, but Farley isn't trying to replicate the comedy of his predecessors. Why would he? Farley's antics operate on a completely different level than Belushi and Candy, and "Beverly Hills Ninja" remains a fine example of his genius. Goofy, rambunctious, but utterly hilarious, "Beverly Hills Ninja" is a side-splitting romp.
Ace Ventura: When Nature Calls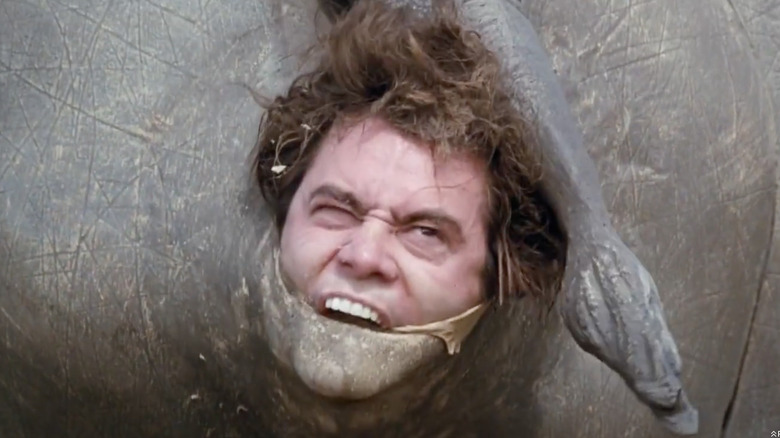 Neither of Jim Carrey's "Ace Ventura" films tickled critics' funny bones, but the popular 1995 sequel, "Ace Ventura: When Nature Calls," drew the ire of many a reviewer who found the second go-round with the titular pet detective less than the sum of its parts. "If the movie itself aimed higher, it could have drawn laughs without compromising Ace's anarchic sense of fun. But Ace is slightly nastier this time," writes New York Times critics Janet Maslin.
While one could argue the sequel goes full-on bananas, it's hard to see how "When Nature Calls" can be seen as anything more than goofy, lighthearted fun. The picture does what a good sequel should do: up the ante. In this case, Ace travels to Africa to locate a rare white bat for a village on the brink of war. His exploits take him around the picturesque local, where he performs acts of derring-do to find the responsible culprits.
The entire plot is just an excuse for Jim Carrey to show off his incredible knack for physical comedy, and the iconic star doesn't disappoint. In one particularly clever sequence, he gets stuck inside a mechanic rhino while performing recon work. To thwart the heat, he strips down to his birthday suit. Eventually, he crawls out of the animatronic animal's rear as a group of horrified spectators watch what they believe is a rhino giving birth to a human. "When Nature Calls" isn't nastier; it's more insane!
Bewitched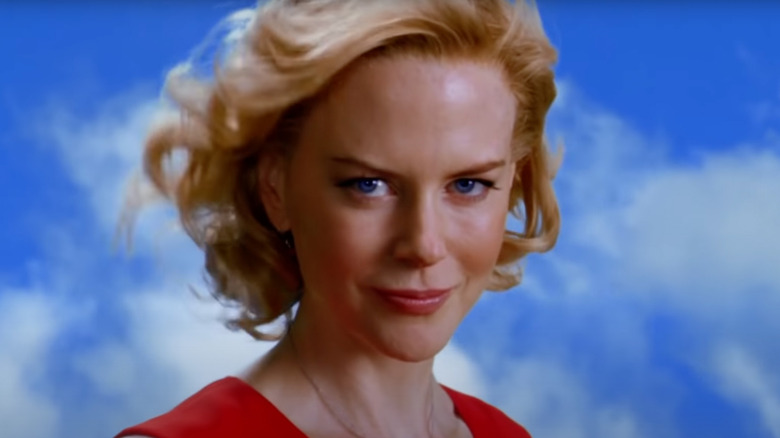 Nora Ephron applies her magical sugary sweetness to "Bewitched," starring Will Ferrell and Nicole Kidman. Unfortunately, the director's spell failed to plant smiles on critics' faces, who wrote off the 2005 comedy as little more than a misguided farce that, according to Empire Online, is "neither funny nor charming enough, proving a disappointing treatment of fabulous source material." "Bewitched" certainly bites off more than it can chew in its bid to breathe new life into the popular 1960s TV sitcom, but I found the Ferrell/Kidman dynamic enchanting enough to make up for whatever kinks lie in Ephron's bloated script. 
The plot centers around a failing actor (Ferrell) who heads to the small screen to tackle a remake of "Bewitched." For Samantha, he casts Isabel Bigelow (Kidman), a free-spirited woman who happens to be a real witch — cue the antics. The setup plays to Ferrell's comedic strengths but allows the talented actor to show off his rarely-seen charm. At the same time, Kidman does a wicked Meg Ryan impersonation to craft a modern-day Samantha whose powers are both a blessing and a curse. Michael Caine, Shirley MacLaine, Jason Schwartzmann, and Steve Carell offer support in bite-sized roles, and Ephron moves the picture along at a brisk pace. Sure, you can stick up your nose and follow the critics, or kick back and enjoy the magic. "Bewitched" may not be a perfect romantic comedy, but it's alluring enough for a rainy day.   
Dumb And Dumber To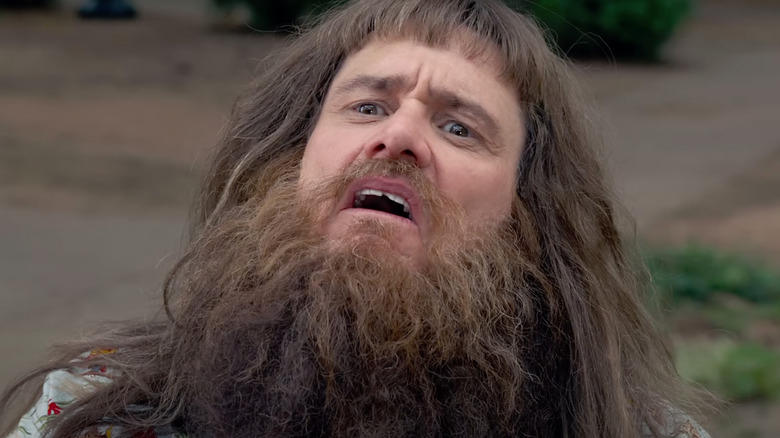 "Dumb and Dumber" was lightning in a bottle, the rare low-budget comedy venture that worked so well because everyone involved was desperate enough to bring their A-game. Jim Carrey had only recently hit pay dirt with "Ace Venture: Pet Detective" and "The Mask," while the Farrelly Brothers were relative unknowns. Fast forward 20 years, and the dynamic trio (along with Jeff Daniels), now megastars, reteamed for "Dumb and Dumber To," the belated sequel to the 1994 comedy classic, with mixed results. Critics predictably panned the venture as a tired replica of the original, with Observer's Mark Kermode going so far as to say the Farrellys "demonstrate a fatal lack of timing." 
While certainly not as polished as its predecessor, "Dumb and Dumber To" hits plenty of high points and delivers on its promise to make audiences laugh for a solid hour and a half. Carrey and Daniels' chemistry remains on point, while a handful of gags, notably one involving an astonishing amount of firecrackers inside a hotel room, are downright hilarious. I concur that the plot is needlessly convoluted, and the pic does overstay its welcome by a good 15 minutes. Overall, though, "Dumb and Dumber To" is a solid comedy worth checking out.   
The Waterboy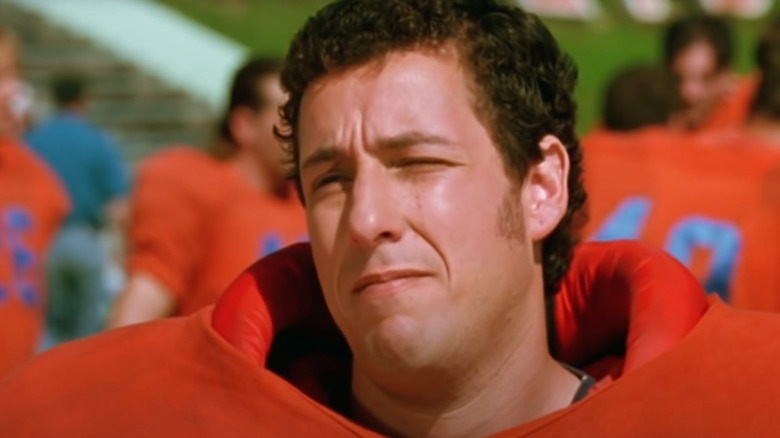 Critics loathe Adam Sandler, and they're justified in most cases. However, in my opinion, "The Waterboy" ranks on the higher end of the Sandman's body of work and was an absolute blast to watch with an opening weekend crowd back in 1998. Don't go too crazy; Bobby Boucher has nothing on "The Wedding Singer" or "Happy Gilmore" for that matter, but a film with the chutzpah to present Henry Winkler in a perm and high heels warrants more than a cursory glance. Alas, critics found Sandler's efforts here dumb and far too juvenile for their liking. "The formulaic mix of mirth and mayhem is aimed way down the MTV food chain," wrote Variety's Glenn Lovell. 
Deriding a film featuring a waterboy-turned-linebacker who spends his free time with Kathy Bates down by the bayou as dumb is akin to complaining that peanut butter tastes too nutty. "The Waterboy" is dumb, but that's by design. Those willing to take the 90-minute plunge will find a remarkably odd comedy that accomplishes what it sets out to do and then some. Pull up a chair and grab yourself some deep-fried gator — "The Waterboy" delivers.  
Home Alone 2: Lost In New York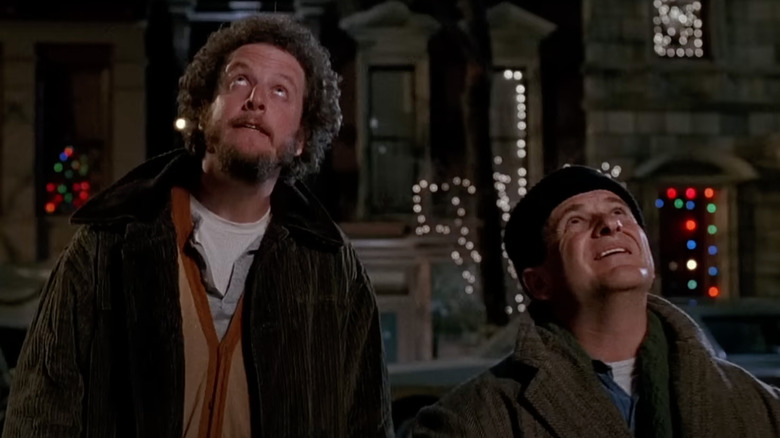 Arriving precisely one year after the original, "Home Alone 2: Lost in New York" raises the stakes by positing young Kevin McCallister (Macaulay Culkin) in New York City, where he once again battles the Wet, er, Sticky Bandits (Joe Pesci and Daniel Stern). Kevin also deals with more significant problems, such as credit card fraud, nosy hotel employees, and an overwhelming abundance of pigeons.
While Chris Columbus and screenwriter John Hughes mostly stick to the formula established in "Home Alone," they still wring big laughs out of tried-and-true techniques. A sequence in which Kevin zaps Marv with so much electric juice that his skeleton appears always leaves me in stitches. While a bit featuring Tim Curry, Dana Ivey, and Rob Schneider heeding the orders of that crazed lunatic in the fictional film "Angels with Filthy Souls" (this time dubbed "Angeles with Even Filthier Souls") results in comic gold.
Not so fast, say the critics. "Home Alone 2" is too violent, cruel, and cartoonish to enjoy. "Though equal to its original in quantity of sadistic slapstick, this anticipated sequel is dull and strikingly uninspired," wrote People Magazine. Pish posh. "Home Alone 2" may not adhere to reality, but the goofy antics elicit more laughs than groans. At the same time, Columbus' slavish devotion to family harmony ensures viewers walk away feeling plenty of Christmas spirit.
1941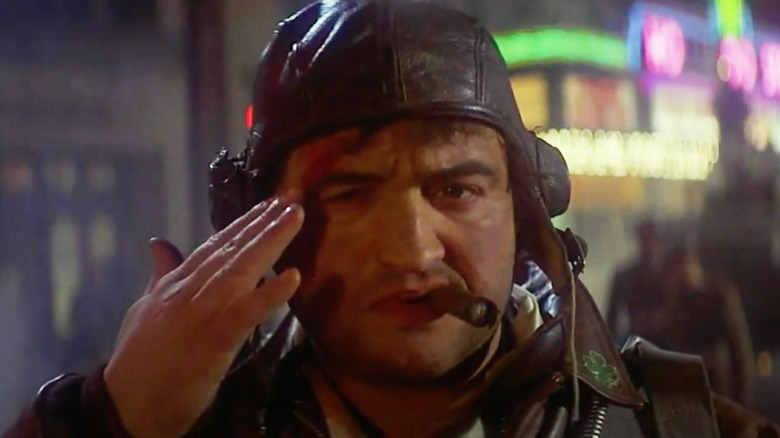 Following the astronomical success achieved by "Jaws" and "Close Encounters of the Third Kind," Steve Spielberg tried his hand at screwball comedy in "1941" — and unfortunately fell flat on his face both critically and commercially. The colossal epic cost a small fortune to produce and only returned minimal ticket sales, leading the iconic director to refocus and later strike back with "Raiders of the Lost Ark."
That's a good story, right? Wrong! Because "1941" is by no means a catastrophe. Bloated, sure, and incredibly messy, this WWII comedy offers harmless, zany fun that boasts all of Spielberg's signature trademarks and a manic John Belushi performance to boot. Take a look at the all-star cast: Dan Aykroyd, Lorraine Gary, Ned Beatty, Treat Williams, Nancy Allen, Robert Stack, and Tim Matheson, among many others. Even John Candy appears at one point!
The story, written by Robert Zemeckis and Bob Gale (of "Back to the Future" fame), finds a scattered group of Americans battling a Japanese submarine parked off the coast of California days after the attack on Pearl Harbor. This clever concept allows Spielberg to unleash a flurry of kinetic set pieces, including a beautifully realized aerial attack above Los Angeles and a deranged Dance Hall brawl featuring hundreds of extras. Still, critics dismissed the farce as too loud and overstuffed. "Everything is too big," wrote The New York Times in 1979. Nonsense. The enormous scale makes "1941" an epic comedic blast from start to finish.
Three Amigos!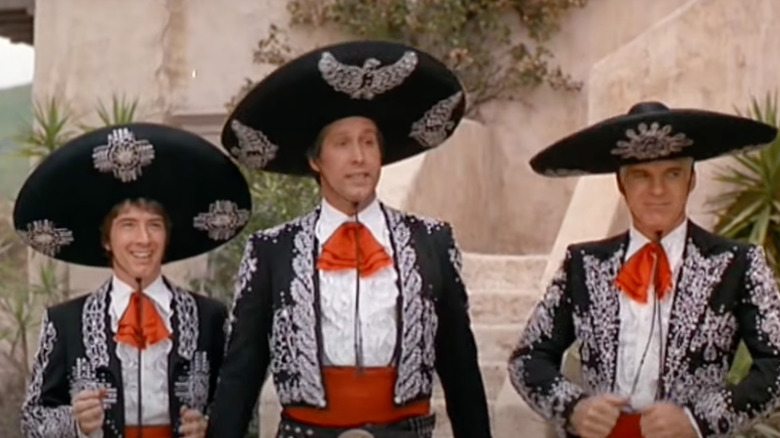 You would think a comedy starring an in-their-prime Chevy Chase, Steve Martin, and Martin Short, directed by John Landis, would instantly qualify as a success. Surprisingly, no. When the trio teamed up for 1986's "Three Amigos," critics like Dave Kehr of the Chicago Tribune dismissed the affair as lazy, while Gene Siskel lamented, "You know it's a boring comedy when you find yourself laughing only at the lead actors' costumes."
What movie were they watching? Personally, I find the antics in "Three Amigos!" on par with some of the actors' best work. Sure, the film occasionally dawdles, but that's because it's a send-up of the Western genre, specifically the movies of John Wayne, which often moved at a leisurely pace and were more interested in people and places than non-stop action.
The plot offers a satirical look at Hollywood vanity and follows a trio of silent era stars caught up in a dangerous real-life event in Mexico, where they must take on the feared El Guapo (Alfonso Arau). A series of episodic comedic bits follow, featuring everything from a singing bush to an invisible swordsman. Through it all, Chase, Martin, and Short utilize their unparalleled chemistry to conjure plenty of laughs, ensuring all but the most cynical have themselves a hee-hawing good time.
Orange County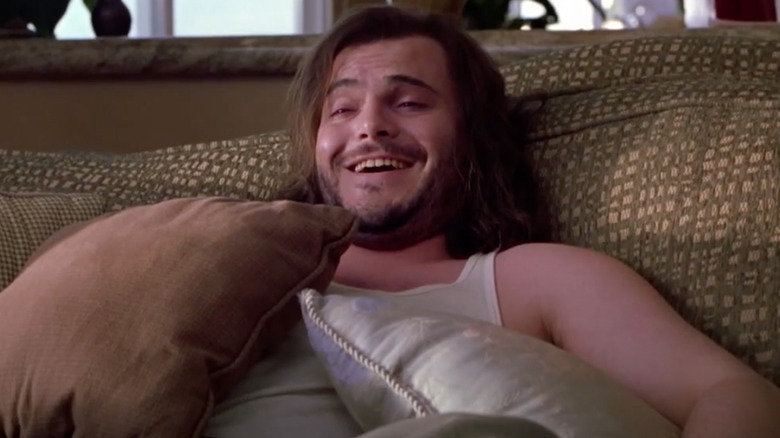 I was under the impression "Orange County" was a universally admired piece of pop culture that cemented Jack Black as a de facto comedy star and ushered in a new wave of stoner-bro motion pictures. As it turns out, most critics balked at the Jake Kasdan production, decrying the film's low-brow humor and crass message. "[Kasdan] and [Mike] White aim very low here and fail to take advantage of the abundant opportunities for social satire that its upper class and academic settings provide," wrote Variety's Todd McCarthy at the time.
My initial viewing of this high-energy popcorn feast resulted in abundant laughs and all but blew the roof off the theater. Subsequent viewings only confirmed my suspicions: "Orange County" rocks. This swiftly-paced teen comedy packs plenty of memorable moments into its 80-minute runtime and features Jack Black at his absolute best in a series of sketches that feel like precursors to "Funny or Die."
A stellar supporting cast consisting of Colin Hanks, Catherine O'Hara, Schuyler Fisk, Leslie Mann, and John Lithgow mine big laughs, while a rotating door of cameos from Harold Ramis, Kevin Kline, Chevy Chase, and Ben Stiller is enough to cause the viewer to reenact that Leonardo DiCaprio pointing-at-the-screen meme from "Once Upon a Time in Hollywood." In short, there's more than enough here to make "Orange County" worth a visit all these years later.
Kingpin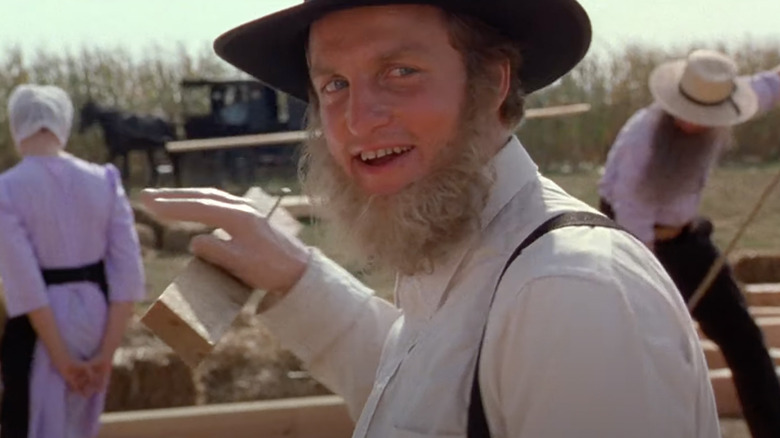 After hitting paydirt with "Dumb and Dumber," Peter and Bobby Farrelly kept the ball rolling with "Kingpin," a silly sports comedy aimed at the world of bowling. Starring Woody Harrelson, Randy Quaid, and Bill Murray, this 1996 feature, in many ways, outwits the exploits of Harry and Lloyd and draws big laughs by parodying everything from "The Natural" to "Witness." When disgraced bowling champion Roy Munson (Harrelson) discovers the hidden talents of kind-hearted Amish farmer Ishmael Boorg (Randy Quaid), he takes him under his wing in a bid to defeat his former rival, Ernie McCracken (Murray). 
Yes, the film is as goofy as the plot suggests, but the Farrelly brothers show an incredible knack for silly comedy that keeps the picture rolling from the first frame to the last. Yet, critics such as Entertainment Weekly's Lisa Schwarzbaum found the on-screen antics appalling, writing, "But even if you are a connoisseur of jokes about vomit, big chunks of stuff excavated from mossy teeth by dental floss, and really bad comb-overs (are you doubled over with soda-out-your-nose laughter yet?), the humor-to-gross out ratio is perilously low here."
Oddly, the Farrelly brothers don't do anything different with "Kingpin" than they do in their other works, including the critically praised "There's Something About Mary," which makes the adverse reactions all the more puzzling. Personally, I think "Kingpin" hits a strike.   
How The Grinch Stole Christmas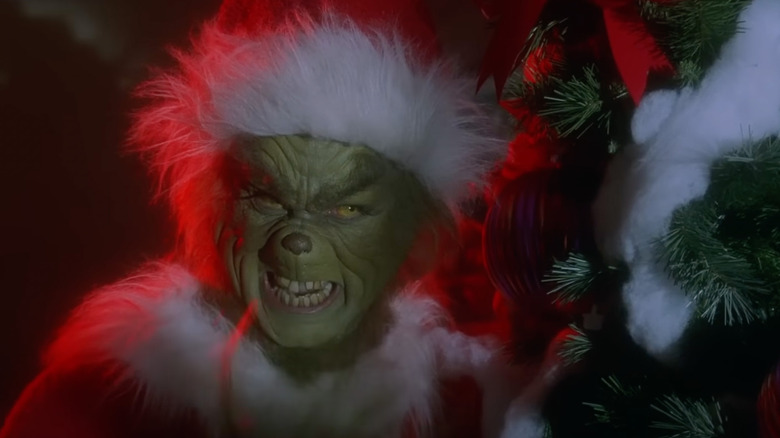 Ron Howard's "How the Grinch Stole Christmas" is a difficult film to review. On the one hand, I agree with critics like Nathan Rabin of AV Club, who proclaimed the feature closer in spirit to Joel Schumacher's "Batman" movies than the works of Frank Tashlin and Tim Burton. On the other hand, Jim Carrey is so fantastic as the titular Grinch that I'm willing to overlook the movie's numerous flaws and bask in the frivolous comedy.
A bloated adaptation of Dr. Seuss' classic children's book, this 2000 vehicle expands the short story to explain why the Grinch chose to ruin the holiday season for the town of Whoville. Dr. Seuss's tale's simplicity is lost in translation, replaced by a needless examination of commercialism, greed, and bullying. Howard and screenwriters Jeffrey Price and Peter S. Seaman paint the Whos in such a negative light that the Grinch's exploits are justified, if not admirable.
Still, Carrey manages to shine beneath layers of makeup and all but carries this overwrought production on his back. Viewers may smirk at the rampant self-indulgence on display, but they'll get a kick out of Carrey's uproarious performance. Indeed, I'd go so far as to say he makes "The Grinch" an obligatory watch on Christmas day.  
The 'Burbs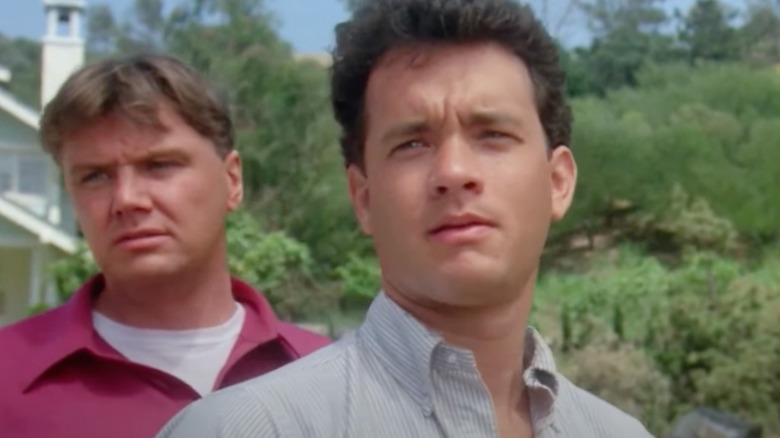 Tom Hanks' early career lolled in silly comedies that often came under fire from critics. Notably, 1989's "The 'Burbs," a staple of my childhood and a clever comedy/thriller in dire need of a second life. Here's the gist: Ray Peterson (Hanks) is weary of his strange new neighbors, the Klopeks. When the elderly Walter (Gale Gordon) suddenly goes missing, all signs point to next door, leading Ray to team up with his buddies Art (Rick Ducommun) and Lt. Mark Rumsfield (Bruce Dern) to solve the mystery and save the neighborhood.
A notable misfire of Hanks' early career — I saw it with my family in an empty theater — "The 'Burbs" entertains with its perfect blend of horror and quirky comedy. Director Joe Dante keeps the film moving at a nice pace and only stumbles in a finale that sidesteps a darker, more complex conclusion for something far more predictable. Nitpicks aside, "The 'Burbs" is wild fun and boasts a strong ensemble consisting of Carrie Fisher, Corey Feldman, and Wendy Schaal.
Yet, critics like the Los Angeles Times' Kevin Thomas labeled the film a turkey. "It's inconceivable that 'The 'Burbs' looked good on paper," he wrote upon its release. "There are few genuine laughs along the way," wrote Tulsa World's Dennis King. Take these criticisms with a grain of salt. "The 'Burbs" may shrink under Hanks' later efforts, but the picture is a fun and often hilarious examination of suburbia replete with solid performances and several classic scenes.
Funny Farm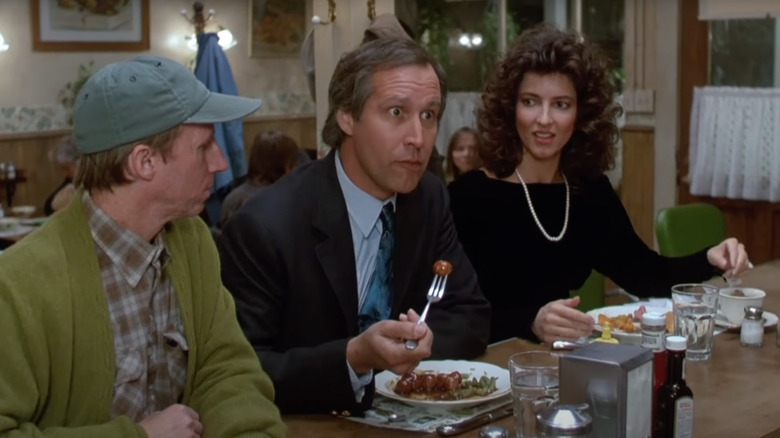 My parents loved Chevy Chase and made my siblings and me watch 1988's "Funny Farm" hundreds of times throughout our youth. Not that I'm complaining. I love "Funny Farm," and I was shocked to discover most critics didn't share my perspective. Instead, they agreed with the Washington Post's Hal Hinson, who felt the comedy started strong but deteriorated "into a schtickfest" weighed down by a third act that lacks energy. Au contraire, my fellow writers. "Funny Farm" starts out well enough but gets better as the film progresses.
The plot revolves around a young couple, Andy (Chase) and Elizabeth (Madolyn Smith), who ditch the city for a life in the country. Naturally, these yuppies find their new rural environment severely lacking social etiquette. Their mailman is a crazed lunatic; the local sheriff rides around in a taxi; baseball games are incredibly violent; and the nearest restaurant serves a dish called lamb fries, which are not what you expect.
Eventually, this newfound lifestyle weighs on Andy and Elizabeth's marriage, and the pair decide to divorce. Still, they must first team up with the locals to convince another sucker to buy their home. These later scenes give the picture a welcome change of pace, as Andy must suddenly work hand-in-hand with his bizarre fellow citizens. These bits are funny and supply the film with a perfect send-off.
Joe Versus The Volcano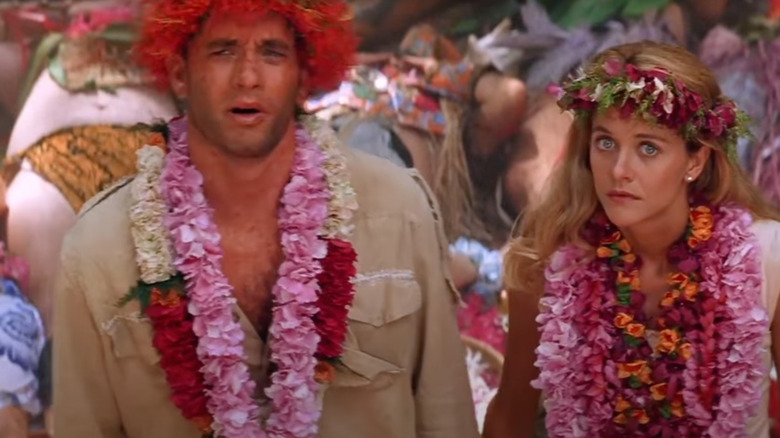 Another Tom Hanks vehicle largely derided by critics was John Patrick Shanley's "Joe Versus the Volcano," which paired the rising star alongside Meg Ryan for the first time. At face value, this 1990 flick is little more than a silly comedy featuring Hanks in early Hanks form. Peak beneath the surface, and you'll discover a thoughtful exploration of life, love, and redemption. It's quite brilliant.
Critics disagreed all those years ago. "After it's over," wrote Miami Herald's Juan Carlos Coto, "one thing is perfectly clear. 'Joe Versus the Volcano,' for all its wacky gags, delightfully bizarre look, and ill-fated attempts at insight, is only one thing: mediocre."
Ouch. Clearly, Coto missed the wondrous scene in which Joe falls to his knees before the moon and thanks God for his life, the humorous bit where Joe learns he has something called a "braincloud," and the various characters Meg Ryan portrays throughout the picture. Even Georges Delerue's score packs an emotional punch. "Joe Versus the Volcano" may not float your boat, but it's far from mediocre. It is a wondrous adventure well worth the price of admission. So pick up a can of orange soda, kick back, and set sail with Joe. You're in for a ride.
Read this next: 20 Underrated Comedy Movies You Need To Watch
The post Critically-Panned Comedy Movies That Are Better Than Expected appeared first on /Film.