DIY Mosquito Repellent Bracelet with Essential Oils
Summer is the time of year when we all enjoy outdoor time – camping, hiking, picnics, or simply relaxing in the hammock with a good book. And then there are those pesky mosquitoes intent on itchy bites!
But this year, I've got an all-natural solution for those annoying pests – a DIY Mosquito Repellent Bracelet with essential oils that really works!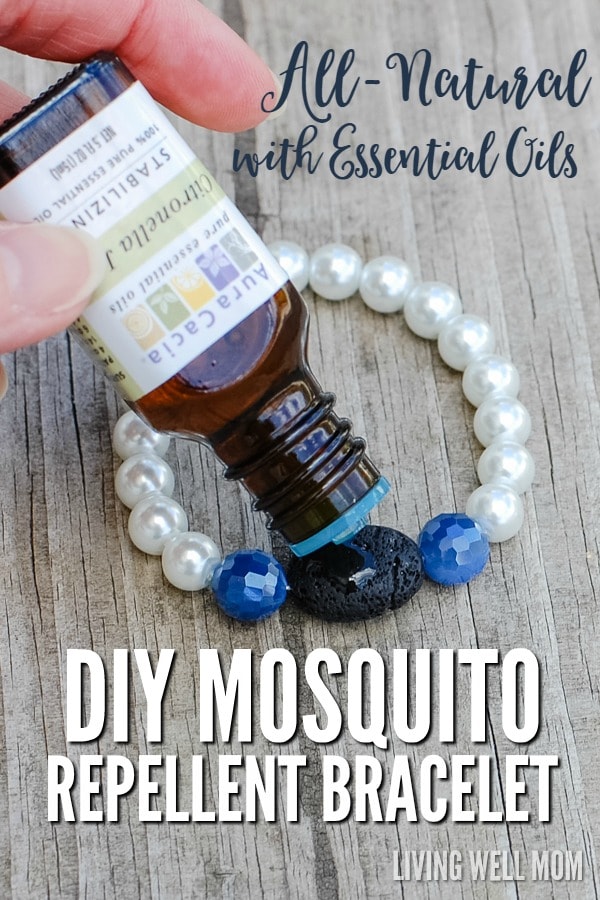 You may have already seen my post on how to make a Diffuser Bracelet for essential oils.  This mosquito repellent bracelet is very similar; this time we'll use two specific essential oils that work wonders as insect repellents.  Those are citronella and tea tree oil.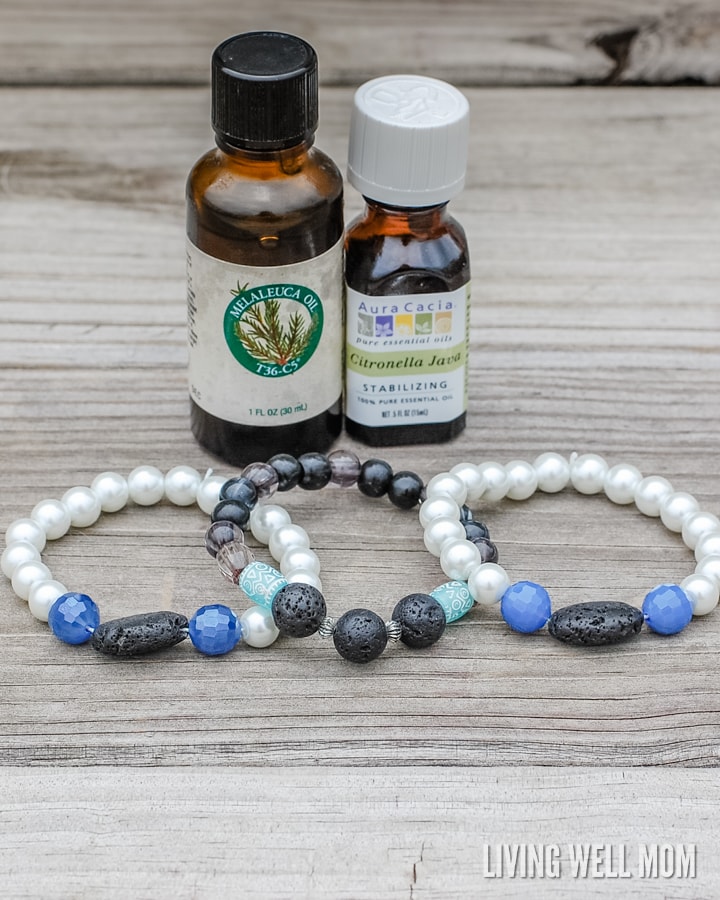 Today, I'll show you the very simple step-by-step instructions for making a DIY Mosquito Repellent Bracelet with Essential Oils.
What You'll Need to make a Mosquito Repellent Bracelet:
Bug Repelling Essential ↓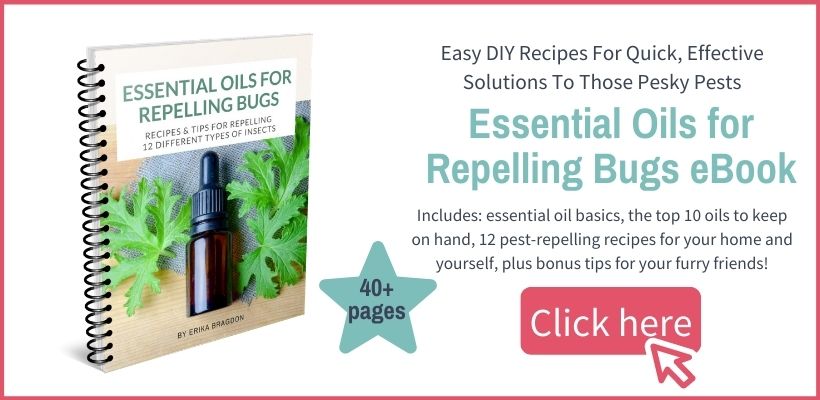 These bracelets are really easy to make!  If you can string beads on elastic, then you can make these all day long!
One tip I have for the elastic:  if your elastic starts to unravel at the end, just place some nail polish on the end and let it dry.  It's much easier to string your beads this way because the nail polish stops the unraveling!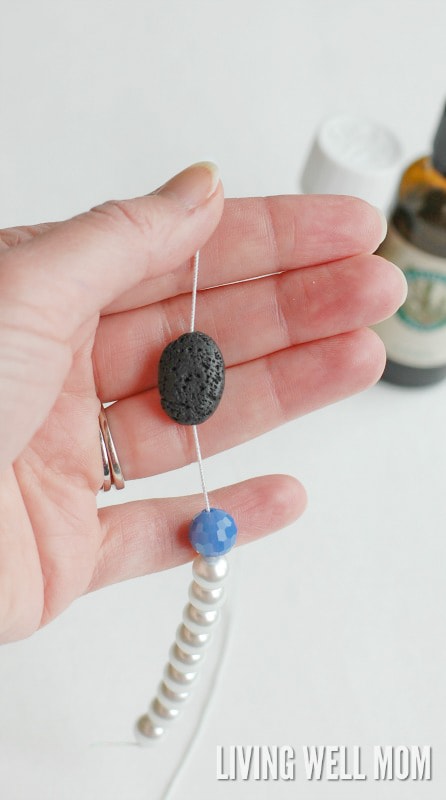 String your beads and tie off your bracelet so it's long enough for your wrist.  In the middle of your bracelet, place one or two lava beads that will hold the essential oils.  I liked the oval and flat beads as the oil soaked in a bit better on the flatter surface rather than round lava beads.
Drop 1-2 drops each of tea tree oil and citronella essential oil on your porous beads.


I would advise dedicating this bracelet to just citronella and tea tree oils and without any others.  The scent of citronella is strong – and it will just stay with that bracelet for a really long time.  I wouldn't expect you to wear this to a Friday night cookout and be able to wash it and wear just lavender oil on your bracelet the next day.  Use this bracelet as just your insect repellent bracelet.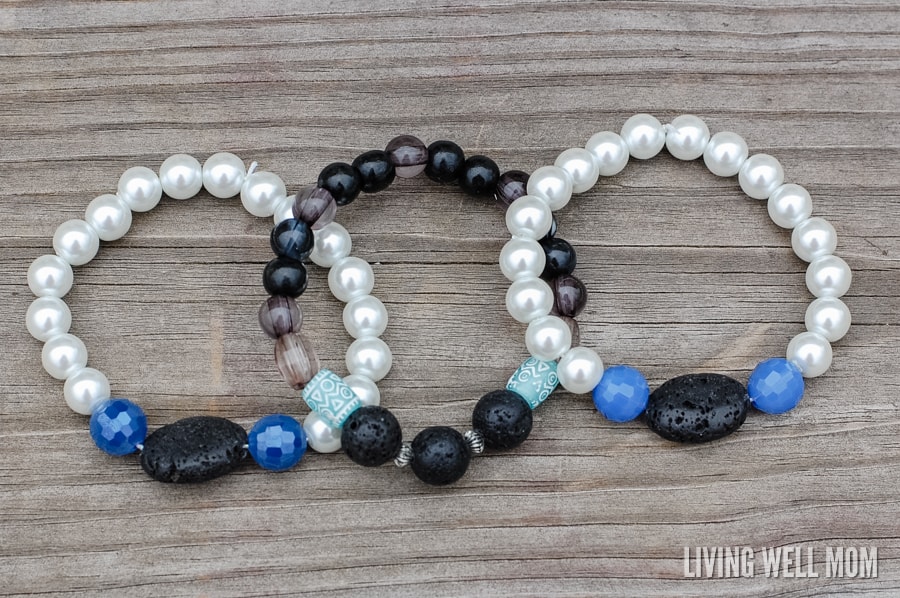 I now have one of these bracelets attached to my iPhone armband; now each time I go running, I won't forget to wear my all natural DIY Mosquito Repellent Bracelet! The bugs have significantly stopped "bugging" me while I'm out for a jog.


Related Posts
If you liked this essential oil mosquito repelling bracelet, you might like these other natural bug repelling idea posts too: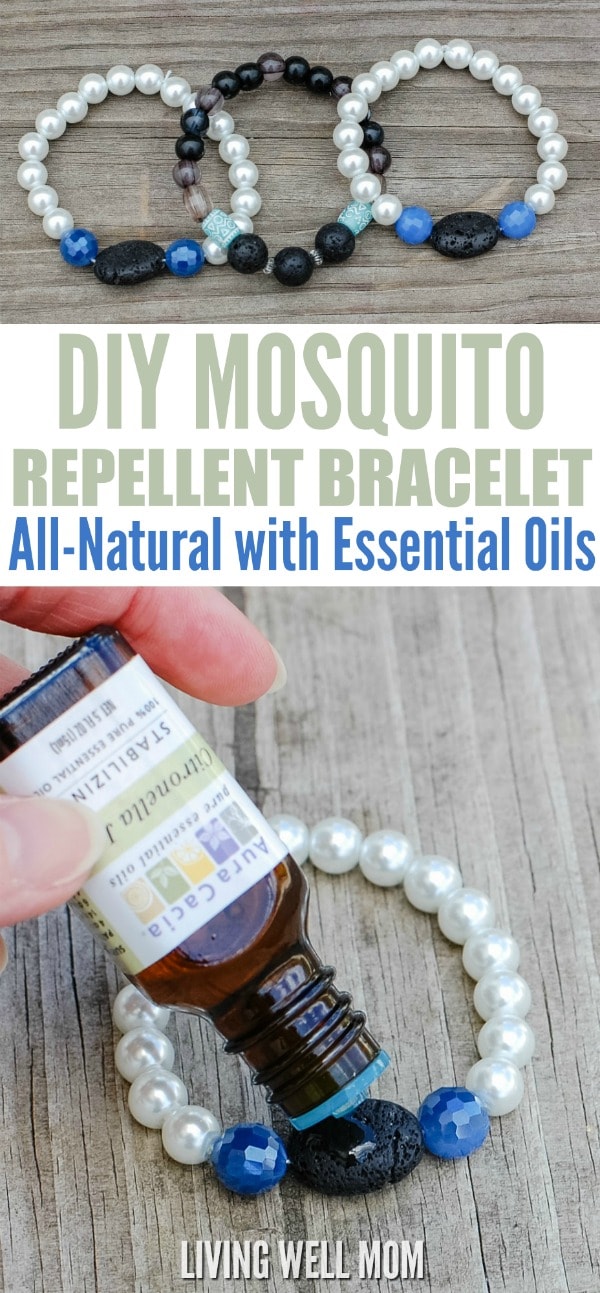 Love essential oils? Check out these posts:
The post DIY Mosquito Repellent Bracelet with Essential Oils appeared first on Living Well Mom.