Easy Grinch Handprint Craft for Kids [Free Template]
The Grinch is a classic Christmas story that is loved by kids and adults alike. Enjoy making this Grinch handprint craft with your kids this holiday season to create beautiful memories!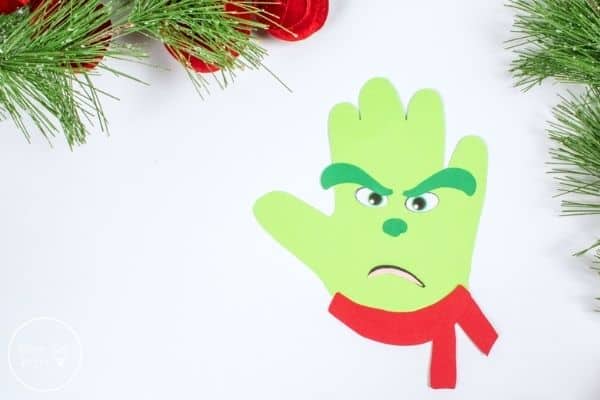 Christmas is the season of celebration, carols, and, giving. Unless of course, you're the dreaded green-faced Grinch!
Mr. Grinch is on a mission to steal the Christmas spirit of children everywhere, but he's definitely not stealing this Grinch handprint craft!
The Story of the Grinch
How the Grinch Stole Christmas! is a classic tale written by Dr. Seuss that was first published in 1957. With the help of Max the Dog, the Grinch, a heartless green-faced creature who hates Christmas, steals every gift, Christmas tree, and decoration in the whole town.
Cindy Lou Who and the citizens of Whooville, wake on Christmas morning to find their holiday gifts & decor gone. But that doesn't stop them from singing and celebrating together!
The Grinch finally realizes that even though can take away the gifts and decorations, he can't take away their Christmas spirit! So what does the green mean-spirited guy do? He returns all of the gifts and helps decorate the town!
The Grinch is a great character for this simple handprint craft for kids. Once they have finished their handprints, children can hang them on a Christmas tree next to the ornaments, hang them on the fridge with magnets, or use them as a special gift for family members!
How to Make a Grinch Handprint Craft
Making the Grinch with a handprint is a simple craft that kids of all ages can do with a bit of help from Mom or Dad.  To make your own Grinch, you'll need a few things that you probably have already in your home.
Supplies
Cardstock, construction paper or colored printer paper (lime green, Christmas green, red, black, and pink)
Scissors
A glue stick
Pencil
Free Grinch handprint craft template (click on the image at the end of the post to grab your downloadable PDF file)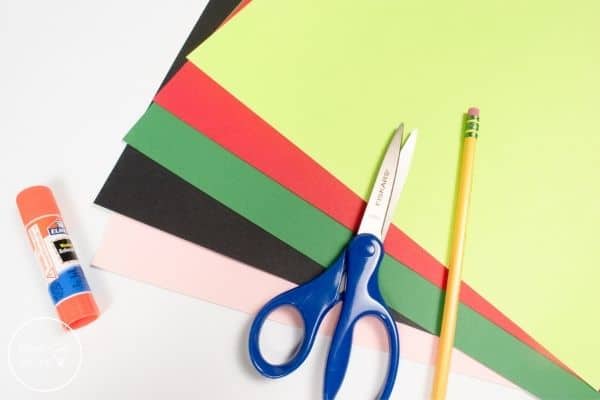 Directions
1. Place your child's hand on the lime green paper with the four fingers close together and trace it lightly with the pencil.
Cut out the handprint.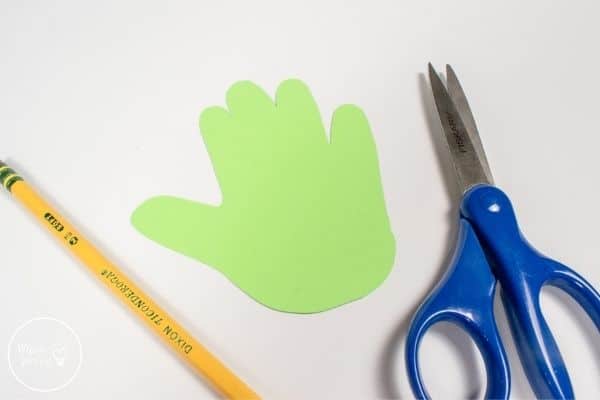 2. Print the template pieces on colored paper and trim them. You can also print them on white computer paper, cut them out, then trace them onto the colored paper as shown.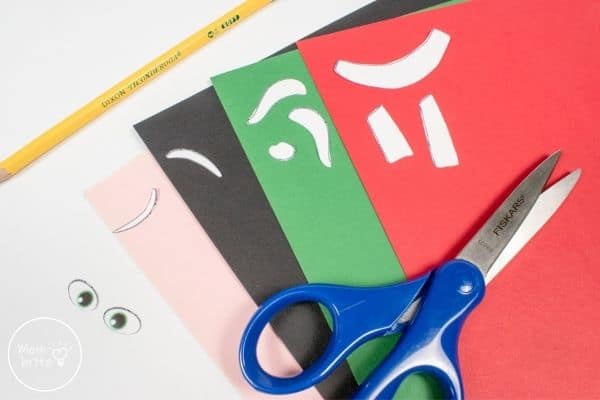 3. Cut out the colored cardstock pieces.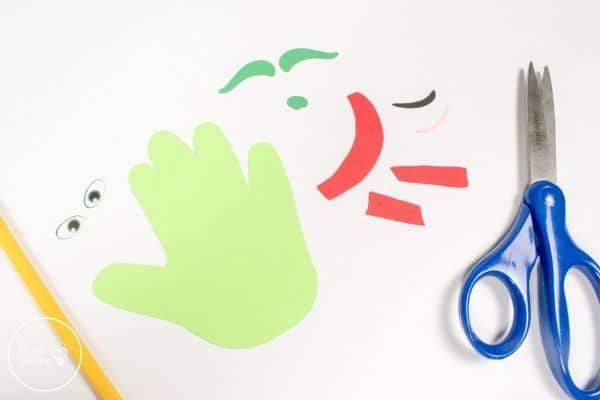 4. To assemble the Grinch's mouth, glue the pink lip shape over the bottom of the black mouth.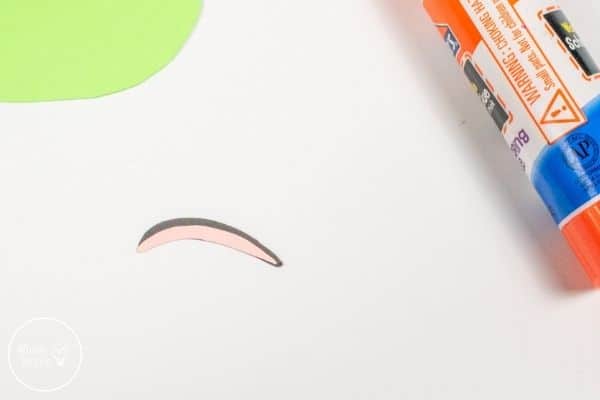 5. Next, glue the scarf ends under the curved scarf piece.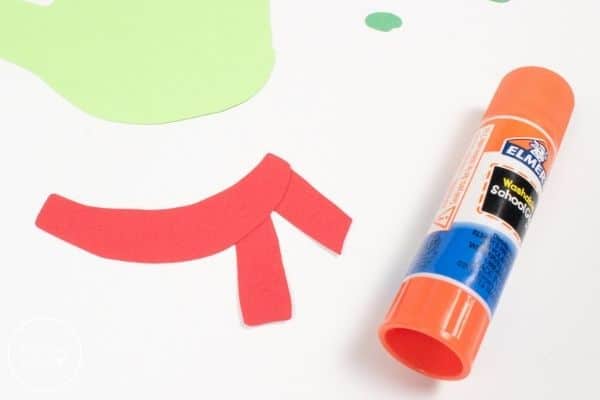 6. Attach the scarf, mouth, nose, and printed eyes onto the handprint.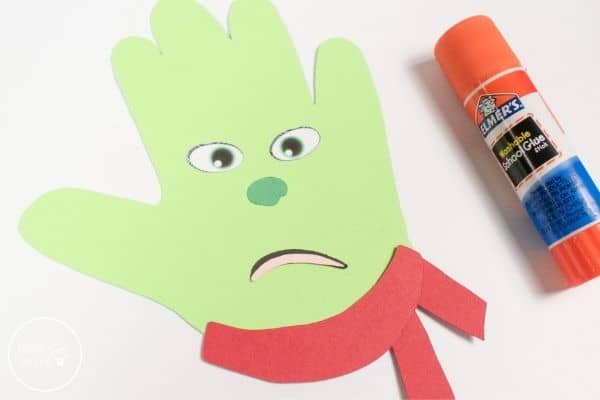 7. Finally, glue the eyebrows just over the eyes.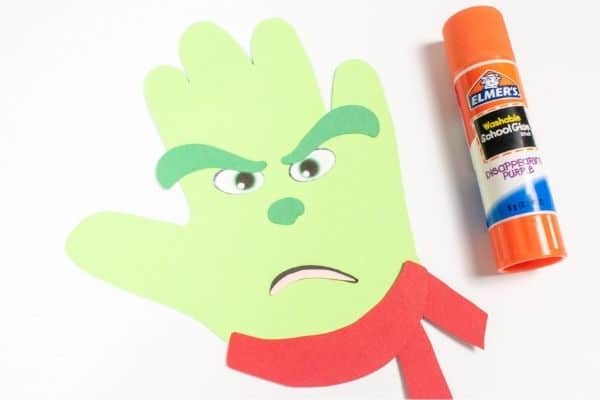 Christmas Handprint Ideas
You can make the Grinch craft as a Christmas card, display them as a Christmas decoration or punch a hole and add a coordinating ribbon or string to make a Grinch handprint ornament to use as a homemade Christmas gift for family members.
Another creative idea is to make a set of Christmas handprint ideas to create a friendly Christmas scene. For example, you can make an elf handprint craft, gingerbread man handprint craft, Santa Claus, and reindeer crafts.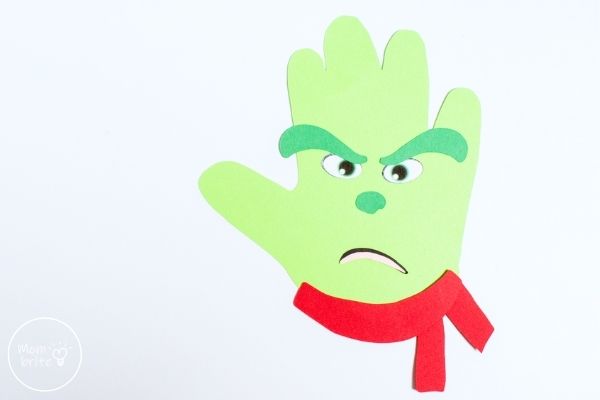 By using the simple concept of a handprint with holiday-themed shapes and colors that's it! You have a cute homemade Christmas decoration that will really bring out the Christmas spirit!
Downloadable Grinch Handprint Template
I hope you enjoyed crafting this fun Grinch handprint craft with your kids. Pair it with a tasty green treat and read or watch How the Grinch Stole Christmas to make it a fun family night or holiday party for the kids.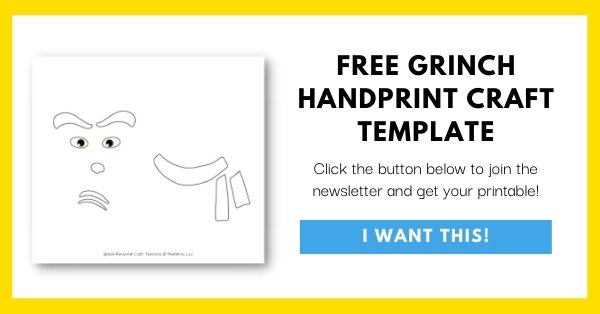 For more Christmas handprint art ideas, try these unique, easy-to-make handprint crafts in the classroom or at home!