Easy Watermelon Paper Fan Craft For Kids
This easy paper fan craft is perfect for a hot summer day! Chill out at home while you have fun making this adorable Watermelon Paper Fan Craft with your kids!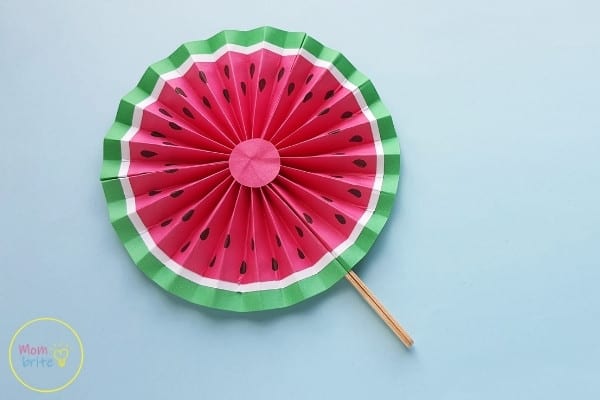 Summers can be hot no matter where you live, but this adorable watermelon fan craft will keep you cool. The sweet fruit makes the cutest paper fan we've ever seen! With just a few supplies you probably already own, you can make this easy craft in no time.
Watermelon Paper Fan
There are many different ways to make a paper fan craft. Maybe as a kid, you remember folding paper back and forth to make the perfect fan. I don't know about you, but I could spend hours making one for everyone in my family!
Today I'll show you how to make a watermelon fan that takes that traditional back and forth folding and pairs it with colorful papers and a wooden stick to make a perfectly summery fan.
This fan not only works great but it also makes a great paper fan decoration!
How to Make a Paper Fan
To get started, you will need craft paper or colored scrapbook paper. Craft paper is thinner than construction paper and allows the fan to fold up nicely. If you want a thicker fan, you can use the cardstock from your local craft store.
You can get textured sheets, sheets with small polka dots, or any other pattern if you're feeling creative!
Making the watermelon seeds is easy to do with black permanent markers. But if you want more of a 3D effect, you can make them out of black craft paper, scrapbook paper, or even a sheet of cardstock. Just make sure that you let the watermelon seeds and watermelon rind dry completely before you start folding. And don't skimp on the glue or you could have edges that pop up!
For the sticks, we are using popsicle sticks today, but you're welcome to use a small dowel that you cut to size.
Ways To Use Your Watermelon Fan Craft
Whether it be for a summer birthday party, 4th of July party, or an end-of-school celebration, there are so many ways you can use these watermelon fans.
Here are a few of my favorite ideas:
Hang the several watermelon fans (without a stick, if you prefer) on the wall for a fun collage.
Hole punch the top of the watermelon paper craft and hang them from the ceiling with a thin piece of ribbon or twine.
Change the colors to red, white and blue for a patriotic slice of fruit.
Use the craft for a fun activity at any party that the kids get to take home.
Make one for every guest and place them as a decoration on their plate in a fun table setting.
Now that you know how many ways there are to dress up, personalize, and use your watermelon fan, let's get started making them!
Watermelon Paper Fan Craft
Materials:
Colored craft papers
Craft glue
Pencil
Sharpie
Popsicle sticks
Scissors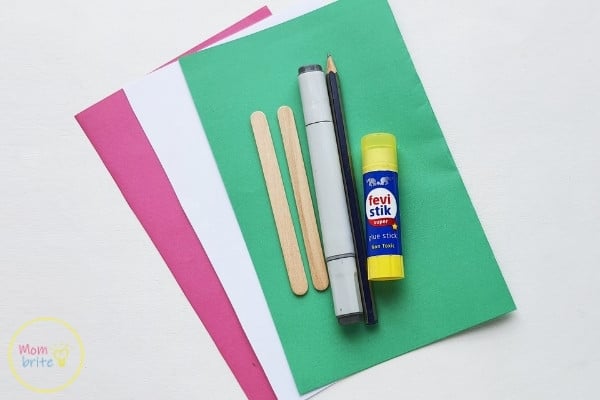 Instructions:
Step 1:
To make the watermelon fan craft, start by cutting out an 8.5″x2.5″ strip, an 8.5″x0.5″ white strip, and an 8.5″x0.5″ green strip.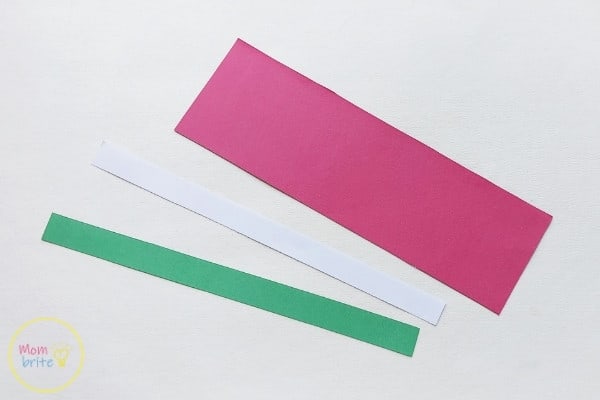 You will need to make a total of 3 sets of these pink, white, and green paper strips.
Step 2:
Glue the white strip along either side of the pink paper. Then attach the green strip along the open edge of the white strip.
The white paper is the rind of the watermelon while the green paper is the skin of the watermelon. The pink paper is the yummy flesh!
Make sure the glue is dried completely before proceeding to the next step.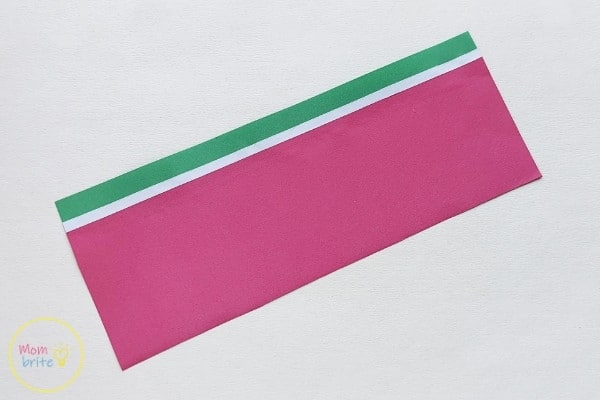 Step 3:
Use a black Sharpie to draw the seeds on the pink paper near the green and white border.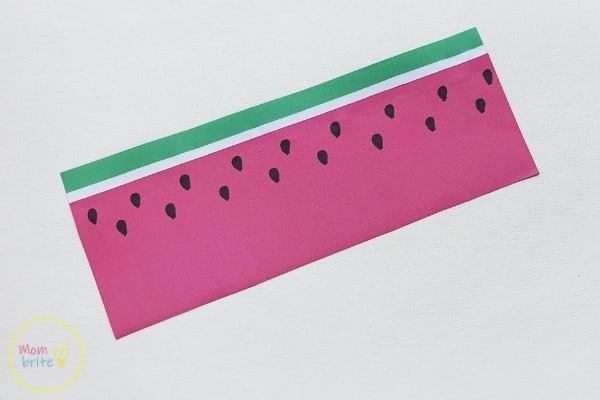 Step 4:
Starting at one of the short edges, fold the paper like an accordion in small and equal increments.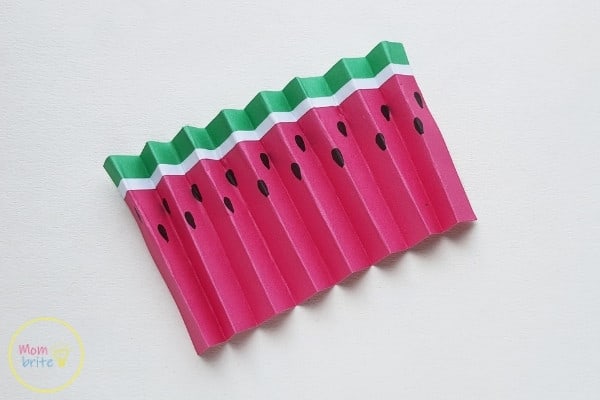 Step 5: 
Repeat steps 2 through 4 with the other two sets of pink, white, and green paper. Attach the accordion folded patterns together side by side by gluing the short edges together.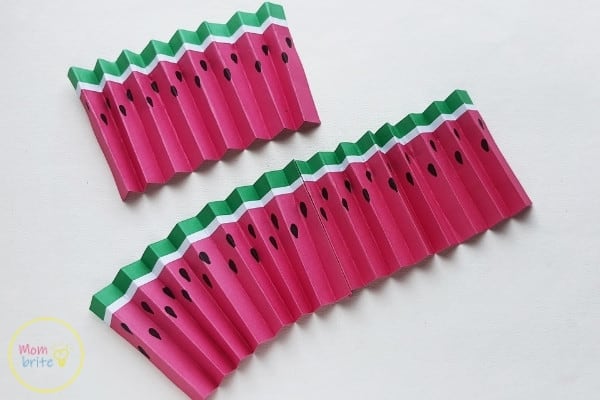 Step 6:
Take 2 popsicle sticks and apply glue on half of the stick.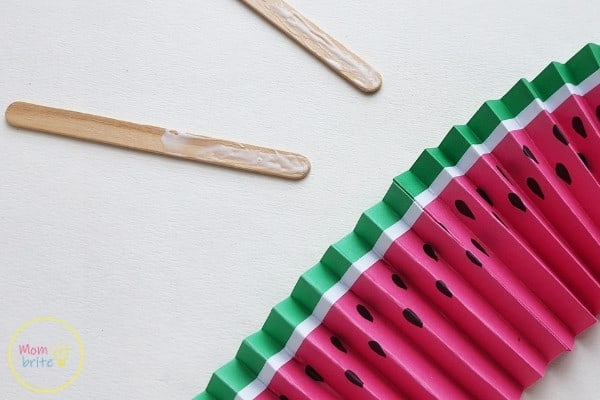 Step 7:
Attach the popsicle sticks to the two ends of the accordion-folded paper. I prefer to place the popstick sticks underneath the watermelon pattern but you can also attach them to the outer folds.
Cut out two small circles from pink-colored craft paper.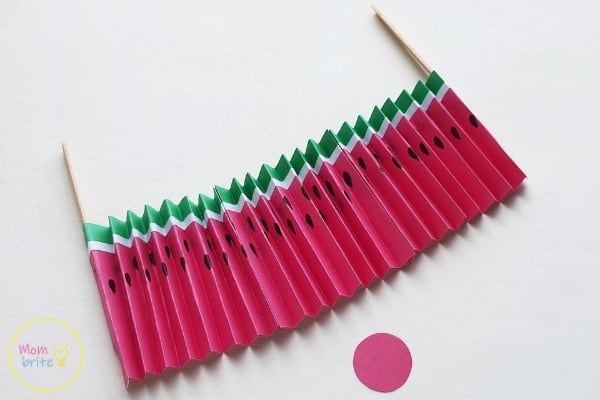 Step 8:
Carefully move the 2 popsicle sticks closer to each other while curving the paper to make a circle.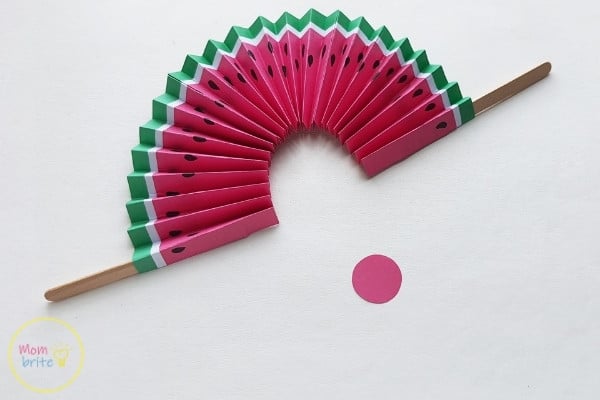 Step 9:
Bring the 2 popsicle sticks adjacent to each other and secure them together with a thin rubber band, clear scotch tape, or craft glue.
Attach one of the round paper cutout in the center of the accordion-folded fan. Flip the paper fan to the other side and stick the other round paper in the center of the watermelon fan.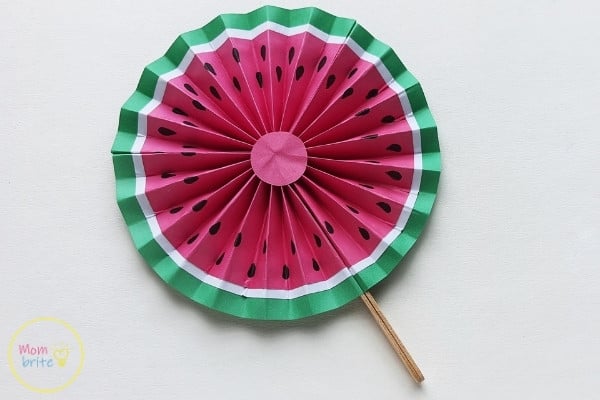 That's all there is to it! I hope you enjoyed this watermelon paper fan craft.
Whether you use your new crafting skills for a fan, a party decoration, or as wall art, it doesn't have to be difficult or time-consuming to make something deliciously fun!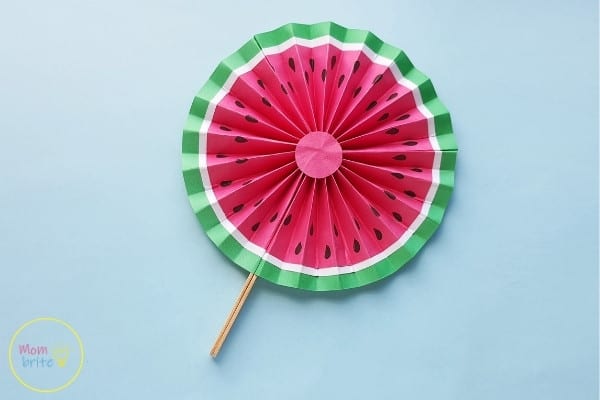 Can't get enough fun summer crafts? Try making a few of these: