Easy Ways to Set Up Your Homeschool Classroom
Learn the easy way to set up your homeschool classroom right!
If you've decided to teach your kiddos at home, you're going to need to set up a homeschool classroom!
It's important to dedicate a space where your children can learn that is comfortable, functional, and free of distractions – and you don't need to take up a lot of space to do it!
When my twins started learning from home due to the pandemic, even though I wasn't teaching them directly, I quickly realized that I had to set up a space where they could focus on their education.
I didn't dedicate a huge amount of space for my homeschool classroom but I knew it was important to have a dedicated space that they could consistently use for schooling.
It really helped them focus!
Homeschooling doesn't have to be "school at home." It's something that becomes part of your lifestyle and all you need is a setup and homeschool resources to meet the educational needs of your children.
You want your homeschool set up to be a place where your children want to spend time during the day.
That being said, let's look at some easy ways you can set up your homeschool classroom:
What Room Should I Use For My Homeschool Classroom?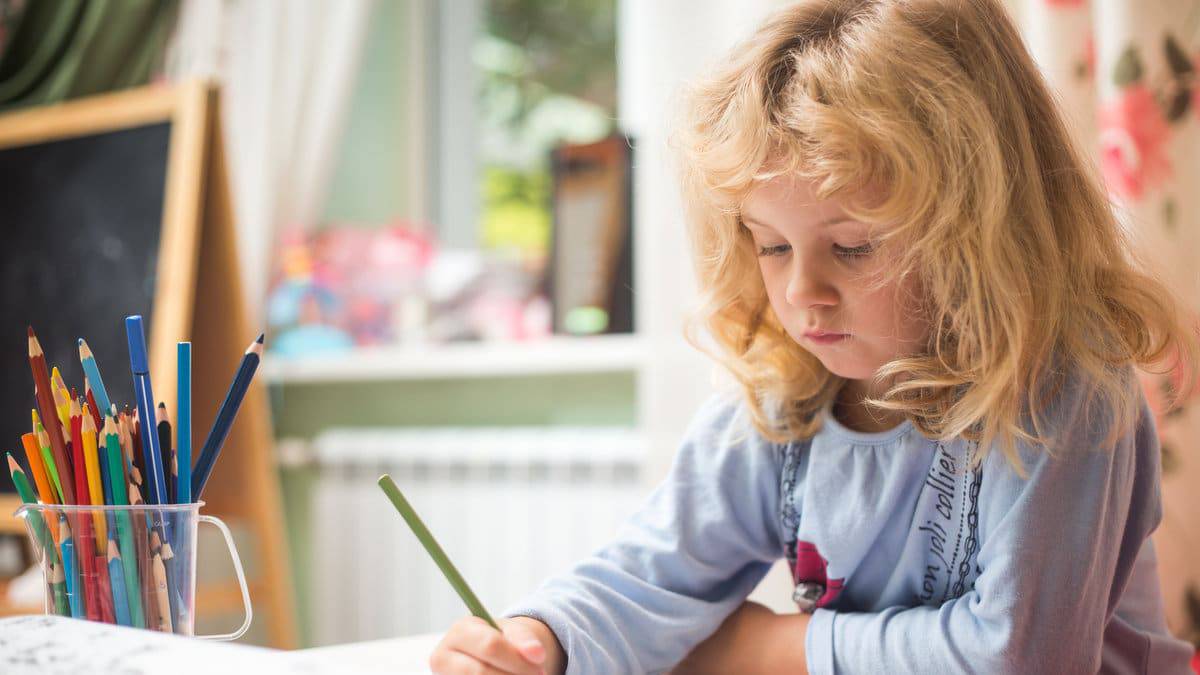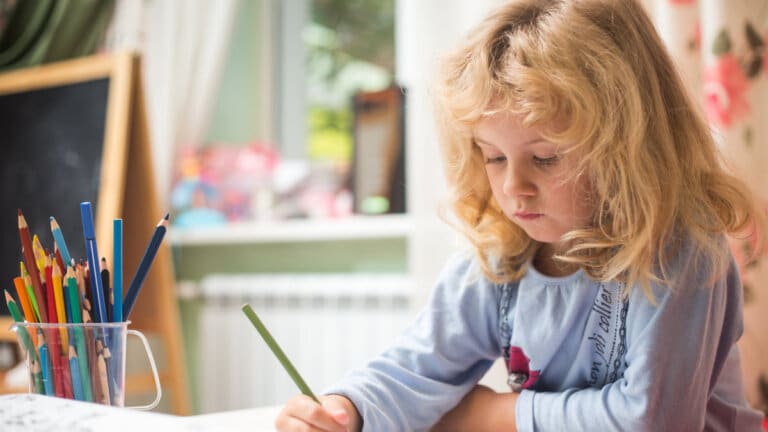 No two homeschool setups are the same and how they are set up varies from family to family. You may have an entire room to dedicate to homeschooling or you may have to get creative and fit your homeschool into an existing room.
Take a look around your home to see where you have some additional space. If you have an entire room where you can set up your homeschool classroom, great!
Otherwise, look for an area where you can set up your child's desk as well as storage space for your homeschool materials.
Here are some amazing homeschool room ideas to get you started:
A Dedicated Homeschool Room
There are definitely benefits to having an entire room dedicated to homeschooling: you can set up ample workspace and have room to store all of your homeschooling stuff.
Plus, having a separate room where your kids go to "school" can help create a routine and get them focused on their school work.
Maybe you don't have an empty room in your house but take a look at spaces that perhaps you are not using.
Do you have a bedroom that seems to collect a lot of "stuff?" A dining room you never eat in? A huge closet you could empty out?
(Hey, just spitballing here but it could definitely work!)
You can also look at converting an outgrown playroom into a homeschool classroom – and you don't even need to remove all of the toys!
Just keep ones around that you can incorporate into your homeschool lesson plan.
Creating a Double-Duty Room for Homeschooling
So you don't have extra space in your house for a homeschool classroom? No worries!
You can always organize your setup in a room such as the kitchen or dining room.
If you use your living room, for example, you can use it as a homeschool room during the pay and living room during the evenings and weekends.
You can even use just a small area of a room as a homeschool space by placing a small desk or table in the corner.
This is a great homeschool classroom idea too: Set up small learning centers all around your home!
This way you can spread out your homeschool materials and moving from room to room may help keep your little one engaged.
When you're using empty areas in one room or spreading your homeschool out throughout the house, don't worry so much about "decorating" each space and making it look like a school.
Just focus on making a fun and engaging space for your kiddo!
Not Having a Homeschool Classroom At All!
What? How can you homeschool without a homeschool classroom?
Some families opt to not have a homeschool room at all.
They simply let learning happen naturally throughout the day or choose to homeschool wherever they feel like it!
You can set your child up at the kitchen table, out on a blanket in the yard, or at a desk in their room.
If you're desperately low on space in your home, this may be a great option!
Placement Ideas for Your Homeschool Classroom Setup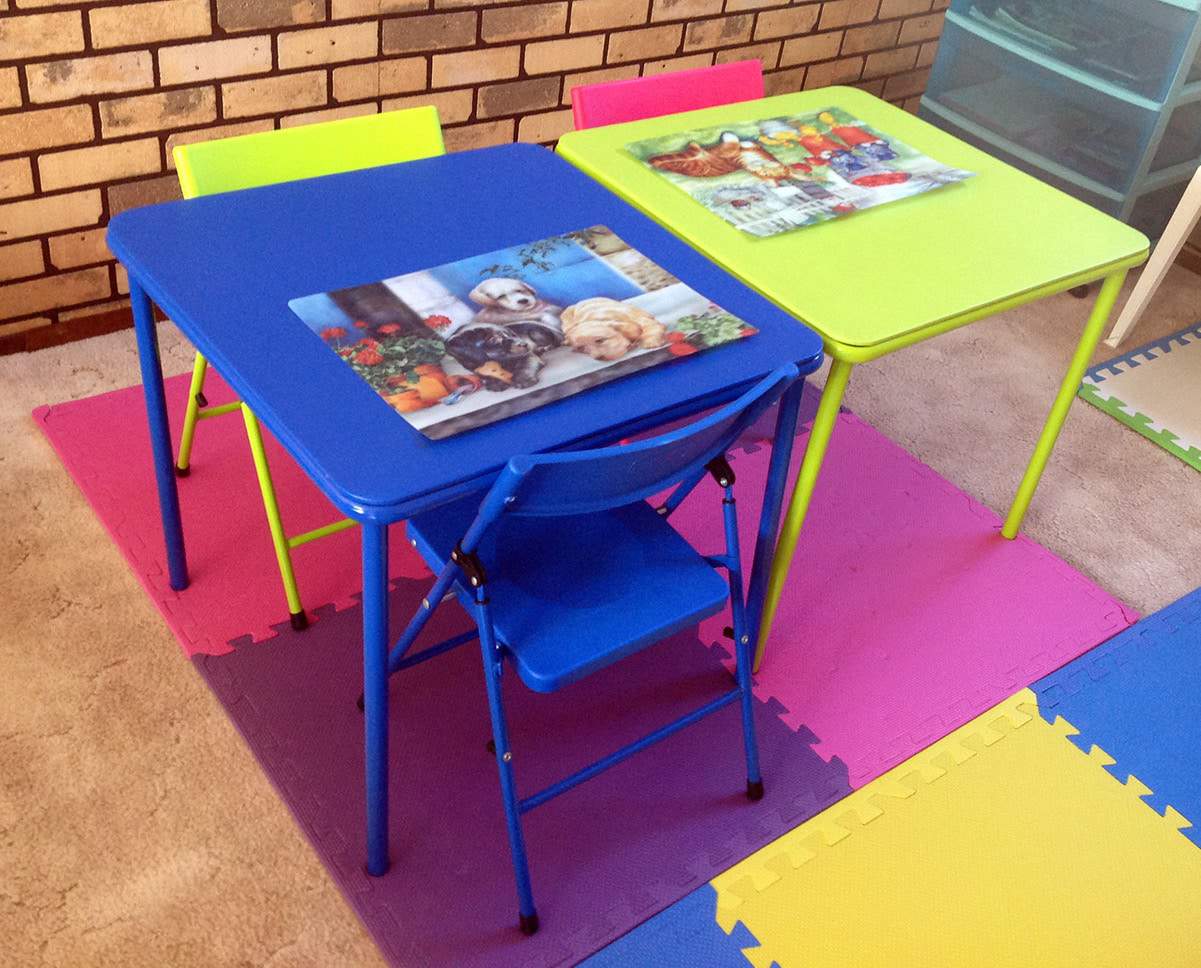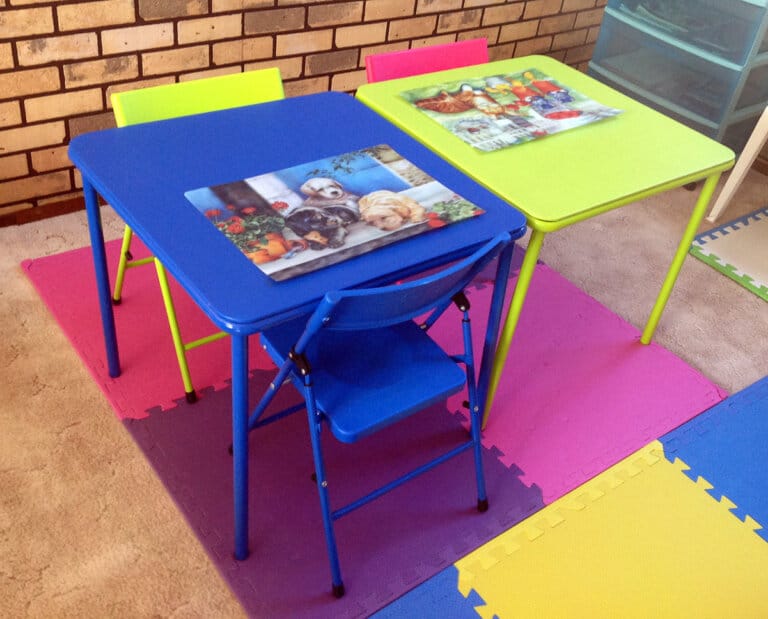 Once you figure out where you are going to set up your homeschool classroom, it's time to decide how you want to set it up!
The major goal of a homeschool classroom setup is to create a space where your child can learn comfortably and where you can functionally facilitate that learning.
Making a Space for Your Child
At a bare minimum, you need a desk or table for your child to work at.
You want to ensure this is placed in the room in such a way that they are minimally distracted but also able to engage with you.
If you want to use a whiteboard or chalkboard, these can either be placed on the wall or you can use movable ones to take wherever you need them!
If you do place one on the wall, make sure it's in an area where your child can sit comfortably and see it.
Throughout the day, you want to give your kiddo a space where they can take a break from their desk but still stay in the homeschooling groove.
A small corner of the room with a cozy chair or bean bag chair is perfect for them to read books or complete assignments on their own.
As far as what your child needs, that's it!
You can decorate available wall space with educational and motivational posters as well as calendars and clocks, but this isn't 100% necessary.
I like these ones because they adjust to your child's grade – from kindergarten to 3rd grade (perfect my twins entering grade 3 this year).
Keeping Yourself Organized
Getting your child set up for at-home learning is one thing, but you have to get yourself organized as well!
Being organized with your homeschool materials is key to being prepared, minimizing distractions, and keeping your kiddos engaged during the day.
You can use bookshelves to store materials.
Organize them using these plastic bins so you know exactly where everything is.
You can also grab some storage bins on wheels – especially if you find yourself moving from room to room!
Even hanging shoe holders with pockets can be used to store smaller items such as pens, pencils, highlighters, scissors, rules, and more.
Organizing your homeschool classroom is a great opportunity to get creative! Just remember that the best organizational system is the one that works for you!
How Can I Reduce Distractions in My Homeschool Classroom?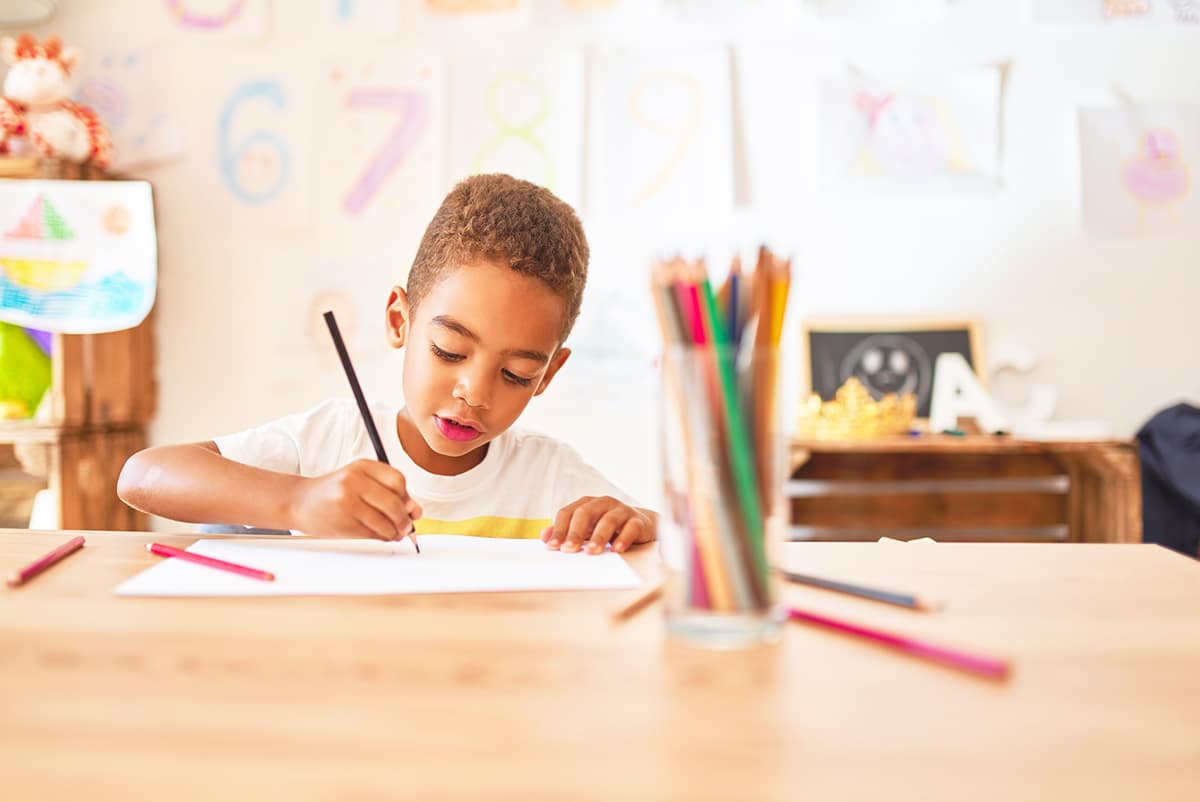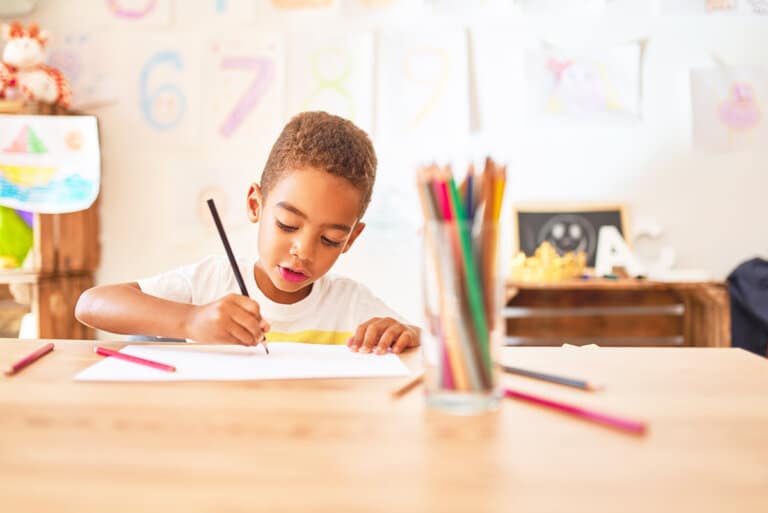 No matter where you set your kiddo up for homeschooling, you want to make sure they are not distracted and able to focus on their learning.
This can be hard if you have your homeschool set up in a living room or kitchen. However, there are ways that you can reduce distractions to ensure your child is engaged and focused:
Get Your Materials Ready Before You Start
If you or your child need to leave the room to grab materials or you need to dig through your organizational system to find them after you start, everyone is going to get distracted and off-track!
Make sure you know exactly what you will need for the day and ensure your child brings along the necessary materials as well.
Writing a lesson plan the evening before will help you figure out exactly what you need for the day.
Create a Schedule and Stick To It
Creating a daily schedule not only helps to keep you organized and on-task but also gives your child an idea of what to expect next.
If they know what they are working toward, they are more likely to stay focused.
Homeschool is a casual arrangement but everyone can get easily distracted if there is no time limit on activities.
While you want to encourage your child to accomplish tasks in their own time, creating a schedule and routine will help them reach their learning goals for the day.
Get Rid of Background Noise
If you're using your living room as a homeschool classroom, make sure the TV is not on during the day.
Also, make sure everyone turns the ringers off on their cell phones – and that means you too!
If you have younger kiddos running around during homeschool hours, try to keep noisy distractions such as toys and televisions in another room.
Even though homeschool is not "school," it still needs to be taken seriously and electronics should be saved for breaks and after school.
For out homeschool classroom, I have my twins working on the main level of our house and I work upstairs in my office. They are pretty much self-sufficient to do their work but I'm a call away if they need something printed or a school supply.
9 Materials You Need for Your Homeschool Classroom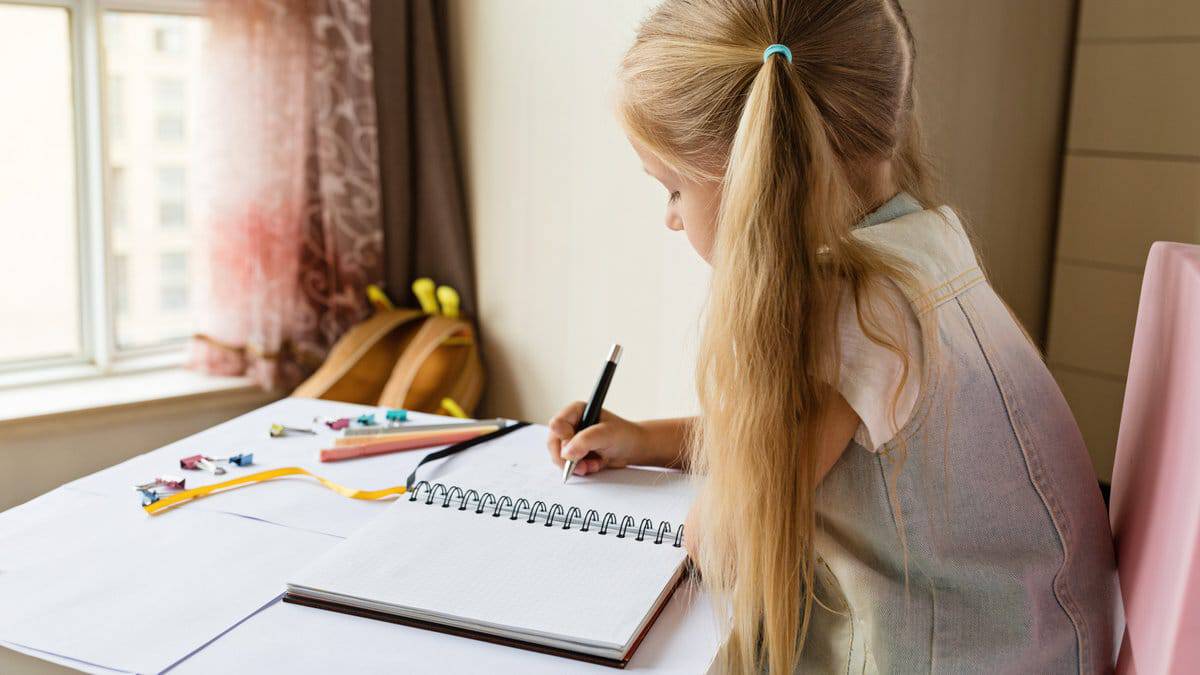 Your homeschool is set up and ready to go – now you just need the right supplies!
Purchasing materials for your homeschool classroom does not have to be a lavish affair and you can adequately stock your supplies while working with your budget.
To give you an idea of what you will need, here are some homeschool classroom essentials:
Dry-Erase Board: These are great for writing out lessons and examples and quickly erasing them when you're done! Dry-erase boards are also magnetic so you can have fun with magnets too.
Books: Books can be used to teach all kinds of subjects other than literacy. The Magic School Bus can be used to teach science and biographies are an engaging way to learn history.
Paper: You'll need lots of paper for homeschooling including lined paper, printer paper, and construction paper.
Pencils: Make sure you have lots of pencils and a good pencil sharpener on hand.
Craft Supplies: While scissors and glue are crucial craft supplies, you can also use stuff you find around your home like paper plates, popsicles sticks, and paper towel rolls!
Markers and Crayons: Using markers and crayons can make for wonderful pieces of art but they can also make worksheets more fun.
Counters: Having things to count is a huge part of learning math and you can use so many things you have lying around such as clothespins, rocks, and even Cheerios!
Folders and Binders: In order to keep your lesson plans and your child's work organized, invest in some colorful folders and binders.
Printer: There are so many wonderful and free printables you can use for your homeschool setup, so having a good printer is a must!
These are some of the basic supplies you'll need to get started with your homeschool classroom. You may want to invest in a velcro calendar and make sure you have a good computer and internet connection to download some printables and lesson plans!
Ready to Get Your Homeschool Classroom Set Up?
Having an amazing homeschool classroom for your kiddo doesn't have to be an all-or-nothing affair.
Start with the basics and let your homeschool evolve as you take this wonderful journey!
Now I want to hear from you – Do you have a homeschool classroom?
What kind of setup works best for you and your child? Share your tips in the comments below!