Experience Ethiopian and Eritrean Culture at This Upcoming Event (May 13)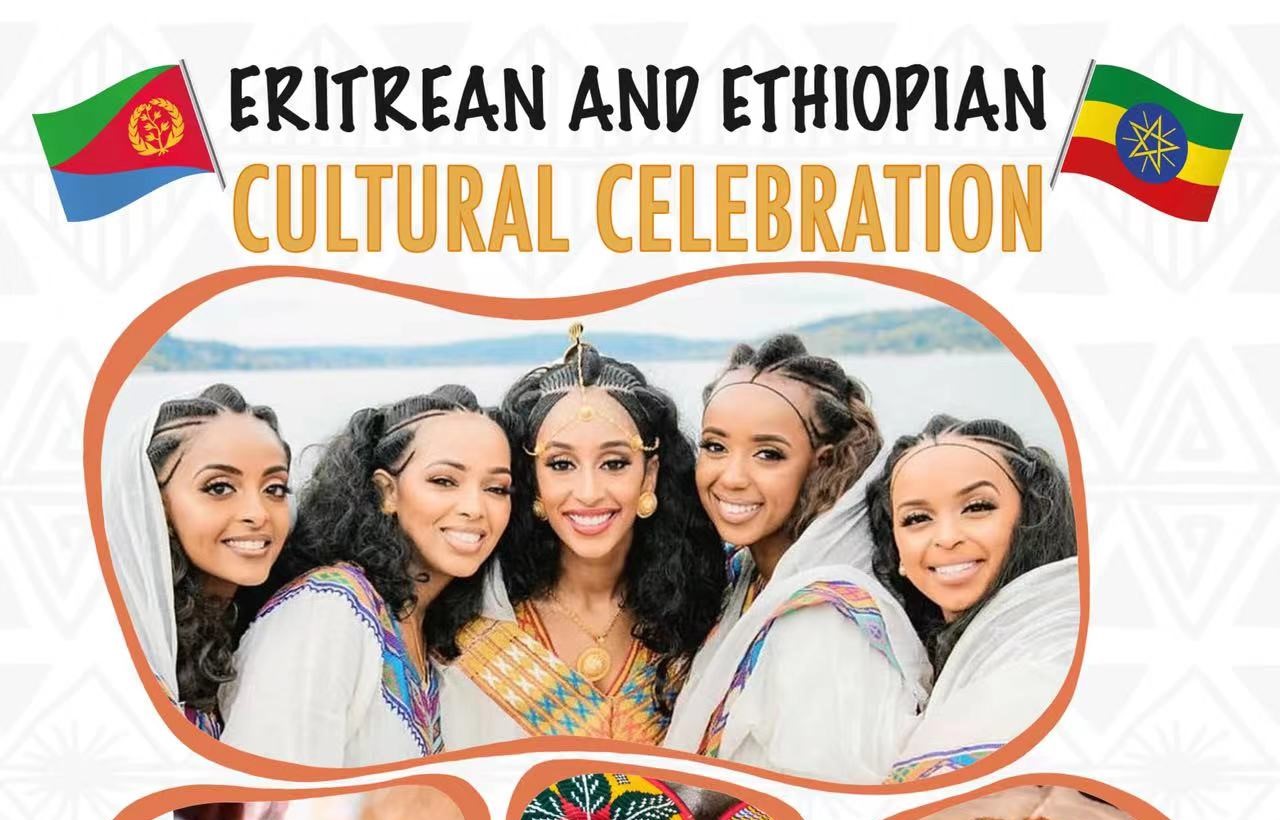 Now that Beijing is back to its bustling self, there are tons of cultural events and happenings popping up around the capital. Coming from a small city in the UK myself, one of the things I've always loved about living here is getting to attend these different events and getting to meet people from all over the world and learn about different cultures and countries.
That's why we were super excited to learn about the upcoming Eritrean and Ethiopian Cultural Celebration, the first ever in Beijing, that will be taking place at JinShang on Saturday, May 13. Behind the event are Martha Woldu, an artist from Eritrea, who first moved to Beijing in 2004 to study oil painting, and educator Sossena (or Sossi for short) from Ethiopia. We reached out to the pair to find out more about the event and what's in store.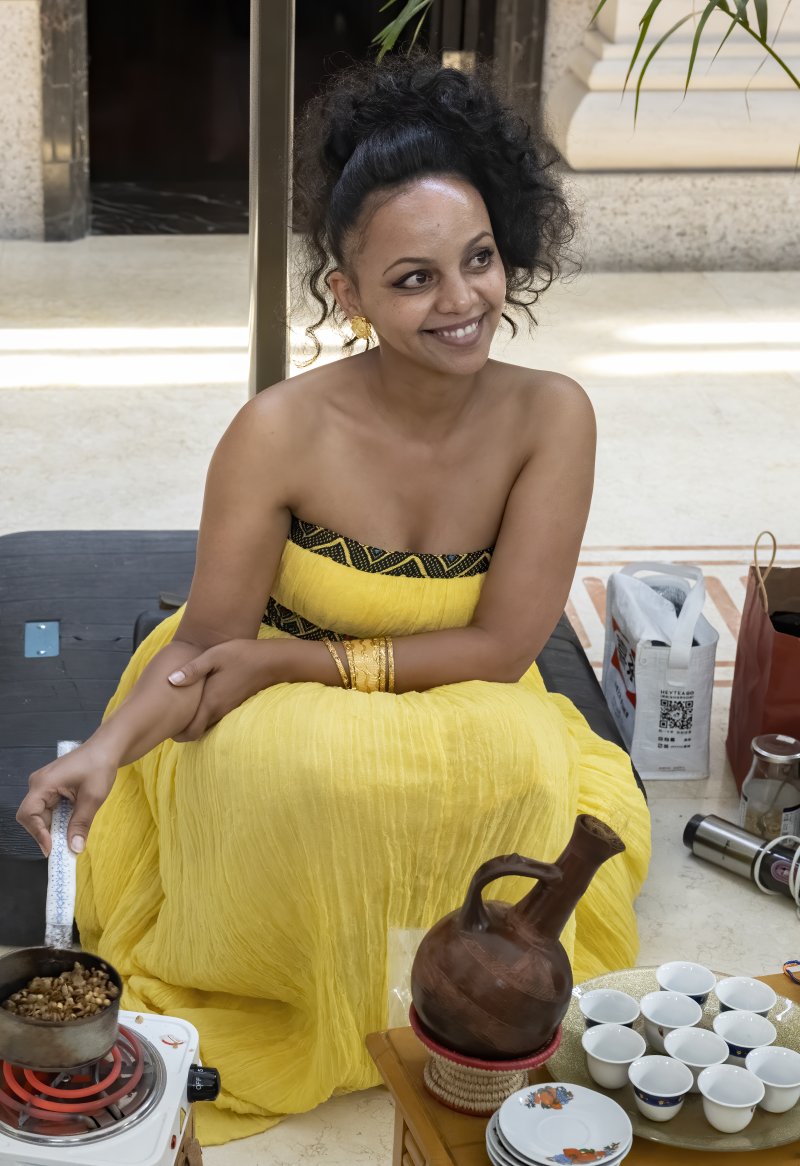 Hi, it's great to talk with you both! Firstly, where did the idea for this event first come from?
Martha: The idea came to me after many of my friends kept asking me about where you can eat Eritrean and Ethiopian food here in Beijing. Then, I thought, why don't we just organize our own cultural event where everyone can come and try some classic Eritrean and Ethiopian food, experience a traditional coffee ceremony, and dance!
Sossi: Yes, the idea for this event came from my super-talented sister Martha, I agreed to partner with her to create this event because I love hosting and connecting with people and love working around different cultures.
Why did you want to organize an event about Eritrean and Ethiopian culture?
M: The organizers for the event are from Eritrea and Ethiopia and we wanted to show people our real culture. 
S: Eritrea and Ethiopia are two countries with so much in common, so celebrating the culture of both countries together is an absolute pleasure.
What are some of the foods people can expect to try at the event?
M: There will be a lot of different traditional Ethiopian and Eritrean dishes at the event including injera [a sour fermented pancake-like flatbread]. 
S: We will also be serving authentic Eritrean and Ethiopian cuisine like "doro wet" (spicy chicken stew), "tibs" (sautéed beef flavored with berbere) along with plenty of other dishes. As well as food we will also be offering traditional Ethiopian/Eritrean coffee, with all the ceremony.
Can you tell us a bit about the performances?
Both: We will have wonderful traditional dancers performing ethnic dances that represent different tribes, all helped along by our DJs.
What kind of artwork will be on exhibition?
M: There will be some paintings from the artist Woldu Afeweki, a famous Eritrean painter. His works show the culture of the Habesha ethnic groups of the Ethiopia and Eritrea. 
What do you hope to achieve with this event?
M: We just want people to have fun and enjoy this unique East African culture.
S: With this event, we hope to bring together everyone who loves these two countries and their cultures and give them the chance to celebrate together with food and music.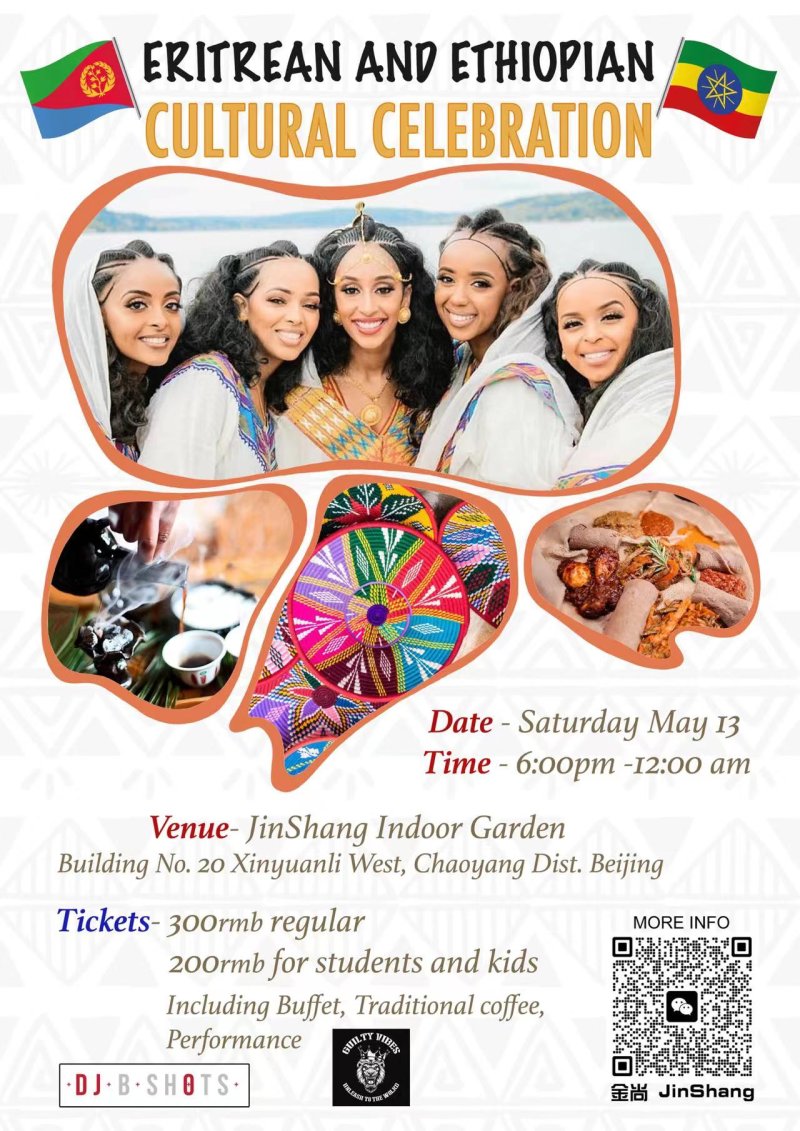 The Eritrean and Ethiopian Cultural Celebration will be taking place at JinShang Indoor Garden from 6pm-midnight May 13. Standard tickets are RMB 300, tickets for students and children are RMB 200 and can be purchased by scanning the QR code in the poster above. 
READ: Jessica's Craft Workshop: Creating DIY Joy in Wudaoying Hutong
Images: courtesy of the organizers