Gardening With Kids: DIY Raised Garden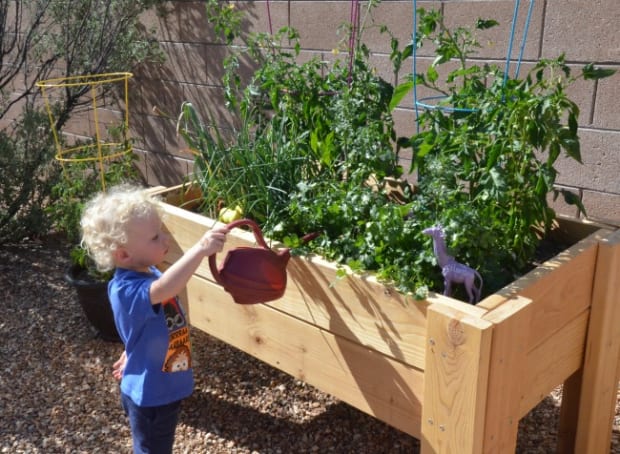 We live in Arizona. This means lots of desert sand and lots of rocks. In fact, our whole backyard is 100% rocks. We decided that it would be fun for the kids to have a little garden. We created a DIY raised salsa garden with the kids.
We're sharing how we made our raised garden as well as some gardening with kids tips and fun finds to make your gardening fun with kids.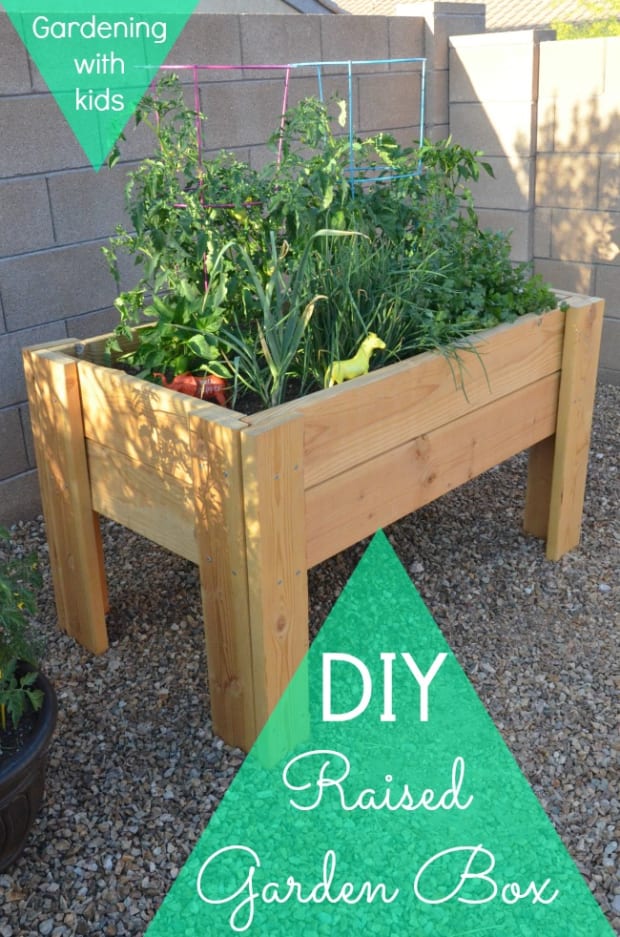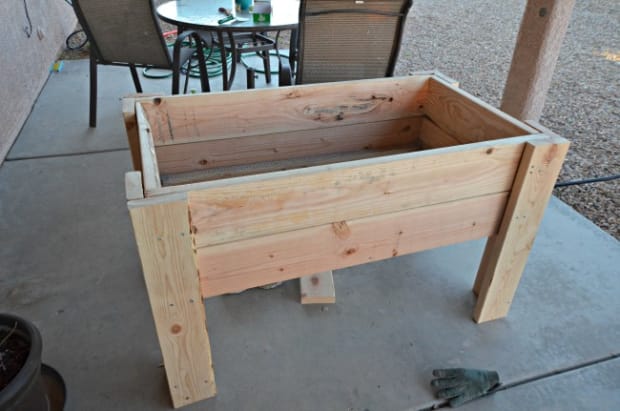 Materials Needed for DIY Raised Garden
This DIY raised garden is pretty easy to put together. Just go to your local hardware store and get wood cut to these lengths. We used a drill and wood screws to assemble the pieces.
Supplies:
2x8 boards (sides)
Four 4 ft pieces
Four 2 ft pieces
2x6 boards (legs)
2x2 board
Furring Slat
Wood Screws
4 feet of ½ inch mesh wire, 19 gauge (chicken wire)
Heavy duty silt-fence fabric, 24 in. x 5 ft.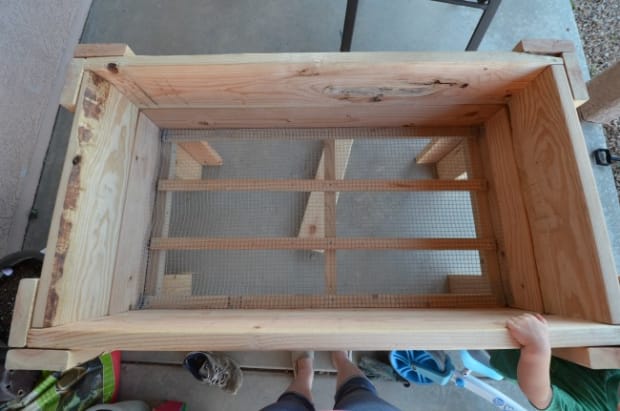 DIY Raised Garden Directions
Begin by taking 2 of the 4 ft. and 2 of the 2 ft. side boards and screwing them together to create a 2x4 box. Repeat the process with the remaining side boards.
Stack the 2x4 boxes on top of each other and attach the legs by screwing 2 of the 31 1/2 foot pieces on each corner to make the legs. Be sure to stand your garden up to check for stability and make sure it's level.
Lay your 3, 2x2 inch boards across the bottom and screw. Use the furing slats to create a bottom of your bed by laying the 4 slats across longways and screw to secure.
Layer your chicken wire and staple it down, then add fabric (not pictured) across the bottom.
 Fill with potting soil and start planting.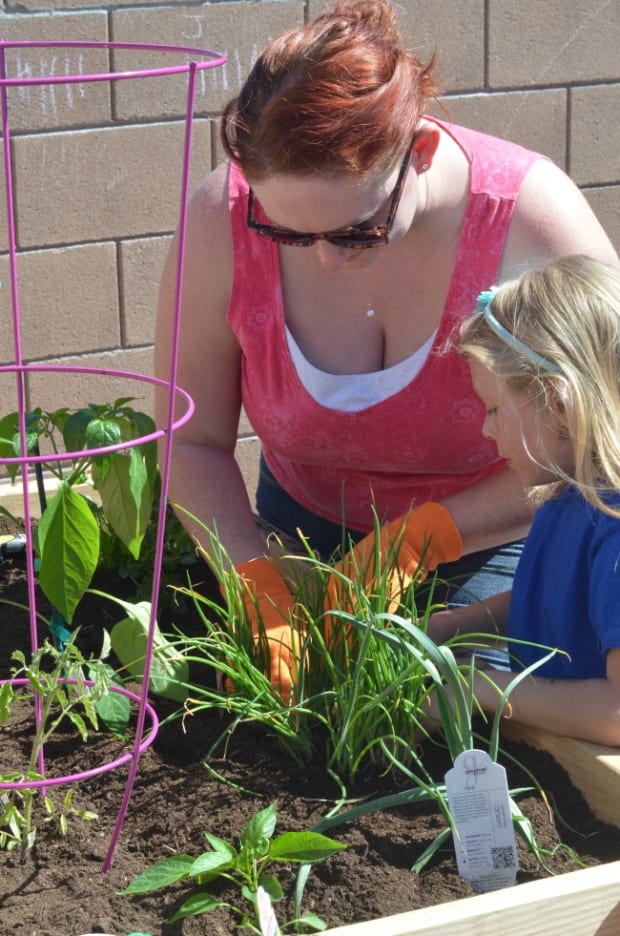 Gardening with Kids Tips
Kid's choice. We let each kid choose a tomato plant and colorful tomato cage for "their plant". This helped them immediately have a sense of ownership and they feel invested in the garden from the start.
Watering. Kids can help with watering plants. Whether it's with a hose or from a watering can, let them help them grow. We learned that the best time to water plants is in the morning. That way the sun can dry any water thats on the leaves and won't cause mildew Also watering in the morning will allow the plants have water all day long during the heat.
Encourage growth. Our kids sing to our plants. I'm sure our neighbors love us for this. We watch the growth and count the budding fruits together. We watch the flowers bloom, then fall off and then tomatoes appear. It's like magic to kids. They also help pull any weeds and dead leaves from the plants.
Little touches. We added safari animal garden markers to our garden. You can also paint rocks, add little gnomes or pinwheels to add a bit of whimsy to your garden space.
We shared some of our favorite gardening with kids finds further down in the post.
The kids love to watch our garden grow and we can't wait to eat the fruits of our labor this summer.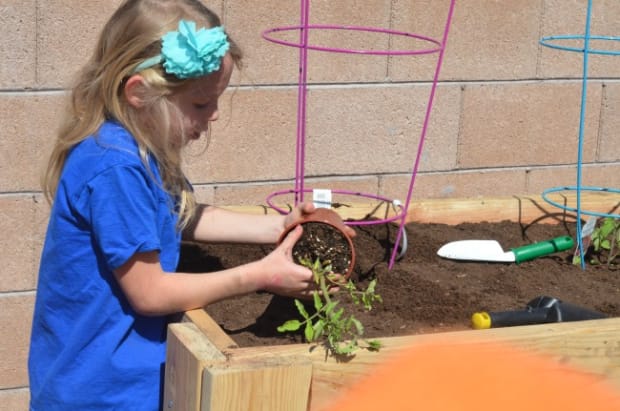 Growing a Salsa Garden
Since this was the first time gardening with vegetables we wanted keep it fairly simple. This garden size is perfect for a salsa garden. We planted 2 tomato plants across the back, 3 peppers in the middle and garlic, onions and cilantro across the front.
This is what it looked like when we first planted it. Those tomato plants really exploded!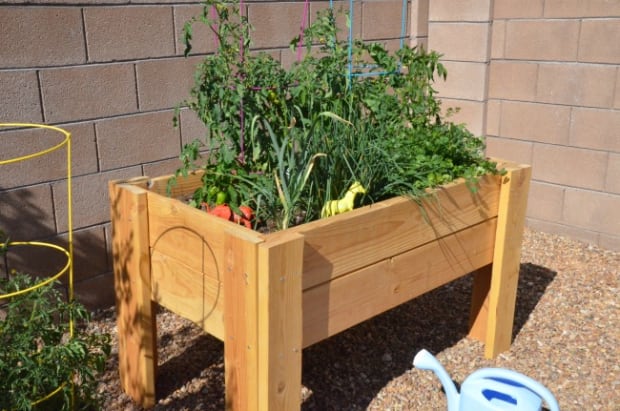 We added a little color to our garden with our Safari Garden Animals markers. They added a fun colorful touch to our garden. It was a fun outdoor craft for the kids and they loved adding that little touch to the garden while we were waiting for things to become ripe.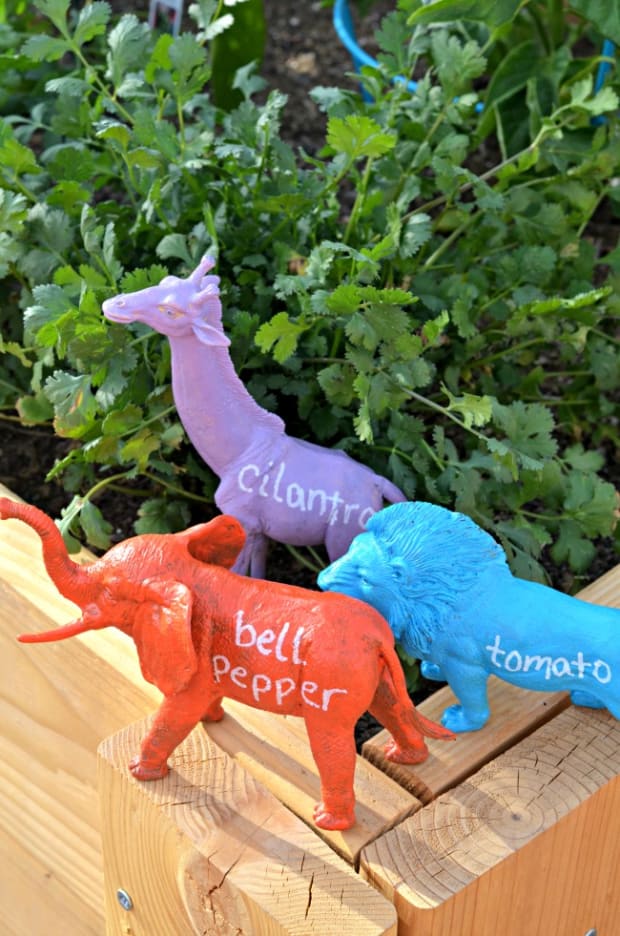 Look how much our little bell pepper has grown in just a few days!
Here are some other goodies you and your kiddos will find fun while gardening together. While we created our own raised garden bed, you can also buy them pre-made. 
MORE KID-CENTRIC IDEAS FROM MOMTRENDS
PIN IT!
Use pinterest to save your favorite family travel destinations to help inspire your next trip. Be sure to follow our Travel with Kids board here.
 This is not a sponsored post. This post may contain affiliate links.