GIFTS I LOVE TO GIVE (+ A GIFTING PLANNER)
This year the gift guides have been coming at us with full force and the pressure to shop early and to shop a lot feels more intense than ever. Frankly, I'm feeling a little stressed out!
With that in mind I decided to approach the topic of gifting a bit differently by offering a way to help you get organized with my simple Gifting Planner (download it below). I create one of these for myself every year and figured it could be helpful for you too. Honestly, if you just spend 15 minutes jotting down who you're shopping for, what you want to get them, and start ticking items off the list this week, you'll be well on your way to a stress-free holiday season!
In addition to the planner, I've also curated a guide of gifts I love to give (& get), which should help to spur on some ideas for you. As with everything I share, it's all about simplicity and quality, rather than the latest gadget or trend.
Oh and if you need a simple greeting card, a sustainable wrapping idea, and cute gift tags, that's all in here too!
---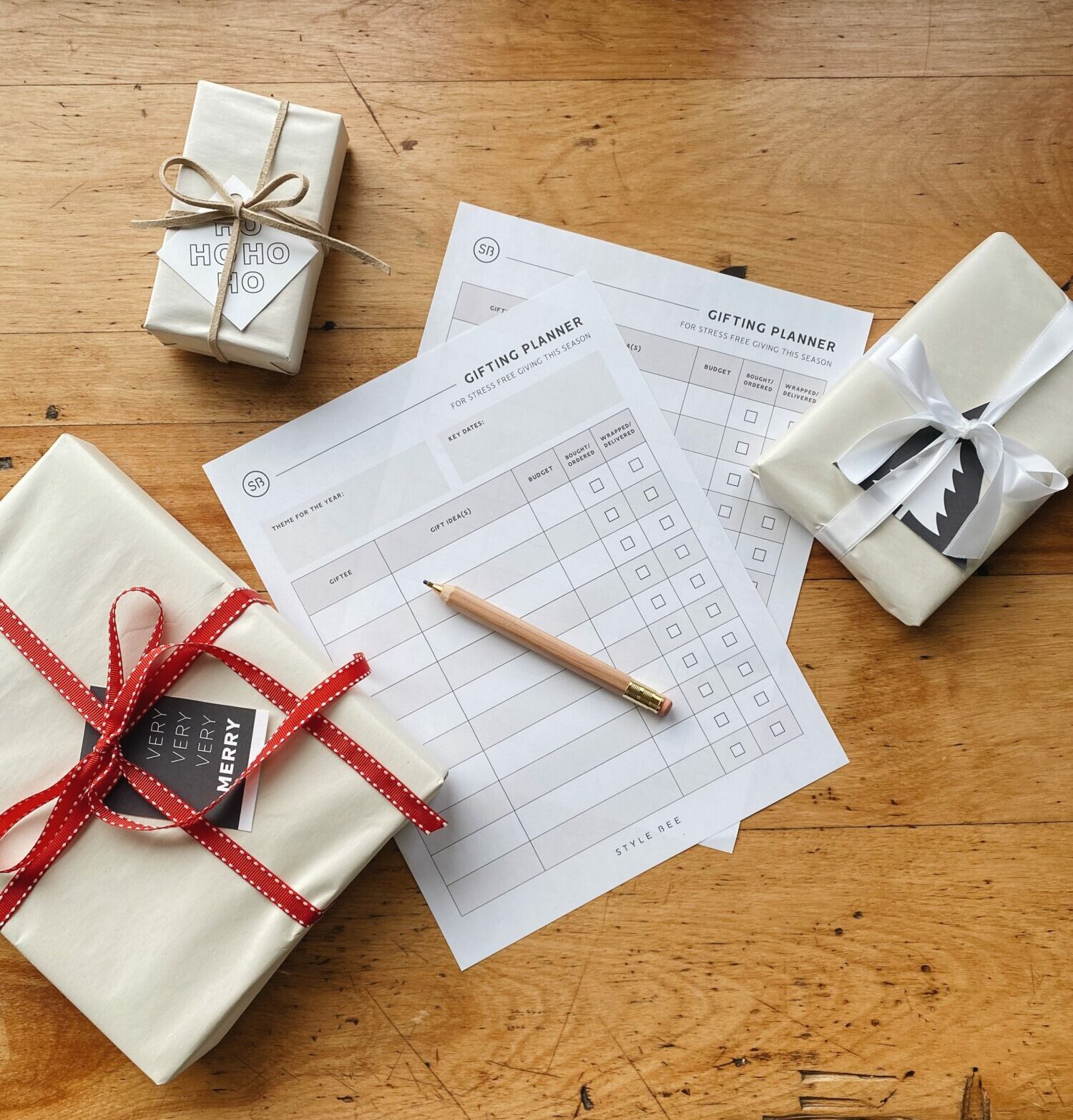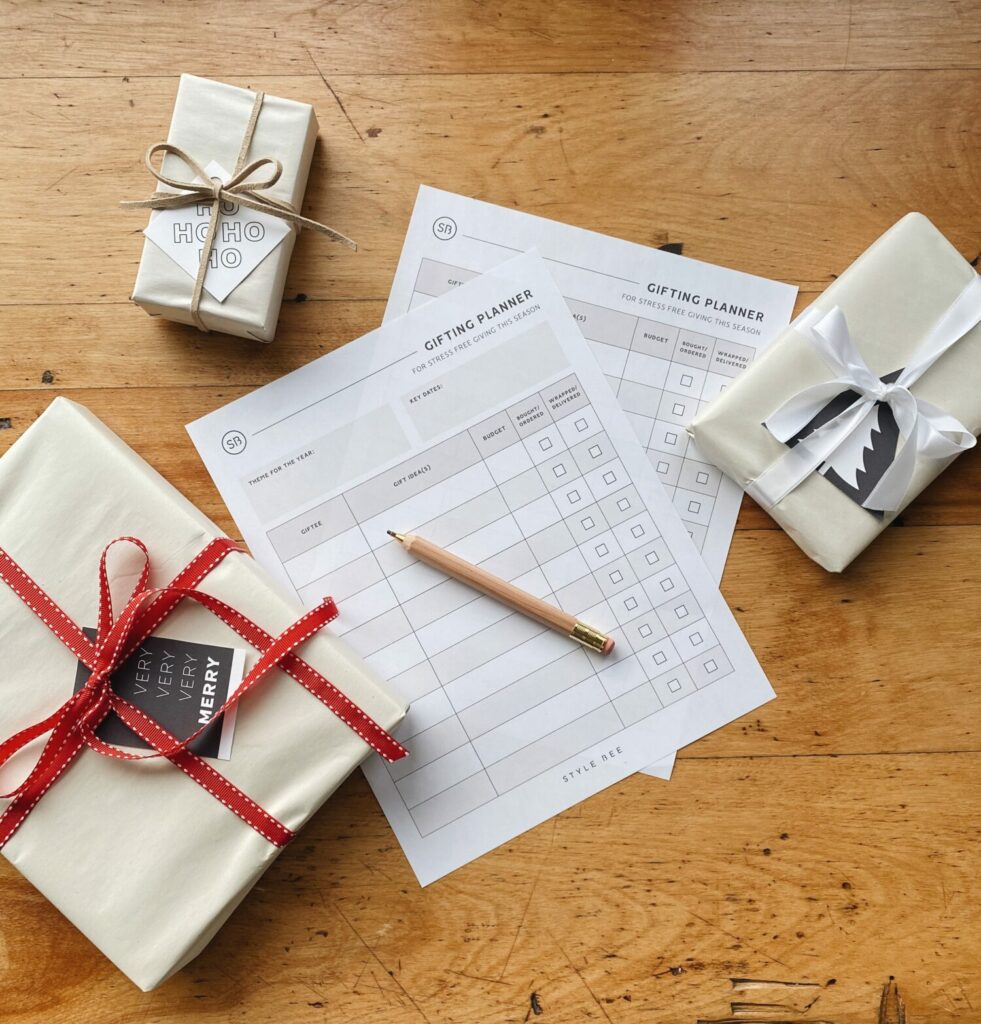 ---
It's two pages, with room for 22 giftees, and fully editable. This simple planner will be sure to help you have all your holiday shopping done in no time.
---
THEME FOR THE YEAR: I like to start my planning with a theme for the year. This might be something along the lines of sustainability, local makers, getting together, fun activities, comfort, or whatever you've been feeling inspired by. No need to overthink it, I just find that having a central theme can be really helpful as I begin my holiday shopping.
KEY DATES: These might be shipping deadlines from shops you plan to order from or get-togethers happening throughout the season. This section helps to keep them on your radar as you shop.
PS: Don't forget to include yourself on the list! Even if you just treat yourself to something small, you're an important giftee too!
---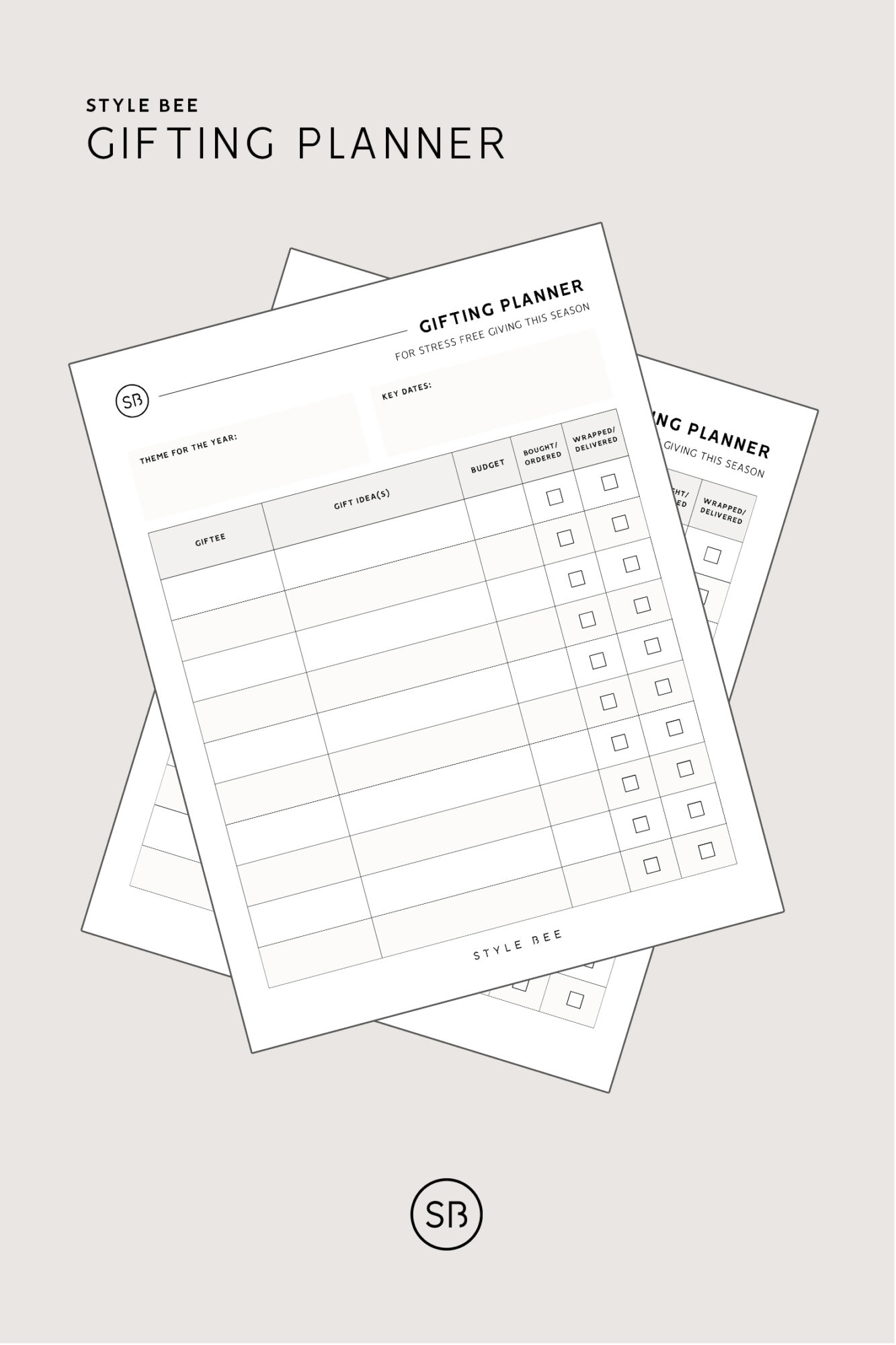 ---
Once you've downloaded the planner, peruse the Style Bee Gift Guide for lots of ideas!
---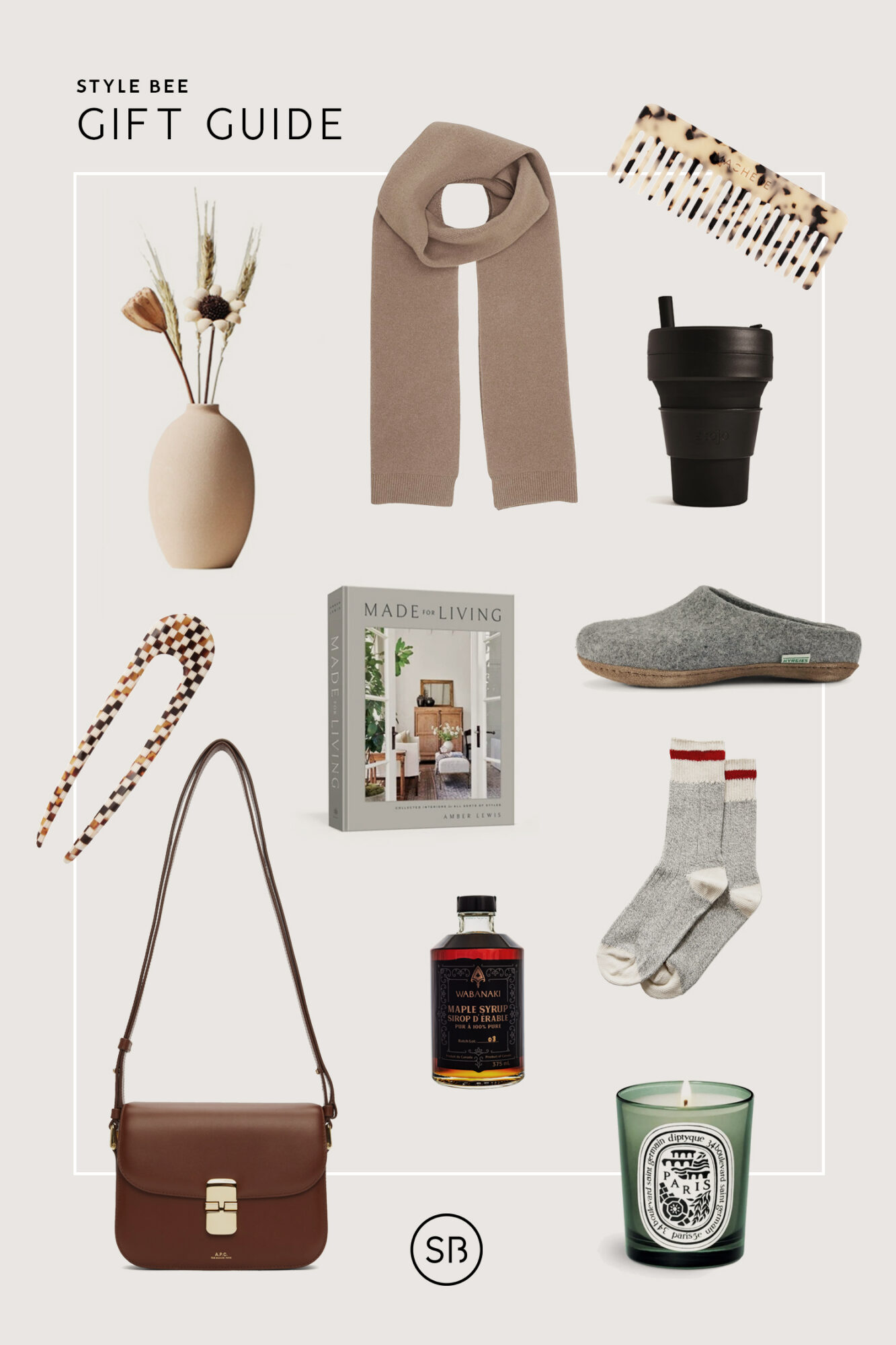 ---
GIFTS I LOVE TO GIVE *MOSTLY* UNDER $100
+ A FEW IDEAS FOR SUPER LUCKY GIFTEES
Of course, if you can shop local, this year is a really critical one for the small businesses in your community. Seek out holiday markets and craft fairs to see if you can find some one-of-a-kind gems made by local artisans. Hand-made gifts always feel extra special.
---
CANDLES + INCENSE
---
While not the most original, I'll never tire of receiving a beautiful scented candle or incense as a gift and I love giving them too. Candles in particular make for a simple but long-lasting gift that your giftee can use in a myriad of ways. I've listed some of my favourites below:

---
BRAND & IRON (made in Canada via ETSY)
MALA the BRAND (made in Canada via Indigo)
PROVINCE APOTHECARY (Incense, made in Canada)
BOY SMELLS (I order via Indigo)
DIPTYQUE (famous for good reason)
ILLUME (available via Well.ca)
CONVIVIAL PRODUCTION (available via ETSY)
100 YEARS OF LOVE (made in Canada, Mary Jane is my favourite.)
APPRENTI ÔR'GANIK (made in Canada, beautiful scent profiles)
THE CUTEST MATCHSTICK HOLDER (Made in Canada)
---
COZY ESSENTIALS & ACCESSORIES
---
Here in Ontario, the novelty of winter wears off about 45 minutes into January 1st, so it's really nice to have some fresh cold weather essentials and accessories to take the edge off.

---
MERINO WOOL THROW (Use LEE15 for 15% Off)
LA TISSERANDE TOQUES (Made in Canada, Dave wears his daily.)
MERINO WOOL SCARVES BY COLORFUL STANDARD (Use STYLEBEECS10 for 10% Off)
CASHMERE SCARF by EVERLANE (I have this in ivory and it's so soft and versatile.)
ALPACA SCARF by CUYANA (Luxurious for the price point.)
ALPACA WOOL MITTENS (Reversible and made in Canada)
EAR MUFFS via ETSY
SHEARLING SLIPPERS by A BRONZE AGE (Canadian Brand)
FELTED WOOL SLIPPERS by KYRGIES
CLASSIC CAMP SOCKS by PROVINCE OF CANADA
RENEW TEDDY SLIPPERS by EVERLANE
SUPER CUTE CHEETAH SLIPPERS by FREDA SALVADOR
ANDES BEANIE by BARE KNITWEAR (Canadian brand.)
MY FAVOURITE COTTON SOCKS (Use LEEV10 for 10% Off at KOTN, Canadian brand.)
---
FRAMED PHOTOS / CALENDARS / PHOTO BOOKS
ARTIFACT UPRISING is my go to for framed photos and custom calendars, both of which I give to my parents each year. The quality is excellent and worth every penny (even with the exchange rate).
PIKTO has become my go-to for photo books. They're based in Canada and the print quality is excellent.
---
---
STATIONARY SUPPLIES
So many of us work from home now and it's always nice to have some fresh supplies like notebooks, pens and other office accoutrements to start the year.

---
Here are a few stationary brands I love and spots to shop:
TAKE NOTE (Canadian)
PAPER PLUS CLOTH (Canadian)
INDIGO (Has a great selection too!)
---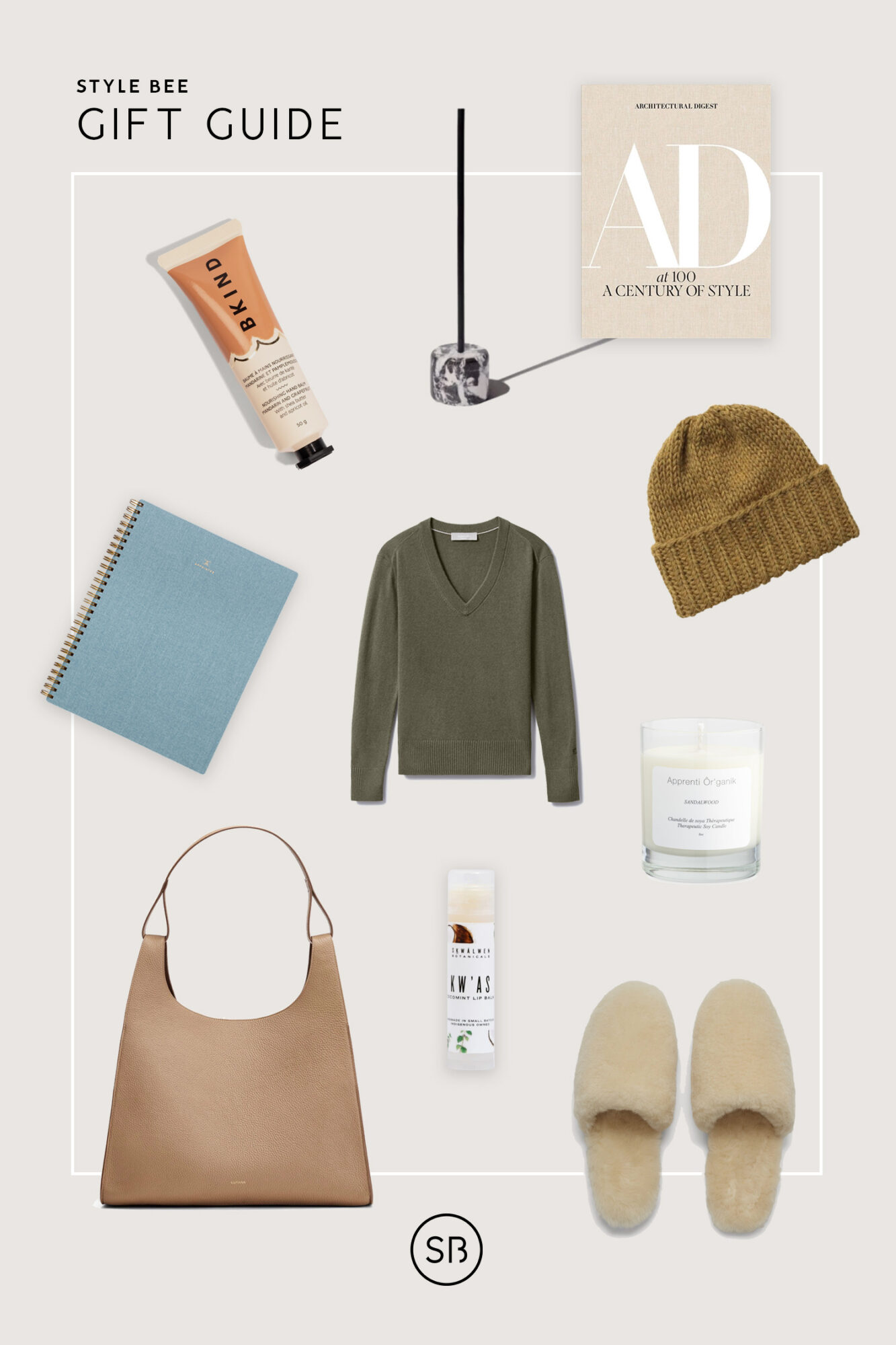 ---
BEAUTY FAVOURITES
Simple, gentle, skin care products make great stocking stuffers or additions to a heartfelt card.

---
COCOMINT LIP BALMS by SKWÁLWEN ( made in Canada)
LIP FUEL by KOSÅS (a personal favourite)
HAND CREAMS by AESOP (This is my Mum's favourite.)
HAND CREAM TRIO by CAUDALIE (Cute package that's tree-ready!)
NOURISHING HAND BALM by BKIND (A personal fave, made in Canada.)
FACE MASKS by FARMACY (a personal favourite in winter)
EYE MASKS by 100% PURE (I LOVE these and the results are legit.)
HAIR ACCESSORIES by MACHETE
---
BEAUTIFUL BOOKS
While I'm definitely an audio-book convert when it comes to novels and non-fiction, I LOVE a gorgeous coffee table book to peruse for inspiration anytime. I've linked to Indigo below but give your local bookstore a call and see if they have any of the titles you're looking for. Here are some I love and have on my wish list
---
INTERIORS

MADE FOR LIVING | THE ORGANIZED HOME | HOMEBODY | LIVE BEAUTIFUL | STILL THE SLOW HOME | AD AT 100 A CENTURY OF STYLE | WILD INTERIORS
TRAVEL

EPIC DRIVES OF THE WORLD | 99% INVISIBLE CITY | ITALY by GRAY MALIN | ESCAPOLOGY | THERE AND BACK | ACCIDENTALLY WES ANDERSON
COOKING

LEMON LOVE OLIVE OIL | BAKE CLASS | FRESH AND LIGHT | FARM TO CHEF | SALT FAT ACID HEAT | 5 INGREDIENTS | ON BOARDS
PLANTS / GARDENING

FLORET FARM'S CUT FLOWER GARDEN | A YEAR IN FLOWERS | RAISED-BED GARDENING FOR BEGINNERS | GROW GREEN | CULTIVATED | THE GREEN WITCH
---
PLANTS, FLOWERS & VASES
A *previously* local florist, Blooms & Flora, offers monthly flower subscriptions, so I love to get a season's worth for my Mum and mother in law. See if your favourite local florist offers these too!
Antique markets and ETSY are great for affordable, vintage and handmade vases. Some I really like are:

My favourite Canadian ceramicists are:
---
SUSTAINABLE KITCHEN ESSENTIALS
For the hosts, home makers and domestic heroes on your list, something beautifully designed and sustainable for the kitchen is never a bad plan.

---
BRUSHES // SWEDISH SPONGES // STOJO // BEESWAX WRAPS // TEA TOWELS // THIS APRON (A personal favourite, made in Canada) // GLASS STRAWS // NET BAGS // SPOON REST // OLIVE OIL DISPENSER // MEASURING SPOON SET // HAND MADE TEA SCOOPS
---
FOR THE KIDDOS
We gave a subscription to KIWICO to our niece and nephews last year and it was a hit. It's a great activity for the whole family to enjoy together.
Of course I love giving bedtime books and our nephews have a YOTO player, which is a genius screen-free device. Dave and I recorded one of our favourite children's books and the boys got a real kick out of hearing our voices reading aloud on a long car ride.
---
SUPPORT A CAUSE
For the hard to shop for or minimalist folks on your list, supporting a cause you know they care about is a good option.
Nature Conservancy Canada is one of the Canadian charities I support. They are doing some incredible work, in partnership with Indigenous communities, to preserve, rehabilitate and help vulnerable species and ecosystems thrive all across Canada. You can symbolically adopt an endangered/threatened specie, which makes a great gift for the nature lovers on your list!
---
FOR THE LUCKIEST GIFTEES ON YOUR LIST
If you're planning to gift something a bit more luxurious to a few folks (or perhaps yourself!), I would definitely recommend the following:
THE COCOON CARDIGAN by JENNI KAYNE (Use LEE15 for 15% Off)

---
CLASSIC CASHMERE or ALPACA FAVOURITES by EVERLANE

---
LUXURIOUS LOUNGEWEAR by EILEEN FISHER

---
A TIMELESS TOTE by CUYANA

---
A BEAUTIFUL CROSSBODY BAG by A.P.C.

---
LINEN BEDDING by SOMN HOME (USE STYLEBEE10 for 10% Off.
MORE ON THIS CANADIAN BRAND HERE.
---
FINE JEWELLERY by ATTIC GOLD
MORE ON THIS CANADIAN BRAND HERE.
---
THE MOST BEAUTIFUL PERUVIAN KNITWEAR by BARE KNITWEAR
MORE ON THIS CANADIAN BRAND HERE.
---
SMALL BUSINESSES I LIKE TO SHOP FROM ONLINE ARE:
RUG & WEAVE – For beautiful homewares and textiles. – Use LEE15 for 15% Off!
JUNE HOME SUPPLY – So many lovely home goods and small gifts that are thoughtfully made and carefully curated.
CHARLIE & LEE always has some great holiday sales and lots of thoughtfully made gems for the style inclined folks on your list.
ETSY is one of the places I do a lot of my gift shopping because there are tons of unique Canadian brands and vintage gems.
---
IN PERSON MARKETPLACE
OOAK SHOW is a mega market in Toronto that hosts some of Canada's best makers and independent designers. On from November 25 – December 5, 2021.
---
WHEN IN DOUBT, NICE WINE, LOCALLY ROASTED COFFEE, OR ARTISANAL MAPLE SYRUP & A CARD NEVER FAILS!
FOR WINE: Two Faces Wine Bar (Guelph) & Grape Witches (Toronto with Ontario-wide shippiing) are both women-owned and offer beautifully curated selections from around the globe.
FOR COFFEE: I love trying out different local roasters and gifting a pack to the caffeine lovers on the list.
FOR MAPLE SYRUP: I cannot recommend WABANAKI MAPLE enough. The company is Indigenous and woman-owned, and the maple syrup is refined using traditional techniques passed down through generations. They ship anywhere in Canada!
---
Gift certificates for a movie night, artisanal cheese board or dinner out are perfect treats for the foodies in your family too.
I even designed a free printable card for you!
---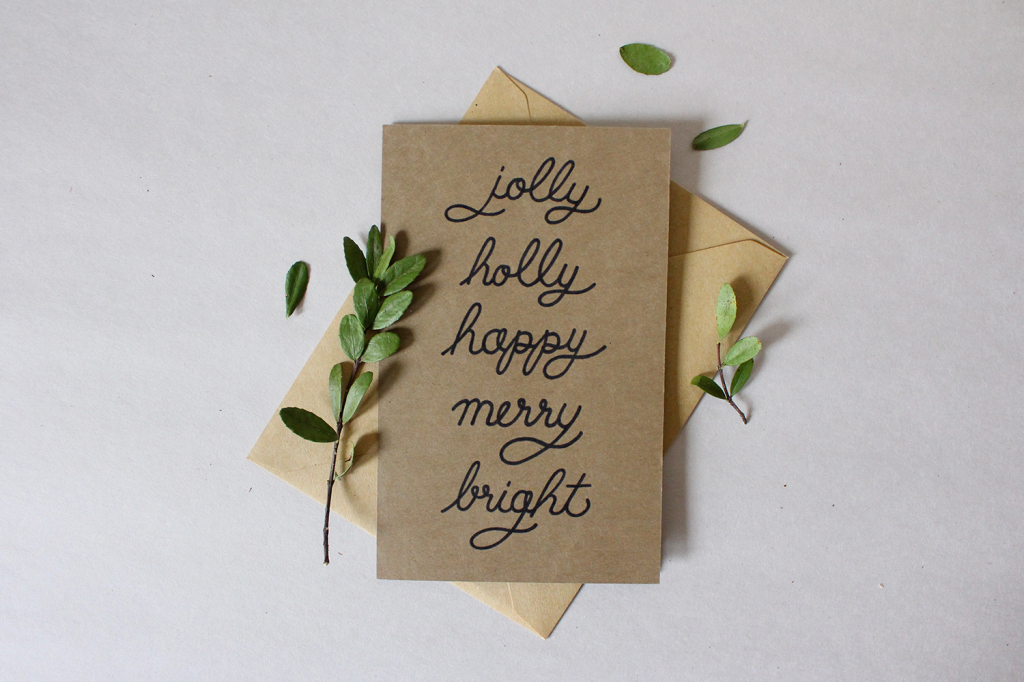 ---
SKIP THE NEW WRAPPING PAPER AND HANG ONTO THE PAPER FROM YOUR ONLINE ORDERS!
This post covers how I re-use tissue and kraft paper from my deliveries to wrap gifts.
---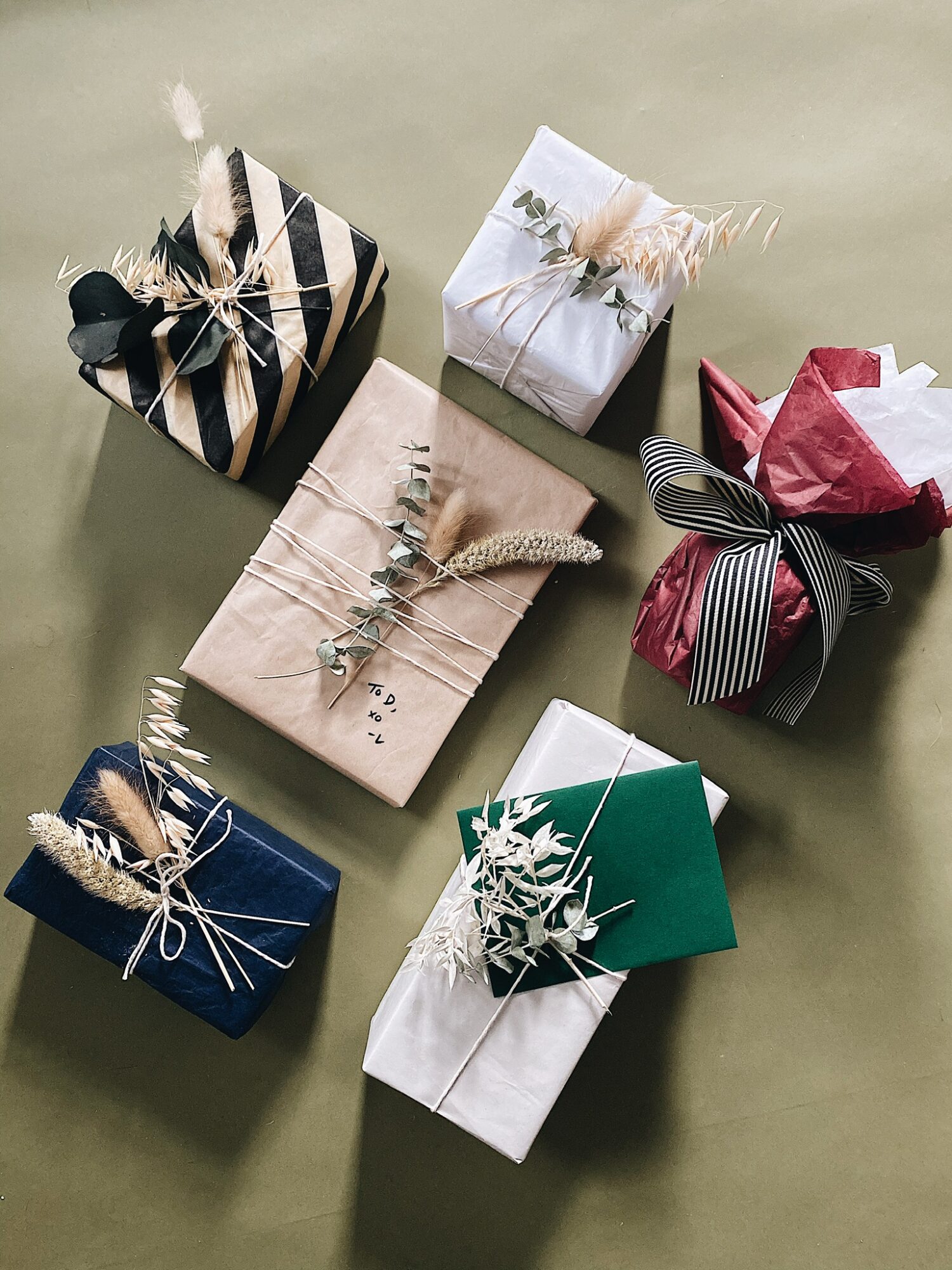 ---
JUST NEED SOME LAST MINUTE GIFT TAGS?
---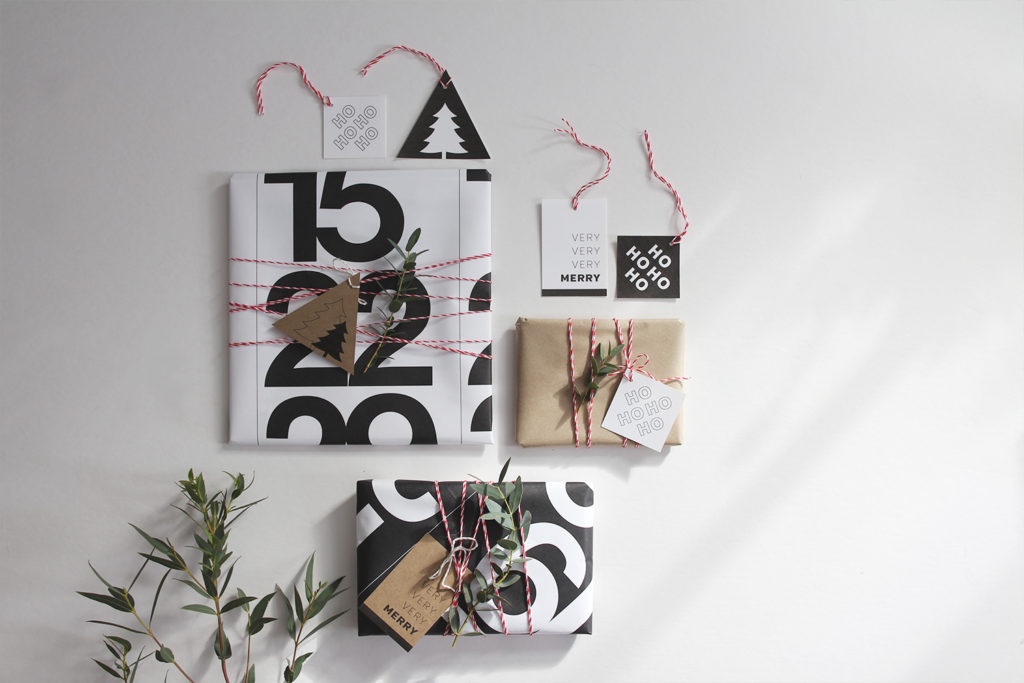 ---
THANKS FOR READING!
I HOPE THIS GUIDE GIVES YOU SOME EASY-GOING GIFT IDEAS!