Go on a Christmas Light Scavenger Hunt in the House
Click here to read Go on a Christmas Light Scavenger Hunt in the House on Hands On As We Grow®
---
Here's another Christmas scavenger hunt for ya! Last year the boys did a Christmas scavenger hunt for gift bows. This year, I made a Christmas light scavenger hunt to find and make a string of Christmas lights!
Not to be mixed up with many of the Christmas light scavenger hunt ideas out there where you go around the neighborhood or town to find specific light setups in others' yards. This is in your own home, finding paper Christmas lights to make a string of Christmas lights for the tree!
Prep for a Christmas light scavenger hunt:
While Louis was napping, I prepped for the scavenger hunt by cutting out a bunch of colored lights. I just used scraps of whatever I had on hand: blue, green, purple, pink, red, yellow.
I cut different numbers of each. Two red lights. Three yellow lights. Six greens lights and so on.
I then cut an extra of each color and glued them onto a piece of black cardstock (affiliate link). I drew a string across it in white crayon, too.
On each light on the black paper, I wrote the number of lights I cut out of each color. So on the green light, I wrote 6.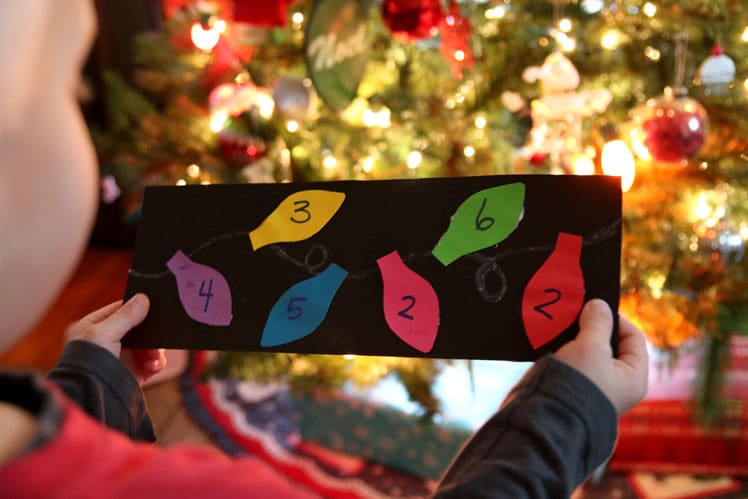 Then George joined me to see what I was doing and informed me that all my lights looked like leaves…. darnit. Well, they're supposed to be Christmas lights.
I then had him go upstairs to play while I hid them around the house.
I taped them to things everywhere!
Hunting for the Christmas lights:
And then George began his hunt for the Christmas lights. He used the black paper with lights as his key to what he needed to find.
He was determined to find all of one color before moving onto the next.
It got to be very difficult for him, so I suggested he may just want to try finding what he can and we can sort and count them in the end.
Once he found a Christmas light, I taped it onto a string that I cut from green hemp cord (affiliate link) to make a string of lights.
Find more non-traditional Christmas scavenger hunt ideas like this here.
George looked and looked for the lights. If he was struggling, I'd give him hints.
Turn around now! Look!
You're almost touching it now!
Its between you and me!
Make a string of Christmas lights!
When he thought he found them all, he counted each color of lights on the string I made as he found them.
He found that he was short a couple, so we continued the hunt.
Of course, there was one green light that we just couldn't find. It always seems to happen when we do scavenger hunts (especially for Easter hunts)!
We went on to hang the string of lights on "George's" Christmas tree.
And then… the missing green light was found.
More Christmas activities for holiday fun: