Handprint Ladybug Craft With Printable Template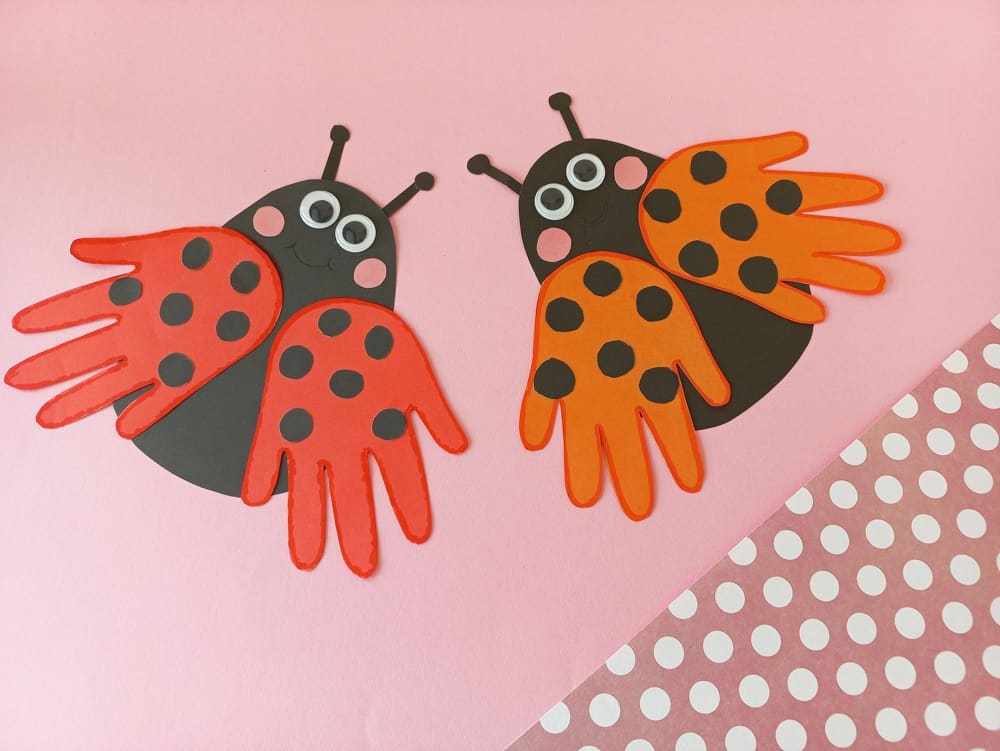 By using this site, you agree to our Terms of Use. This post may contain affiliate links. Read our disclosure policy.  
Follow us on Instagram for more fun ideas for kids!
This handprint ladybug craft is the perfect spring craft! A great hands-on activity for kids of all ages! Great fine motor skills learning activity! 
Making ladybug crafts are always fun for spring! This simple handprint craft is a great way to get the kids to do a literal hands-on activity! The more that they can create and craft with their hands, the better! 
If you're looking for a simple craft idea that's a lovely keepsake kids will love, this is the one! It's not only adorable to make, but it's one that they'll have fun with as well. 
Is there a template needed? 
Yes, to make this ladybug craft, you'll need to use our printable template. While it's possible to make it without a template, the included template will just make the process so much easier. 
What can you make out of handprints?
This is where crafts like this are awesome! Handprints can be used for so many different types of fun crafts. Some of my favorites are: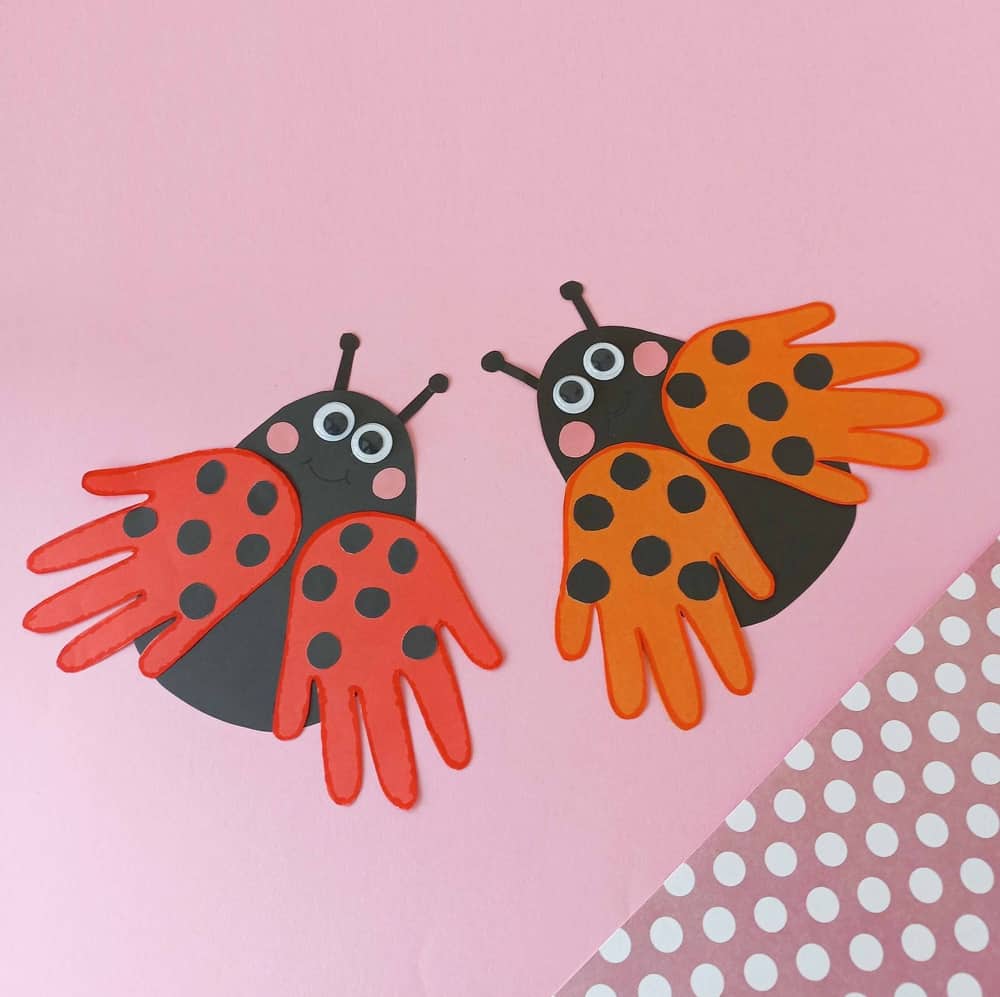 And these are just a few! Using the kid's handprints opens the door to making so many fun and cute ideas! As long as they're wanting to be creative and have festive fun, there are so many crafts to be done. 
What paper is best for handprints?
While I'm all for using what you have at home, I will have to agree that thicker paper is better for crafting. Since little hands are going to be using this paper and creating with it, it's better to have a thicker paper than a thin one. 
Why are handprint crafts great for kids? 
There are many positives to handcraft activities. First, it's a great way to get the kids to notice that they can make fun crafts tracing and cutting out what they traced.
Since they can trace their own hands for this activity, this is a fun way to show them to think outside the box for creativity. 
Once they realize that crafting doesn't have to be complicated, you can then help them work on scissor skills. When they're young, learning how to hold and use scissors correctly is key. 
There are also a ton of fine motor skills that are learned from doing this craft – and they'll get to use them all! From holding and turning to folding, this craft is great for little hands to work on. 
Is parental supervision needed for this craft? 
I always recommend that parental supervision happens with all the crafts. There are a lot of moving parts to the craft, so having a parent or adult help is key. 
In fact, I think that having the family sit down and craft together is never a bad idea. The kids will love that you're going to be a part of the crafting fun, and it's the perfect way to sit down together and spend some quality crafting time.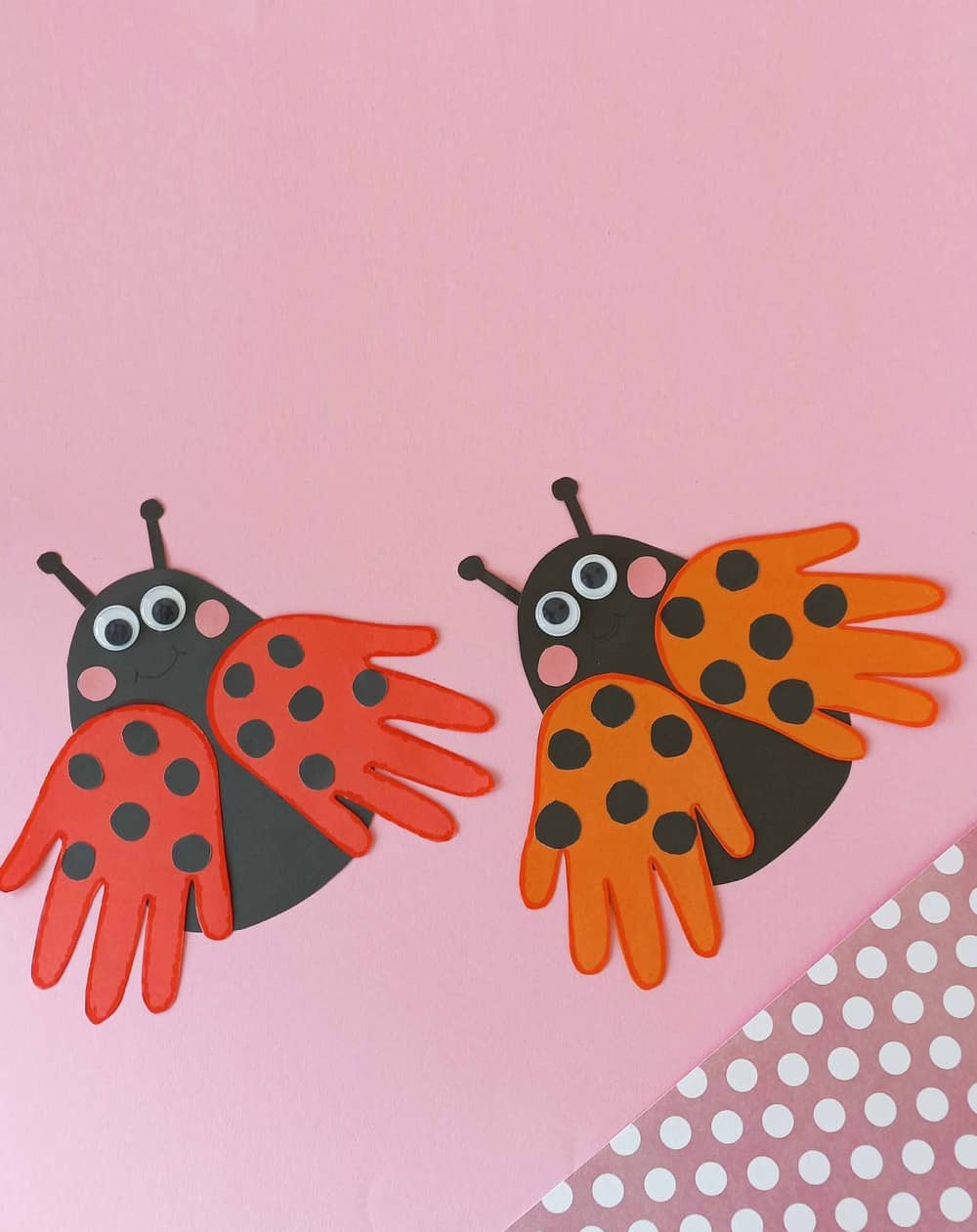 Handprint Ladybugs – Materials 
Colorful Craft Papers
Pencil
Scissors
Glue
Googly Eyes
Ladybug template (note the hand is also in the template as a sample, but we of course encourage you to trace your child's hand!)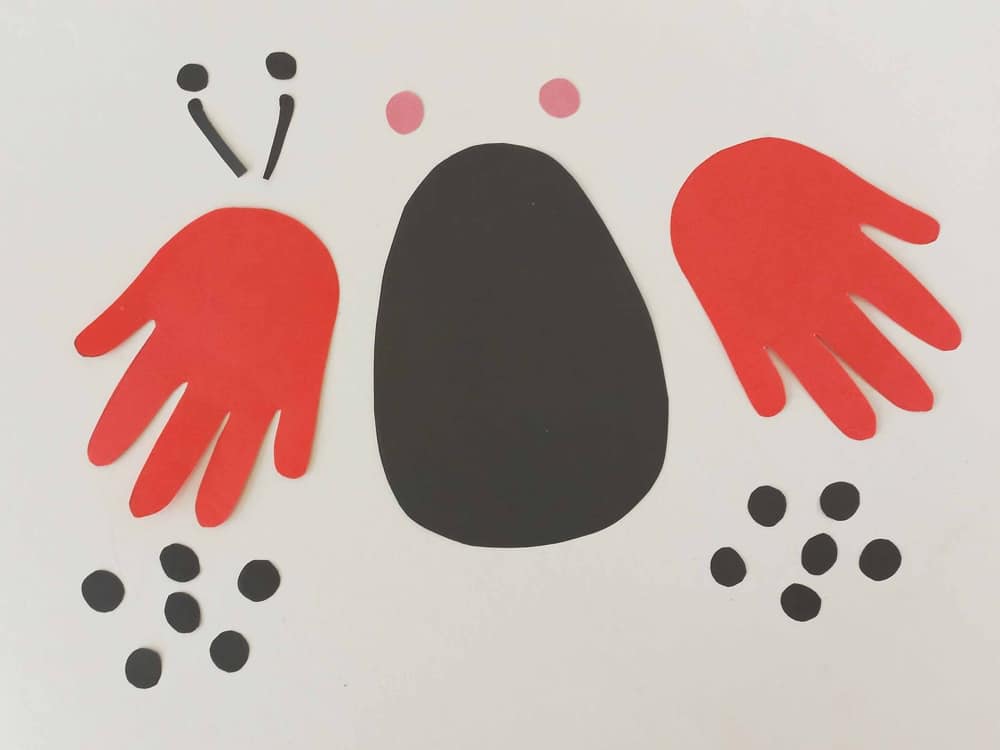 Tips for making handprint crafts 
One of the biggest tips about making handprint crafts is that if you want to trace the hands without the template, you might need to trace the hands a few times. I always tell the kids that we're going to practice a bit before actually being able to find one that we're going to use.
The fun part about doing this is that it gets the kids to slow down and take their time so that we get a usable one for this craft. Plus, they can still have a blast coloring and decorating the hand tracings, even if they're not the ones that you're going to use. 
Make sure to also take time and let the glue dry on this craft. If the process is rushed, the entire craft might fall apart and not stick together. 
Fun Ways to Share this Ladybug Activity 
There really is an endless list when it comes to all the ways that crafts can be shared. for the most part, just plan on making a space on the fridge or the shelf and showing it off! 
You can also mail this ladybug craft to all your family and friends. It's the perfect way to welcome spring and summer and show off some of the kid's crafts at the same time.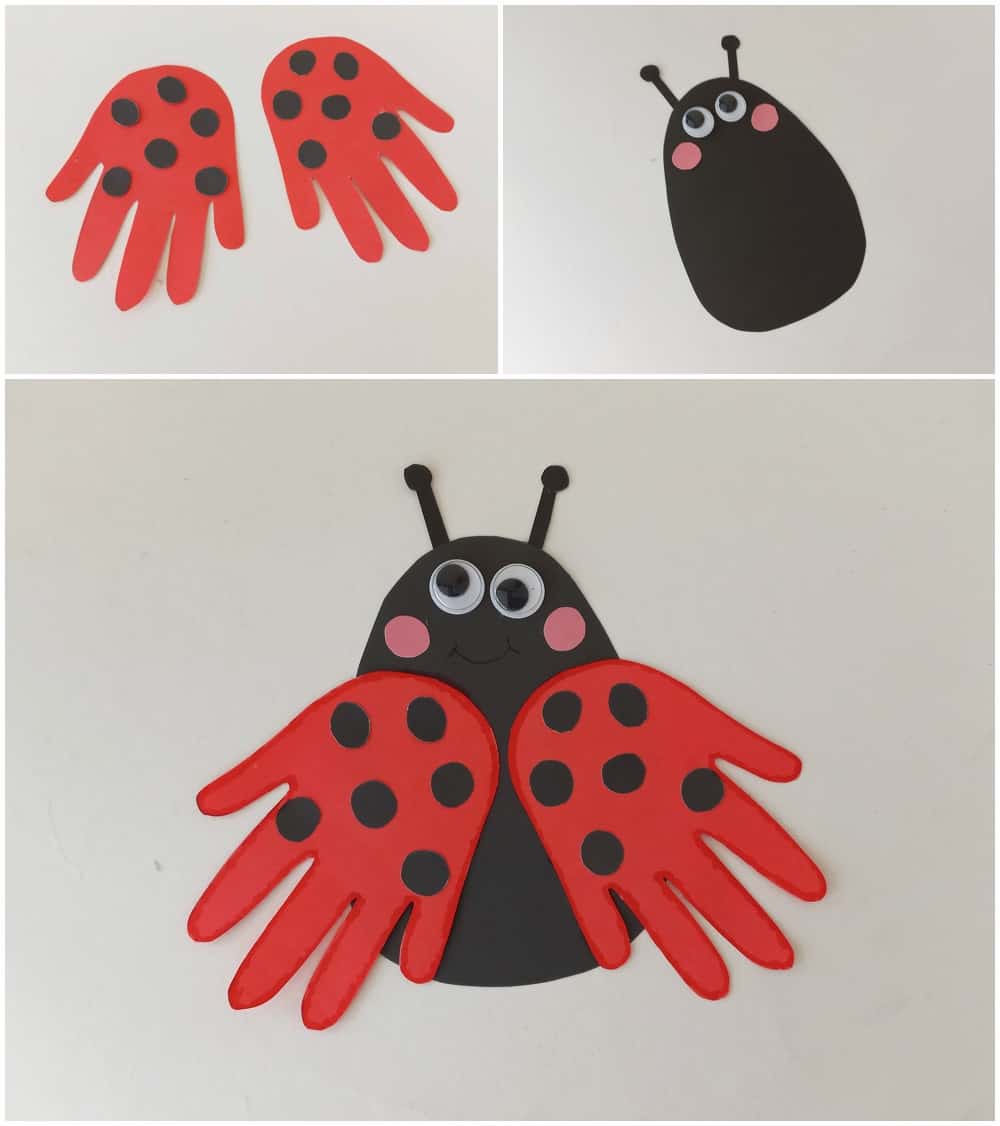 Can I change up how the ladybug looks? 
If the kids want to make their ladybug look unique, let them! They don't have to follow the typical color scheme of the ladybugs if they don't want to! 
They can use blue paper, orange paper, or yellow paper too. As long as they're being creative and having fun, there's nothing wrong with whatever creativity they want to use to make this craft. They can also add dot stickers or markers to color the wings! 
As you can see, this is a simple craft that is great for all ages. Gather up all the needed supplies and let the kids get started! Have fun with the craft idea and see what else the kids can do to make it unique and their own! 
More fun Bug crafts for kids 
Yield: Handprint Ladybug Craft
Handprint Ladybug Craft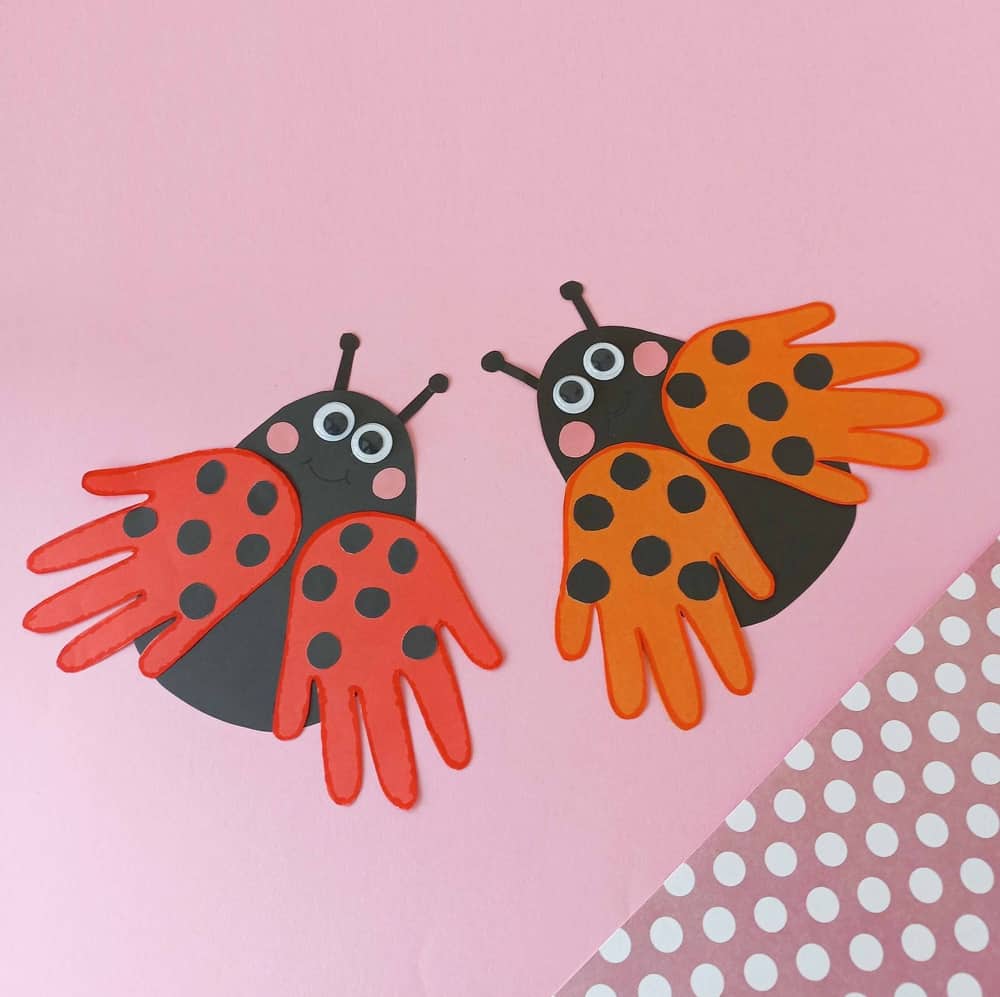 Handprint Ladybugs are a fun and easy craft for kids! Great for fine motor skills!
Materials
Colorful Craft Papers and Black Paper
Pencil
Scissors
Glue
Googly Eyes
Instructions
Print out the template and then cut out the patterns. Trace the pattern on the paper and then cut them out. Note we have two size ladybugs available for your preference. We also included the hands as a sample but of course we encourage you to use your child's hand to trace out!
Cut out the circles on black paper.
Glue the circles onto the red handprint shapes.
Glue the tiny round pieces on top of the thin paper strips to make the antennas.
Glue the antennas on top of the body.
Glue the eyes on the head.
Glue the pink cheese on the face below the eyes.
Glue the handprint shapes on the sides of the body.
The post Handprint Ladybug Craft With Printable Template appeared first on hello, Wonderful.