How Small Closet Organizers Can Help Expand Your Storage
The closet is one of those things we often take for granted. Just think how your life would be without a closet. This piece of furniture is in a way the key to an organized home. Of course, when you open the doors and all the mess pours out it's not exactly pretty but you can fix that, and you should do it sooner rather than later. We can help with that. Today we're looking at a bunch of small closet organizers designed to put an end to messy homes once and for all.
Before we get into details, let's first think of how organizing a small closet works. Closets are almost always incredibly simple featuring in most cases nothing but a shelf and a big empty space with a rod for hanging clothes onto. Just look at all the space you're wasting. On justagirlandherblog you can find a great tutorial showing you how to make the most of such a space and how to organize a small closet in a way that maximizes its functionality in a way that suits you.
We also found a very cool closet organization idea on makingitinthemountains. What's interesting in this case is that this closet organizer is made entirely of boxes and on top of what all the boxes are the exact same size and shape. That's pretty clever, isn't it? If you want to do the same thing for your own small closet, start by measuring the space and then plan out exactly where you want the shelves/ boxes to be placed and how big you want them to be.
If you have a closet drawer just for things like socks and underwear this drawer is probably quite messy. You can change that with a simple and very easy to craft drawer organizer which you can make out of some sturdy and flexible material such as felt or thin craft foam using a hot glue gun. That's right, this is all you need for this project. Check out our video tutorial to see just how easy it is to customize your closet drawers using this budget accordion organizer.
Speaking of drawers, there are more small closet organization ideas that we'd like to share with you and one of them involves cardboard sheets. You can use them to make drawer dividers so you can organize the contents into groups based on criteria determined by you. For example, you can install dividers in your sock drawer and organize your socks by color, type, length, or however else you prefer it.
It's almost impossible to maintain a clean and organized coat closet but you can greatly increase your chances if you invest a bit into a closet makeover. The idea is to organize the space into several compartments, each with its own function rather than having a large shared space where you store everything. Perhaps you'd like to add some shelves for shoes at the bottom, a shelf or two at the top for bags and other things and even some hooks on the inside of the door. Check out howtonestforless for instructions.
Need a system for organizing and storing your handbags? Here's a clever idea from athoughtfulplaceblog: use shower hooks. Figure out the best way to hang them from your closet rod and make sure they slide easily in case you want to move them around. You can install a separate rods just for them or you can keep them together with your clothes.
Before you start reorganizing your closet and you change its interior completely, take some time to figure out which are the main problems you;re facing now. For example, perhaps you're keeping your socks in a box on a top shelf and it's hard to reach up every day or perhaps the shelves are too spaced out and you're not maximizing your storage space as much as you'd want to. These details will help you decide what needs to be changed and in what manner. Check out iheartorganizing for more tips and ideas regarding small closet organization.
Sometimes it's not the closet's fault that the contents are disorganized. Maybe you just don't have the drive to do anything about it. You know what could change that? A quick and simple makeover designed to make your closet more attractive. A cool idea could be to paint all of your wood hangers. You could pick a bright and happy color so you feel motivated to spend more time organizing your closet. The idea comes from hometalk.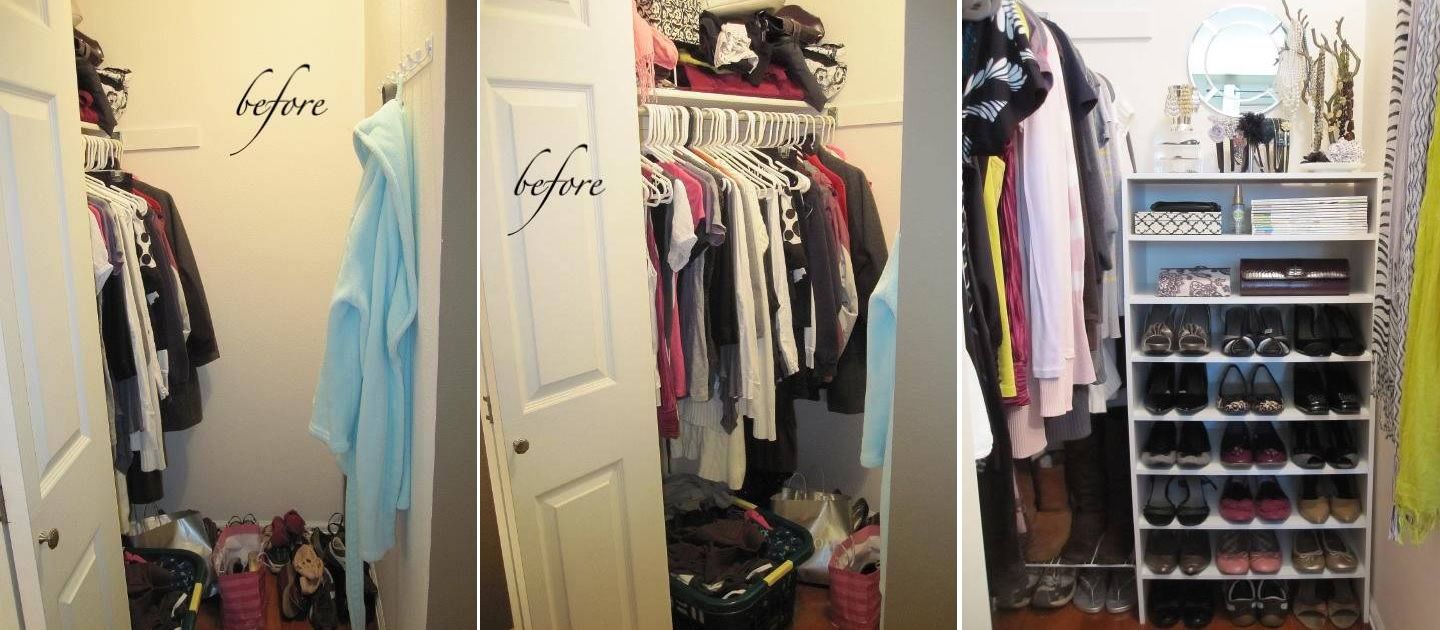 Sometimes trying to work with a closet's current organization system and modifying it is just not worth it. It would be easier to just start over. Empty your closet, step back and come up with a new plan. That's exactly the scenario that frekleschick describes and look how awesome this closet turned out in the end. Sure, it's a small closet but look how well the space is used now. You can store a ton on things in here.
How do you normally store your scarves and belts? They're most likely sitting in a drawer somewhere, all tangled up. Organizing your scarves and belts is not something you think about very often so take this opportunity to make a change. On viewalongtheway you can find a cool tutorial showing you how to make a small closet organizer that slides out and has rods for scarves and hooks for belts.
There are a lot of annoying things when it comes to small closets. For example, there seems to be no perfect way of storing sweaters, jeans or T-shirts. If you just pile them up you'll most likely make a mess in a few days when you'll need something from the bottom of the pile. How about putting each item in its own little cubby? You could use one of those shoe organizers that can be hanged either inside the closet or on the door. This ingenious idea comes from askannamoseley.
The list of small closet organization ideas continues with a few tips from hip2save. These are more great ways in which you can organize and store your scarves in a tidy fashion. they involve things like hangers, shower curtain rings, show organizers or slack hangers. All these things can be repurposed into practical accessories for your closet.
Regular closet organization ideas don't necessarily apply when you're dealing with a nursery closet where you need to store lots of small things. In that case you have to be more specific when picking the dimensions of your small closet organizers. Tiny shirts and pants don't need big shelves so you could keep them in small baskets or boxes or you could install a small rod on the underside of a shelf so you can keep them on tiny hangers. Find more ideas like these ones on realitydaydream.
It's important to know exactly what you want to store in your small closet in order to optimize its storage capacity. For example, closet makeover featured on fabeveryday incorporates storage for clothes, shoes but also for accessories like belts, sunglasses and even jewelry. It's a well-planned and well-organized space.
A scarf hanger can be quite useful, especially if you're the type that has tons of scarves of different colors, sizes and styles. Here's what you need in order to craft a scarf hanger just like the one featured on everydaydishes: a wooden hanger, shower curtain rings (or drapery rings) and a hot glue gun.
We've seen earlier that you can organize and store a lot of things in a small closet, including jewelry. Sure, jewelry boxes can be quite practical, especially when you're traveling but they're always great as necklaces and other things can easily get tangled up inside. It would be much more practical to hang each item on a small hook. You can attach these hooks to a paint stick which can be mounted onto the wall or door of your closet. The idea comes from infarrantlycreative.
As you've seen so far, there are plenty of small closet organizers that you can craft or build yourself but what if you'd rather buy one and be done with it? That's an option too. For shelves you could opt for these Evelots dividers which let you neatly stack your clothes and to delineate several sections onto a shelf. You can also use these dividers for towels, blankets, bed sheets and other such things.
The ClosetMaid system is great even if you don't have a closet. You can attach it to a wall and that can be your new closet. It's an adjustable system with shelves and rods which you can configure in several different ways based on the size of your closet as well as your storage needs.
Pockets are great organizers, especially for small closets because you can hang them onto the closet wall to save space inside the drawers or on the shelves. The Cymiler organizer pockets can hold just about anything from T-shirts to pants, shoes, belts, socks and whatever else you normally keep in your closet. This is a great way to add more storage to your small closet without having to expand it or to add more shelves or drawers. You can use the space you have but in a more efficient way than before.
Does your small closet lack shelves? No worries because you can use the Simple Houseware Organizer to compensate for that. Sure, you can add a few permanent shelves if you want to give your small closet a makeover anyway but this system doesn't require any structural changes. You can just hang it on the clothing rod. It has five shelves and several pockets on the sides.
This is the smaller version of the ClosetMaid that we showed you earlier. The ClsoetMaid 22875 ShelfTrack is perfect for small closet organization. It has everything you need and it's adjustable. All you need is an empty closet so perhaps it would be practical to take out everything you keep in yours and to start over. Figure out the best way to install this system and then you can take care of the little details, like customization perhaps. 
The EZ Shelf is another small closet organization system with expandable pieces and adjustable configurations. It's mostly made out of numerous steel tubes which serve different purposes. It's easy to install and there are many different ways in which you can customize it and improve its storage capabilities by adding accessories. The design is simple and that makes it versatile and a good choice for most modern and contemporary closets. It's also durable and sturdy which means it will last for quite some time.
Ready for another practical closet organizer kit? this is the ClosetMaid 5636 SuperSlide, a system that contains everything you need to install a set of shelves and rods into your closet. You can combine it with other kits and with numerous different accessories for increased functionality and storage-efficiency. 
This system is not specifically designed to serve as a closet organizing system but is versatile enough to be used as one. The SONGMICS Storage Cube Organizer system is a set of six cubes stacked on three tiers. You can store just about anything in them, from books to shoes, clothes, toys and sports equipment. Moreover, these cubbies are stylish enough to be displayed in living rooms, bedrooms, on entryways and basically anywhere else in the house so you don't have to hide them in your closet if you don't want to. 
When it comes to small closet organization, there's one more thing we need to discuss: boots. They're special because they usually take up a lot of space. They don't have to, at least not if you choose to use the Boot Butler Rack. It lets you store five pairs of boots in only 7" of closet space. It can hold almost any type of boot, even the knee-high ones. Finally you can free up your closet floor (as long as you have room to hang this rack).
There's a lot to keep track of when you have a baby and closet clutter is the last problem one wishes to deal with so having a system that makes it easy to organize everything is very helpful. The Delta nursery closet organizer is a 24-piece set which allows you keep everything within reach and at the same time nice and neat. It includes 15 hangers, 6 closet dividers, a hanging organizer and two storage bins.
Ties, belts, scarves and other similar accessories are quite annoying because they don't really fit in any section of the closet. They require a custom storage solution and keeping them all in a drawer is not practical at all. However, you can solve the problem with the help of a very simple accessory, the Evelots organizer. It's small and doesn't take up much space in your closet and has 14 hooks which can hold a variety of items including ties, belts, scarves, necklaces, handbags and so on.
A lot of closets lack the custom compartmentalization that one needs and that's because they're usually meant to be as versatile as possible. In that case, an accessory such as the Burroughs shelving set can be very efficient at dividing a large section of the closet into smaller modules by adding extra shelves. They have an open metal grate design which allows air to circulate and prevents mold or dust from setting on them. They're great not just for closets but for pantries too and they can also be used as freestanding units outside of these enclosed spaces.
If you'd much rather prefer an extra set of shelves or cubbies rather than a big open space in your closet with a rod at the top, that can solved with the help of accessories such as the Medford closet organizer. It can be hanged vertically from the existing rod and it gives you six extra shelves for things like towels, shirts, shoes, bags and various other clothing items or accessories. It's made of breathable material which allows air to circulate and it can be easily folded flat and stored whenever you don't need it.
This is a kids' closet organizer, similar to the one mentioned above but with a slightly different design. It has a set of mesh and fabric bins which can hold a variety of different items from clothes to shoes, toys, socks and so on. It's an all-in-one organizer which can be hidden inside the closet or used as an extra storage piece which can hang from a wall or door.
Purses, handbags and backpacks take up a lot of space in the closet and since it's not really worth investing in a big custom unit with different cubbies for each items unless you have a proper collection or the space for it, it's much more practical to rely on something like the Seiler organizer. This is a very simple accessory which lets you store six different items on a single hanger. You can use it for scarves, belts and other accessories too.
Here's another organizer designed specifically for handbags and other similar accessories. This one features pockets, four on each side for a total of eight per organizer. The pockets are transparent so you can easily see what each one is holding and you can hang this organizer on a standard closet rod. It saves you shelf space and it keeps all your purses and handbags in one place. You can also use this for blankets, towels, sheets and other items as well.
If you actually have a lot of hangers in your closet, that is technically a nice way to keep everything neat and organizer. However, all the extra hangers that are just sitting around waiting to be needed get tangled up and take up more space than you'd like them to. This little organizer can help with this problem. It can hold 50 hangers and it keeps them organized and out of the way until you actually need them.
The Gino organizer gives you a simple and practical way to add more storage to your closet. With this you get five extra hanging modules which you can fit between all the hangers in your closet. It's great if you want to keep all the accessories that go with your outfits in one place and easy to find or if you need some extra space for things like shoes, bags, hats and so on. This organizer is designed to be hanged from the rod and has mesh pockets which you can fold flat for compact storage in case you no longer need them.
This little hanging organizer is a nice accessory for the laundry room and can potentially also be added to a bedroom or even a closet. It's a very compact storage system which can also be installed outdoors and it consists of a fold-away rod that use can hang clothes from right after you take them out of the dryer to make ironing easier or completely unnecessary. It's also great if you have a few items that can't be put in the dryer or if you want to freshen a jacket out on the balcony.
Although open shelves are very practical and versatile, they can also get really messy really fast. It's practically impossible to keep the closet shelves organized without a bit of extra help and by that we mean these Vela

shelf dividers or something similar. They're little inserts which can be used to divider a large shelf into smaller sections in order to keep various clothing items separated. They're made of steel and they're super durable and they can easily slide over any standard solid wood shelf up to 7/8'' thick.
As much as we'd want all of our items to fit inside a closet, sometimes there's just not enough room in there for everything. Luckily, there are always alternative solutions. For example, this is a hanging organizer which can be installed onto a door. It adds extra hooks and storage for things like purses, bags, accessories and other items that either don't fit anywhere else or that you want to keep within reach.
The Dante set is a combination of two different storage systems. It includes an over-the-door organizer and two drawer organizers and they're all made of cardboard panels and white fabric. The drawer inserts are useful for organizing socks and other accessories and clothing items and the hanging organizer has compartments and pockets of different sizes that can hold anything from shoes to towels, hats, bags and more.
The post How Small Closet Organizers Can Help Expand Your Storage appeared first on Home Decorating Trends - Homedit.