How The UK's Beloved Craft Beer Industry Is Adapting To The Lockdown
We're here to guide you through the coronavirus lockdown. Sign up to the Life newsletter for daily tips, advice, how-tos and escapism.
With pubs, bars and restaurants closed indefinitely, the craft beer boom is drying up and many businesses are at risk from going under.
There has been an 82% drop in beer sales, while more than half of the breweries in the UK have been forced to stop production altogether since the outbreak of Covid-19, according to SIBA, the Society of Independent Brewers, 
Many craft beer businesses have risen to the challenge with pay-it-forward voucher schemes and flogging merch to help them survive during this difficult time, but others are turning this crisis on its head and thinking outside the box.
We spoke to independent craft breweries and a beer subscription company in the UK to share their stories on how communities are pulling together and still pulling pints amid a sudsy sea of uncertainty.
Bringing the pub to you.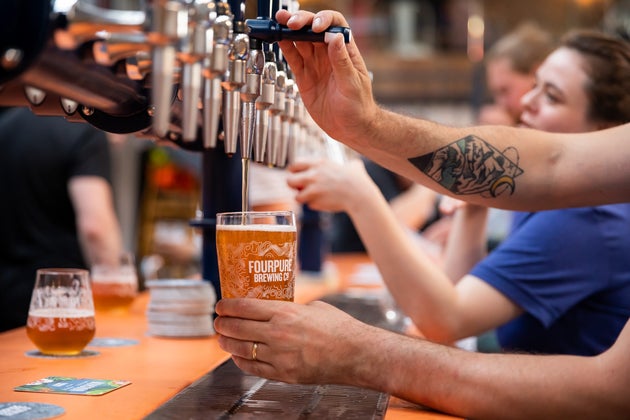 "We still have our pub quizzes every Wednesday, which used to be held in our taproom, but we've moved it online," Grace Whitby, Brand Manager at Fourpure brewery in south London explains to HuffPost UK. "We're trying to replicate that feeling of being in a pub and have loads of exciting things lined up such as introducing live tastings with our head brewer, campground sessions with bands and musicians, and even cook-along live streams with our beer."
Aside from innovating and trying new ideas to get audiences engaged while people are drinking at home, they're not the only craft brewery offering virtual stay-at-home pubs. The music-focused Signature Brew based in north London has just launched a 'Pub In A Box', which aims to sell beer directly to consumers alongside special glasses, beermats, snacks, a music quiz and exclusive playlists curated by music journalists. Ever since the lockdown started a month ago, they've been hand-delivering their goods to locals with a little help from their famous friends.
"The mantra of our brewery is to drink good beer while watching your favourite artists. Over the years, we've worked with bands and musicians to collaborate bringing special beers on tours and festivals, but in this nightmare scenario, every single gig was cancelled without exception." co-founder Tom Bott explains. "Our mates in bands who were due to play at Brixton Academy and Glastonbury festival have helped us pack boxes and deliver to locals as well, which is quite cool for fans to suddenly have a rockstar to turn up." 
The World's First Virtual Beer Festival.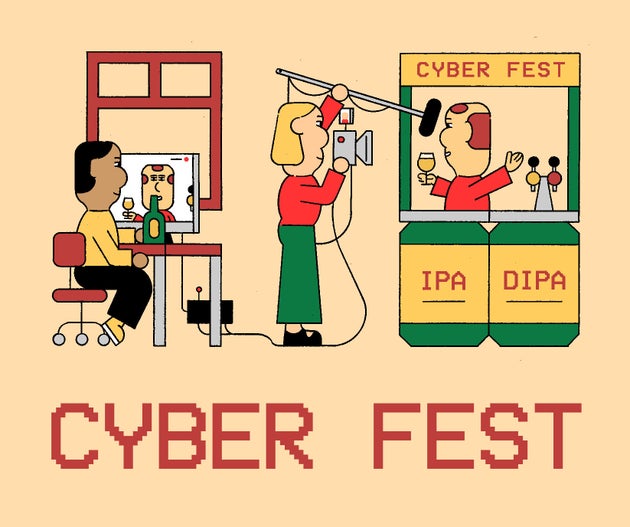 Big events around the world may be postponed, but that doesn't mean 2020 is cancelled. Beer52, a craft beer subscription service that brings beer aficionados a monthly case of different beers covering different themes such as 'People Like Us', which focuses on the concept of beer for good. Recently, they hosted their first-ever Cyberfest, an online beer festival that brings together a weekend line-up of quizzes, live tastings with top brewers from around the globe, celebrity guest appearances like comedian Chris O'Dowd, footballer Roberto Carlos and 'Boycie' from Only Fools and Horses.
"It was a lot of fun and at one point we had over 20,000 unique viewers tune in over the two-day live stream." says Beer52 founder James Brown. "We've created a really powerful community of beer club members, people coming together to support the brewers and learning about their stories."
The beer weekender proved to be a huge success and they're already planning the next one. "We want to highlight more breweries and support in whatever way we can," explains Brown. "Trying to keep spirits high and get more people involved by doing live calls and shout outs."
Teamwork makes the dream work.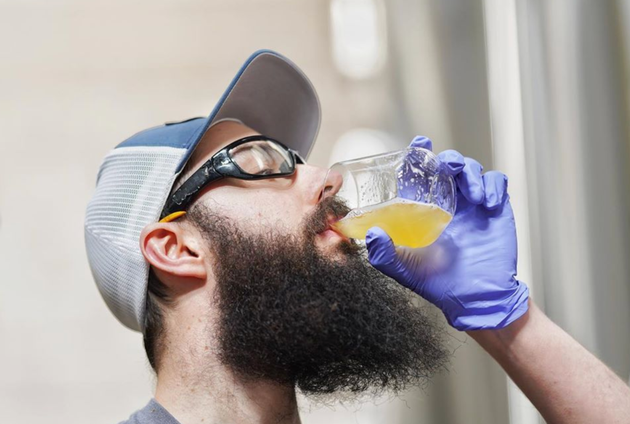 Neighbourhood taprooms might be forced to turn off their tap handles for the foreseeable future, but there's still a supportive tight-knit craft beer community in place and sometimes survival doesn't mean every man for themselves. 
"By using our larger platform we've helped sell beer on behalf of other smaller breweries near us to help them keep their lights on and put money back into the hands of local independent businesses. We've been taking 10% off the top, which covers our packaging materials and shipping costs, then giving them back the retail margin back almost in its entirety," explains Paul Jones, co-founder and managing director of Manchester-based craft brewery Cloudwater Brew Co. "They went from a hellish scenario of having too much stock and not having a web outlet to keep their product moving and to having to actually brew more beer to keep up demand."
Many indie breweries have risen to the occasion. Take founder and lead brewer James Godman from Wilderness Brewery in Powys, Mid Wales, for example, he's a one-man band brewing, packing and distributing whilst juggling an 18-month baby. 
"It's been tricky, but I've got people to help when needed and I'm productive when my little one has an hour's afternoon nap," he laughs. "I'm really lucky because compared to a lot of breweries my beer is aged and a lot of what I'm packaging is actually brewed 18-months ago and it's been sitting in wine and whiskey barrels, so I've actually got quite a lot of beer ready to go."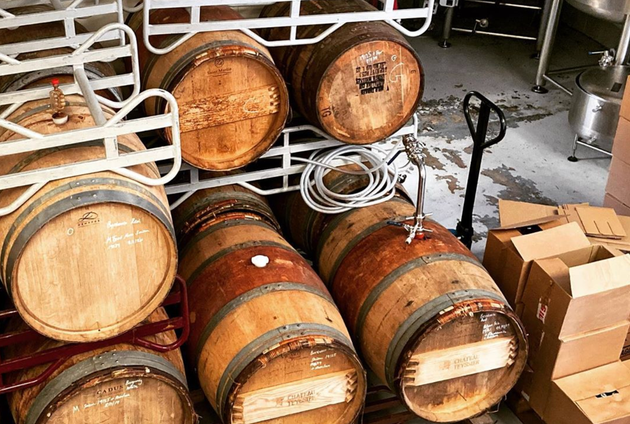 Across the industry, many craft breweries and beer subscription services like Beer 52, Cloudwater and Wilderness have introduced discounts to attract more customers or to help those struggling financially, as well as, taking part in a collective nationwide gesture to everyday heroes to give drinkers the option to buy a pint for NHS staff. 
"Sadly, the UK's craft beer scene is going to really struggle," Goodman confesses. "People are sitting on stock that's degrading. Either everything's going to be scaled back or go out of business, which hopefully won't happen, but it depends on how long the lockdown lasts."
No one knows what the future might hold or what the light at the end of the tunnel looks like, but one thing's for certain: craft beer in Britain will live on to brew another day.