How to Build a Custom Planner with Printables
Traditional planners not working for you? Find out how to build a custom planner with printables and create a system that fits your life.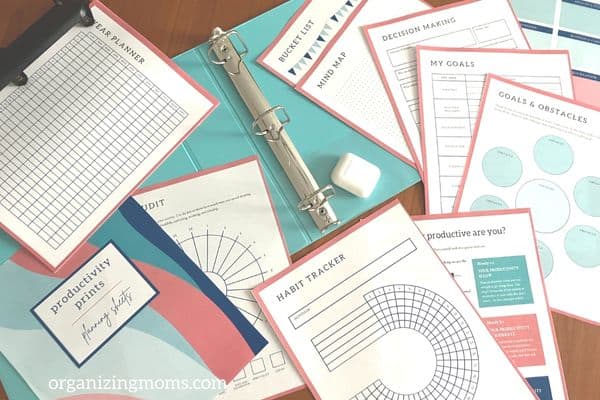 How to Build a Custom Planner with Printables
Although it's nice to have a ready-made planner, many people prefer to create their own planners that better meet their needs. In this article, we'll show you how to build your own planner with printables. 
Are Planners Effective?
Planners are only effective if they help you get things done. But when you have a planner that you enjoy using, that helps you get more done, it's super effective at helping you be more productive and ensuring things don't fall through the cracks.
Why Make Your Own Planner?
Making your own planner puts you in control of what's inside your planner. No more unused pages that you don't need. If you like a certain planner page, you can print more of it and add it to your planner!
You can also add pages to your planner that aren't planner pages! For example, if you take notes at a meeting, you can just add them to your planner.
It doesn't have to be matchy-matchy. It needs to be functional.
Using Printable Planners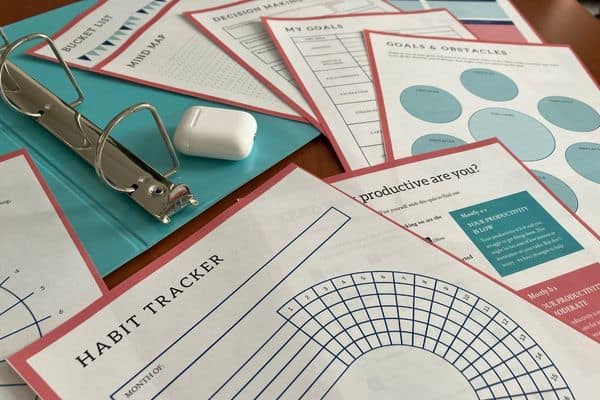 If you're a beginner to the world of creating your own planner, you can get started with a few simple steps.
Download any printables you want to use in your planner. If this is all new to you, try to find some kind of calendar, and a daily planner page.
Arrange them in an order that makes sense to you. And rest easy – you can always change this up later if you want to!
Add them to your binder (or whatever you're using to house your planning pages)
Your Own Printable Planner
You may be wondering, which planner is best for me?
If you're new to planning, or if you've used ready-made planners in the past (and abandoned them after a week or so!), the best way to figure out what kind of planner works best for you is to test things out.
Try things out, eliminate what doesn't work, keep what you like, and discover what works for you!
Experiment with different layouts, fonts, etc.
Make it a personal planner unique to you!
Types of Printable Planner Pages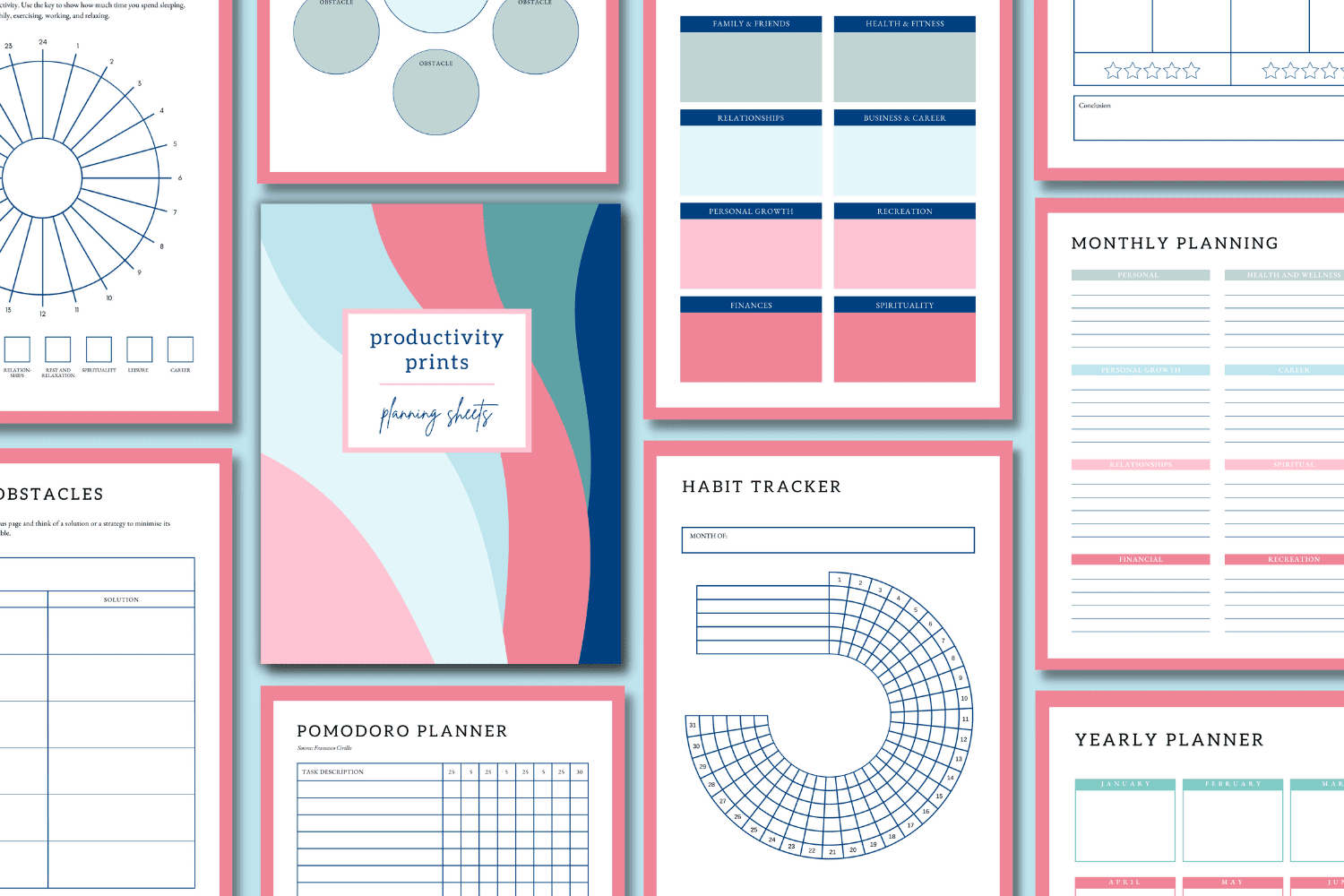 There are so many different types of PDFs you can put in your planner. Here are some ideas to get you started:
Daily Planner – Having a page you can use over and over again to plan your days helps you get into the routine of using your planner every day. Here's the daily planning sheet set I use.
Weekly Planners – Planning ahead for the week helps you be more efficient and use your time wisely. Once you get into the habit of doing weekly planning, you'll see a huge shift in your productivity, and you'll feel a lot less stressed. Go here to get our Weekly Planning Bundle.
Monthly Calendars – Having monthly calendar pages helps you keep track of appointments and birthdays, and chart out the months ahead. There are a lot of free printable calendars online, and we have undated monthly calendars in our Productivity Prints set.
Bullet Journal pages – If you like to dabble in bullet journaling, you can add pages to your planner that you can use as needed. If inspiration strikes, go to your bullet journal pages and start creating.
Meal Planning printables – Meal planning and eating at home is a huge challenge for most of us. Use meal planning printables to help you stay organized and remember those old meal plans that worked out really well! That way you won't have to constantly be reinventing the wheel and creating new plans.
Habit Trackers – There are so many amazing habit tracker printables out there! Pick one that you like, and start building a new habit.
To-Do List – Sometimes you just need to write out a to-do list! There are plenty of to-do list printables out there, but if you have a flexible custom planner, you can use notebook paper, or whatever you have on hand.
Journal – Want to keep your journal together with all of your planning stuff? No one's stopping you from doing it. 
Which Planner Should I Get?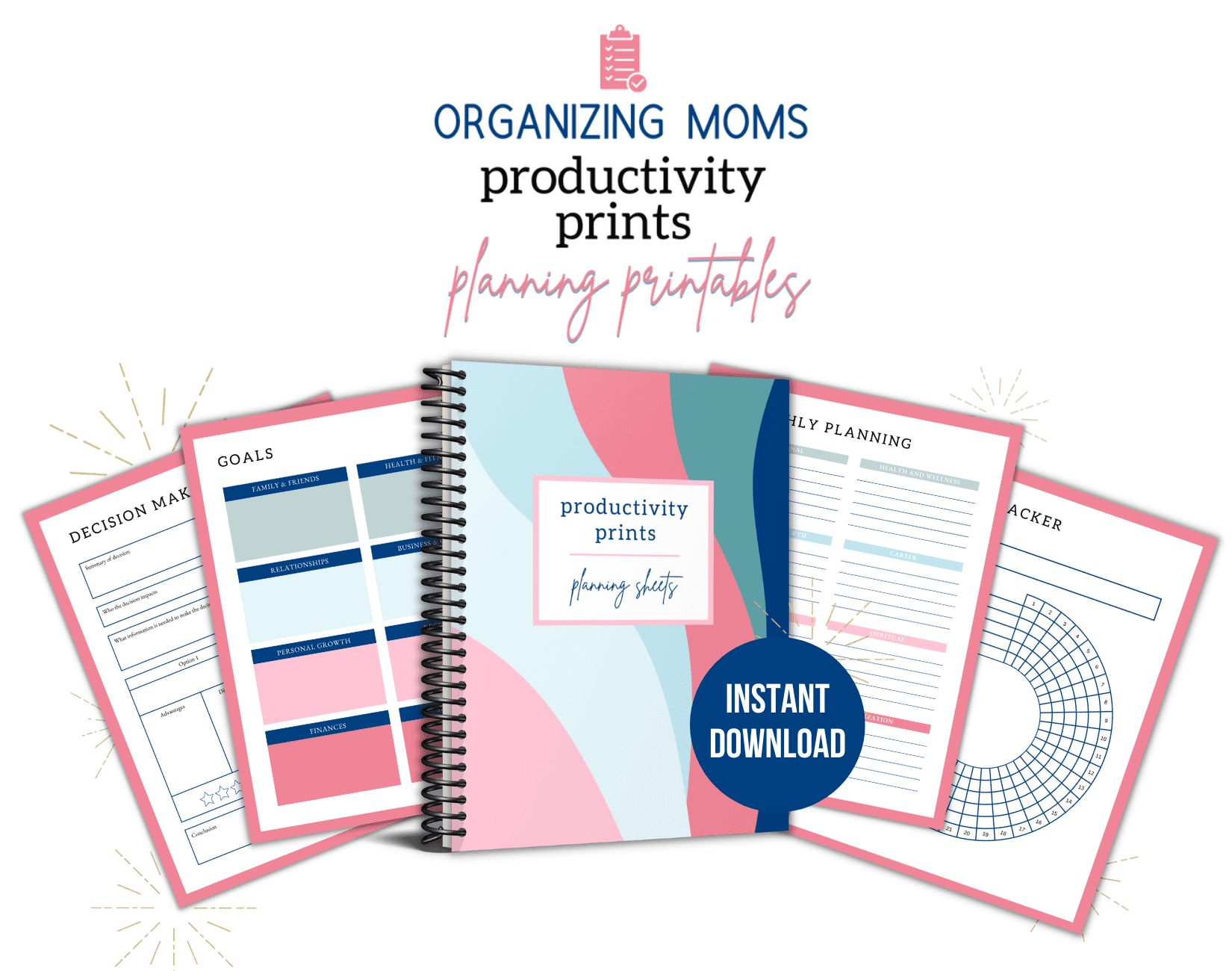 If you're wondering which planner printables you should start with, go with our Productivity Prints set.
It has a huge variety of different types of planning sheets you can use to test out different styles, and see what works for you.
And because there's so much included in the set, you can always find a fresh new printable to use if you need a spark of motivation.
And if you're wanting a planner with cover, the Productivity Prints set comes with a printable cover you can use!
Organized in a Binder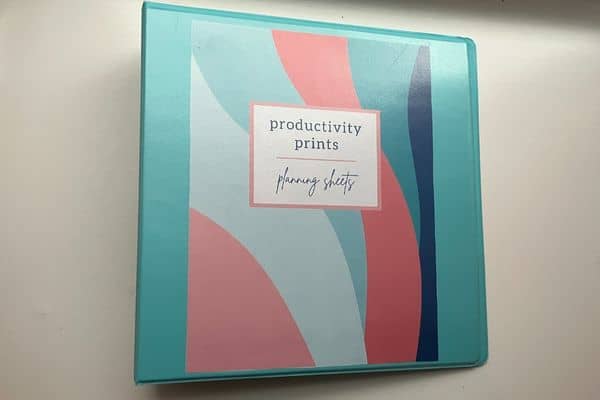 Once you know what you want start out with in your planner, it's time to organize all of your printables in a binder.
You can make a planner binder using something you already have, or treat yourself to a brand new binder if you'd like!
It also helps if you have a 3-hole punch handy so you can easily add pages as needed.
Put your own printables in your binder in your preferred order.
Remember, your planner binder setup doesn't have to be perfect.
You are going to change things as you experiment with using your planner.
Alternatives to a Binder
Not into using a binder as a planner?
You don't have to use a binder. In fact, you can just use the printables independently and staple or paper clip them together as needed. It will probably be harder to keep track of things, but if that's your preference, go for it!
Another alternative is to use a discbound planner.
With discbound planners, you can easily add and remove pages without having to open and close binder rings.
If you're going to go the discbound planner route, I'd recommend getting a hard cover for your planner, and investing in a hole punch that's designed for discbound planners.
If you KNOW you aren't going to change anything about your planner's setup, you can try a spiral bound planner.
I get my printable goal planner spiral bound at Office Depot (AFF LINK) because I know I'm going to keep the printable planner sheets in the same order each quarter.
Which Size Paper?
The size planner you use depends on what size binder you have, and the size of the printables you want to use.
Planners come in a lot of different sizes, but most printables you'll find are 8.5″x11″.
We recommend using the 8.5″x11″ size simply because you'll have more printable options available to you, and you won't have to buy expensive paper.
If you live outside the US, this may not be the case. Use the paper size that's most common where you live.
Printing Options
If you have a printer, you can use it to print your own printables.
But if you find that you're going through a lot of ink,  you may want to take your printable files to a nearby printshop. 
I always get my quarterly planners printed at Office Depot. I send them to the store via their website and then I pick them up while I'm out running errands.
For most of my other printables, I just use my home printer. I have an HP printer and an HP Instant Ink subscription, so when ink runs low on my computer they automatically send me new cartridges.
Planner Accessories
As you get used to using your new planner, you can start using planner accessories to aid in your organization and make the planner even easier (or more fun) to use. Here are some planner accessories you might want to try:
Planner Inserts or Dividers. You can use them to color code sections in your planner and hold loose papers. I like to use dividers with pockets or slash pockets in my binder planners.
Pens, highlighters etc. Using pens you like makes a huge difference! I'm partial to the Pilot G-2 07 pens with blue ink. Sharpie gel pens are also really good.
Stickers. You can find planner stickers at craft stores, big box stores, and of course, on Amazon! 
Washi tape. Use washi tape to decorate your planner, create boxes or sections on pages and more.
Mechanical pencils. Sometimes you just want to be able to erase! I like using mechanical pencils for their fine lines.
How Many Planners Should I Have?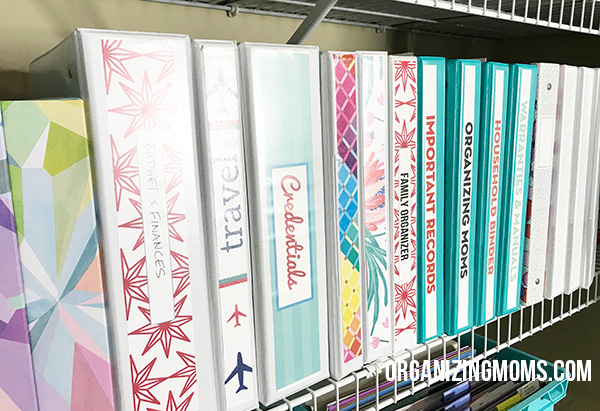 There's no right answer to this question! 
Once you start using your printable planner, you may want to make separate planners for different activities.
I always have a work and personal planner put together, but for special occasions like Christmas, I use a separate set of printables.
I keep my Christmas printables in a separate binder, but you could easily add them to your everyday planner.
Are Binders Better Than Notebooks?
Using printable planner pages gives you a lot more flexibility than a notebook.
But for some purposes, a notebook is better.
Go here to see how to organize your ideas with notebooks.
More Planning Resources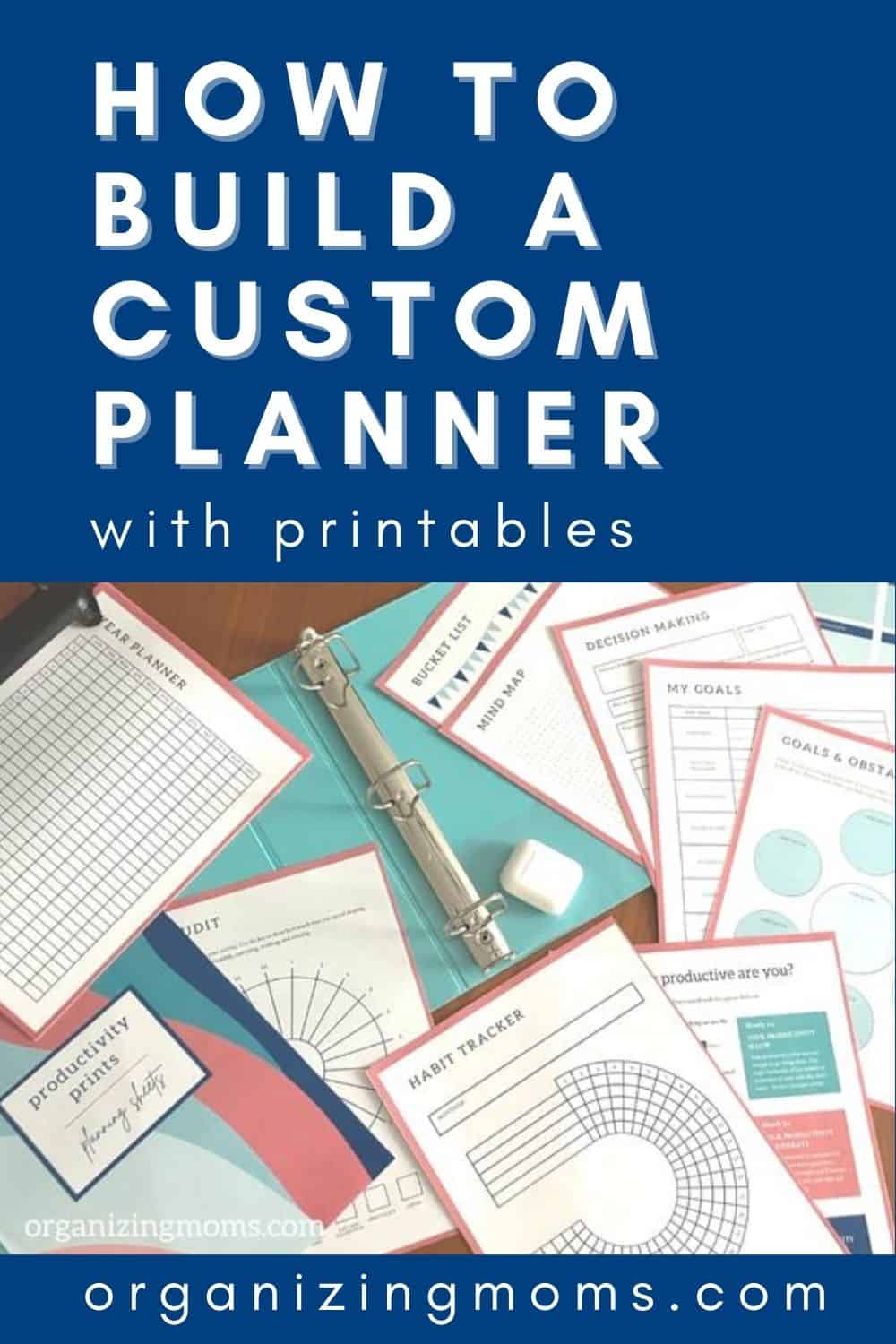 The post How to Build a Custom Planner with Printables appeared first on Organizing Moms.