How to Host a Gingerbread-House Decorating Playdate
Tips and tricks to make this holiday tradition a sweet success.
Decorating a gingerbread house is one of my children's favorite holiday traditions. I, on the other hand, have never been a huge fan. First, there's all the sugar and candy and frosting and dye. Then there's the fact that the traditional kits are nearly impossible to complete. Getting the walls and the roof of the house to adhere without resorting to super glue is something of an impossibility. Still, tradition is tradition; and this year my little guy begged to host a few friends for a fun and festive gingerbread-house-making playdate party. And I have to say, it made for a super-sweet afternoon.
Related: Christmas gingerbread pancake recipe
When I discovered this amazing pre-built gingerbread house at Costco, I was delighted. Each friend got his own gingerbread house to decorate and personalize. Better yet, they were able to take it home! Which got me thinking about turning this tradition into a play date.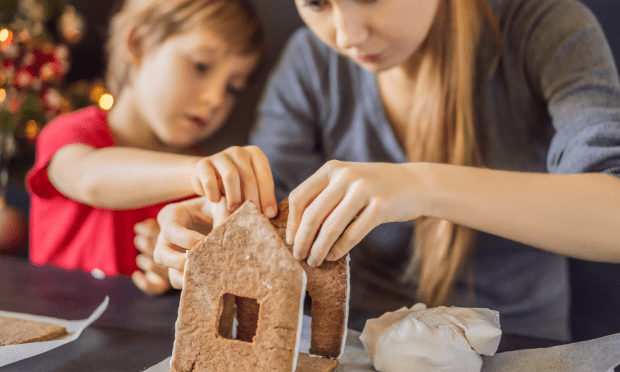 Traditional Recipes for Gingerbread Houses
We've learned a few things over the years about gingerbread. First, the recipes that taste best, don't always hold up well. Let's be honest, this is mostly about the fun of decorating and eating sugar in the process. If you go this route, we have five hacks to make life simpler.
Try right recipe: Try this sturdy recipe from Delishably.com The recipe in this dough, although edible, is not the gingerbread one would use to make cookies. There is no leavening or eggs so the result is a "structural" dough that does not puff up and spread while baking.
Start the Night Before: You can't construct with warm gingerbread. Make the sheets the night before. It's ok if they get a little stale. That just might help.
Use Molds: Use silicone baking trays to easily make a gingerbread houses during the holiday season. Get the molds on Amazon here. (note: this is an Amazon Affiliate link)
Decorate the walls BEFORE you attach them to the house. Decorating on a flat surface is much easier.
Use a sturdy glue! This recipe from www.amomstake.com gives you a super hold icing works perfectly for decorating your Gingerbread House!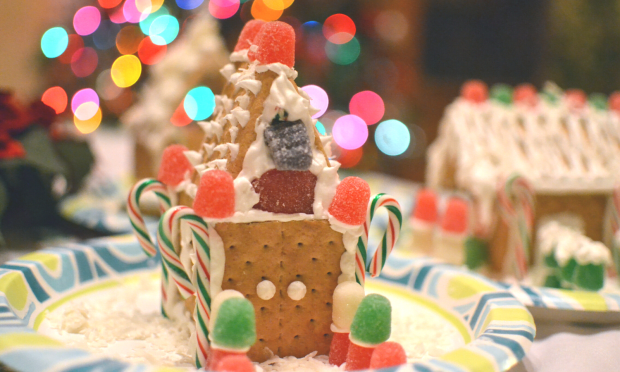 Graham Cracker Gingerbread Houses
Let me just say, hats off to the moms who make gingerbread houses from scratch. That is awesome, but for the rest of us, I want to share some shortcuts and kits to make this holiday magic happen without the tears.
This recipe for Graham Cracker Gingerbread Houses requires five graham crackers for each house. You'll save loads of time and it's a great project for kids. To create the two side pieces of the house, use a serrated knife to slice one graham cracker in half. Get the recipe here.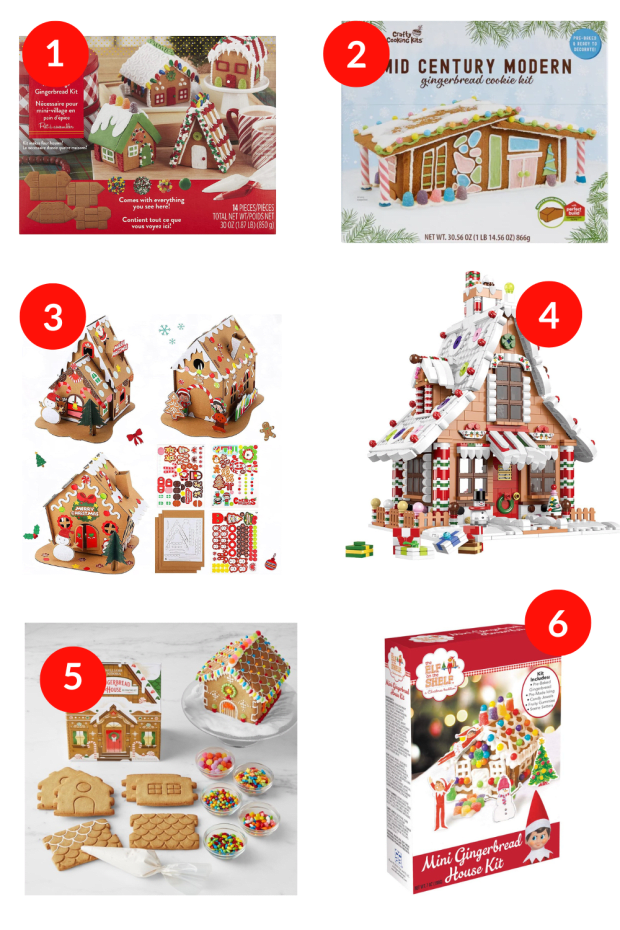 Favorite Gingerbread House Kits
We've rounded up kits that are loads of fun without a bit time commitment. Check out our favorites.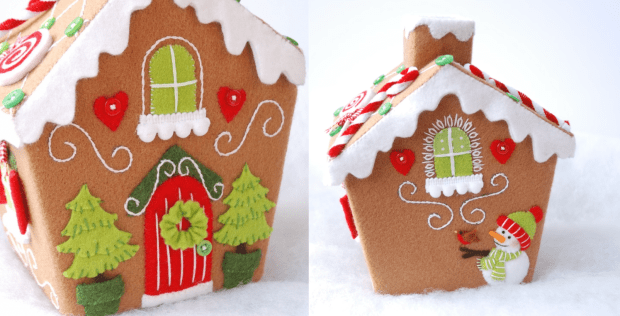 More Gingerbread Goodies to Love
Etsy Gingerbread House Sewing Kit: This project makes an adorable festive keepsake, make it a sweet box, tissue box cover or Christmas decoration. Get it on Etsy here.
Gingerbread Playhouse: Since you are turning this baking activity into a playdate, let's take it to the next level. How fun is this colorable gingerbread house. Those impish playdate elves were a bit lazy and didn't stay in the lines, but it still made for a fun and creative post-sugar-high activity! (note: this is an Amazon Affiliate link)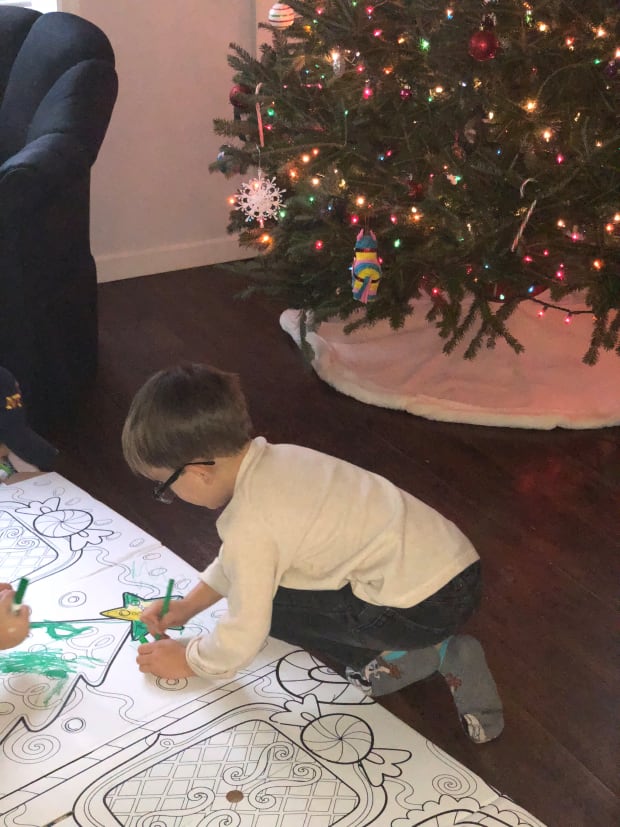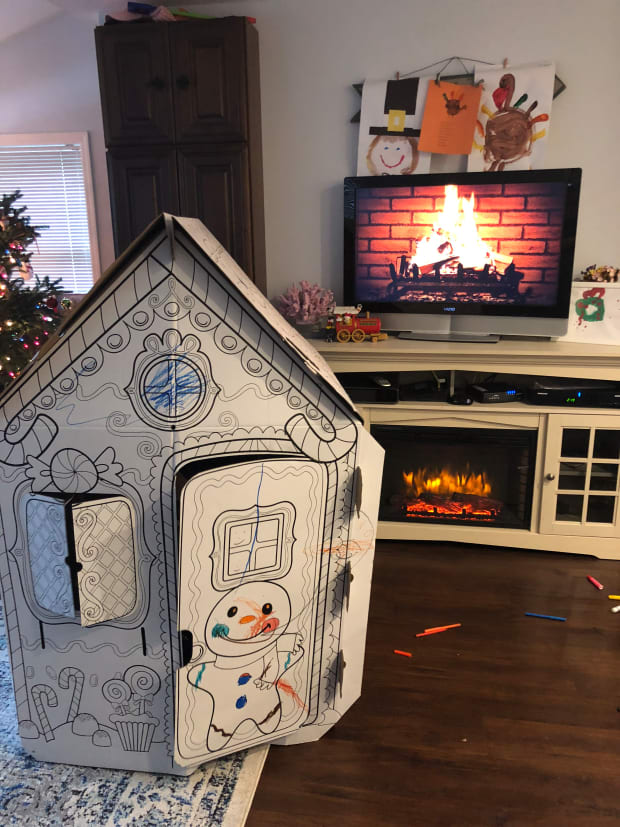 Serve Grown Up Hot Chocolate
Want a more grown-up party? End the playdate on a decadent note for the moms. Curl up by the faux fireplace, watch a holiday movie, and serve your little gingerbread men (or ladies) hot cocoa topped with these adorable baby gingerbread houses. Get the recipe here.
Be sure to try our white hot chocolate peppermint cocktail recipe and let us know what you create.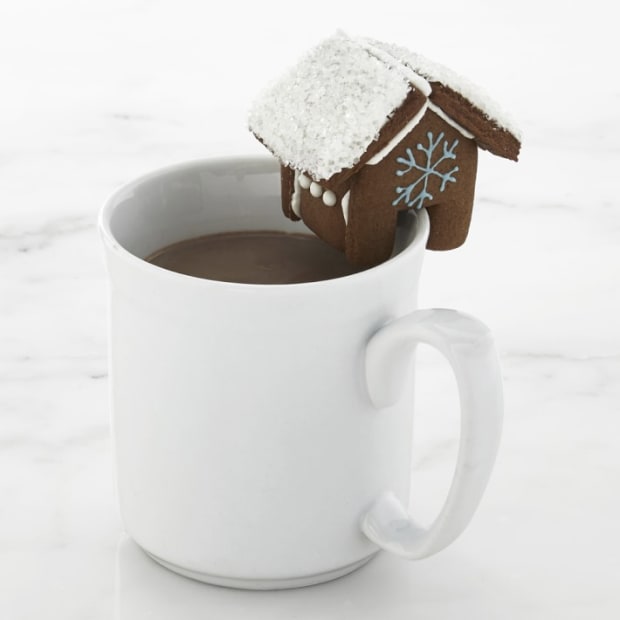 MORE HOLIDAYS FROM MOMTRENDS
PIN IT!
Use Pinterest to save your favorite gift ideas. Be sure to follow our Holiday Recipes and Crafts board here.
This is not a sponsored post.