How to Layer Iron-On Vinyl Shirts – Beginner Friendly!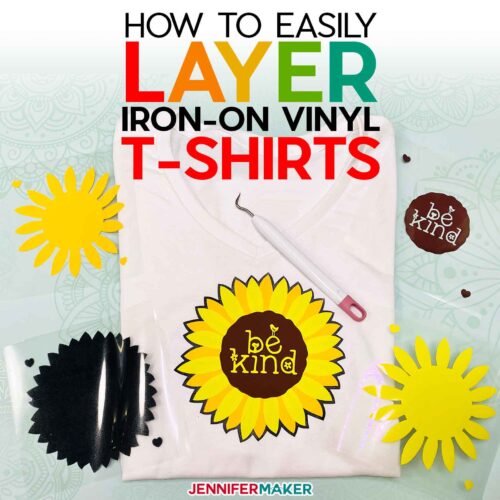 Learn how to cut and layer iron-on vinyl T-shirts with success! This step-by-step tutorial guides you through the entire process of making beautiful and colorful layered HTV shirts!
Did you get your Cricut cutting machine so you could make cute and colorful layered iron-on shirts? Or did you see a T-shirt design and just have to have it, but aren't sure where to begin? I get you, and I can help! The Cricut is perfect for T-shirt making, as it cuts out iron-in vinyl (also known as heat transfer vinyl, or HTV) really well. I have a tutorials on simple iron-on shirts, print-then-cut iron-on shirts, but what do you do when your shirt design calls for multiple colors and layers? This project is a step-by-step tutorial will help you learn how to layer iron-on vinyl shirts with success! 
For this project, I've designed two free decals to help you learn the layering technique before you venture off on your own. The first design is a simple four-layer sunflower that I made just for beginners.
The second design — the Pinkie Promise — is a step up with 5-10 layer design.
You can choose any colors you want! Great for Friendship Day and showing solidarity for the Black Lives Matter movement.
For our shirts, we'll be working with iron on vinyl, also known as heat transfer vinyl, or HTV. Iron on vinyl is a special type of vinyl that has a heat sensitive adhesive that will stick to fabric and other surfaces when pressed down with a heat source like an iron or an EasyPress. I will show you how to use both an iron and an EasyPress in this tutorial.
Now the cool thing about the Cricut is that you can cut out a design or name from iron-on vinyl of various colors, patterns, and textures to create a uniquely personalized design. And if you do it right, your shirt can be machine washed up to 50 times before you start to have issues. I will show you the RIGHT way to do it, and which layers can and can't go on top of other layers, so you get great results the first time! 
Because the thing is, there's a bunch of things that can go wrong the first time you make a layered iron-on vinyl shirt. In addition to remembering to mirror, or FLIP, the design, select the right iron on vinyl for the job, put the vinyl on your cutting mat with the right side up, weed the right part of the design, preheat your shirt first, and set your temperature right, you ALSO have to be careful press long enough for the vinyl to stick but not too long and line up each layer of vinyl so it looks right. The good news is I'll be right here with you while you learn to layer your iron-on vinyl shirt to help you do it right!
See exactly how to layer iron-on vinyl and make a sunflower T-shirt in my upcoming tutorial video or keep scrolling if you prefer a step-by-step photo tutorial.
So let me show you how to make a layered iron-on vinyl shirt right the first time! This post contains some affiliate links for your convenience (which means if you make a purchase after clicking a link I will earn a small commission but it won't cost you a penny more)! Read my full disclosure policy.
Materials for the Layered Iron-On Vinyl Shirt
How to Make a Layered Iron-On Vinyl T-Shirt
Layered Iron-On Vinyl Shirt (Sunflower)
Difficulty:
Easy to Medium
How to make a beginner-friendly T-shirt with layered iron-on vinyl!
Instructions
Step 1: Find or Make Your Layered HTV T-Shirt Design
Go to Cricut Design Space, click on New Project, then click on Templates in the upper left corner. Choose "Classic T-Shirt" and pick a style, size and color. The template will help you size your design so it looks good on your T-shirt. (Note that templates only work in Cricut Design Space on a desktop or laptop, not on an iPad, iPhone, or other mobile device.)
You'll find many designs for iron-on T-shirts right in Cricut Design Space. Click on Images and browse the Image library for ideas. If you're a beginner, I recommend you stick with designs that have four colors or less and not too much small detail.
To help you learn, I designed a sunflower design with built-in registration marks, so it's perfect for beginners. If you want to use my free sunflower design, you can download the free SVG cut files from my free resource library. It's available as an SVG for the Cricut and DXF for Silhouette.
There are three different sunflower cut files to choose from:
1. The "be-kind" version is the sunflower with built-in registration marks to help you align your design, cut boxes to help you get neat results, and the words "be kind" on it to help you learn how to weed. This is the version I will show you in the tutorial.
2. The "registration" version is the sunflower with built-in registration marks to help you align your design, cut boxes to help you get neat results, but NO words so you can personalize it.
3. The "simple" one is just the four sunflower layers without words, cut boxes, or registration marks—pick this one if you're layered iron-on vinyl before.
IMPORTANT NOTE: If you're not sure how to upload an SVG file to Cricut Design Space, or you're having issues (such as getting a message that says "unsupported file"), please watch my free training series, SVGs Made Simple. It will help you SO much!
Here's what my Be Kind sunflower design file looks like uploaded to Cricut Design Space:
Note: You should see a box around the design when you upload this version -- these are cut boxes to help you weed your design and layer it neatly. If you don't want these boxes, use the "simple" version instead.
You can resize the image to fit the T-shirt by using the resize handle in the lower right corner -- just click and drag.
You can change the colors so you can preview what your design might look like with different variations by clicking on the layers on the left side and then clicking the Fill menu at the top of the screen to choose a new color.
When you are ready, click the green Make It button in the upper right corner.
You must then toggle the MIRROR to on (green) for every layer -- all iron-on designs must be mirrored before cutting!
Now click Continue to set your material. For the easy sunflower tutorial, I am using basic iron-on vinyl -- both Cricut Everyday Iron-On and Siser Easyweed Vinyl (which is very similar to Cricut Everyday Iron-On). So to set my material settings, I click on "Browse All Materials" and then choose "Everyday Iron-On."
Note: You will only see these custom materials if you have your Cricut Explore machine dial set to "Custom," which I recommend. You will always see these materials on a Maker.
When you're all set, you'll see a screen that tells you what to do -- it also reminds you to mirror your design (make sure you did!) and put your material shiny side down (which I'll explain in the next step).
Step 2: Cut Out Your Design in Iron-On Vinyl (HTV) on Your Cricut
Now we'll use a clean green StandardGrip mat to cut our layers of vinyl. It's super important you put your iron-on vinyl SHINY SIDE DOWN on your cutting mat. Learn how to tell which side to cut iron-on vinyl in my tutorial here!
Note: If you're using my "be-kind" or "registration" versions of the sunflower design, there are cut boxes around each one. Don't be surprised if these cut boxes cut through your carrier sheet -- I doubled up on them so they can do that. If they don't cut through the carrier sheet, just cut them off with scissors or a craft knife.
Step 3: Weed Your Layered Iron-On T-Shirt Design Layers
It's now time to weed our iron-on design layers. Weeding means to remove all of the vinyl that we don't want transferred to our project when we iron it on or use a heat press. So that means we remove all the extra little bits.
To get started, you want to begin peeling the vinyl away from the edge. Sometimes the iron on vinyl doesn't want to come free very easily. If this happens, I make a small knick in the corner with my craft knife. You don't want to cut all the way through. Just cut through the iron on vinyl layer on the matte side (the cut side). And then it's easier to peel off once you've made that cut, I find.
But for this project, I didn't have to do that because I added the cut boxes around each design. This made it really easy to just use the tip of my weeding tool in the corner and pull up the edge. Once you have it started, you just continue to pull it away from the carrier sheet. And your design will stay on the carrier sheet and the part that you do not want will pull away, just like this.
You'll note that I'm weeding the layer of iron-on vinyl while it's still on the cutting mat. I like to do this because it keeps the layer stable as I weed. You don't have to do it this way, of course.
Repeat for all layers of your iron-on vinyl design.
Now if you look at it the brown layer of the iron-on design, you'll see that not all of it has been removed, right? So we've got to remove the letters as well. Don't be alarmed that it is all backward -- this is how it should be to transfer properly onto your shirt!
Tip: Always keep your little bits of vinyl your remove away from your work area so that they don't get mixed in with other things. Here I am using a silicone ring that works great for keeping little bits away from my work.
Just be patient and if you need to, you could use a pair of tweezers to get the little bits off without hurting the letters. Here we have weeded our whole design.
Note: I cut this design at a smaller size than you probably will, which made it a little trickier to weed. If you are a beginner, I recommend you cut this design at the original size, which approximately 8.5" square.
After you remove the weeded design from the mat, you should also remove any vinyl around the edges of the cut box, if it didn't come off on its own. You might be able to just peel it off, but if not, trim with scissors.
Here's what the four layers iron-on vinyl for your sunflower look like once cut and weeded:
Tip: It's a good idea to put the layers of your design together before moving on to the next step to be sure you've cut everything out and it fits together the way you expect. Don't worry -- this won't hurt your design and you can peel the layers away when you're ready to move on to step 4.
Step 4: Transfer Your Layered Design to Your T-Shirt
First, if you are using a Cricut EasyPress, refer to the Cricut EasyPress Interactive Quick Reference Guide which will tell you how to prep your material and EasyPress, how to apply and how to care for the finished product.  This takes the guesswork out of the process. You can view the guide at jennifermaker.com/easypress.
You'll want to preheat your EasyPress to the proper temperature (I'm using 300°F) or your iron to the cotton setting, If your shirt is something other than cotton, you may need a different setting for your material.
Find the center of your shirt.  The simplest way to do this is to fold your shirt in half by matching up your sleeves. 
Using your EasyPress or iron, put a little crease on the fold.  Now, when you open your shirt you'll know exactly where the center is because there is a crease.  Just line up the center of the heart with the crease.  I also choose to put the design in the top half of the shirt, which is generally where you'll want to put all T-shirt designs.  Putting a crease in your shirt like this also serves to pre-heat the material.
Open your shirt up flat, preheat your t-shirt (if you didn't crease it with heat already), then center the BOTTOM LAYER of your design in place. If you can't just eyeball it, fold your bottom layer in half (it won't hurt your design), then open it up and align the creases in the vinyl to the creases in your shirt.
Note: If you're using the "registration" or "be-kind" version of my sunflower, you'll note there are two small hearts beside the sunflower. These are here to help you line up your layers as you go, and they WILL be transferred onto your shirt. If you don't want them to stay on your shirt, you can just peel them off the carrier sheet now or learn how to remove them later on in my tutorial.
The next step is to apply it, but do not follow the Cricut Heat Guide for the length of time. Because we are LAYERING our iron-on vinyl, we have to press the bottom layers for less time to avoid overheating our design when we do subsequent layers. So put your iron or EasyPress on top of the design (you do not need any thing between your carrier sheet and the iron/EasyPress) for just 3 seconds. Yes, just three seconds!
If your carrier sheet is sticking to your iron or EasyPress, you can either tape the carrier sheet down with heat resistant tape or cover your design with parchment paper to protect the surface of your iron. If it sticks to your iron or EasyPress, carefully remove it -- do not burn yourself!
If it doesn't stick to your iron or EasyPress, peel it off while it's still warm. And given that you didn't heat your vinyl for long, this really means peel it off right away.
Now take your next layer and position it over the bottom layer, lining up the hearts. You'll note that the bottom layer has shrunk just a little bit. This is totally normal for iron-on vinyl—the more you heat it, the more it shrinks. If you don't like this, one option is to use Siser StripFlock iron-on vinyl for your bottom layer instead, as it does not shrink. But a little shrinkage isn't that big of a deal.
Once you have the second layer in place, press it down with your hand and make sure it doesn't want to move. If it wants to move at all, tape it down with the heat resistant tape to keep it perfectly in place.
Now press the second layer, but again, only for a few seconds. It's very important that you not heat it any longer than a few seconds, or it'll just be too much heat by the time you get to the final layer.
Again, peel the carrier sheet off while the iron-on vinyl is still warm.
Repeat for the third layer, being careful to line up design.
When you get to the final layer, you need to press for longer. I pressed my last layer for 10 seconds.
Here's a close-up of the sunflower T-shirt decal -- you can see how each layer shrunk a bit in the alignment of the hearts.
And that's it!
But what if you decide you don't want those hearts after all? It is possible to remove them by heating the vinyl again. Here are two ways you can do that:
First, try pressing the part you want to remove from the back, quickly flip it over, and try to remove the hot vinyl with tweezers or your weeding tool. It will only come off when the vinyl's adhesive is hot.
If that doesn't work, place the wrong side of your shirt against the hot surface of your iron or EasyPress CAREFULLY and pull gently on the shirt so it makes contact with the hot plate. Now, with the heat making the vinyl's adhesive gooey, remove the offending vinyl with tweezers or your weeding tool. Just be careful not to touch the hot surface or the hot vinyl with your skin.
Step 5: Take Care of Your New Layered Vinyl T-Shirt
Allow 24 hours after applying your vinyl before washing.  When you do wash it, turn your shirt inside out, and do not use any bleach. 
You can view the care guide at jennifermaker.com/easypress.
Enjoy!
Answers to Your Questions About Layering Iron-On Vinyl Shirts
Q: Why is my vinyl design pulling away from my shirt when I try to peel the carrier sheet?
A: This could happen for a couple different reasons. First, it could be a little too soon to pull it away and you'll want to let the design cool down a little bit more and then try again. If that still doesn't work, heat the design a little bit more.  Those are typically the two reasons it isn't working.
Q: I heard that I'm supposed to see the texture/fibers of my shirts through my vinyl; is this correct?
A: From my testing, the only time that I can get the fibers to show is when I applied too much heat. My research shows that you don't always have to see the texture for it to be applied correctly. If my vinyl is applied correctly, I can feel the texture of the fabric when I run my hand over the design, but I cannot see the texture. 
Q: Is it bad to overheat my design?
A:  Yes, too much heat will harm the adhesive, cause it to shrink, and make your design peel after you wear or wash it.  
Q: Can I combine different vinyls?
A: Yes, you can … so long as you apply certain rules! Don't try to put any layers over Glitter, Mesh, or Flocked Vinyl. I also recommend that if you use Cricut SportFlex, you only put additional layers of SportFlex on top of it. (Siser claims that it's Stretch vinyl can have any other vinyl on top of it, however.) Just keep in mind that if you blend vinyl layers, even properly, the combination may not be as strong as those made with only one kind of iron-on vinyl and may not last as long.
Q: I put made a shirt with layered glitter vinyl and it was okay at first, but now it is peeling. Why?
A: If you use glitter iron-on vinyl, it must be your top layer without anything layered on top of it. It may stick initially, but then peel off in the wash.
Q: Is there another way I can design my T-shirts so they lasts longer?
A: Yes, I suggest using Infusible Inks if you want a longer lasting design. I have a Cricut Infusible Ink T-Shirt tutorial you might enjoy!
Get my free template and cut files for the Be Kind Sunflower and Pinkie Promise Decals
I'd love to see your layered iron-on vinyl T-shirts! Please share a photo in our Facebook group or tag me on social media with #jennifermaker.
Love,
The post How to Layer Iron-On Vinyl Shirts – Beginner Friendly! appeared first on Jennifer Maker.