How To Make The Best Frozen Drinks Around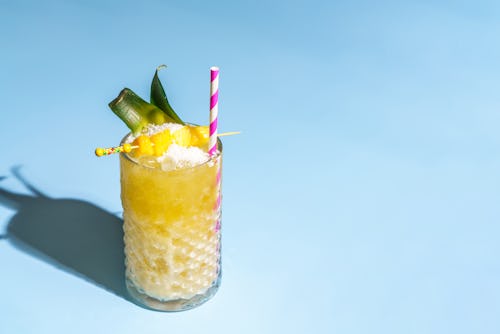 Frozen drinks were once synonymous with brightly colored slushies spinning in washeteria rows, with misogynistic drink names luring fake ID users with cheap overproof hooch. Their bad wrap was well deserved. Fortunately, these days, serious bartenders with real mixological chops are elevating and revitalizing frozen cocktails using fresh ingredients, top-shelf booze, and artful recipes. And with their knowledge, you can create some great frozen cocktails at home.
If you want to whip up a frozen espresso martini or perfectly creamy Piña Colada for your next backyard party, you need to know that making frozen drinks — that is, those that are light, refreshing, and bursting with flavor — is not as simple as blitzing a bunch of ice, fruit, and booze in a blender. That isn't to say it's difficult; it simply requires a bit more nuance and some understanding of how sugar, ice, and alcohol ratios affect the texture and dilution of the drinks.
So, to help you out, we asked some of the country's best bartenders for their tips, techniques, and frozen drink recipes to help you master the icier side of bartending. Here's how to level-up your frozen cocktails.
1. Use The Right Ice (And Understand Its Role)
Pebble ice is the universal pro recommendation for frozen drinks. The marble-sized ice sits on the scale between crushed and standard tray cubes and creates a consistent texture, saves your blender blades, and won't throw off the ratio of your drinks the way larger cubes do. To create it, you can purchase a pebble ice maker, or simply buy a bag from Sonic (or other fast-food places).
No access to pebble ice? At the very least, you should use store-bought ice and avoid using the stuff from your freezer. "Ice from the store is fresher and better than the cubes your freezer makes," says Rob Crabtree, owner of Boat Drinks, a St. Augustine, Florida bar specializing in frozen drinks. "Plus, the ice in your freezer tends to pick up odors from what is stored around it, which you definitely don't want to taste in your Daiquiri."
It's important to understand that ice is not just cooling the drink, but also diluting it. Arturo Vera-Felicié, freelance bartender and brand advocate for BARE Zero-Proof Spirits, notes its two important roles for frozen drinks .
"The obvious thing is bringing it down in temperature, but it also adds water into the equation, bringing down the alcohol content." Ice dilutes frozen drinks far more than it dilutes a shaken cocktail, so by using crushed or pebble ice instead of bigger ice cubes, you have more control over the dilution. "Larger ice won't give you the proper texture or proper dilution, while simultaneously dulling your blender blades," says Vera-Felicié.
Opal Nugget 2.0

GE

[TAG1]
2. Pre-Freeze Your Liquor
A simple, yet very effective, trick from Crabtree is to pre-chill or pre-freeze the alcohol you know you're going to use in a frozen drink. Why? "Colder equals an icier daiquiri."
3. Frozen Fruit Is Your Friend
While you need ice for a frozen drink, Crabtree notes that too much leads to over-dilution. His advice? Change the way you think about frozen fruit. "Think of it as ice with flavor," he says, and use it to enhance whatever recipe you're making.
4. Keep The Right Sugar Ratio In Mind
"The key to a good slushie is understanding the sugar levels," says Christian Orlando, Beverage Director at Black Tap Craft Burgers & Beer. "You may have to add more sugar to the mix to create a perfect consistency, yet you don't want it to overpower the drink with sweetness."
Jake Powell, Head Bartender at Death & Co Denver, also emphasizes the importance of the sugar ratio. Getting the right texture, he notes, is all about balancing the ratio of alcohol, sugar, and water. If it's too runny, you have too much alcohol in there; if it's too icy you don't have enough sugar.
Powell recommends starting with the following ratio for an individual frozen drink: 2-ounces liquor, .75-ounce citrus, 1-ounce simple syrup, and 4-ounces pebble ice.
"The more water you add to a cocktail, the more sugar you need," says Vera-Felicié. "The converse is also true. The more sugar you add to a cocktail, the more dilution levels need to rise," he says, adding that this ratio will determine whether your drink comes out "like an Icee or like soft-serve ice cream."
Vitamix Propel 750

William Sonoma

[TAG2]
5. Always Use Fresh Juice
Fresh citrus is crucial in frozen drinks as with any good cocktails. "It's why Daiquiris and Margaritas taste better at good bars," says Crabtree. He adds that fresh citrus juice should be used within 12 hours of juicing.
6. Don't Forget The Salt
Good old NaCl is an often-neglected ingredient when making frozen drinks at home, a mistake that can cost you flavor and balance. "Salt makes cocktails taste better," says Crabtree. This is particularly true of citrus-centric drinks, he notes, for the way that salt brings out different aspects of the bright, tart, sweet flavors.
7. Use Quality Booze
Old thinking goes that frozen drinks can be made with cheap booze because the flavor is masked by the sugar and low temperature. Wrong. All our experts agree that you must use good booze if you want to make a great frozen drink.
8. Don't Discount Dairy
Dairy or milk alternatives, Powell notes, can add creaminess to frozen cocktails and take away that unpleasant 'icy' texture. Want proof? The dairy, courtesy of coconut cream and coconut milk, is what gives the Piña Colada the flavor and body that makes it so damn popular. He recommends a homemade option of equal parts Coco Lopez cream of coconut and Thai coconut milk, which makes the ideal creamy frozen drinks.
5 Excellent Frozen Drinks To Make
1. The Frozen Espresso Martini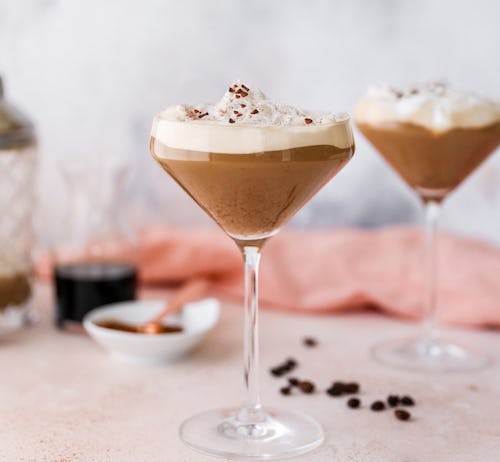 This icy expression of the espresso martini, created by Jason Hedges, Beverage Director at Laurent Tourondel Hospitality and co-founder of Bar-IQ, is simple to make but seriously delicious.
Ingredients
2 oz dark rum
1 oz Kahlua
1 oz fresh espresso
1 oz simple syrup
1 oz heavy cream
1 cup ice
Fresh whipped cream and cocoa nibs for garnish
Directions
Brew a fresh espresso shot and let it cool.
In a blender, add the rum, Kahlua, cooled espresso, simple syrup, heavy cream, and crushed ice.
Blend the ingredients until smooth and creamy.
Taste the mixture and adjust the sweetness or coffee flavor if needed.
Pour the mixture into chilled cocktail glasses.
Top with fresh whipped cream and cocoa nibs for garnish.
2. The Frozen Banana Daiquiri
This recipe, courtesy of Rob Crabtree, serves two, but can easily be doubled or tripled for a crowd. For the rum, Crabtree recommends Chairman's Reserve from St. Lucia, or the boldness of Jamaican Hampden Estate.
Ingredients
4 oz aged rum
1.5 oz lime juice, freshly squeezed
2 Tbsp light brown sugar, lightly packed
1 1/2 frozen bananas, broken into chunks
1 pinch sea salt
1- 1 1/2 cups ice, depending on the size of the cubes (less for smaller)
Ingredients
Blend the rum, sugar, and lime first, before adding the frozen fruit and ice
Then add the frozen fruit & ice and blend until all of the ice is broken down
Serve in a chilled glass or insulated cup
3. The Brancolada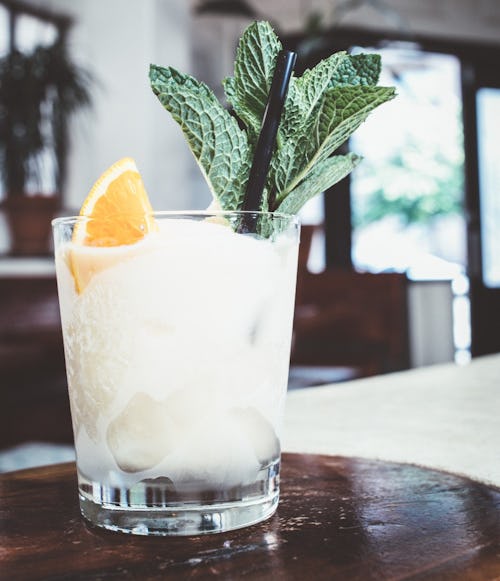 Mixologist Jeremy Oertel created this colada variation for Donna, NYC. The idea came from a waitress who put Branca Menta — the mint version of Fernet Branca — on ice cream sandwiches. He started trying this as a made-to-order drink on crushed ice, and then by popular demand it became a batched drink in slushy machines.
Ingredients
1 oz Branca Menta
1.5 oz Pineapple Juice
0.75 oz Coconut Cream (3 parts Coco Lopez to 1 part Coconut Milk)
0.25 oz Orange Juice
Directions
Combine all ingredients in a blender
Blend with 1 cup of ice until smooth
Pour into a Hurricane glass
Garnish with a mint sprig and orange crescent
4. The I Do, Yuzu
This frozen drink recipe, created for Black Tap Las Vegas, combines the floral notes of lychee and the sharp, sweet notes of yuzu and other citrus.
Ingredients
2 oz vodka
2 oz lychee syrup
1 oz yuzu juice
.5 oz lemon juice
.5 oz simple syrup
½ cup of ice
Directions
Combine ingredients in a blender
Blend until smooth
Pour into suitable glass and garnish with fresh mint leaves
5. The Crocodile Tears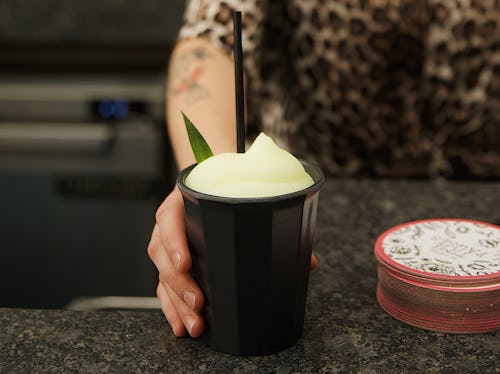 Courtesy of Powell of Death & Co Denver, the Crocodile Tears is a riff on the pineapple daiquiri, with extra depth provided by the additions of melon and aloe liqueur, the latter of which brings floral notes of cucumber, spearmint, and aloe vera.
Ingredients
Directions
Combine all ingredients in a blender
Blend until smooth
Pour into a glass and garnish with pineapple fronts and/or fresh mint.