How to Throw a Water Color Birthday Party for Kids
We love birthday parties and we also love the idea that children's parties should be filled with lots and lots of color. This water color themed party is just the ticket for the little artist. Best of all, it's inexpensive, easy to put together, and looks adorable!
We've put together activities, snacks and a shopping list to make coordinating this creative and low-key birthday party easy. It's suitable for any season as it can be hosted indoors or outside. I think it's perfect for kids ages 3 and up. This is a party you can pull together in a short amount of time and on a low budget.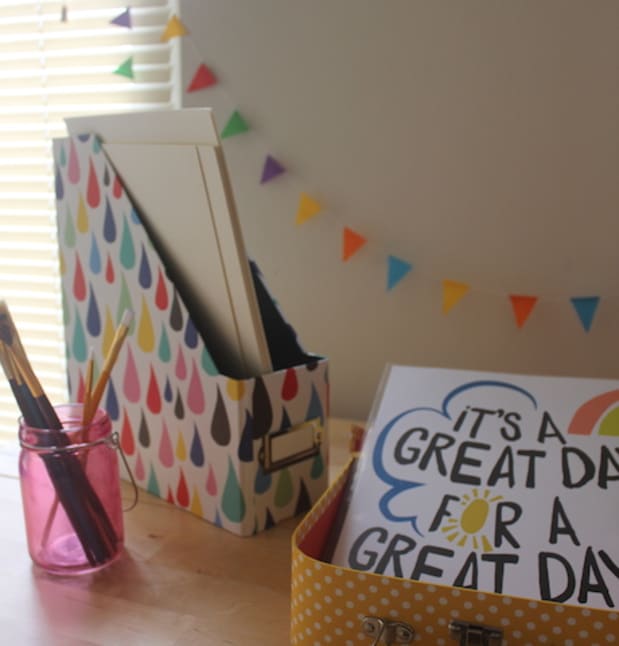 Decorating for a Water Color Birthday Party
We hung a multi-colored miniature triangle bunting and kept the table clear so that guests had room to create. The color-drop magazine organizer held plain pieces of paper and a small colored mason jar (found at the dollar store!) kept different sized paint brushes at the ready. The sweet art print from Lucy Darling gave the room some color and was a fun surprise for guests to take home at the end of the party.
You can set up some inspiration around the room like:
A bouquet of flowers
A bin of dinosaurs
A bowl of fruit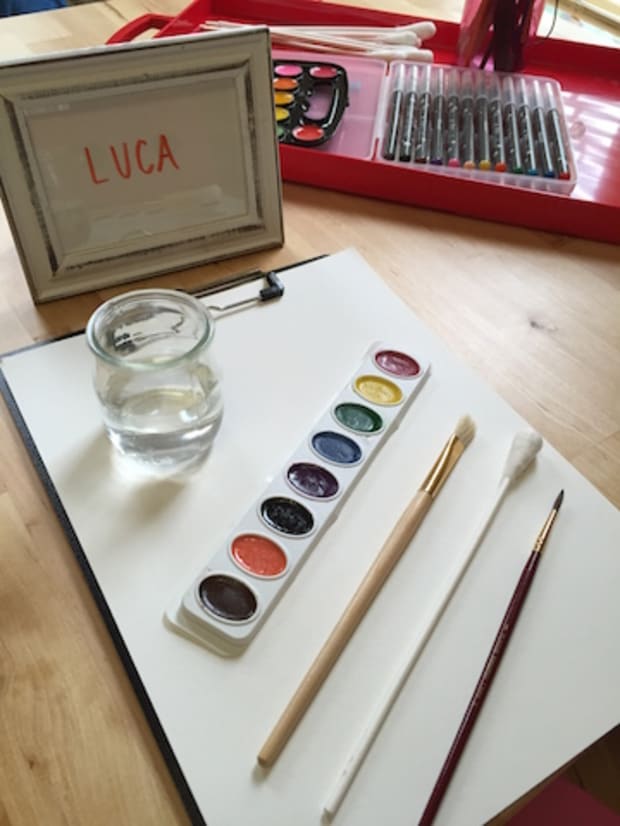 Gather These Items from Home
Mason jars or cups for water
A drop cloth to collect the mess
Extra paint brushes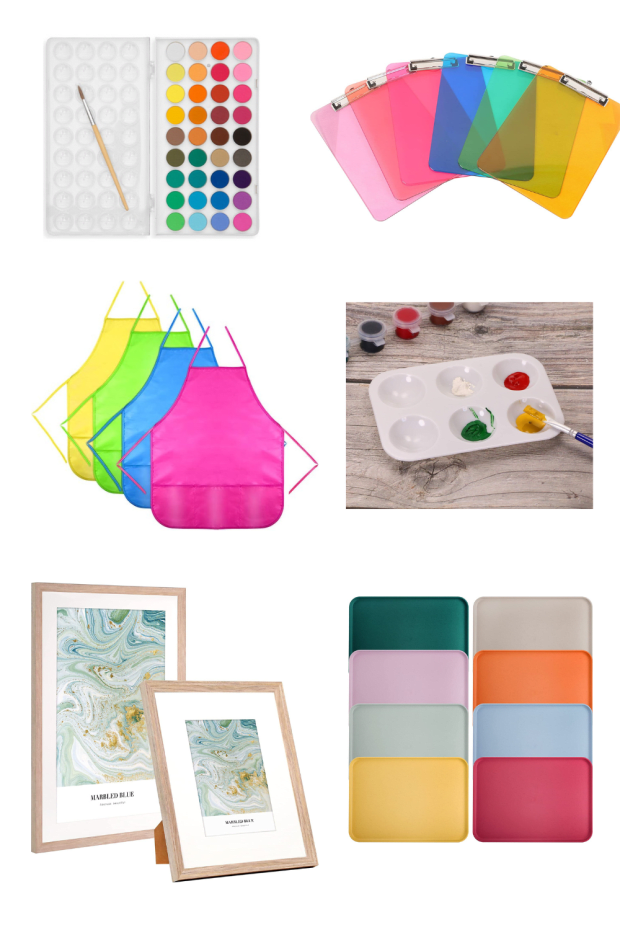 Shopping List for Water Color Birthday Party
This shopping list can be found at craft supply stores or online. I'm putting in shopping links to make life easier. Where you see Amazon links, know that they are affiliate links.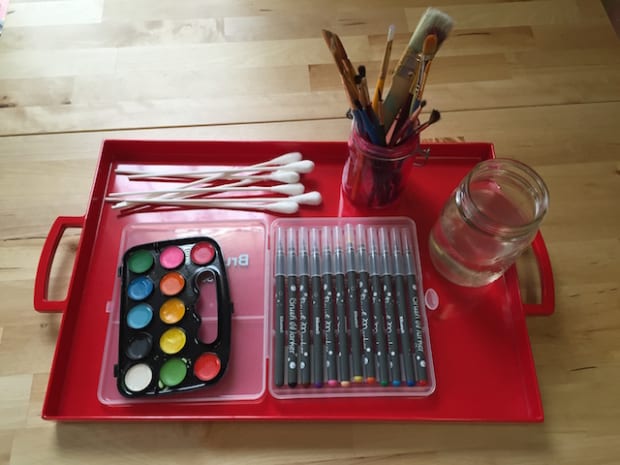 Setting up the Water Color Party
Each place setting had a clipboard with plain paper, a frame with the guest's name inside, a jar of water, paint brushes, a q-tip, and water colors. The frame is made of basal wood and can be painted, too!
In the center of the table we put a tray filled with paint brushes, oversized q-tips, a mason jar filled with water, paint brush markers, and some extra water colors. By giving the party guests options, inspiration can strike in many forms!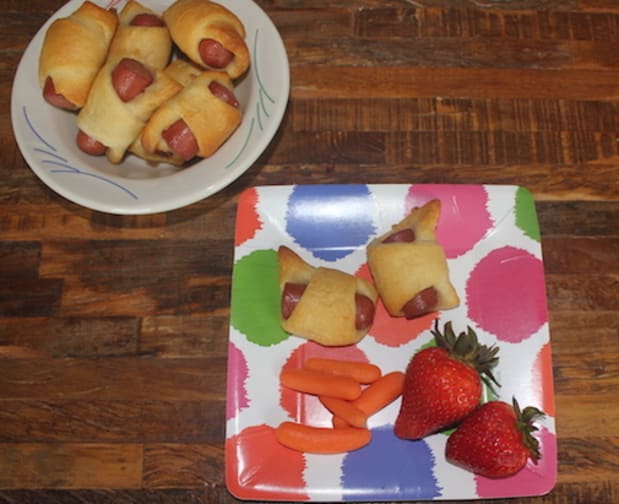 Snacks for a Water Color Birthday Party
For snacks, we filled pop corn boxes with colored gold fish. We made pigs in a blanket and filled a bowl with the extras. Something really fun is to create a rainbow treat box. First, you need an oversized pill box. Snip off the tops with the days of the week to create the container. Here are some ideas for the coordinating foods.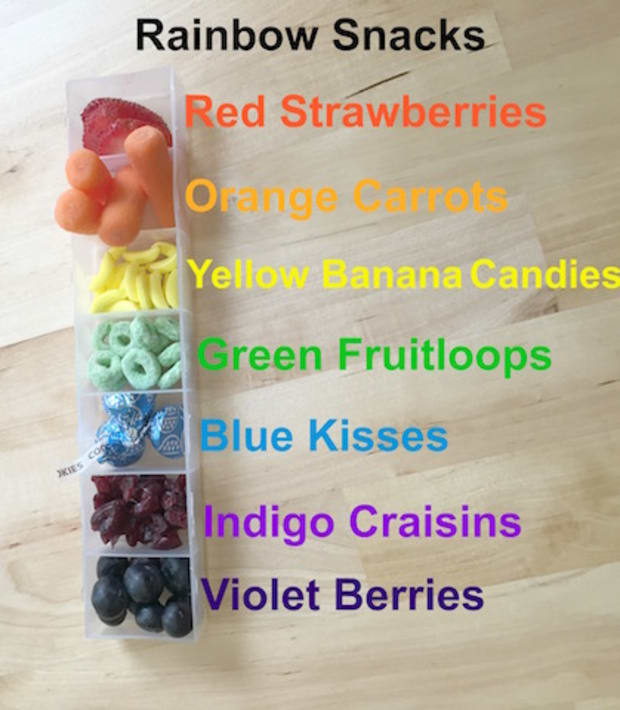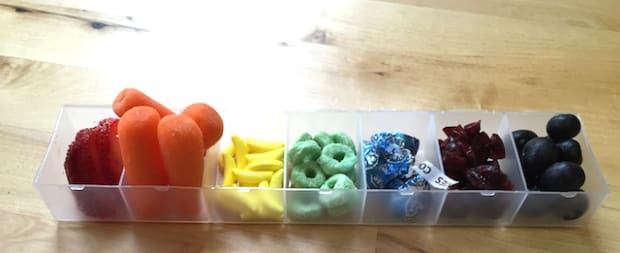 As favors, guests receive the framed art, the set of paints, and colorful treats. We hope you liked our ideas for a water color-themed party. 
MORE BIRTHDAY PARTIES FROM MOMTRENDS
PIN IT!
Be sure to follow our Kids Birthday Party board on Pinterest for more party inspiration.
Disclosure: We were not compensated for this post.