Interview with an Indie Press: Europa Editions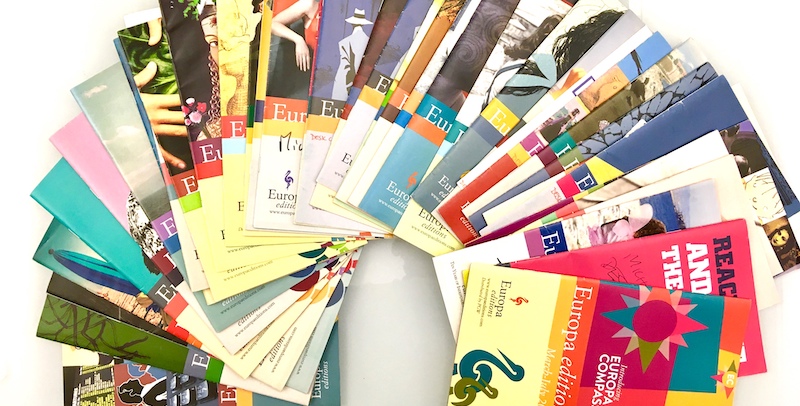 One of the more well-established independent presses out there, Europa Editions has in the last 17 years forged a path for those who want to read across borders, publishing some of the bestselling translated novels in the U.S. along with bringing lesser-known international authors to an American audience. Their team answered questions about publishing for a global audience, connecting readers across languages, and the experience of watching one of their authors become an international sensation (yes, we're talking about Elena Ferrante).
*
What are some of the benefits of working at an independent press?
There are a lot of benefits of working at an independent press. One is having a clear mission and identity. Europa Editions was founded by husband and wife, Sandro Ferri and Sandra Ozzola Ferri, to bring fresh international voices to a U.S. audience. They believe in the importance of building readerships among cultures, and it is this mission which drives our editorial acquisitions. And as an independent publisher, we have total freedom to make our decisions on what to publish and how to publish without the constraints that come with a large corporate bureaucracy.  –Kathy Wiess, Director of Sales, Marketing, and Business Development
*
What are some of the challenges of working at an independent press?
I would say the big challenge is working with limited resources both in terms of personnel and budgets. Our team is small, so we all wear a lot of hats. And we need to be very strategic in how we spend our marketing dollars. We don't have the budget to engage in a lot of the trade and consumer marketing activities the large publishers can, so we work very hard on cultivating our relationships with booksellers, particularly independent booksellers, who are eager to read, display and hand sell new voices and international voices.  –Kathy Wiess, Director of Sales, Marketing, and Business Development
*
Is there a particular quality, style, or other characteristic that connects the projects that you take on?
We've always set out to acquire books that are meaningful to large numbers of readers in their home market in the hope of bringing those books to equally large numbers of readers in the U.S. We connect a writer with his or her natural readership here, of course, but it's been equally important for us to think about connecting readerships. If thousands, or hundreds of thousands of readers love a book in its original language, or its original edition, and we can manage to bring it to a similar number of adoring readers here, then we've created a kind of bridge, or nurtured a dialogue between readerships; those people living in different parts of the world are nonetheless connected through their love of a good book. And good things can come of that. I think the projects we take on all have the potential to connect readers in this way; they are books of quality with the potential to reach large audiences.  –Michael Reynolds, Editor in Chief
"Everyone told the owners and founders of Europa, Sandro Ferri and Sandra Ozzola, that they were crazy, that it would never work: Americans won't read books in translation."
I'm very new to Europa, but part of what drew me are the kinds of books we publish. Literary fiction is my wheelhouse, and those are the books we publish very well. When I was in college, one of my favorite classes was French Women Writers in Translation; little did I know that I would be working with a catalog of amazing writers in translation. But for me the "in translation" part is a piece that helps us bridge cultures, it's the story part that helps us connect people.  –Kristi Bontrager, Publicity
*
Were there any titles in particular that were game-changers for your business?
Yes! Our very first book, The Days of Abandonment by Elena Ferrante, became a national indie bestseller thanks to the good will and the hard work of independent booksellers and that experience taught us very early on who our best and first friends were in the business. Old Filth by Jane Gardam, acquired by my colleague Kent Carroll, which was a long-seller and a bestseller that put us on the map as a publisher of English-language authors. The Elegance of the Hedgehog by Muriel Barbery, which, during the recession years of 2008 and 2009, when a lot of people were hurting, touched the lives of over one million readers and became our first NYT bestseller, demonstrating that that level of success was accessible to an indie publisher, for a book in translation, and for a young company like Europa.
You Deserve Nothing by Alexander Maksik, which was our first NYT bestseller by an American author. Breasts and Eggs by Mieko Kawakami, although not our first book by a Japanese author, is one that did particularly well and has opened up new acquisition vistas. But perhaps most significantly The Neapolitan Novels and the recently published Lying Life of Adults by Elena Ferrante—the publication of these books was a once-in-a-career moment for me, and the experience of seeing books that you published shape public discourse in a big way and deepen or even transform people's relationships to others was an unforgettable privilege. I'm certain that Damon Galgut's The Promise, which just won the Booker Prize, is going to prove a game-changer for us as well.  –Michael Reynolds, Editor in Chief
Europa published several titles which were real game-changers before I joined the company. In particular, My Brilliant Friend by Elena Ferrante and The Elegance of the Hedgehog by Muriel Barbery, both of which became NYT bestsellers and received great critical acclaim. We are very proud to be the publisher of the most recent Booker Prize winner, The Promise by Damon Galgut, which I think will be a game-changer for us. However, I think one of the really exciting things happening with Europa right now is we are becoming better known for publishing a range of authors who write high quality literature and sell well. In addition to Ferrante and Barbery, booksellers and readers now know Europa as the publisher of Damon Galgut, Mieko Kawakami, Valérie Perrin, Christelle Dabos and others whose titles are becoming perennial backlist bestsellers.  –Kathy Wiess, Director of Sales, Marketing
*
What are some of the biggest risks you've taken as a business? How did you navigate them?
The whole endeavor is a risk! When we set out, everyone told the owners and founders of Europa, Sandro Ferri and Sandra Ozzola, that they were crazy, that it would never work: Americans won't read books in translation; critics won't take trade paperback originals seriously; life is too hard for independent publishers in this age of publisher mergers and conglomeration. Over the years I've learned there is very little that motivates Sandro and Sandra more than being told something that they think is a good idea will never work or can't be done. So, from day one it's felt like a risk, but a worthwhile and often exhilarating one.  –Michael Reynolds, Editor in Chief
*
What are some projects you're particularly excited about at the moment?
Well, we have a new Elena Ferrante book coming, In the Margins: On the Pleasures of Reading and Writing, which is always something to get excited about. We are publishing All the Lovers in the Night, the third novel by Japanese superstar Mieko Kawakami next spring. Mieko has such a singular voice and her choices of subject matter are thrilling; her books feel essential, important. I can wait to see how readers respond to Lovers because I think it is at once her most widely appealing book and her most daring. Also in the spring, a long-time Europa author, Alexander Maksik returns with The Long Corner. Xander's novel is a rarity at Europa because it is very much an "America now" book. I'm excited to see where the successes of the past few years together with our forthcoming books take us. We are growing and expanding into new genres and categories of books—that kind of change is always exciting.  –Michael Reynolds, Editor in Chief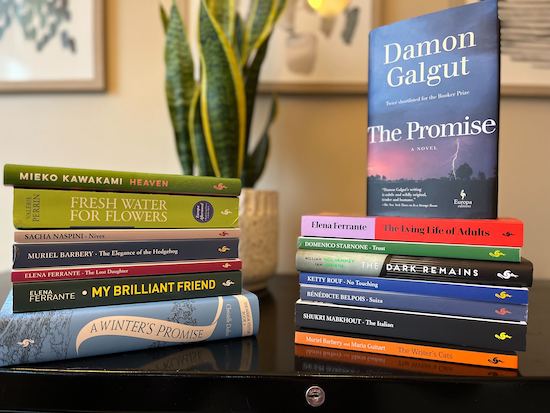 We have a lot of great fiction publishing in Spring/Summer 2022. One title I am particularly excited about is Three by Valérie Perrin. We published her first novel in the US, Fresh Water for Flowers, in hardcover in 2020 and the paperback came out in May of this year. It is a book independent booksellers embraced from the beginning. It was an Indie Introduce and Indie Next List pick in hardcover and the paperback was selected for the Summer 2021 Indie next List "For Reading Groups." We have already scheduled multiple reprints of the paperback. Her new novel, Three, is another beautiful and poignant story, this time about three inseparable childhood friends and how their relationship changes in adulthood. As with Fresh Water, there are lots of story lines and plot twists which make it difficult to put down.
I am also very excited about Belle Greene by Alexandra Lapierre. I am a big fan of historical fiction, and this is historical fiction at its best. A thoroughly researched book on a fascinating woman not nearly as well-known as she should be. Belle Greene became one of the most powerful women in books, art, and society in the 20th century when J.P. Morgan hired her to become the Director of the Pierpont Morgan Library. Not only did she combat sexism but due to racism she also needed to keep her true identity a secret and pass as white.
And looking ahead to Fall 2022, I am very excited about bringing two books to an American audience by award winning Asian writers; Ghost Town by Kevin Chen and The Betrayed by Reine Arcache Melvin. Both stories take place during times of dramatic political and societal changes in their respective countries of Taiwan and the Philippines.  –Kathy Wiess, Director of Sales, Marketing
*
How do you get feedback from your readers?
Readers reach out to us all the time, on social media, via email of course. But I think our biggest and best source of reader feedback is through independent booksellers. We have great relationships with booksellers across the country who really have the direct line to readers. When I was at MPIBA earlier this year, it was such a pleasure to talk with booksellers and hear what was really connecting with their customers.  –Kristi Bontrager, Publicity
*
How do debut authors reach/pitch you?
We work through agents, and through authors' representatives at foreign publishers.  –Michael Reynolds, Editor in Chief
*
What's another indie press you love/would recommend?
Many, many of them! I am a strong believer in the inherent value of independence. Frommy perspective, independence itself adds something special to whatever kind of publishing you're doing. To name just a few that come immediately to mind… I like what Belt Books is about. Transit Books is publishing incredible books. Biblioasis is on a roll. How can you not get excited about the fusion of Deep Vellum and Dalkey Archive. California based Nouvella specializes the most elegant form, the novella, and publishes them in beautiful, well curated editions. Restless Books is doing something new and wonderful every time I look in their direction. The Mantle has been finding incredible work. And then you have more established independent publishing houses that routinely demonstrate just how significant a role Indies play in the culture of reading in this country: New Directions, Graywolf, Soho, The Other Press, Seven Stories, Beacon, New Press, Feminist Press, Tin House, Melville House, Grove, Catapult… these houses are publishing best-sellers, long sellers, books in all sorts of genres and for all kinds of readers, and their publishing programs contribute hugely both to our literary culture and to the book industry. I love them all and highly recommend you run out and buy the most recent book published by each.  –Michael Reynolds, Editor in Chief
There are so many wonderful indie presses. Since I love literary fiction, fiction from around the world, and historical fiction, I find many great books to read from Grove Atlantic, Tin House, Catapult, W.W. Norton, and Biblioasis, just to name a few. Europa Editions is a member of IPC (Independent Publishers Caucus) so since joining Europa I have had the opportunity to meet colleagues from many indie presses and to learn more about their publishing programs. For anyone who wants to read more books by indie presses, I recommend looking at a list of IPC members. Whatever your taste in fiction or non-fiction I am sure you will find many wonderful "new" books.  –Kathy Wiess, Director of Sales, Marketing