Janome Sewing Machines Guide & Top 9 Models
Janome is one of the leading brands in the sewing machine industry that's popular for its innovative and consumer-centric designs and functionality. Irrespective of whether you're a novice or a pro sewer, the brand offers a range of excellent machines you won't regret investing in. 
And guess what? Besides sewing, Janome have you covered if you indulge in quilting and embroidering.  
It was the first brand to introduce automatic sewing machines for household use and has plenty of sewing machines you can choose from. This guide takes you through my nine best Janome sewing machines that are easy to use, reliable, and long-lasting. 
Let's start with a glance at Janome's history. 
Best Overall Janome Machine –

Janome 49360
Best Beginner Janome machine: Janome MOD-19
Best High-End Janome Machine: Janome Sewist 780DC
Best Beginner Janome Machine For Quilting:

 

Janome 3160QDC-T Sewing and Quilting Machine
For More Advanced Quilters: Janome MC6650 Sewing and Quilting Machine
Best Heavy Duty Janome Machine: Janome HD3000 Heavy-Duty Sewing Machine

Best Combo Embroidery/Sewing Machine:

Janome Horizon Memory Craft 9850
Best Beginner Janome Serger Machine: Janome MOD-8933 Serger with Lay-in Threading
Best Janome Serger for advanced users: Janome MyLock 634D Overlock Serger
Janome Sewing Machines – A Quick Look Into The History
Janome was founded in 1921 by Yosaku Ose as Japan's first household sewing machine. In Japanese, Janome (pronounced Ja-No-me) means 'eye of the snake.' The company got its name when its inventor started using a rounded metal bobbin design instead of the classic long shuttle. 
Since the new rounded bobbin resembled a snake's eye, that's how the company earned its name "Janome." Janome has been a leader in this business in more than 100 countries with its new invention in the industry. It also has many divisions in the US, Europe, New Zealand, and many agents in Asia. 
From the 1920s to the 30s, Janome introduced many models that quickly became popular among local consumers. The models had many features like the vertical half-turn shuttle for the bobbin thread tool, increasing speed and efficiency. 
In 1948, the widespread Model 102 was invented to cater to home sewists to sew many garments and home accessories. In the 1960s, the Model 560 was introduced, a fully automatic machine making zig-zag sewing a reality. 
The company marked its 50th year with the curtain-raiser Janome New Home 801 – a totally automatic model. The advancement in technology created new opportunities in the sewing industry. In 2000, the Memory Craft 10000 was introduced.
It could be linked to your computer through USB. Following the success, in 2011, the Horizon Memory Craft 1500 was launched with an extensive selection of embroidery designs. With the introduction of its award-winning M7 Professional in 2019, Janome tapped into the quilting domain.
What Are The Specifics Of Janome Sewing Machines Compared With Other Brands?
If one thing differentiates a regular sewing machine from the best sewing machine, it's the stitch quality. All Janome sewing machines are known for their superb stitch quality that levels up your sewing project. 
Furthermore, exemplary customer service and user-friendliness are the other USPs of Janome. All these make the Japanese brand a must-try for everyone. 
Other specifics include:
Exclusive warranty on every purchase

A vast range of heavy-duty models 

Compact designs

Sturdy build quality
Next is the list of the top 9 Janome sewing machines. 
9 Best Janome Sewing Machines
Best Overall Janome Machine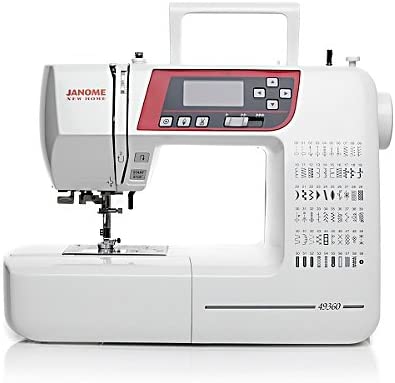 The Janome 49360 computerized sewing machine is a must-have machine with all the features under one roof. This sewing machine is ideal for beginners as it's lightweight, easy to operate, and has a silent operation. 
It lets you effortlessly change from the sewing mode to the quilting mode with one touch. You can sew any (light and heavy) fabric on the machine with precise and high-quality stitches. 
Being one of the high-selling models, Janome 49360 is suitable for multiple sewing techniques that you can try by following the complementary Janome instructions guide. 
The 49360 sewing machine comes with a 25-year warranty for mechanical parts and two years for its electrical components. The labor charges for the first year are zero. However, the warranty applies only if you use this sewing machine for household use and not commercial use. 
Coming to the built-in features, the Janome 49360 computerized sewing machine features 60 stitch designs, six one-step buttonholes, an LCD, and many more features, including:
Seven-piece feed dog 

Start/stop button

Automatic thread cutter (works at the push of a button)

Speed control slider

Extended free arm and needle plate

Memorized needle up/down
The Janome 49360 sewing machine is undoubtedly worth your money as it's durable. You also don't have to consider changing the sewing machine after every few years as it will stay with you for quite a long time. Check the Janome 49360's latest prices on Amazon.
PROS
Lightweight

Quiet operation

Easy to set up and use

Automatic thread cutter

Great machine for quilting
CONS
The sewing light is a little dim

Not suitable for commercial purposes 
Best Beginner Janome Machine
The Janome MOD-19 sewing machine is inexpensive, lightweight, and easy to store. The sewing machine has 19 built-in stitches, an automatic needle threader, and a sturdy metal interior. 
Janome MOD-19 has a supreme top-loading bobbin design and a built-in needle threader, as the set-up is fast and straightforward. The five-piece feed dog and the adjustable stitch length/width let you move the fabric quickly and smoothly in the machine. 
After a thorough use, I must compliment MOD-19's silent operation and ability to keep your workspace tidy. However, I had difficulty changing my feet because of the machine's plastic material. I have also noted that this sewing machine is not suitable for heavyweight materials like wool or denim. 
Like other models, the Janome MOD-19 sewing machine is backed with the company's 25 years of warranty. In the first year, you can replace any faulty pieces, and any service is also free of cost. After the first, you can return any defective part for free but will have to pay for the service.
It comes with a built-in lamp and drop-in bobbin that lets you notice what you are doing when positioning it, and it's also straightforward to reach if there are issues.
The Janome MOD-19 sewing machine is simple to operate, and the sewing machine is built to last due to its fully metal interior. With specific settings, it is the go-to machine for any beginner. Check the Janome MOD-19's latest prices on Amazon.
PROS
Versatile  

Sturdy design

Great for beginners to learn 
CONS
Plastic presser foot

Quite hard to change the feet
Best High-End Janome Machine For Advanced Sewists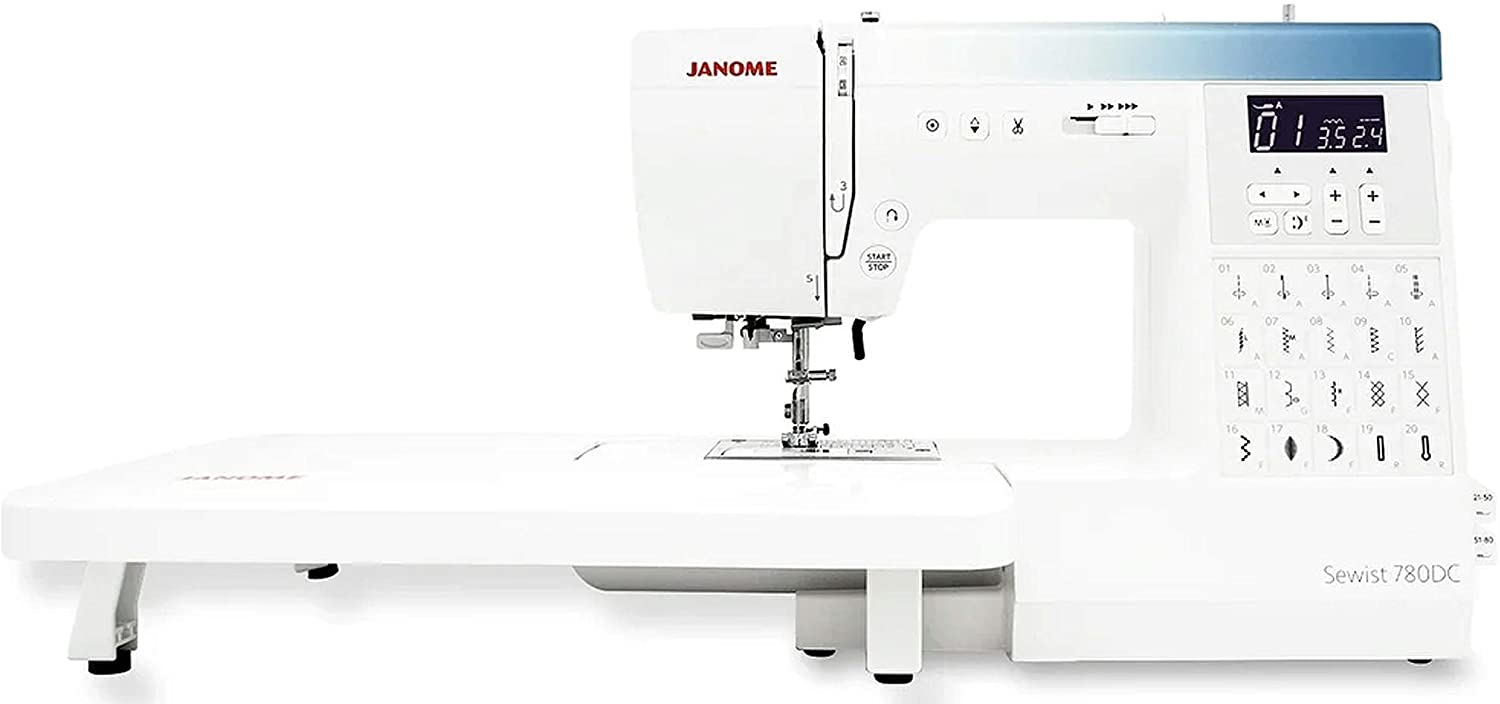 The Janome Sewist 780DC sewing machine is computerized and designed for hardcore sewists. This beast is packed with several time-saving features like the needle threader, thread cutter, and start-stop button to speed up your stitching time. 
When a particular stitch is selected, the LCD screen displays the specified stitch, suggested foot, the stitch width, and length. You can also change it to fit your needs. The Sewist 780DC also provides you with three styles of one-step buttonholes. 
The Janome Sewist 780DC is built with a metal frame on its interiors, making it highly durable for domestic purposes, though it's great for commercial purposes. The digital screen displays the actual decipher very clearly and precisely, so you can turn the wheel according to the stitchers' size. 
The machine initially offers you a total of 80 stitches to pick from. The first 20 can be selected from the buttons numbered underneath, and the rest 60 using the built-in stitches charts on the right side of the sewing machine. 
The start and stop buttons let you sew on the machine, acting as an alternative to the without the foot control when having to sew a lot.
So far, this sewing machine is a steal for me. It's the perfect sewing machine for anyone new to a computerized device. The Sewist 780DC is a straightforward machine that lets you operate it with the help of the diagrams printed on the machine's body, which also serves as a great reminder.  In my opinion, it's most suitable for anyone looking to sew or create their apparel and furnishings. Check the Janome 780DC's latest prices on Amazon. 
PROS
Computerized sewing machine 

Easy to use features 

80 decorative stitches 

Start-stop button in place of conventional foot control
CONS
Only 20 stitches to choose from on the buttons 

Overall build quality could be better
Best Beginner Janome Machine For Quilting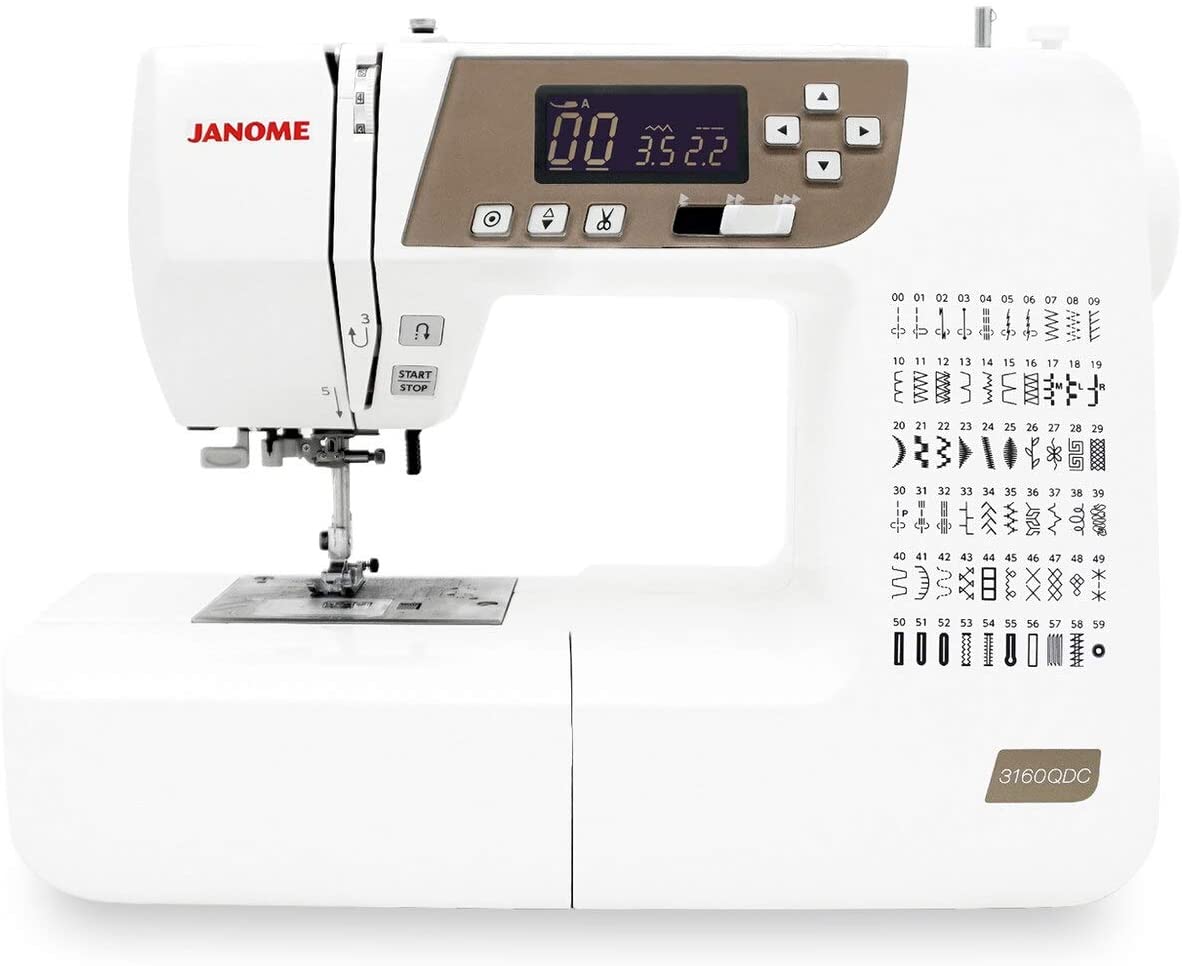 If you don't want to invest individually in a sewing and quilting machine, check out this Janome 3160QDC-T sewing and quilting machine. It's loaded with tons of useful features to cater to sewers and quilters. This fully computerized machine is an attractive choice for quilters who don't like complicated functionality. 
Despite its economical pricing, the machine offers you 60 stitches with six 1-step buttonholes stitches displayed in a stitch chart on the device. 
The 3160QDC-T gives you all the advantages of a top-line model in a movable size. The sewing machine's Superior Plus Feed System ensured an even and stabilized feeding for any fabric, from light to heavier, even for multiple layers. Isn't it exciting and something you wouldn't have thought of?
The machine also provides many other time-saving features like the memorized needle up/down with down as the default setting, a built-in one-hand needle threader, and a locking stitch button making sewing smooth. 
Above all, the machine only weighs 12 pounds, so it is effortless to move around or even take to your sewing/quilting classes! 
The big LED display, and single-press buttons make picking and adjusting stitches simple. The 3160QDC-T also has a built-in needle threading component and a threading course that makes it easy to thread. The convertible free arm has an added extension table for a larger workspace. Check the Janome 3160QDC-T's latest prices on Amazon.
It also has a hardcover. The sewing machine operates very quietly and is stable despite its smaller size and lightweight. Some of the additional components that are included in this model are:
Seven types of all-use and quilting presser feet 

A collection of needles & bobbins

Tools for maintenance and cleaning
PROS
Suitable for multiple layers of fabric

Very stable

Lightweight  

Extensive support for beginners 
CONS
Workspace lighting is quite dim.

No knee-lift
For More Advanced Quilters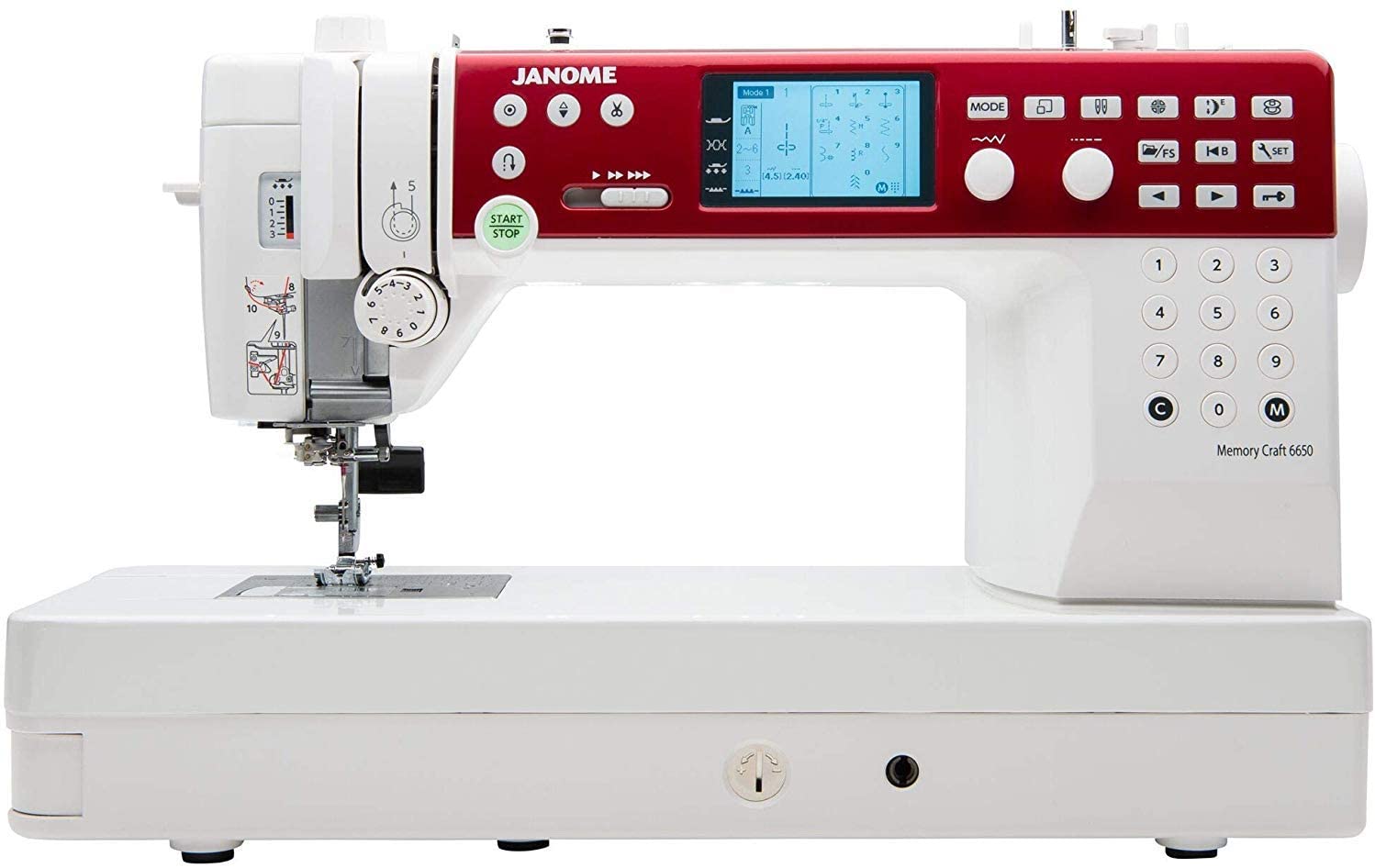 Next on the list is this Janome MC6650 best sewing and quilting machine that refines your projects. This machine is packed with many features to take off the load of working on more significant projects and reduce their completion time. 
The Janome MC6650 sewing and quilting machine have some fantastic features like:
Independent bobbin winder 

Automatic thread cutter

Last stitch memory ability

Memorized needle up and down
The MC6650 can stitch at a speed of 1,000 SPM (stitches per minute). The machine also has 170 built-in decorative stitches, nine automatic one-step buttonholes, and script alpha-numeric fonts in the uppercase and lowercase to uplift your free-motion quilting projects.  
The machine also provides you with a flip-up stitch diagram printed on the right side of the device to be threaded in no time. You can also utilize the needle threader built into the sewing machine to insert the thread into the eye of the needle effortlessly.
The MC6650 also comes with a warranty of 25 years on mechanical parts and five years on electrical components. The company covers the labor charge for the first year. The Start/Stop button on the machine also gives control of the stitching on your fingertip. You can also set your favorite stitch setting to default. Thus, when you turn on your machine the next time, you will get the same settings.
Numerous LED lights on the machine make it convenient to see your work while doing it. This comes in handy if you're working on night deliverables. Its dimensions are more significant than a standard sewing machine, letting quilters and sewers comfortably complete their project. So, no need to worry about space! With this collection of features at your fingertips, no work is out of your reach. Check the Janome MC6650's latest prices on Amazon.
PROS
Easy threading with built-in needle threader

Easy convenience buttons

Memory banks to store up to 20 stitch sequences

Three LED Lights

Speed control slider
CONS
Best Heavy Duty Janome Machine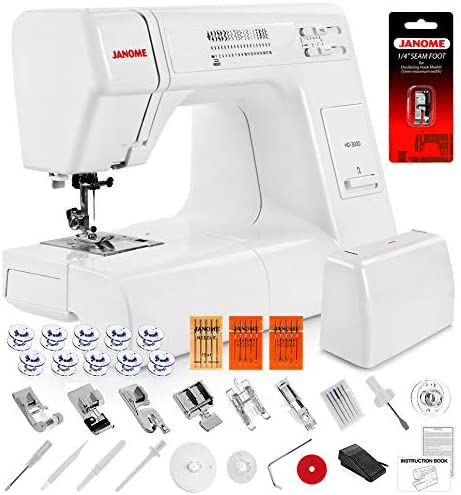 The Janome HD3000 Heavy-Duty sewing machine is an excellent choice for sewing denser fabrics or multiple layers of materials without the issues that are found in the common ones. 
If you're also looking for a machine to work on many detailed decorations, this is the model I'd highly recommend. Many stitch pattern choices are drawn on the machine's body, making it very easy to operate. 
The Janome HD3000 Heavy-Duty sewing machine comes with a warranty of 25 years for its mechanical components and five years for the electronic components. You will also be provided labor free of cost for the first year. The machine comes with 18 different stitches for you to choose from to work on your heavy-duty projects. 
The automatic push and pull bobbin winder lets you save a lot of time by keeping your thread orderly, and it is jam-proof. 
The built-in needle threader and the thread tension adjuster help you save a lot of time since the machine only inserts the thread through the eye of the needle. You can start your work in little to no time. 
The HD3000 also has various other features, including:
Reverse stitch lever

Foot pressure adjustment

Heavy-duty aluminum body

Free arm

Lightweight design

Extra high presser foot lift
This heavy-duty and multi-tasking machine from Janome is one of my top picks for the finest heavy-duty machines on the market. It's powerful, smooth, compact, and streamlines even complicated projects. Check the Janome HD3000's latest prices on Amazon.
PROS 
Seriously heavy-duty

Quiet and smooth running

No fabric limitations

Excellent stitch quality
CONS 
Not so sleek

The needle threader hangs sometimes.
Best Combo Embroidery/Sewing Machine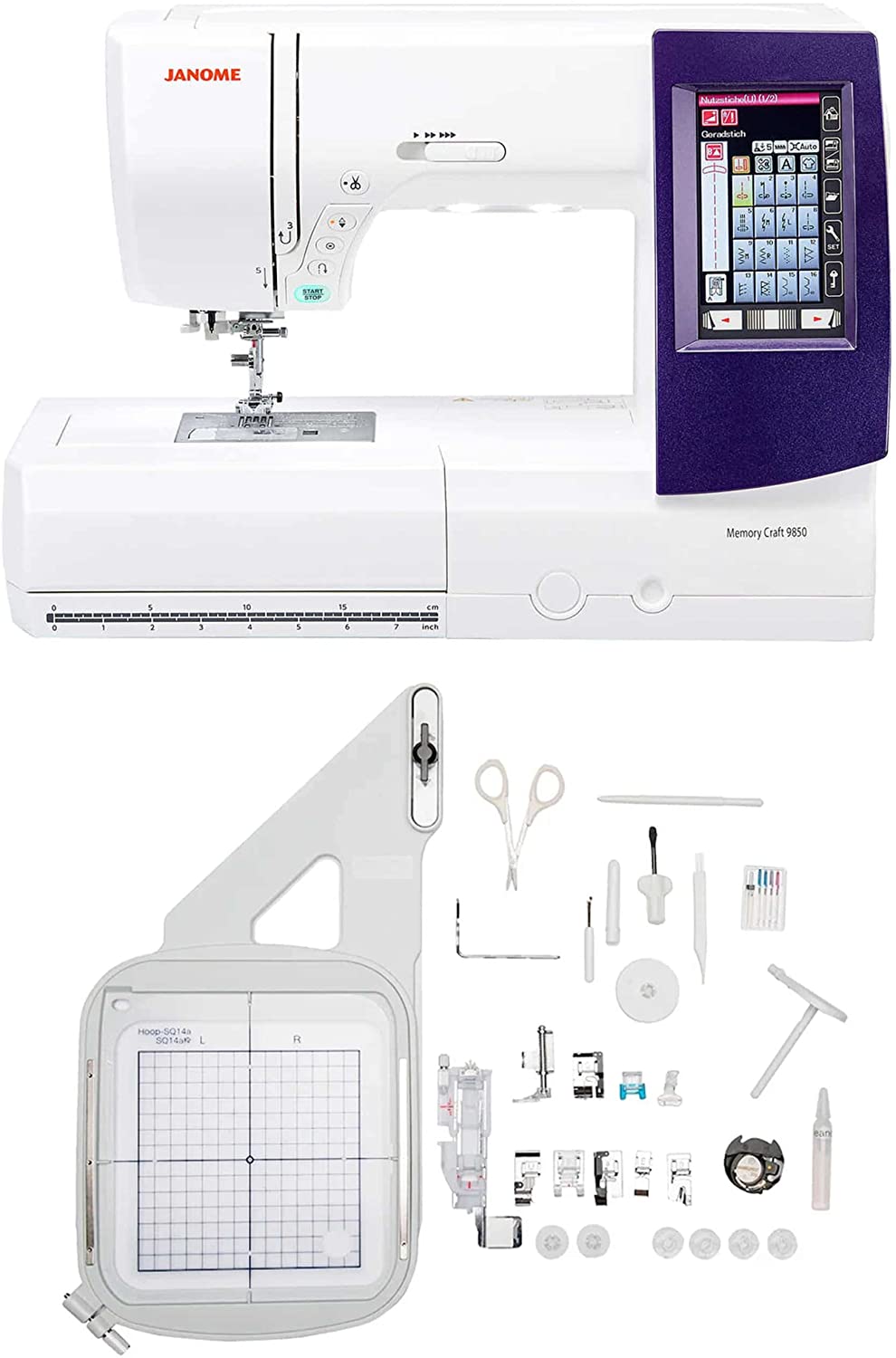 The Janome Horizon Memory Craft 9850 sewing and embroidery machine are known for one specific capability. The machine allows you to do your sewing in any direction. The machine supports embroidery, sewing, crafting, and more. Further, this machine is of the right size for any sewing project. 
The sewing machine has 175 built-in embroidery designs and 200 stitches to customize your projects. The Memory Craft 9850 sewing machine has a speed of 60-800 SPM to cater to your embroidering projects. 
It features an easy reverse button that lets you effortlessly go back on your stitchings by locking seams. You can also use this button to stop a stitch pattern before it is fully completed. 
The machine also has a locking stitch button that ties the end of the thread without any backstitching. This is very useful while working on delicate fabrics and securing the seams in a decorative project. 
The Janome Memory Craft 9850 sewing machine automatically alters the thread tension for all types of material and thicknesses. The start and stop buttons allow you to operate the device without using a foot pedal, ideal for long seams. 
Don't forget about the iconic one-hand needle threader that passes the thread through the eye of the needle on the fly. The LCD touch screen display has huge dimensions with high resolutions and full color of the letters and patterns, letting you see them very clearly. Check the Janome Craft 9850's latest prices on Amazon.
PROS
Memory down and up on the needle.

Huge workspace 

60-800 SPM stitch speed

Suitable for embroidery, craft, and home décor.
Cons
No instruction manual

Non-portable design
Best Beginner Janome Serger Machine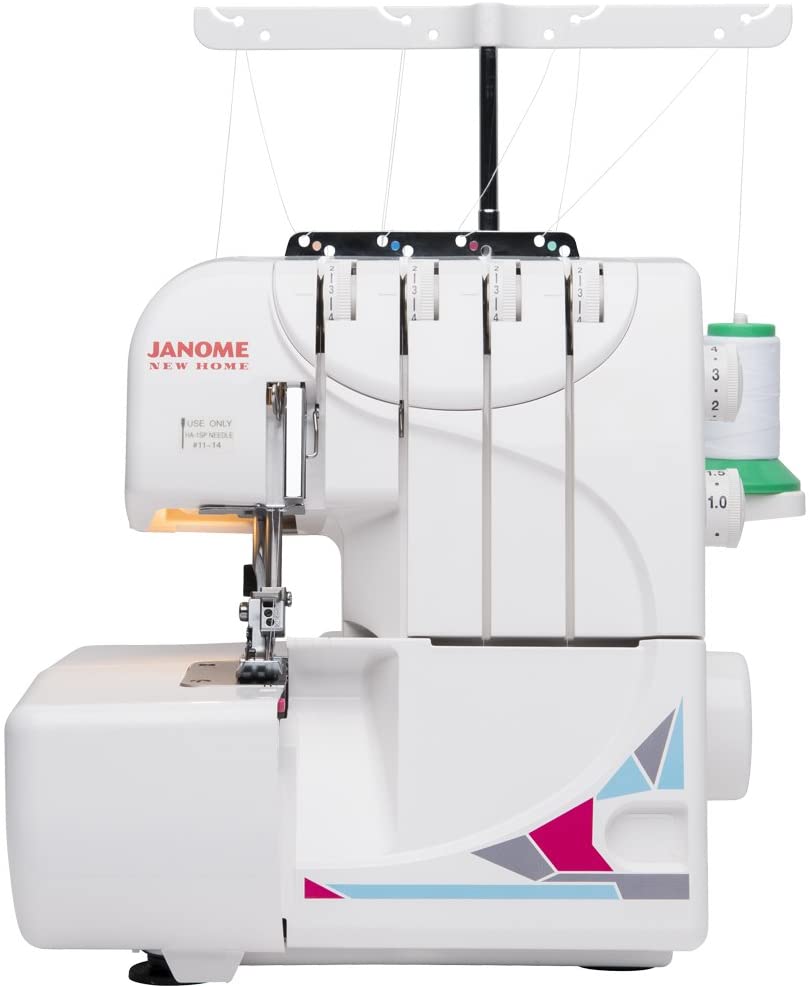 The Janome MOD-8933 serger is a compact sewing machine for beginners to work on crafts and knitting projects. The  MOD-8933 serger makes sure that you can complete your projects with precision and power. 
The sewing machine allows you to choose the right setting for the material and project from the three and 4-thread stitching options. The quick-change rolled hem feature ensures that the fabric is precisely folded underneath the stitches, thus making your clothes look very elegant. 
You can do the rolled hemstitching with a flick of a button. The needle plate, foot, or tension setting does not need to be changed to perform the rolled hemstitching.
The sewing machine also provides you with a retractable upper knife that lets you easily serge your fabrics. This feature makes your threading much easier and safer. The differential feed also helps eliminate stretching and puckering on all garments. 
If you are using any fabric that can stretch, turn the dial-up. If you want to keep your garment firm, you can turn the dial down as it moves beneath the needle to avoid puckers. 
The left side of the machine also comes with an opening for comfortable viewing while you are threading. The lower looper slider settings let you do effortless threading within seconds. The Janome MOD-8933 serger has many other features like: 
Built-in threading chart

Color-coded thread guides

Adjustable foot pressure

Snap-on presser foot

Instruction DVD
Again, you get an exclusive warranty of 25 years from Janome with zero labor charges in the first year. Check the Janome MOD-8933's latest prices on Amazon.
PROS
Beginner-friendly

Compact size 

Comprehensive instruction manual

Accessories included 
CONS 
Lots of manual features

The quick-change rolled hem feature doesn't work sometimes.
Best Janome Serger for advanced users.

Janome MyLock 634D Overlock Serger comes with many advanced electronic controls to give a professional look to your projects. The serger comes with 2, 3, and 4 thread overlocking stitch options to select the right setting for your material and project. 
MyLock 634D also has a differential feed proportion feature, making adjustments from .05 to 2.25. It also gives you higher control over all kinds of materials and for making your preferred unique designs.
The color-coded thread directions on the Janome 634D make threading very fast and easy. You can follow the color-coded directions and the diagram printed on the front of the machine. You need to place the thread on the guide and thread the lower loop. 
The MyLock 634D comes with a 5-year warranty for both its mechanical and electrical parts, with the labor charge being free for the first year.  
The serger machine's quick-change rolled hem feature lets you effortlessly switch between the serging and the rolled hemming without changing the needle plate. You can also utilize the length and width choices to create many different combinations of rolled hem designs to suit your projects. The tension of the rolled hems is automatically modified and eliminated with the help of the lower looper pre-tension stitch. Check the Janome MyLock 634D's latest prices on Amazon.
PROS 
Very easy to use and learn

Comes pre-threaded

Compact size

Suitable for all fabric types 

Quiet
CONS 
Janome Q&A:
Is Janome a Japanese company?
Yes, Janome is a Japanese company. It was founded in 1921 and had its headquarters in Tokyo. The company produces a wide range of sewing machines, including domestic and industrial models. Janome is one of the leading sewing machine manufacturers globally, with a strong presence in both the Japanese and global markets. The company has expanded its product range to include other textile-related products such as fabric cutters and quilting machines in recent years. Janome is a well-respected brand known for its quality products and innovative designs.
Is Janome a good sewing machine brand?
Yes, Janome is a good sewing machine brand. They offer a wide variety of machines to suit different budgets and sewing needs. Their machines are well-made and provide a good range of features. Many sewers find them easy to use and reliable. Janome also offers a good selection of accessories and replacement parts.
Is Janome better than Brother?
There is no clear answer as to whether Janome or Brother sewing machines are better. It depends on your personal preferences and needs. Some people prefer Janome because of its wide range of stitch options and easy-to-use interface. Others find Brother more user-friendly, with its simpler controls and diverse range of built-in stitches. Ultimately, it is up to the individual sewer to decide which brand works best for them.
If you are looking for a versatile machine that can handle various stitching projects, then Janome might be the better option. If you need a machine that is easy to use and has plenty of helpful features, then Brother could be the right choice. Whichever brand you choose, make sure to do your research and read reviews to find the best machine for your needs.
Is Janome made by Brother?
Janome is a Japanese company that produces sewing machines. It is not owned by Brother, though the two companies have collaborated on some products. Janome sewing machines are known for their quality and durability and are used by many professional seamstresses and quilters. If you're looking for a high-quality sewing machine, Janome is a great option.
Conclusion
So, here you go. To conclude, Janome manufactures some of the most convenient and ingenious sewing machines no one can resist. If you're done with your older machine and willing to bring home a brand new sewing machine, there's no reason to overlook Janome! 
Each of these machines is certain to help you stitch beautiful pieces for a long time due to their durability and sturdiness.
The post Janome Sewing Machines Guide & Top 9 Models appeared first on Art & Craft, DIY ideas and Tutorials - Craftbuds.