Jay Wang: "So Many Avenues for Growth" in Beijing's Improv Scene
Beijing's English-speaking community is fortunate enough to have access to just about every form of stagecraft available to them, be it underground music, stand up comedy, high falutin operas, or even  Improvisation, which is, to be sure, a form of stagecraft unlike any other in which performers hop into the action without any idea what's about to happen. 
Now, Beijing Improv – the team that's been lead the city's English-language and bilingual improv community for the past 14 years – is combining forces with another Chinese city where the art form has thrived: Shangai. On Jul 10 at Aio Space in 798, Zmack from that city will be joining Beijing Improv for a show entitled Tale of Two Cities that's got the whole scene chattering with excitement. 
To learn more about the English improv in Beijing ahead of the show, we sat down to talk with Jay Wang, the leader of Beijing improv who's been garnering laughs from off-the-dome performances in the capital for a decade now.
Can you tell me how you first got involved with Beijing Improv?
So Beijing Improv as a group is a non-profit organization. Since about 2007, we've been running free bilingual workshops in Chinese and English for the community, and all proceeds from the shows have been local NGOs.
I first got involved in improv here in 2011 when I attended a workshop they were running at the time, and I fell in love with the scene. I really liked the people -it was kind of like finding my tribe of – as I tell my friends – of similarly weird people. It's a super supportive community with people coming from all walks of life.
I tried out for the team a few weeks after I started doing workshops and didn't make it, unfortunately, but I ended up starting my own team called Plus One, which as a bilingual team and was actually competing with Beijing Improv for audience.
One Plus had its own shows for a while but it was hard to not get gobbled up by the dominant players in town. We became kind of the "farm team" that would develop new players and they would eventually join Beijing Improv – which is eventually what happened to me as well when I joined Beijing Improv in 2014.
So do you think you learned a lot from creating your own team?
Yeah, so I started my own group quite soon after joining the workshop, so I didn't quite know what I was doing! It was a really good growth process for me. It was a really fun time – I don't think we were, like, really good or anything, but we connected with our audience and it was a fun time.
Did "splitting off" create tension in the scene?
You know what, I think there was a little bit of tension when we first started, but Beijing Improv was always super cool. Some of them would come and give us workshops and teach us. I think by nature, improv is just a supportive kind of craft. For example, not to say that stand-up isn't supportive, but it seems there's a but more of a competitive energy. I've been to a lot of open mics and shows, and there's always a bit of competitive energy, especially at the end, and it's always palpable. But with improv, it's more of a team sport – so it's not about you as an individual. For me, stand up is more like golf, whereas improv is more like basketball.
There was Beijing Improv English players, there's BIG, which is part of the same group, they're the bilingual improv group. And then Plus One. And then a couple more Chinese groups as well – which has really exploded since then. So we along with the Beijing Broads (the all-woman team) are the only English groups in town now.
So the Chinese scene has gotten bigger - Has the English scene gotten smaller then?
If anything, we still have a really vibrant community. If you come to any of our Wednesday night workshops at Chez Soi, there's at least 30-40 people, sometimes even more, packed into a small room. So we've been able to maintain that community over time.
I remember our first show in August, right after things started opening up from COVID and we just packed the house. People were so excited to come out and see a show – which in retrospect probably wasn't the safest thing to do at the time! Heh, but, we had about 70-80 people in the upstairs room of the Great Outdoors. It was electric. So we've been able to consistently sell out our venues.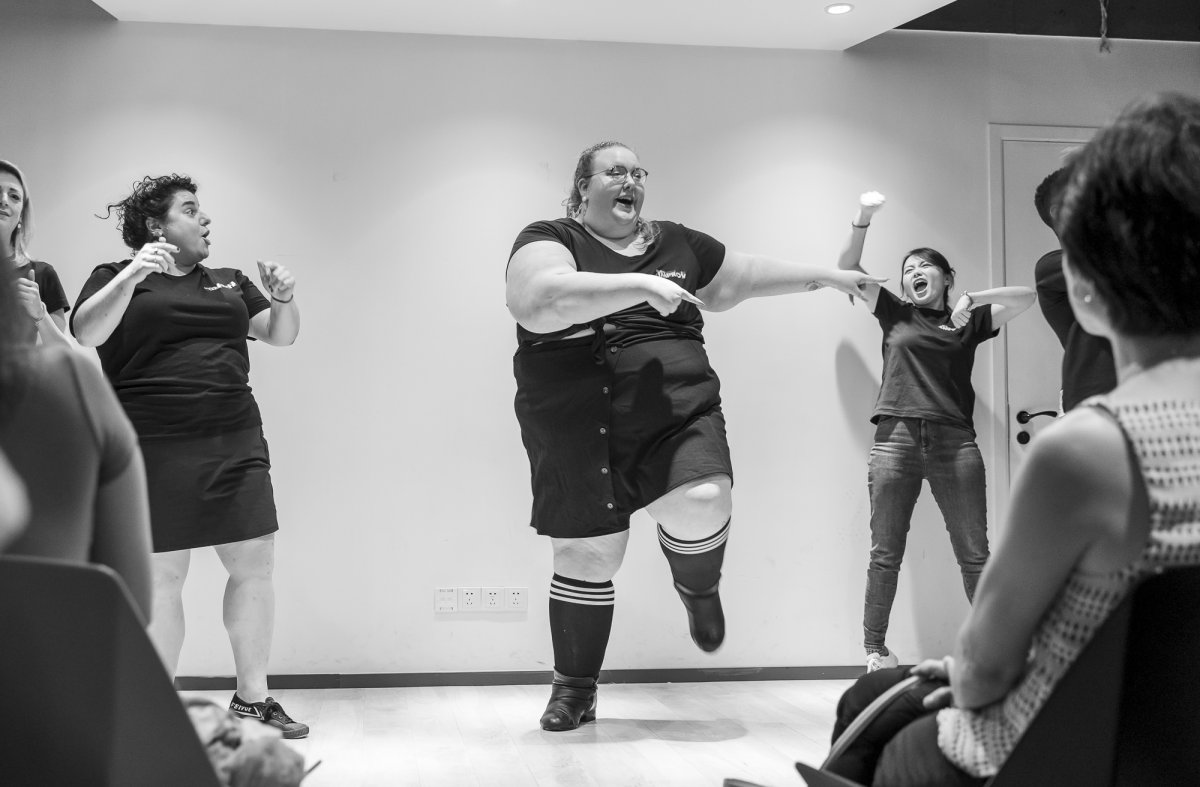 We started out at a really big venue called Penghao Theater, an experimental theater that held about 200 seats, and we would consistently sell that venue out. A few years ago we tried running shows there again, but we would get maybe 80-100 people in – so I think that speaks to the diversity of entertainment options in Beijing these days and how there's just so much more going on.
In other words, we're not the only show in town, but we can still consistently draw a crowd.
Does the humor markedly differ from, say, American improv here in Beijing?
Yeah, I think when you have improv in a city like Beijing – especially in English – I think it speaks to a certain international demographic. Whereas in New York or in London, the comedy will be more culturally specific. So there might be a lot more American references, for instance. But since our players are more diverse – we have people from Scotland, from Nigeria, I'm Chinese American. So, on the one hand, you have more diverse players, and on the other you a more diverse audience, so I think we have to cater for that diversity of world views and cultures as well. That means that the humor is more common-denominator rather than specific.
For the bilingual teams – how does that work from an audience perspective?
That's actually something I spent a long time thinking about when I was doing bilingual improv. I think it selects for a certain audience that is either bilingual already or is trying to engage with that other language. So, sometimes you have mixed couples going to the shows, or students of Chinese, students of English – at the minimum there has to be an interest in that other language.
I think you could still enjoy the show if you don't speak one or the other, because we try to bring as much physicality on stage as possible, so you can still get most of what's happening. But it does help if there's at least an affinity for the language.
How does someone typically progress through the Improv scene here?
Well, I can only speak from my own experience, and for me, it was just going to the workshops and getting comfortable. And once you reach that point, you either start your own team, which is what I did, or one of the existing teams would invite you as a guest player – kind of like a try-out to see if it's a good fit. And if it is, then you join one of the teams. Or if you just like.
Or, if you just like doing improv for fun, as a lot of our participants in our workshops do, then it's cool to just keep coming and being part of the community, just making improv a part of your life.
There's also another path called applied improv, which is what I did for a number of years. It's basically bringing the skills of improv to the corporate or education settings, so, running training seminars, communication workshops and stuff like that.
Another track is entertainment. A lot of entertainment businesses are now hiring people who can write sketches for their shows, so a lot of my friends have gone on to do that as well. So there so many different avenues for growth.
Jesse Appel has been stuck in the US during the pandemic – wasn't he a driving force behind the scene? What's changed since his leaving?
Yeah, Jesse is a very good friend of mine. He ran the US-China comedy center for a very long time, and that's where we were organizing our Wednesday night workshops for several years, as well having a lot of our shows there. He was a unifying force in bringing stand up, xiangsheng (cross talk), and improv all into the same space. So his loss is definitely felt in Beijng. But of course, we've managed without that space, and I think in many ways it's forced us to grow as well and not get too comfortable.
But we do look forward to him returning when the pandemic settles, as it's clear he still cares a lot about China – in fact, he raised a lot of money for Wuhan when the pandemic first started.
Are there developments you'd like to focus on now?
Yeah, I think since the English team, in particular, is we're very much expat-driven, which means there's a constant churn of players coming and going. So right now we're really focused on building back that team chemistry since we've lost a lot of players to COVID. In August, actually, we were down to just four players! So we've had to quickly build the team back up again. But we've been lucky, because we've had a lot of good people come through.
To get involved with Beijing Improv and keep up with shows and workshops, follow their official WeChat account (ID: BeijingImprov). The Tale of Two Cities show will be this Saturday, Jul 10 at 8.30pm at Aio space.
READ: Hamburg, We Have Liftoff! Bejing Burger Fest 2021 Coming Aug 6-8
Images courtesy of Beijing Improv