Julia Roberts Knows We Didn't Appreciate The '90s Rom-Com Boom Until It Was Too Late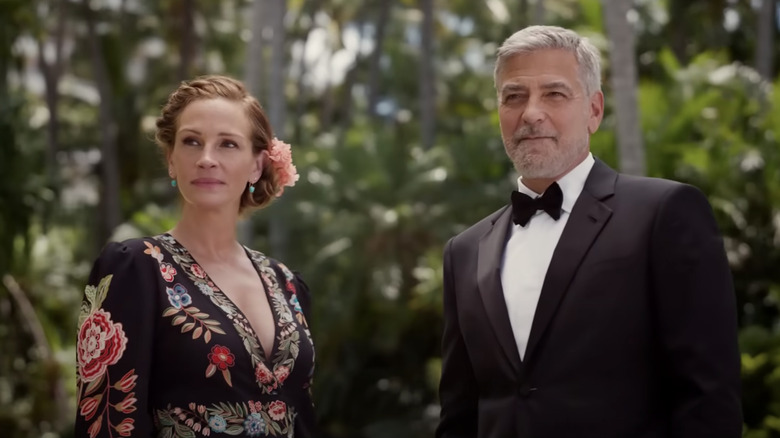 I know there are so many of us lamenting the loss of romantic comedies at the cinema. They have all funneled their way to the streaming services and now star mostly teenagers, and look like they were made for about five bucks and a pack of gum. Rom-coms have the ability to inject so much life into a multiplex, to give us a respite from the endless slog of sci-fi action movies and superhero pictures. They are as much of a glittering fantasy as "Lord of the Rings," but their magic comes from their charm and the charisma of the dazzling movie stars at the center. For years, they were denigrated as "chick flicks" and lesser works of art, and now, we didn't know how good we had it.
One person who firmly agrees with that sentiment is the undisputed queen of the romantic comedy over the last 30-plus years: Julia Roberts. The star of "Pretty Woman," "My Best Friend's Wedding," and "Notting Hill" is not just one of the great performers within the genre in Hollywood history but one of its biggest fans. This year, with the help of George Clooney and "Mamma Mia! Here We Go Again" director Ol Parker, she looks to have the romantic comedy rise like a phoenix with the upcoming "Ticket to Paradise," which I could not be more excited to see.
The rom-com made Julia Roberts a movie star in the 1990s, but if you look over her career, you will see almost nothing from the genre on there in the last 20 years. Why? Well, it was the convergence of two things. On the one hand, the business itself was drifting away from the genre. On the other, the material just was not there to get actors excited, including Julia Roberts.
A Reason To Spend Time Away From Family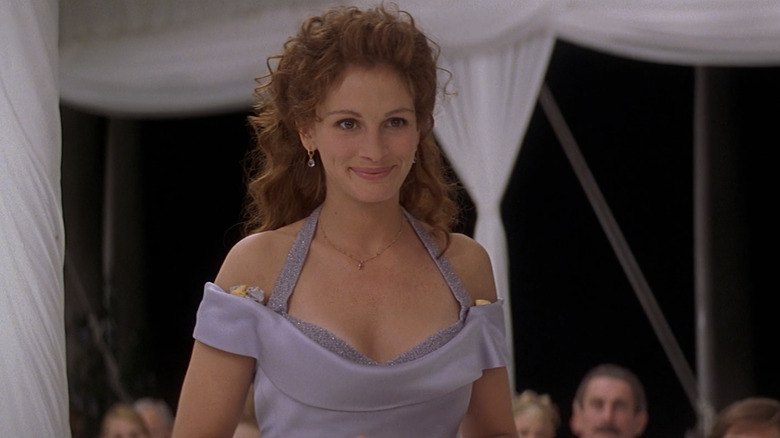 Julia Roberts knows better than most that a good romantic comedy is tough to make. Her track record within the genre succeeds so much more than many of her contemporaries because she has a pretty good eye for material, along with terrific natural comedic instincts. She recently said to the New York Times about working in rom-coms:
"This is a genre that I love to participate in and watch, and I think they are hard to get right. There is a really simple math to it, but how do you make it special? ... I think we didn't appreciate the bumper crop of romantic comedies that we had then. You don't see all the effort and puppet strings because it's fun and sweet and people are laughing and kissing and being mischievous."
That perceived effortlessness is both the genre's biggest selling point and its biggest roadblock. While we are watching the film, we like not feeling the mechanics at work, engineering this story to our liking, but that makes us think the process was the exact same. And I fear that a lot of writers and directors similarly feel that way and thus do not put forth the proper amount of effort into crafting these pictures. This is why Julia Roberts hasn't done one in about 20 years. If you are going to do one, do it right.
Also, she is a mother to three children, and she only wants to be away from her kids if it's worthy. She tells the NYT, "[I]t's not only 'Is this material good?' It's also the math equation of my husband's work schedule and the kids' school schedule and summer vacation." That math hasn't added up until "Ticket to Paradise" this year.
Taking A Genre For Granted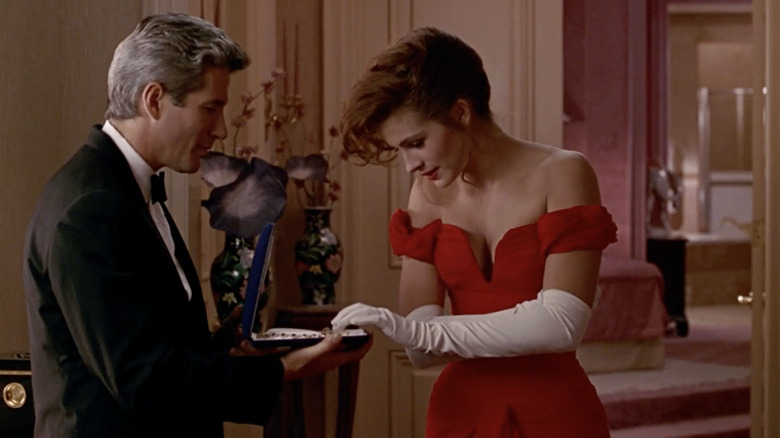 The 1990s saw a rather impressive influx of romantic comedies in cinema. Not only did we have the films Julia Roberts was making, we had Nora Ephron making pictures like "Sleepless in Seattle" and "You've Got Mail," Charles Shyer and Nancy Meyers creating the two "Father of the Bride" movies, and Richard Curtis hitting the scene with "Four Weddings and a Funeral." These movies did extremely well at the box office and had loads of people devoted to these pictures that simply looked to entertain and move its audience. They were well-made and liked, but they weren't exactly respected.
This was also the decade of the independent film boom and boundary-pushing dramas: "Pulp Fiction," "Se7en," "The Usual Suspects." These were the transformative works, the important films, the "real" movies. Romantic comedies were Hollywood gloss, and in a time steeped in cynicism, that gloss was the last thing that got any ounce of respect. Well, when something begins to seen as mere product and not art, are the folks making it going to be all that enthused to really take the time to craft something great?
As we move into the 2000s, we really start to see a major tumble in the quality of the romantic comedy. Carefully engineered farces get replaced by threadbare plots and dimensionless characters played by actors who are given nothing to play. Because of the lack of material, actors like Jennifer Lopez and Matthew McConaughey are looked at with disdain instead of people wanting better material for them. In a decade, the rom-com is nigh extinct as a viable cinematic genre because we didn't respect it, and in turn, they didn't respect it either.
The Curious Case Of The Proposal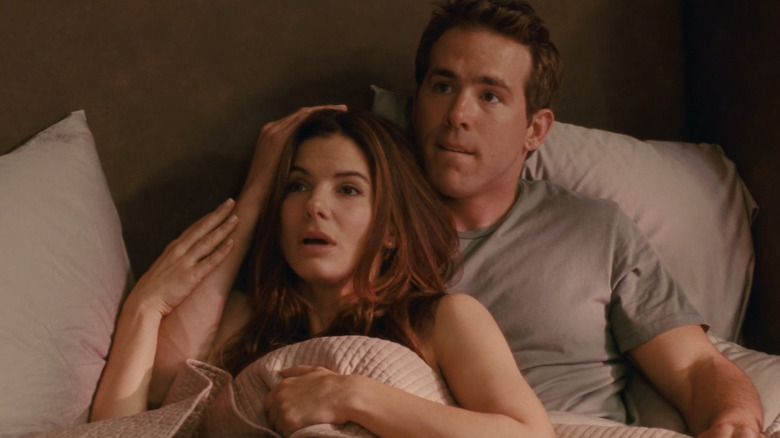 I want to step away from Julia Roberts for a second to talk about a crucial tipping point in the romantic comedy. 2009 saw the release of "The Proposal," the rom-com starring Sandra Bullock (who would go on to win the Oscar later that year for "The Blind Side") and Ryan Reynolds. The film was a massive success, grossing over $300 million worldwide on a film that cost just $40 million. At the time, it was the sixth highest-grossing romantic comedy of all time. Disney, who made the film under their Touchstone banner, had a moneymaker, and everyone was ready to make a sequel.
They passed on it, because Disney was no longer interested in making $40 million movies that made $300 million. They were interested in $150 million movies that made $1 billion, and that is not a romantic comedy. So, while the lack of good scripts was certainly a factor in the chipping away of rom-coms in theaters, it really all comes down to money. Studios are interested in films with massive global appeal, and because humor and ideas about sex and love are often region-specific, rom-coms are put on the back burner and are forgotten about. It doesn't help either that the years have gradually eroded the idea of box office movie stars as well, which used to be so important to selling a movie.
Save Us, Ticket To Paradise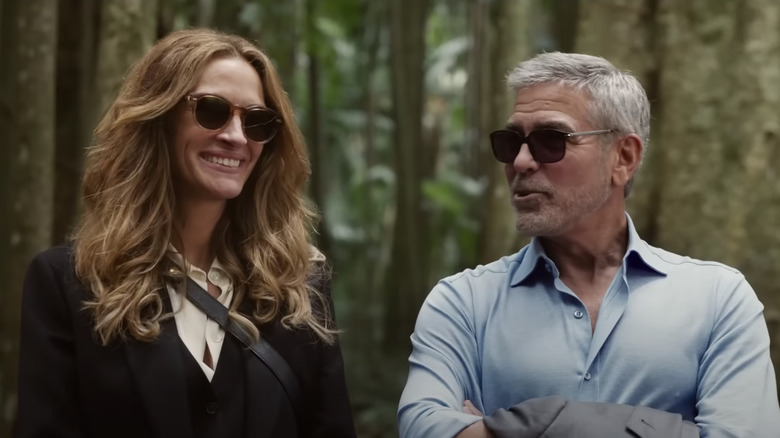 Going all the back to the dawn of feature filmmaking, romantic comedies have been a crucial part of the medium. From the great screwball pictures of the 1930s and '40s to the films that made Julia Roberts the most famous woman in the world, they have given joy to so many people. They have been trivialized, slandered, mocked, and dismissed, but they have made countless people laugh, cry, and swoon for decades. That is not going to stop anytime soon.
All we want is for these kinds of movies to be where they belong: on the big screen. In 2022, there has only been one -- one -- straight-up, traditional romantic comedy hit theaters in wide release, and that was the Jennifer Lopez/Owen Wilson joint "Marry Me," which just so happened to also hit Peacock on the same day. "Ticket to Paradise" will, as of right now, just be in theaters when it comes out on October 21, 2022 (with it coming to Peacock 45 days later). That is dire straits for a genre that used to be robust, and it is unfair to place the future of an entire genre's viability with one movie. But I'm afraid that is probably what is going to happen here.
I hope Julia Roberts, George Clooney, and Ol Parker have made something worthy of that with "Ticket to Paradise," and I desperately hope that scores of people show up to watch two of our greatest movie stars be funny and charming while falling in love. Show Hollywood that the romantic comedy needs a revival, and maybe a studio other than Universal will make one. I know I will be there opening day.
Read this next: 20 Underrated Rom Coms You Need To Watch
The post Julia Roberts Knows We Didn't Appreciate The '90s Rom-Com Boom Until It Was Too Late appeared first on /Film.