Make a Beautiful Pressed Flower Butterfly Craft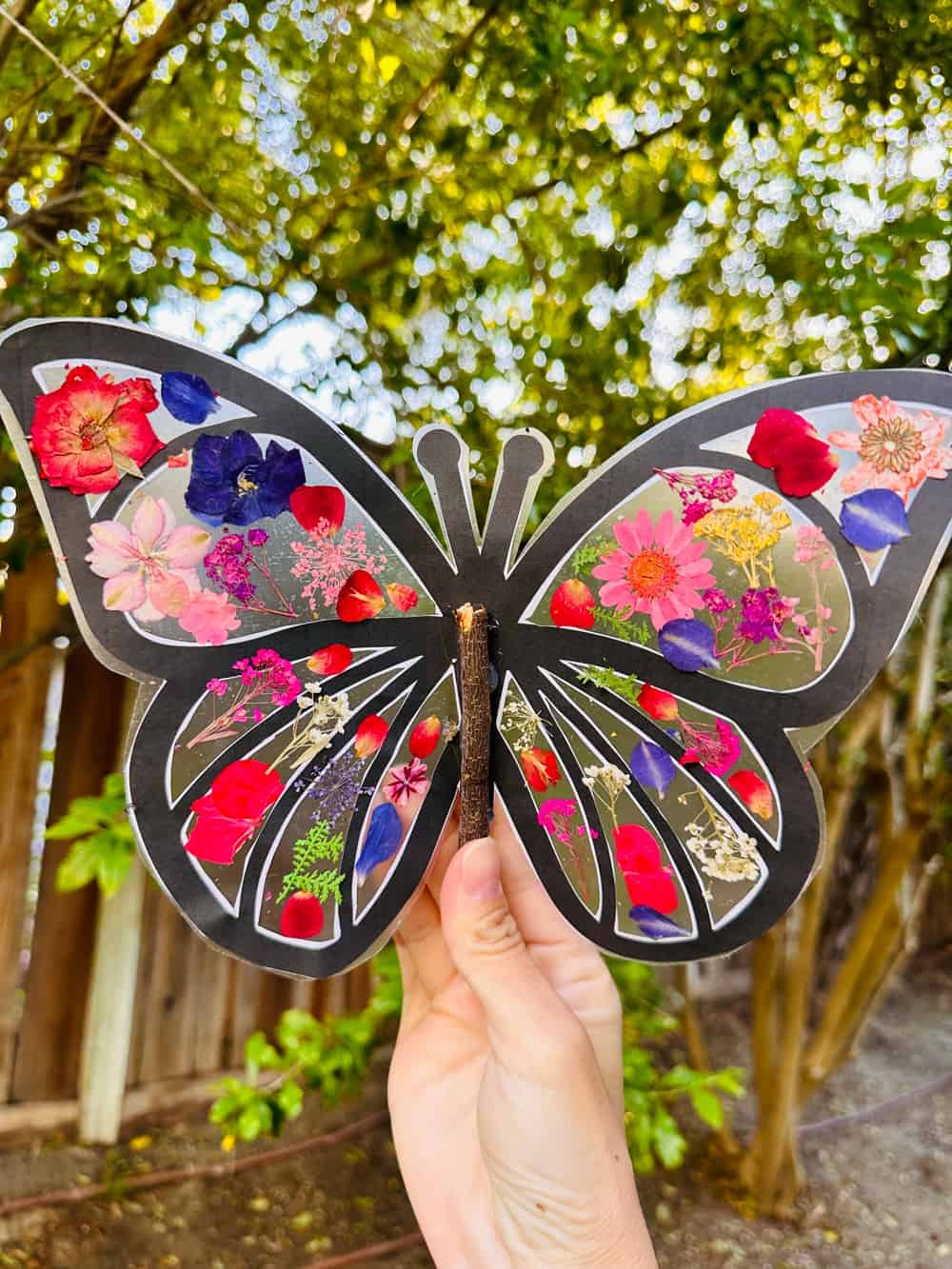 By using this site, you agree to our Terms of Use. This post may contain affiliate links. Read our disclosure policy.  
Follow us on Instagram for more fun ideas for kids!
Today, I'm so excited to share a beautiful butterfly craft that will add a splash of color and creativity to celebrate the warming weather outdoors! We've been obsessed with pressed flower crafts and of course, we love anything butterflies. This pressed flower butterfly craft combines the best of both and also doubles as a gorgeous flower craft and suncatcher! 
Pressed flower butterflies are a delightful way to preserve the beauty of spring and summer everyday! My kids and I love the colorful petals and fluttering wings take flight! Such a lovely way to step outside and smell the flowers!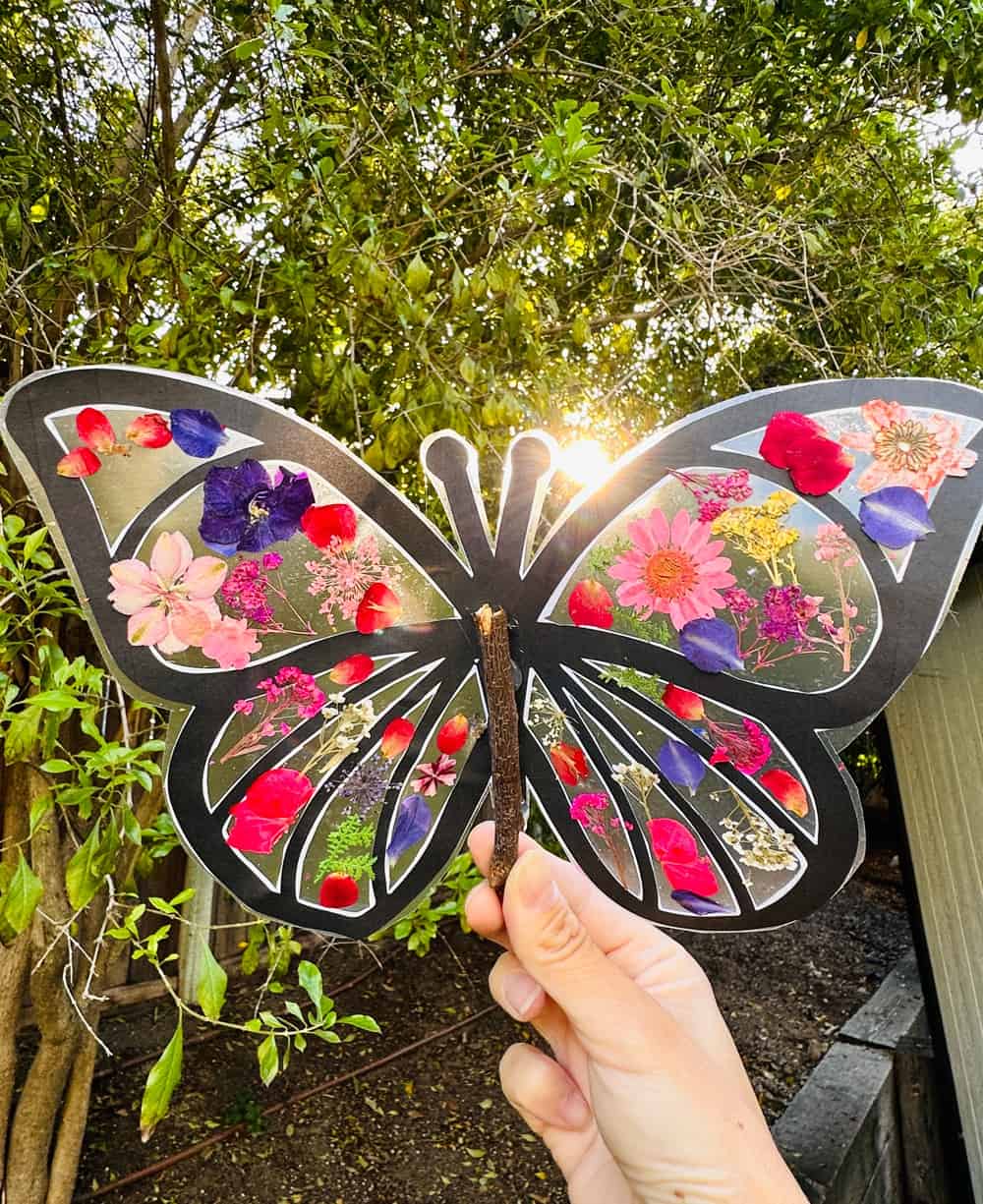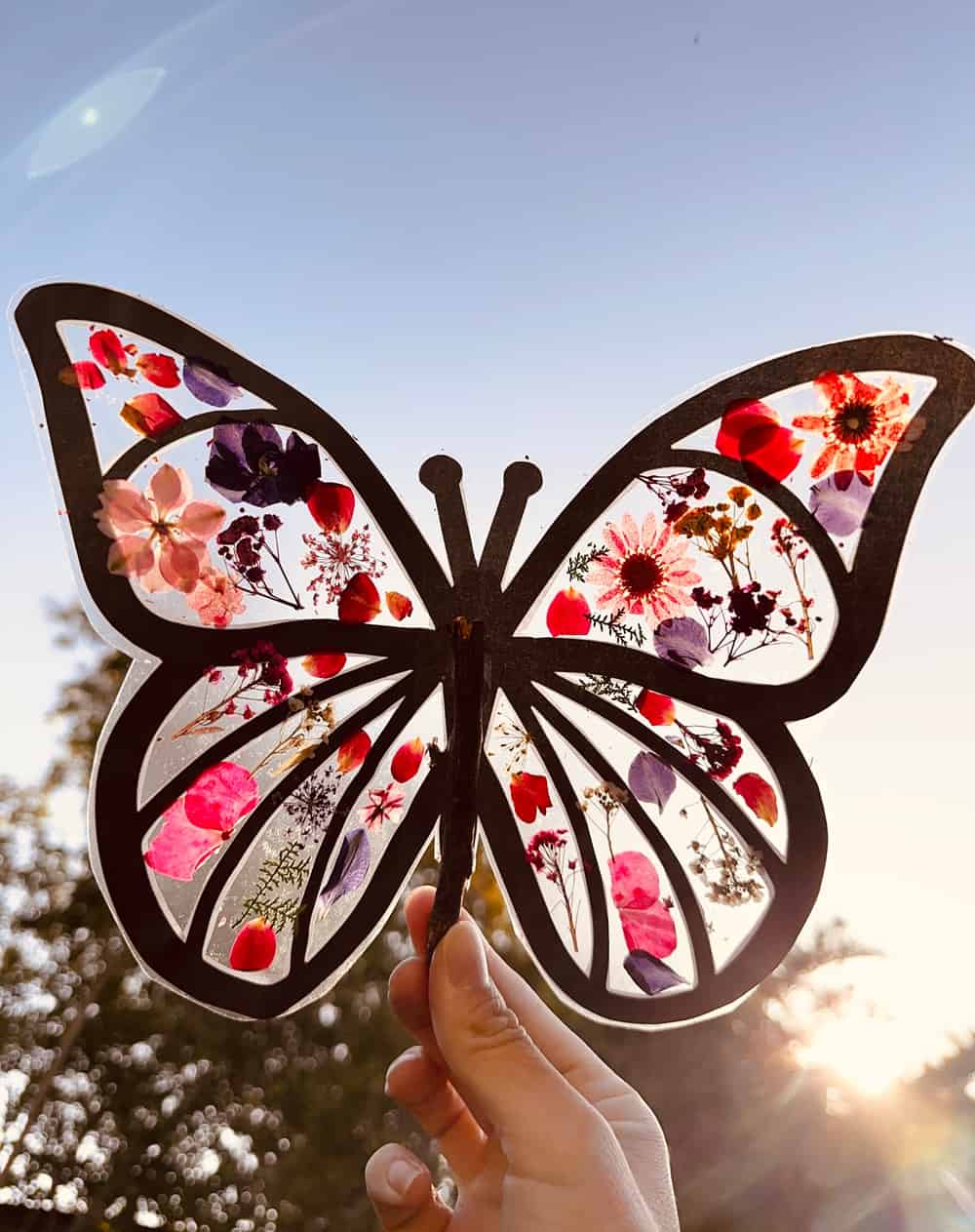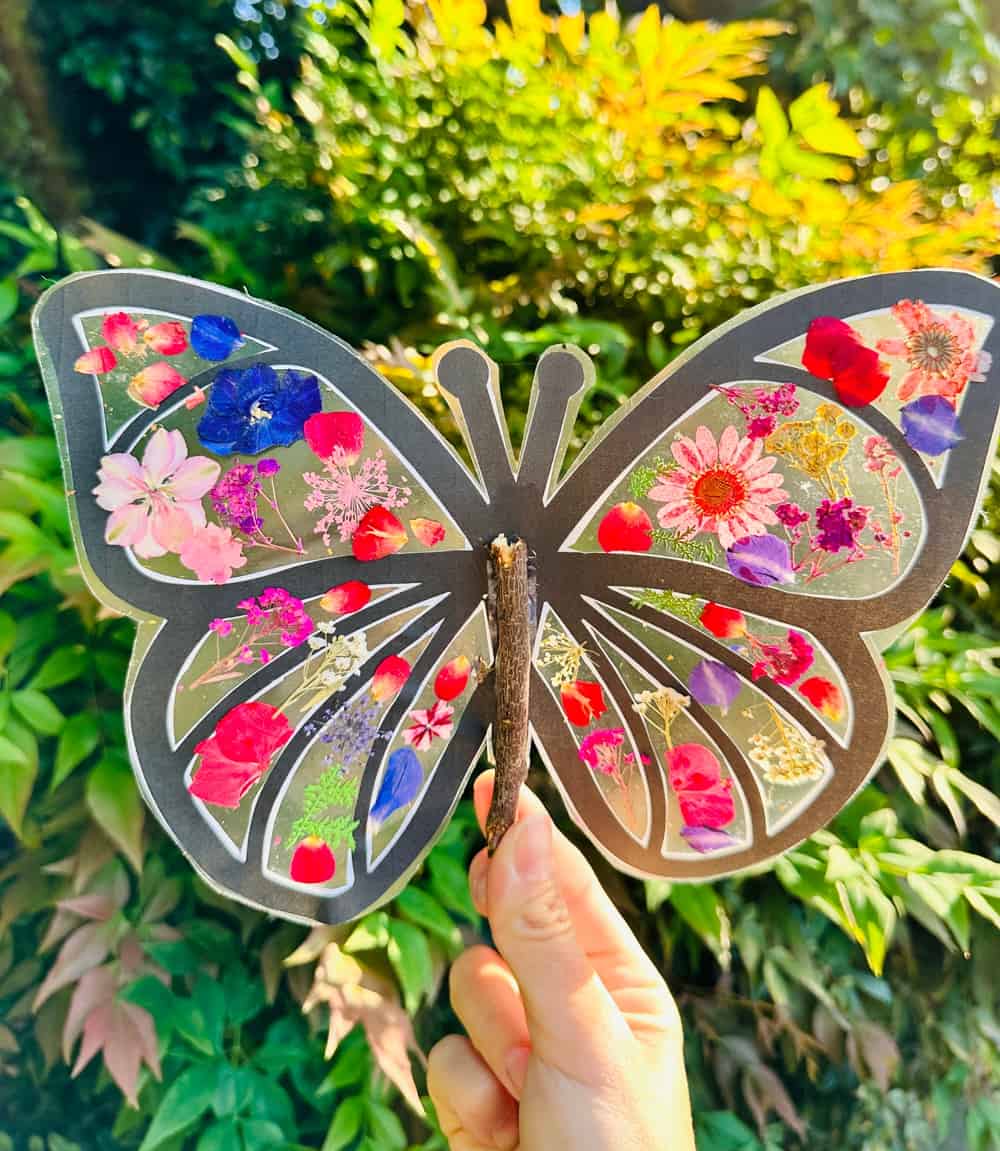 What do you need to make this flower butterfly craft?
You'll need our printable butterfly template, pressed flowers (we love buying these ones) but if you're lucky to have gorgeous flowers nearby you can pick and press, go for it!
You'll also need some basic supplies like sticky contact paper, glue, scissors and a stick which you can pick up on your next nature walk!
How do you make this spring butterfly craft?
This craft will take you tops 10 minutes or less but has a wow appeal that lasts way longer, I promise! Just print and cut the template, stick it on top of contact paper, cut around it and press flowers in the center sections! The stick is optional but makes it super easy to grab as you're fluttering the wings. 
If you don't have a stick, you can use a wooden popsicle stick or small wooden spoon.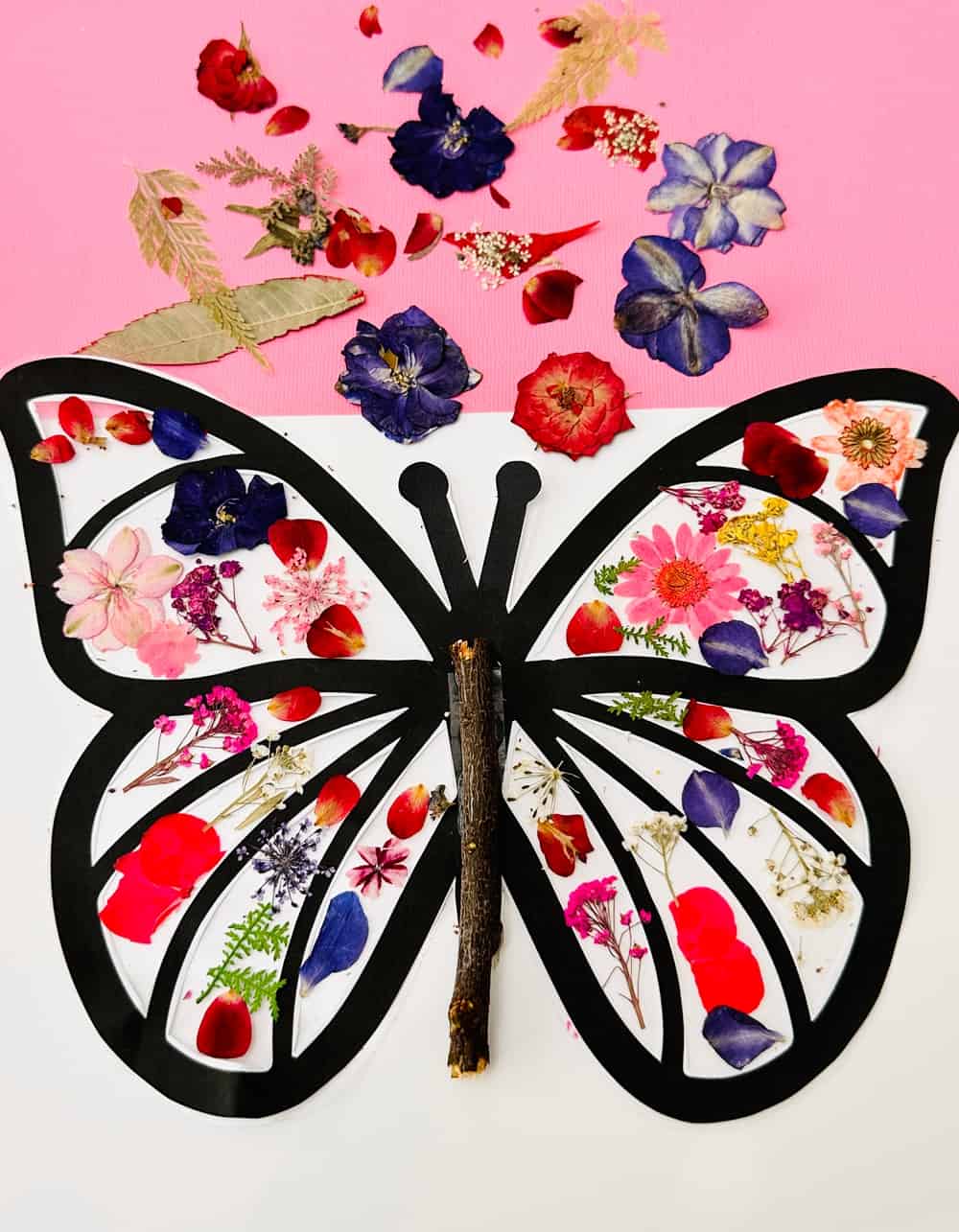 What else can you use other than pressed flowers for the butterfly wings?
The flowers look gorgeous against that magic golden hour sunlight. Or on the windows as suncatchers. So think about using reflective items instead that will look just as pretty. You can use translucent gel papers, or tissue paper squares. 
You could also use sparkly sequins, beads or sprinkle glitter on top for a more crafty butterfly!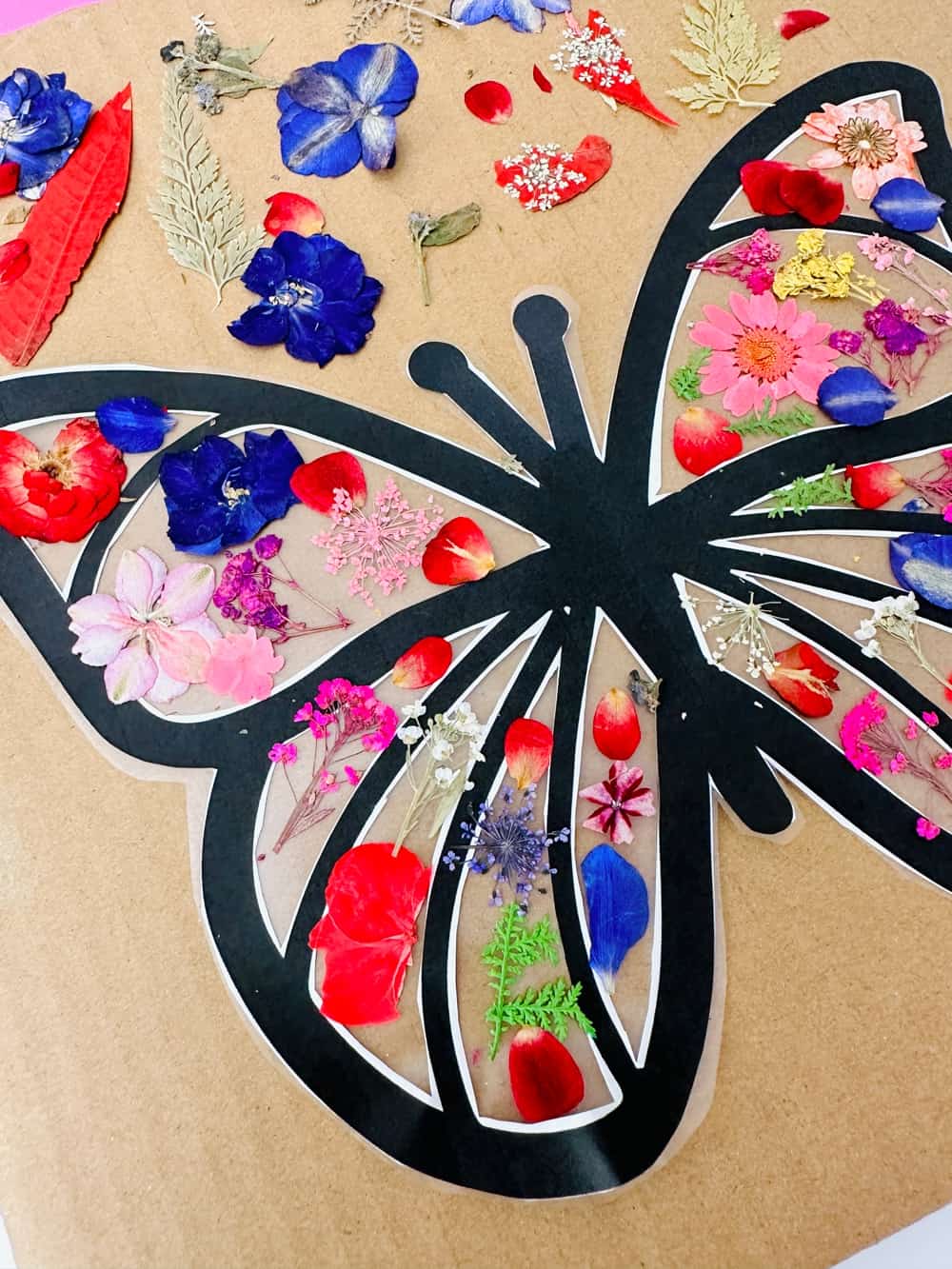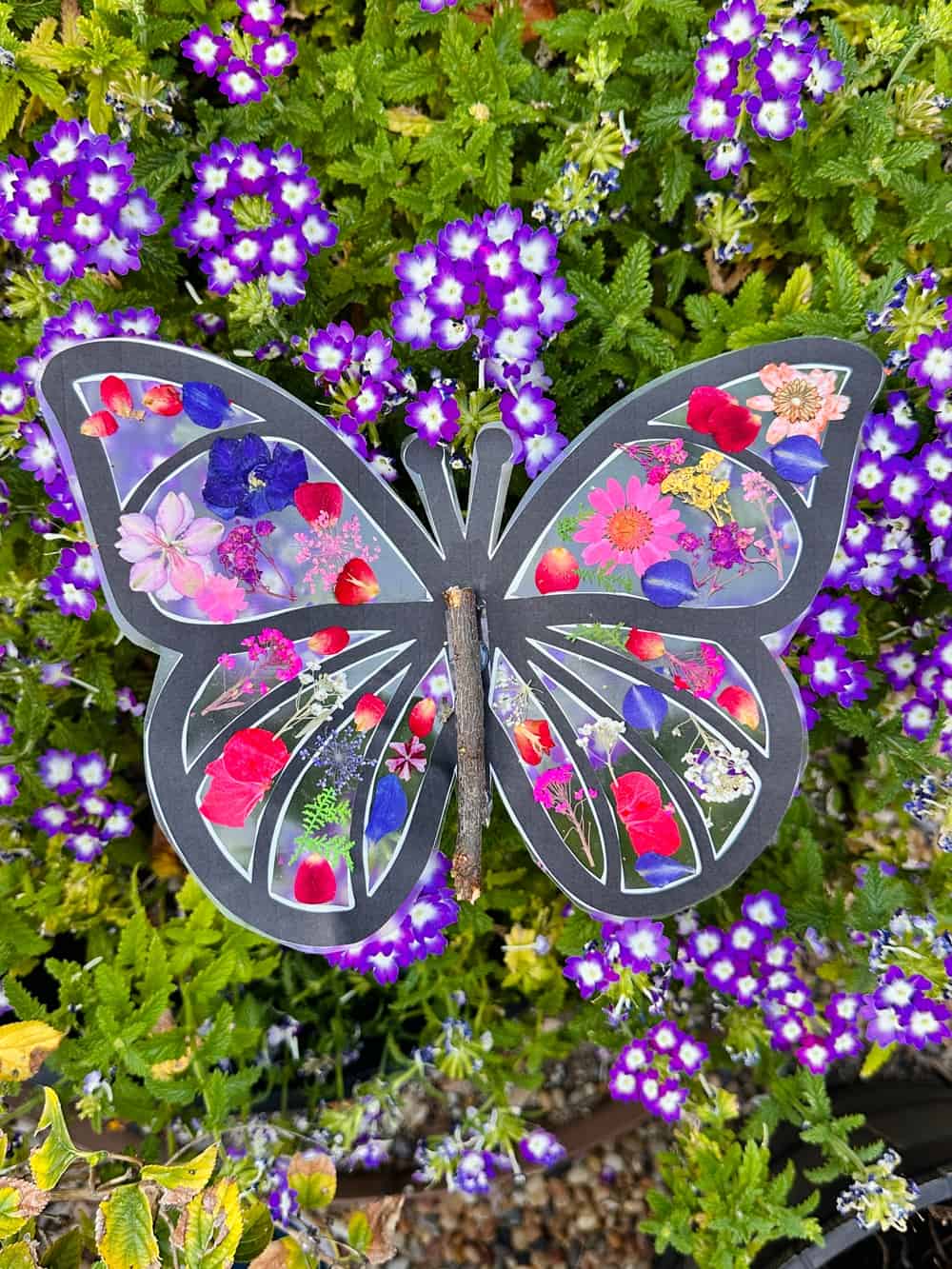 Pressed Flower Butterfly Craft – Materials:
Watch the video in this post to see how we made this butterfly craft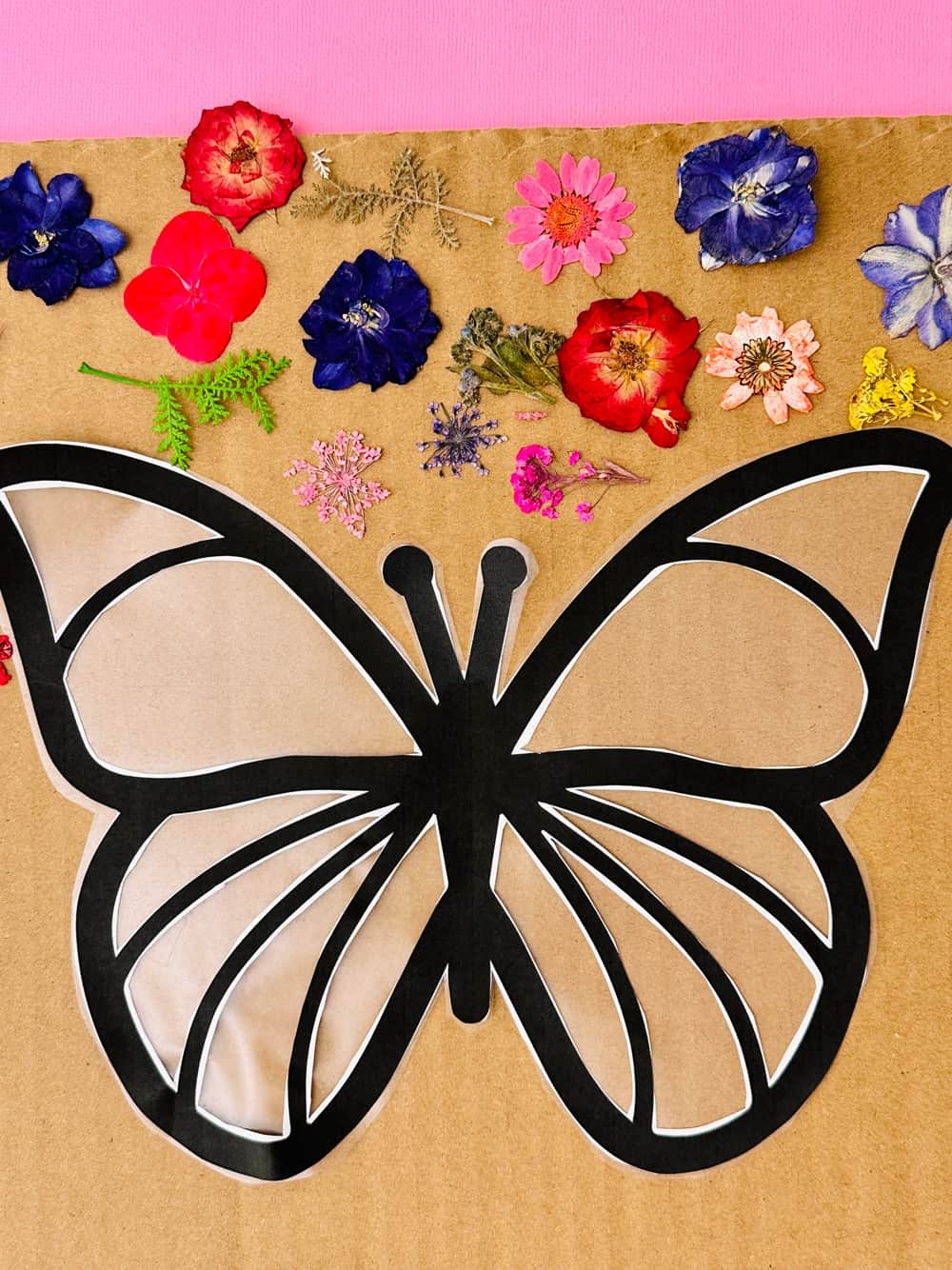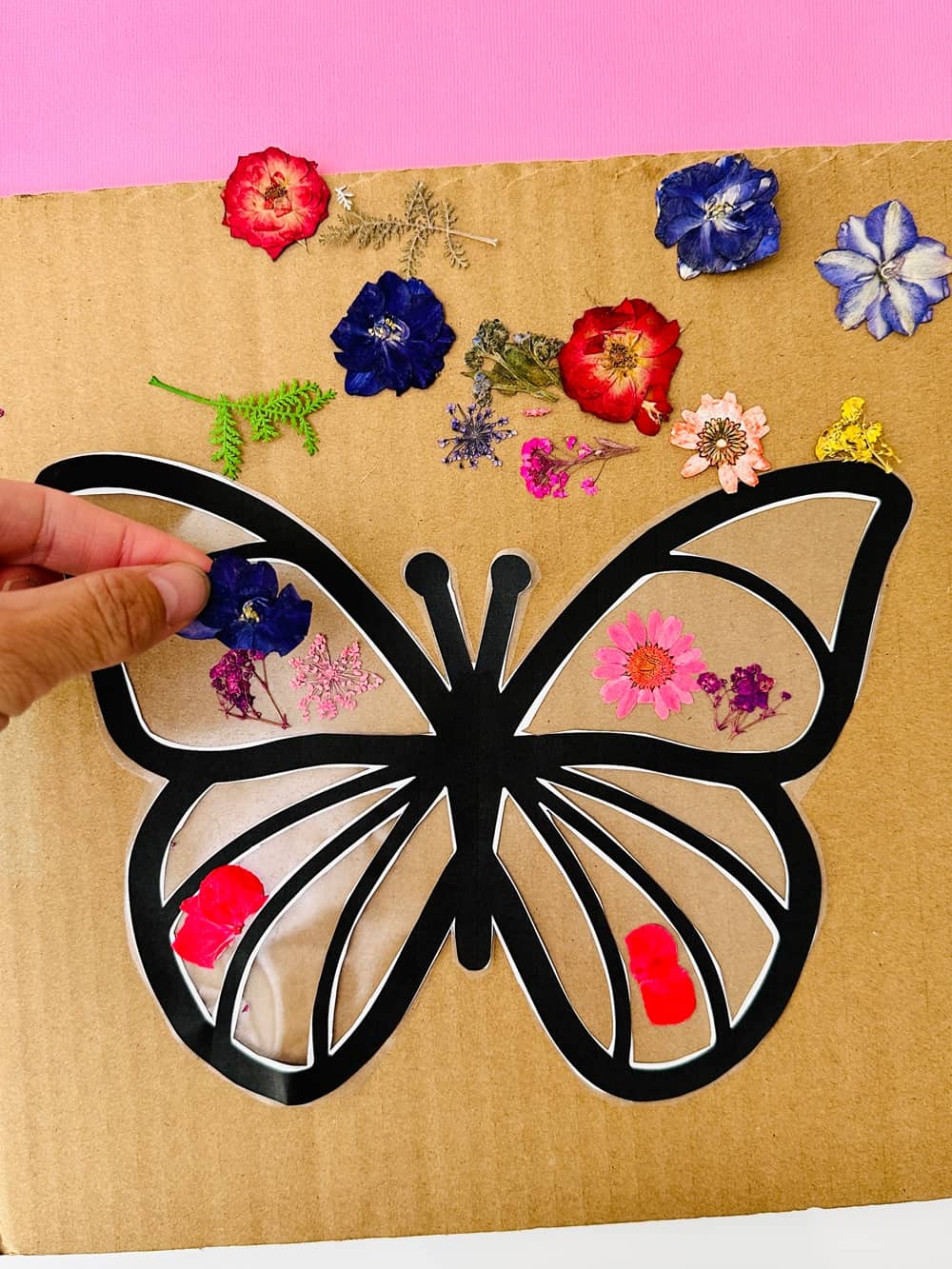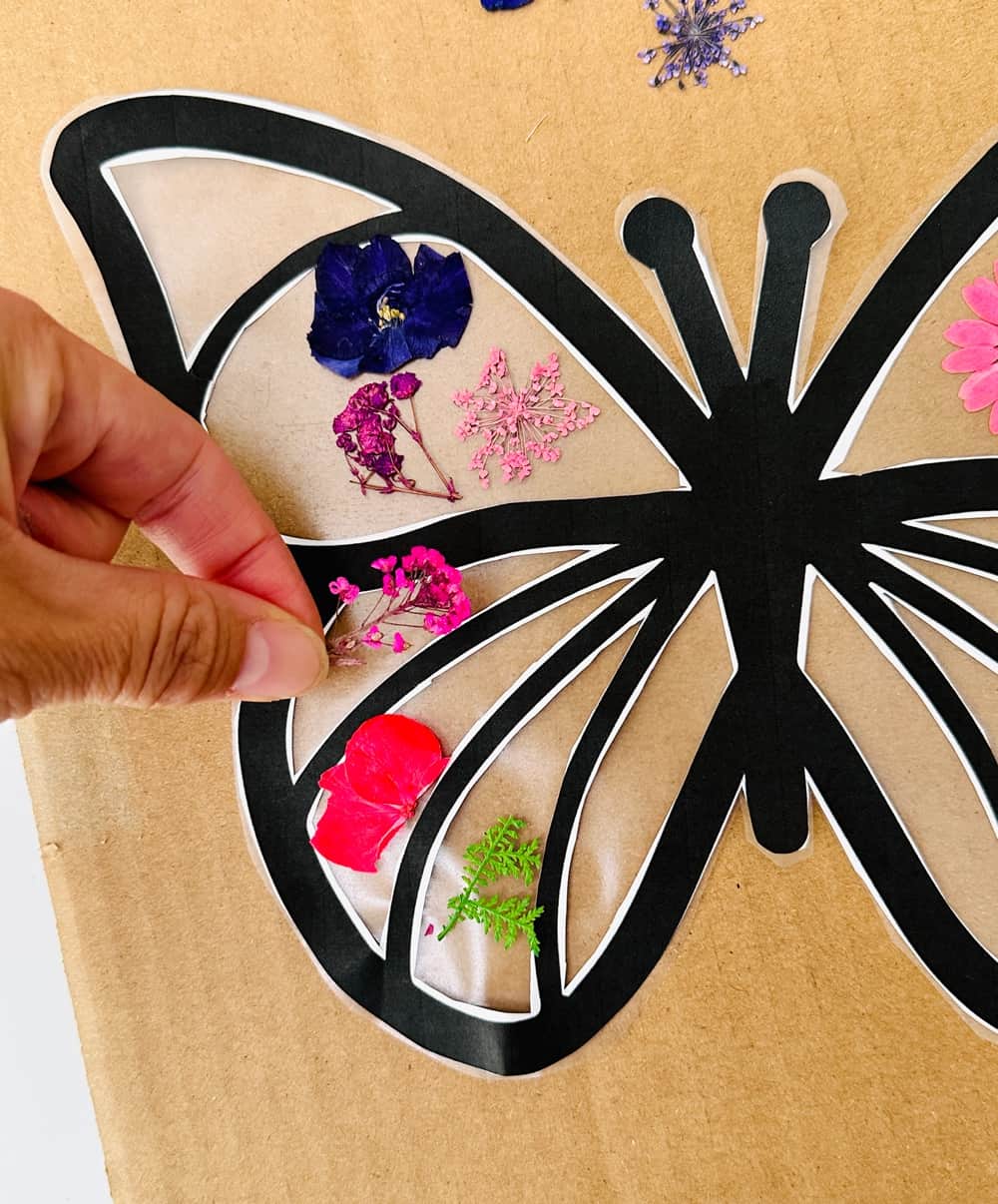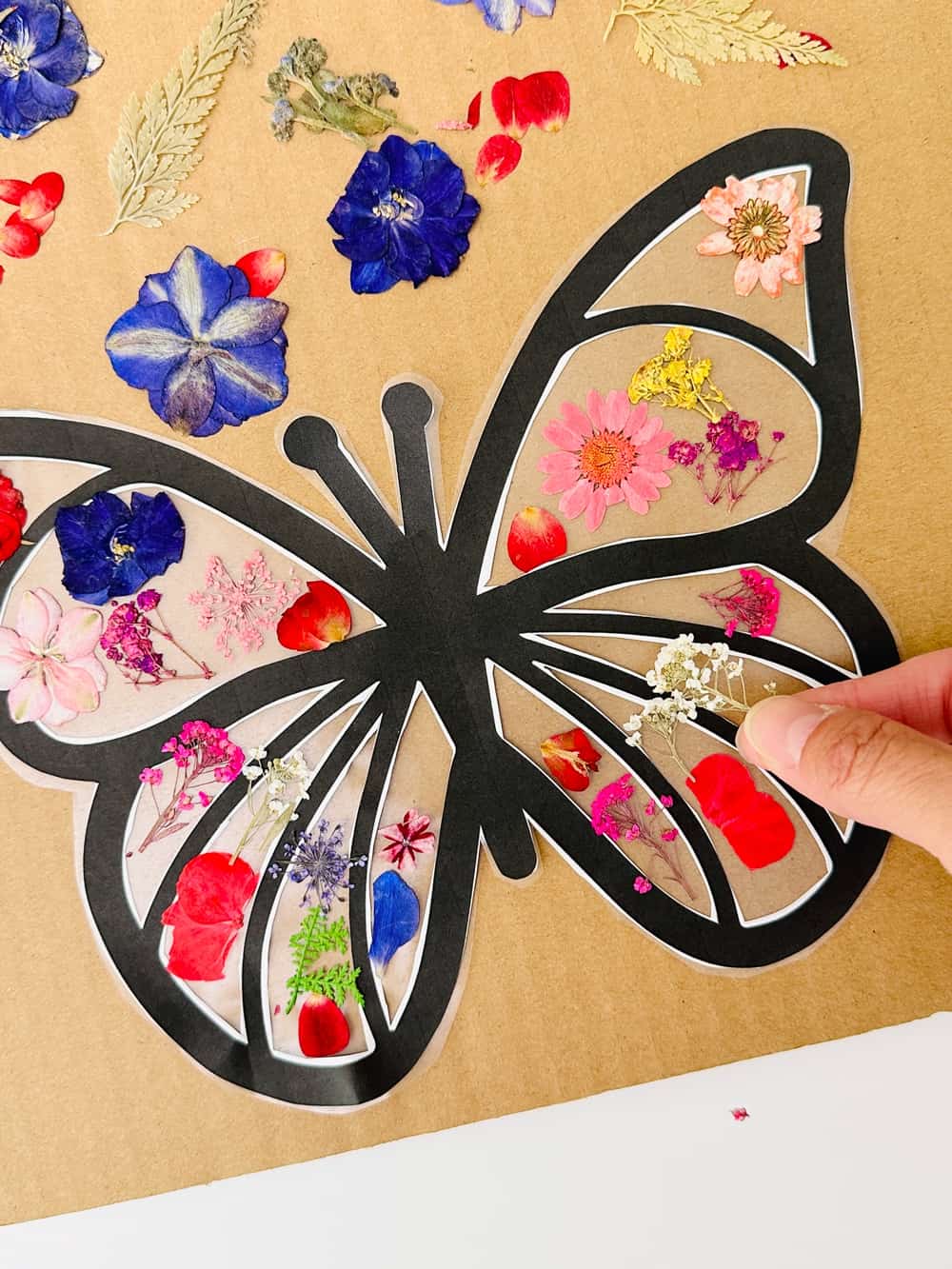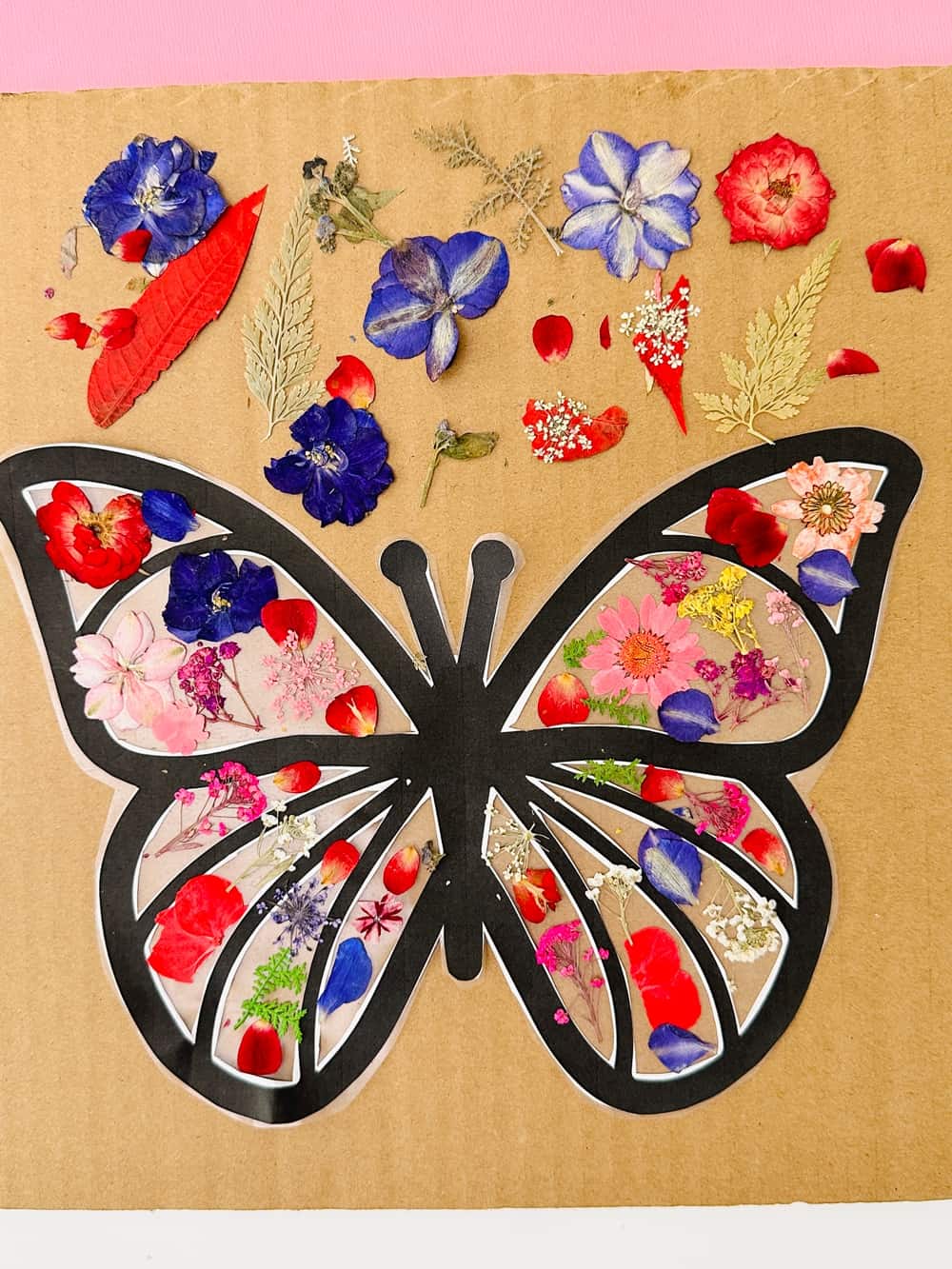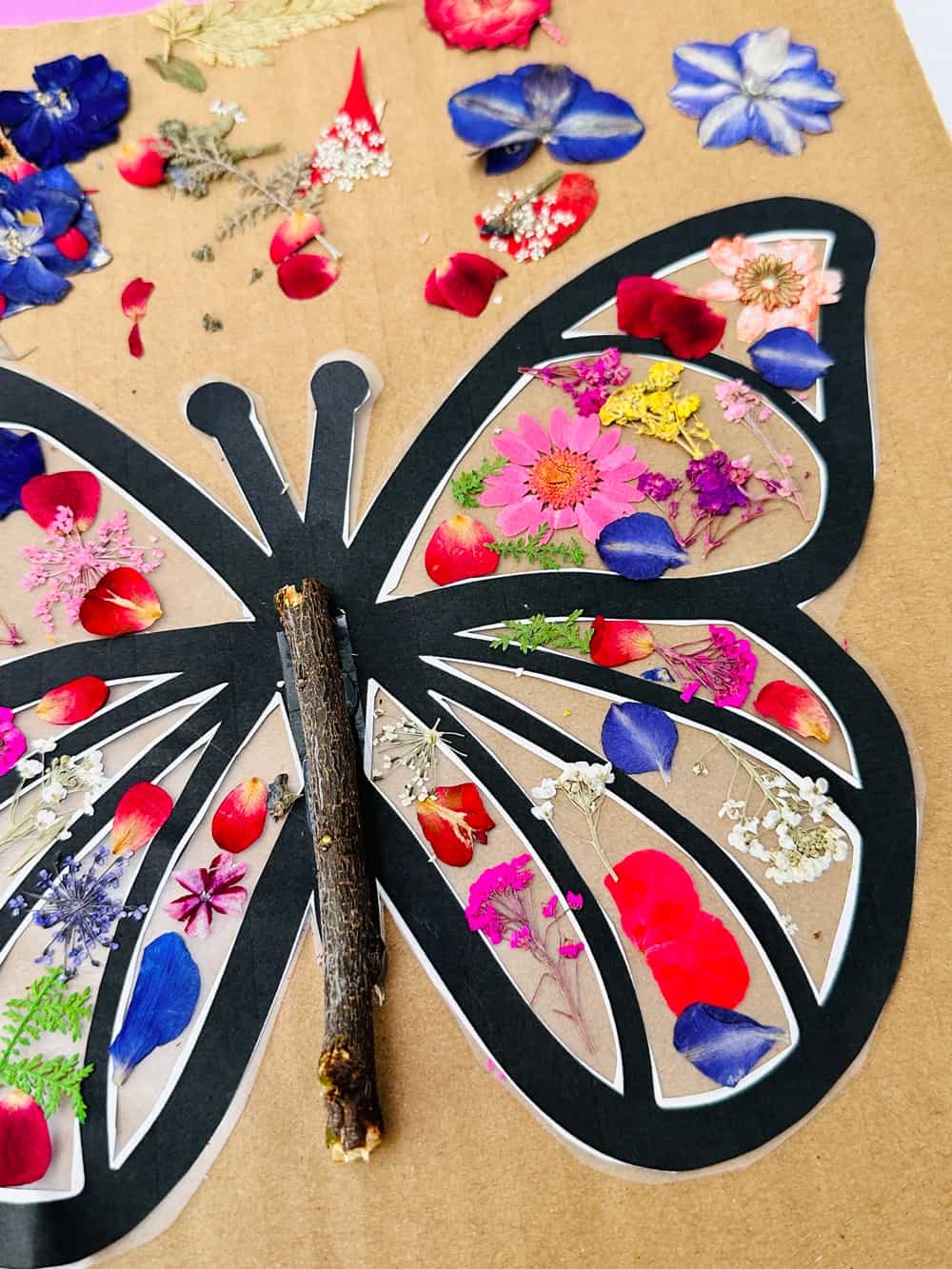 Yield: Pressed Flower Butterfly Craft
Pressed Flower Butterfly Craft
This gorgeous flower butterfly craft will add a splash of color and creativity to celebrate the warming weather!
Instructions
1. You will need contact paper, pressed flowers, a stick, glue and scissors to complete this craft in addition to the template.
2. Print the template out. Use letter size paper 8.5" x 11"
3. Cut around the butterfly and cut out the inside white sections.
4. Lay a piece of contact paper down that is larger than your butterfly with the sticky side up.
5. Lay your butterfly down the sticky part. Then cut away the excess contact paper.
6. Press flowers around the sticky inside parts of your butterfly.
7. Glue a stick on the center of the body. 8. Go outdoors and flap your butterfly's wings out in nature! You can also hang it on a window for a pretty suncatcher.
Final Thoughts
This gorgeous pressed flower butterfly activity not only offered a fun way to make a lovely spring craft but also encouraged us to learn about butterflies and engage in nature! 
Try this beautiful nature craft next time you're looking for a family activity. It's a great way to connect, learn, and bring a bit of natural beauty into your home. Happy crafting!
The post Make a Beautiful Pressed Flower Butterfly Craft appeared first on hello, Wonderful.