Minecraft Legends is a reminder that lightning rarely strikes twice in gaming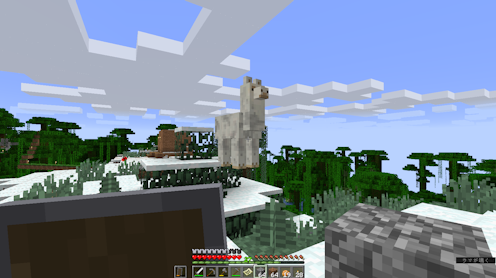 Minecraft Legends has just been released, giving players another opportunity to return to the charming and blocky world of Minecraft.
The original Minecraft was first released in 2011, giving players a vast and open world constructed from cubes of various sorts in which to explore and build. The eponymous mining is central to the game, with players acquiring resources to craft into buildings and goods. Other parts of the game offer combat, secrets and even constructing complex programming-like mechanisms.
Minecraft is generally regarded as one of the most successful computer games ever made. Originally created by a handful of independent game developers, it was sold to Microsoft for US$2.5 billion (A$3.7 billion) in 2014. Since then, the game has continued to exert a massive force on gaming.
Minecraft has particular popularity among children and young people, although people of all ages enjoy the game.
It has also led to massive amounts of video content on sites like YouTube and Twitch. The Minecraft players who create these videos of their own play are sometimes so successful that they make full-time livings from it.
Minecraft spinoffs
The new Minecraft Legends is not the first additional Minecraft game we've seen. It is nothing new for massively successful media items to be "spun off" into others, and Minecraft is no exception.
Games like Minecraft: Story Mode and Minecraft Dungeons have also come to market in recent years. However, where the original game was critically acclaimed and is regarded as massively influential, these spin-offs receive mixed reviews. They have rarely been panned, but never come close to achieving the success, nor the regard, of the original.
Minecraft: Story Mode and Minecraft Dungeons sought to take the Minecraft world and the Minecraft fandom into new kinds of gameplay (narrative and "dungeon crawling").
Minecraft Legends is another entry in this wider program. It represents another attempt to take a stunningly successful game and find new ways to engage players – and of course, make profit – from the existing popularity of a game world.
The Minecraft universe gained such a strong following and culture from the possibilities of its foundational ideas and what they offered players. Legends is trying to place these inside another game altogether. There is no doubt some will buy and play it purely because of the Minecraft label. Yet, this is not the same thing as creating something as enduring and influential as the original.
Diverging from the mines
These games struggle to capture high interest from Minecraft players precisely because they diverge so significantly from the original game.
They are also unable to capture new fans interested in the genre, but not the setting, precisely because of their Minecraft association. This is one of the difficult binds faced by a company trying to spin-off games in this way. Neither the original crowd, nor an imagined future body of consumers, are overly interested in what's on offer. It's too different from the original Minecraft for many of its players, and too much like it to bring new players onboard.
This struggle is not new. Many spin-off media properties that change in significant ways from the original find it difficult to find an audience.
Comparing the success of the 2004-2009 action-packed, space opera Battlestar Galactica to the general lack of interest in its 2010 urban-based and intrigue-focused spinoff, Caprica, is a classic example.
Prequels, sequels, "sidequels" and spin-offs are challenging things to handle. Trying to bring back existing audiences, and bring in new audiences, can be conflicting desires. So can trying to repeat a huge success while not repeating the exact content of the original.
Beyond the mines
Yet none of this inherently means the Minecraft world, setting and visuals cannot be usefully applied elsewhere.
I'm a judge on the global Generative Design in Minecraft competition. This is a computer programming contest that uses Minecraft to explore new kinds of AI-driven worlds and spaces in digital gaming.
The success of the competition in recent years has shown the suitability of Minecraft for projects far beyond its original intentions, or even beyond the game's expanded scope in more recent years. Minecraft's open "sandbox" world offers a fascinating area for exploring artificial intelligence techniques. This is especially true for the competition's focus on building settlements and imagined societies.
---
Read more: Tapping into kids' passion for Minecraft in the classroom
---
Minecraft Legends is not going to recapture the impact of Minecraft nor, most likely, anything else close to it. What it does show is another iteration of a massive industrial and economic juggernaut attempting, with mixed success, to find new ways to profit from gamers already invested in the Minecraft world.
My own research and others' have explored the increasingly profit-motivated nature of the "blockbuster" games industry. A game like Minecraft Legends demonstrates once again the increasing emphasis on trying to safely repeat past wins instead of innovating.
It is possible the impact of the original is so great that nothing like it can ever be replicated by Microsoft's game developers – but that won't stop them from trying.
Mark R Johnson does not work for, consult, own shares in or receive funding from any company or organisation that would benefit from this article, and has disclosed no relevant affiliations beyond their academic appointment.