New Ryobi USB Lithium 3ah Battery & 3 New USB Lithium Tools
Ryobi has announced this week a new Ryobi USB lithium 3ah battery FVB03 as well as 3 new USB lithium tools. Let's check them out below.
Disclosure: This is tool news. Tool Craze cannot guarantee the accuracy of the information of any tool listed in this article. Manufacturer marketing claims may not always meet expectations. Tool Craze is not responsible if products do not live up to claimed expectations. Please do your full research before buying any products. Tool Craze is an Amazon Associate. Also an affiliate with the Home Depot, Acme Tools, Ohio Power Tool, Tool Nut. As well as an affiliate with Lowe's, Ebay, and Walmart and places affiliate links to these retailers. If you purchase through a link on this site, we may get a share of the sale.
Ryobi USB Lithium 3ah Battery FVB03 – Features
The newest addition to the Ryobi USB lithium line of tools is a new battery. This new USB lithium battery sports a capacity of 3ah. This is about 50% more capacity than the 2ah USB lithium battery.
Like all of Ryobi's USB lithium batteries, they feature a built in USB C port so you can charge them with the same chargers for your phone.
The battery itself can also be used to charge your mobile devices on the go.
This new battery is also compatible with all of Ryobi's USB lithium line of tools.
Ryobi USB Lithium 3ah Battery FVB03- Pricing & Availability
This new battery will be priced at $34.97 and will be available June 2023.
Ryobi USB Lithium 3ah Battery
50% more runtime compared to FVB01
Charges mobile devices
On-board LED fuel gauge indicates the battery level status
Powers the RYOBI USB Lithium system for portability and minimal downtime
Easy battery charging with any USB-C charging cable or the USB Lithium 3-Port Charger (FVCH01)
Compatible with all RYOBI USB Lithium tools
2-year manufacturer's warranty
Includes: FVB03 USB Lithium 3Ah Lithium Rechargeable Battery and Operator's Manual
This battery will be available exclusively at The Home Depot and HomeDepot.com.

The news doesn't end there. Ryobi is actually coming out with 3 more USB lithium tools in Fall 2023. They include the soldering pen FVH61, foam cutter FVH64, and desktop vacuu FVH67. All will come as kits.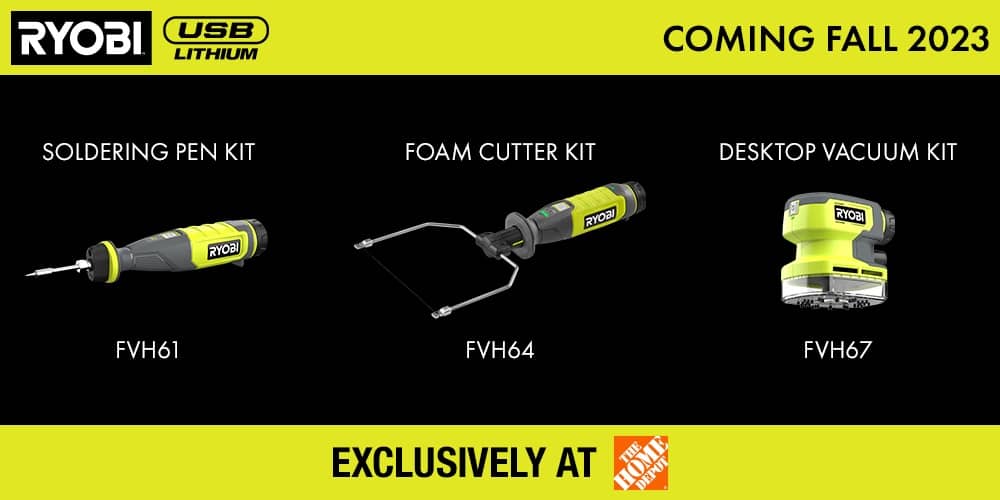 Being part of the Ryobi USB lithium system means they are small tools overall with two of them having slim handles.
I like the idea of the soldering kit and being USB lithium makes it a very small and compact soldering iron. And that also means no cords to tie you down. This is perfect for your DIY electronic work.
The foam cutter is an interesting part of this line. Many of Ryobi's tools cater to the DIY creator market and this fits right in. A foam cutter comes in useful for cutting and shaping foam for all sorts of craft projects. It works by heating up a thin wire so it cuts through foam like a hot knife through butter.
The desktop vacuum seems like a neat little tool to keep your desk clean. I see a small clear section at the bottom. I wonder if that's the collection tray. But I also see what appears to be bristles beneath it so that might be where it sucks up debris. We'll have to wait and see for more official info from Ryobi.
DISCLOSURE:
We are a participant in The Home Depot Affiliate Program. It is an affiliate advertising program designed to provide a means for us to earn fees by linking to homedepot.com. Tool Craze does not sell this product or any product on the Tool Craze website. We do not handle the sale of any item in any way. Please refer to the About section for more info.
You may also like:
The post New Ryobi USB Lithium 3ah Battery & 3 New USB Lithium Tools appeared first on Tool Craze.