Pomegranate Stuffed Squash Recipe
Check out these amazing Thanksgiving recipes using sweet and tart pomegranates. They're easy, delicious, and perfect for a festive gathering.
The holidays are fast approaching. October is over, Halloween is here, and—ready or not—the countdown to "the most wonderful time of the year" is officially on. Ah!
It's an equally exciting and stressful. There are travel itineraries to be booked, turkeys to be thawed, parades to be planned, menus to be made, presents to be purchased (and wrapped), photo cards to be created, decorations to be hang, and trees to be trimmed.
Related: Fruit cornucopias for Thanksgiving
But before I get ahead of myself, waiting for the doors of Toys R Us to open so I can snag the season's must-have toy (Hatchimals, seriously?!?), I'm starting to plan and prep for our family's Thanksgiving.
Creating a stellar menu for any given dinner stresses me out—but planning for a holiday that revolves around food?!? The idea alone is enough to keep me up at night.
Thankfully, I have a secret weapon in the kitchen—the pomegranate. In season, between October and early February , I love the versatility of this succulent ruby-red fruit, which, bonus, is loaded with good-for-you antioxidants.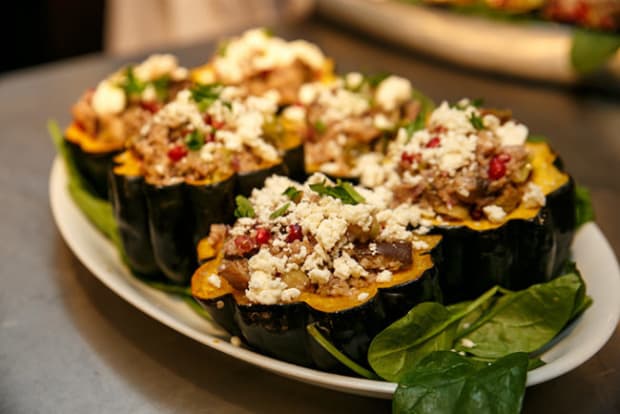 Pomegranate Stuffed Squash 
(4 servings)
1 cup POM POMs Fresh Arils, plus more for garnish
2 acorn squash
1.5 cups quartered Brussels sprouts
1.5 cups wedged onions
1.5 cups diced eggplant
1 cup diced mushrooms
2 tablespoons olive oil
1 teaspoon kosher salt
¼ teaspoon black pepper
1/3 cup dry quinoa
Red Wine Vinaigrette
2/3 cup crumbled feta cheese
¼ cup red wine vinegar
½ teaspoon thyme, chopped
4 tablespoons olive oil
Pinch of salt and pepper
Directions: Whisk together red wine vinegar, a pinch of salt and pepper, ½ teaspoon chopped thyme and 4 tablespoons olive oil.
Steps:
Heat oven to 400 degrees F. Microwave acorn squash until soft enough to cut, about 15 minutes. Cut in half stem to tip, and scrape out seeds. Place on a roasting pan and place on the upper third rack of the oven. Roast until tender, about 40 minutes.
Meanwhile, toss together the Brussels sprouts, onions, eggplant, mushrooms, olive oil, salt and pepper and spread out on a rimmed baking sheet. Place on the lower third rack of the oven under the acorn squash. Roast until tender, about 35 minutes.
Toss roasted vegetables with quinoa, feta POM POMs Fresh Arils and half of the red wine vinaigrette. Spoon in to acorn squash. Sprinkle with extra Pom Poms Arils and serve extra vinaigrette.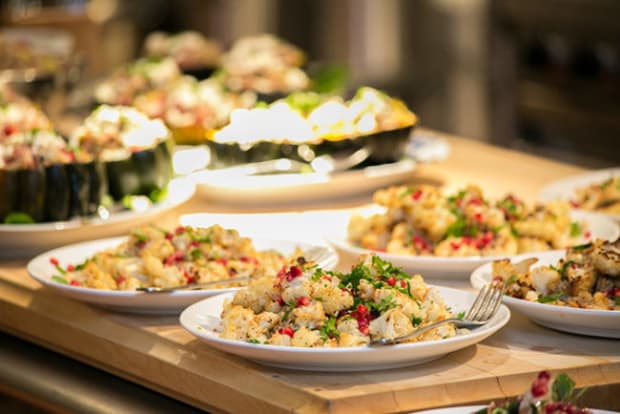 Pomegranate Parmesan Cauliflower 
(Servings 6)
Ingredients
1/2 cup POM POMs Fresh Arils
2 hears cauliflower
2 tablespoons olive oil
1/2 cup finely grated Parmesan
1/2 teaspoon black pepper
1/3 cup chopped flat-leaf parsley
Steps:
Heat oven to 400 degrees F. Wash and cut cauliflower into small peices.
In a bowl, toss together the cauliflower, olive oil, Parmesan, salt and pepper.
Transfer to a rimmed baking sheet and roast, until cauliflower begins to turn golden, about 35 minutes, turning with a spatula half-way through.
Serve on a platter topped with POM POMs Fresh Arils and parsley.
Of course, what's a holiday dinner without a signature cocktail? I suggest serving Prosecco with a few POM POMs! It's festive, colorful, fizzy, slightly sweet, and super easy!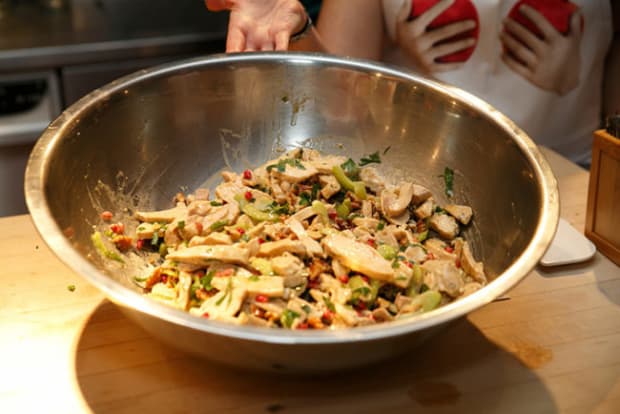 TO HELP YOU PREPARE FOR THANKSGIVING CHECK OUT OUR FAVORITE POSTS:
For more Fall crafting fun, check out our how to "Gobble Up" these fun turkey treats for kids.
PIN IT!
Use pinterest to save your favorite crafts. Be sure to follow our Thanksgiving and Halloween Crafts Board.
This is a sponsored post. All opinions are our own.