Sanrio Perler Beads (30+ Free Patterns!)
Get over 30 patterns for Sanrio perler beads! Included are My Melody, Cinnamoroll, Kuromi, Pochacco, Pompompurin and all of your favorite characters.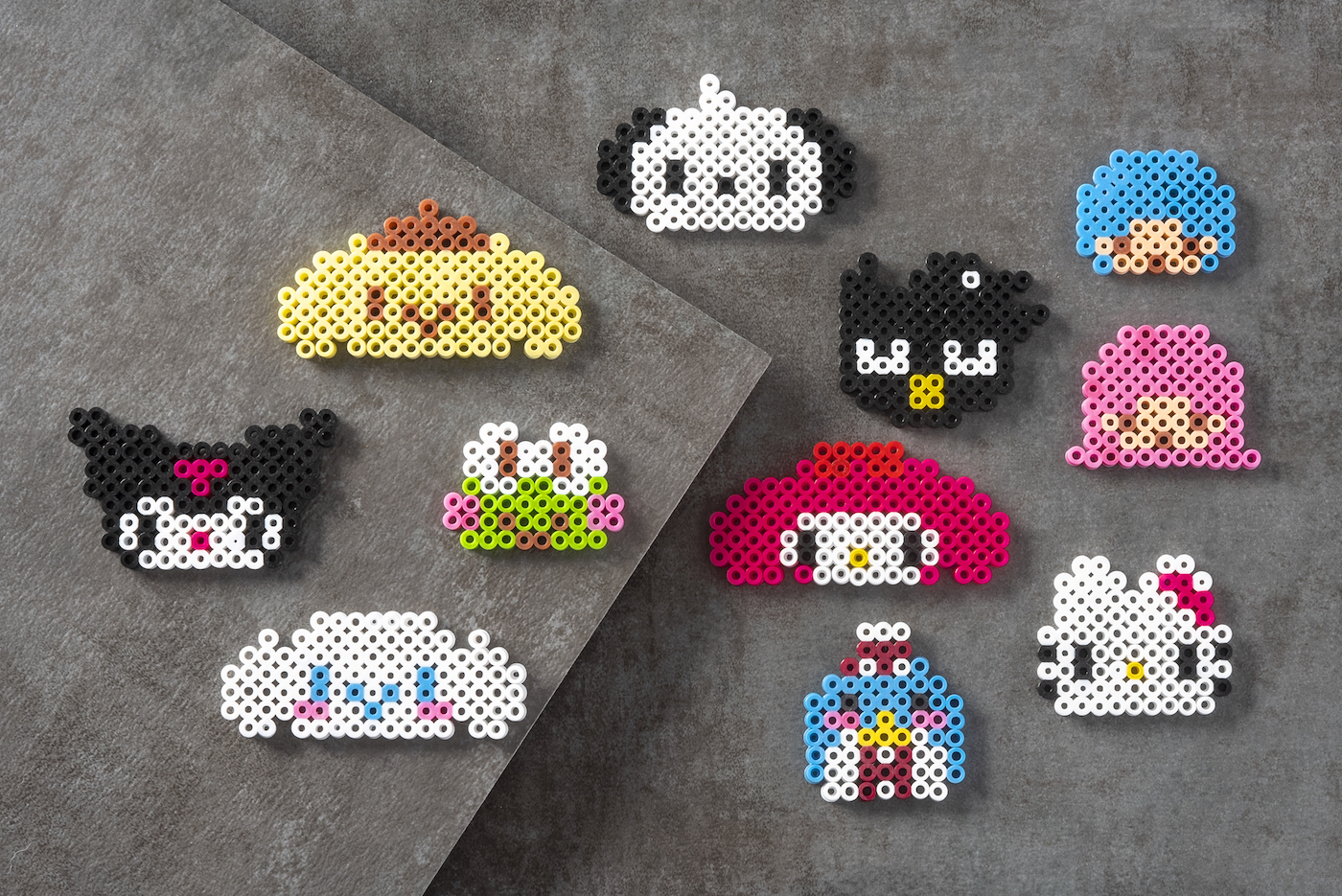 For many years I thought that Hello Kitty was Sanrio, and Sanrio was Hello Kitty. I was a huge fan of Miss Kitty when I was younger, and just assumed that Sanrio was a brand with one character. For a long time!
UNTIL I learned about two other members of the team, the Little Twin Stars (Kiki and Lala). With their cute little faces and good energy, I was hooked. I had to have everything with the Twin Stars on it.
Fast forward to life as a teenager.
I went to high school in Louisville, KY and we had a Sanrio Surprises store at one of our local malls. The stuff was SO cute that I spent quite a bit of my babysitting money on trinkets (I didn't need).
I completely fell in love with Sanrio, and all the characters! I still have some of the goodies I bought from back in that time, now 30 years ago. It's so nostalgic for me!
My niece and I have been doing a lot of perler beads lately, and you may have seen our Hello Kitty perler beads. We also did a Hello Kitty organizer and door hanger.
They were so fun that we decided to continue and make a bunch of Sanrio perler beads. I introduced her to all the characters that were my favorites when I was young.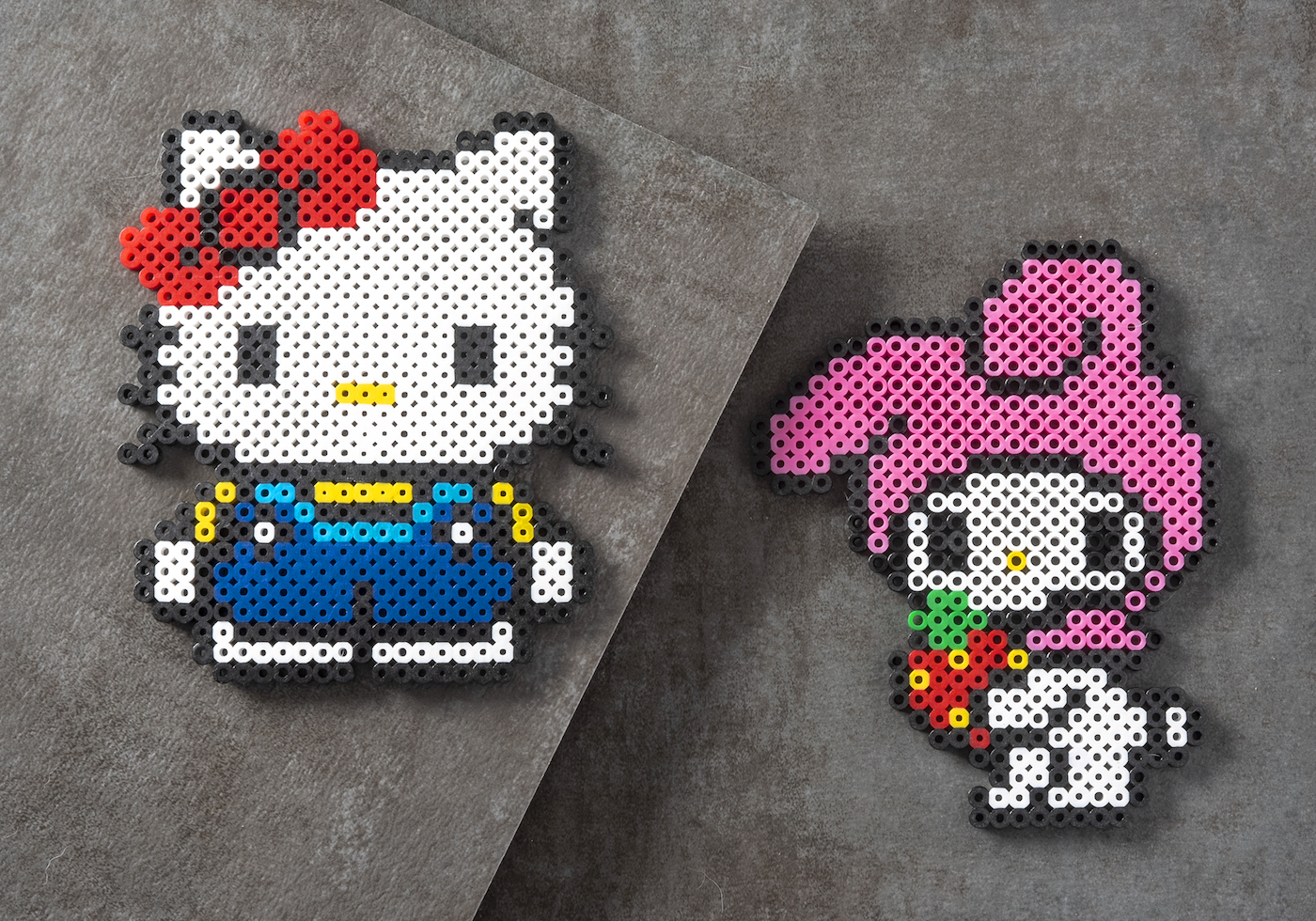 If you're not familiar or need a refresher, here are the Sanrio characters we have perler bead patterns for below:
Badtz-Maru – a bad male penguin with spiky hair
Cinnamaroll –  white dog with a curly tail that resembles a cinnamon roll
Gudetama – an egg yolk whose main traits are laziness and sadness
Hello Kitty – a friendly white cat from London with a red bow
Keroppi – a frog with large eyes, a large family, and many friends
Kuromi – My Melody's rival, a white rabbit wearing a black jester's hat with a pink skull
Little Twin Stars – pair of angel-like characters named Kiki (blue hair) and Lala (pink hair)
My Melody – a white rabbit that always wears a pink or red hood
Pochacco – a white dog with black floppy ears and a sporty and playful personality
Pompompurin – a golden retriever dog with forest friends named after breakfast items
Tuxedo Sam – a plump blue penguin who wears a bow-tie and a sailor hat
I can't wait for you to check out the Sanrio perler bead patterns below.
Perler beads are recommended for ages six and up, so this is a very fun craft to try with your elementary age kids. All children seem to love perler beads (also known as hama beads, fuse beads, or melty beads). But don't be shy – adults love them too!
Tips for Using Perler Beads
Before we get into the summer perler bead ideas, I want to review a few basics of using fuse beads to make sure you get the best results. If you don't want the tips, scroll down to the bottom to get the patterns and tutorial.
Remember that the overall goal is to melt the beads together on both sides while still leaving the holes open. Here's how you achieve success (using a rainbow pattern as an example).
Use Ironing or Parchment Paper
Place ironing paper or parchment paper over the beads on the pegboard. Be gentle so you don't disturb the beads underneath.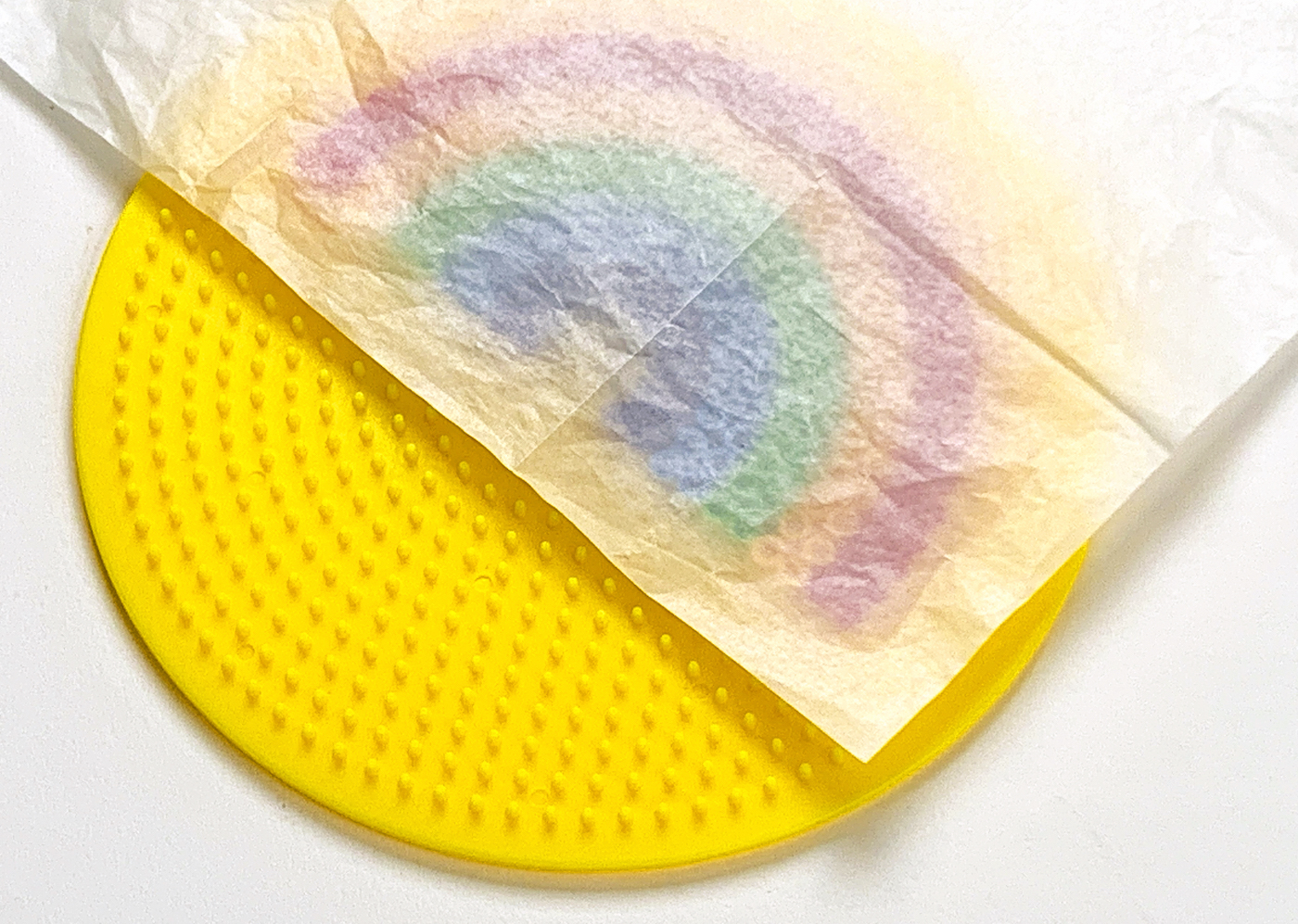 Heat your iron to the medium setting (no steam). In a circular motion, begin to iron the project. Don't press down too hard with the iron. Use small circles and keep the iron moving.
When ironed properly, the beads will still have an open center. Check and make sure your edges are melted. Let the design cool on the pegboard.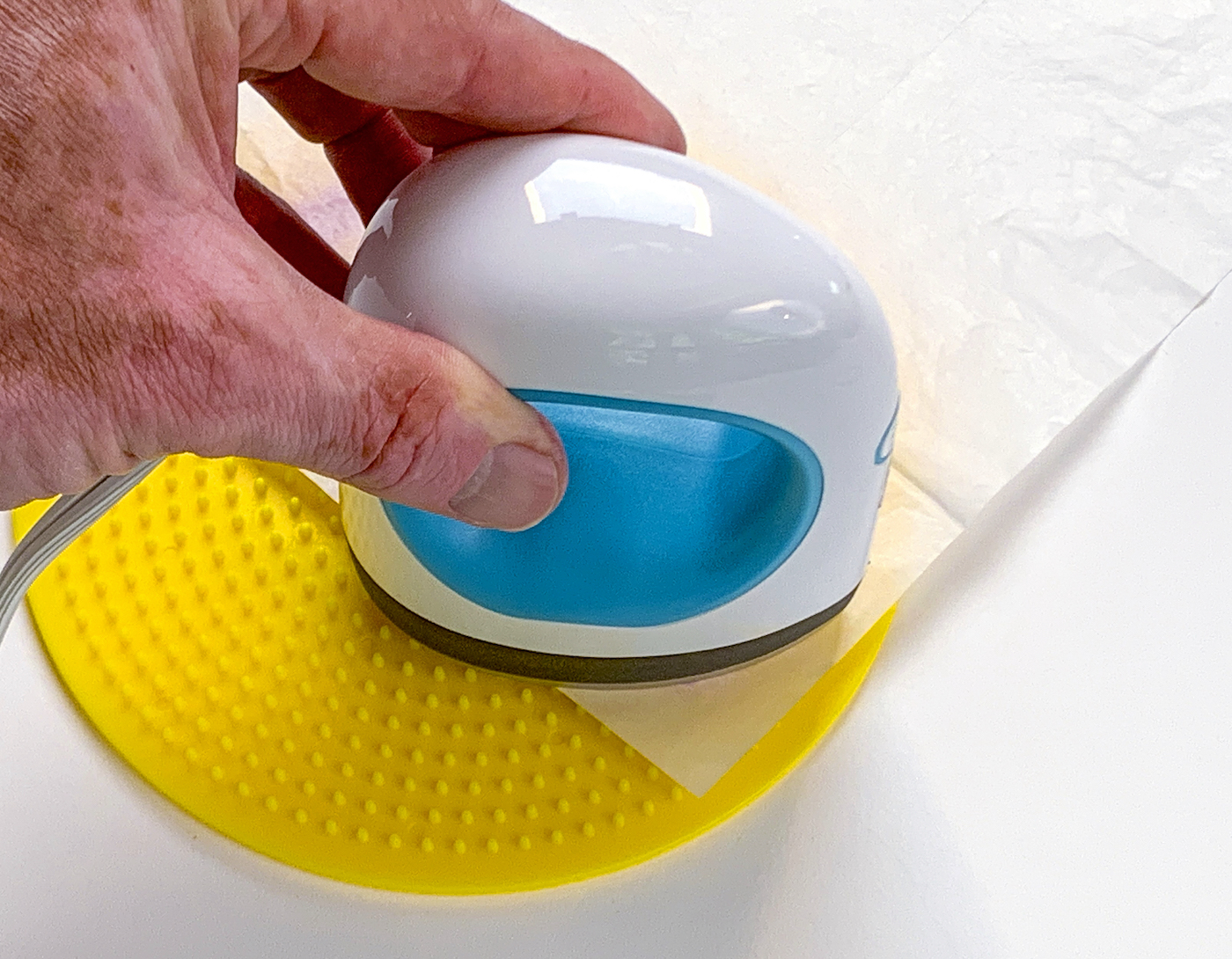 Note: BE CAREFUL about lifting up the paper while you're ironing! If you want to check, carefully peel back paper around the edge of your design and see if all the beads are melted.
If you lift the paper up quickly and there are a lot of unmelted beads, they will easily fall off or go flying and you may be forced to start over. Sometimes the edges need more time so when you check, just check the edges and peel paper back slowly.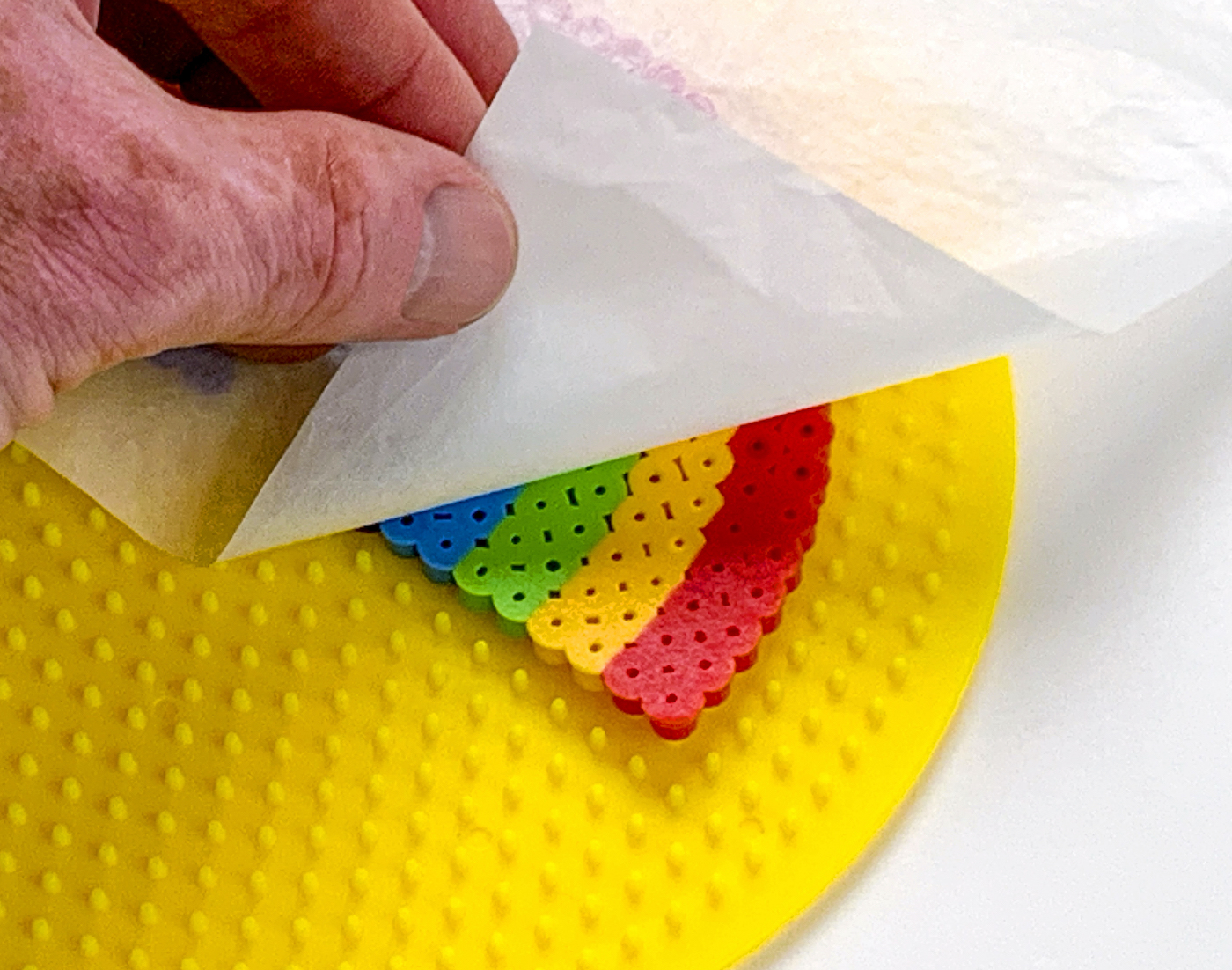 Another Note: some beads melt faster than others (clear melts faster than white, for example). So some holes might be larger than others. It's okay! That's part of the look of the project.
Iron the Other Side
Remove the bead design from the pegboard. Flip it over to the non-melted side and repeat the fusing process.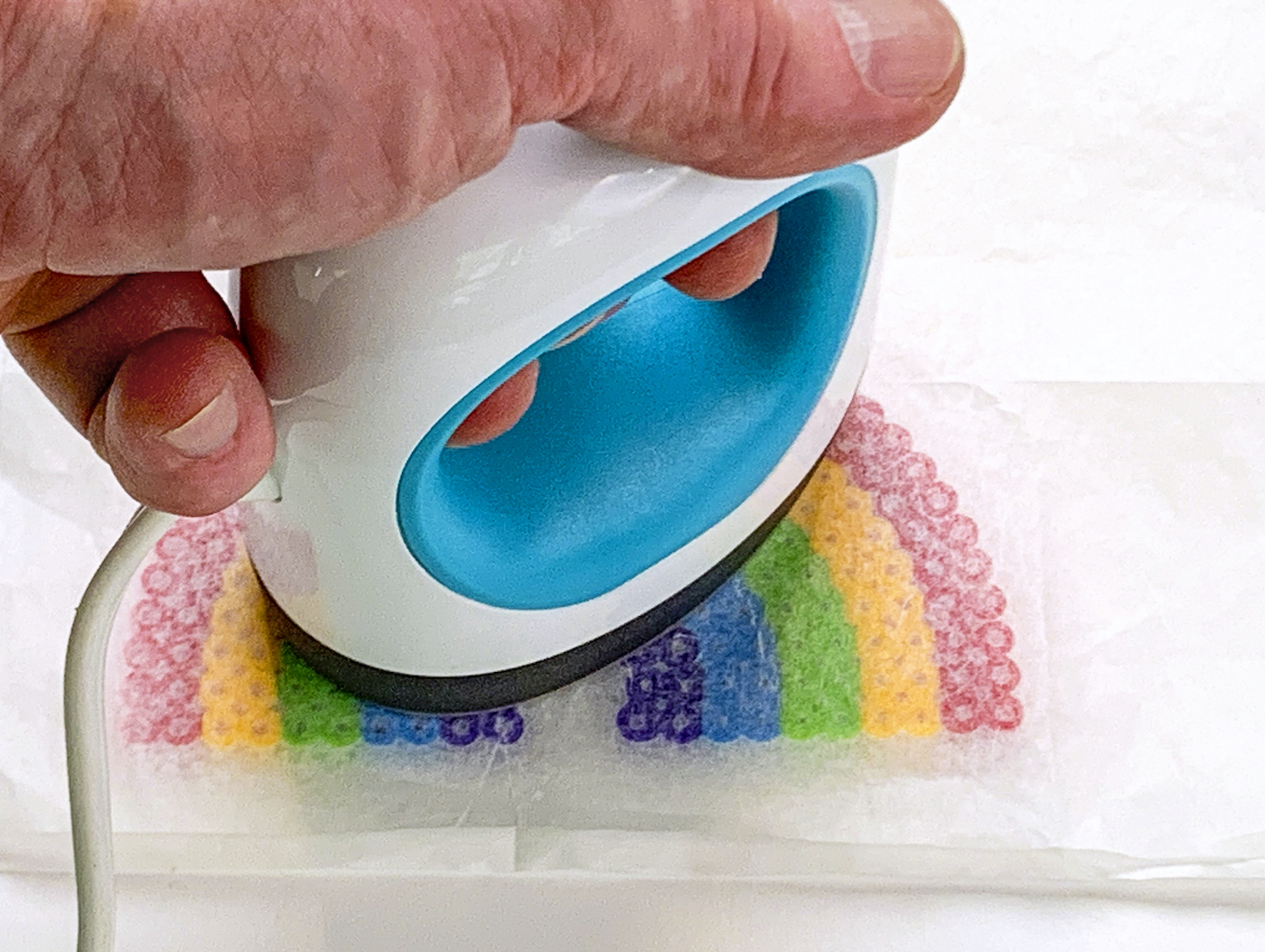 Remove the Paper
Let cool completely and remove the paper again (which is reusable). Some people pull the paper off after they iron the first side, but I just wait until the end and peel off both pieces. It's up to you!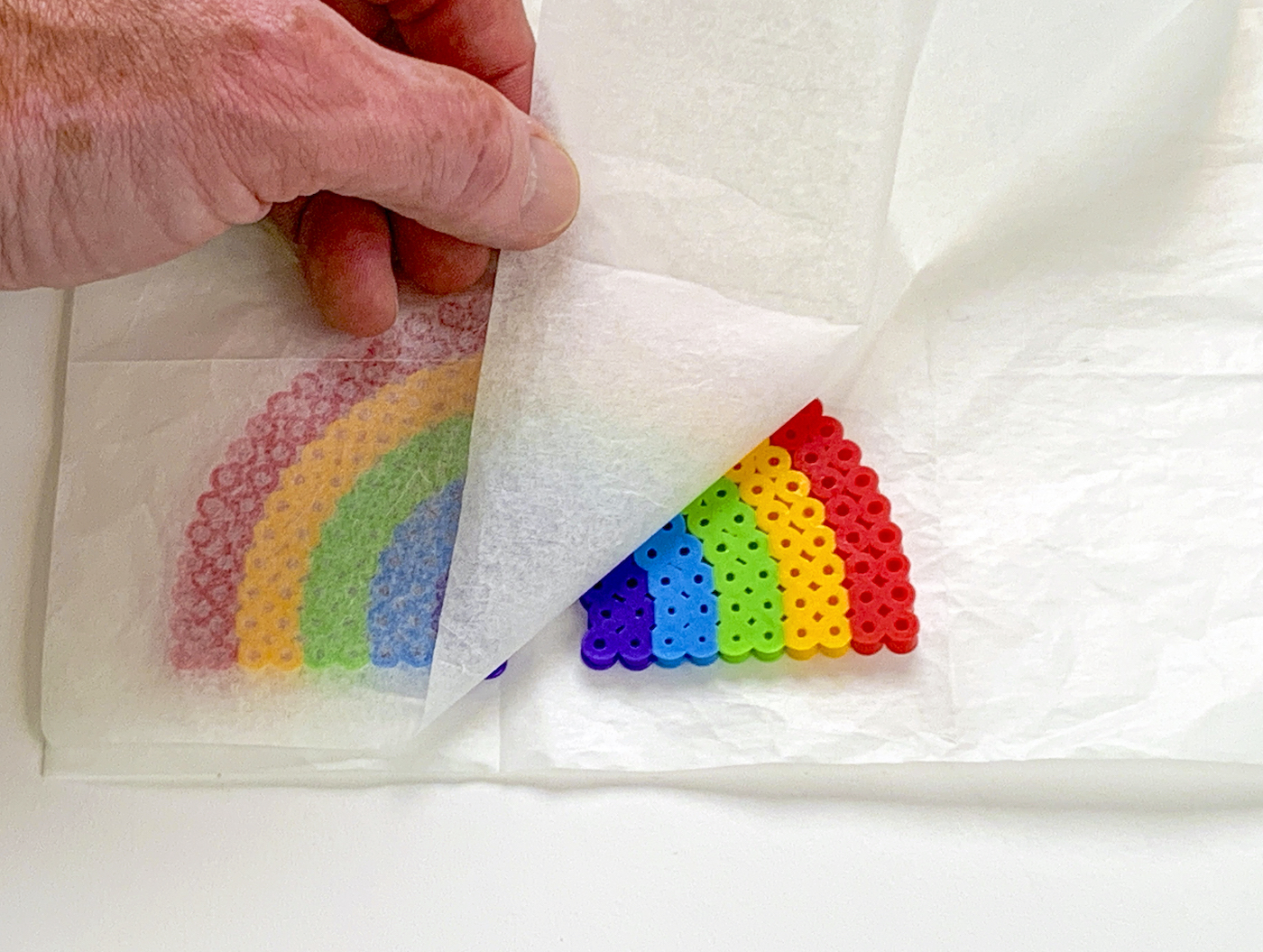 Now that you've had a refresher on how to melt the beads, you can get the patterns! Keep on reading.
---
Sanrio Perler Bead Patterns
Make sure to check out these notes:
A few of these patterns are larger than a 29 x 29 pegboard, so you'll either need a extra large pegboard (49 x 69 tall) or to put multiple square peg boards together to form a larger "canvas."
You'll see a couple of the pattern backgrounds below aren't white – that's simply to give contrast so you can see where all the white beads should go. You don't need to add the background (but you can if you want to).
Don't stick to my colors necessarily. Customize with your favorite color beads! Stars are great for using up extra beads.
I typically start with easier or smaller patterns in my list and then move on to the larger ones. Just keep scrolling to see everything.
Mini Sanrio Characters
You'll get a bunch of tiny characters including the Little Twin Stars, Pompompurin, Badtz-Maru, Keroppi, Pochacco, Kuromi, My Melody, Tuxedo Sam, Hello Kitty, and Cinnamaroll. These make great keychains, backpack charms, and other small trinkets.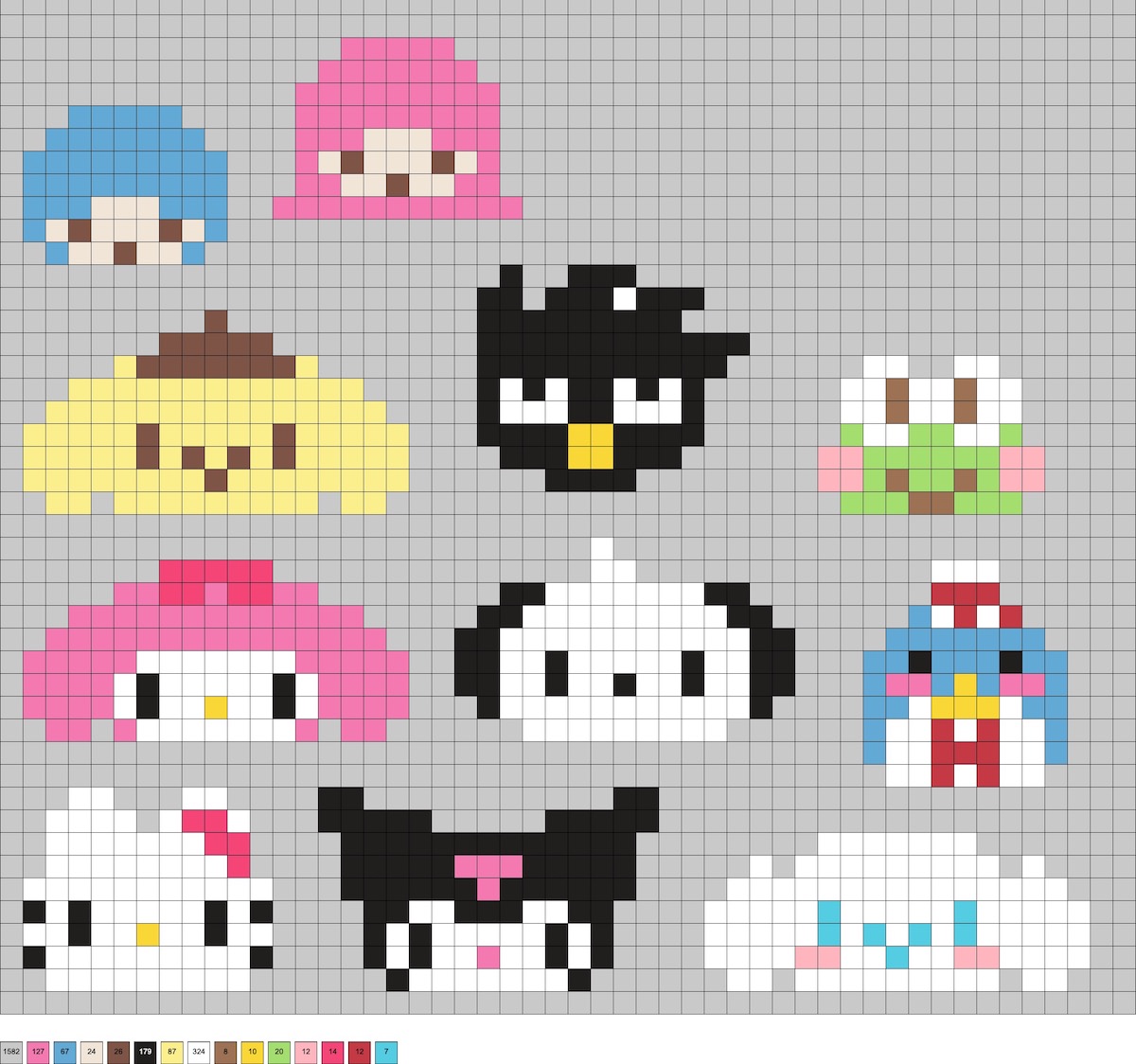 ---
Hello Kitty Head in Front of a Pink Heart
This pattern uses 152 black, 110 pink, 40 red, 303 white, and 3 yellow beads.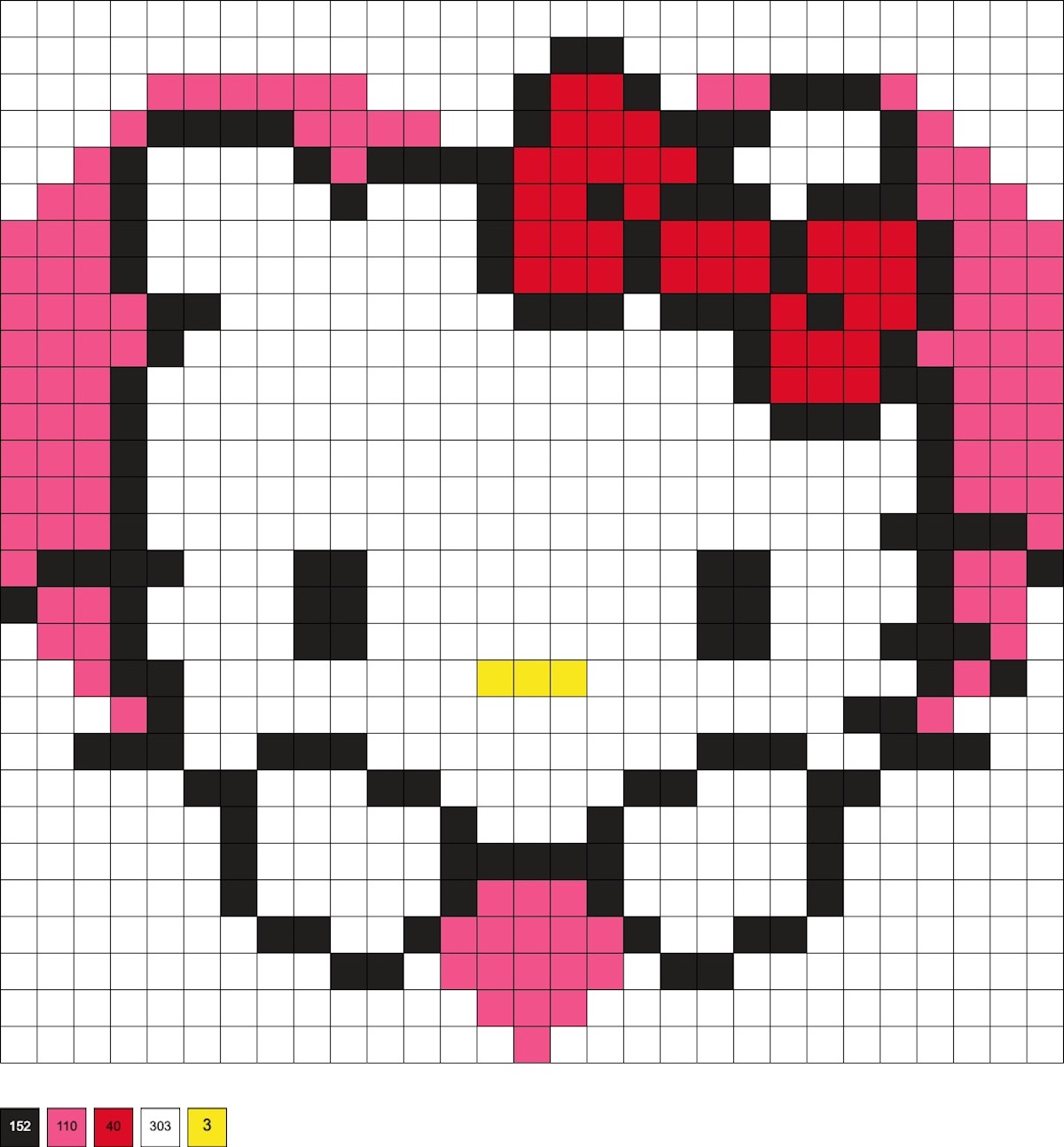 ---
My Melody Head
This pattern uses 59 black, 89 pink, 52 white, and 5 yellow beads.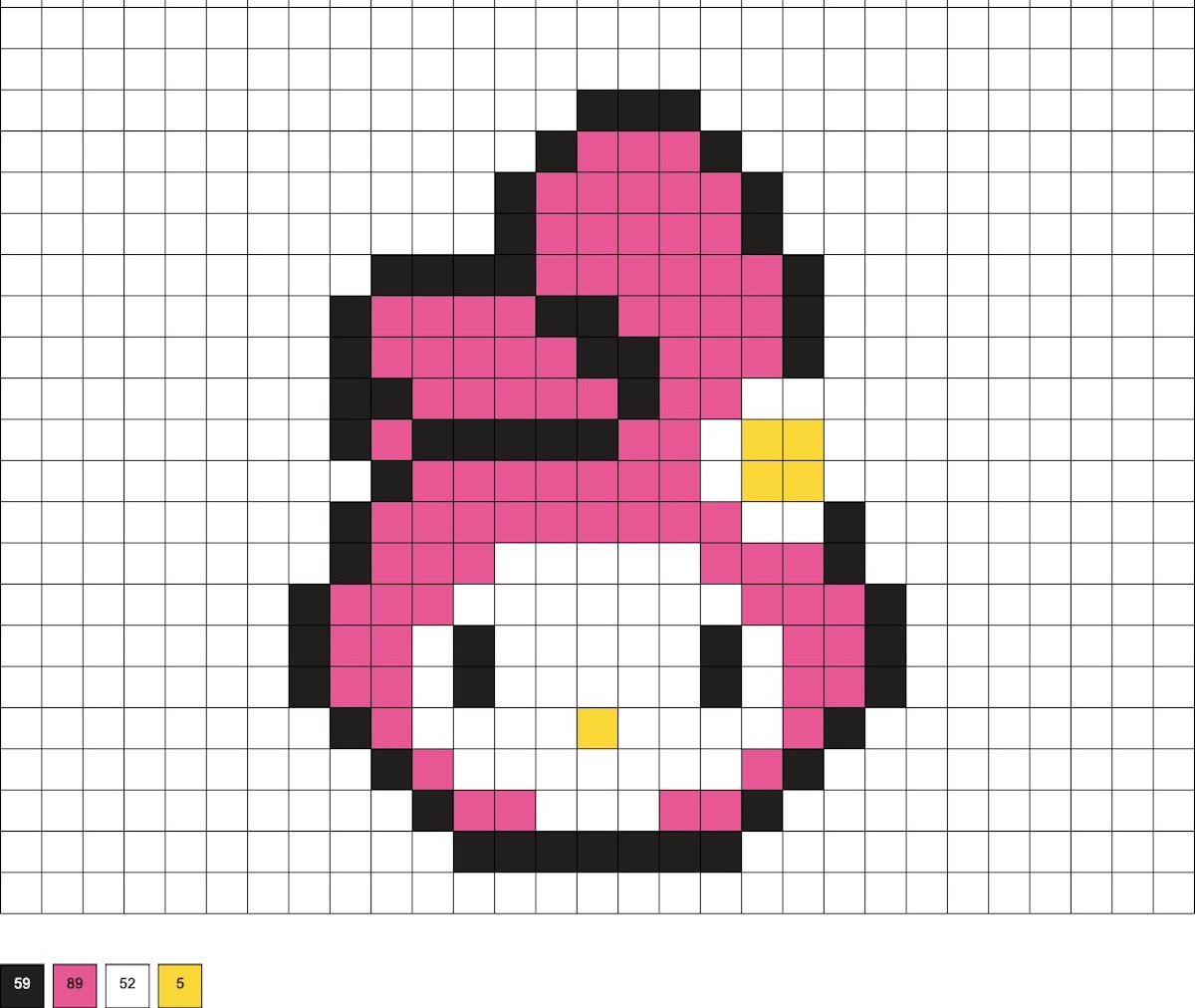 ---
Kuromi Head
This pattern uses 95 black, 75 dark gray, 13 cotton candy, and 40 white beads.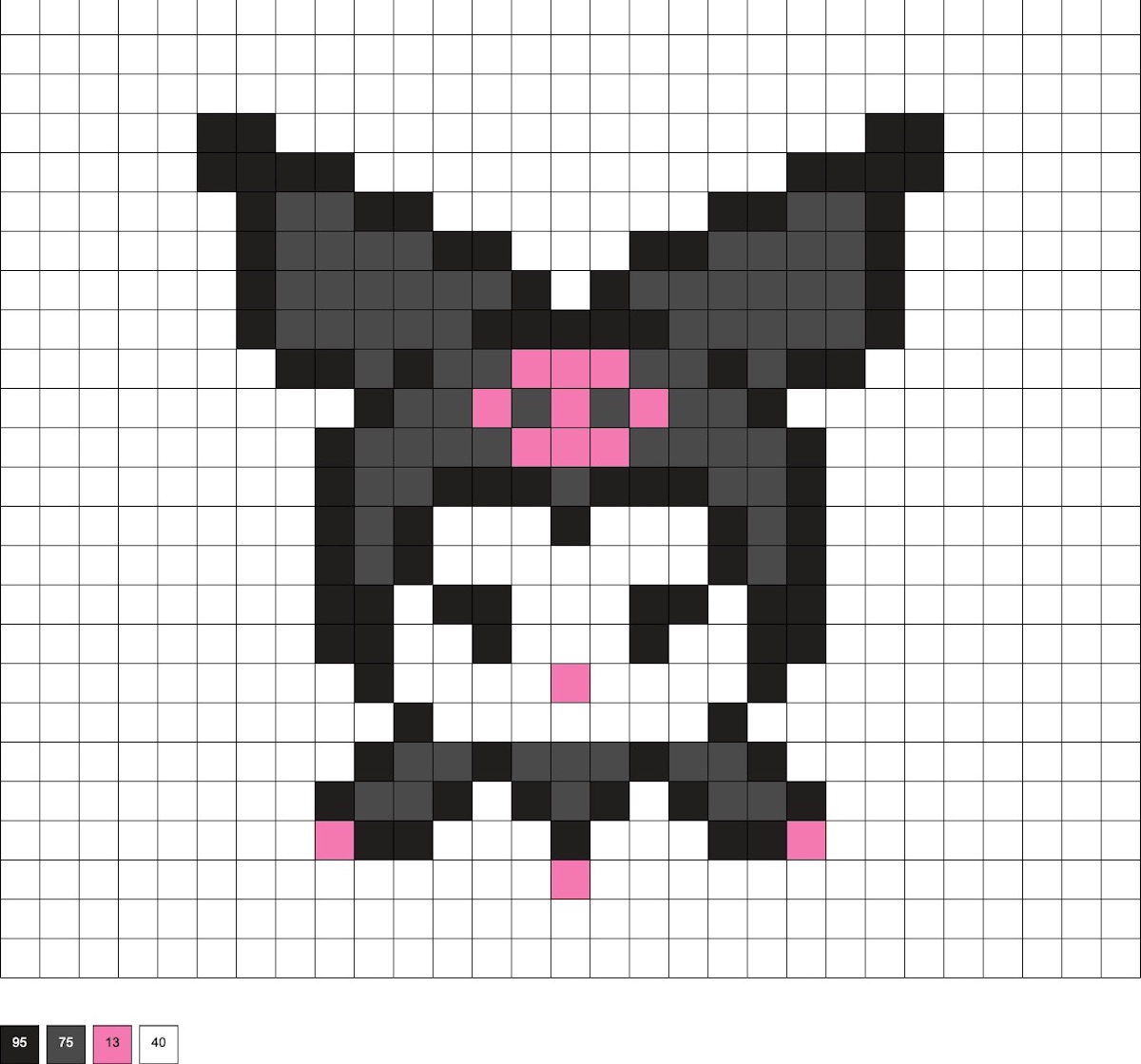 ---
Hello Kitty Standing with Blue Overalls, Yellow Shirt, and a Red Bow
This pattern uses 188 black, 51 red, 270 white, 14 yellow, 11 denim blue, and 58 navy beads.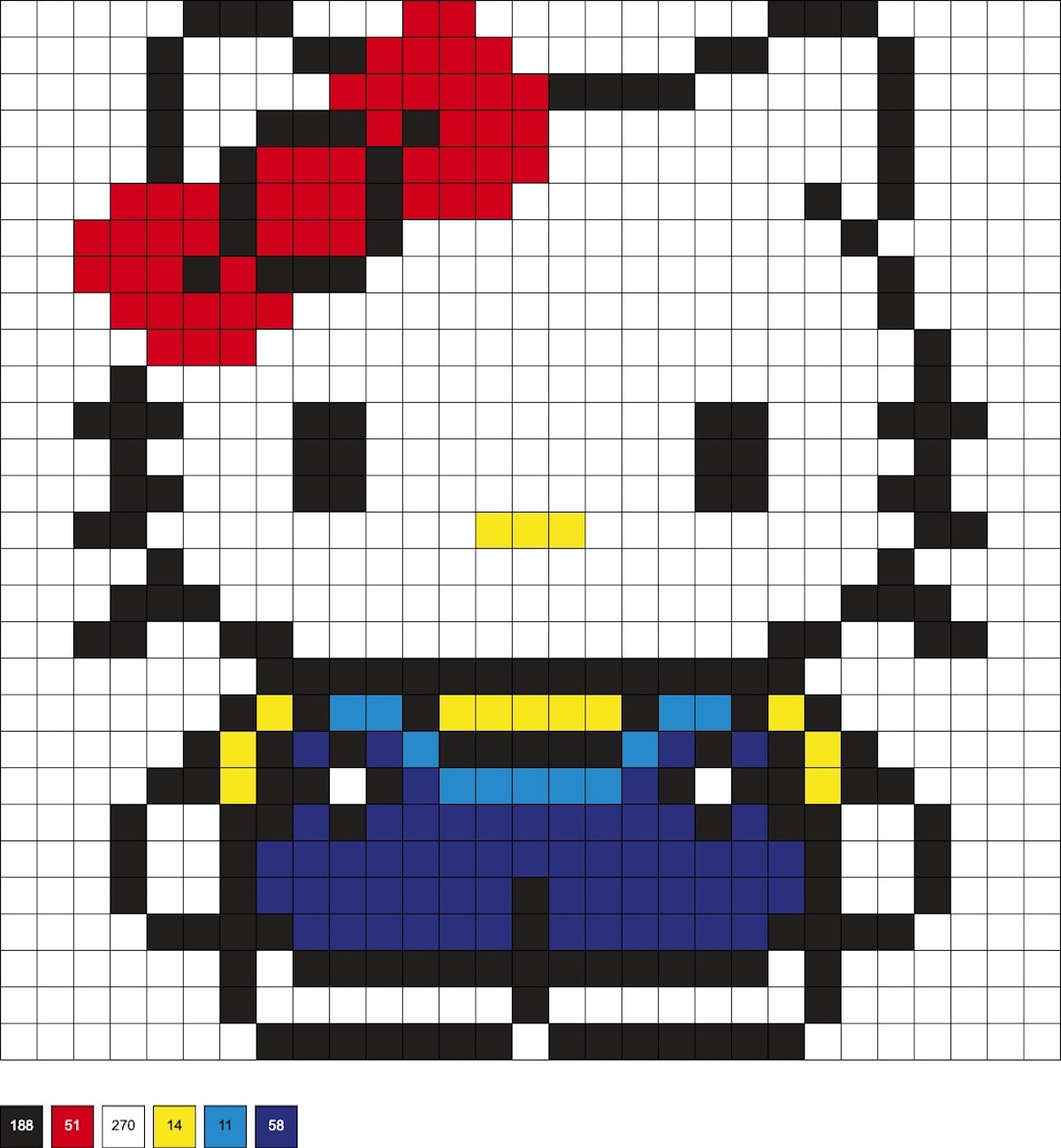 ---
Cinnamaroll Holding a Heart
This pattern uses 132 sky, 60 toothpaste, 152 white, and 24 blush beads.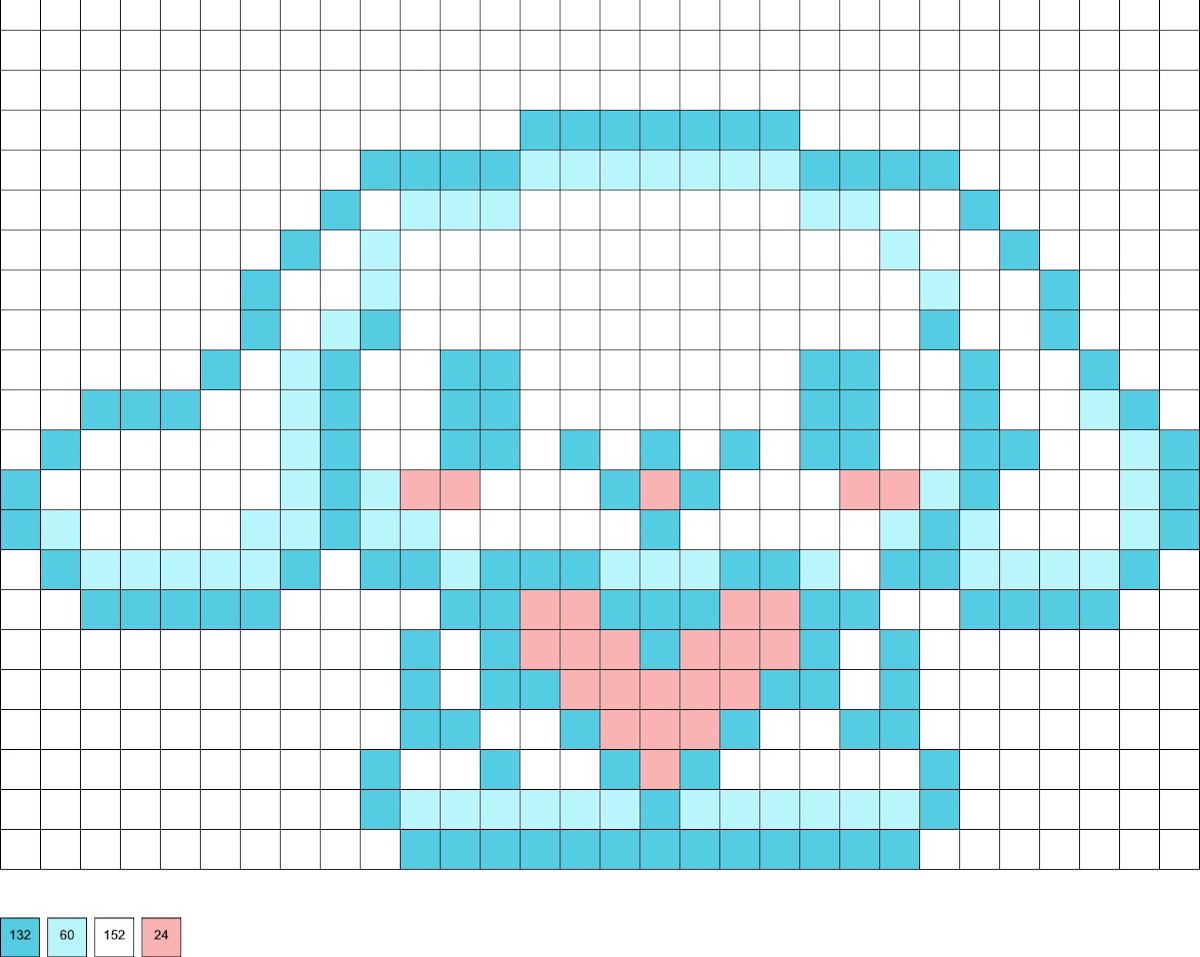 ---
Happy Pompompurin
This pattern uses 130 brown, 17 gingerbread, 278 pastel yellow, and 8 blush beads.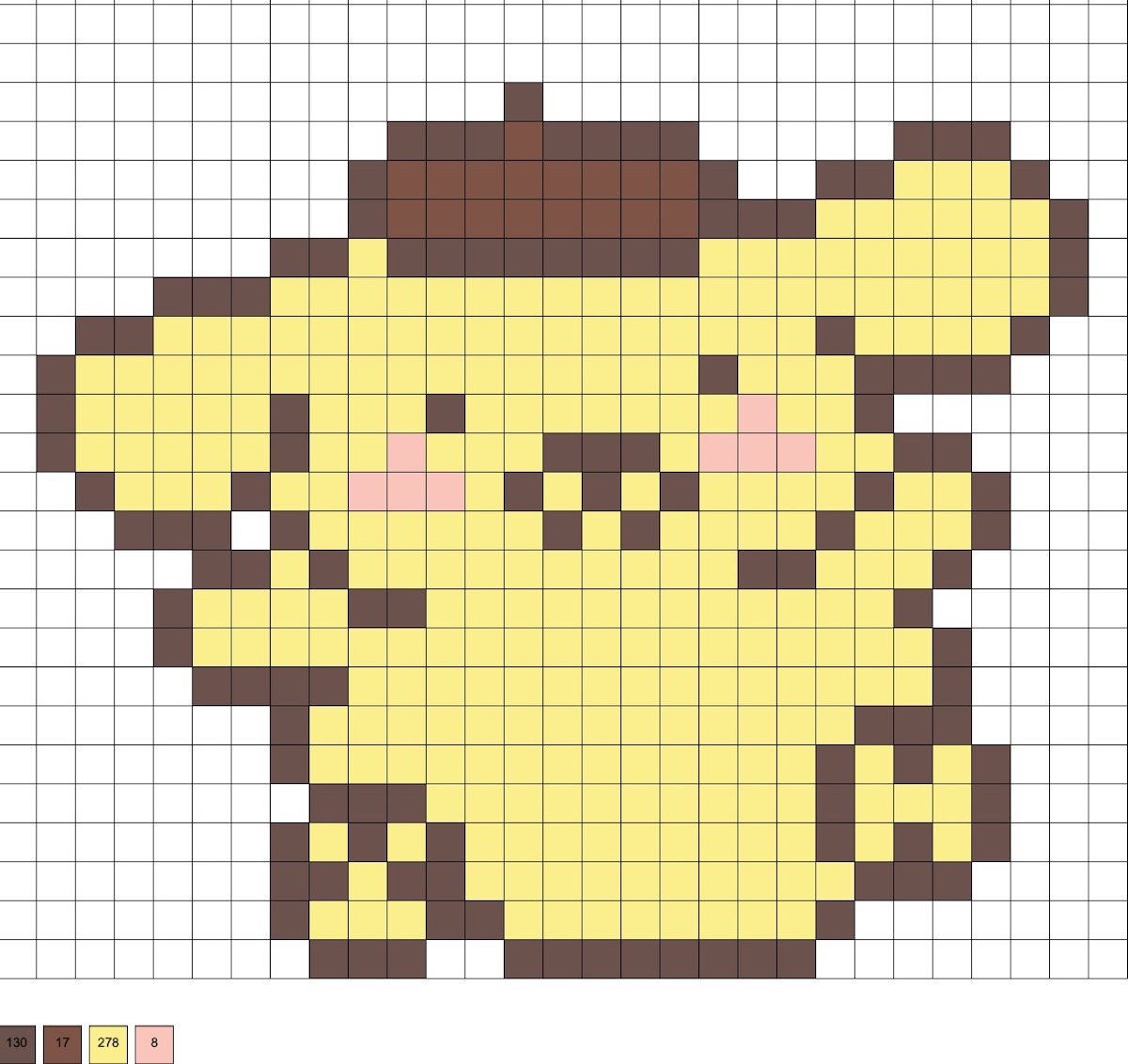 ---
Hello Kitty Seated with Turquoise Overalls and a Bow
Uses 63 parrot green, 83 black, 67 light green, 200 white, 20 gray, and 2 yellow beads.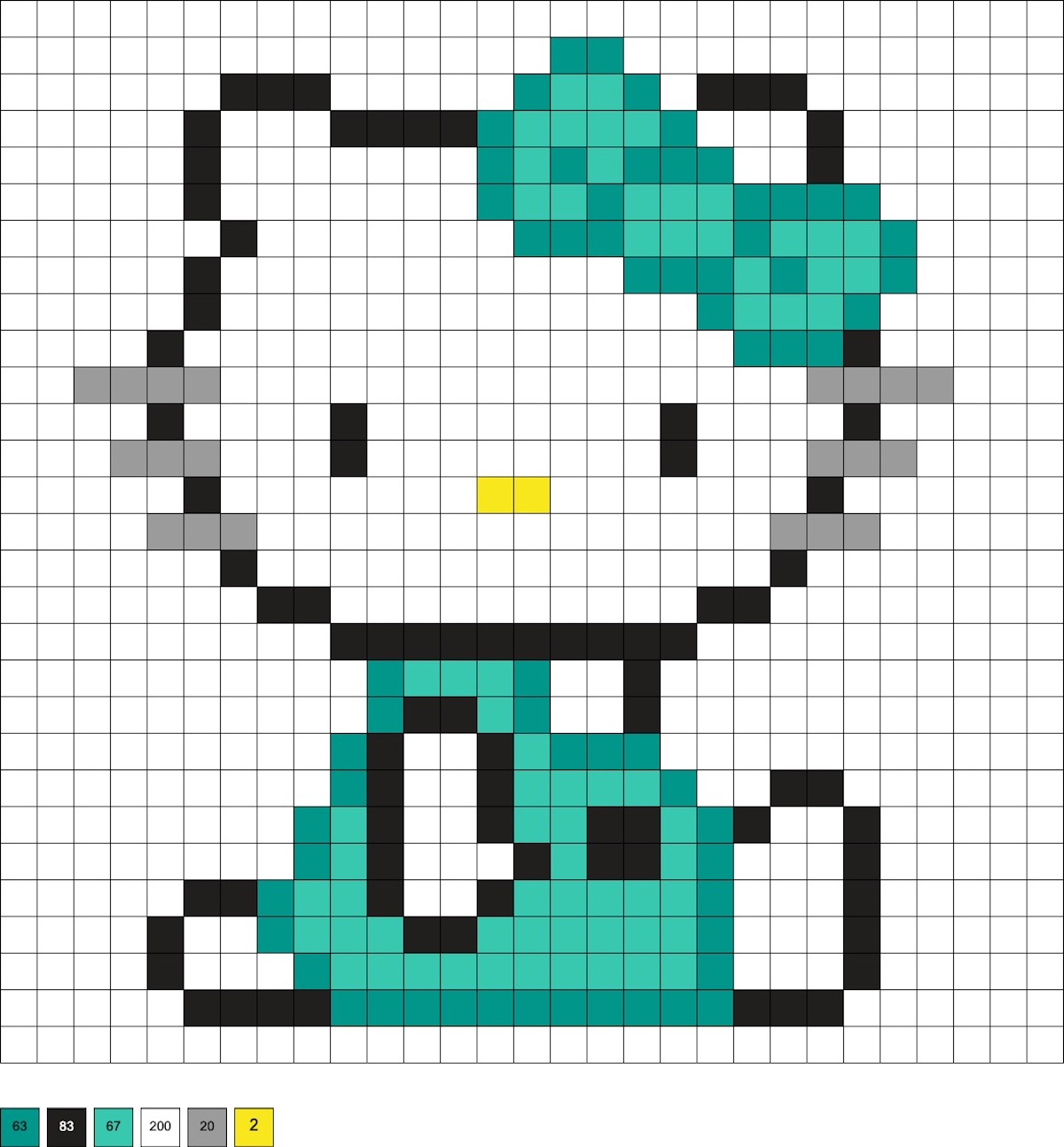 ---
Mini Little Twin Stars
These patterns use 78 yellow, 43 turquoise, 79 pink, 48 sand, 4 gingerbread, and 34 white beads.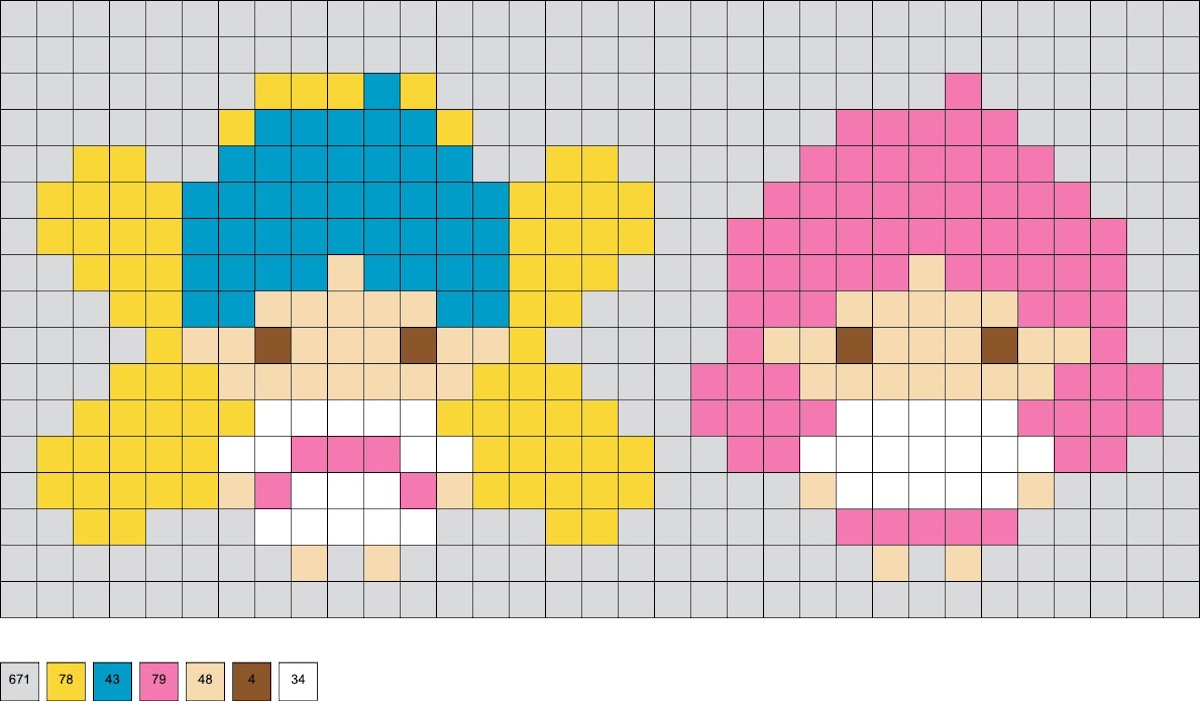 ---
Excited Pochacco
The pattern on the left uses 122 black, 169 white, and 21 red beads. The pattern on the right uses 115 black, 167 white, and 26 bright green beads.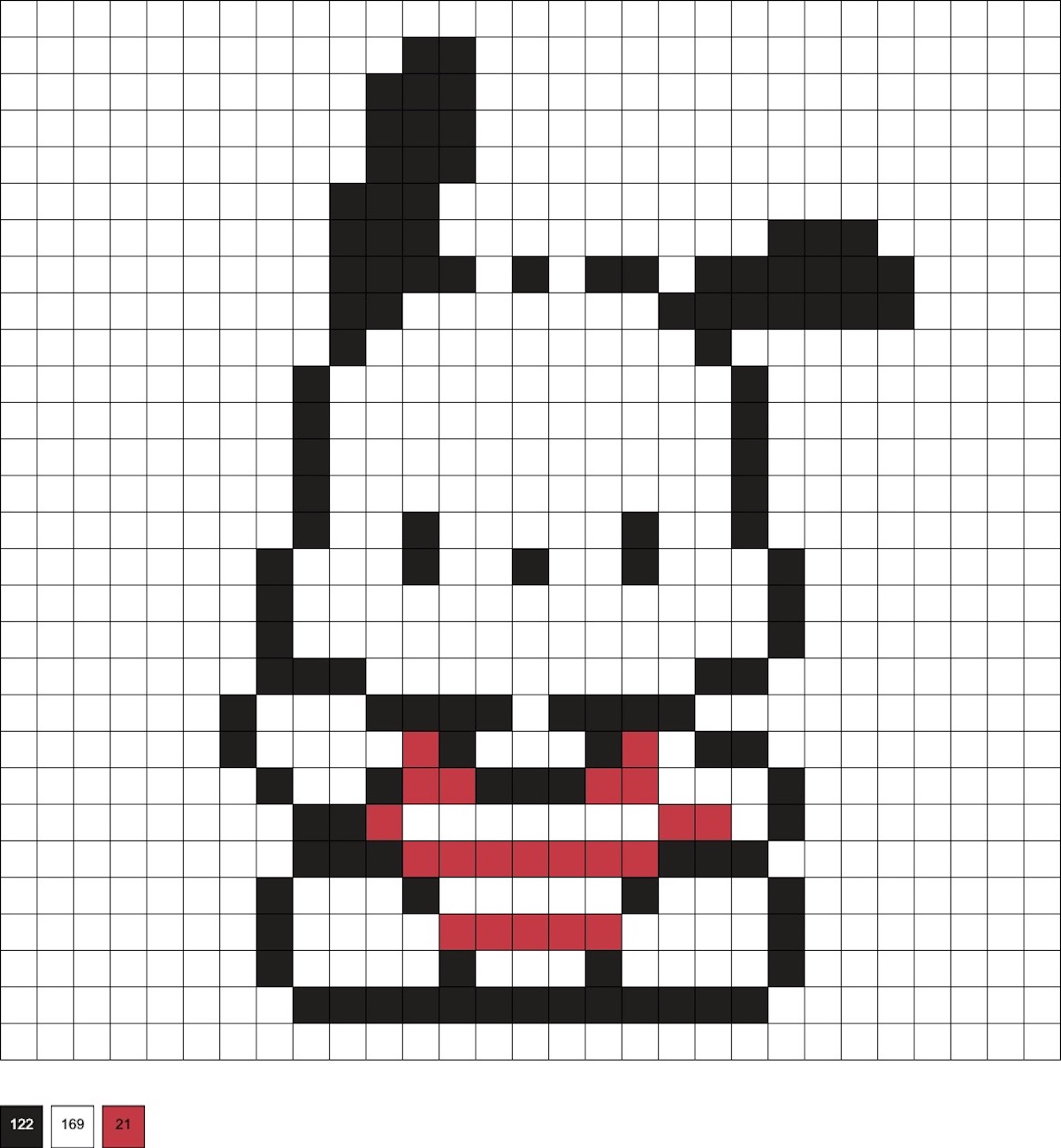 ---
Badtz-Maru Head
This pattern uses 336 black, 60 white, and 13 yellow beads.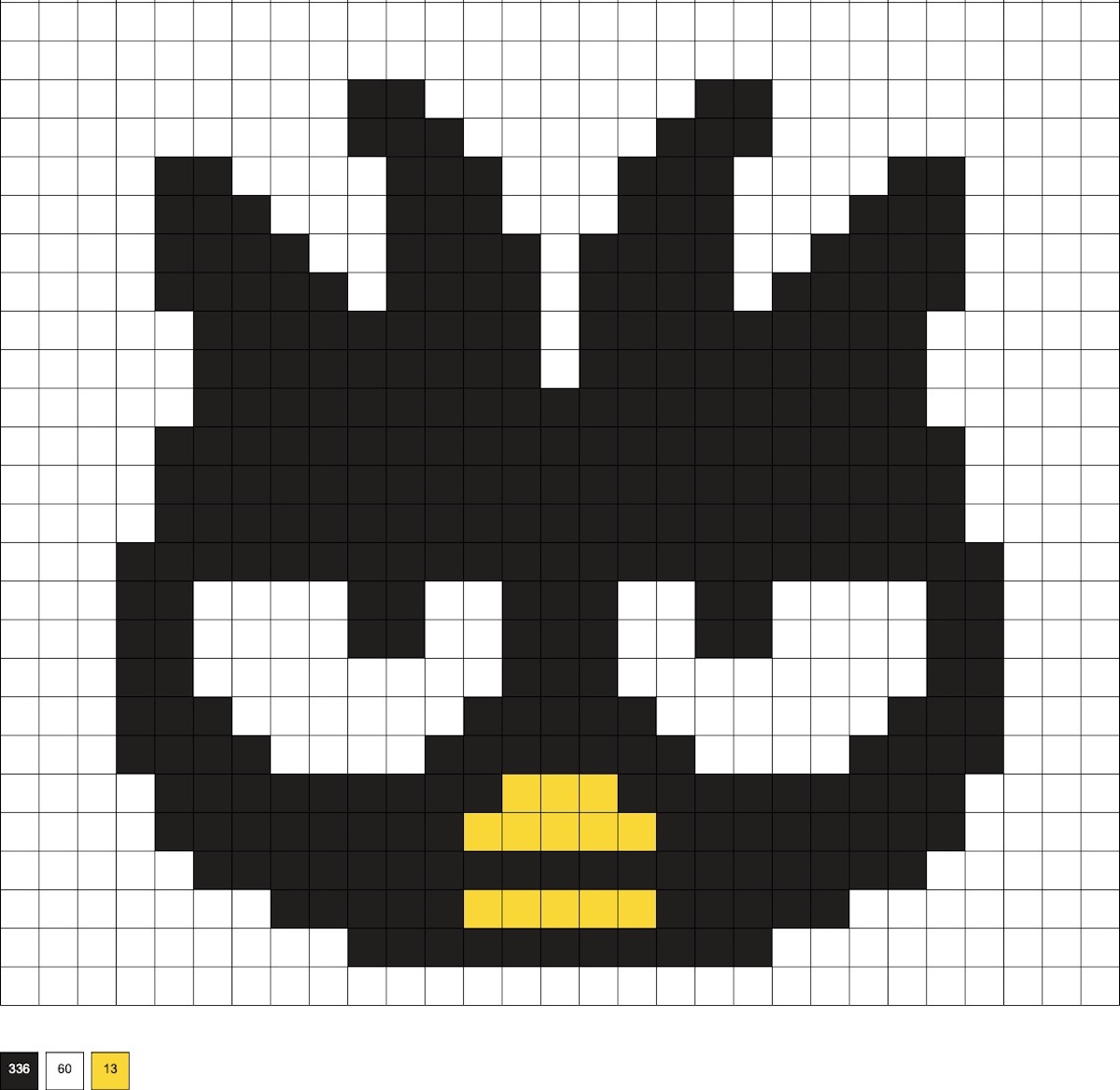 ---
Hello Kitty Sitting with Pink Overalls and a Red Bow
This classic kitty uses 167 black, 51 red, 321 white, 6 yellow, and 22 pink beads.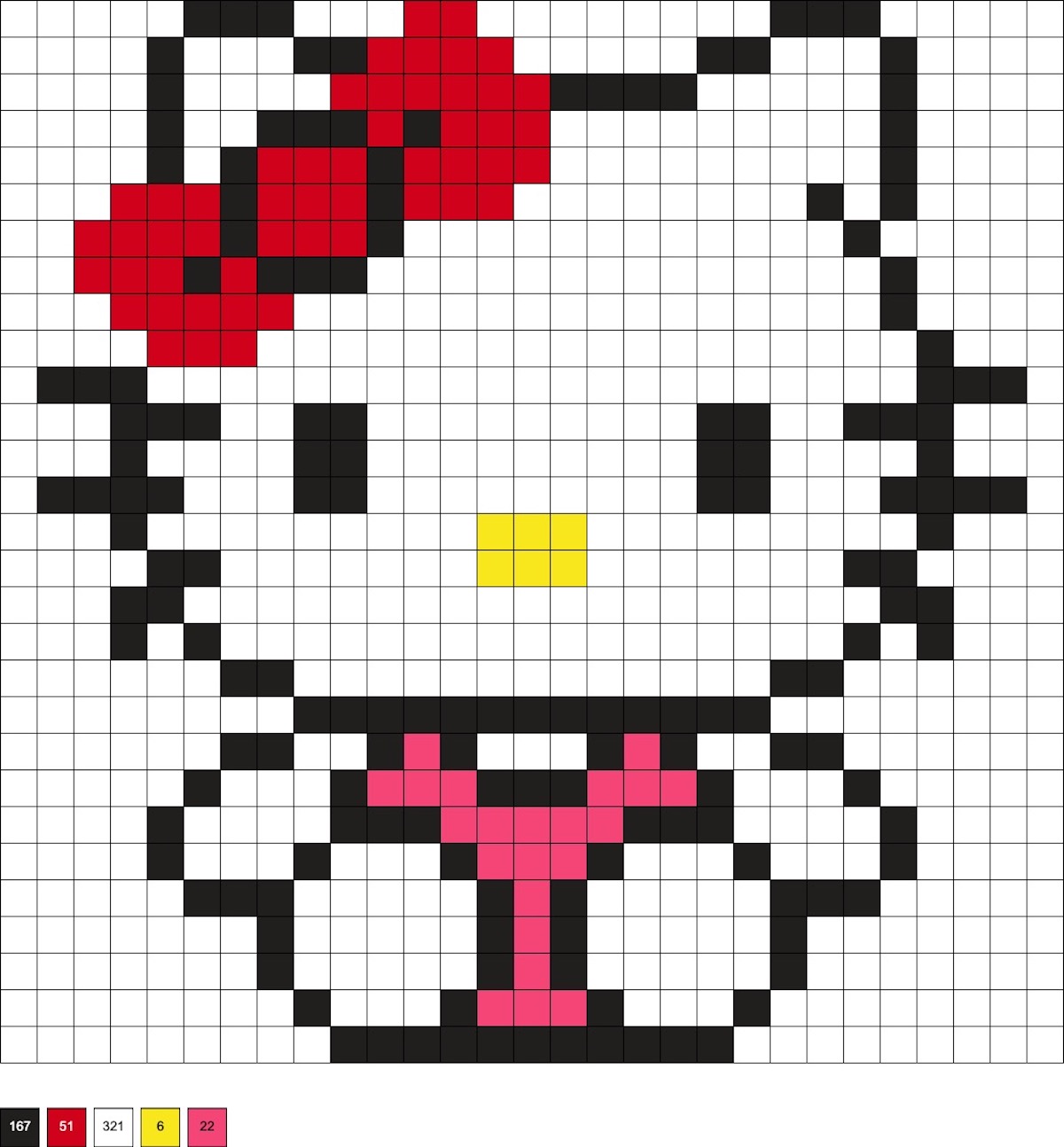 ---
Keroppi Head
This pattern uses 136 black, 136 white, 217 kiwi lime, and 24 pink beads.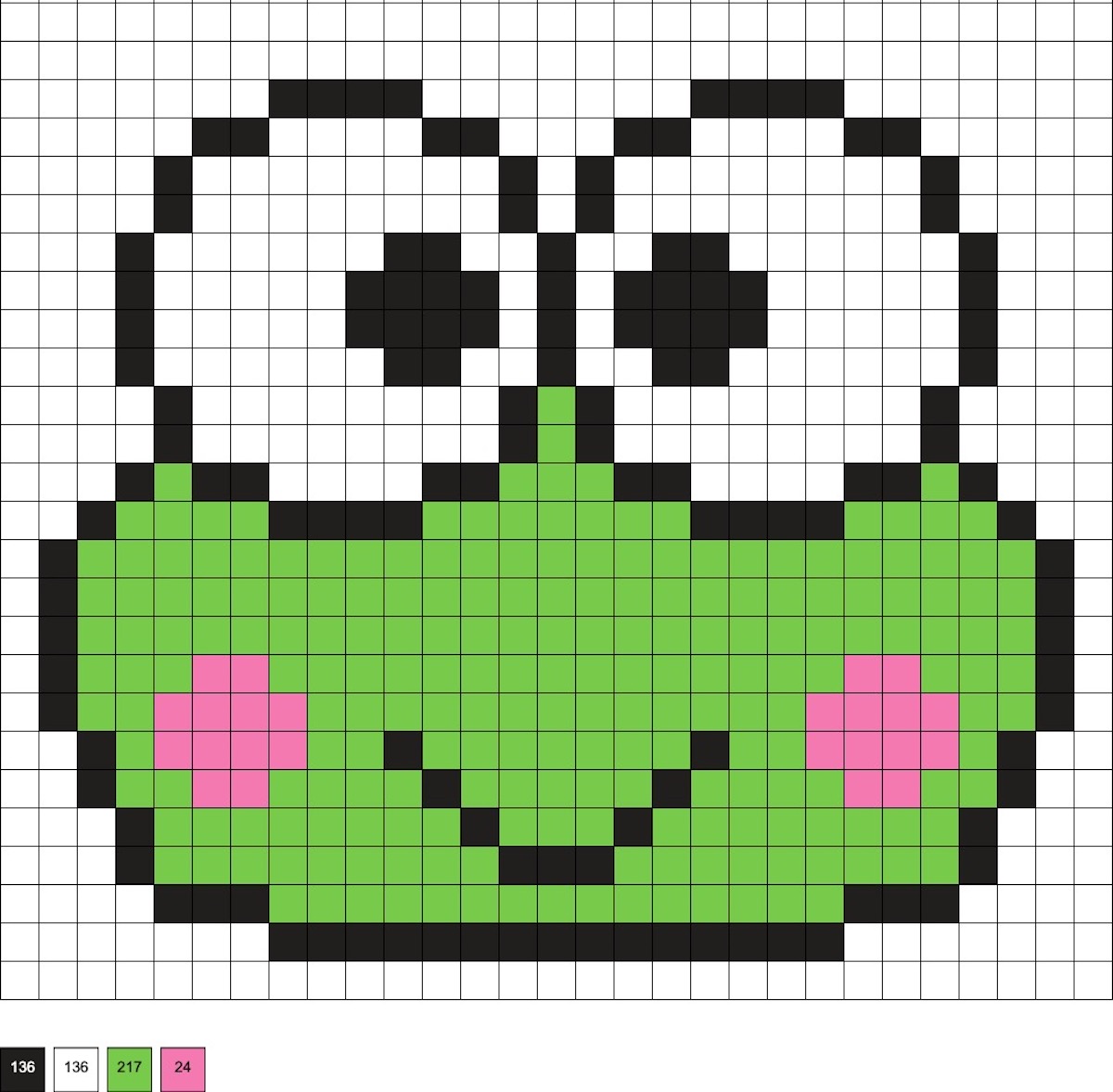 ---
Medium Gudetama
This pattern uses 115 black, 43 light gray, 21 gray, 68 cheddar, and 60 white beads.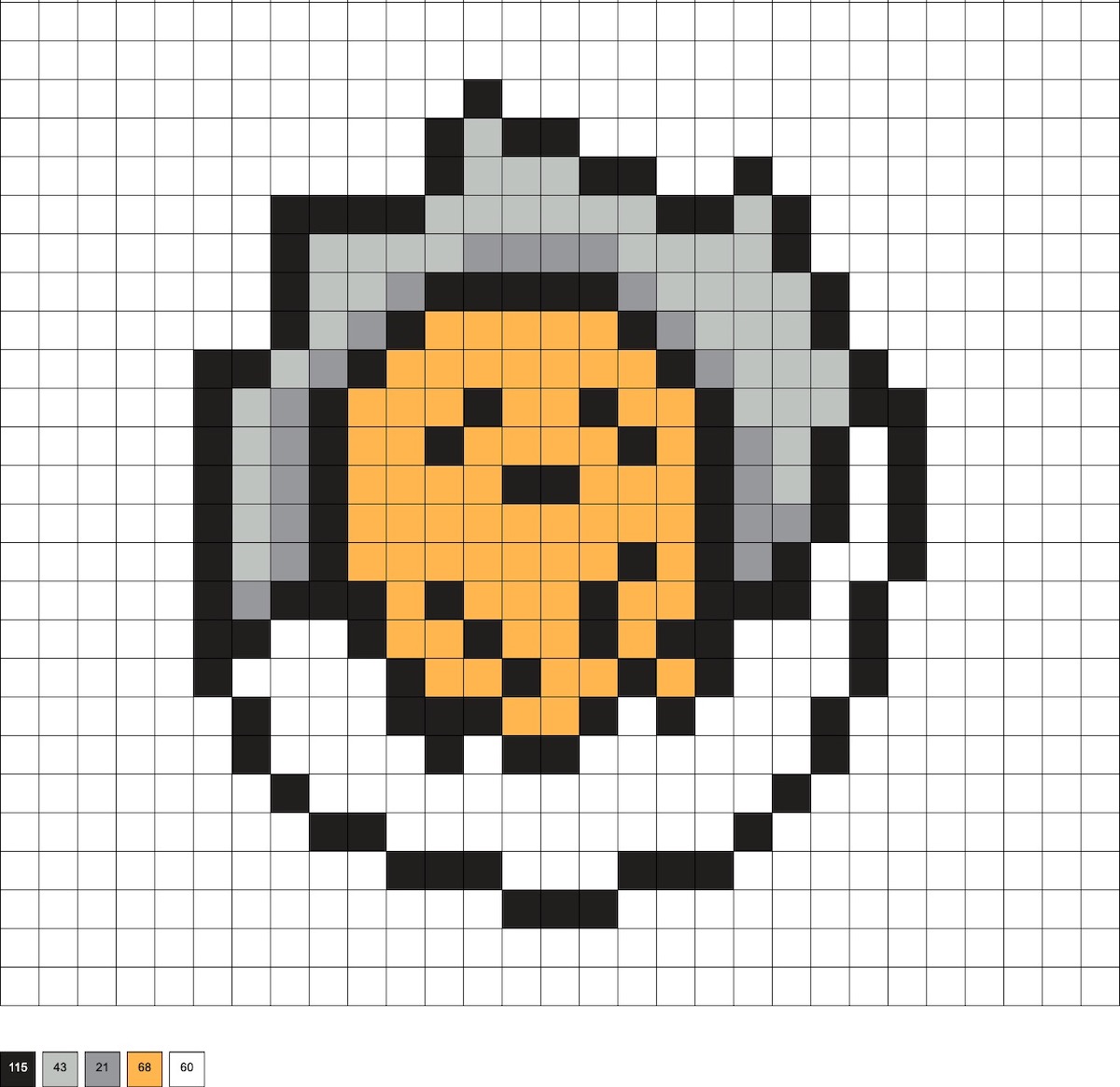 ---
Hello Kitty Toaster
This pattern uses 19 light brown, 41 sand, 45 black, 81 white, 80 flamingo, 8 sky, 6 gray, and 1 yellow bead.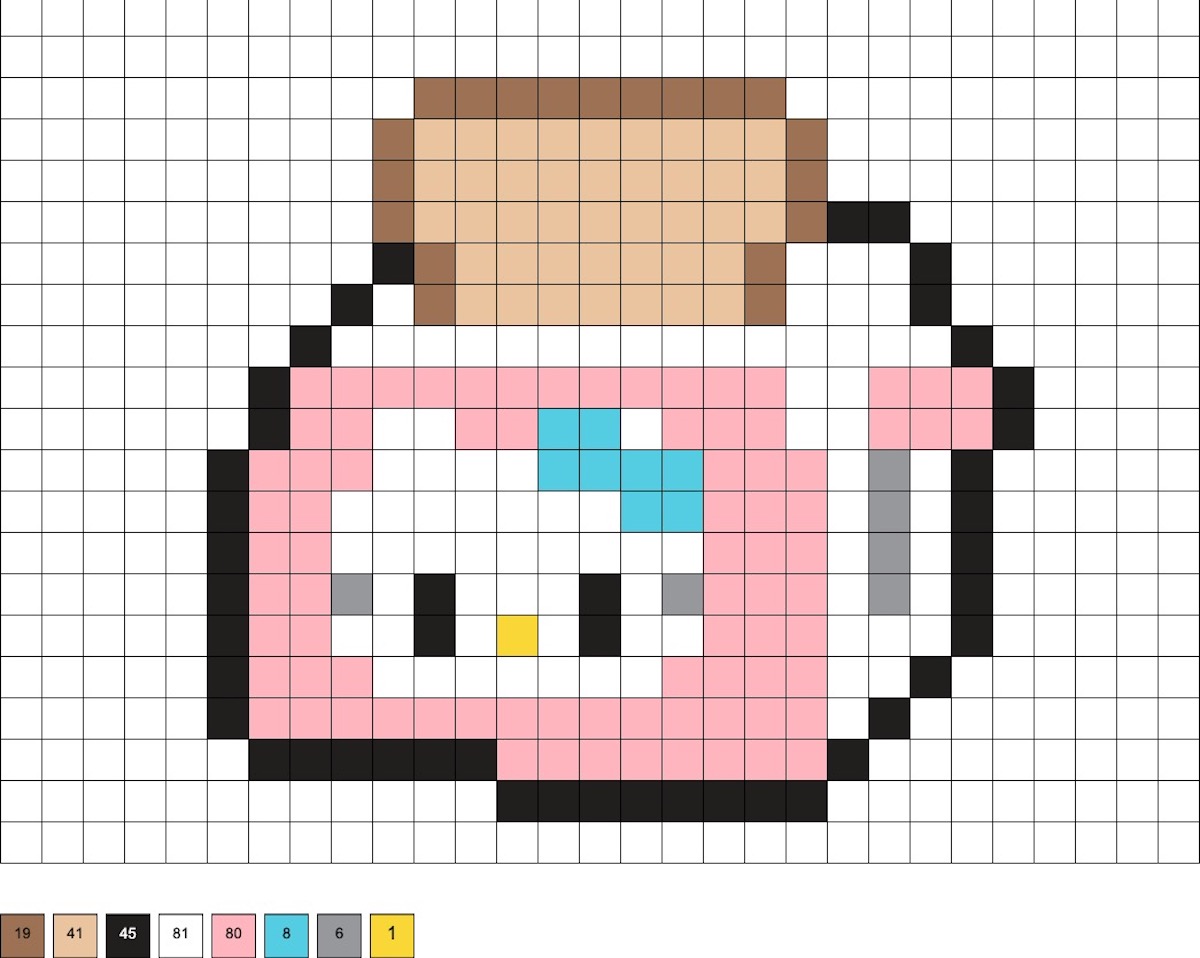 ---
Hello Kitty Blue Bandaid
This pattern uses 114 pastel blue, 146 robin's egg, 20 light blue, 33 white, 7 cotton candy, 2 black, and 1 yellow bead.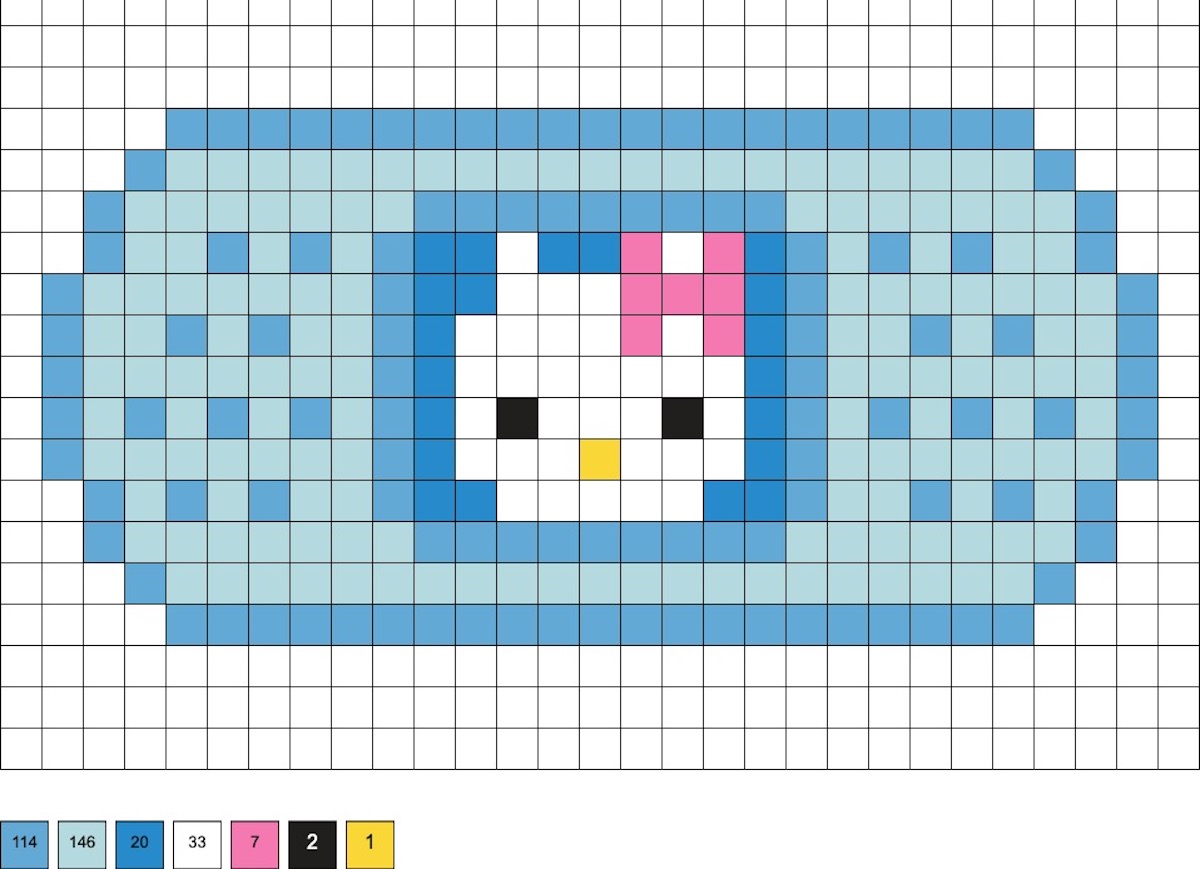 ---
Winking My Melody
This pattern uses 184 black, 254 pink, 34 sky, 139 white, and 2 yellow beads.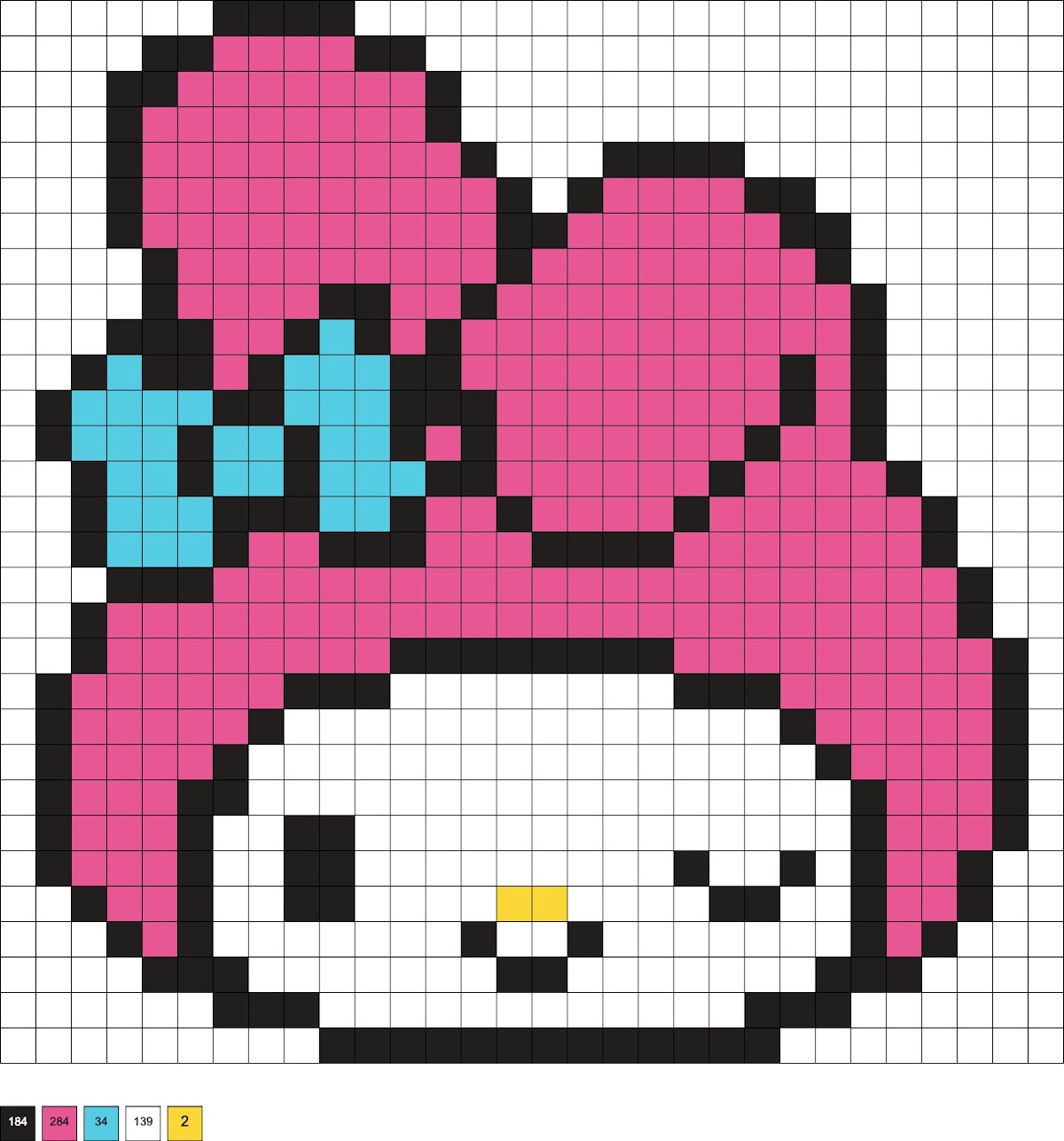 ---
Hello Kitty Angel with a Blue Dress and Bow
This pattern uses 198 black, 302 white, 84 blue, and 2 yellow beads.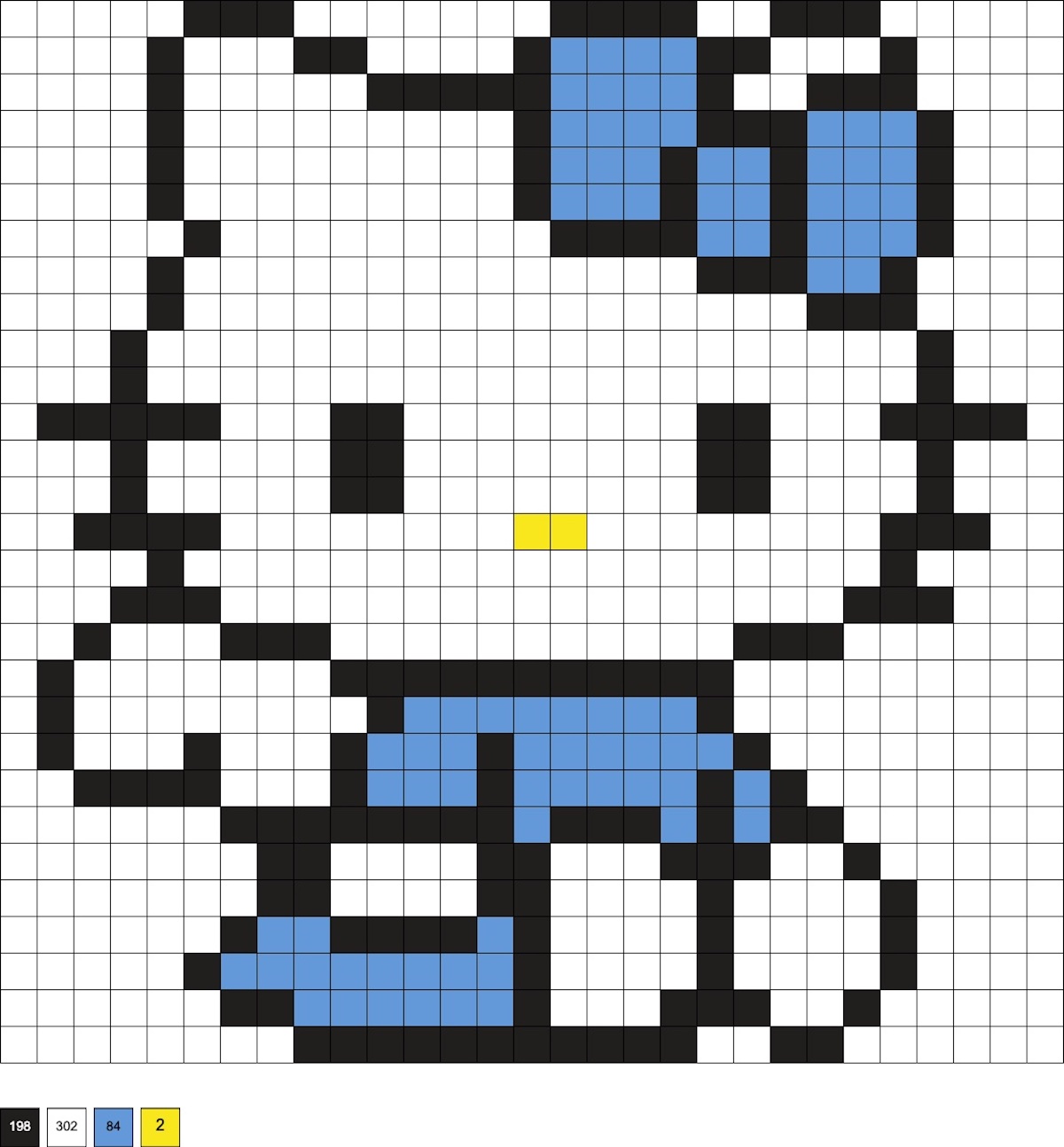 ---
Tuxedo Sam
This pattern uses 165 dark gray, 89 white, 17 red, 221 pastel blue, and 37 yellow beads.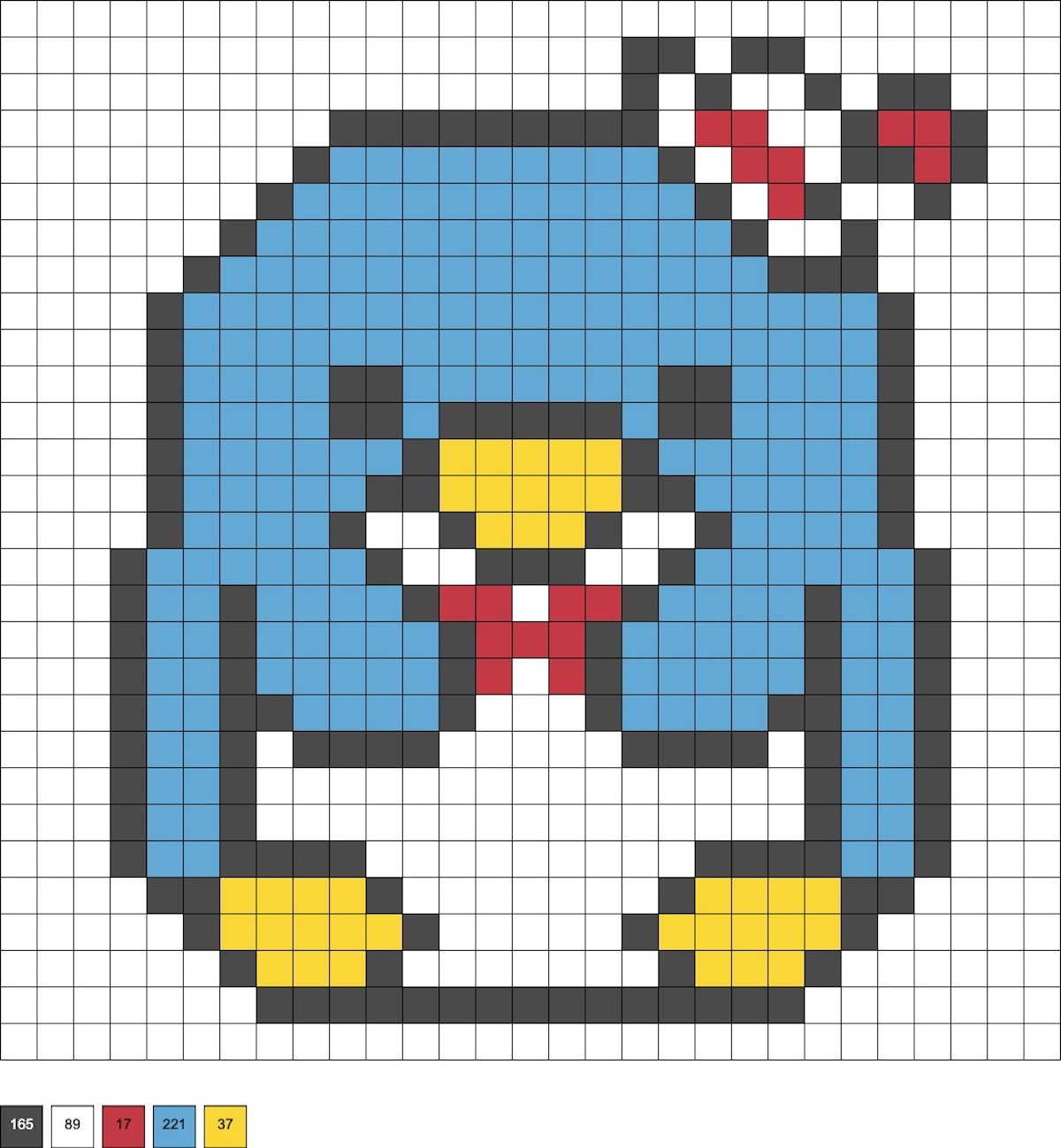 ---
Sitting Chococat
This pattern uses 568 black, 32 cream, 72 white, 10 clear (to hold the whiskers), 3 gingerbread, and 9 cobalt beads.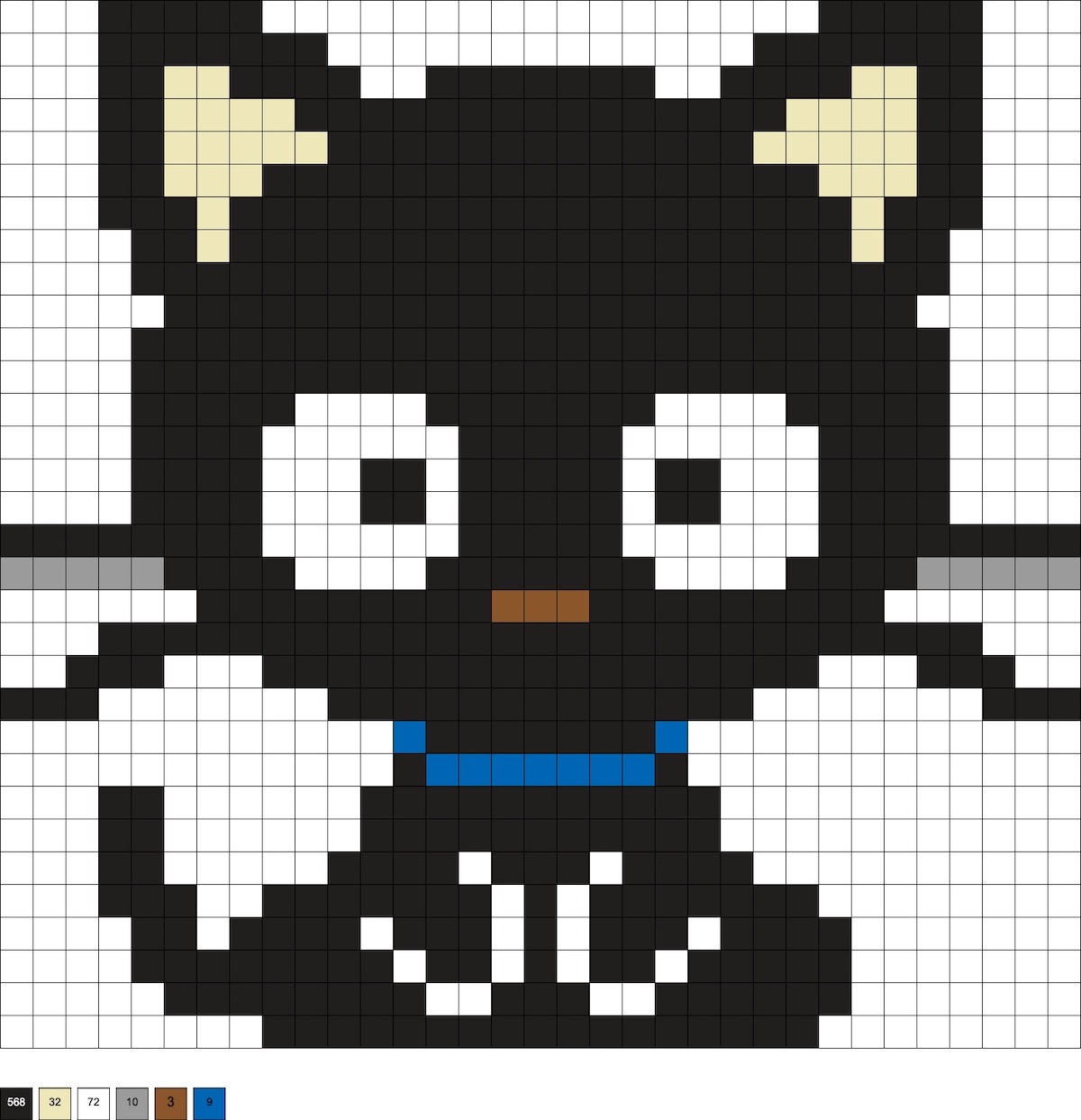 ---
Happy Hangyodon
This pattern uses 64 black, 27 turquoise, 106 robin's egg, 40 white, 32 pink, and 13 magenta beads.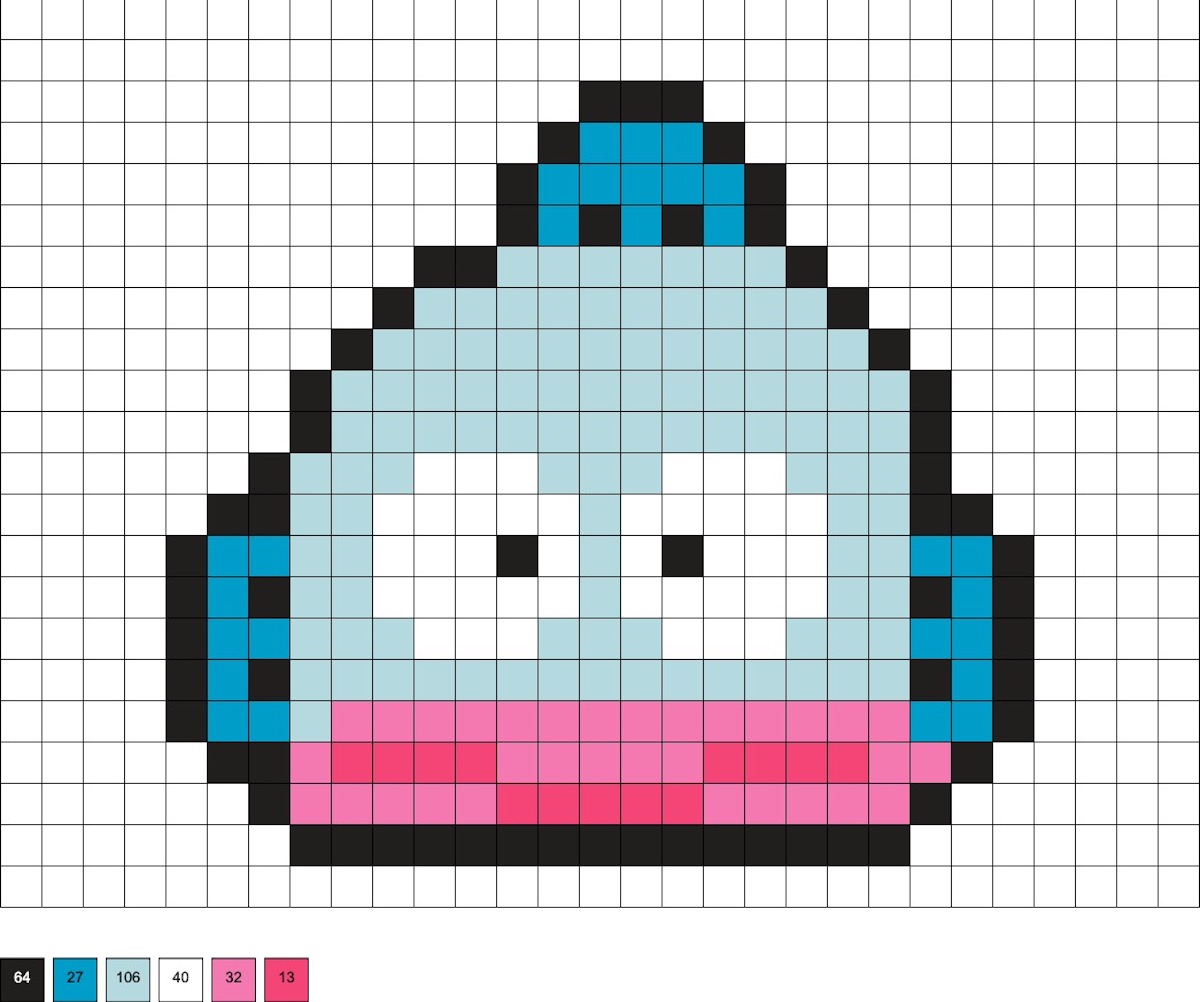 ---
Kiki and Lala with a Star
This pattern uses 56 yellow, 160 pastel yellow, 76 pink, 60 turquoise, 14 flamingo, 8 toothpaste, 54 sand, 4 light brown, and 38 white beads.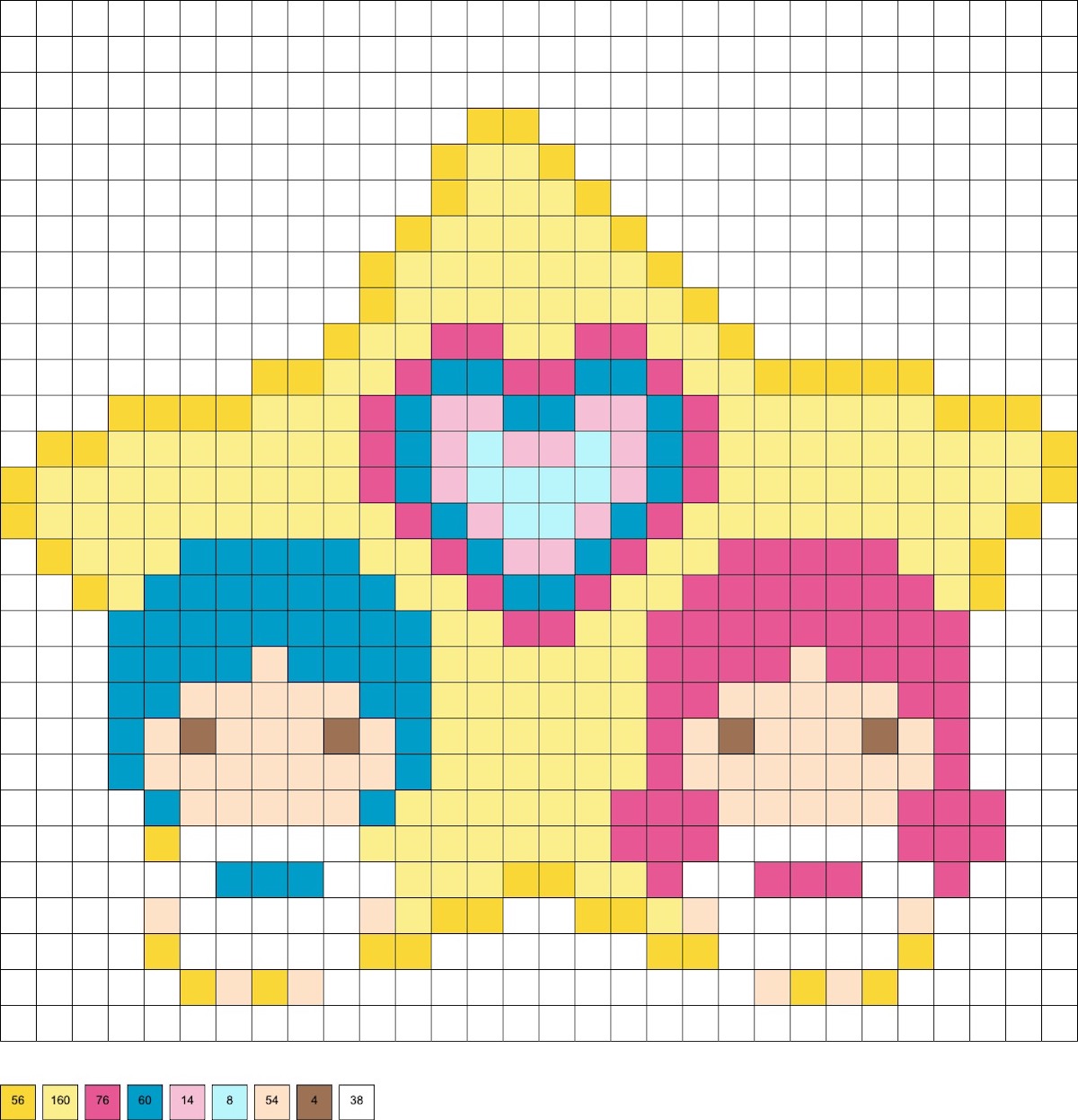 ---
Sitting Kuromi
This pattern uses 309 black, 30 pink, and 137 white beads.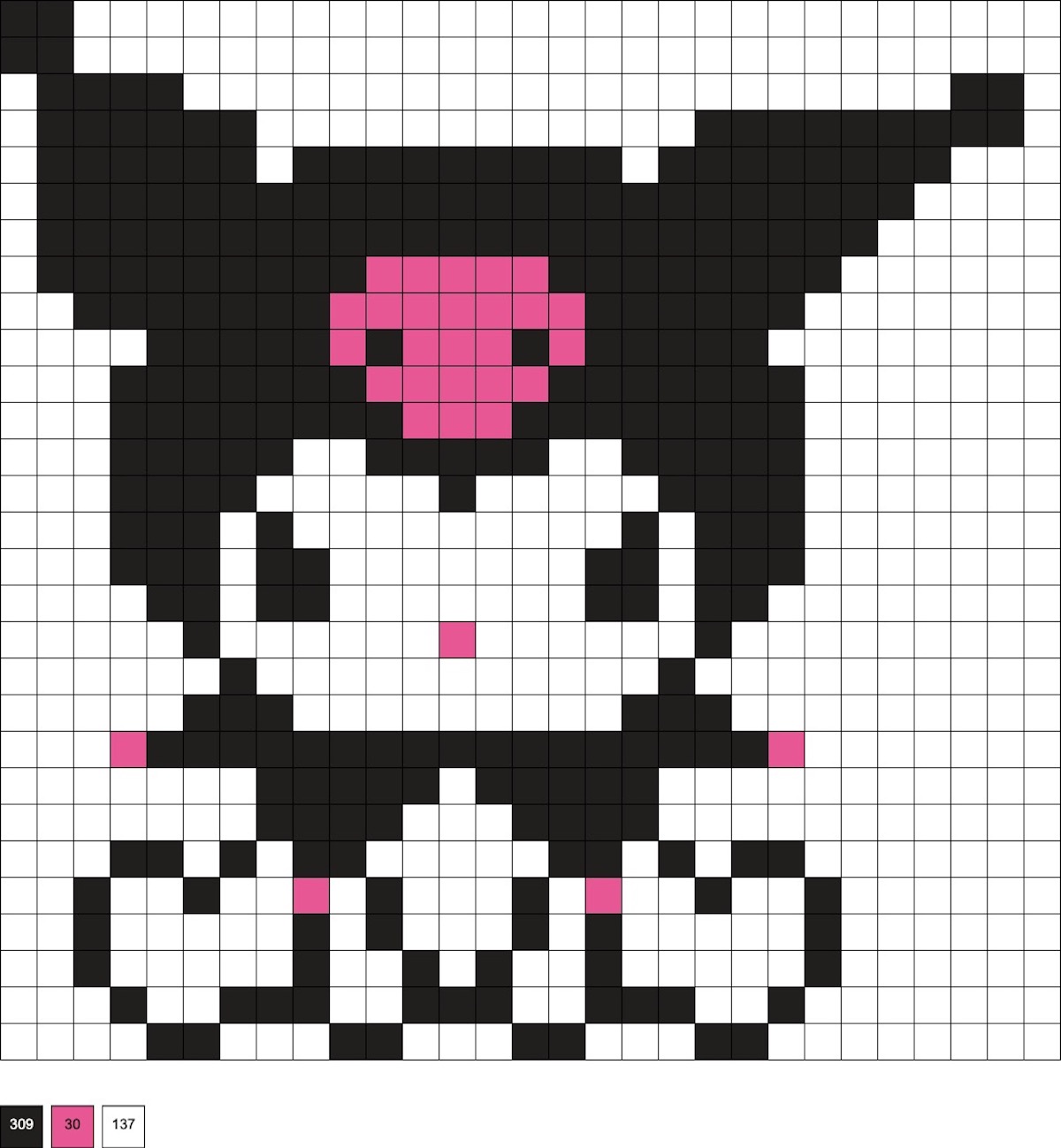 ---
Standing Cinnamaroll
This pattern uses 174 sky, 293 white, 58 toothpaste, and 6 blush beads.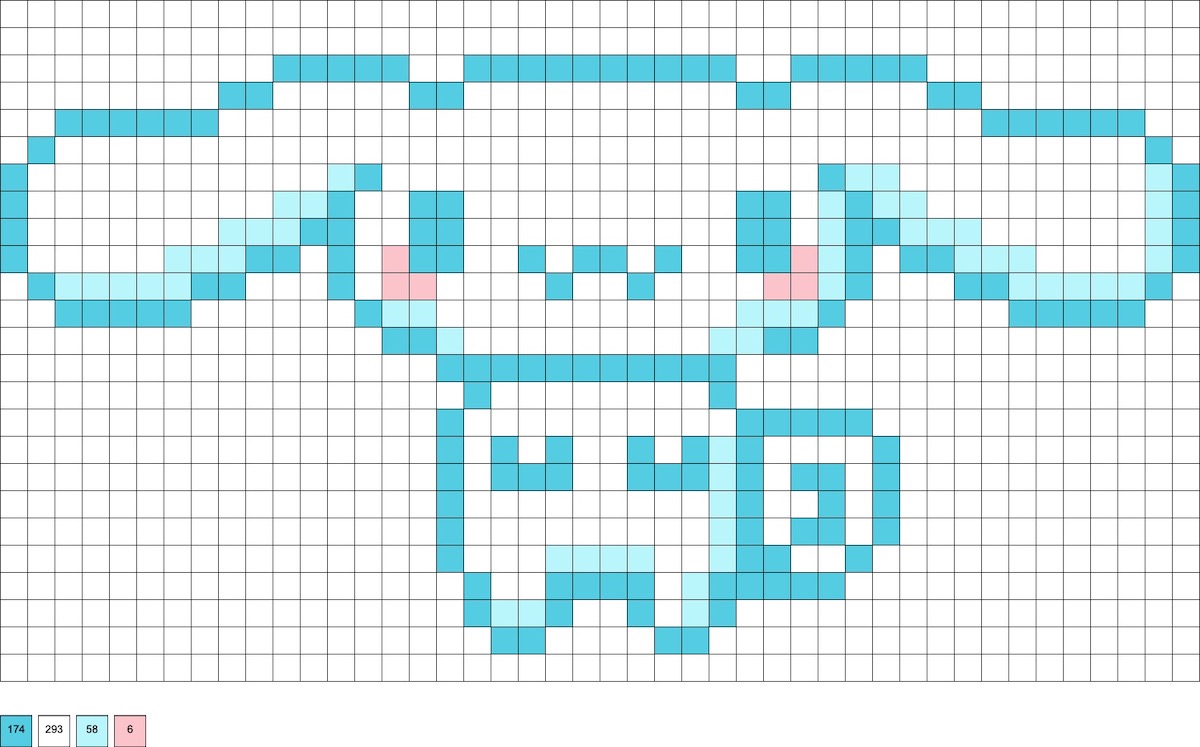 ---
My Melody with a Strawberry
This pattern uses 155 black, 172 pink, 95 white, 1 yellow, 8 kiwi lime, 14 red, and 4 pastel yellow beads.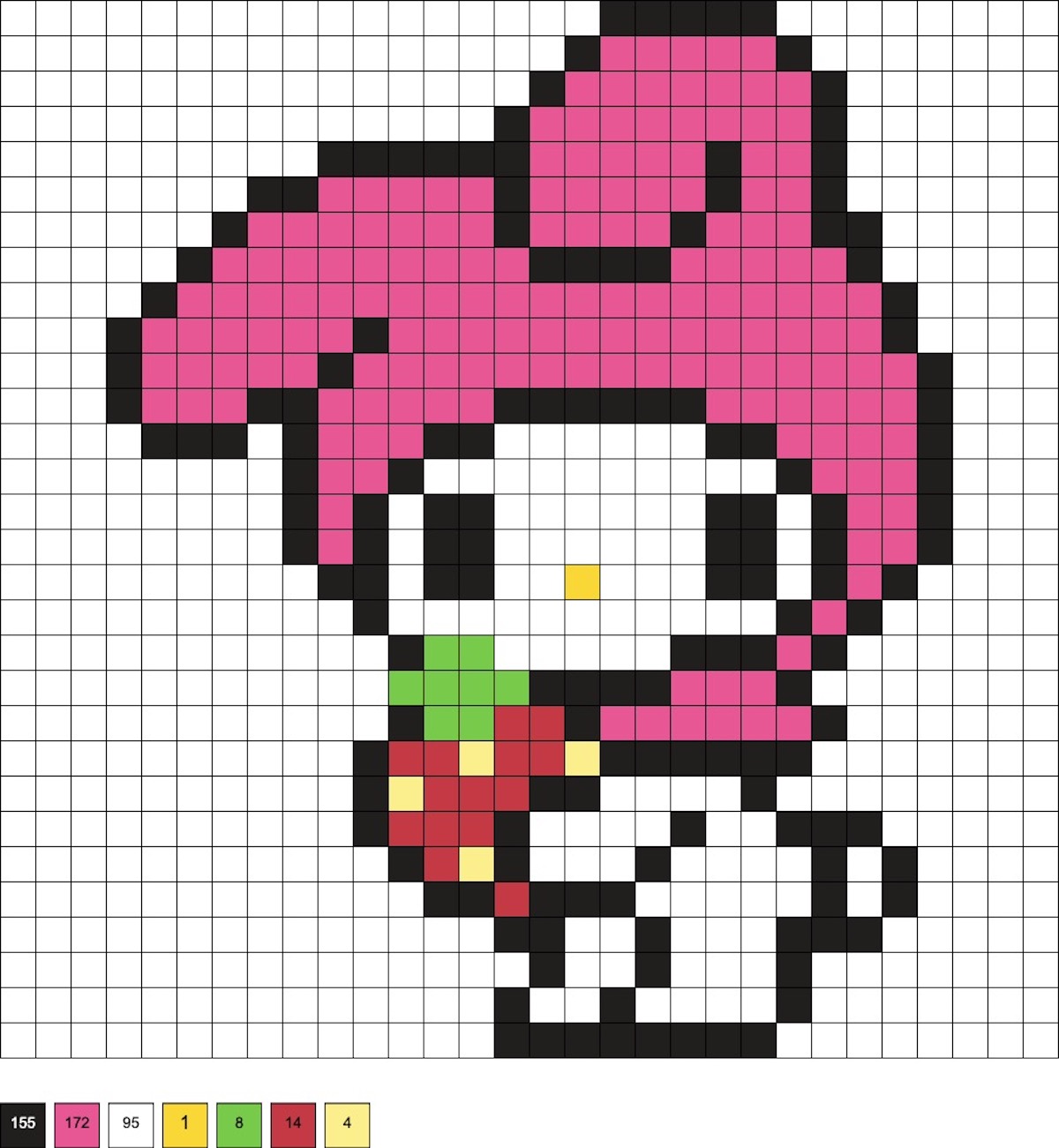 ---
Standing Pompompurin
This pattern uses 125 brown, 20 gingerbread, and 378 pastel yellow beads.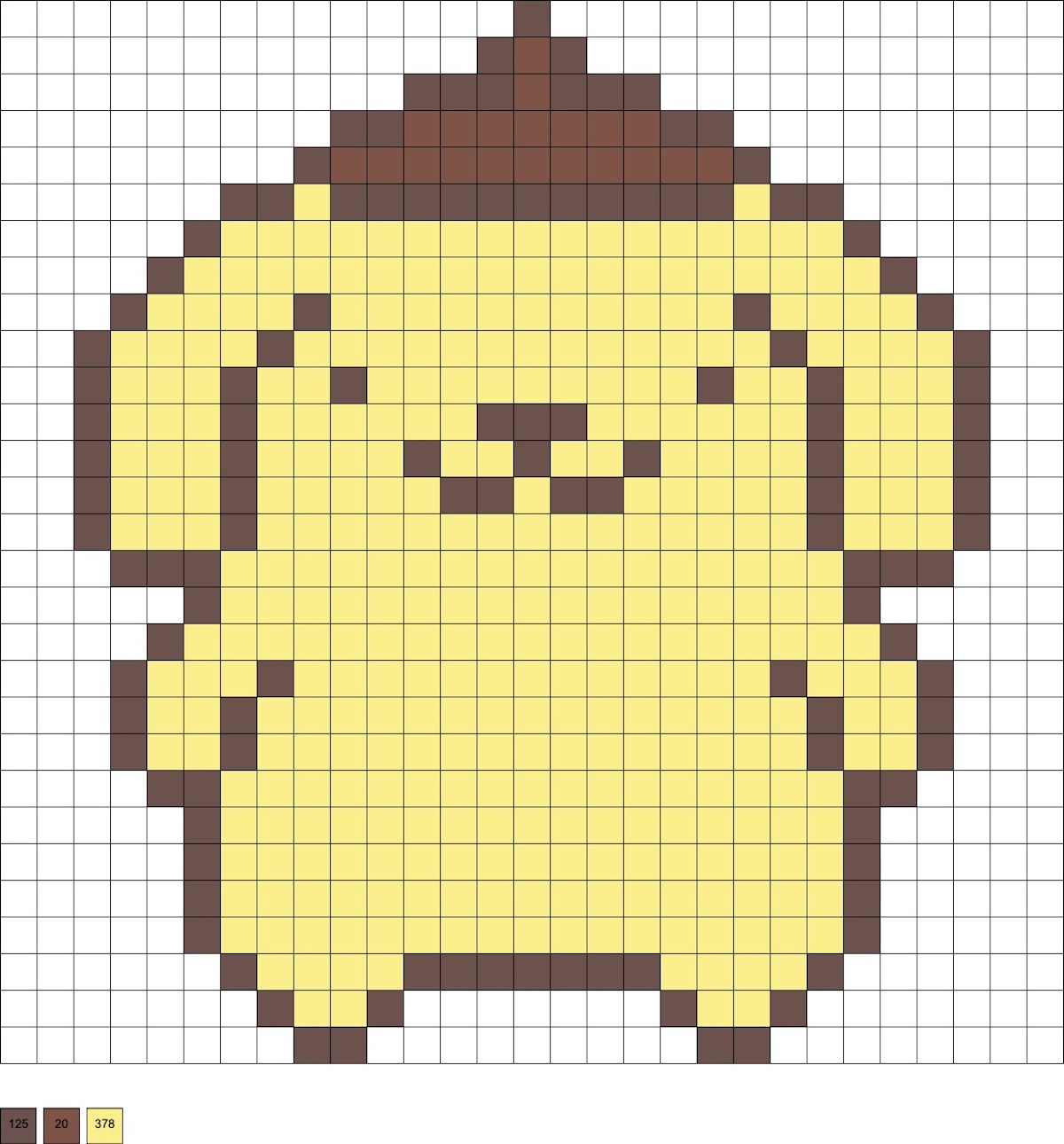 ---
Walking Badtz-Maru
This pattern uses 575 black, 184 white, and 69 yellow beads.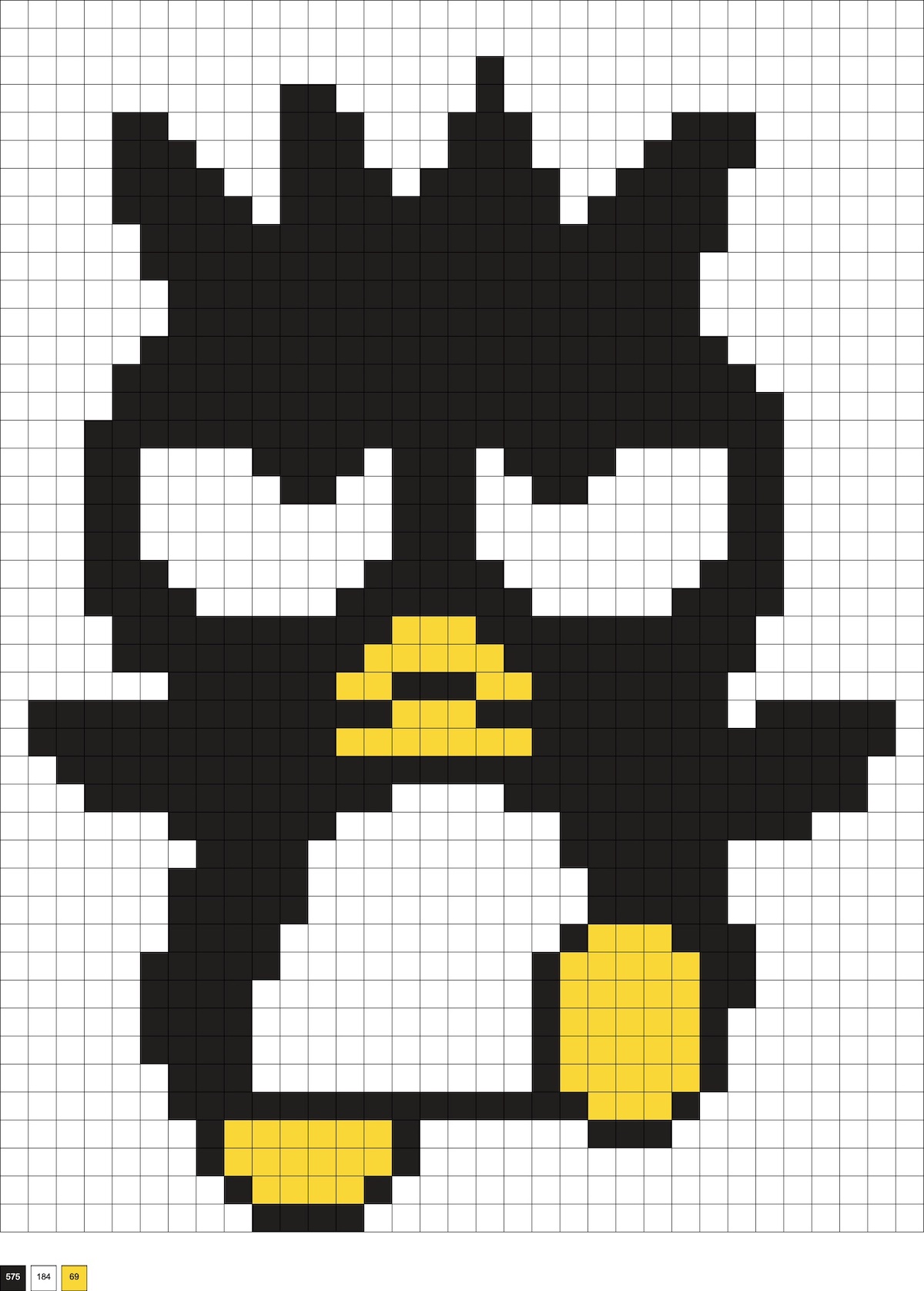 ---
Walking Keroppi
This pattern uses 220 black, 228 white, 246 prickly pear, 32 pink, and 44 red beads.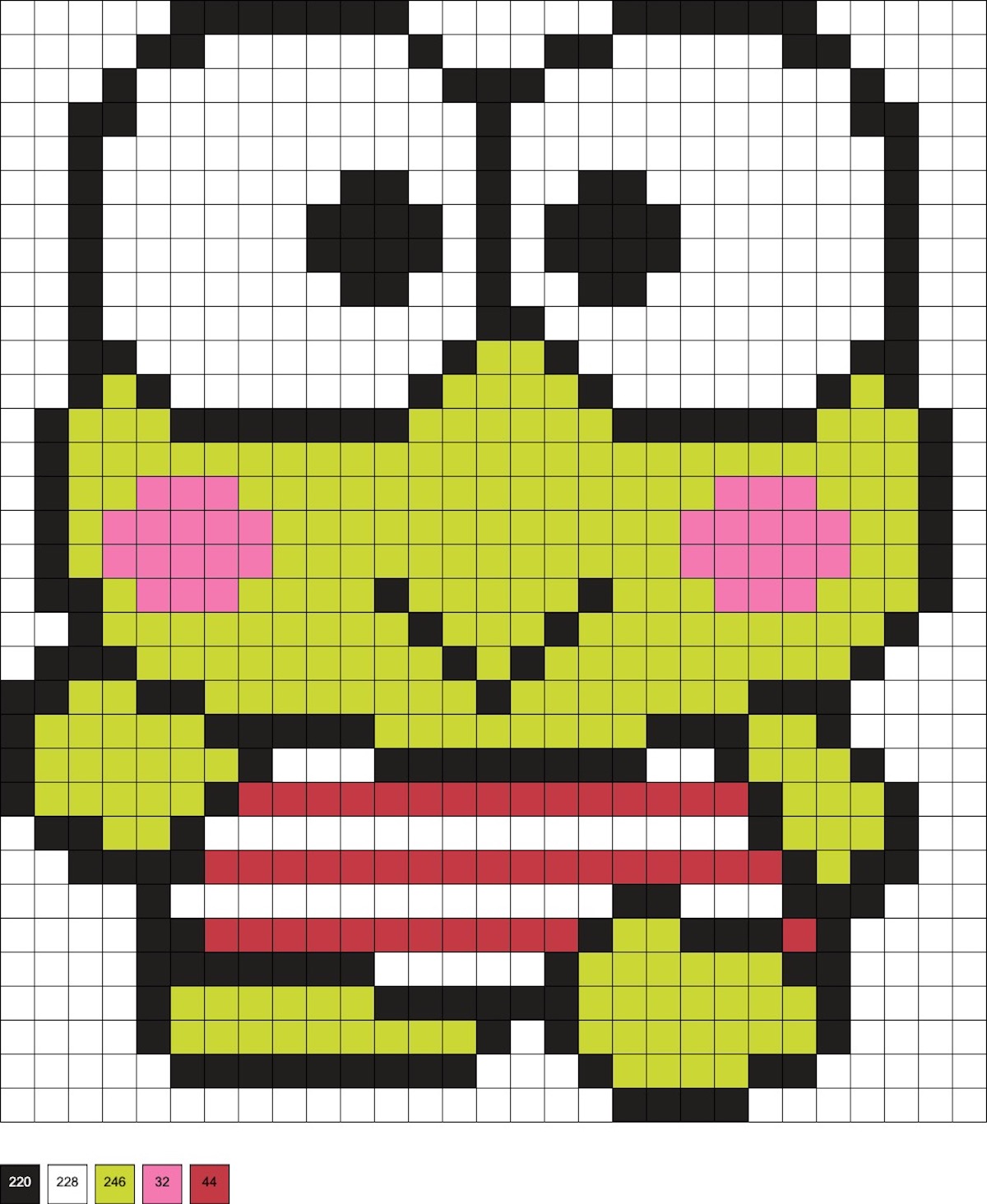 ---
Little Twin Stars Riding a Horse
This pattern uses 244 tan, 95 toothpaste, 45 light lavender, 120 blush or light pink, 203 cream, 46 sand, 12 mint, 66 white, and 63 pastel yellow beads.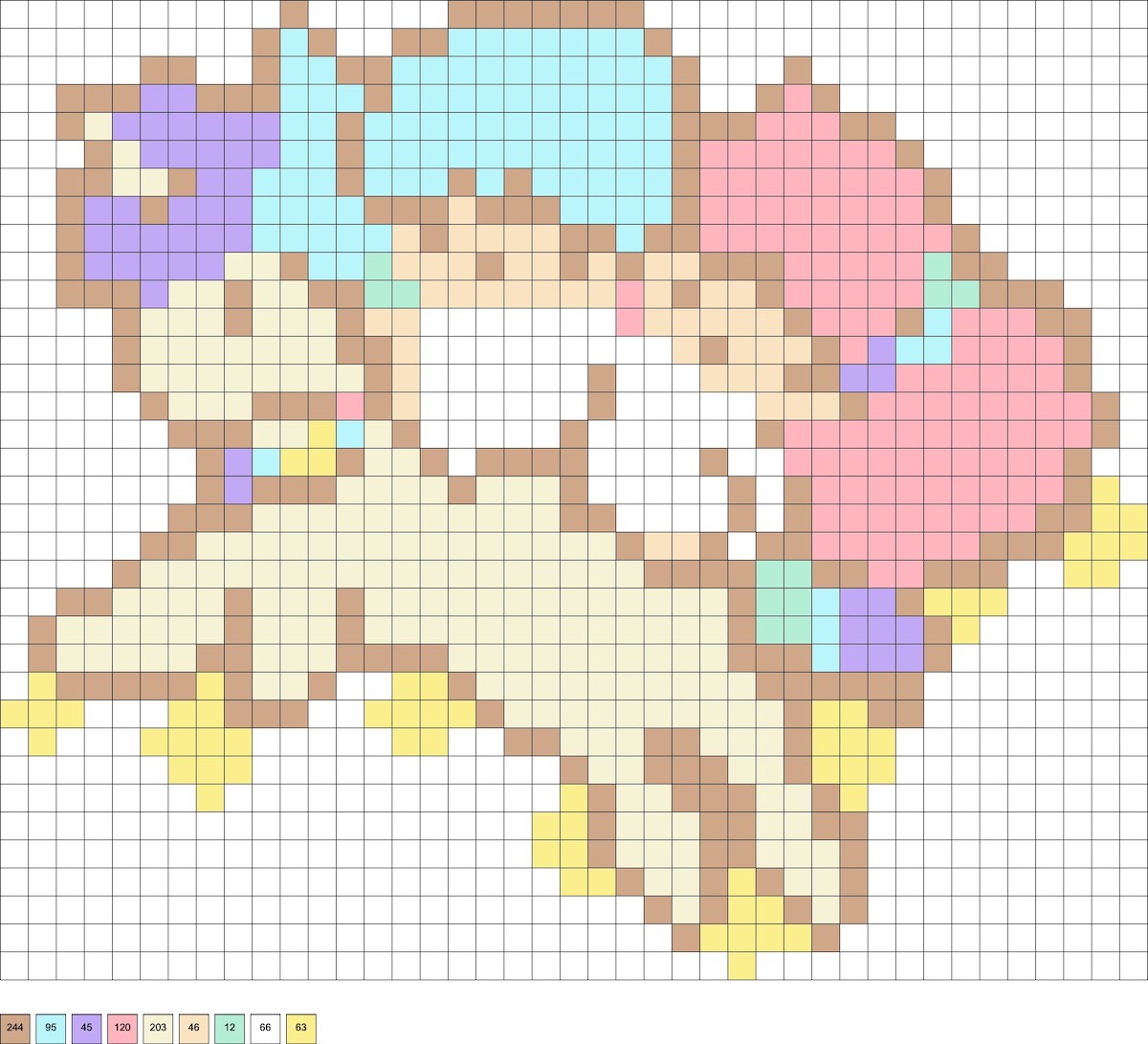 ---
Lala and Kiki
Lala uses 171 black, 238 pink, 19 yellow, 70 peach, 83 pink, and 1 light gray bead. Kiki uses 173 black, 110 yellow, 169 pastel blue, 38 flesh, 40 white, and 14 pink beads.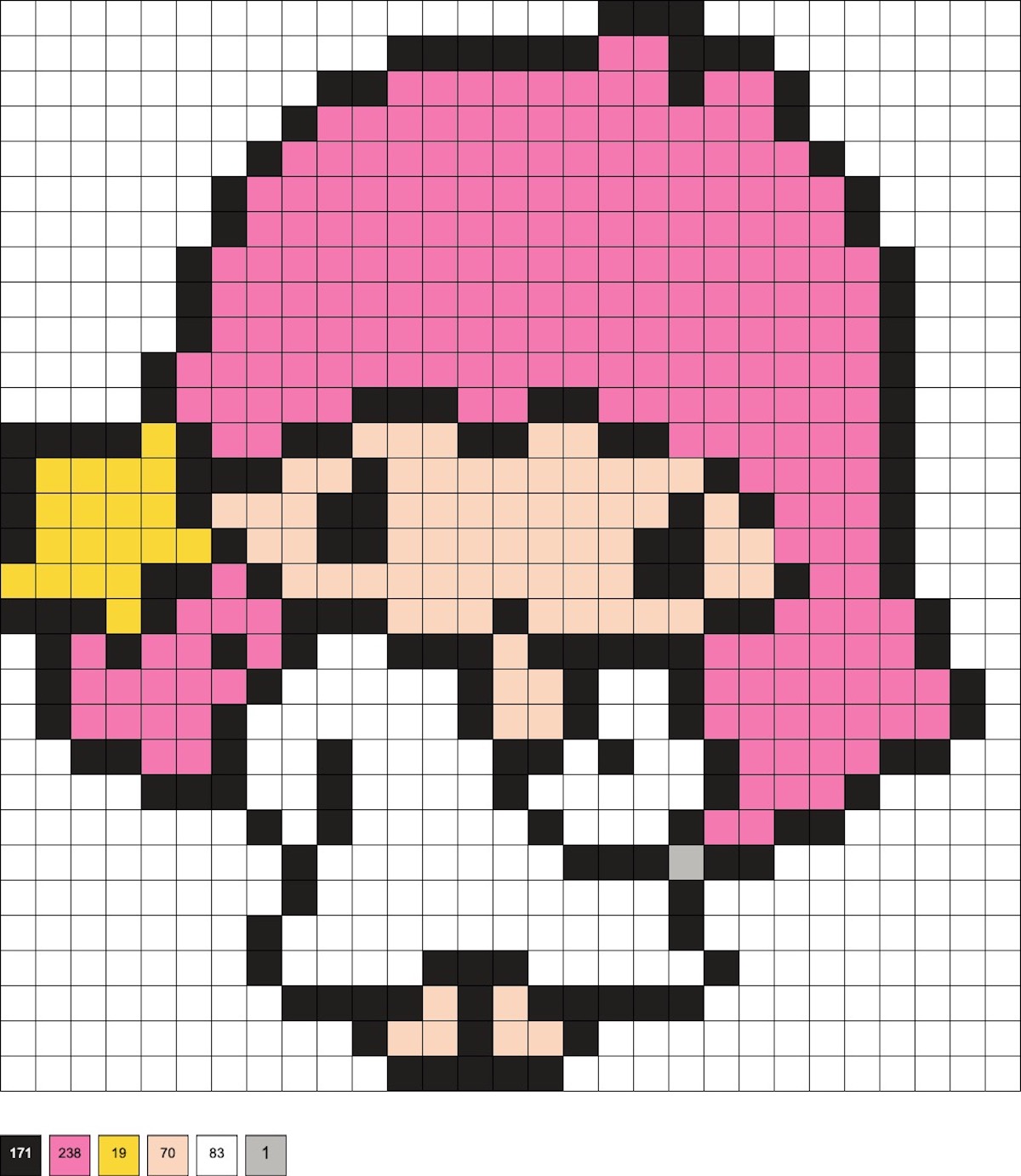 ---
Hello Kitty and a Large Polka Dot Bow
This pattern uses 59 parrot green, 265 black, 347 light green, 474 white, and 6 yellow beads.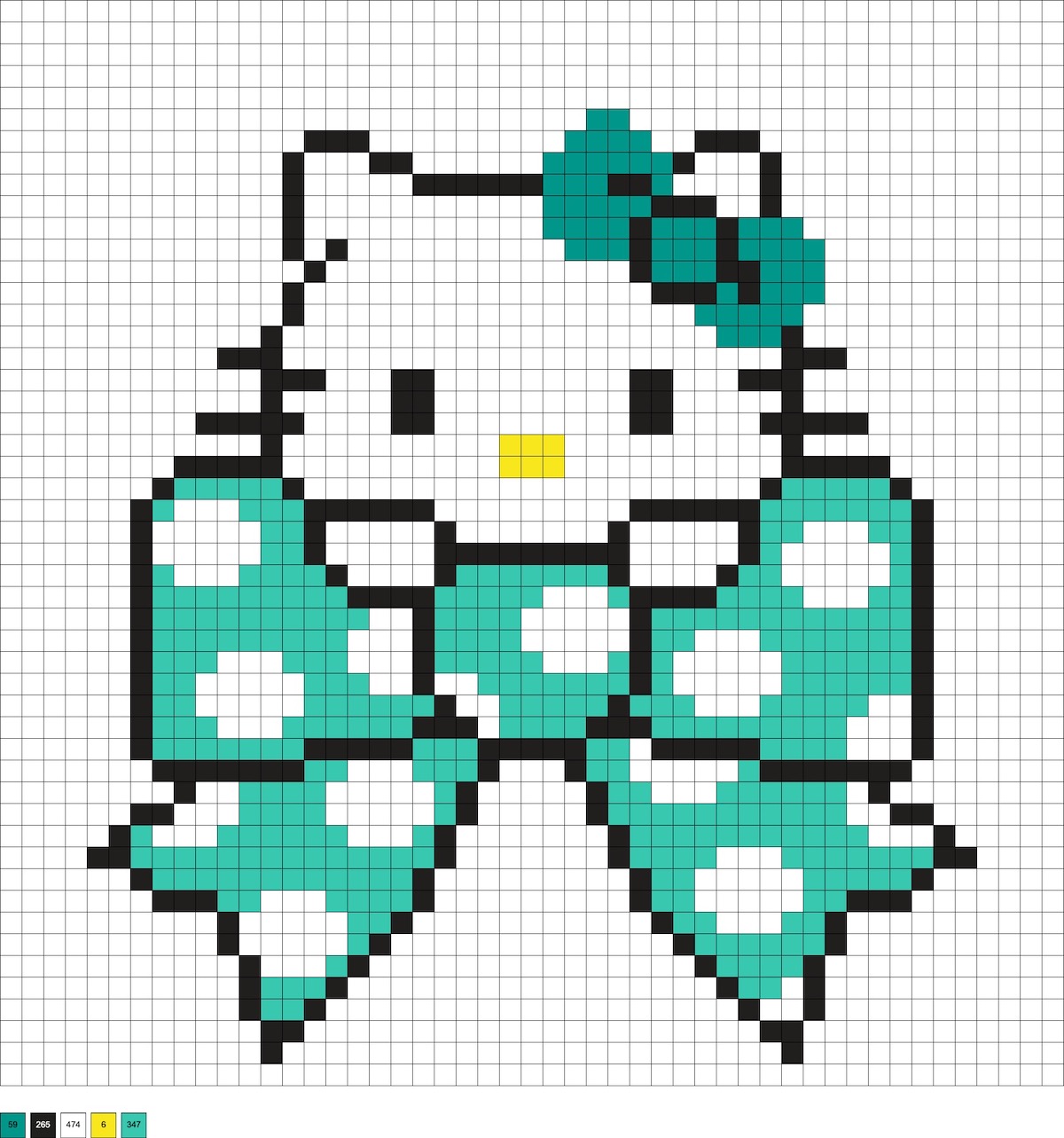 ---
Large Gudetamas
These patterns use 306 black, 369 cheddar, 434 white, 19 butterscotch, and 74 light gray beads.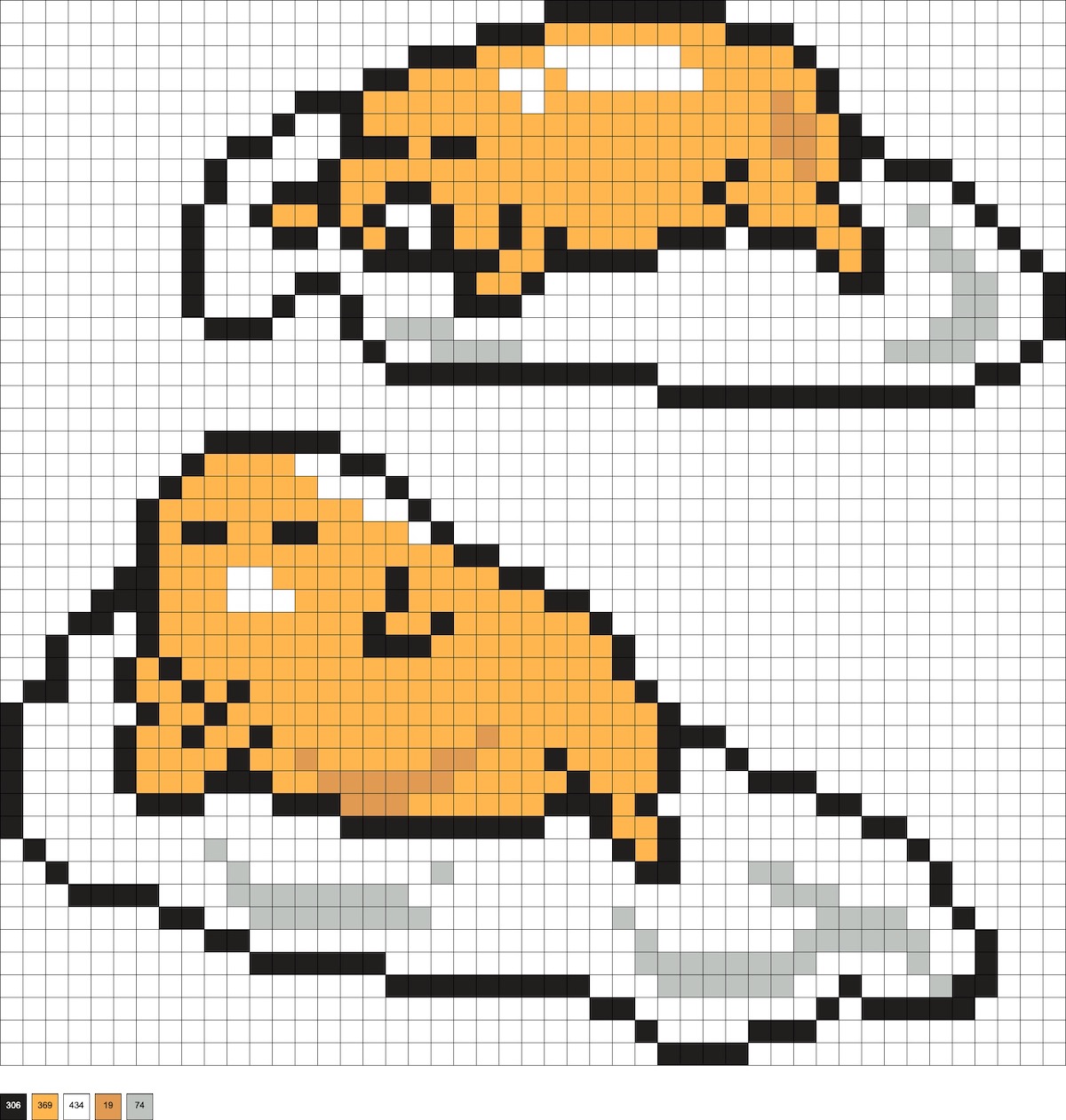 ---
If you enjoyed these Sanrio perler bead patterns, let me know in the comments! I'd also love for you to check out these other ideas:
The post Sanrio Perler Beads (30+ Free Patterns!) appeared first on DIY Candy.