Sew Reporter – 7th of June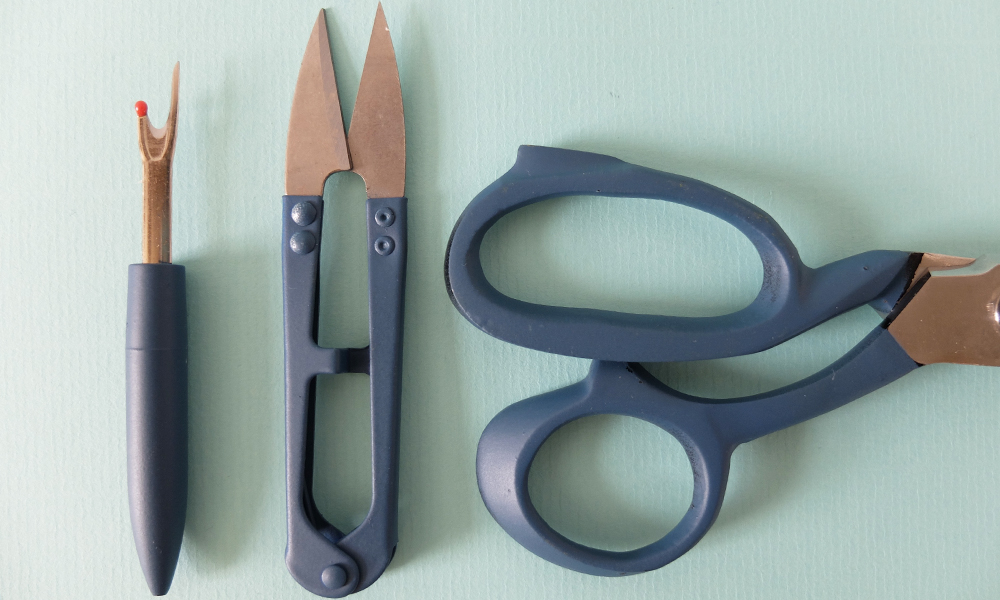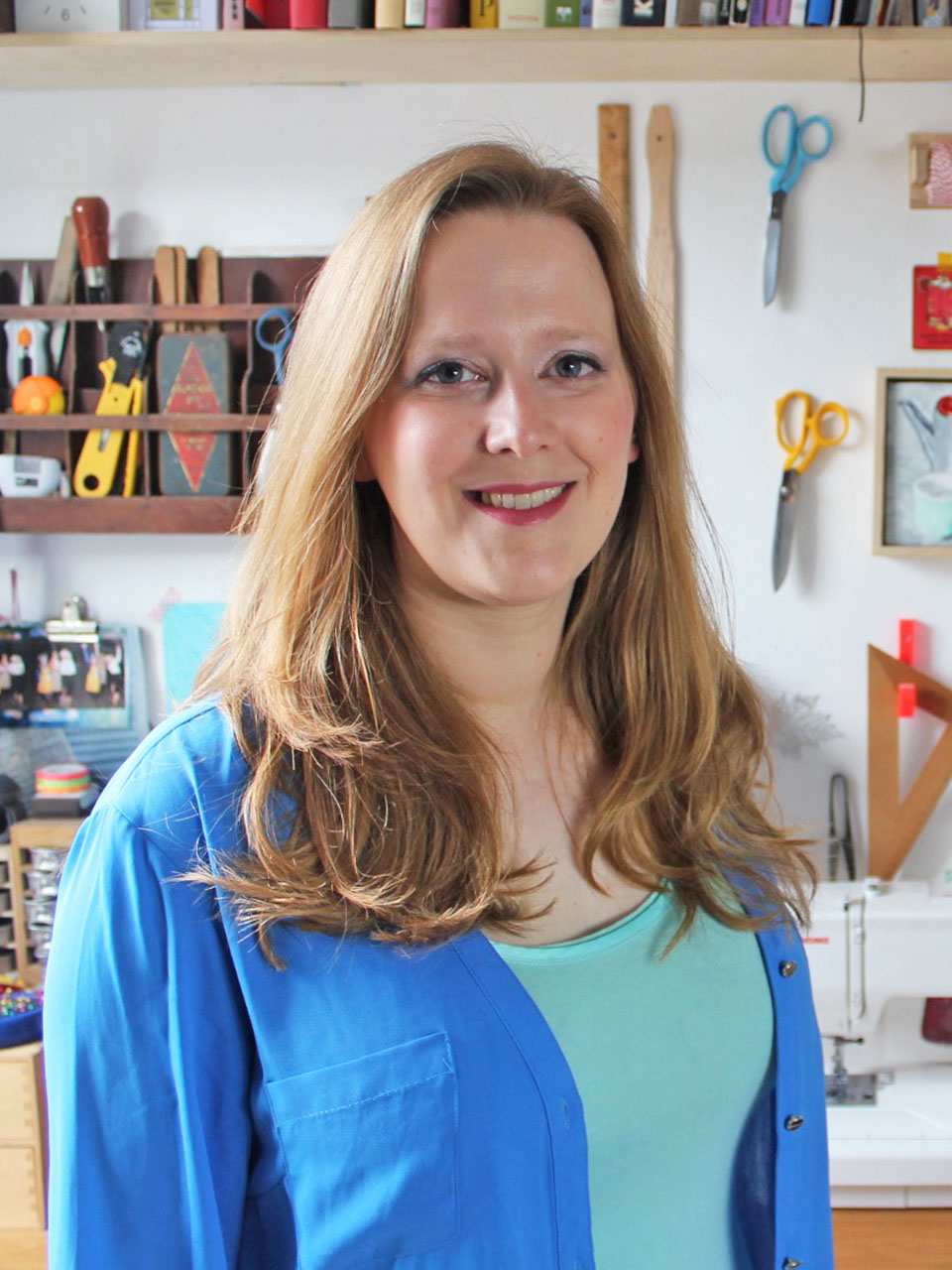 Sewing this weekend? Looking for inspiration? Or things to watch and listen to whilst you're stitching away? You know what to do! Scroll down for some inspiring makes and makers, news from the sewing world and the latest pattern releases. Don't forget to check the latest Sewing Pattern releases from the month of May.
It's been an important week for the sewing community and we encourage you to follow @blkmakersmatter #blkmakersmatter on Instagram to show your support, find out more about this movement below.
If you haven't seen it yet, this year the Sewing Weekender will take place online! We hope you will join us on the 13th and 14th of June next weekend. 100% of the profits from tickets sold will be donated equally between the following charities. As ticket sales have exceeded our expectations, thanks to your support, we are able to increase the number of charities we are supporting and these include NHS Charities Together, Black Lives Matter, mental health charity Mind and the Stephen Lawrence Charitable Trust.
---
Black Makers Matter are a fantastic group of women coming together to make important changes in the sewing and craft industries. They want to ensure the diversity of makers is represented in our sewing community through education and resources. There are many makers who have come together to work as a team for this, creating a movement to give a voice to black makers in our community. Find out more and follow on Instagram @blkmakersmatter #blkmakersmatter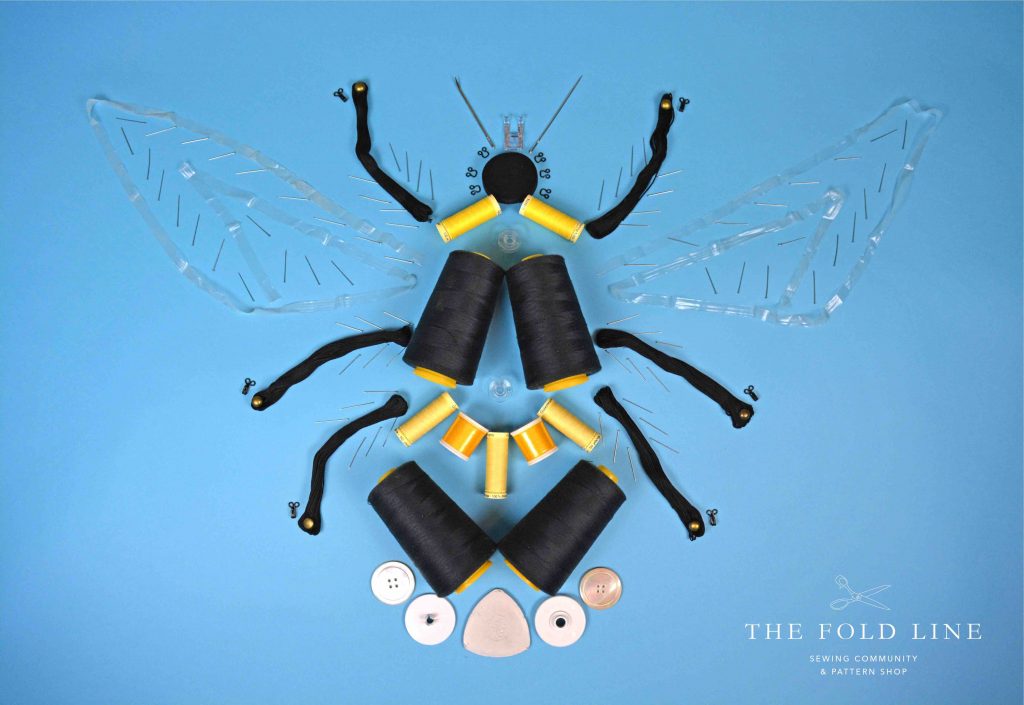 Are you watching the Great British Sewing Bee series 6? We have searched high and low to bring you the best selection of sewing patterns from independent designers and commercial pattern houses that featured in this weeks episode, so you can re-create your favourite 'Bee' look at home! For the nr. 1 fans: check out our ultimate guide to the Sewing Bee page. We've got loads of exciting Sewing Bee goodness including a review of the book that accompanies the series!
---

Who knew you can look this FABULOUS wearing a table cloth? Tabitha Sewer certainly did! She made this self drafted circle skirt using a Kate Spade table cloth.
Jasika from Try Curious Blog stitched the Shelby Romper by True Bias and she's looking gorgeous!
This is a very clever Sew Over It Penny dress hack by Beck from I Sew, Therefore I Am. She turned it in such a cute tie front shirt!
Imagine lounging around in this beautiful Liberty set! Kate, who blogs as Kate Eva made the Pipit Loungewear shorts by Common Stitch and a stunning Suki robe by Helen's Closet.
We now need a pair of linen Simplicity 9114 – designed by Mimi G – trousers in our lives. This is so SO good Michelle aka Michelle Sews! Head over to her blog for a detailed pattern review.
Emily aka Self Assembly Required made a Tabitha tee dress from the latest Tilly and the Buttons book Make It Simple. All the heart eyes for this colourful number, but make sure to check out her other version on her blog too.
This is summer romper perfection! Dixie from Dixie DIY made a Yari Jumpsuit by True Bias in a pale blue tencel denim and it's a match made in pattern and fabric heaven.
Bianca at Sleepless In Bavaria is looking stunning in her linen Sew House Seven Tea Dress!
Janine of Ooobop has been working on perfecting the fit of her shift dress pattern and this is her third version in a batik. We love how she used the selvedge of the fabric on the hem! Read more about it on her blog.
This Sagebrush Top turned dress from Friday Pattern Company is ah-mah-zing! Want to know more? Victoria @victorialucilleanne shared her thoughts here.
The Hoodie Dress from The Assembly Line in a dry oil skin? BRILLIANT! Read all about @supalunasews making process here.
---

Here are the latest new sewing pattern releases from independent designers in the sewing community. We are passionate about championing indie designers in the sewing community and we are always looking for new sewing pattern designers we can feature. With over 200 designers from around the world creating patterns for us to sew with, there is a lot of choice. If you need some help finding your next sewing project search for more ideas using our sewing-specific search tool.
---
We love nothing more that sitting down at the end of the day and watching sewing blogs, it's always fun to see what patterns other makers have been sewing up or what they've bought in their fabric hauls! Each week we share sewing videos from the sewing community where you can pick up tips, sewing advice and catch up on the latest high street and fashion trends. You'll also be able to see what other makers in the community have been up to.
It's us! New Sewing Pattern Releases || May 2020 || The Fold Line
Karen at Sew Little Time: Me Made May 2020 Round Up
Liz at LizSews: June 2020 Sewing Plans
Lizzie at Lizzie B: Fabric Haul and Sewing Plans June 2020
Kealy at Voice Of A Creative: May 2020 Makes- What Have I Been Sewing?
Karina at Lifting Pins & Needles: 4 easy KNIT skirts, waistband options & twin needle secrets. Balboa Skirts (Itch to Stitch).
Jo at Joey Sewy: My May Favourites | Sewing, thinking, buying, making
Lindsey at Inside the Hem: June 2020 Plans | Everything I'll be Sewing This Month!
---

There is nothing better than listening to people talking about their favourite hobby while we sew. Grab yourself a cup of tea, get the sewing machine warmed up and sit down to listen to the conversations of sewing bloggers, indie designers and other makers on topics from how to design a new sewing pattern to sorting out your fabric stash. Here we have curated a list of sewing podcasts hot off the press this week. Have a listen this weekend for your weekly dose of making inspiration.
The New Craft House Podcast with Hannah and Rosie: Community over Competition with Harriet Cleary from Sew Me Sunshine
Clothes Making Mavens with Helena and Lori: Podcast Ep041: Sewing Phases
Sewing For The Weekend with Beth and Nina: Our Favorite Sewing Tools
Dressed: The history of fashion with April and Cassidy: Fashion History Now #9
Sewing with Threads with Sarah: Fearless Experimentation | Episode 29
---

Each week we also share all the new fabrics, haberdashery and kits from independent sewing businesses that we work with. You'll find the latest fabric collections to hit the shelves, new haberdashery sales, offers and other exciting launches. Take a look at all the products that small businesses have curated from your perusal this week.
We are a bit obsessed with the colour combinations of these wonderful cotton poplins from Fabrics Galore. Oh and let's not forget, the prints are amazing too!
We're sure we can't be the only ones with a huge crush on anything in the colour rust? This rayon from Lulou Designs is absolutely beau-ti-ful! Right?
It looks like this fabric from Sew Me Sunshine combines a few of our favourite things! Flowers and squirrels, birds and butterflies, this print is so pretty and would be so lovely for a summer outfit.
Isn't it great how Cloth Spot beautifully drape their fabrics over a mannequin in their photos? We think it makes it a lot easier to imagine what a future garment would look like. We're currently dreaming of a dress in this floral cotton lawn.
The good news is that you can sign up again to Sew Hayley Jane's sewing subscription boxes. The even better news is that you can save 10% by using the discount code FOLDLINE10!
Everything should be made with extra room for cake! We could not love these super cute labels from Pink Coat Club more.
We are LOVING these tropical Lady McElroy prints we spotted at The Draper's Daughter! These fabrics are made of high quality and have got a beautiful drape, perfect for garments that you'll wear all year round.
This stretchy linen viscose mix from Lamazi Fabrics looks heavenly…
Well, we wouldn't mind living in one of these houses, they're so adorable! Check out the Manor House cotton print at Cloth & Candy.
Take the statement sleeve trend to the next level with the brand new Vogue 1704 pattern from Sew Direct. The pattern includes the top and the trousers and together they make a fabulous pair!
---

We keep a handy list of sewing events, exhibitions and meet ups happening in the sewing community all over the world on our sewing social calendar here.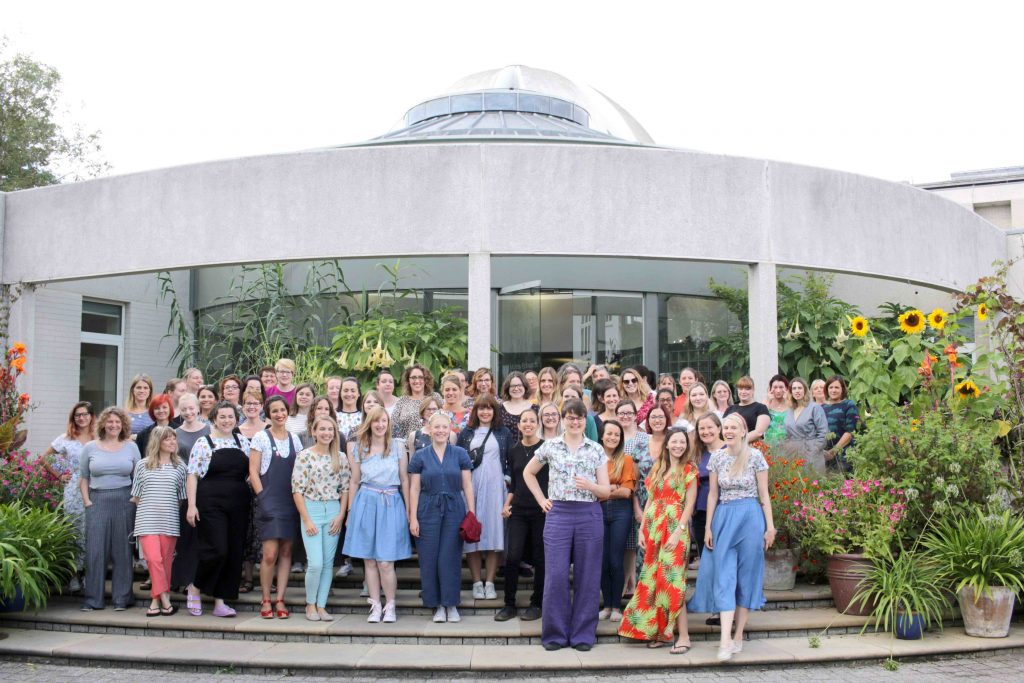 ---

Come and join our sewing Facebook group where we are chatting about sewing plans, new patterns and helping each other out with projects.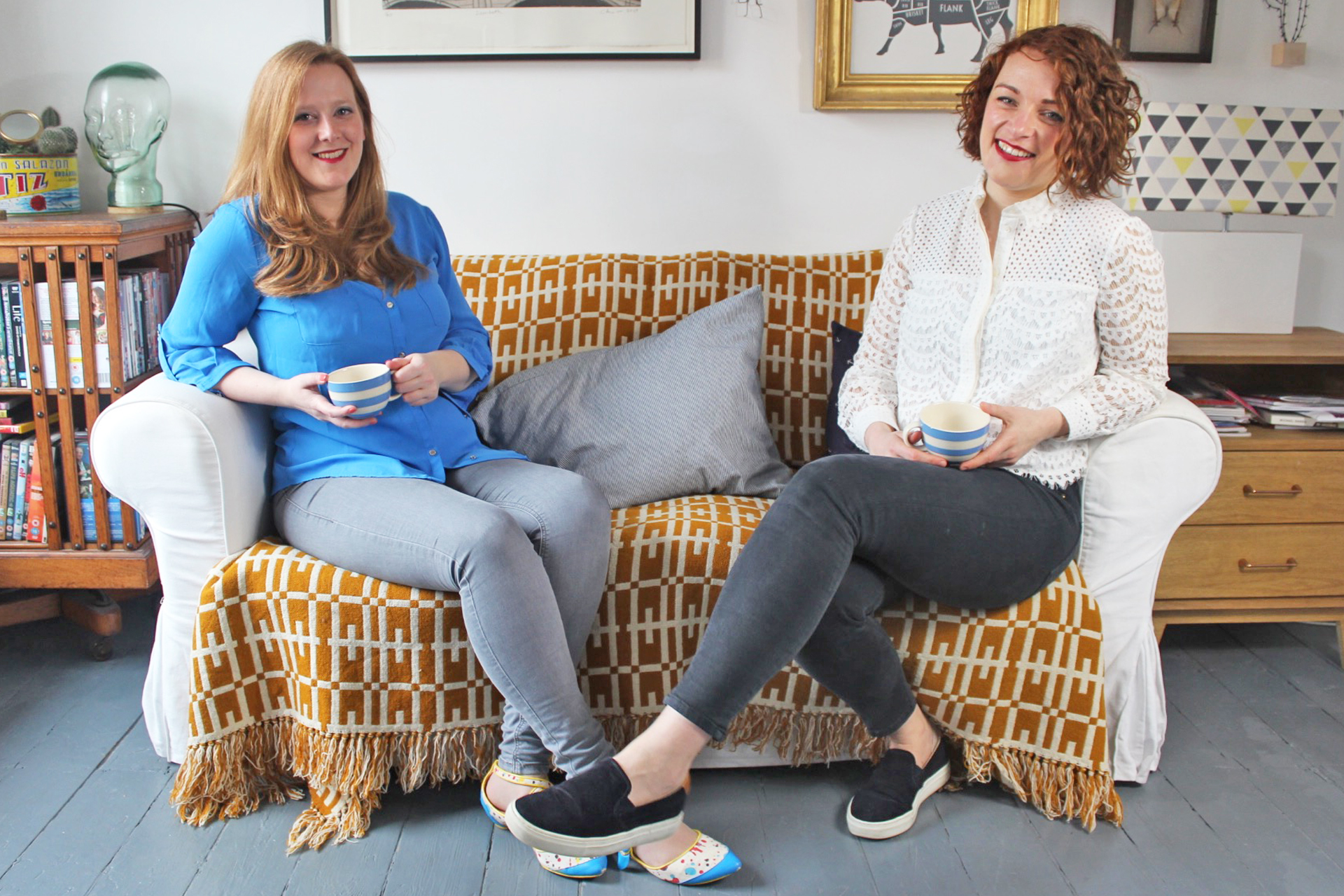 ---
The post Sew Reporter – 7th of June appeared first on The Foldline.