Shavuot Flowers: 6 Modern Florals Anyone can Assemble
Enjoy these sweet ideas for gorgeous modern Shavuot flowers that anyone can assemble to display in their home. Want to make your own? Try this DIY silk flower centerpiece! This post contains affiliate links.
---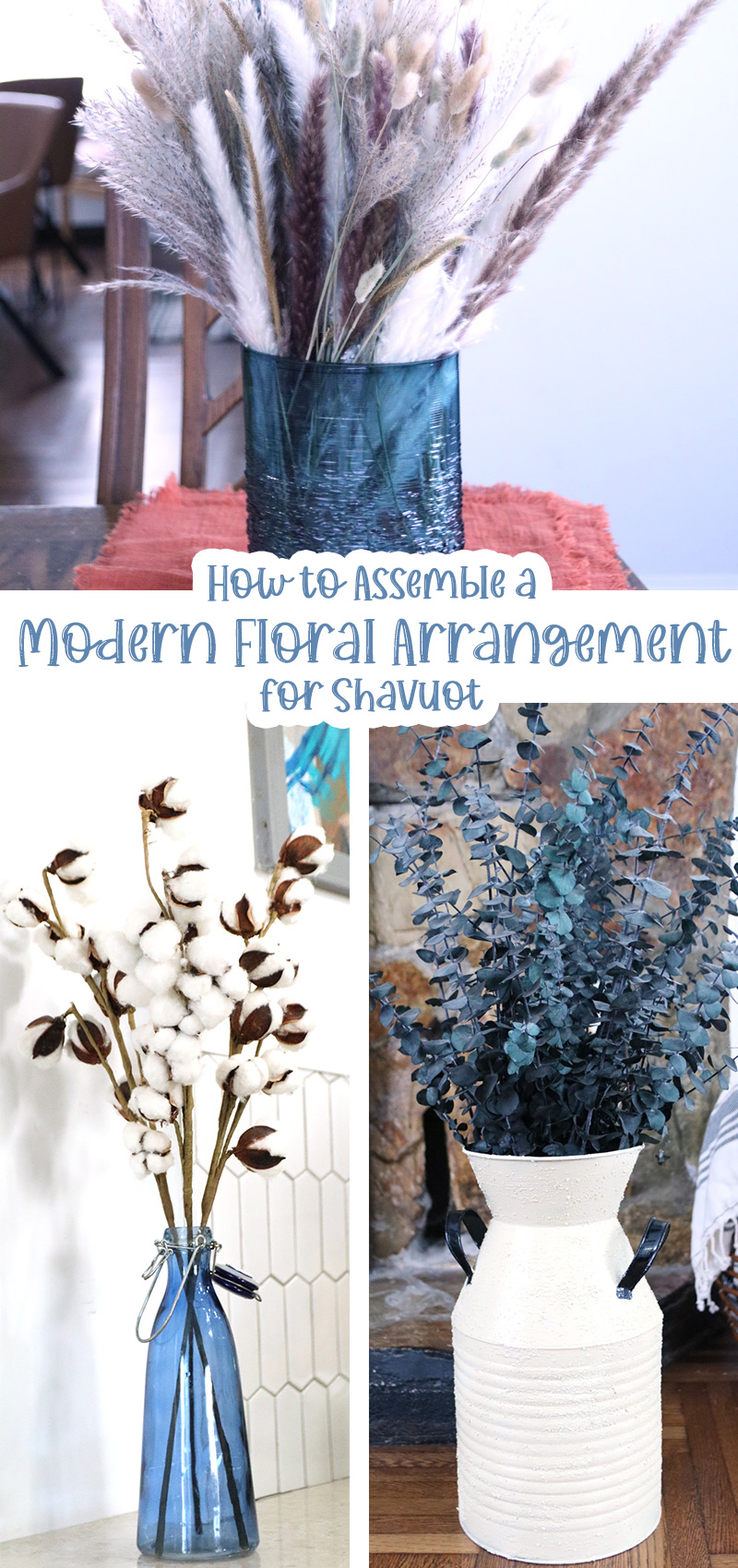 I absolutely love the idea of flowers for Shavuot! What better way to celebrate Spring?
While you may pick up a bouquet or two at your local grocery, school fundraiser sale, or even Trader Joe's, I wanted to share with you some tips and ideas for incorporating greenery (or, if you're going modern, beigery) into your home decor.
Table of Contents
[Open][Close]
The cool thing about these Shavuot flowers is that you can buy them to honor the holiday… but they'll last way beyond!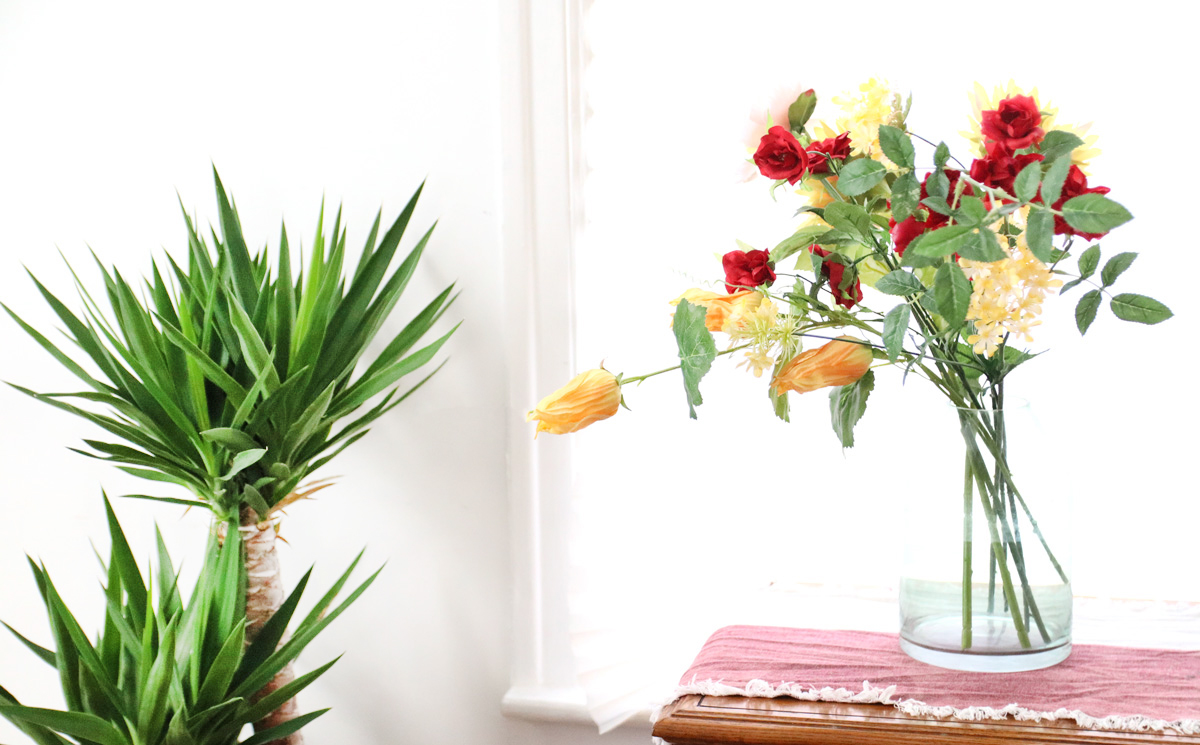 Why flowers on Shavuot?
So why is there a tradition to have flowers specifically for Shavuot?
Every year while planning Shavuot crafts, I even struggle with creating anything beyond flowers, because that's honestly what kids make in school! It's so part and parcel of Shavuot, much like cheesecake, that even my two year old is talking about flowers.
The reason we all learned had to do with Mount Sinai and the battle of the mountains. FYI, I even made a set of puppets to go with that – you can download them here.
The story goes: every mountain was battling and boasting as to why the Torah should be given there. However, Mt Sinai was humble and small and did not join the boasting. So when the Torah was finally given, G-d made flowers and grass grow on it to honor it.
Another reason is seasonal: Shavuot celebrates the beginning of the harvest and the first blooms. This is when Bikkurim – first fruit – were brought to the temple. The baskets were decorated with florals.
Chabad shares a few probably more well-sourced reasons you'll want to check out.
Regardless, Shavuot flowers are super fun to incorporate in your home, and definitely make things feel springy, cheerful, and festive.
6 Ideas for Shavuot Flowers for the Modern Home
Here are some pretty arrangements, sourced from my own home that I wanted to share. Some are less on the colorful end of things – mostly neutrals that are loaded with texture rather than color – to fit with most modern homes.
I absolutely love filling pretty vases with dried plants and mixing and matching fake flowers, and therefore have worked on so many centerpieces and arrangements over the years. These are a few of my favorites, with the more recent ones first and moving onto the slightly older ones.
Where the actual supplies I used are available, I linked them. Otherwise, I linked to similar. In case you can't get what I did (if it's not available or you can't order from the US retailers), I did share tips for creating your own so that you can pick up on it on your own.
If you love decorating with texture, but want to bring in a hint of color in an incredibly on-trend display, this one is for you!
I purchased it for the Pesach tablescape that I plan to share next year (I got it too late for this year's blog post!) The mixed pampas spray has hints of mauve and various shades of creams, beiges, and tans. It's exploding with personality and so much variation.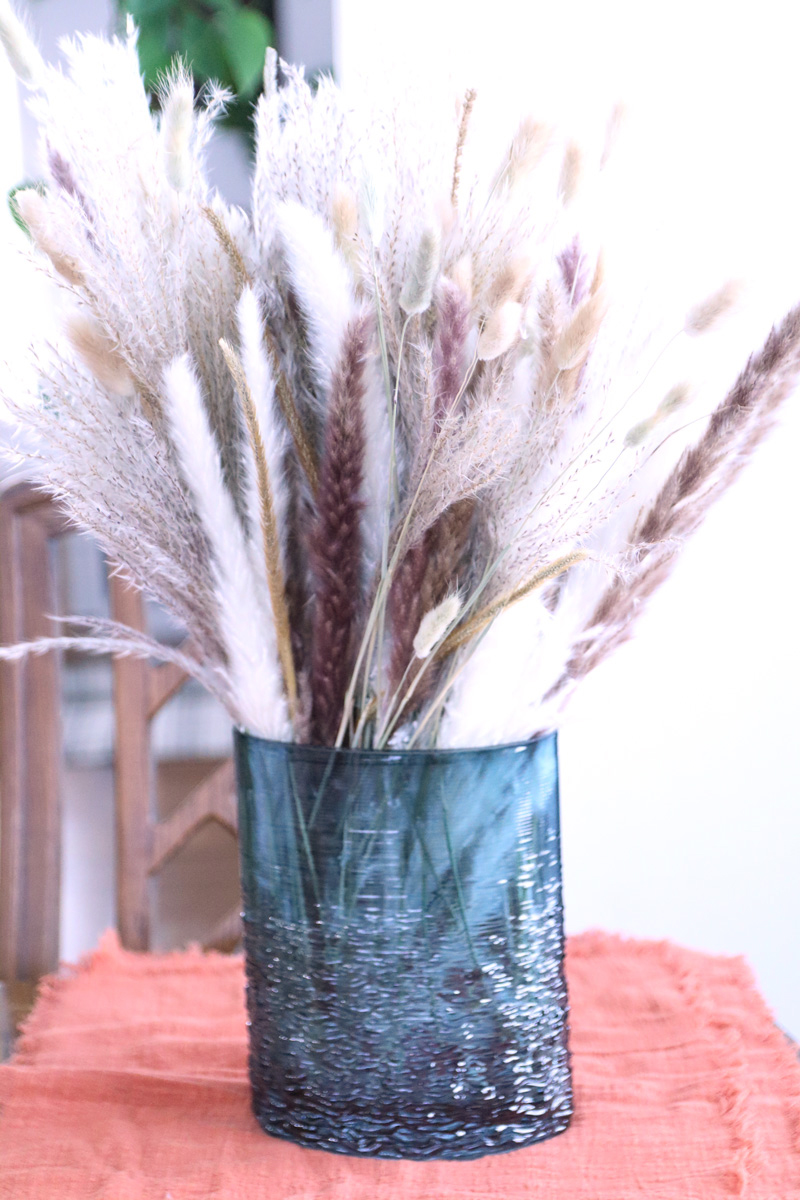 The vase itself is also gorgeous. While the inexpensive pampas (that costs less than you'll probably spend on a bouquet) might be more trendy and less timeless, the glass will have a much longer shelf life – and it's affordable too.
It's a very muted navy blue, with variated texture and a subtle curved shape. I absolutely love it, and I'm so happy with the purchase. It's one of those things that I really enjoy looking at – it makes me smile – every time I place it on the table, or sit near it.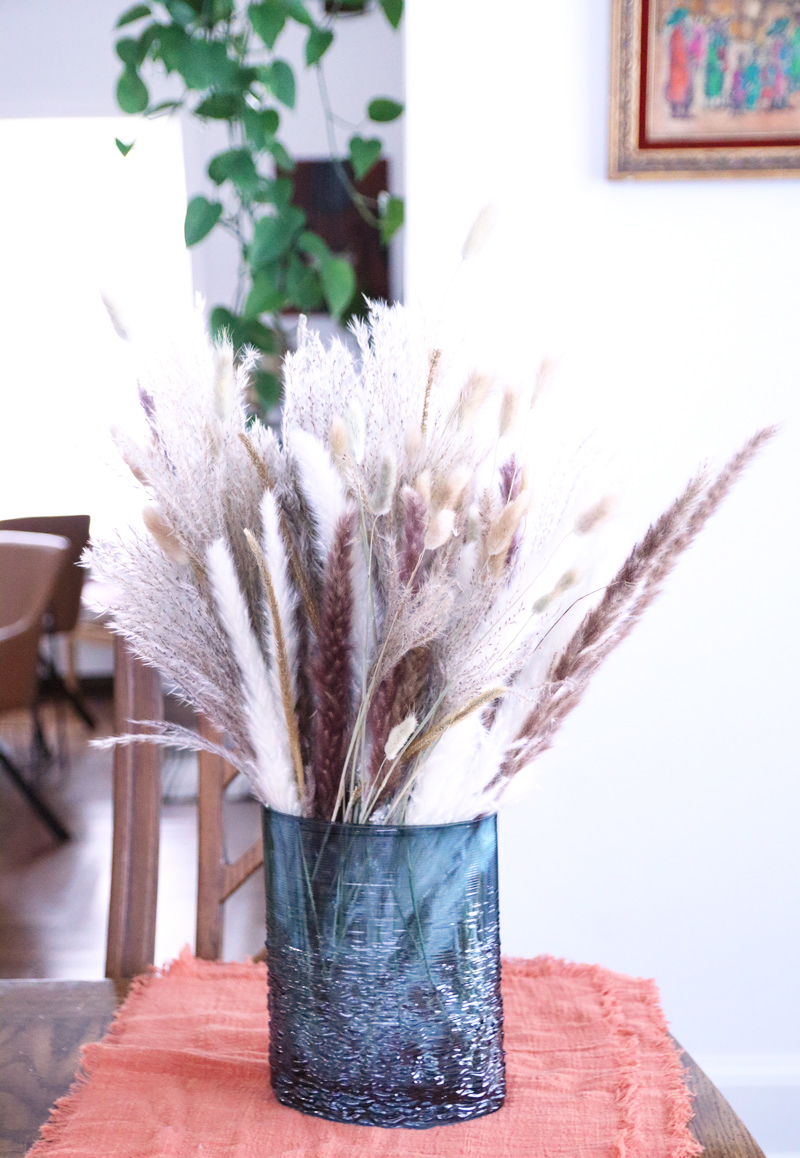 The scale is similar to that of a vase of flowers – it's not a statement centerpiece. You might want to intersperse three on a larger table – as long as they sit on a runner. Or, place it on a smaller sideboard or mantle.
One word of warning: the pampas SHEDS!! I knew this when I purchased it and chose it anyway. I tried arranging it while holding it in a bag and it didn't work. What did work was doing it on an empty floor to make vacuuming afterwards easy. It's worth it, though.
I had these simpler bunny tail stalks sitting as part of a mixed centerpiece (the eucalyptus you'll see below, with another item) and finally decided I don't like the look.
I also had these two earthy ceramic vases sitting empty on my windowsill. I did play around with the look before settling on filling the back one at various heights and leaving the front one empty.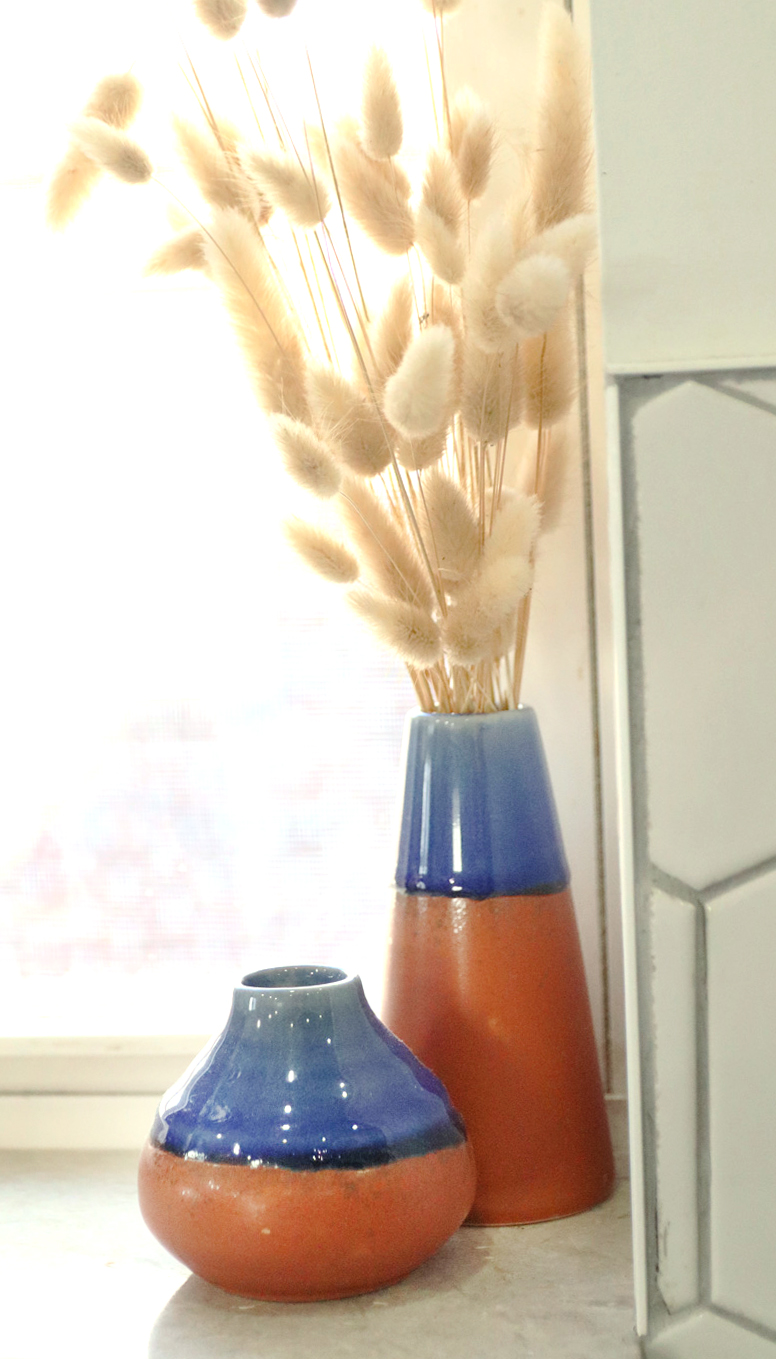 These are mini vases that I picked up at Michaels ages ago – so they wouldn't be carried there anymore. I linked a similar one here so that you can get the look. It's actually very hard to find the color combo, but the main thing is to look for something earthy, rustic, and handmade-looking.
They are small and sit on my kitchen window sill.
They are fabulous additions for adding Shavuot flowers to bookcases and other open shelves.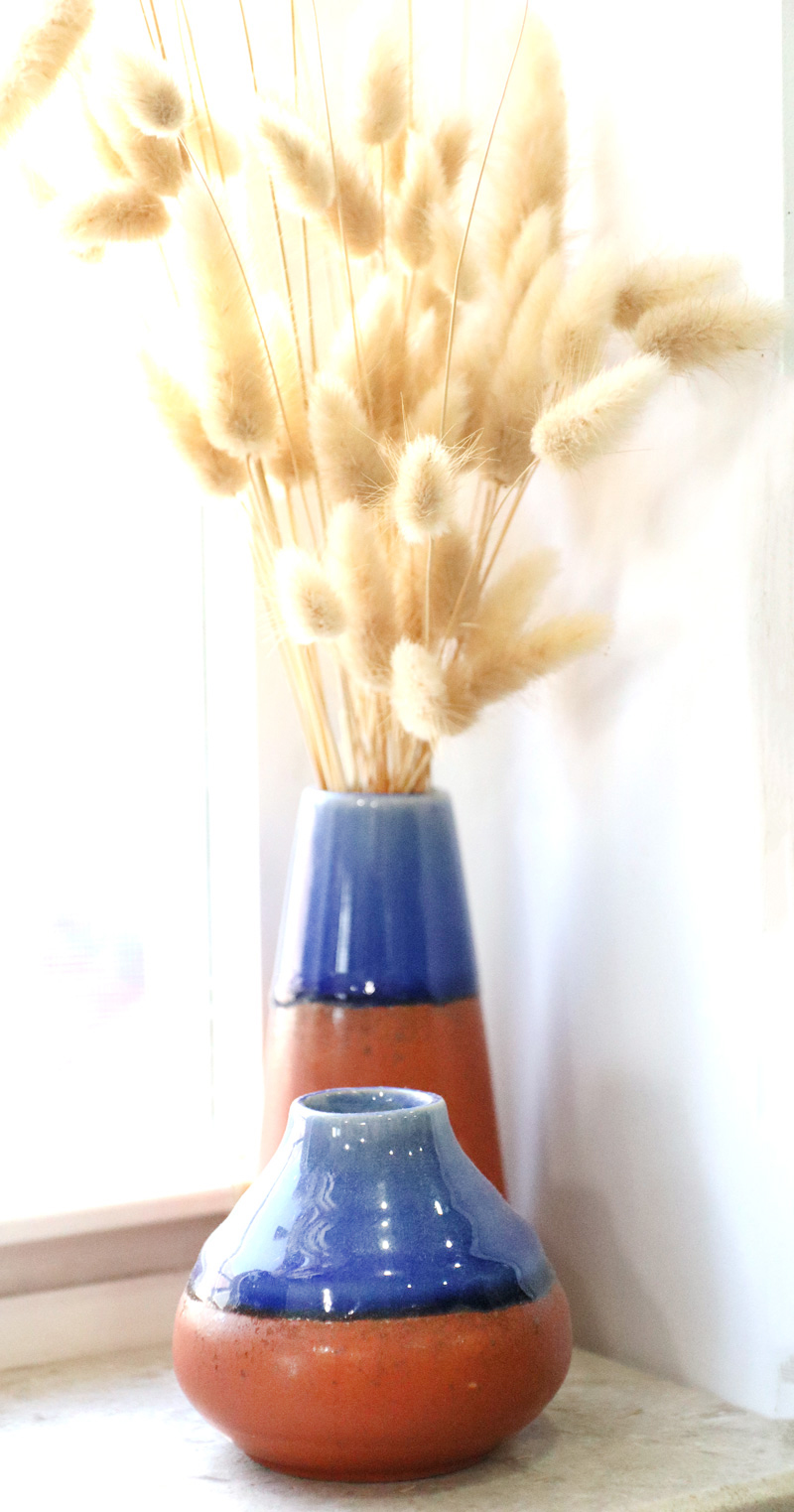 You can also try to replicate this look in jumbo using larger pampas and similar mixed earthy vases.
I recommend looking for handmade vases that have all the texture and variation that gives them character, rather than a stale and clean look.
3. Colorful and Cheerful Silk Floral Spray
My dining room has a LOT of brown going on and I wanted something colorful to sit as a centerpiece. While I sort of fell in love with the first pampas, this definitely has more color. I do often move it to the top of a bookcase or a sideboard to make way for others, but wherever it is, it adds a hit of color.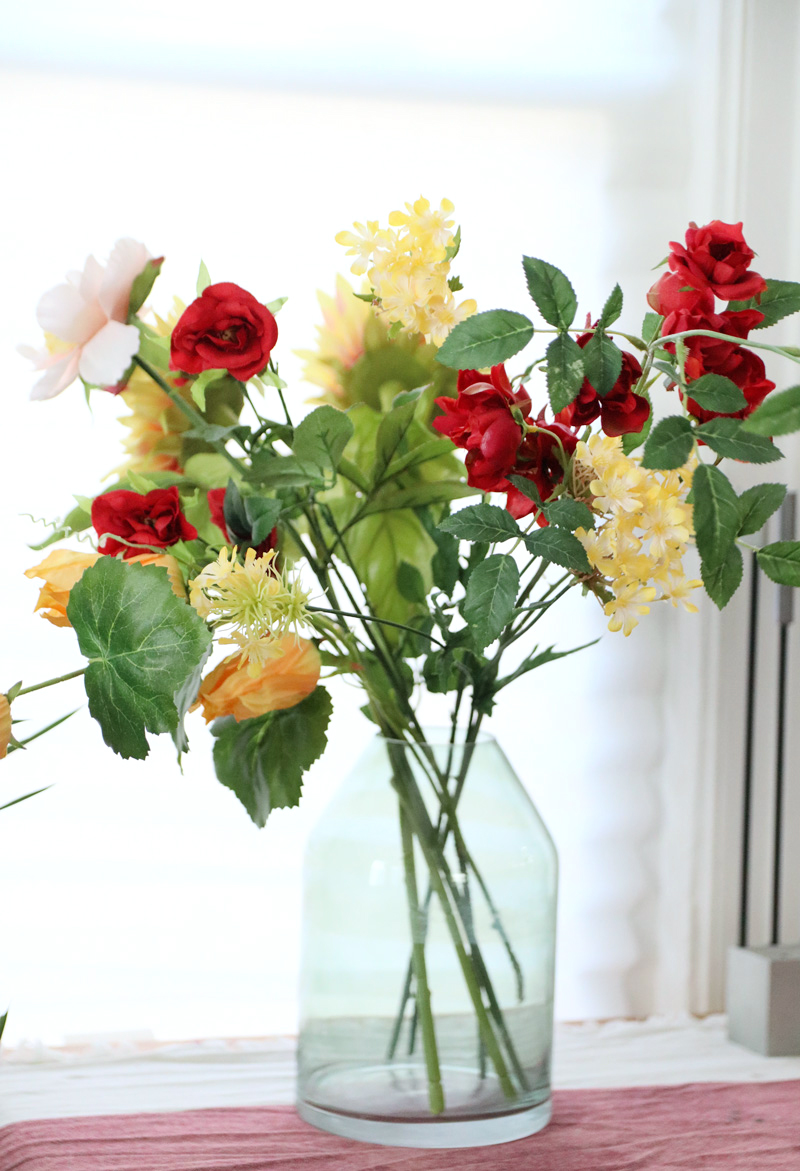 The vase is a very simple bluish-green tinted vase in a modern silhouette. It's a fabulous size for bouquets too. I had a hard time finding one that's very similar to link, but the main features to look for is:
Transparent barely-tinted glass
A simple, unfussy shape
A narrow neck, so that the sparse arrangement holds together and then sprays outward nicely.
This one looks like a great choice.
The florals themselves ere kept simple: mises of yellow-heading-into-orange, peach, and deep red mixing in. You have the small flowers, the three larger feature ones, and the sprinkle of red roses mixing in. A simple/sparse cluster allows the shapes to shine and keeps it looking modern and collected.
You probably want to assemble this in person to get the look you want.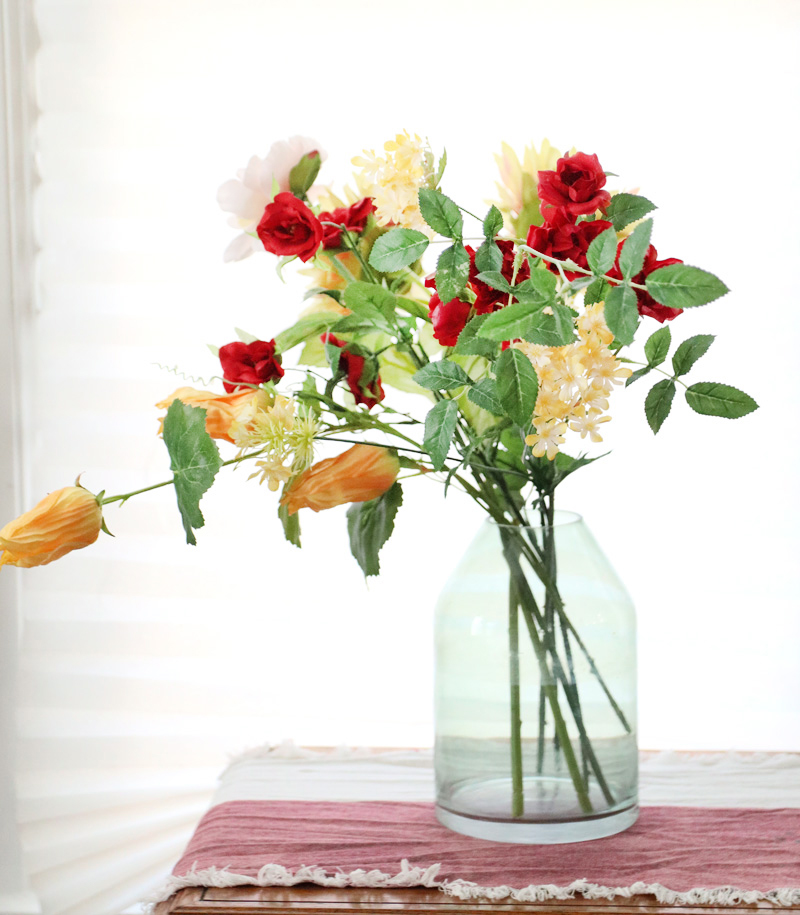 This is also on the scale of a vase of flowers. You can go bigger by using a taller vase, but having the branches reach the base will help the look.
To turn it into a permanent bouquet, I'd pour a few inches of clear resin on the bottom. You can also use water for a less permanent but slightly more realistic look.
I actually have the cotton sitting in a totally different vase on my counter, but that is growing tired. I was thinking of a way I can freshen it up for you for this post, and this stopper bottle (link is for similar) was perfect. It has a collected look.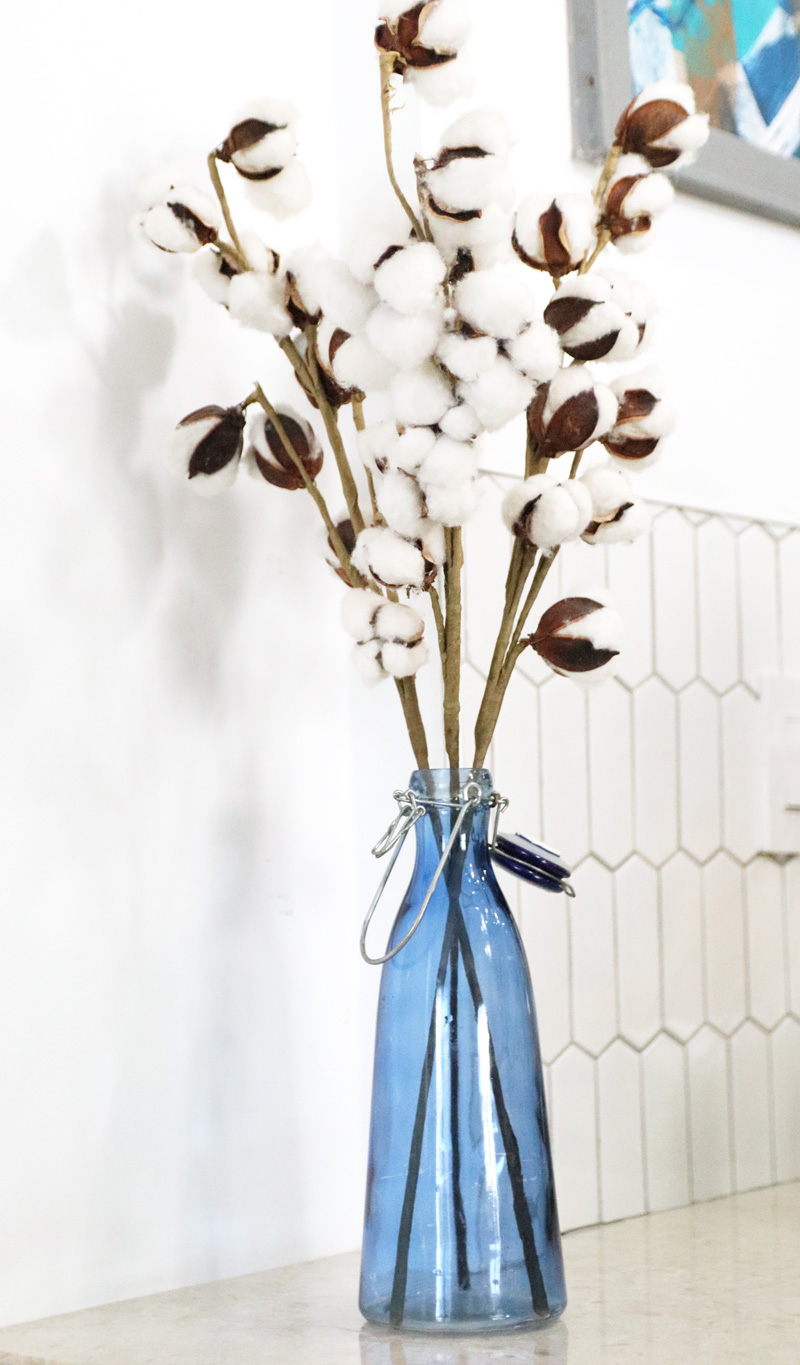 It's a fabulous way to pick up on pre-existing blue tones without going overboard with blue, and fabulous for an are where natural light will reflect through the glass.
You can reuse a wine bottle for this one, or go for any bottle, jug, or can look. Just make sure it'll fit the scale of the cotton – base it on measurements!
Cotton stems are an easy, affordable find that can last for years. It's neutral and doesn't shed.
Keep in mind the scale you want to work with. I usually have these in a very tall vase which makes it more of a statement piece, but downsized it to a bottle to share with you.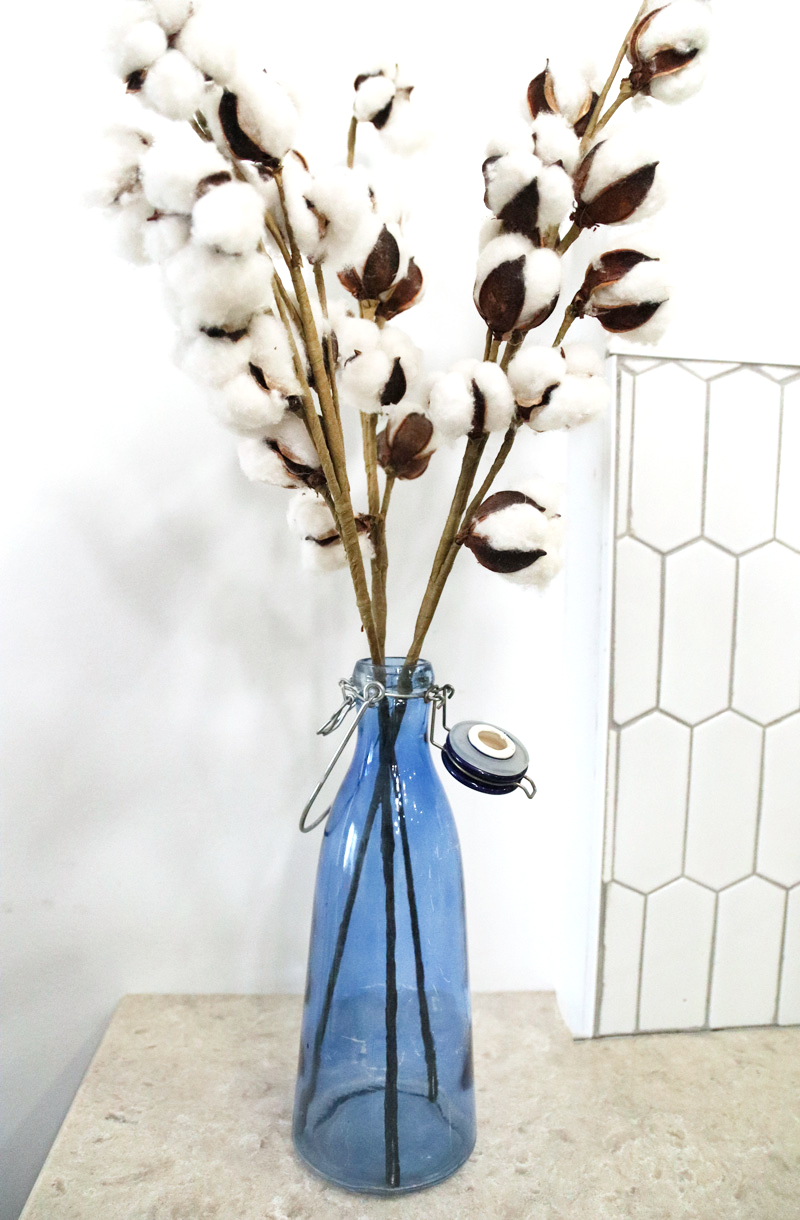 Regardless, the overall scale of this is tall and narrow, and perfect for when you want to keep the table clear but have something that stands out.
This is the eucalyptus that I mentioned above that I had waiting to repurpose for some time. I love the generous, tall eucalyptus. The milk jug was a galvanized metal (here's similar) that felt tired and lacked contrast. So I redid it, painting it white with black handles.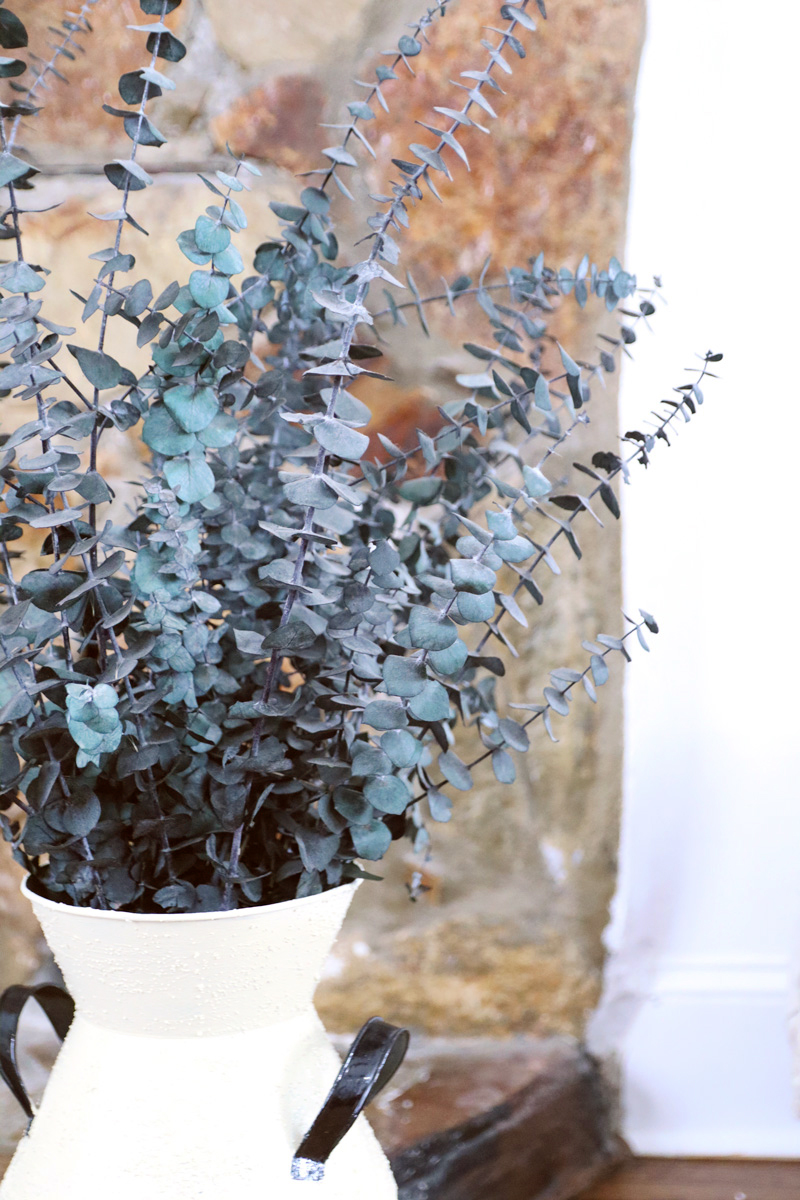 You can work with a galvanized metal milk jug but I do recommend getting a white or light colored one to help the eucalyptus feel dramatic and not messy.
My milk jug is about 14 inches tall, a challenging size to find, but you can definitely scale it down.
This one looks great – it's a fabulous look and somewhat smaller than mine.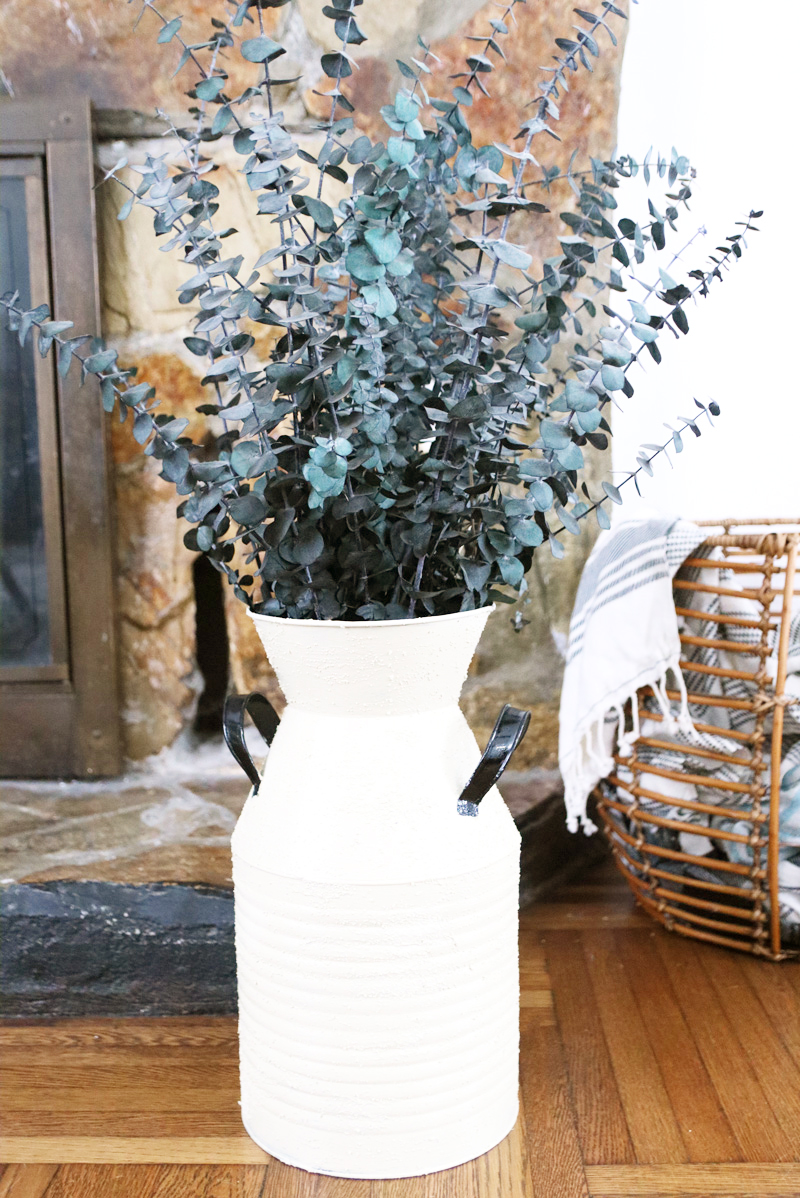 The size of this is nice as a permanent centerpiece or as a floor vase. I did stuff the jug with newspaper to prop up the eucalyptus, so you can definitely go with a smaller jug.
These Shavuot flowers are actually different in that they're real flowers, not faux! But of course, you can pick up realistic flowers.
This rectangular vase has featured in my Rosh Hashanah centerpiece as well as my Sukkot centerpiece.
My favorite way to display florals in it is a very sparse bouquet lying down.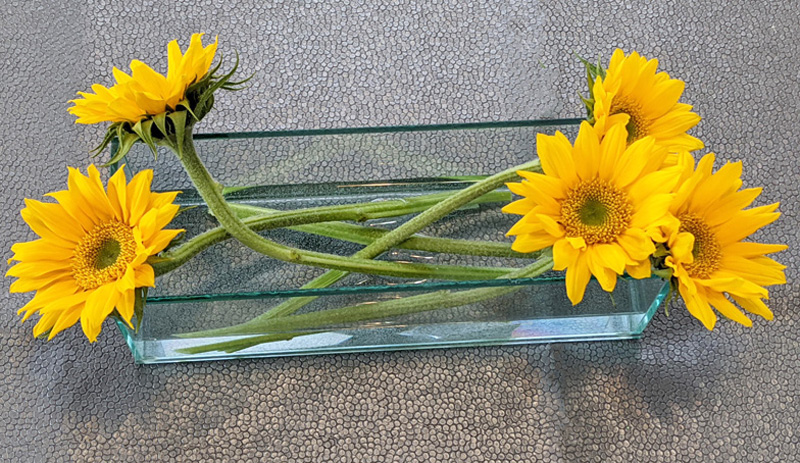 If using fresh flowers, do it close to the holiday, as they don't grow as naturally in this position, The arrangement lasted a few days. You can also do this with faux sunflowers. Get as realistic as you can when choosing your florals.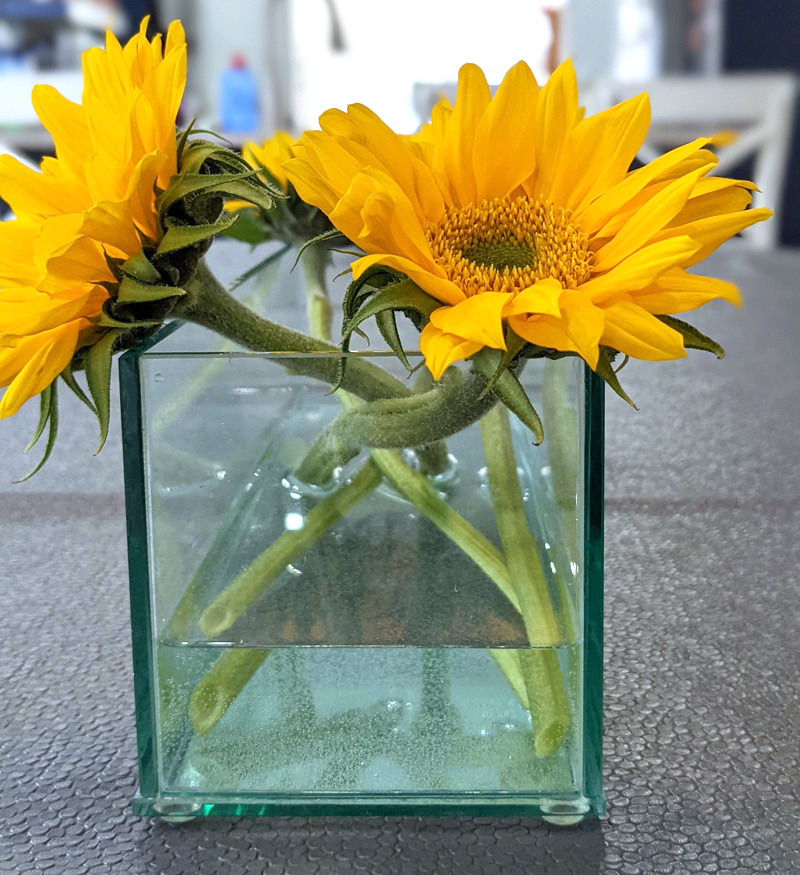 And you can, of course, use any flowers to do this – not just sunflowers. To make it look more realistic with faux flowers, add water. If that feels too ick, or you want to make it permanent, use clear resin to finish things off.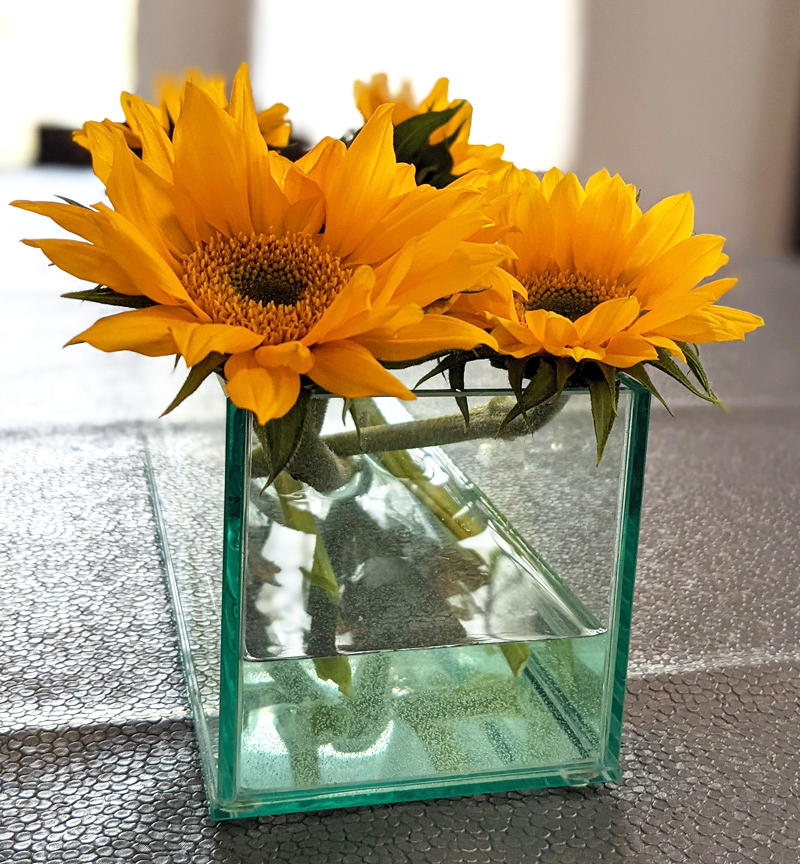 Assembling your own Shavuot Flower Arrangements
Want to create something different? Did none of these fit your vibe? Here are some tips for making your own, and keeping them looking neat, clean and modern.
Real Flowers
Real flowers are the absolute prettiest, but you want to keep them from looking like a hodge podge grocery store bouquet!
Here are my tips for accomplishing that:
My favorite look is to keep it simple: get one statement flower type and stick it in a vase! Tulips are elegant and homely. Hydrangeas are dramatic and shoot off major spring vibes. If you feel it needs more, complement it with ONE filler.
Want more of a mixed bouquet? Stick to a simple color palette of one color in different shades, plus a neutral. You can also do two or three colors, but be careful – the more color variation you add, the more likely you are to head into grocery bouquet zone.
Vary the scale. Start with a statement flower – with a few stems – add a medium size one in a similar tone or color family, and then fill it in with filler.
Avoid overly bright, artificially dyed tones, unless that is the only look you're bringing in – and you stick to one.
Choose the right vase. Even when choosing from your home selection, make sure that the vase fits the flowers. You can go for the sparse look – make sure the stems reach close to the base of the vase and the neck is narrow enough that they'll "spray". Or, make it full, but make sure the vase is large enough with an opening large enough to allow them to sit comfortably.
When in doubt, simpler tends to gain better results! You can choose one color family, and instead of mixing them in one vase, place them in smaller vases around your home. Choosing a matching filler can make it all cohesive.
Here are a few bouquets I've loved in the past:
Just one type – look how tall, elegant, and stately it is: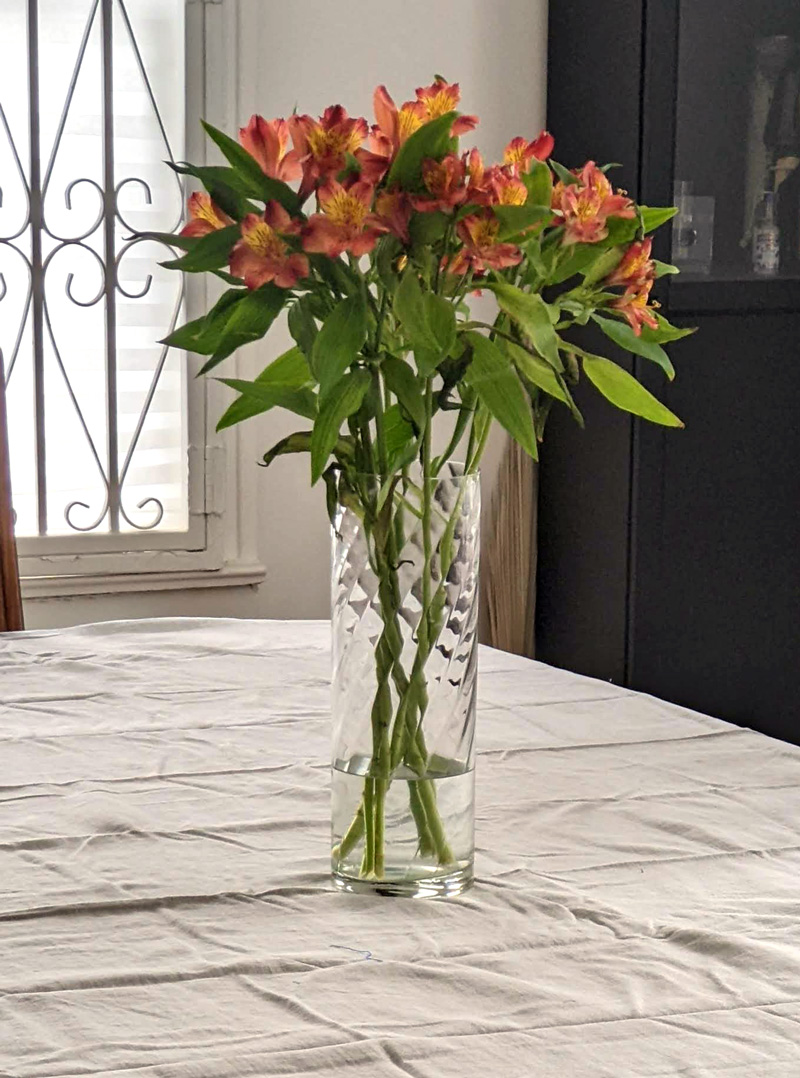 White lilies with coordinating baby's breath – also a statement centerpiece. This photo was taken when the bouquet was pretty old.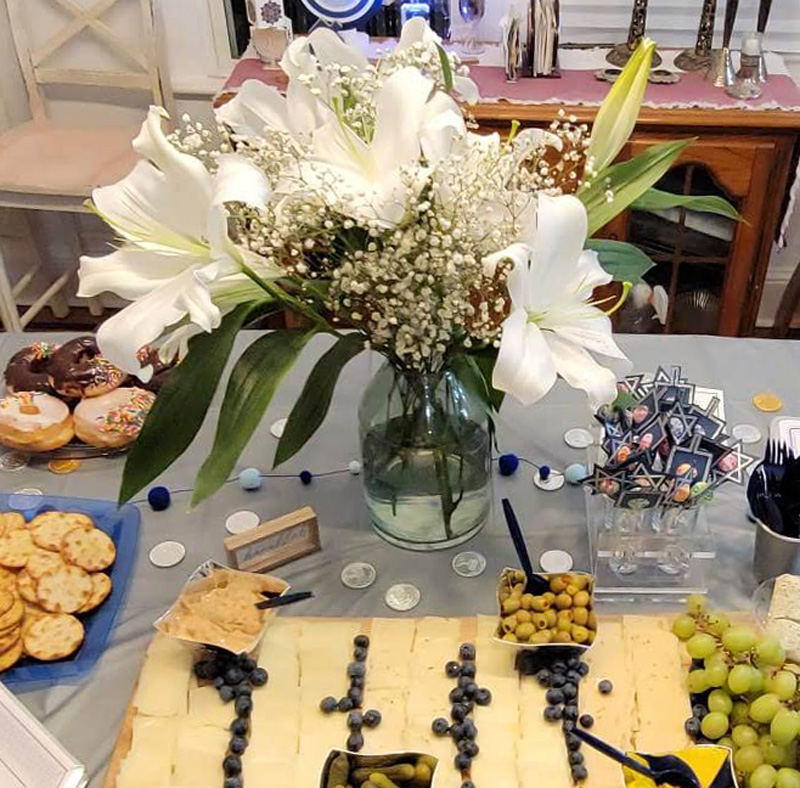 Tulips with a simple coordinating accent (no, I have no idea what it's called). Not an exact match, but it picks up on the color of the tulips without compromising their beauty. they're smaller and contrast in size.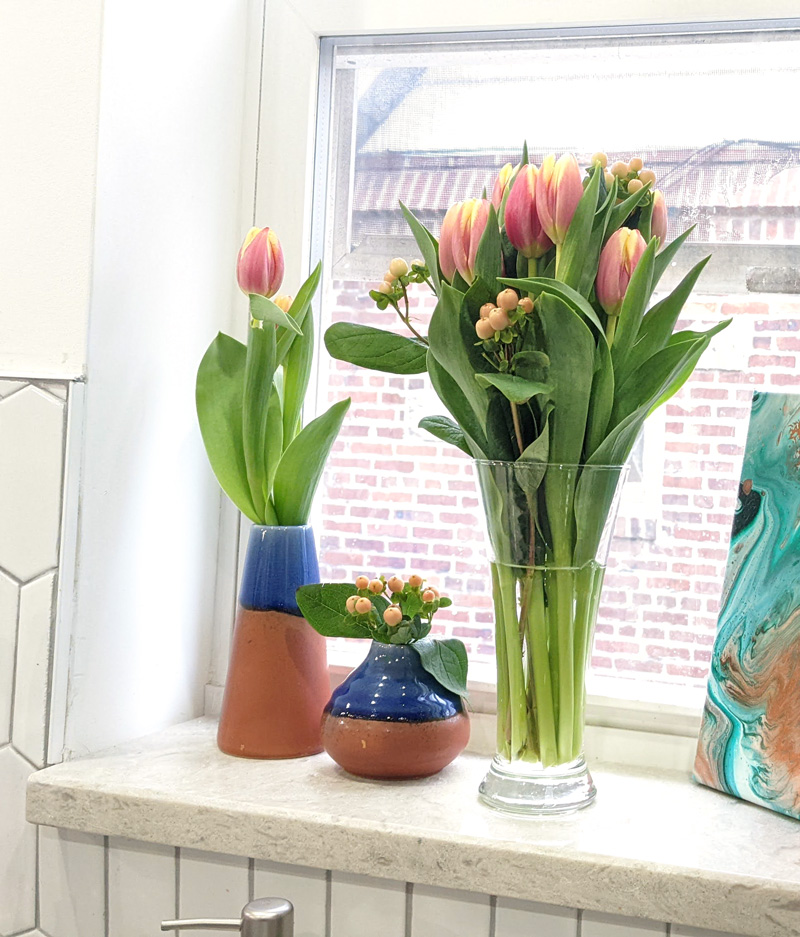 Craft Store Flowers
With craft store flowers, I'd recommend going along the same lines as above. HOWEVER, your variety is MUCH bigger. Be careful not to go too random and to follow the guidelines.
In addition, make sure they don't look too fake. Avoid flat colors – look for color variation, imperfect petals, and things like that. Pay attention to the stems too, and avoid combining too many of the same flower type.
Even better faux flowers, that tend to have variation between the petals in the bunch, will be the same across different bunches. Once flowers look identical, they look fake.
Note that I did NOT link to the faux flowers above. I really REALLY recommend doing that bit in-store, with the flowers in your hand.
Dried Florals
Dried florals are my favorite, as they are real and low-maintenance. Sometimes they shed. I don't avoid those that shed, because sometimes they are the prettiest. It's the perfect mix of permanent without the artificial nature.
If mixing different dried florals, I do recommend buying a pre-made mix as you can see how it looks in advance. If you are mixing your own, stick to a specific category. I wouldn't mix cotton and eucalyptus and pampas all in one. I have mixed eucalyptus and bunny tail in the past, but I don't recommend that look anymore.
For those with lots of stems, choose a vase that'll hold it tight. If it's just a few stalks, choose a vase with a narrower neck that'll allow it to spray naturally.
As usual, sticking to a simple color palette (with the neutral nature of dried plants, that's easy) is the safest way to go. You can get lots of variation in texture and color by sticking to simple.
Got any other tips for displaying Shavuot flowers in the modern home? Comment below!
The post Shavuot Flowers: 6 Modern Florals Anyone can Assemble appeared first on Jewish Moms & Crafters.