Summer Bucket List Ideas – Printable
Summer Bucket List Ideas– Summer is upon us and if you have kids, tweens, or teens, or grandkids you will need to keep them busy! Use this list of ideas to jump start your sunny days!
Print this Summer Bucket List filled with activities for the kids and family. Use the ideas to help you keep your kids busy all summer long (even on rainy days). Check off or cross off items as you do them. Plus, see all the crafts for kids, crafts, projects, and DIYs… to help you tackle summer boredom.
I'm looking forward to having my grandkids visit. Having fun things to do in the summer and boredom busters keeps them busy and having fun! Honestly, I can't believe my youngest child is in college. A word to young mamas blink twice and you are there. Hope this helps you this plan fun things with your kiddos.
Affiliate links may be included in the post. By clicking the links for qualifying purchases we earn a small commission. This is at no additional cost to you.
Summer Bucket List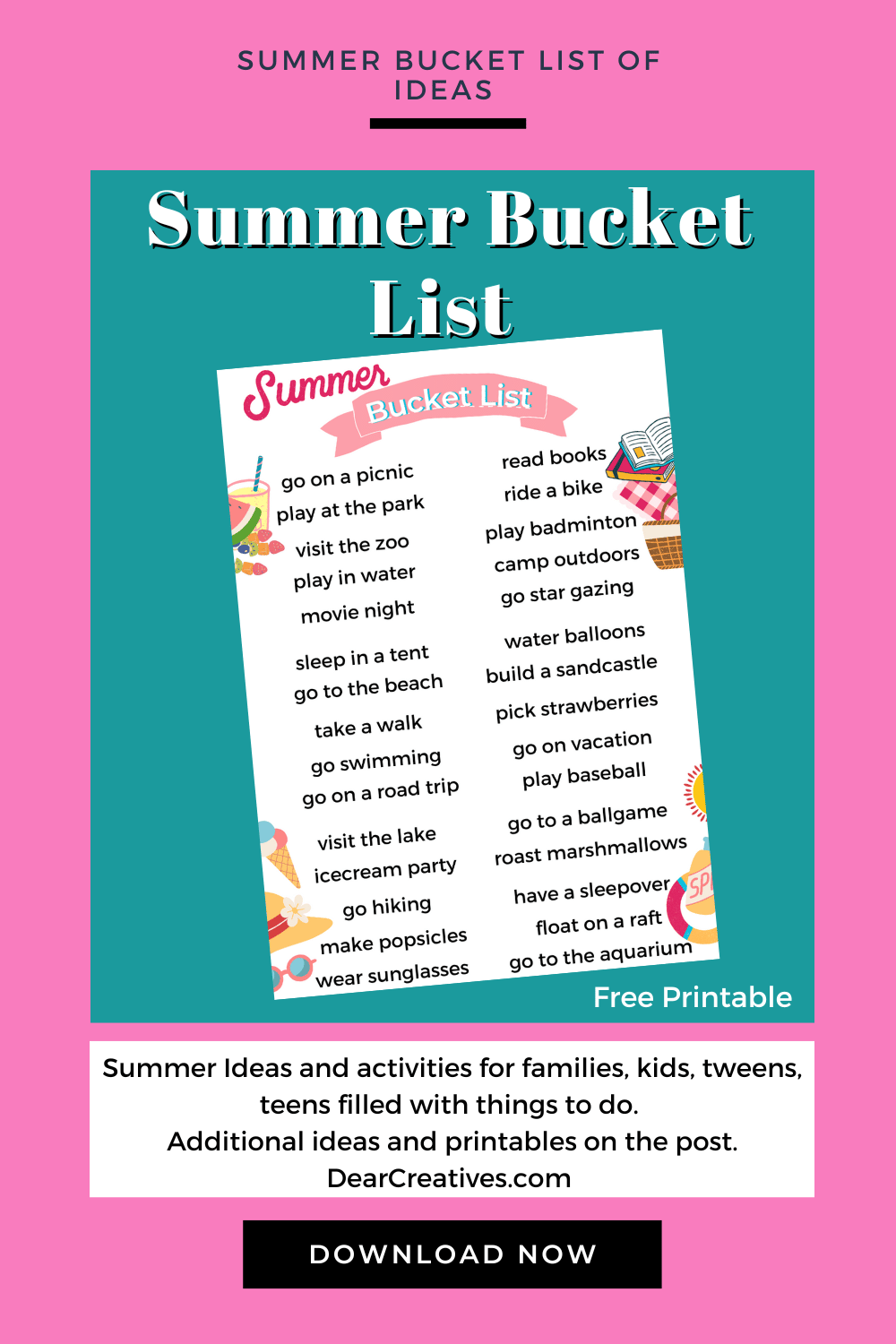 The printable files are at the bottom of the post. Are looking for something else? See all our free printables and printable freebies.
All you need to print the bucket list for summer is a good printer (this is what I use it's a Canon craft printer), ink, and printer/copy paper. In a hurry scroll down to the files. Happy Printing!
Summer Bucket List Ideas
Things to do in the summer
Go on a picnic
Play at the park
Go to the zoo
Play in the water
Have a movie night
Sleep in a tent
Go to the beach
Take a walk
Go swimming
Go on a road trip
Visit the Lake
Ice cream party
Go hiking
Make Popsicles
Wear sunglasses
Read books
Ride a bike
Play Badminton
Camp Outdoors
Go star gazing
Play water balloons
Build a sandcastle
Pick strawberries
Go on vacation
Play baseball
Go to a ballgame
Roast marshmallows
Have a sleepover
Float on a raft
Go to the aquarium
[TAG1]
Fun activities for summer
Ideas and activities you can do with kids, tweens, and teens.
Summer Bucket List Printable
PDF Files Summer Bucket List
PNG Files For Summer Bucket List
Right click to save to computer and download.
See additional printables in our exclusive library by subscribing. And in our shop.
Like this printable? Be sure to subscribe to the blog and also follow our shop (the subscription button is in the top right hand corner of this page)! In the shop Click on the images to enlarge for details.
Additional versions will be in the shop soon! See related items below.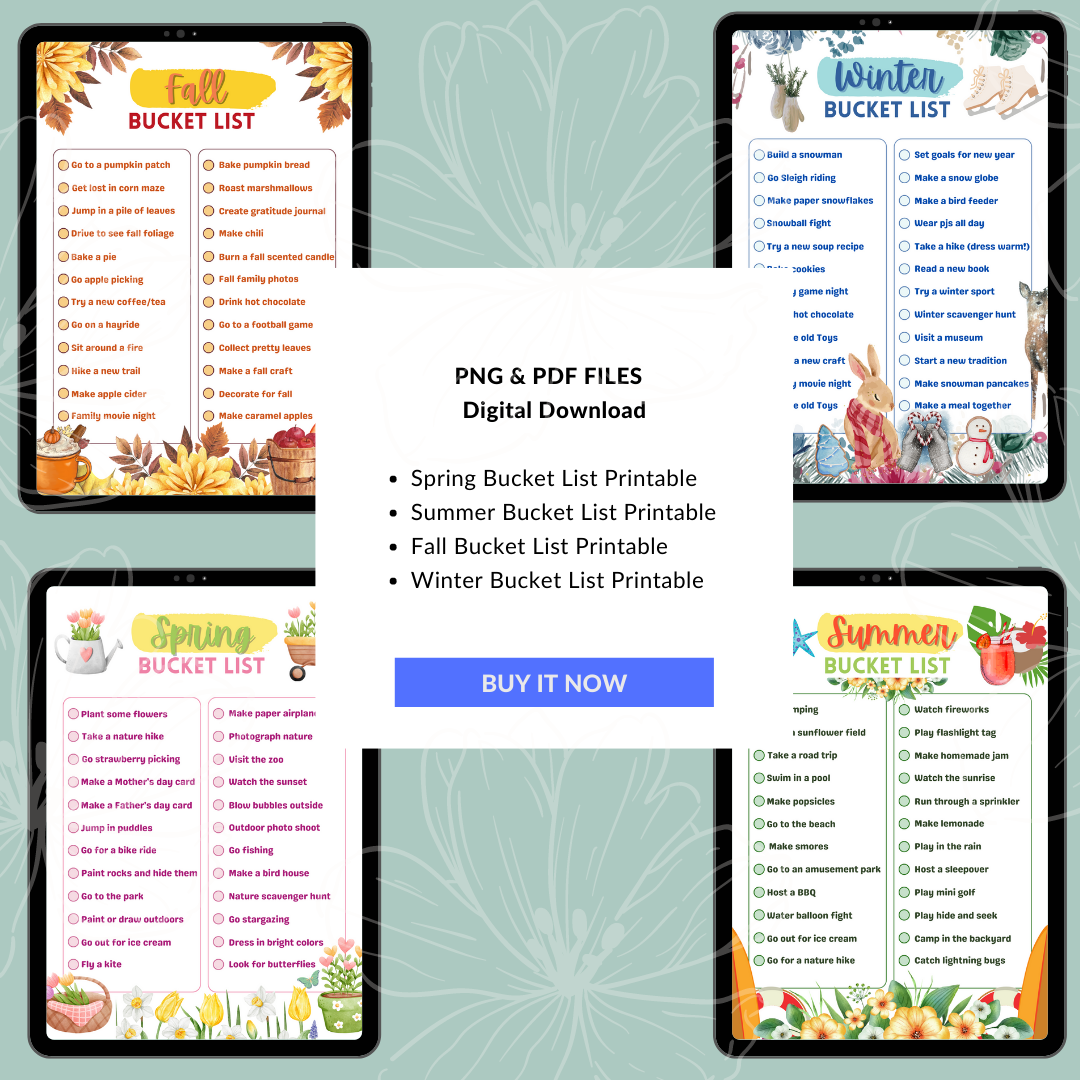 4 Seasons Bucket List Bundle | Travel Packing List | Back To School Checklist
4 Seasons Printable Bucket List – Bundle includes spring, summer, fall, and winter bucket lists with boxes to check off activities as you do them.
Don't forget to Subscribe to the blog to receive news, posts, and discounts for upcoming printables. And to the shop for new releases, sales, and upcoming announcements…
Going somewhere this summer? You might like our travel planner
Happy Summer! What summer plans do you have?
New here? Be sure to Subscribe.
Pin it for Later
Need more ideas for summer?
The post Summer Bucket List Ideas – Printable appeared first on Dear Creatives.