Tales From The Box Office: 10 Years Later, The Croods Is Still Nic Cage's Biggest Movie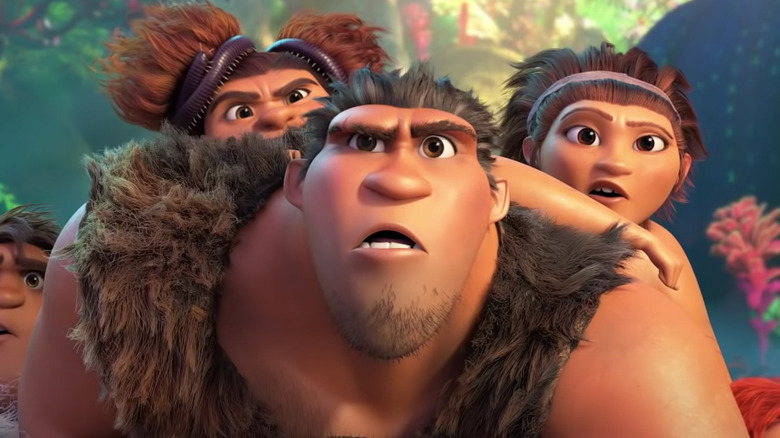 (Welcome to Tales from the Box Office, our column that examines box office miracles, disasters, and everything in between, as well as what we can learn from them.)
Particularly in light of his recent output, it's hard to think of a more remarkable career than that of Nicolas Cage. The man has had insanely high highs such as his Oscar-winning performance in "Leaving Las Vegas" and his starring role in blockbuster hits like "National Treasure." He's played a Marvel Comics superhero (Ghost Rider), he's starred in more direct-to-video movies than anyone can possibly recall, and he's turned in some legendarily wacky performances (see: "Vampire's Kiss"). He even battled himself in the summer of 1997.
The point is, Cage has had an amazing career that has recently revived itself in a huge way as of late thanks to stellar performances in movies like "Pig" and "The Unbearable Weight of Massive Talent." Yet, for all of his awards-worthy performances and blockbuster films, one stands tall about all the rest as his biggest hit ever: "The Croods."
Yes, somewhat amazingly, it is this 2013 animated family-friendly flick that Cage gets to call the highest-grossing film of his career, sitting above the likes of "The Rock" and "Face/Off." Comfortably so, I might add. DreamWorks' film focuses on a prehistoric family whose cave is destroyed, and they are forced to set out to explore a spectacular landscape, encountering fantastic creatures, strange surprises, and more along the way.
In honor of "The Croods" celebrating its 10th anniversary, we're looking back on the film, its long journey to the big screen, Cage's lack of experience in animation up to that point in his career, how it managed to do far better than anyone expected at the box office, and what lessons we can learn from it a decade later. Let's dig in, shall we?
The Movie: The Croods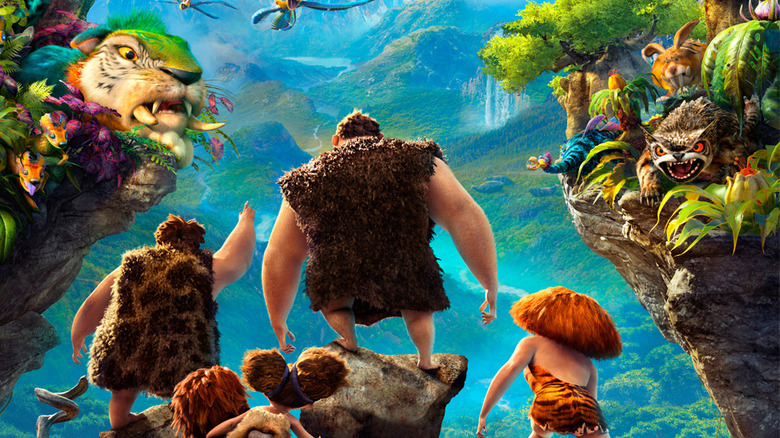 When we talk about movies that got stuck in development hell, this one truly fits the bill. It was originally announced as "Crood Awakening" way back in 2005 as a collaboration between DreamWorks and Aardman, the studio behind "Wallace and Gromit." Initially, comedy legend John Cleese ("Monty Python") was announced as a co-writer, adding more intrigue to the whole thing. Cleese would ultimately receive a "story by" credit. Kirk De Micco and Chris Sanders, who co-directed the film, ended up handling the screenplay and ushering this film through its long, strange journey. As De Micco explained in a 2013 interview with Time Out Chicago:
"We share story credit with John Cleese, whom I wrote original script with. It was really a great experience writing with him. We had written a script together for Disney based on The Twits, a Roald Dahl book, and that movie didn't go. DreamWorks got a hold of it and really liked it, and invited us over to take a look at the projects. It was a kernel of an idea of two cavemen on the run—one was a luddite and one was a wacky inventor. The main theme was the fear of change and technology. John has a definite fear of technology and thinks it's ruining the world. When Chris came [to the project] in 2007, we continued to work on the theme fear of change."
The biggest change that happened along the way is that the movie was originally going to use some form of stop-motion animation, something Aardman is known for. That obviously didn't pan out, in the end. In 2007, Aardman ended its partnership with DreamWorks following a commercially difficult period including the massive flop "Flushed Away." "The business model of DreamWorks no longer suits Aardman and vice versa. But the split couldn't have been more amicable," Aardman spokesman Arthur Sheriff said at the time. Most crucially, the rights to "Crood Awakening" reverted to DreamWorks. Hence, it became a CGI animated film.
The Croods Awakens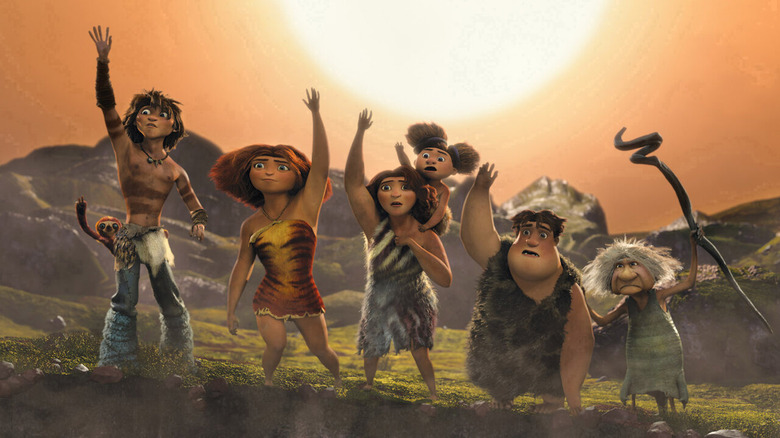 "The Croods" was announced under that title by the studio in 2011, with a 2013 release date eyed. Nicolas Cage was announced as part of the stacked ensemble cast, which also includes Emma Stone as Eep, Ryan Reynolds as Guy, Catherine Keener as Ugga, Cloris Leachman as Gran, and Clark Duke as Thunk. Cage was, in some ways, the odd man out, as he had just started his years-long run in schlock such as "Seeking Justice" and "Stolen." Aside from that, Cage had very little experience in voice work, having only 2001's "Christmas Carol: The Movie" under his belt at that time.
Yet, here was Cage leading the cast of a movie that had a great deal of pressure on it. DreamWorks was in a rough spot financially at the time as movies such as "Rise of the Guardians" had flopped. Cage, ever the thespian, approached the role of Grug with a great deal of respect for the craft. Speaking to Variety in 2013, Cage said the following:
"I know there's been a lot that's been said about animated voice work, as though it's 'you can do this in your jeans and there's no camera and no pressure there. It's no big deal. It's easy.' The truth is, it's really a great test: how deep is your ability is to access your imagination? You have to imagine these other people, these other members of your family are in the room with you. You have to imagine that these animals are attacking you, and you have to imagine you're going to fall off this cliff or get trapped. It's a great way to stay in shape as a film performer."
Cage also didn't learn his lines before heading into the recording booth. "I never want to know my dialogue the night before," he said. "I come in fresh. I want it to be spontaneous. I want there to be an electricity to the experience so it feels like I'm in the moment with the other characters."
The Financial Journey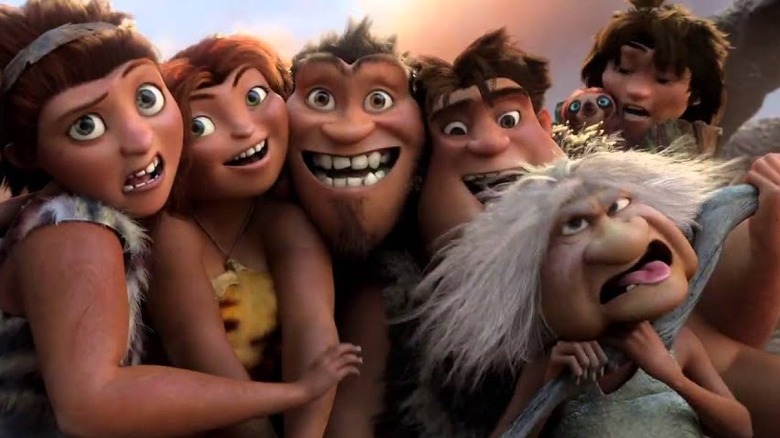 Despite having to shift the release date around a few times, Fox (before it was owned by Disney and before DreamWorks had its deal with Universal) opted to release "The Croods" in theaters on March 22, 2013. As we've seen over the last decade, March can be fertile ground in that pre-summer, spring break window for certain blockbusters. It certainly proved to work well for this film. 
The animated flick, after all its delays and development troubles, debuted atop the charts in its opening weekend, taking in $43.6 million, topping "Olympus has Fallen" and "Admission," which also opened that weekend. While the film would surrender the crown to "G.I. Joe: Retaliation" the following weekend, dropping 38.8%, it still took in another $26.7 million. Audiences were eating it up. Families were eating it up. Word of mouth was good. 
What helped most of all was a tremendous overseas turnout. The film finished its domestic run with $187.1 million, but it did a stellar $400 million internationally, far exceeding expectations. That $587.2 million global haul more than justified the $135 million production budget and, moreover, helped bail DreamWorks out of a rough spot. It also gave Nic Cage a new highest-grossing movie, overtaking "National Treasure: Book of Secrets" ($457.3 million) by a significant margin.
The Lessons Contained Within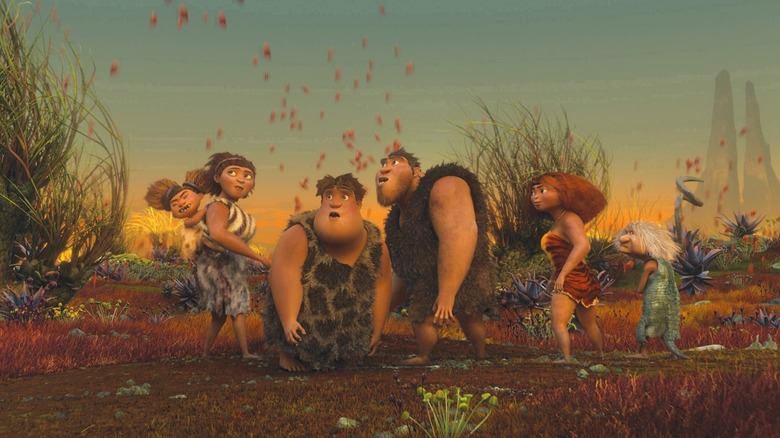 It feels like, even in 2023, animation is viewed as a "less than" medium by the industry at large. No animated film has ever won Best Picture at the Oscars. It is still often viewed as a medium aimed at children that adults can enjoy too. Yet, Pixar has produced some of the most roundly beloved films of all time, DreamWorks has produced some of the biggest franchises in history and, in this case, an absolute cinematic icon in Nicolas Cage counts "The Croods" as by far his biggest movie.
This is a movie that, by the way, lists Oscar-winner Roger Deakins ("Blade Runner 2049," "The Shawshank Redemption"), perhaps one of the greatest living filmmakers of any kind, as a visual consultant. And also, circling back to Cage here, his third-highest-grossing film is "Spider-Man: Into the Spider-Verse," which is arguably one of the most beloved superhero movies in history at this point. Animation is not a genre -- it is a very legitimate filmmaking medium and a vehicle to tell a story in a specific way. Just look at Cage's respect for the craft when it came to his performance, and therein lies the larger point.
Maybe it's finally time we give animation the respect that it deserves. Animation is a gigantic part of this industry and, historically speaking, has been a hugely reliable way to generate global hits that endure as cinematic classics. Looking at this case specifically, even "The Croods: A New Age" managed to make nearly $215 million worldwide even though it was released in the heart of the pandemic in November 2020. That says a lot, and if Nicolas f***ing Cage has this much respect for the medium that gifted him his biggest hit, perhaps the rest of us should do so as well.
Read this next: The 20 Most Underrated Disney Movies You Need To See
The post Tales From The Box Office: 10 Years Later, The Croods Is Still Nic Cage's Biggest Movie appeared first on /Film.