Ten Best Sewing Kits for Children
Crafting is going strong in our house during COVID. During COVID my teens tried some embroidery which got me thinking that most kids need basic sewing skills. I found the kits online with something for just about every age. Here are the ten best sewing kits we found online for your kids.
Related: Easy sewing patterns for girls
Ten Best Sewing Kits for Children
Sure, we will all need to sew on buttons to garments, but sewing is much more than that. Sewing helps kids improve hand-eye coordination and helps them problem solve. Many of these links are affiliate links including Amazon Affiliate links.
Woodland Animals Sewing Kit Animal Sewing Kit that teaches the timeless and dying art of hand sewing and creative play. 6+ ($22.49) (note this is an Amazon Affiliate link)
Monogram cross stitch kit This kit comes with everything you need to create three monogram-inspired hoops. With instructions that guide you through the stitches, it makes a great introduction to this handicraft. 6+ ($34) 
Button sewing kit. This Etsy kit is gives kids basic skills they will need for life. And it's so cute! The kit includes one embroidery ring and fabric, a blunt tip needle, a strand of white yarn and 7 big buttons. The yarn measures approximately 6 feet long. Ages 4+ ($16.95)
Fancy French sewing kit for kids offers older children all the sewing supplies they will need to create dozens of projects. It's a basket full of inspiration. 6+ ($63)
Etsy wooden sewing cards perfect for children to develop first sewing skills. Holes on the card are already made so younger kids sew easily. This craft kit not only gives opportunity to learn first sewing skills but also develops fine motor skills and teaches how to hold pen correctly. Made from wood so younger kids can hold it easy. Sewing kit INCLUDES: 1 wooden sewing card, threads in 4 colors, big eye needle. ($17.65) 

Felt sewing kit is terrific for kids who love to create. This offers ideas and instructions to keep them engaged and offline. Ages 8+ ($29.99) (note this is an Amazon Affiliate link)
Easy felt sewing kit for kids can be a fun playdate to do with a friend. Includes 6 felt purses, sew on accessories, strings and 6 safety needles. 6+ ($17.99) (note this is an Amazon Affiliate link)
Stitched Unicorn Craft kit. This is a fun project that will come with everything you need to complete your handmade embroidered craft. ($10)
Etsy rainbow sewing cards can be sewn and re-sewn with a different color of yarn to keep things fresh. For kids 3+ ($15)
Ann Williams has a great learn to sew kit this classic kit has starter projects like felted animals to get your kids up and running. Ages 7+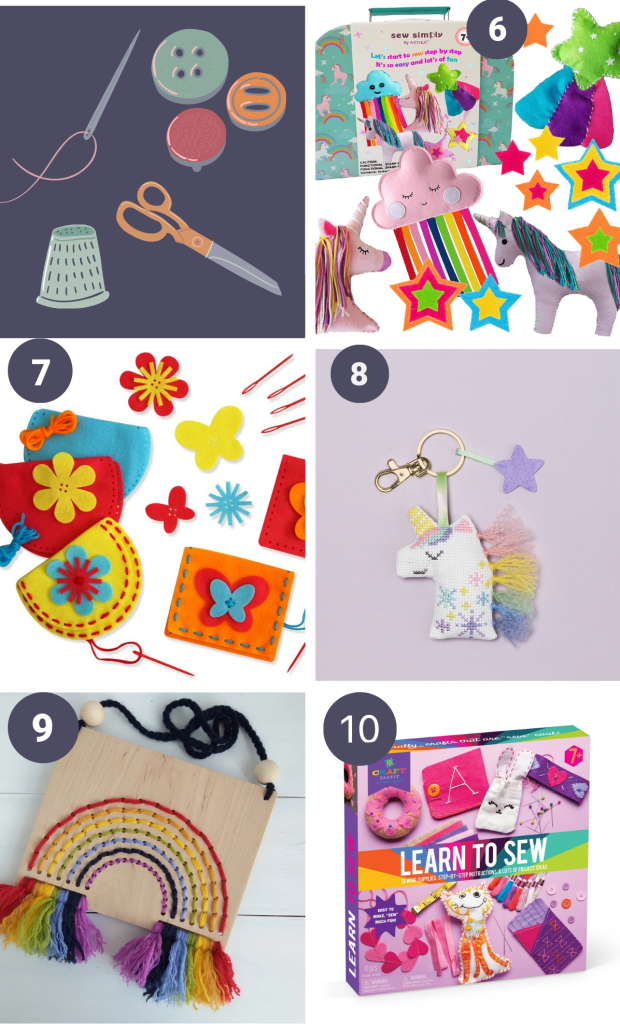 Why we love sewing
Ready to get sewing? Let us know what kit you get and send some photos. Once your kids get the sewing bug, we have some tips to get kids sewing and quilting here. Sewing is a real gift for life, it teaches you and your kids about about perseverance. It also helps with hand-eye coordination, and hey, we all have to replace a button sometimes.
One more! 
Sew Fast is a learning kit and game all in one! We love this game that was a kid invention. It won a toy competition and we think it's mighty cool. It encourages fine motor skills, hand-eye coordination, spatial reasoning, problem-solving. Get Sew Fast on Amazon here. (note this is an Amazon Affiliate link)
MORE KID-CENTRIC FUN FROM MOMTRENDS
PIN IT!
Need more ideas on what to do with the kids? Be sure to follow our Activities to Do with the Kids board on Pinterest here.
Momtrends was not paid for this post. There are affiliate links in this post.