The Annotated Nightstand: What Renee Gladman is Reading Now and Next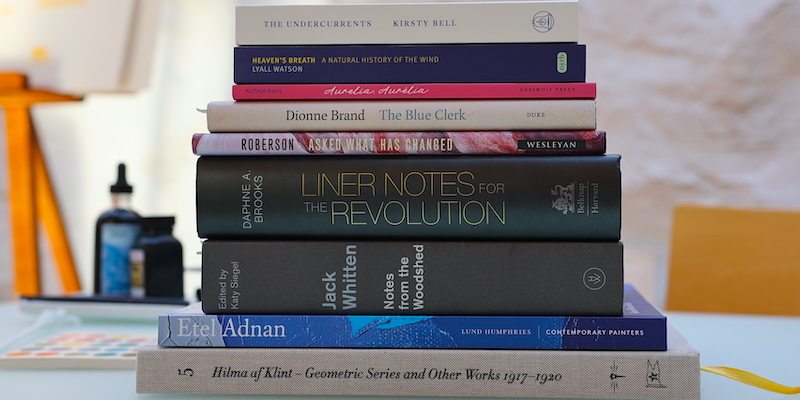 For some time, I ran a series at Entropy in which I would post my own to-read pile along with a guest's. Entropy folded last year, and Lit Hub has graciously agreed to host this funky little project. Below, you'll find a writer's TBR stack, followed by my own commentary on the titles.
*
I first came across Renee Gladman's work relatively far along in her accomplished career. When I finally read her hybrid essay collection Calamaties, I was hooked. Each brief essay opens with "I began the day," and uses this as an entry point to explore a myriad of concerns, in a mesmerizing mode I can only describe as elliptical, philosophical, yet simultaneously specific. Each piece takes you in every direction with a quiet intimacy, with topics that include rollerblading, academia, and decaf coffee. Gladman is also a visual artist, and her latest work Plans for Sentences, out this week with Wave Books, works to manifest the direct connections between the written word and the visual.
In the book, Gladman includes hand-drawn figures alongside poetry. The art pieces are often comprised of indecipherable, loopy script that accumulates into architectural-type structures. Some look like something akin to what you may have seen this morning, others from outer space. Similar to Calamaties, the en face verse always begins with "These sentences," or "These [insert noun]," and seems, by oblique poetic means, to describe the figure. For example, beside one piece that includes spindly lines that provide a cross-section of a structure capped in jellyfish domes, Gladman writes, "The sentences will awn at the end of thought, like stiff canopies."
Gladman tells us:
I have been thinking a lot about color lately (how to make colors with my gouaches and how to group them in interesting ways), so Etel Adnan, and about shapes and figuration, so Hilma af Klint; I am writing a fictional study on wind, so Lyall Watson; I can't get enough of reading books about spaces and cities and poetic being, so Dionne Brand, Kirsty Bell, Ed Roberson; I am drawn to process and people reflecting on their living, so Jack Whitten and Kathryn Davis (and I love a very thin memoir); and for a long time I've wanted to think and write about liner notes as a kind of liminal space or preparatory space for the oncoming of sound, so Daphne A. Brooks.
Kirsty Bell, The Undercurrents: A Story of Berlin
This hybrid work by the British-American author based in Berlin considers the city through personal experience and cultural criticism. Frieze, in its review, states, "The book became an associative thesis on the dangers of repression, from gargantuan acts of genocide to the comparatively subtle shames of familial collapse. That this thesis holds together, while encompassing a personal-to-political range so broad as to test the borders of acceptability, may be this book's most important achievement."
Lyall Watson, Heaven's Breath: A Natural History of Wind
This book was originally published in 1985, and recently republished by the New York Review of Books. In the review of Heaven's Breath in the New Yorker, the statement "Wind is defined as air in motion" becomes a point from which Watson leaps, "spinning out into a dizzying series of explanations, factoids, mini-histories, and cosmic contemplations. Within a few pages, an explanation of wind chill segues into a description of shivering, then moves on to a citation of Darwin's Beagle voyage, the unit of the Clo… the fashions of ancient Crete, rooftop ventilation techniques in Pakistan, and the formation of heat islands in cities."
Kathryn Davis, Aurelia, Aurélia: A Memoir
Davis' memoir is an extended meditation on grief, after the loss of her husband to cancer. "Her husband's memory thrums throughout the memoir, somehow both a presence and an absence. The prose is equally undefinable, caught between poetic and concrete," states the Kirkus Review of Aurelia, Aurélia. "The titular Aurelia was a ship Davis once rode across the Atlantic; as an adult, she would discover a novella by Gérard de Nerval with the same name, but with an accent. 'Aurelia,' she explains further, is the Latin translation of the Greek word for chrysalis…emblem of metamorphosis and hiddenness.'"
Dionne Brand, The Blue Clerk: Ars Poetica in 59 Versos
I have been compelled by Brand's remarkable work since a brilliant friend put A Map to the Door of No Return into my hand. The jacket-copy describes The Blue Clerk thusly: "On a lonely wharf a clerk in an ink-blue coat inspects bales and bales of paper that hold a poet's accumulated left-hand pages—the unwritten, the withheld, the unexpressed, the withdrawn, the restrained, the word-shard. In The Blue Clerk renowned poet Dionne Brand stages a conversation and an argument between the poet and the Blue Clerk, who is the keeper of the poet's pages. In their dialogues—which take shape as a series of haunting prose poems—the poet and the clerk invoke a host of writers, philosophers, and artists."
Ed Roberson, Asked What Has Changed
Roberson's latest poetry collection comes with high praise from the inimitable Evie Shockley, who states, "From his current vantage point, twelve stories above Lake Michigan and eight decades into an African American life, Roberson's view encompasses what is both the mark of his apartment's 'luxury' status and the 'source of Chicago's smelly tap water.' Another breathtaking contribution to his inquiry into how black aesthetics can sharpen our understanding of local and global ecosystems, this work teaches us not simply to look, but to see."
Daphne A. Brooks, Liner Notes for the Revolution: The Intellectual Life of Black Feminist Sound
The critic and academic Brooks' book is described as the opportunity to read "an epic journey through radical sound from Bessie Smith to Beyoncé. Daphne A. Brooks explores more than a century of music archives to examine the critics, collectors, and listeners who have determined perceptions of Black women on stage and in the recording studio." In its review, the New York Times stated, "'Liner Notes' is in explicit conversation with 'Lipstick Traces,' Greil Marcus's genre-bending study of punk; both books seek to uncover a subterranean current between artists and thinkers who may never have been aware of one another, following the path from sound to idea and back again."
Jack Whitten, Notes from the Woodshed
This is a collection of written work of American visual artist Jack Whitten. The publisher states, "curator and writer Legacy Russell explains in a January 2021 conversation on Whitten with cultural theorist, poet, and scholar Fred Moten, 'The definition of 'woodshed' comes from the world of jazz. To go to the woodshed or to woodshed means to practice in private, which gives room for different types of experimentation, but also suggests a space where real and rigorous work can be possible, where rehearsal and radical vision away from a particular type of gaze has been vetted before it enters into a public realm.'"
Kaelen Wilson-Goldie, Etel Adnan
I have loved Adnan's work for some time, especially her collection Night. Admittedly, it was only after her recent death I read more about Adnan's life and I learned about her remarkable visual art. Lynne Tillman describes her art as "vivid and stark… Her oeuvre is born of a unique sense of place and displacement, and both infuse her paintings." The jacket-copy for the book explains, "This is the first book to present a full account of Adnan's fascinating life and work, using the drama of her biography, the complexity of her identity, and the cosmopolitan nature of her experience to illuminate the many layers and dimensions of her paintings and their progress over several crucial decades."
Hilma af Klint: Geometric Series and Other Works 1917-1920
I know I have been very late to join the Hilma af Klint party, but perusing information on this book has pushed me in the door. The book collects specific pieces illustrating af Klint's images that reference botany and science. The publisher states, "During the last years of the 1910s, Hilma af Klint created several series of small paintings in which she systematically explored an abstract idiom with the help of ruler and compasses. The triangles, squares, circles, and ellipses that appear here in constantly new constellations express a spiritual dynamic, according to af Klint's notebooks from these years. Hilma af Klint considered this work a kind of research, and she used "spiritual scientific" methods—a term borrowed from anthroposophy—in order to understand the evolution and development of mankind."