The Best Ontario Maple Syrup Getaway For a Sweet Spring Escape
Winter may still be holding on as March rolls around, but there's a certain feel to the air. You can feel the changing of the seasons and what better way to celebrate the coming of spring than with the sweet nectar Mother Nature provides… maple syrup! There are a number of fantastic ways to celebrate from maple syrup festivals to unique excursions. If you're looking to spend a weekend indulging in all things sappy, you'll want to head to the Headwaters Region for the best Ontario maple syrup getaway!
Disclaimer: This post contains affiliate links where if you make a purchase, I may receive a kickback at no extra cost to you. It helps keep IBB alive so thank you!
Things to Do On Your Ontario Maple Syrup Getaway
There are a number of maple syrup producers throughout the area and across Ontario, many of which are kind enough to open their farms so that we can enjoy a sweet experience. Check out these top things to do during your Ontario maple syrup getaway!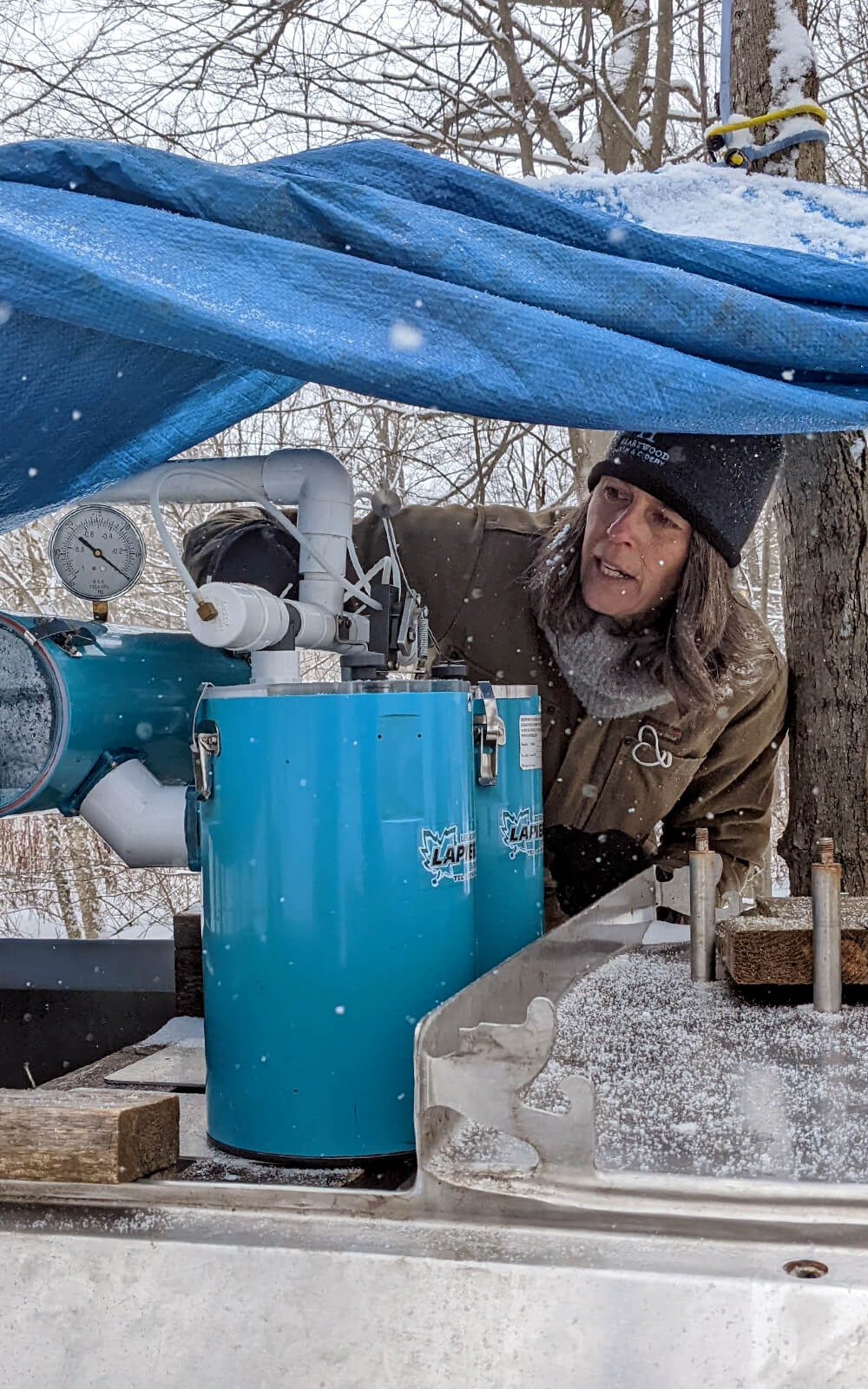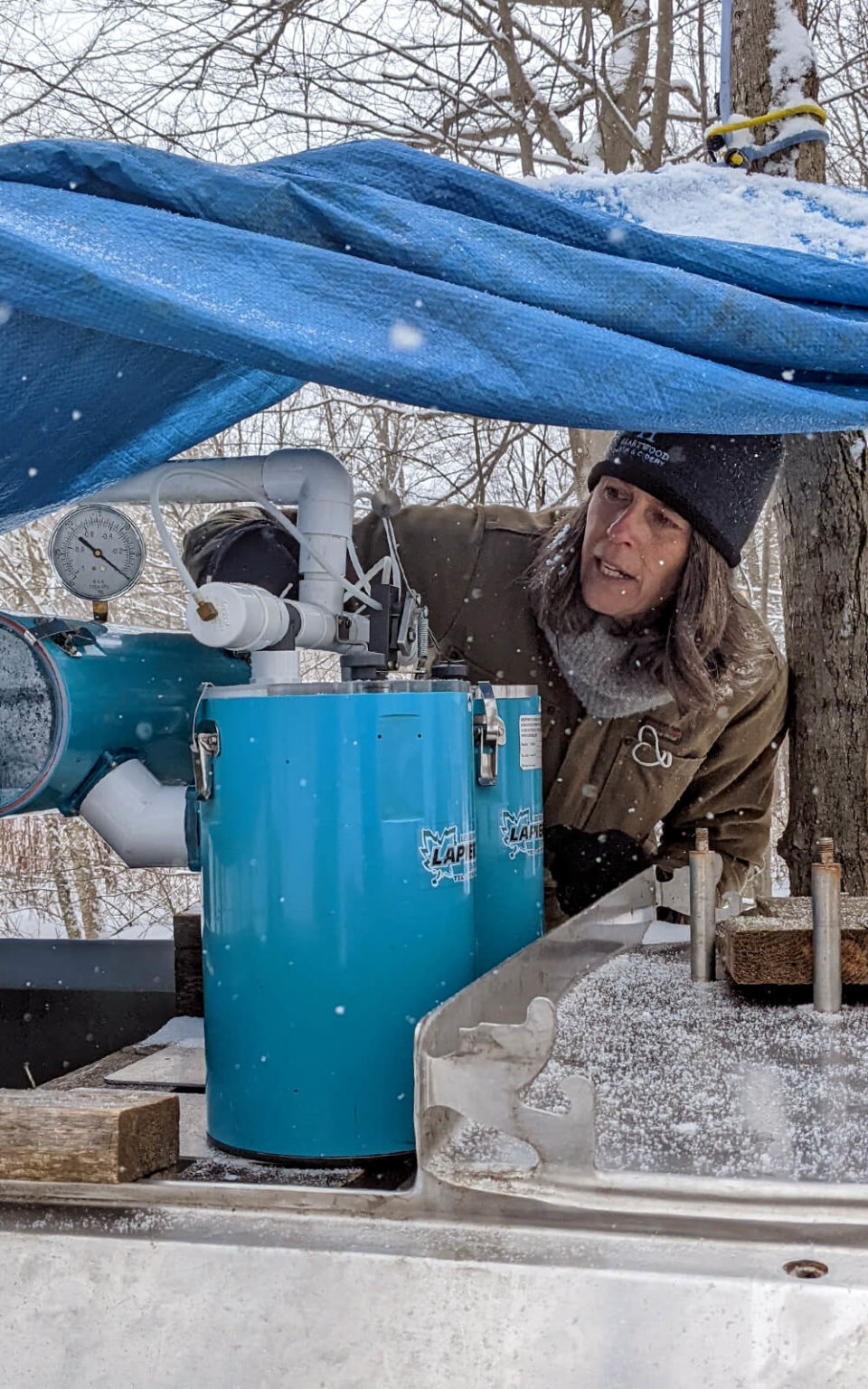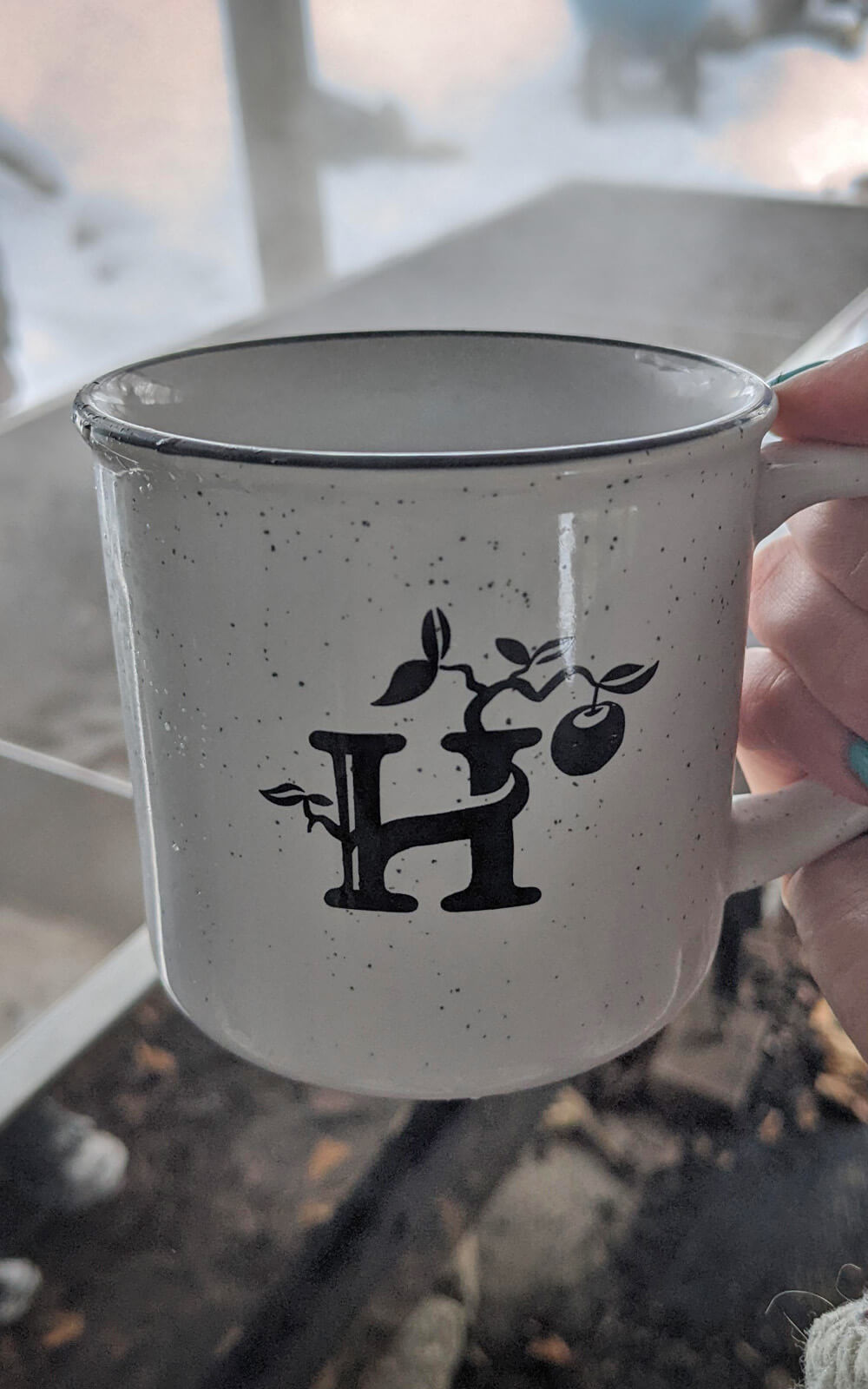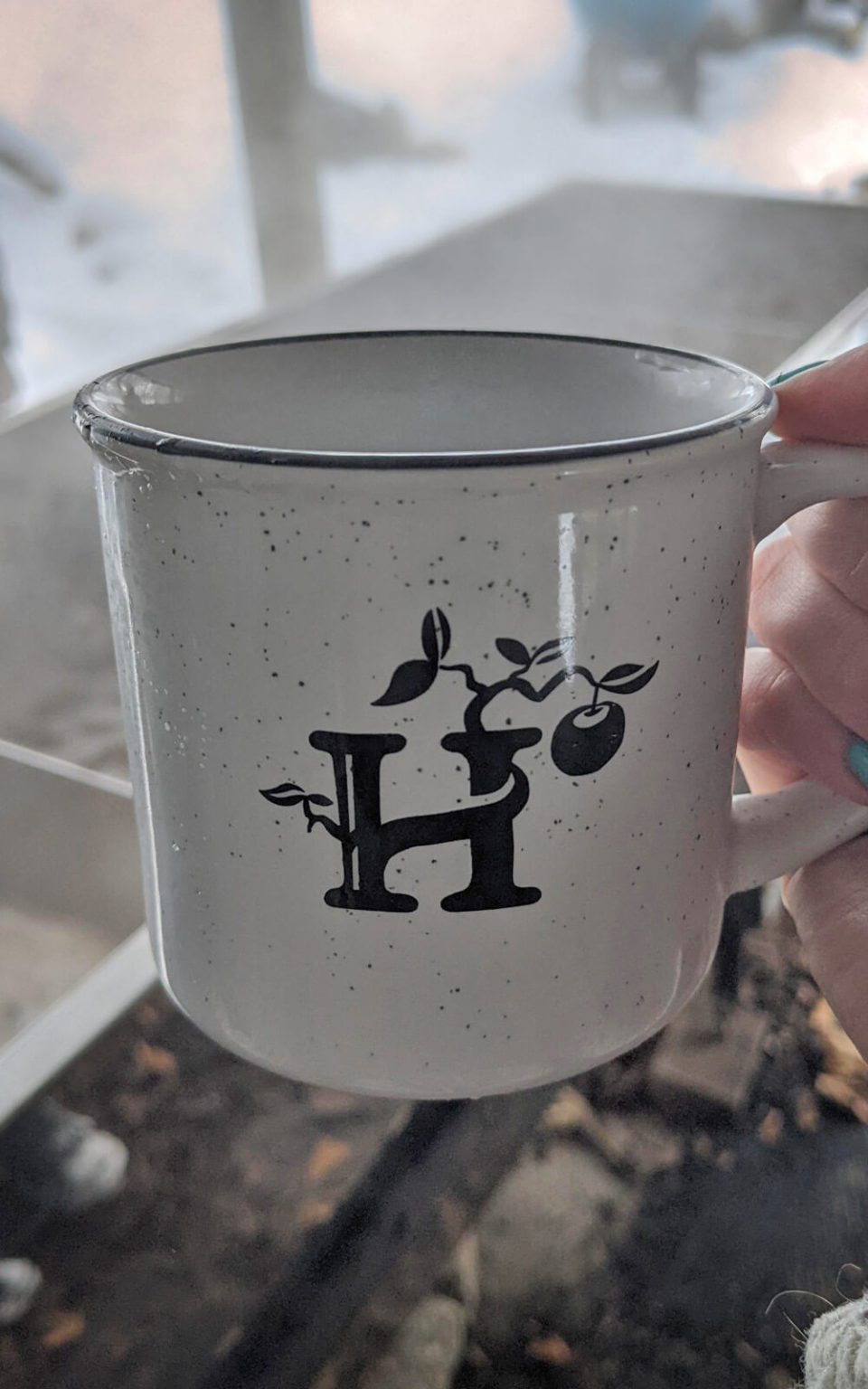 Sugarbush Secrets at Heartwood Farm & Cidery
To say that Heartwood Farm & Cidery is a special place is an understatement. Owners Val and Brent are not only passionate about their regenerative agricultural farm but sharing the beautifully complex systems you'll find here with others. Their excitement over the bio-diversity and interconnectedness of each living plant, animal and process is contagious and will have you thinking more deeply about the planet and our impact upon it. Stop by to experience the rural charm that Heartwood has in abundance.
In the late winter and early spring, Heartwood offers guests a peek at the sugar brush on their property. Their Secrets of the Sugarbush experience is geared more towards adults and will teach you all about the fascinating process of making maple syrup and the science behind it. Val and Brent will share with you their fascinating vacuum system used to collect the sap while educating you about sap production. You'll then head over to the boiling station where you get to sample the various stages from sap to syrup and the regulations to ensure that the sweet nectar we enjoy is up to par thanks to the Ontario Maple Syrup Producers' Association.
If you're looking for an Ontario maple syrup adventure that's fun for all ages, check out their Family Sugarbush and Farmyard Adventure. This tour won't go as in-depth as their Secrets of the Sugarbush in regards to Ontario maple syrup production, however it allows for more free time that kids will enjoy. After a guided trek through the sugarbush, folks will enjoy a farmyard adventure where you'll visit with Heartwood's pigs, chickens, sheep, llamas, cows AND horses. With all of those fun characters, it's guaranteed to bring out the kid in everyone!
Heartwood offers these experiences based on the syrup season. As long as the trees are still producing, they'll be available! Take a look at their website for more details and to book your experience.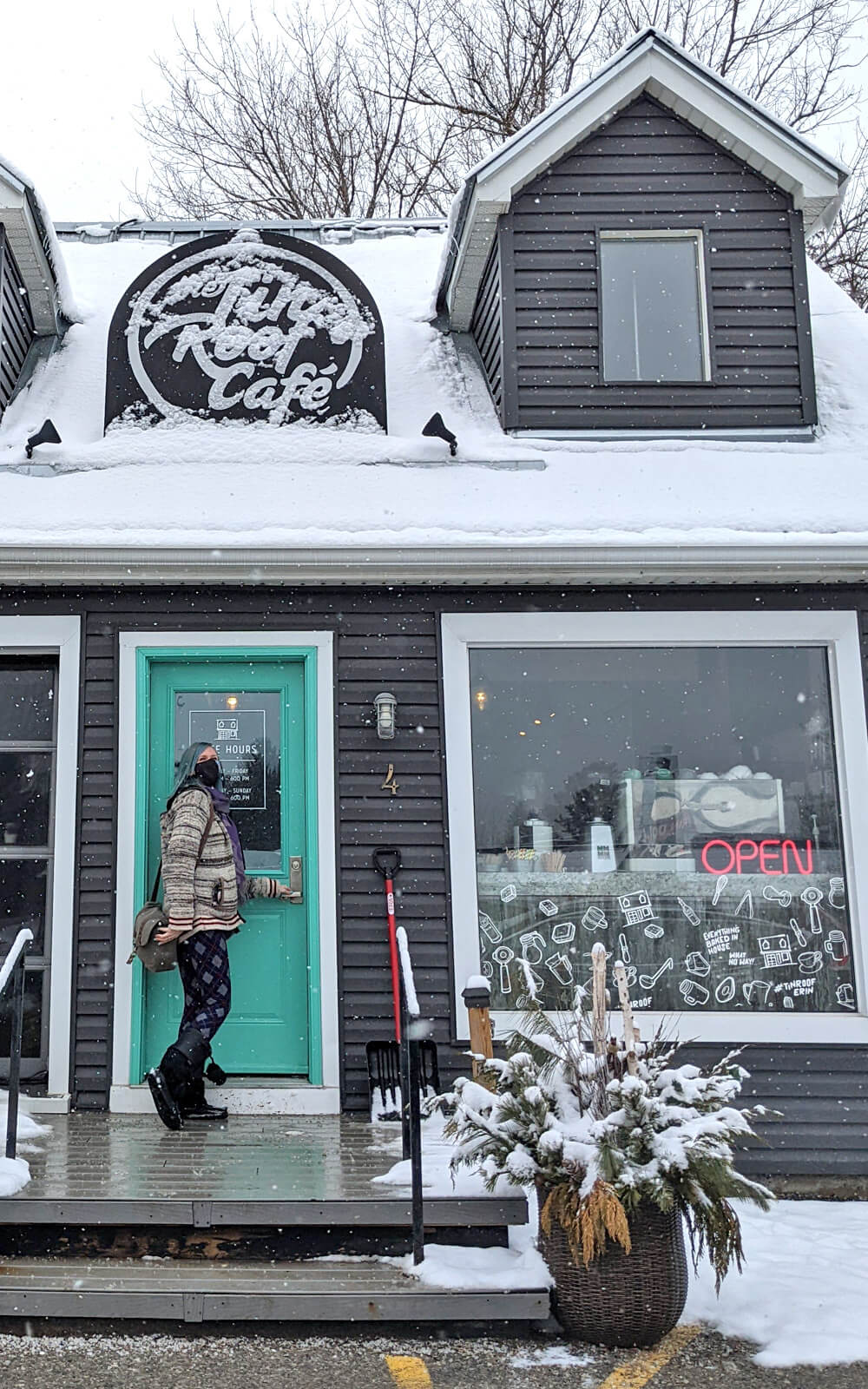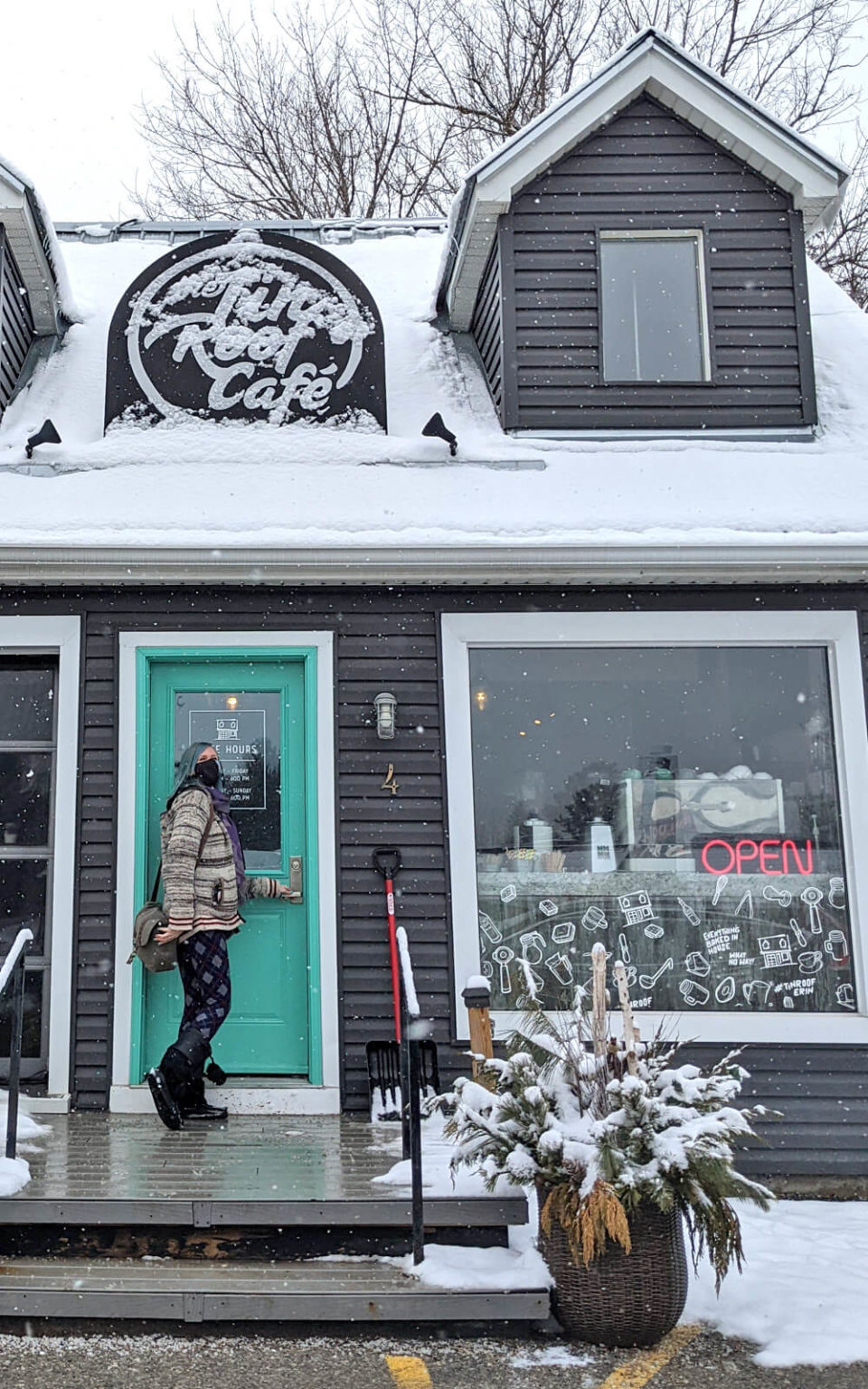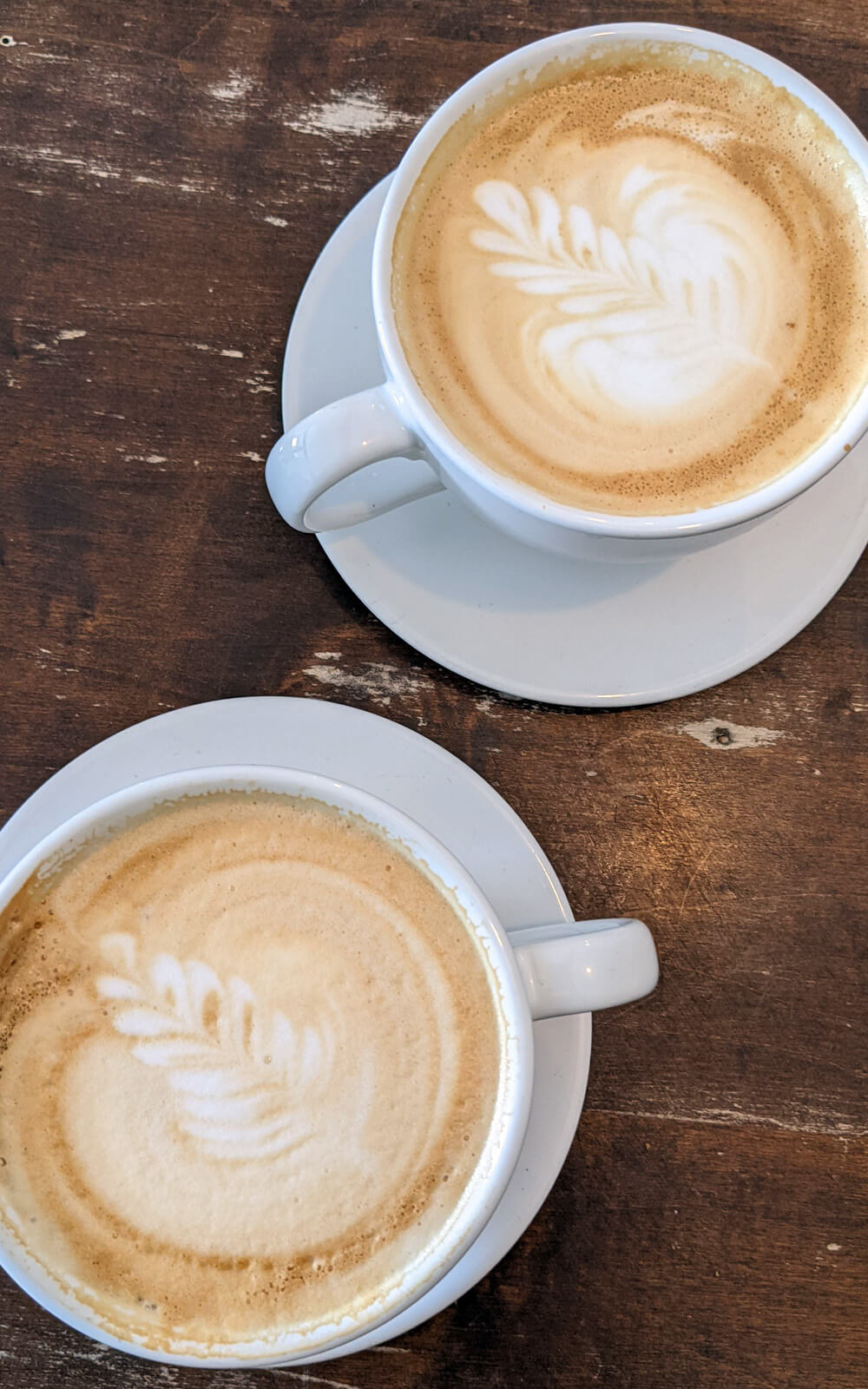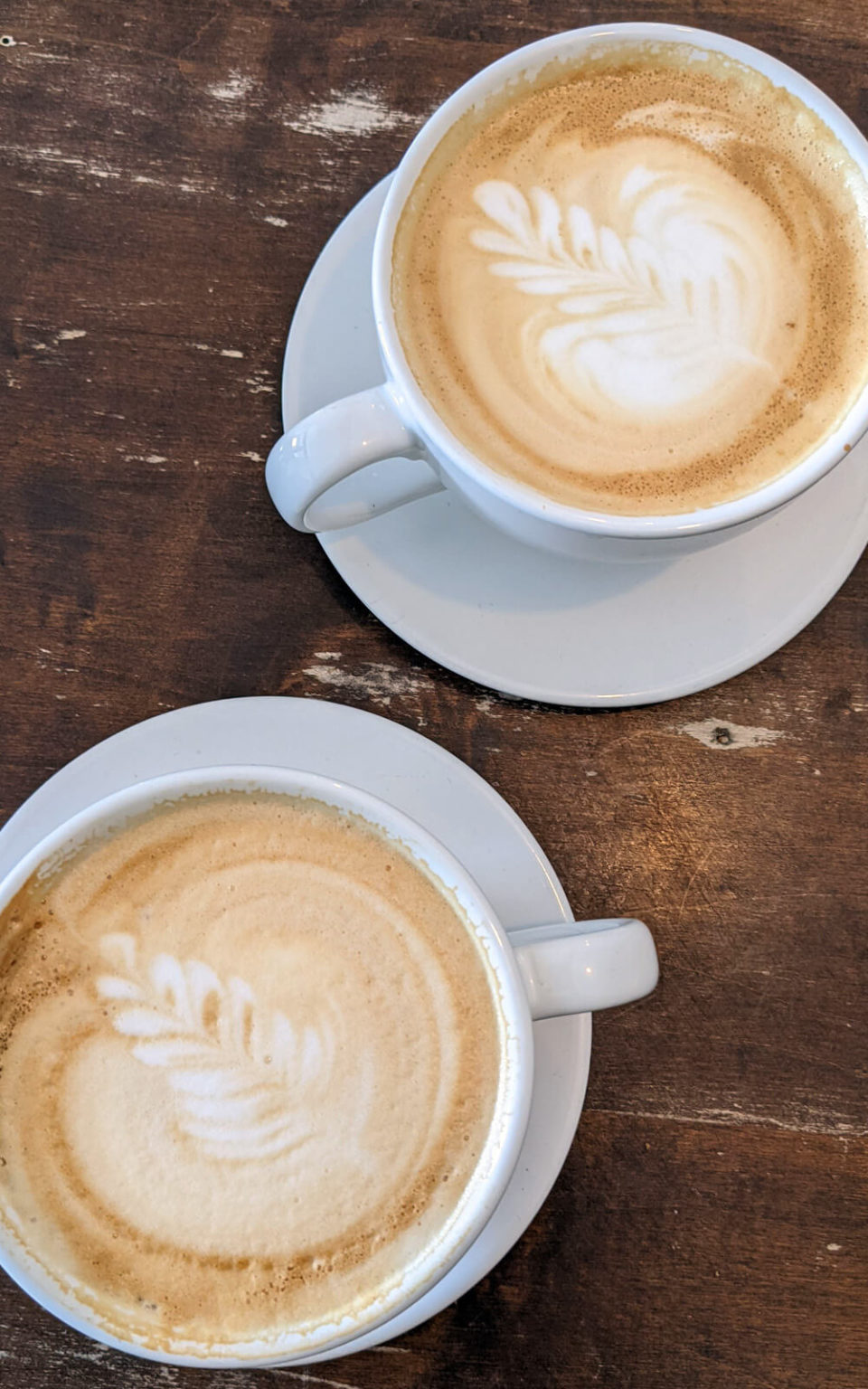 Grab a Maple Latte from the Tin Roof Cafe
No getaway is complete without a solid cup of coffee so head into the town of Erin where you'll find the Tin Roof Cafe. This family-owned and operated business has been around since August 2015 serving up lattes, teas and eats including delicious sandwiches and soup. Here you'll find locally roasted coffee along with high-quality goodies that are made in-house every day from scratch using only the best ingredients. 
You honestly can't go wrong with any of their beverages with unique flavours like their lavender white mocha or their white blueberry tea latte. However, we're here on a maple mission – so that is what we shall get! Be sure to order a maple latte sweetened with local maple syrup from Willow Creek Farm on the outskirts of town. Take it to go or settle into one of their cozy seats upstairs where you'll get a bird's eye view of this fabulous cafe.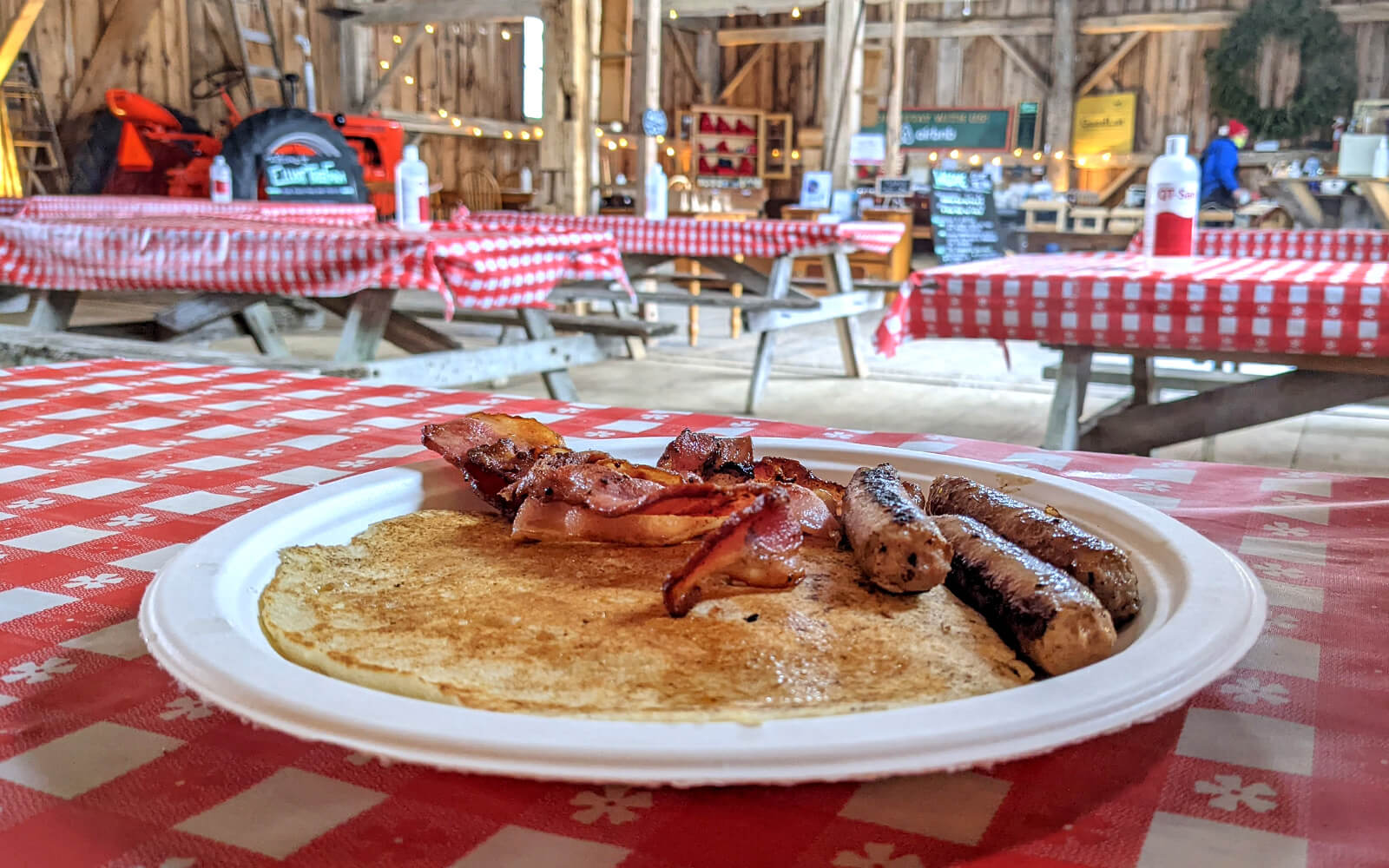 Sugar Bush Experience at Elliott Tree Farm
Elliott Tree Farm is a big name in this area come Christmas time as it's the go-to spot for fresh festive trees. However, they've recently opened their sugar bush so that locals and visitors alike can enjoy all the fun that comes with maple syrup!
In their second year now, Elliott Tree Farm offers a wonderful weekend sugar bush experience. Upon arriving at the farm, head to their gorgeous heritage barn that dates back to 1850. This is where you'll start your visit with a fresh pancake breakfast complete with sausage, bacon and maple syrup from the sugar bush! As if that wasn't enticing enough, it's all you can eat pancakes so come hungry!
Once your belly is full and you're fuelled for the day, it's time to head over to their sugar bush. Here you can enjoy the gifts of their sugar maples as you sample sap straight from the tree, maple sugar and some tasty maple taffy. Take a peek at the process as they boil the sap to make syrup and then settle in to learn more about the history of making maple syrup and what the process entails. If Fred's the one giving the presentation, you'll be captivated by his storytelling as his enthusiasm for the craft is infectious!
Afterwards, spend some time cozying up by the campfire and taking a peek at the sap buckets in the sugarbush. As the weather gets warmer, conditions can become muddy so come prepared with boots and warm clothing! Stop by and say hello to the horses on your way out and pop by the heritage barn where your adventure began to pick up any maple goodies you'll want to take home with you.
With two time slots available, even the late risers can enjoy some maple fun. Visit their website online for full details and to purchase tickets.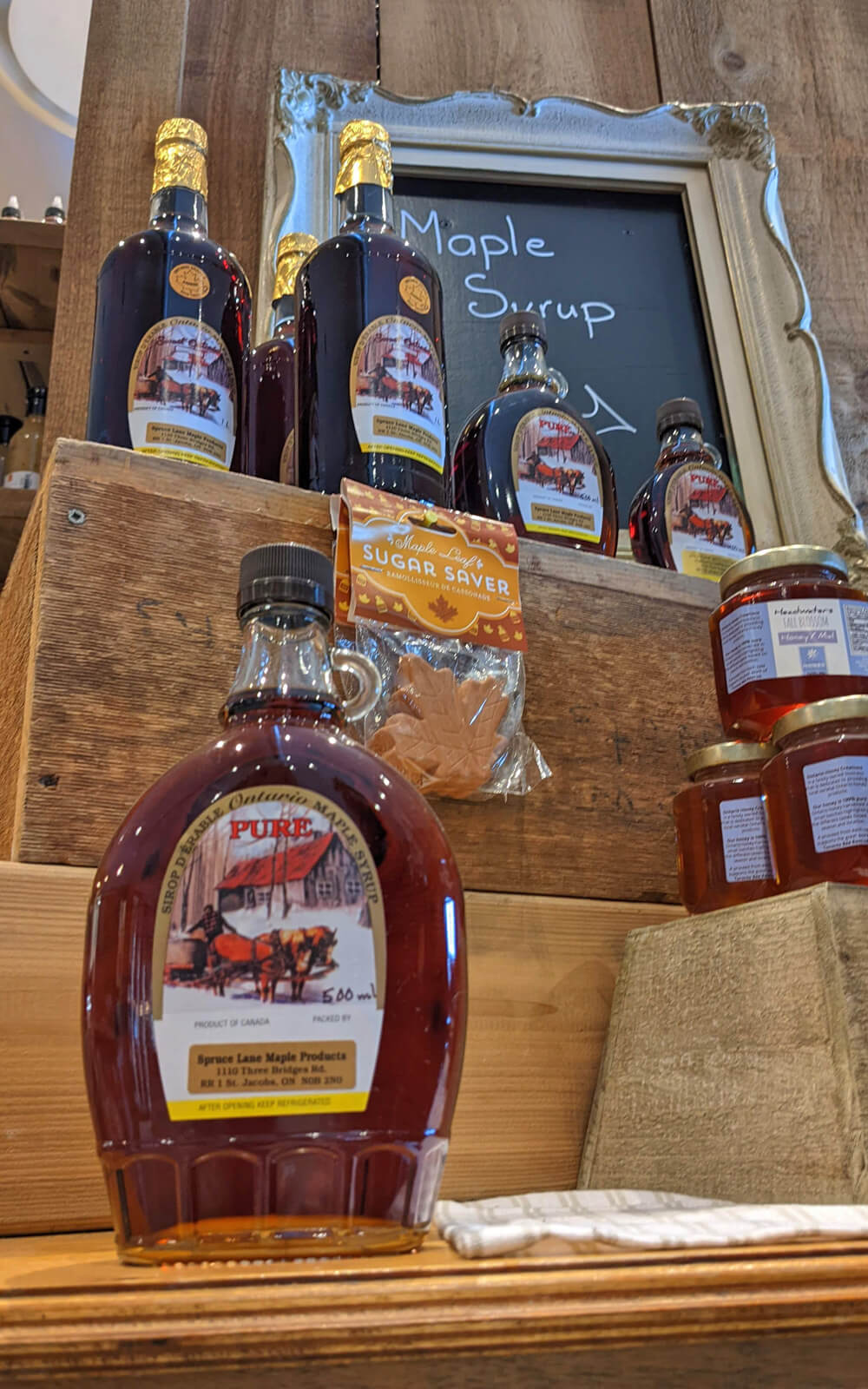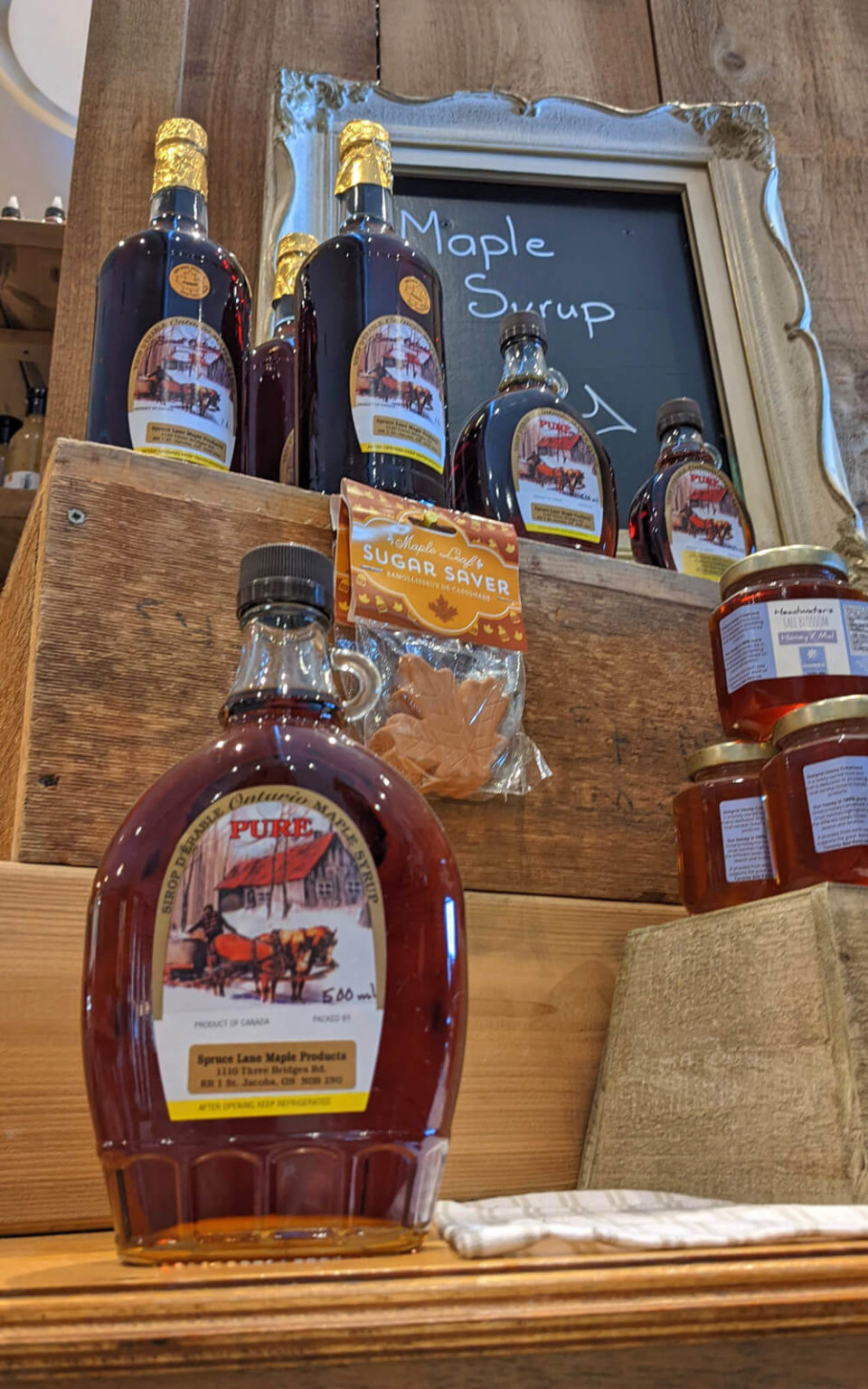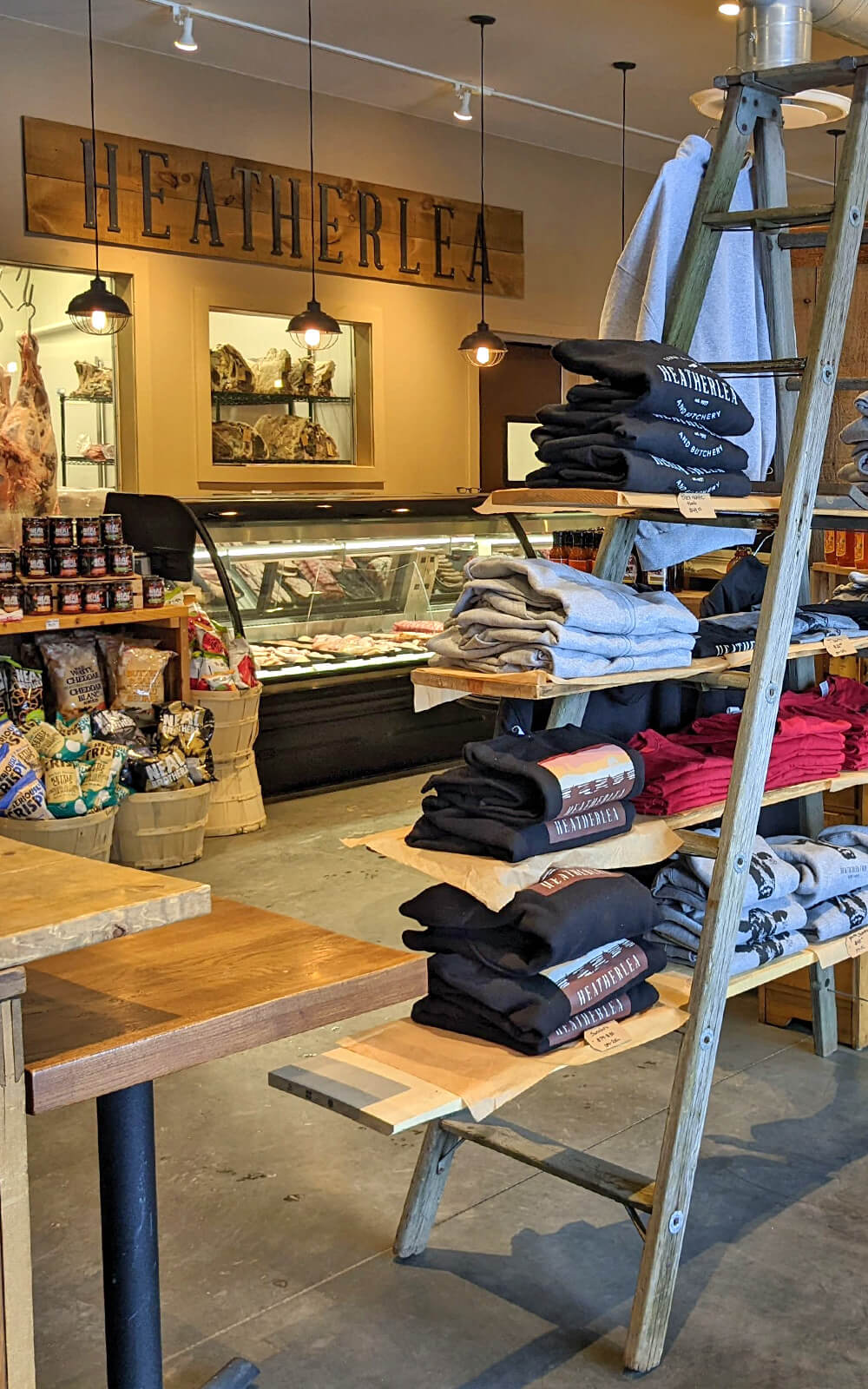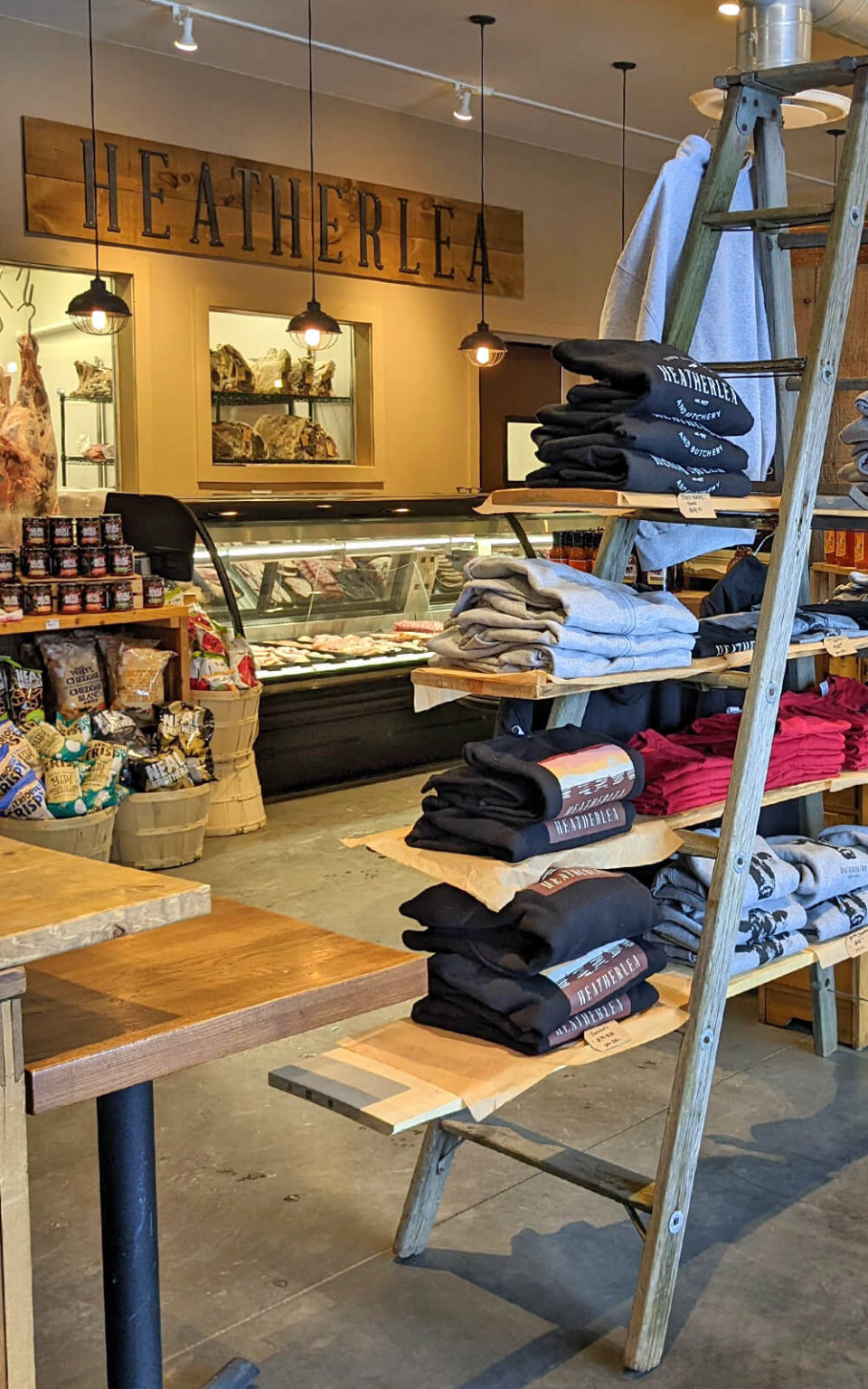 Grab Some Maple Goodies at Heatherlea Farm Shoppe
While the end of winter puts maple in the forefront of our minds, let's be honest here – maple is always a good idea, no matter what time of the year it is. Heatherlea Farm Shoppe is your year-round destination for all things maple!
Throughout their store, you'll find a variety of maple products as they carry a curated selection of specialty items from over 50 local farmers and producers. I spied maple fudge from Sasha's Sweets, maple whiskey barbecue sauce from Kozlik's, maple sugar shortbread cookies from Wicked Shortbread in Orangeville, maple cheddar cheese from Black River Cheese and more! You can always count on there being maple syrup too like the sweet stuff from Spruce Lane Farms in St Jacobs.
Heatherlea is also special in that this family-run shop offers fresh, high-quality artisan meats, snacks and treats, much of which is sourced directly from their farm. They've been raising their pasture-fed Black Angus beef here for almost 50 years! You won't find any growth hormones or antibiotics in these tender meats and it shows in the quality of their cuts. There's a reason folks travel from all across the region, Toronto and beyond to stock up!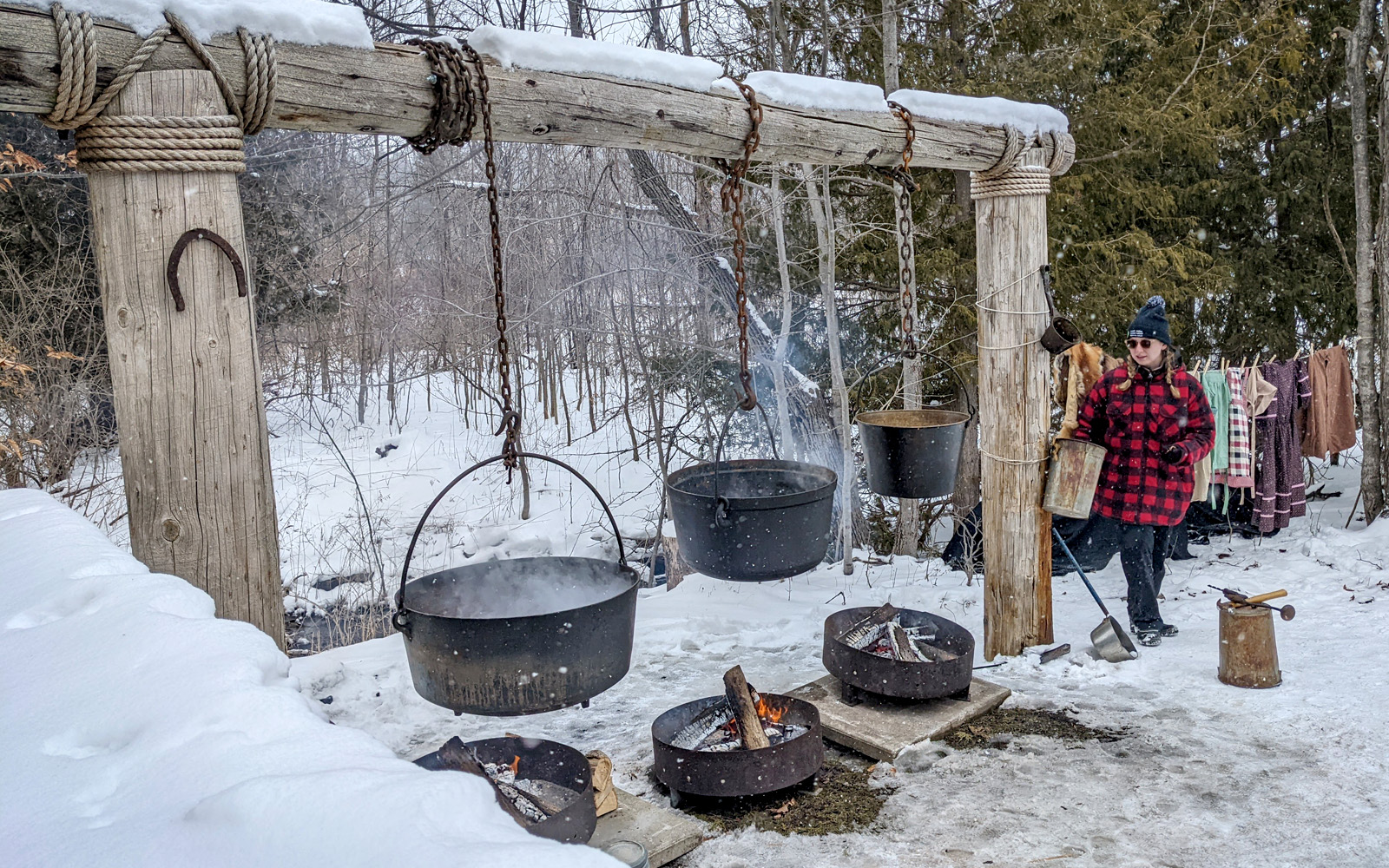 Maple in the Park at Terra Cotta Conservation Area
Terra Cotta is a popular spot for a hike in Halton Hills as this 485 acre park offers over 12 kilometres of trails for visitors to explore. As one of the most environmentally-significant areas within the Credit River Valley, it has been restored to its natural state after serving as a campsite with mini golf and swimming pool for many years.
Every spring, Terra Cotta Conservation Area offers their Maple in the Park event where on select weekends and throughout March Break, they offer a trip through various stations in the park for some maple-themed educational fun. From demonstrations of traditional sap collecting methods to the tools utilized and what the future holds for maple syrup in regards to climate change, there are plenty of fun facts to be learned! Make sure to visit each of the five stations: the Sweetwater Discovery, Settled into Spring, The Tool Shoppe, The Sugar Shack, and the Changing Seasons.
What I found the most impactful was their emphasis on the Indigenous history and teachings surrounding maple syrup that I have not seen elsewhere. Working with local partners from the Mississaugas of the Credit First Nation, visitors are fortunate to have the opportunity to learn about the importance of this time of year and the Indigenous teachings behind it as we move from winter into spring. This is dependent on the availability of members from the Mississaugas of the Credit First Nation so if you're very interested in attending while this is happening (which I cannot recommend enough!) then be sure to check with Credit Valley Conservation for exact times.
If you're looking to indulge in that sweet maple goodness, you can enjoy some eats (for an additional cost) at their pancake house, tap into their maple taffy and grab some goodies to go at the park. Afterwards, be sure to walk off that sugar with the adorable Storybook Walk and if the little ones still have energy, send them over to the outdoor obstacle course.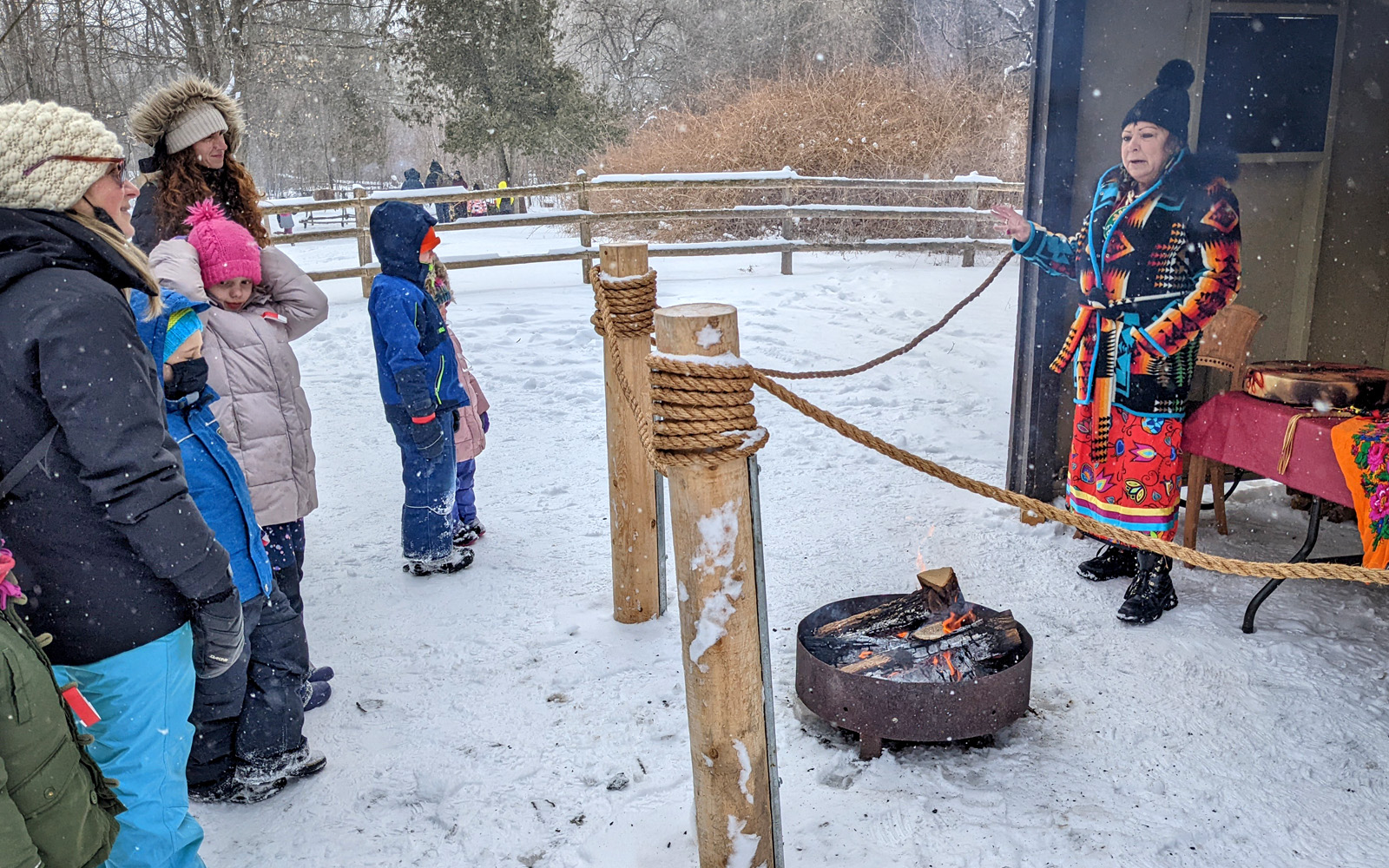 Evening of Maple at Island Lake Conservation Area
Credit Valley Conservation offers their Maple in the Park not just at Terra Cotta but also at Island Lake Conservation Area. However, there's an extra special offering at this natural spot in Orangeville! During the evening of April 1st and 2nd, the folks at Island Lake have their Maple Syrup by Lamplight event where you can enjoy all the sappy goodness with an adult spin! You'll still learn all about the captivating process behind manufacturing maple syrup but you can also enjoy maple-themed cocktails by the campfire as the sun goes down. It makes for a perfect maple-themed date night and a fabulous way to celebrate the arrival of spring!
INSIDER TIP: If this isn't enough maple goodness for you, there are even more events and activities happening across the York, Durham and Headwaters Regions. Check out the round up here!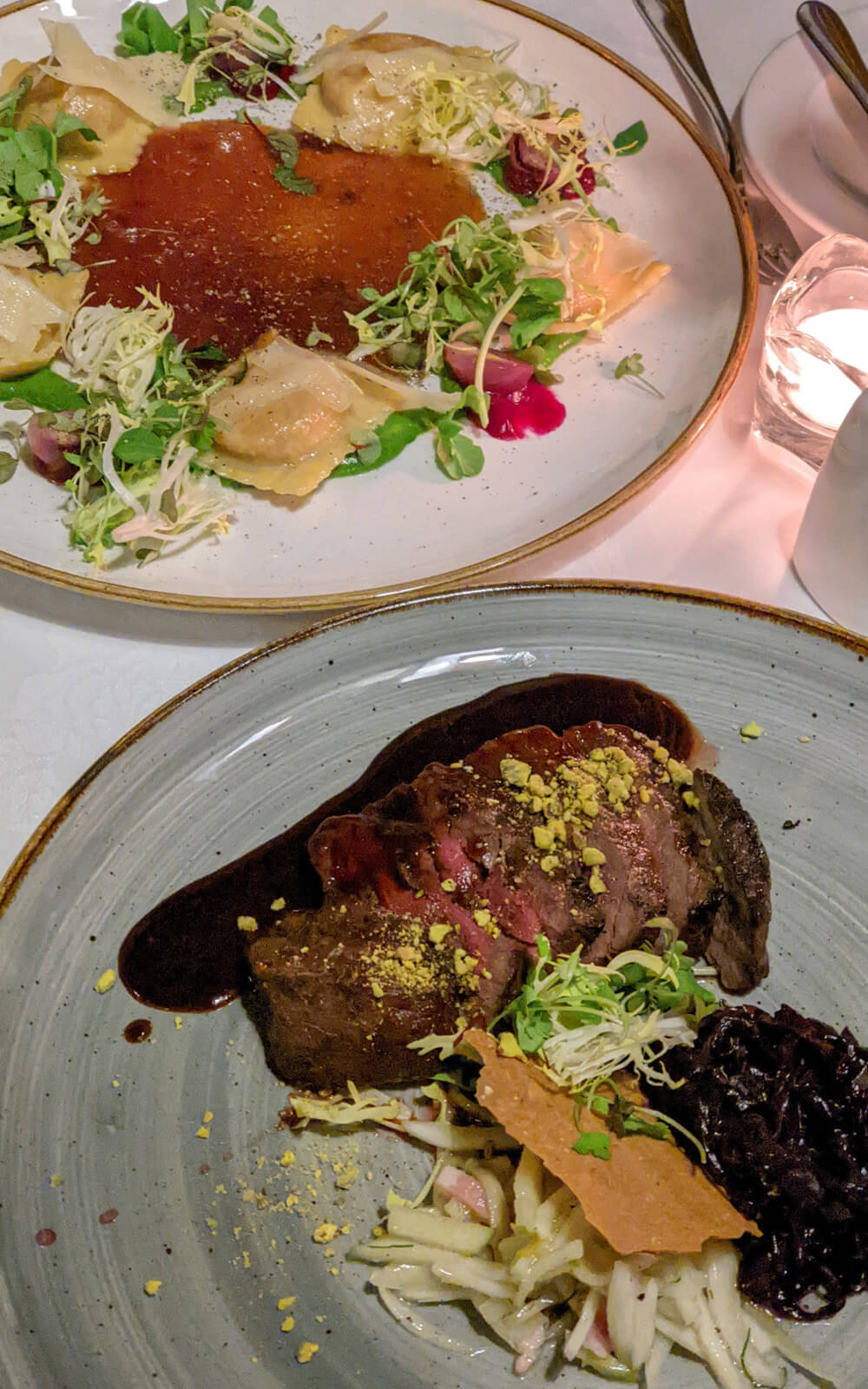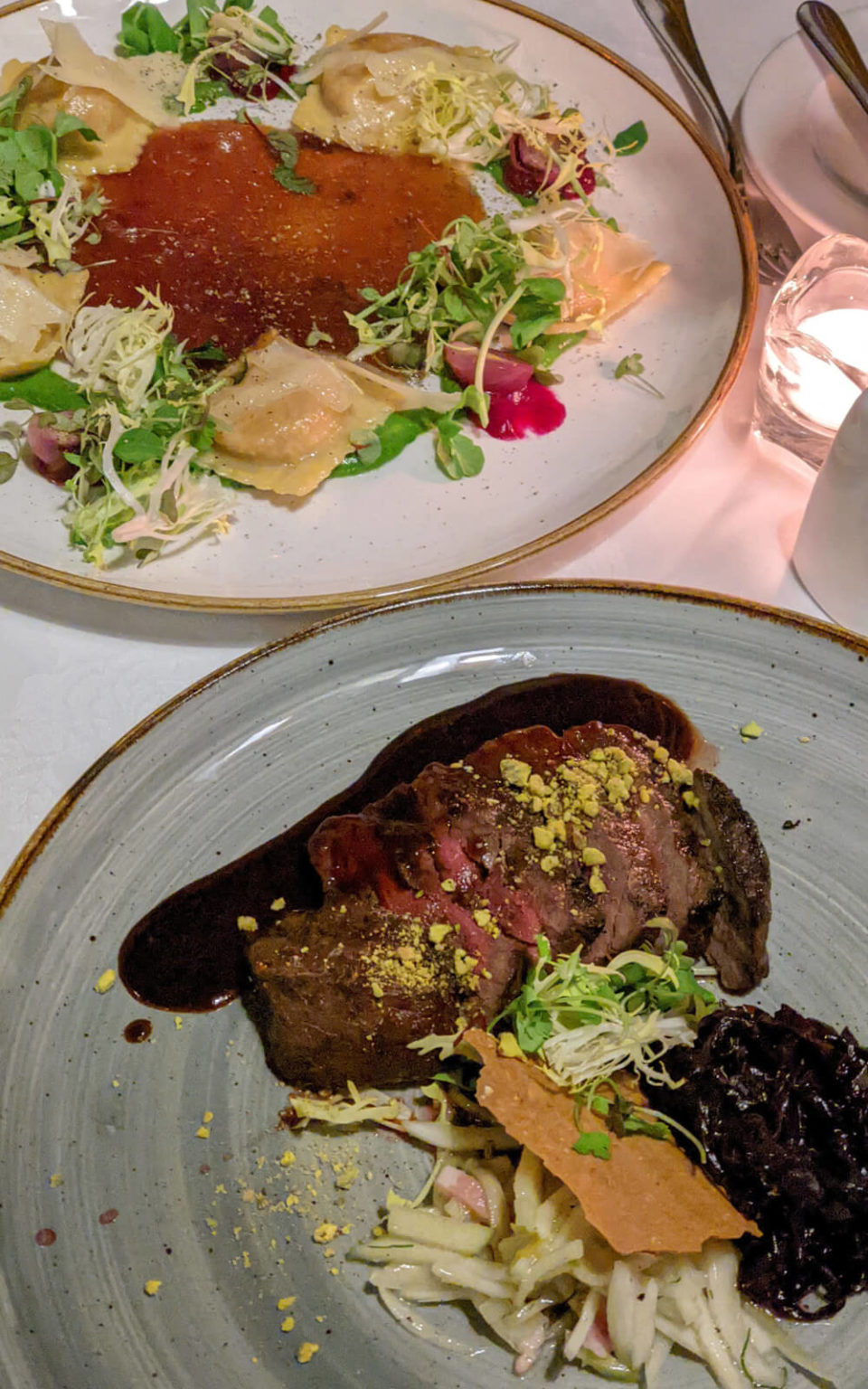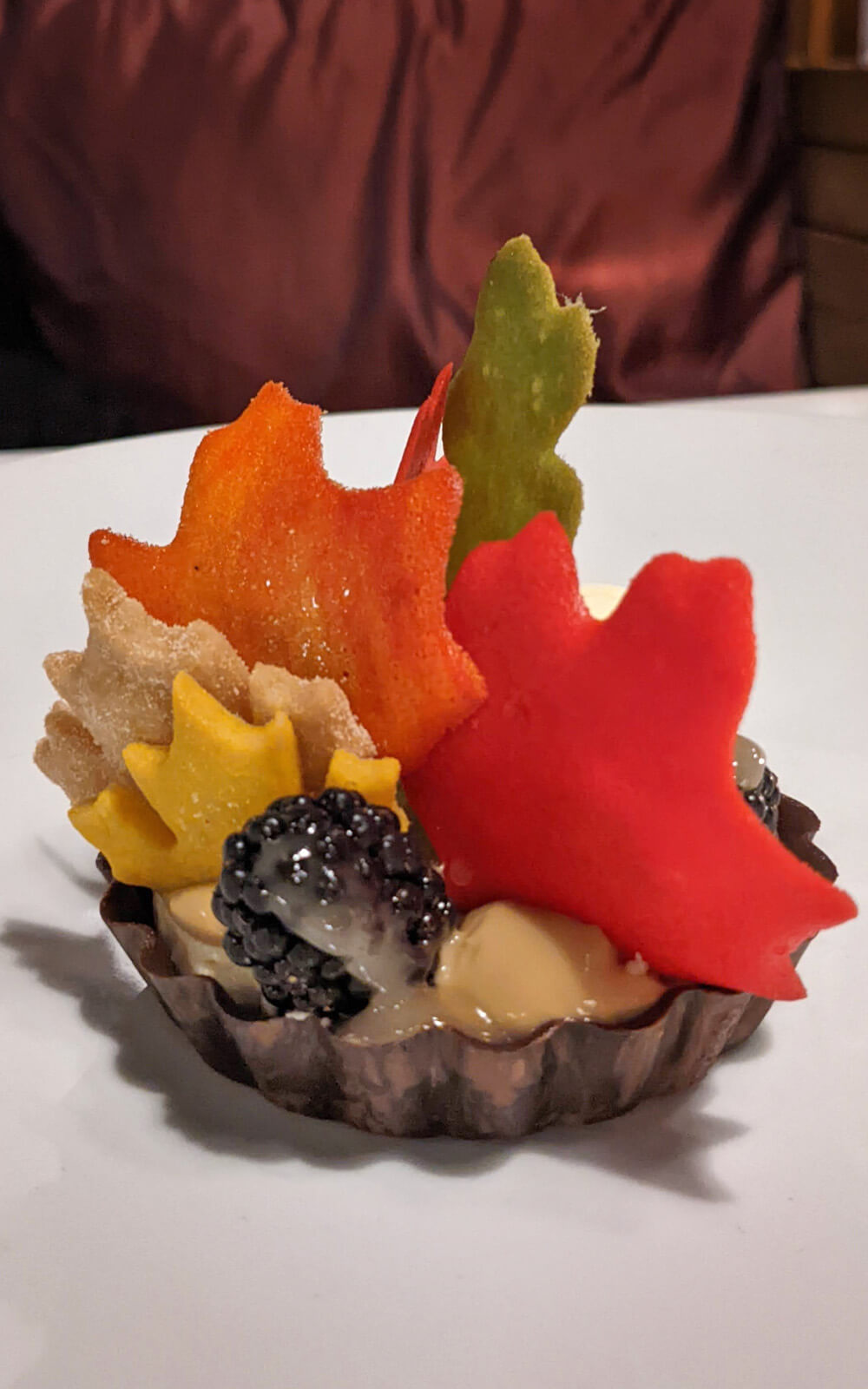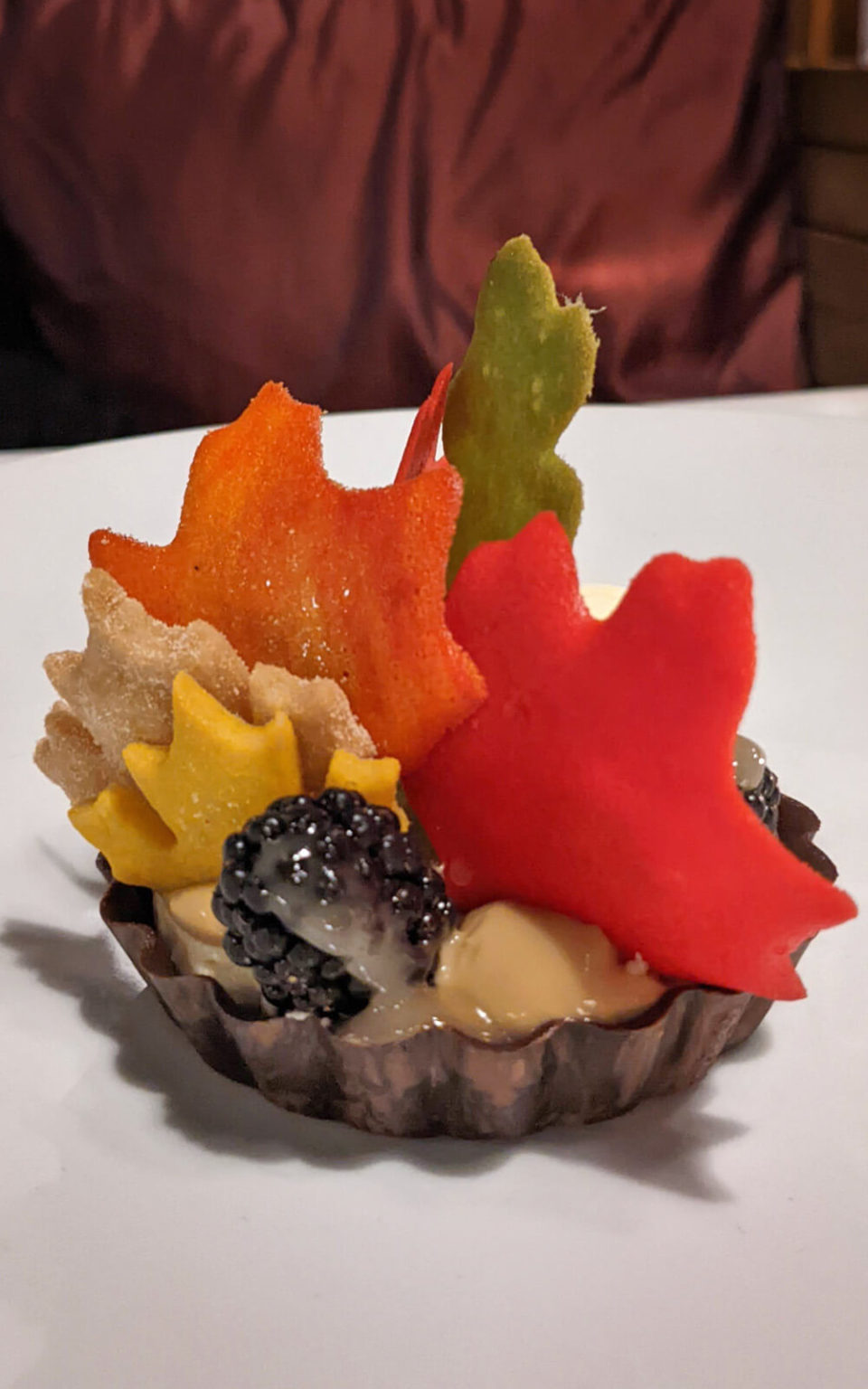 Maple-Themed Eats For Your Stay
While there is no shortage of maple treats to be had, there are certainly some fantastic restaurants in the Headwaters Region that will ensure you're fuelled for your adventures.
Headwaters Restaurant at the Millcroft Inn
There is no better place to enjoy some maple eats and treats than the Millcroft Inn & Spa's Headwaters Restaurant. You'll be treated to mouthwatering meals in a beautiful ambiance as you overlook the Mill Pond and Shaw's Creek Falls. Let me share what I would recommend from their delectable menu for the perfect meal of maple.
To start, dig into a bowl of the roasted parsnip purée. This root vegetable makes the perfect base for a cozy soup that's perfectly seasoned with winter spices as it mixes and mingles with vanilla and spiced apple presse, smoked maple bacon and mustard shoots. For your main, sink your teeth into their butternut squash ravioli as smoked maple and mascarpone highlight the sweetness of the squash. Paired with an elegant display of soused pearl onions, roasted garlic and sorrel purée, living shoot salad and a vegetable demi, it's a sweet meal that almost eats like a dessert. However if you're looking for something a little heartier, their venison striploin is absolutely delightful.
Though it needs to be said that the main event is certainly Millcroft's signature honey and maple dessert. Honey mousse made with the fruits of the Millcroft's bees' labour is paired with maple crémeux and maple bacon jam that's nestled in a dark chocolate tart shell. Elegantly decorated with honey and maple leaf sugar cookies and tuiles, it's the picture-perfect dessert fit for a queen… or king.
As if that's not enough, you can even enjoy a maple-flavoured cocktail made with the syrup straight from their sugarbush! I dare you to find a more maple-oriented foodie experience than this.
Spirit Tree Estate Cidery
Spirit Tree is a pretty big name in the Ontario craft cider world and it's for a good reason. What you may not realize though is that they offer a small store with a selection of local eats and treats as well as some tasty to-go options!
For the month of March, they're embracing the maple vibes with their delicious maple bacon focaccia pizza. It's definitely a unique but delicious flavour profile as sweet and savoury maple bacon pairs with cheddar and mozzarella cheeses in a tomato sauce base to create the perfect pizza straight from the sugarbush. Pizza isn't their only option for maple products though as Spirit Tree also offers maple butter tarts and maple apple walnut scones if those are more up your alley. Of course, you can always add maple to whatever your heart desires by grabbing a bottle of syrup to take home with you.
INSIDER TIP: Every Friday and Saturday after 4:00 pm, you can cash in on their pizza deal and get two cans of hard cider free with the purchase of any large pizza!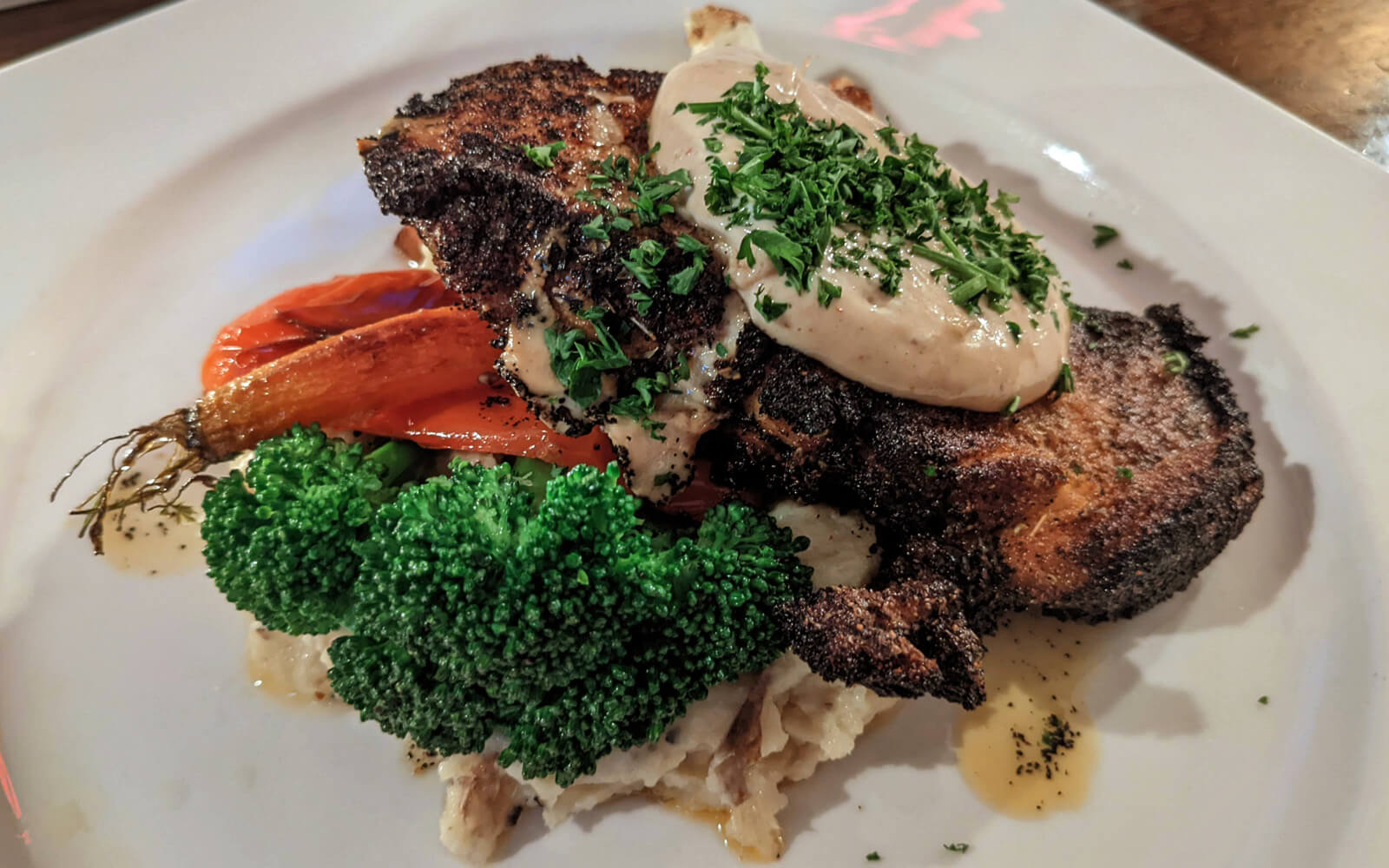 Ray's 3rd Generation Bistro Bakery
Okay so this one won't exactly make the maple-oriented cut but Ray's 3rd Generation Bistro Bakery is a fantastic spot for incredible food in a cozy atmosphere. Plus the fact that it's walking distance from both the Millcroft Inn and the Alton Mill, it really is a must when exploring the area.
Ray's has been an Alton icon since the 1930s though it didn't become Ray's Vera and Gavin Ray bought it in 1966. While it started off as a bakery well-known by both locals and travellers for its bread, treats and sandwiches, it wasn't until Donna purchased the bakery from her parents in 1987 that it began to form into the fine dining establishment it is today. Ray's is one of those places where you can show up dolled up for a night on the town or in a hoodie and you'll be treated to phenomenal eats you wouldn't expect to find in a small town.
Their chicken parmesan is said to be a crowd-pleaser though I was thrilled with the blackened salmon and spicy aioli with garlic mashed potatoes and grilled vegetables. The menu has a variety of eats that will satisfy even the hungriest of eaters with solid portions that are bursting with flavour. All that's missing is a maple item on their menu!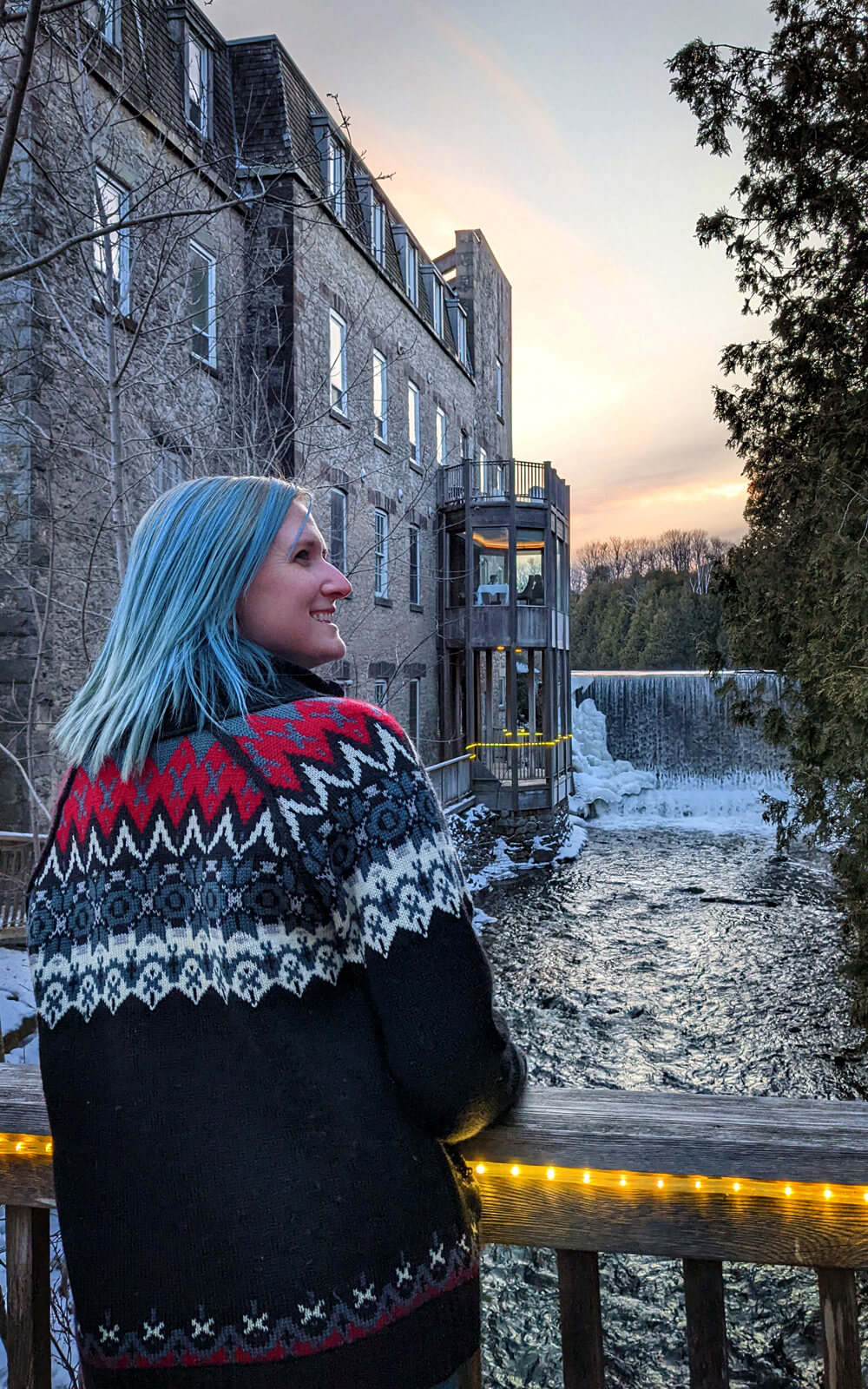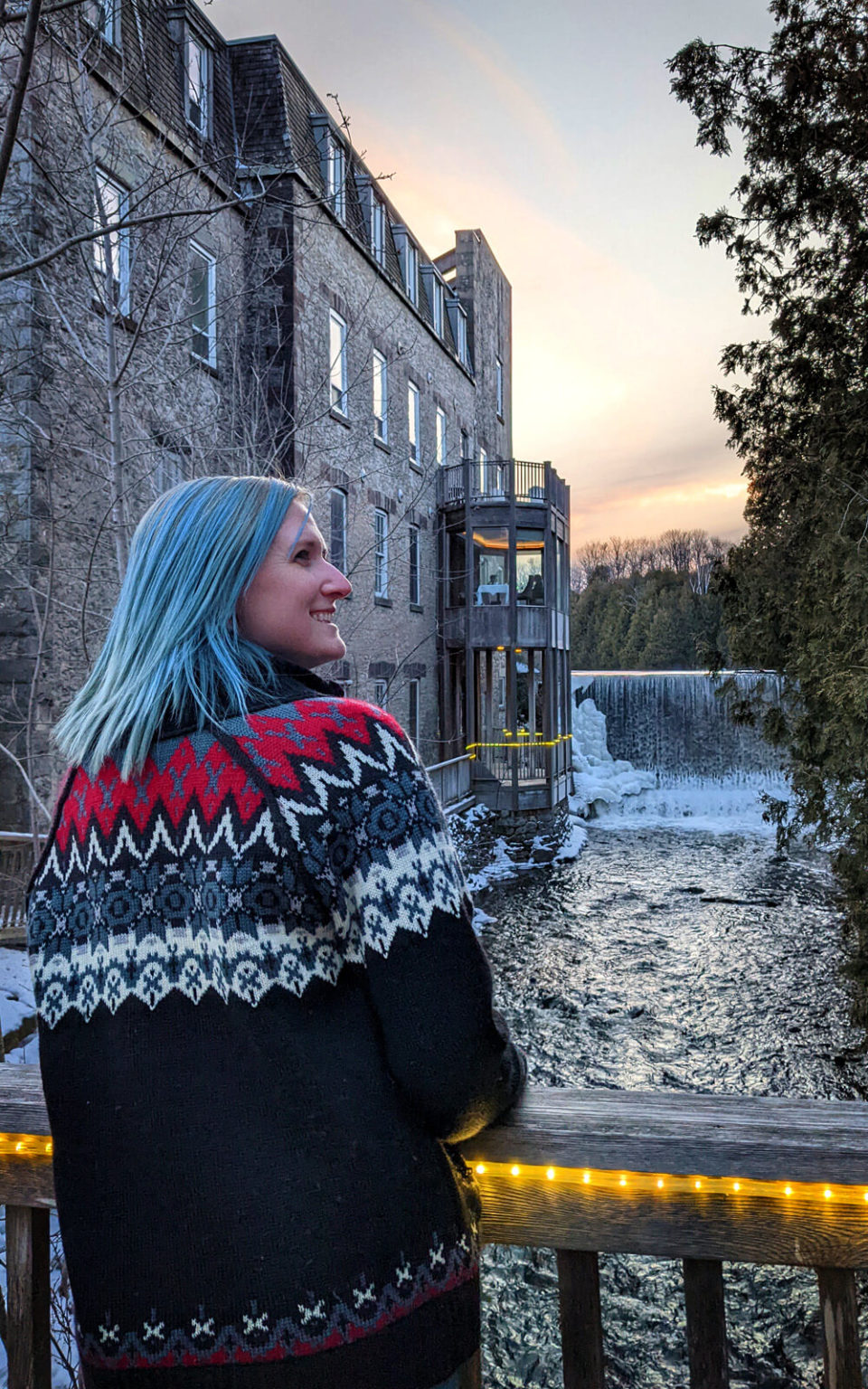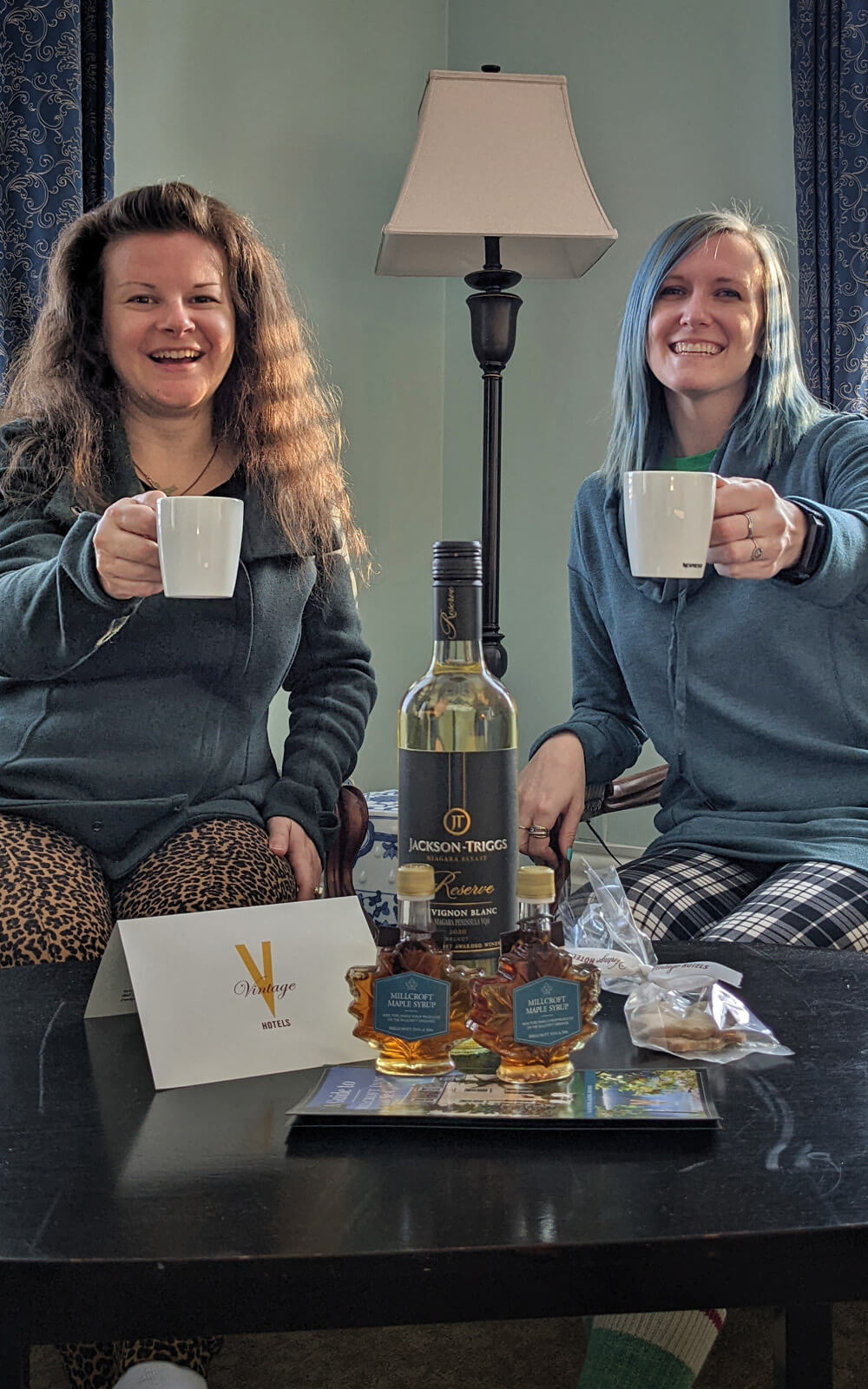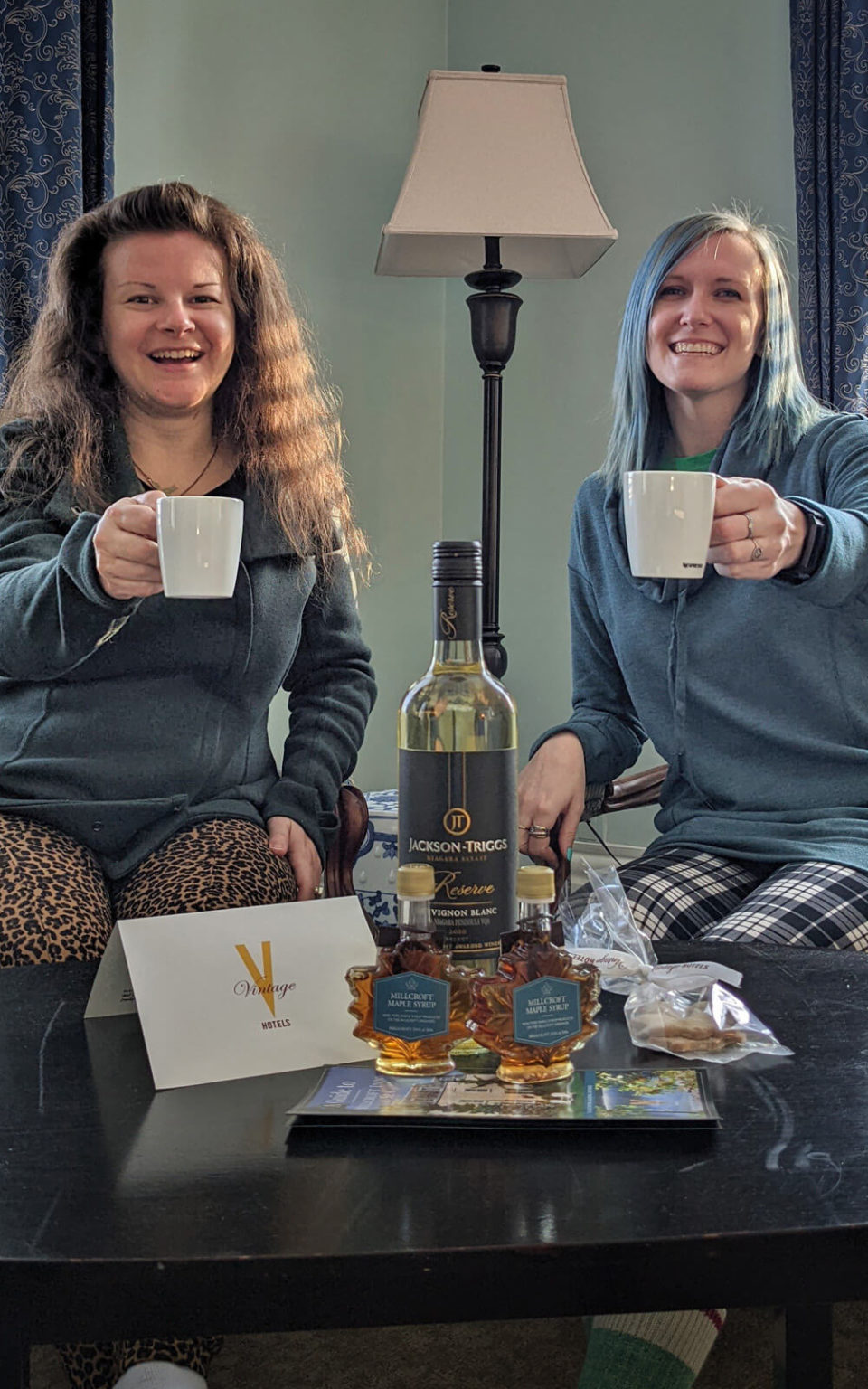 Where to Stay for Your Ontario Maple Syrup Getaway
No maple-themed getaway is complete without an accommodation that adds to the experience. The Millcroft Inn & Spa knows exactly what folks are looking for with their Magic of Maple package!
Head into the gorgeous century-old heritage building to check in for your stay. The staff will give you the run of the mill (couldn't resist that pun!) and this is where you'll receive your welcome package of maple syrup directly from their sugarbush as well as some incredible maple cookies. Tuck them safely away and then head to your room to live the life of luxury.
While I can't speak to the main mill guest rooms, the manor house rooms are not only spacious but beautifully decorated. With a king size bed, a plethora of pillows along with a soft duvet and linens, you're guaranteed to enjoy a restful sleep. There's a cozy seating area where you can enjoy a cup of Nespresso while overlooking the grounds. Don't forget to make some time to enjoy a soak in your room's massive tub!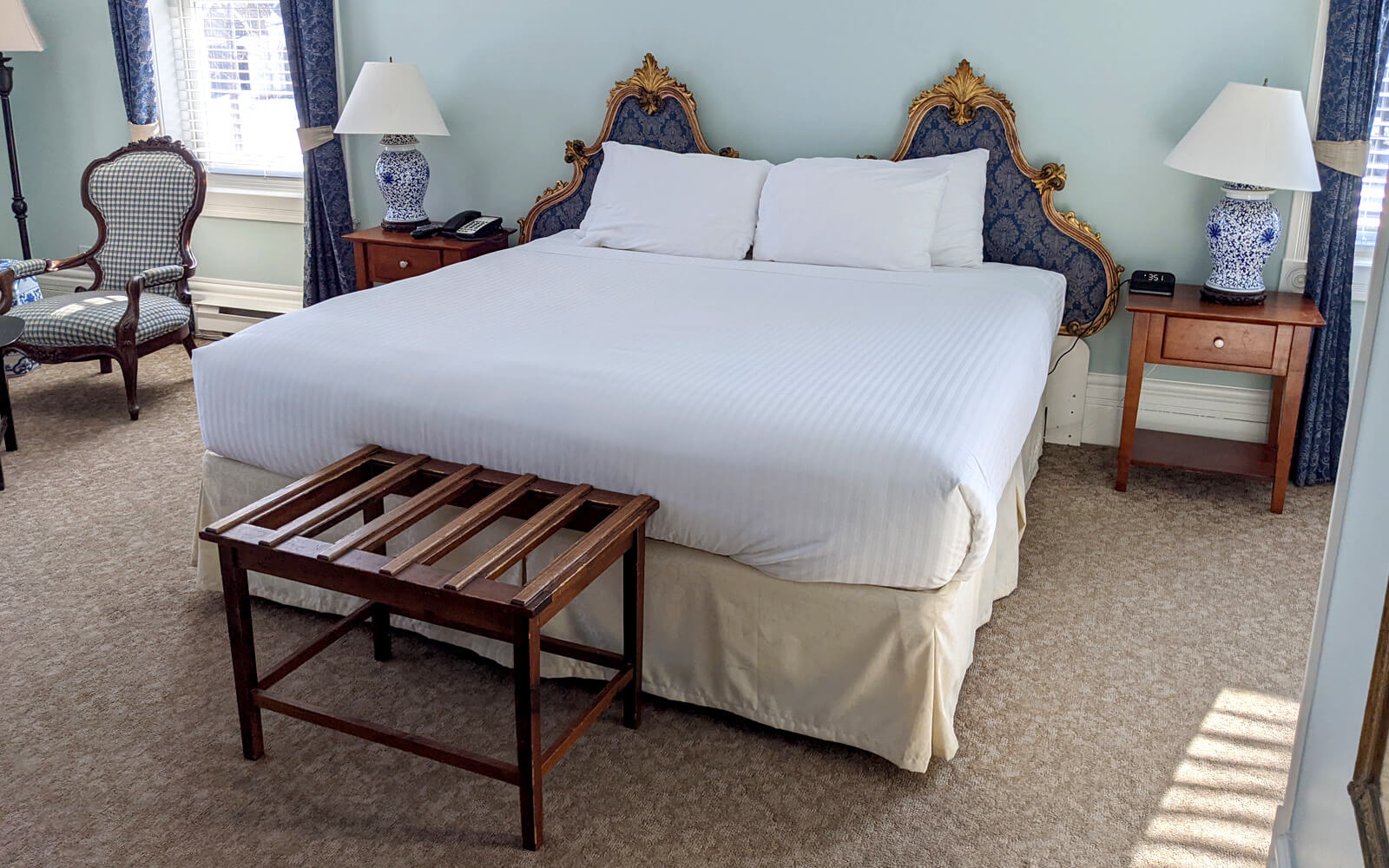 While their Magic of Maple package is being offered, guests can enjoy a walking tour of the grounds and sugar bush daily at 4:00 pm. Sign up anytime on the day you wish to enjoy the tour at the front desk. This is also where the tour will start. Enjoy a leisurely stroll where you'll learn more about the 100 acre property as well as some of the history and plans for the future. Right now they don't currently have a physical sugar shack in operation but there are plans to build one. Just one more reason to return for another maple-themed visit!
FUN FACT: The Millcroft Inn plants 50-60 trees each year on the property!
After the tour is done, you'll head to the patio area of the century-old heritage building to enjoy the grand finale of your tour… some maple taffy! The chef of the incredible Headwaters Restaurant himself treated us to the sweet sappy goodness. Once you've indulged, work off that sugar with a hike along one of their seven hiking trails, head to Headwaters Restaurant for more maple eats and treats or spend some time relaxing in the spa. Sound like the perfect getaway to you? Click here to book your stay now!
If the Millcroft Inn & Spa is fully booked for your dates, another fantastic option is the Forks of the Credit Inn. This historic inn dates back to 1855 when the stone section was built with the red brick building added in 1880 with the arrival of the railway. Settle in for a cozy evening as you're surrounded by rustic charm.
You won't find a maple-themed package here but with all of these great sappy destinations, it's easy to make a package of your own! Plus if you're an avid hiker, you'll love the location as it's just a few minutes away from Forks of the Credit Provincial Park. They have three beautiful suites, each offering plenty of space, private bathrooms and its own unique style. Click here to book your room now!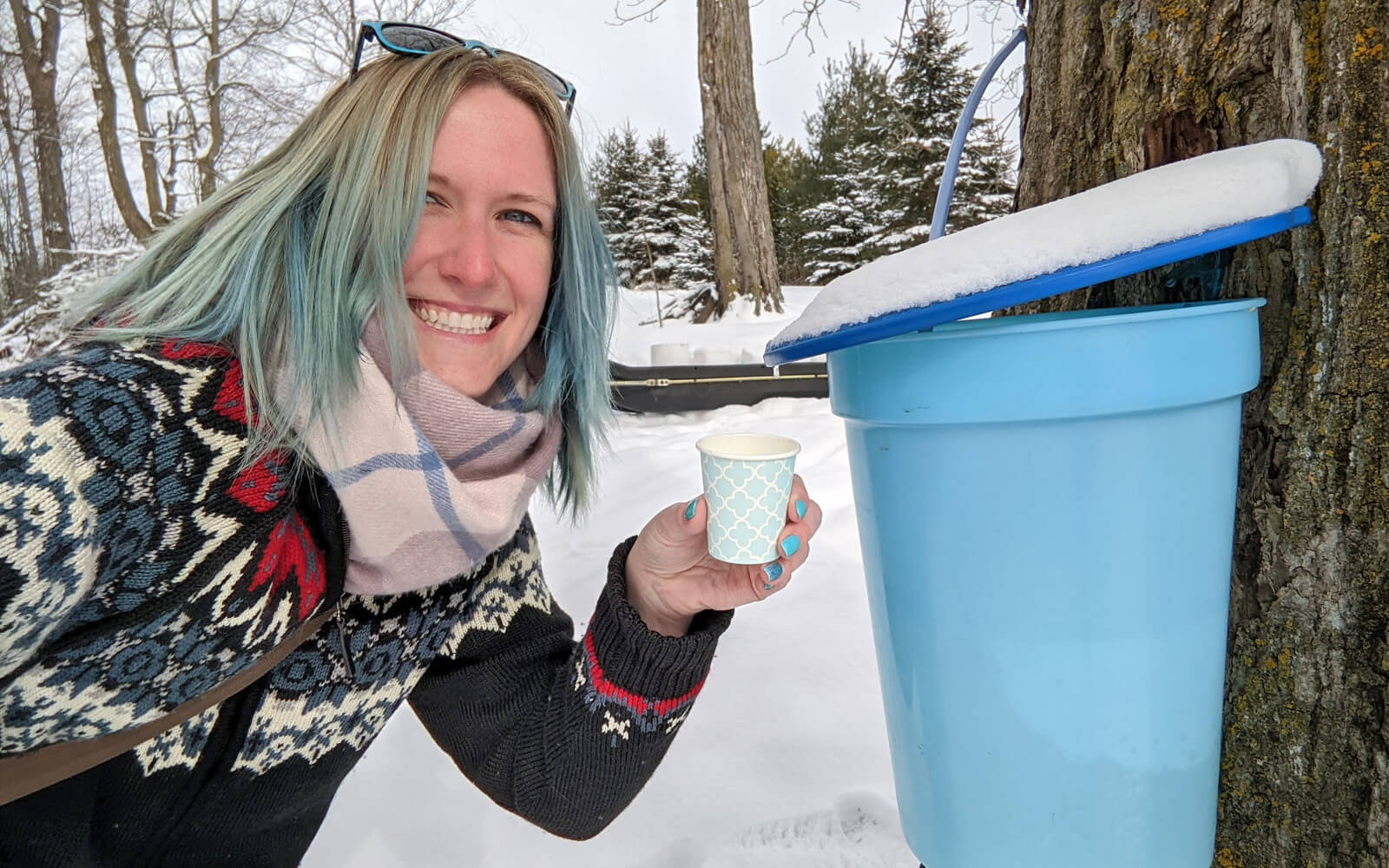 Ready To Indulge in Some Maple Syrup in Ontario?
As you can see, there are a number of Ontario maple syrup farms that are just waiting to be explored! Make it a weekend adventure with a visit to the Headwaters Region. For more things to do to spread out your maple fun, check out the adorable town of Orangeville where small town appeal meets big city glamour. If you haven't had your fill of maple, then take a look at these other maple syrup events to stack up the fun.
Disclaimer:
This post is brought to you in partnership with Central Counties Tourism. While I was compensated for my time, all of the content and opinions here are honest and speak to my personal experience!
Don't Forget This Epic Ontario Maple Syrup Getaway & Pin It For Later!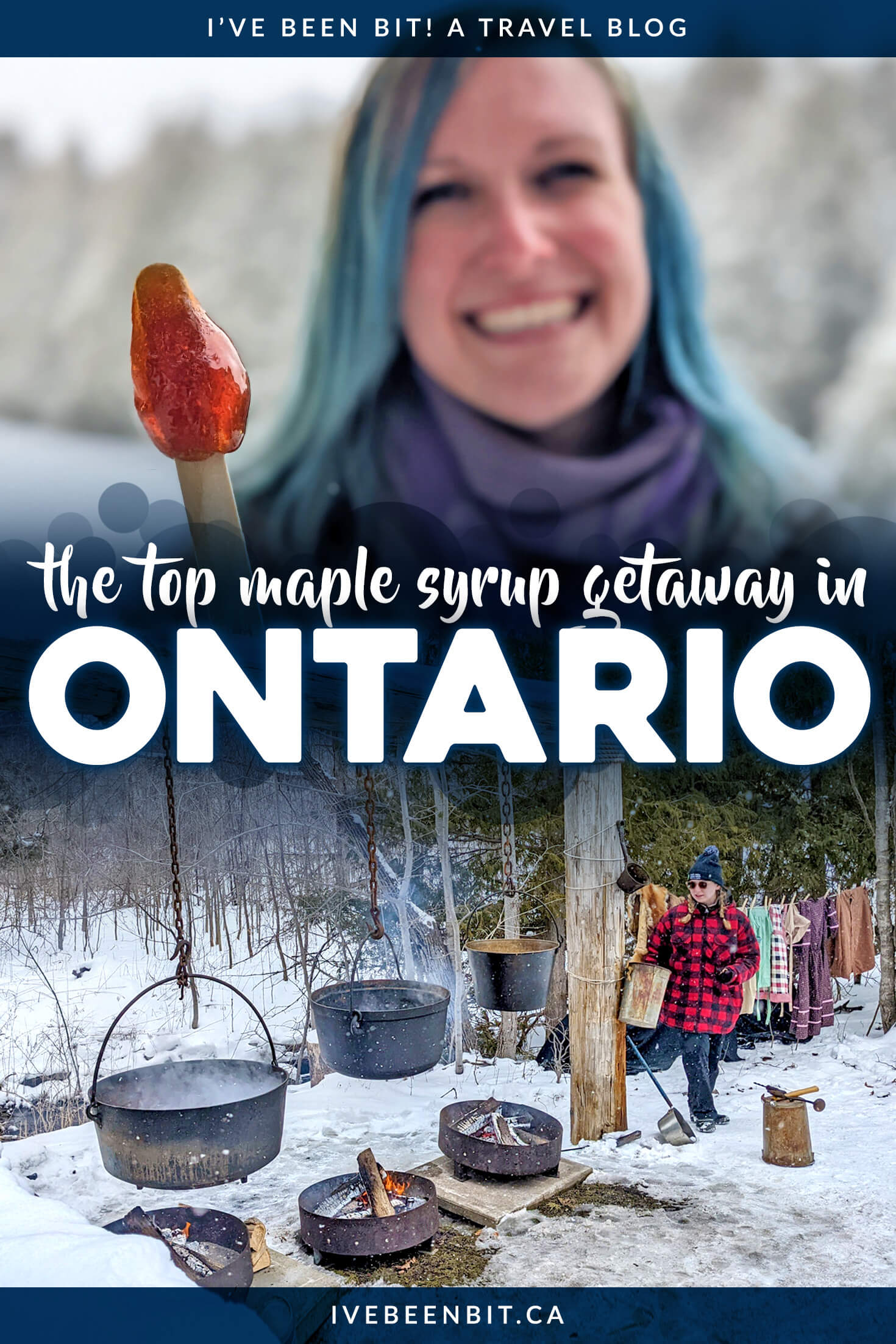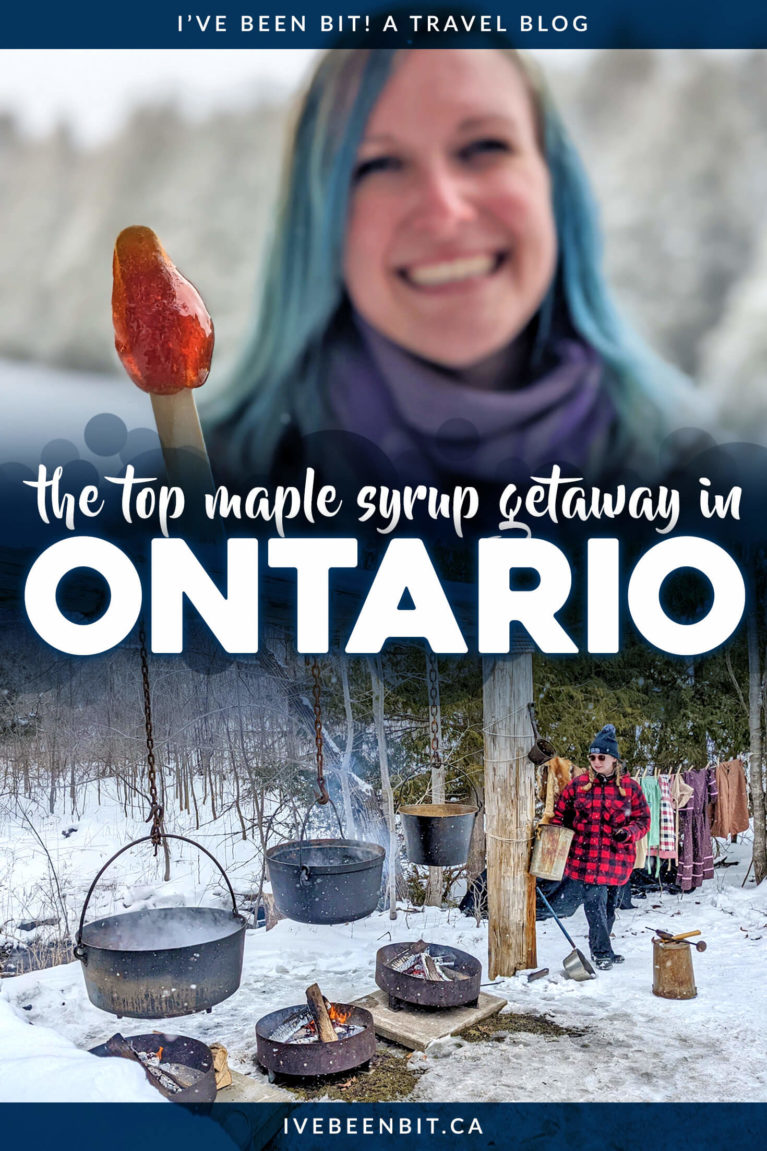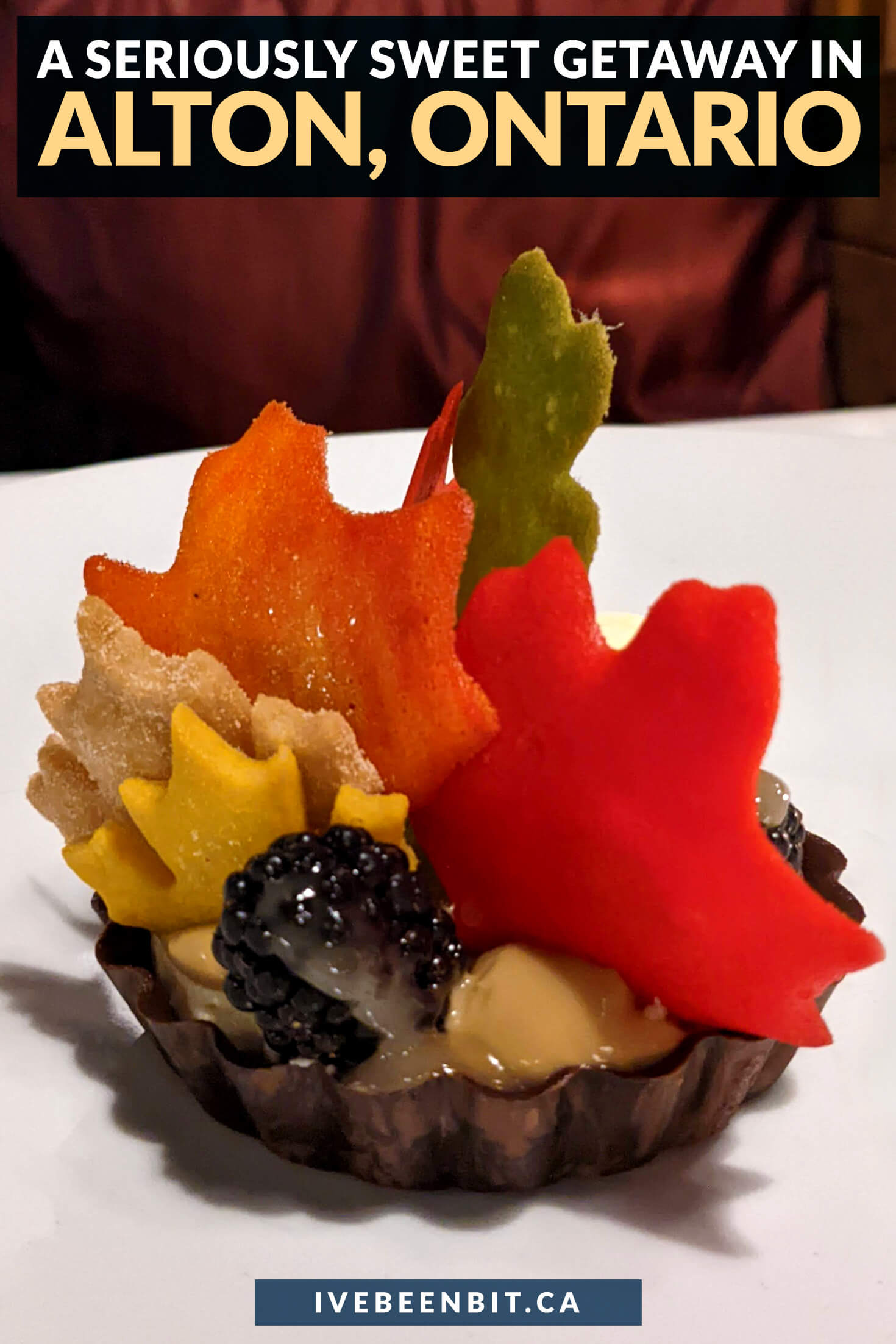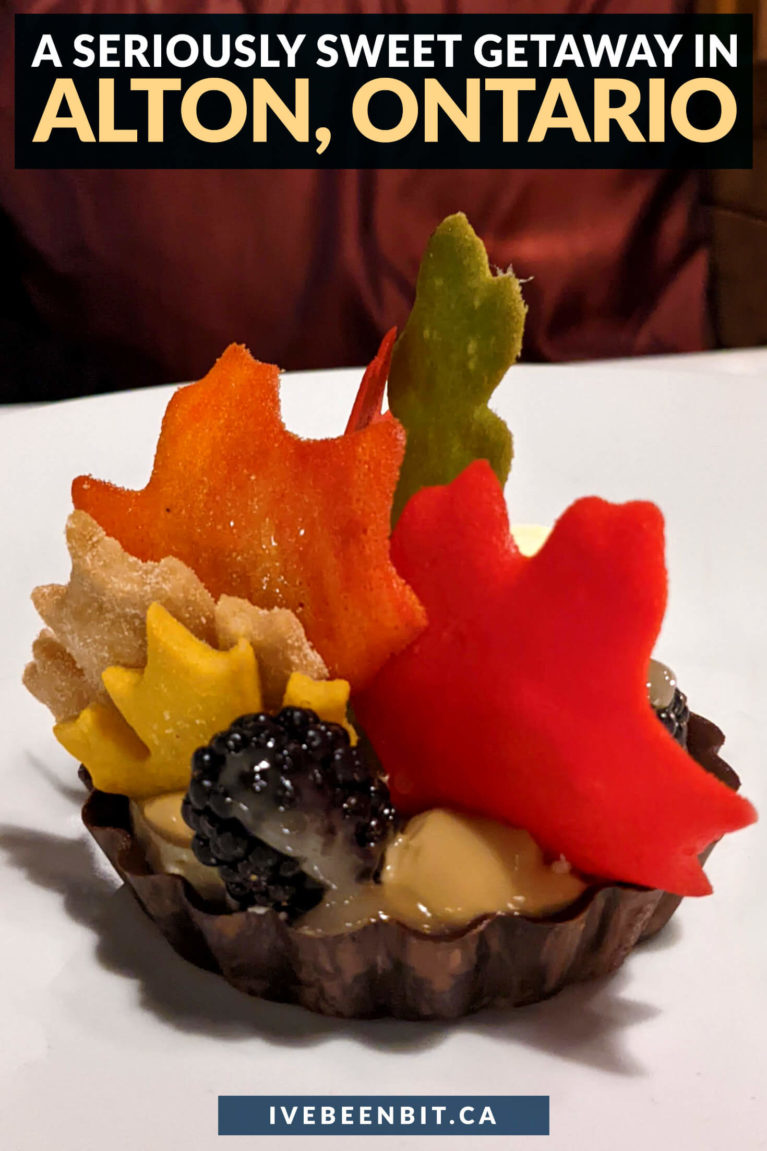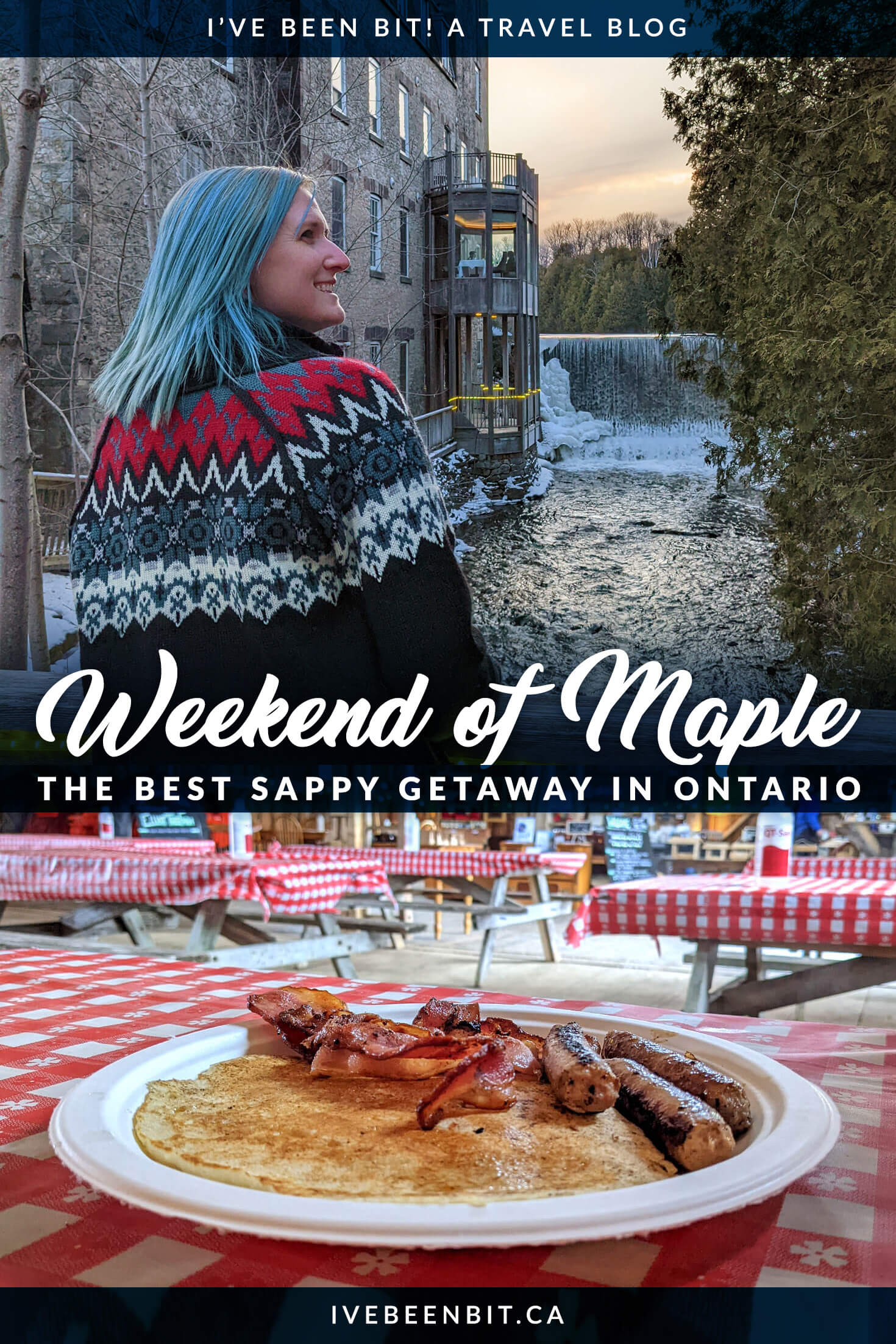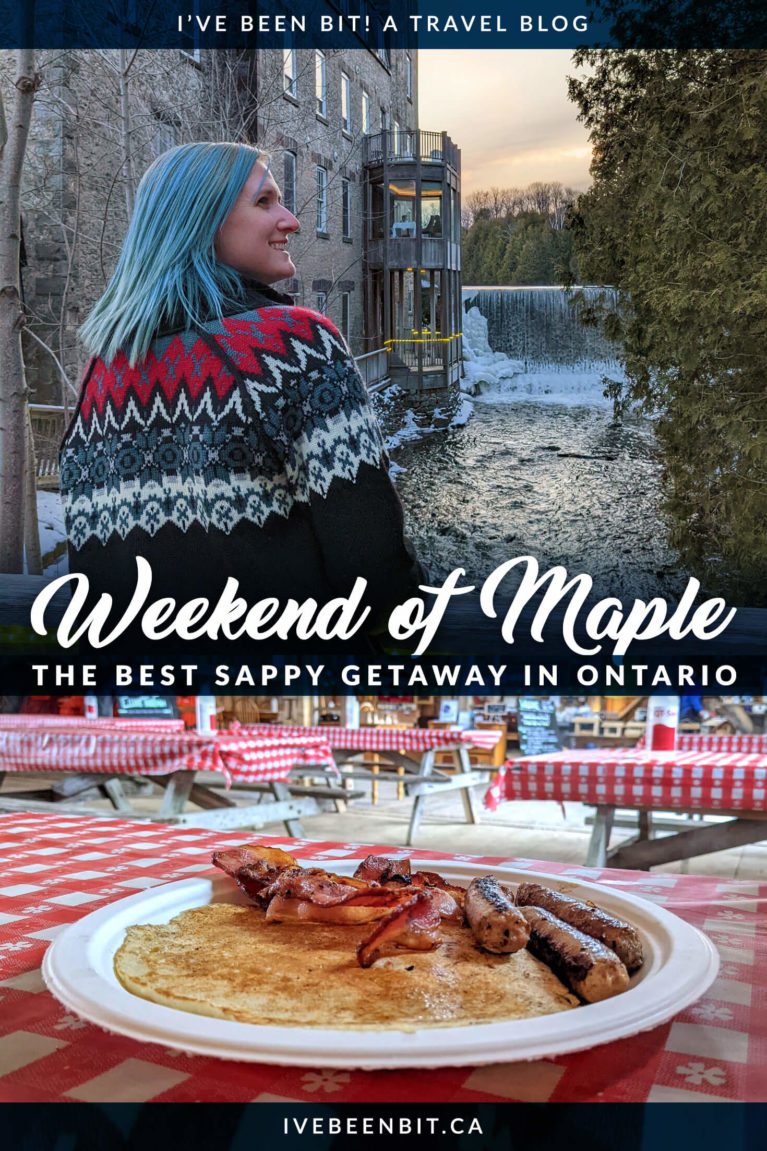 The post The Best Ontario Maple Syrup Getaway For a Sweet Spring Escape appeared first on I've Been Bit! Travel Blog.