The Sino Hearts Talk Analog Purity on Sophomore Release "Mandarin A Go Go" Ahead of School Bar Gig, May 20
A wide-eyed spirited burst of punk, power pop, neo mod, and garage rock, Beijing's The Sino Hearts – led by globe-trotting guitarist and singer Yuxin Zhong – keeps things riotous and righteously old school on their delightful sophomore release Mandarin A Go Go, even going as far as to mix and master the ten-track release on a vintage analog tape machine in Austria. That attention to detail and aim to capture the chaotic, rustic charm of 70s rock and roll has been a staple for the band who have made Beijing their home since Zhong moved back to the capital from Vienna in 2016. Charging through one tightly wound hook after another, offering a sugar rush of unadulterated rock and roll sincerity that never feels cheap or unearned, it's the kind of music that leaps out of the stereo into your ears. And after a visit to Macau last weekend to scoop up boxes of vinyl – shipped from Germany and the US – the band is ready to kick start summer proper and celebrate with a release show this Thursday, May 20, at none other than School Bar. I chatted with Zhong on his adventures over the past year, his workmanship, and forging musical relationships in these trying times.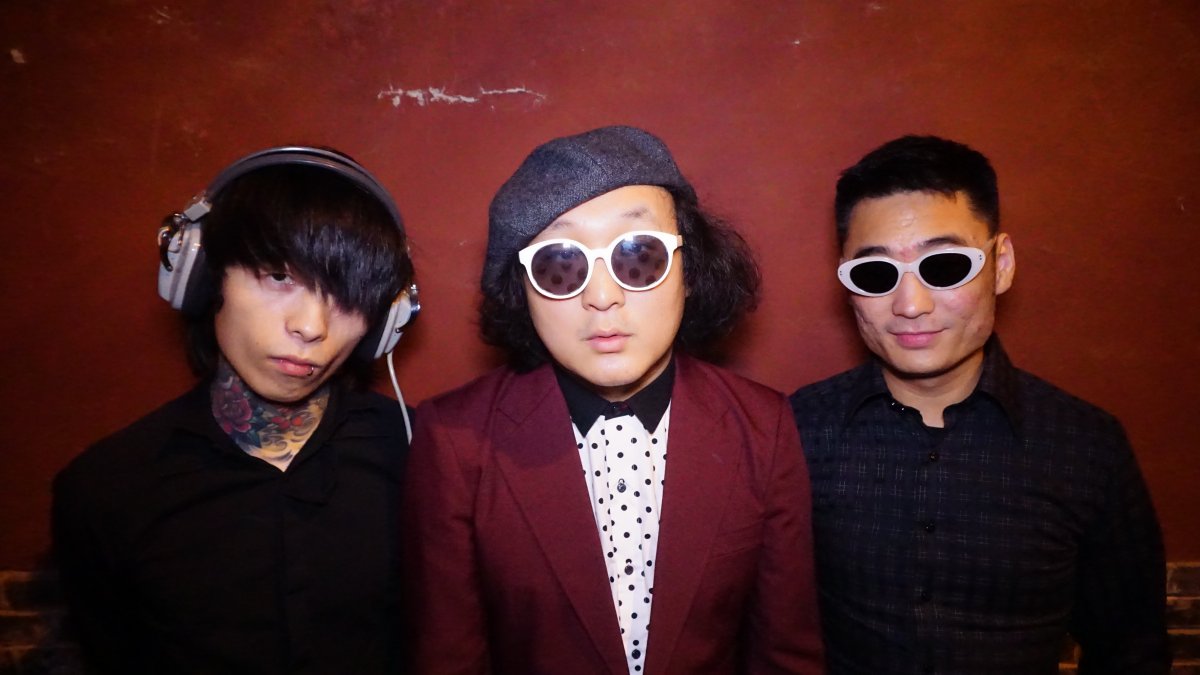 Once again I'm delighted to see some of the places your new release has made its way to. Besides the new LP finding a home in Germany on Topsy Turvy Records and in China on Indieworks and D.O.G Records, I've seen your music played across broadcasts in Toronto, Brooklyn, and Texas (where you released the compilation Rock 'n Roll Hurricane). What's your secret? How do you manage to forge so many fruitful relationships across the world?
Hey Will! It's been quite a while since the last time we talked about our world journey.
So in 2019 we went back on tour in Europe and recorded Mandarin A Go Go in Austria and I've been so happy with the outcome, having it be released worldwide and receiving good feedback from all over the world. The Chinese version even surprisingly made it onto the China iTunes Highlight list alongside some mainstream pop groups and stars – I've got no idea who they are. 
In February our single was also included in the 7-inch Compilation of Korean punk label World Domination Records, featuring other international bands: Gumiho (South Korea), Old Wives (Canada), Original Son (US). Plus, two weeks ago, our vinyl was also co-released in Japan by one of the biggest distributors, Disk Union. So Mandarin A Go Go is now also available at Tower Records, HMV, Disk Union, etc. So I'm very thankful for all the record [stores and labels] who put up our album during this hard time.
I don't really have any secrets, just constantly working hard on songwriting and focusing on the production parts. Stress Studio from Graz, Austria also played an important role in mixing and mastering our record. Currently, we already started recording our third album at the Modern Sky Studio and it's nearly halfway done. Stress Studio will take care of our next album as well!
As for our global relationships, a lot of it comes easy to me because I started my music career in Vienna, Austria – a cultural hotbed – and through playing with European bands, I got to share the same experience of getting involved with the international record labels and whatnot. 
There's DIY and then there are people like you who put in the time and effort, meticulously refining and honing their craft in every single aspect of their art. Would you consider yourself DIY at the end of the day? Where does the drive come from?
It's 2021 now, through the variety of social media platforms, we can easily get in touch with everything and everyone we want to. Plus there isn't much of a language barrier for me between German, English, Mandarin, it's quite challenging but really satisfying. Meeting likeminded people from all around the world is more interesting for me than only sticking to the local scene, and on different versions of our records the bonus track is usually dedicated to its local market, for example, the European version's bonus track is a cover of Hong Kong 60s beat legend band The Lotus, while on the Chinese version it's a song in Mandarin about Vienna Margaretenplatz, the place where I partly grew up. 
DIY on the global level is quite common in Europe, Japan, and North America, so I don't see much difference even if I'm currently living in China.
While Mandarin A Go Go is a reference to dancers that frequented rock and roll clubs in the 1960s, your love for rock and roll in its heyday is evident in all aspects of your music. Where does your appreciation for rock and roll stem from? Was there someone or someplace that turned on that faucet for you?
Rock and roll is a culture that's not only music and lyrics but also a way of life since the 50s. When we take a look back, it could be the first wave of cultural globalization like The Beatles toured in Hong Kong, Japan in the mid-60s, also British Invasion had a major break-through in the US markets. All against racism, authority power, so-called ideologies. When I was young I was focused only on music, but as time passes by, I found more aspects of these sub-cultural values to be more fascinating.
Speaking of people and places, I would say Europeans and Europe is where a lot of important events took place for me and where I was able to develop my interests. And soon enough found myself opening for all my dream bands.
I also remember when my friend took her father to my show in Vienna and her father told me that the way I performed on stage and the music I wrote was capturing that same vibe he saw with bands like The Undertones in the early 80s. Countless moments like this happened to me across Europe, Japan, and even China. It's the ultimate way to encourage musicians – in my own opinion – to be appreciated by true music lovers.
Despite the catchy melodies, there's bittersweet loneliness within your lyrics ("The delusional loneliness will seep in my heart"). Where does the inspiration for your lyrics come from? Do you consider yourself a hopeless romantic?
You are probably right, the songs I wrote were mostly musically happy but with sad lyrics. Looking at The Ramones lyrics sheets, it's also basically a more depressive version of the Beach Boys.
I think this bittersweetness comes from the cultural separation between China and the rest of the world. Sometimes we could manage to stand on both sides, but sometimes we simply cannot, they're completely different worlds with different values. But it's better this way, so I bury my emotions in my lyrics.
You guys really went all out on capturing a vintage rock and roll sound even going as far as to record the album on an analog tape machine in Austria. How did that come about? Is being able to utilize and play with vintage gear something you geek out over? What are the benefits and drawbacks of this approach?
A vintage guitar sound is always what I was looking for and our Austrian producer Tom Zwanzger shares the same passion, and during our 2019 European tour we played in Graz where his studio is, so before we rocked over this city, we stayed a couple of days at his studio and recorded with a ton of the original priceless 50s, 60s, and 70s amps and drums. Afterwards, he did the tape mix for us and I am very satisfied with the sound. It sounds very different from the current modern overproduced plastic trendy sound in rock music.  
I feel like you're a treasure trove of musical knowledge...could I pick your brain for a quick sec? Most underrated power pop band? Favorite current Japanese punk band? Best music venue in Austria? A label we should check out if we're craving 70s style garage punk?
Haha. I'm a music nerd and I'm constantly buying all the garage/powerpop/60s vinyl and CDs I can find on Taobao, and digging around the record shops in various cities when on tour. 
There are lots of underrated power pop bands because this genre has already been so outdated in the music industry, that's why we love it due to its musical purity. A lot of underrated bands like Big Star and Badfinger never found commercial success during their time, Also The Scruffs, Blue Ash, and so on... but now they're legendary. There are also countless short-lived power pop bands between the late 70s and early 80s, like The Favourites, Protex, The Jags, etc. – many of them were also mod bands who had the sharpest music!
Currently, I'm digging the Japanese 80s mod band The Strikes (Chuck Berry even wrote the introduction for their record), but I also love The Firestarter, Tweezer, Supersnazz, and more out of Japan. 
My favorite music venue in Austria is Arena Wien, a legendary venue where Iggy Pop, David Bowie, and countless other bands all played when they came down to Austria. I used to practice there with Frankenstyle for years and in 2019 my reunion show at Deecracks 16 anniversary festival also took place there. Just like School Bar in Beijing, it's a rock n' roll place with a big heart!
Soundflat Records from Germany will be the label I recommend for 60s garage punk, which is also the main label of Topsy Turvy records. They released lots of great garage bands from all over the world. After the pandemic, I would love to bring them over and celebrate with them together in Beijing!
For a band that cut its teeth on the road for years, it must be disheartening seeing how the pandemic has affected the live music scenes across the world. What do you think the long-term ramifications of the pandemic will be for bands of your ilk? What's the best advice you can give bands who are stuck at the moment with nowhere to tour?
It's been a very hard time for all the musicians. We were actually supposed to do both a European tour and a Japan tour this year in support of our new record, but instead of that fun, we've been left with nothing. Luckily we can still do a proper China tour this year, and we'll be hitting up 13 cities!
As I mentioned, the third album of Sino Hearts is halfway finished, and we have 12 brand new songs recorded at Modern Sky studio. I wrote two records during the "lost year" and at the end of this year, we will be on a tribute compilation for The Pretty Things, along with some British, Austrian, German, and Japanese bands. Currently, I'm working on my solo Austro pop album which will feature acoustic guitar, harmonica, piano, and me singing in Viennese German, a tribute to my love of that city and my friends out there.
The Chinese rock scene has been given a considerable boost over the past year, with bands like Joyside selling out shows, Re-TROS playing to stadium-sized venues, and punk festivals popping up in just about every city. Do you have any thoughts about this newfound attention on rock and roll in China? Do you feel it's simply a trend for the times or are more and more kids truly connecting with rock and roll?
Yes, I've noticed these new trends in the way of entertainment, and actually, a lot of the bands and people on shows like The Big Band are my good friends. I hope they can find the balance between their music and their commercial breakthrough. For young audiences, it's surely phenomenal to see such an alternative way of life and attitude from some bands. More and more young people are getting into this kind of music which is a great thing for the current Chinese market, but I'm not sure about their connection with music – going to a livehouse is just a new way of entertaining the young people just like going to cinema or KTV. Developing the true rock n' roll scene depends on countless hard-working musicians, well music-acknowledged people who are running the business, and more international musical exchanges. Right now it's just a breakthrough, but to be a professional industry like Japan or Germany there is still a long way to go. 
What's next for Sino Hearts? Any tour plans?
Our release party will be at School Bar on May 20 with proto-punk gem Hawk Sally and new Beijing garage favorites The Ravagers. Also, I'll be spinning punk/garage vinyl with ADDJ and then we will be will starting our China tour soon and continue putting together our third album!
The Sino Hearts' China tour kicks off this Thursday, May 20 at School Bar. Tickets run RMB 80 presale, RMB 100 at the door. Snag yours by scanning the QR code on the poster above.
READ: Backspace Pushes Past the Bleeding Edge on Sophomore Release "Ants Corrupt Elephant"
Images courtesy of The Sino Hearts