Top 12 Free Things to Do in Hamilton Both Inside & Outdoors
Travel is a privilege and many certainly take it for granted. Yes, even exploring your own backyard can count as travel! While some may believe that money is a requirement, I beg to differ. And this list of free things to do in Hamilton will surely show you otherwise! Keep reading to see some of the free stuff to do in Hamilton that will keep you entertained no matter your budget.
Disclaimer: This post contains affiliate links where if you make a purchase, I may receive a kickback at no extra cost to you. It helps keep IBB alive so thank you!
Top 12 Free Things to Do in Hamilton
See a new side of Hamilton with these fantastic free things in Hamilton to keep you entertained! Whether you're outdoorsy, looking for something relaxing, or a fan of the arts, there's something entertaining to do in the city.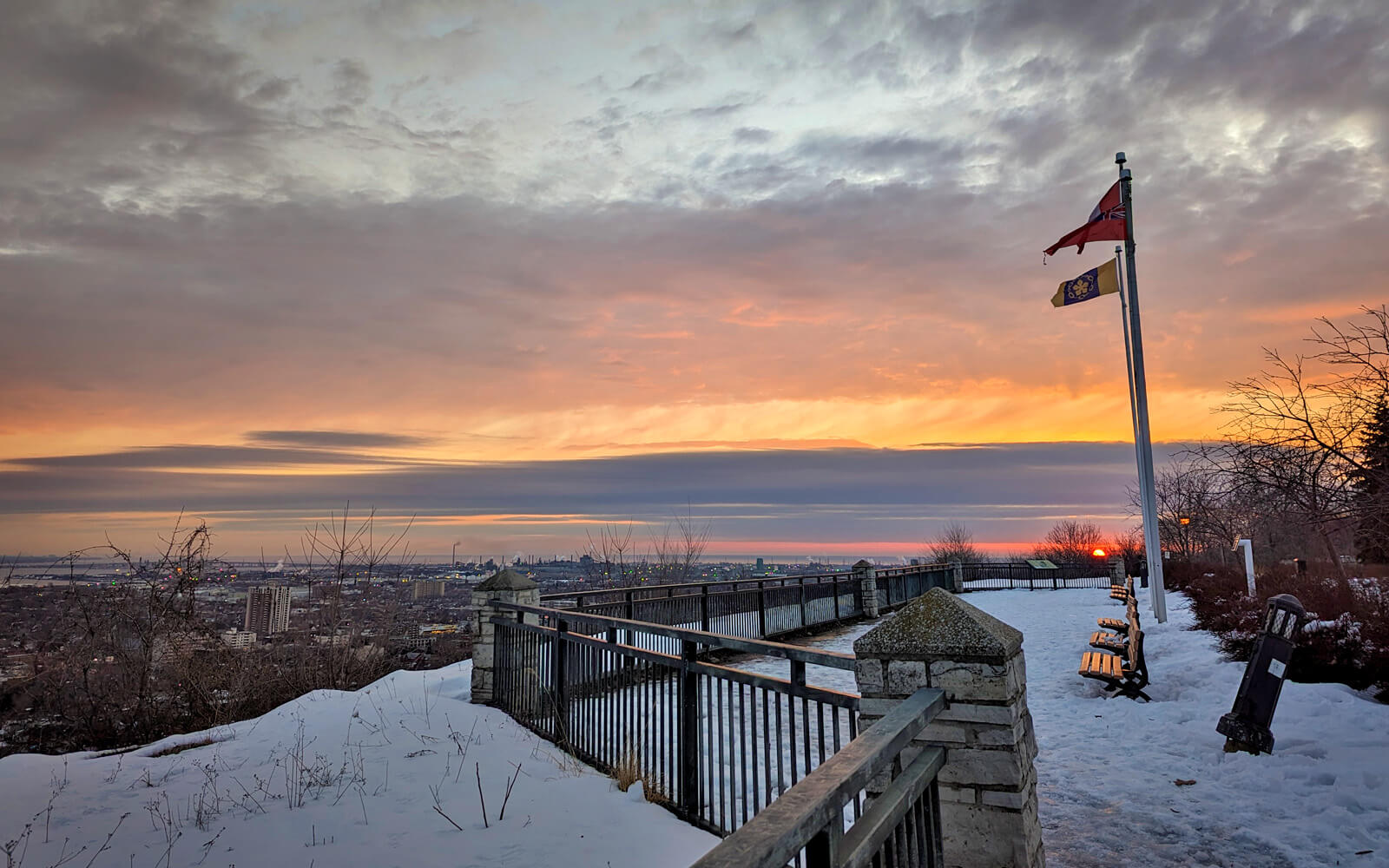 Catch the Sunrise From Sam Lawrence Park
Hamilton's unique topography means it has a number of layers to it and with that comes the perk of some stunning vantage points. One such spot is Sam Lawrence Park! Located along the edge of the Niagara Escarpment, the park is comprised of three sections and offers brilliant views across the city and Lake Ontario. On a clear day, you can clearly see the silhouette of Toronto!
Its prime location facing northeast means it's a fantastic spot to watch the sun rise over Hamilton. Settle in on one of the benches as you watch the sky transform with a brilliant display of rose and gold before blue takes over. If you're not an early bird, it still offers great views and is a lovely spot to relax during the day. Enjoy a stroll through the paved pathways of the park and learn about the unique botanical, cultural, geological and historical aspects of the area. I would say this is one of the hidden gems in Hamilton.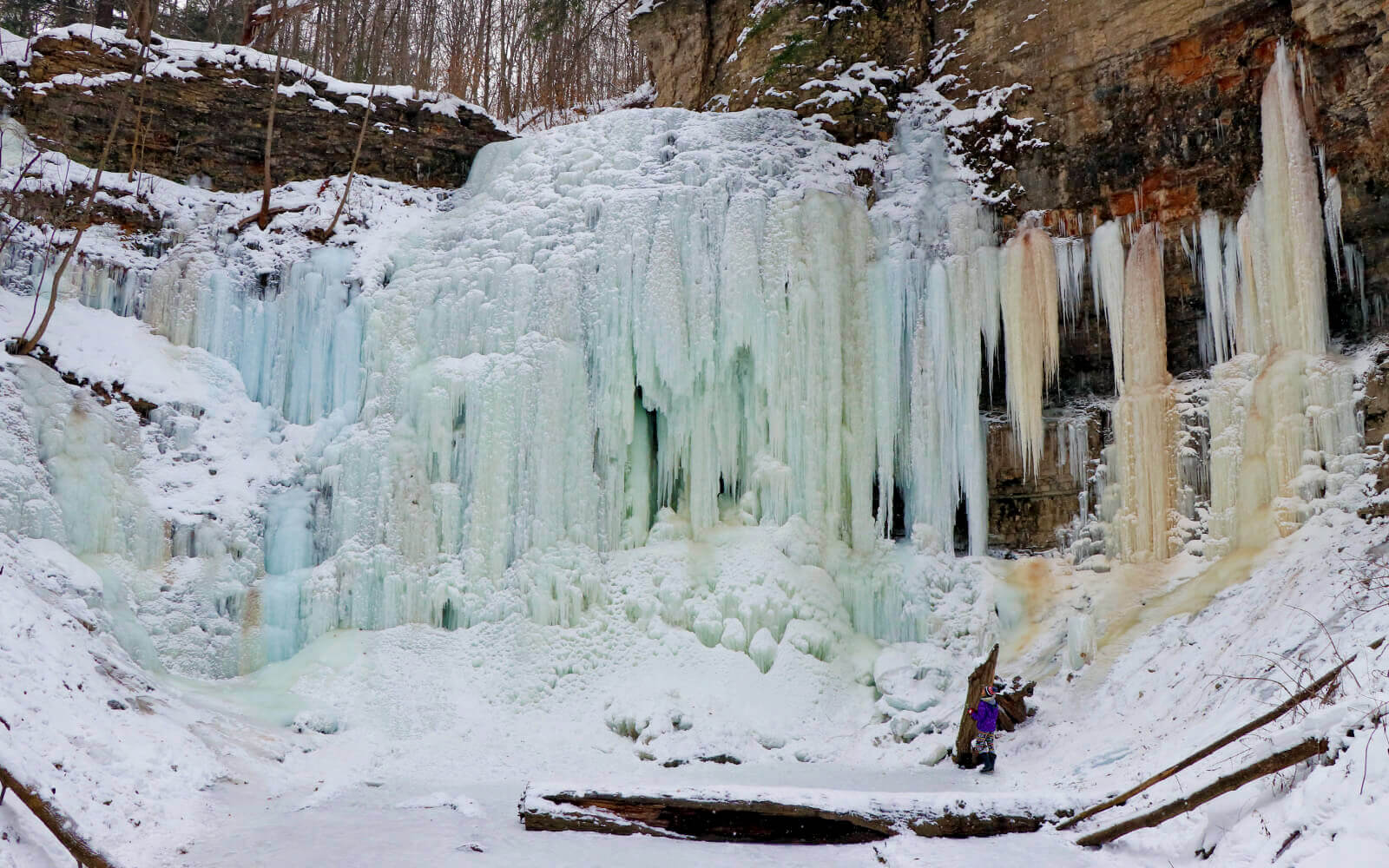 Chase Some Hamilton Waterfalls
Hamilton has a reputation based on its industrial past but what many don't realize is that Hamilton is actually the waterfall capital of the world! There are over 100 waterfalls scattered around Hamilton as well as the neighbouring towns of Ancaster and Dundas. While some are located on private property, there are a number of waterfalls that are accessible to the public. Some of my favourites are Sherman Falls and Tiffany Falls, both of which are not to be missed when exploring the city!
INSIDER TIP: While prime hiking season is in the warmer months, it's worth it to brave the freezing temperatures when exploring Hamilton's waterfalls. Many of them don't have a large flow so if it's a very hot summer, they have a tendency to dry up. Winter means you'll be able to witness them in all their frozen glory plus it's a great mood boost during those dreary days!
Many of these waterfalls are free places to visit in Hamilton, though some will require you to pay for parking. If you're willing to walk, you can occasionally skirt these fees! I have all the details in my guide to the best waterfalls in Hamilton.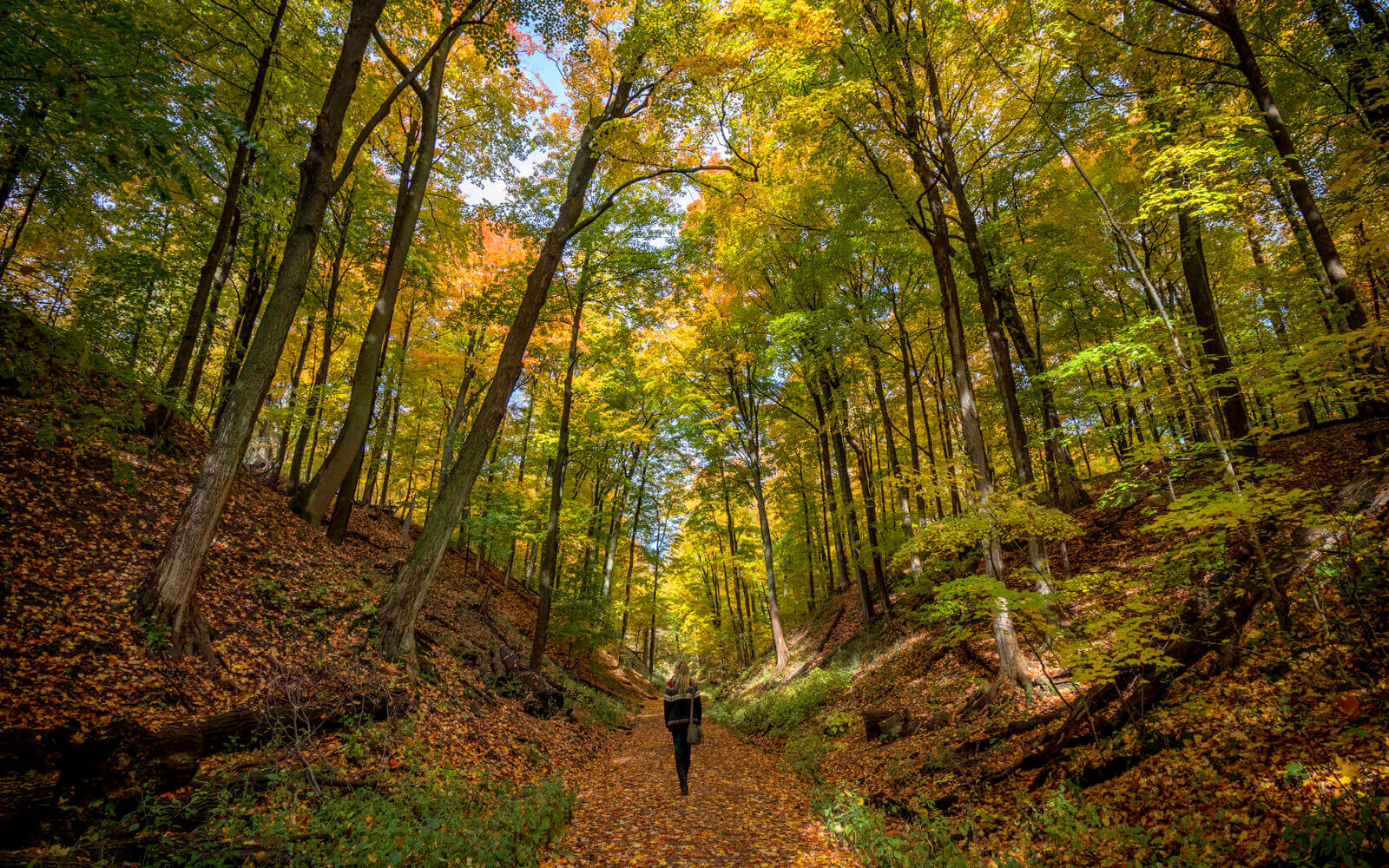 Check Out the City's Best Hiking Trails
Since Hamilton has so many beautiful waterfalls, it's not much of a stretch to hear that Hamilton is home to some incredible trails too! One of the top hikes is easily the Bruce Trail which isn't a surprise as it's one of the best in the entire province. While just a small stretch of this over 900 kilometre long trail snakes its way through the city, there are a number of beautiful side trails as well that are perfect for some fresh air and exercise. It can be a little tough at times with uneven terrain and some uphill climbs so it's important to be prepared, especially when hiking in the winter months!
Luckily if you're looking for something a bit shorter or easier, there are a number of options throughout Hamilton. Some great options include the Dofasco 2000, Eramosa Karst and Borer's Falls trails. For more details on what hikes to check out, take a look at my guide to the best hiking trails in Hamilton.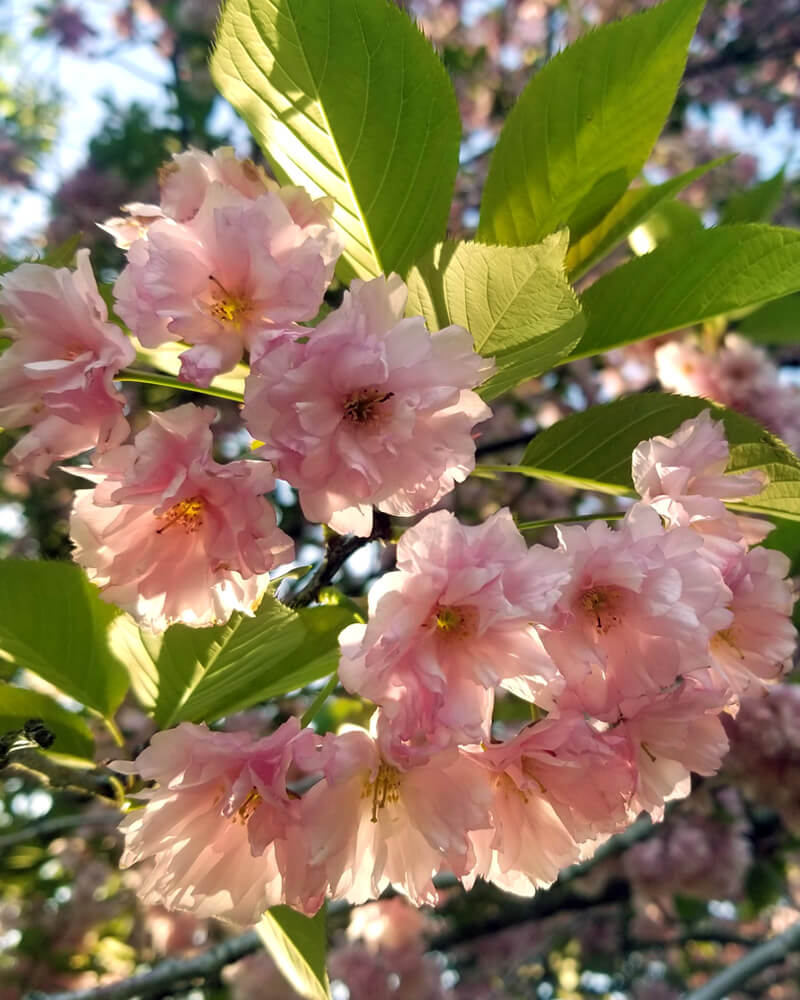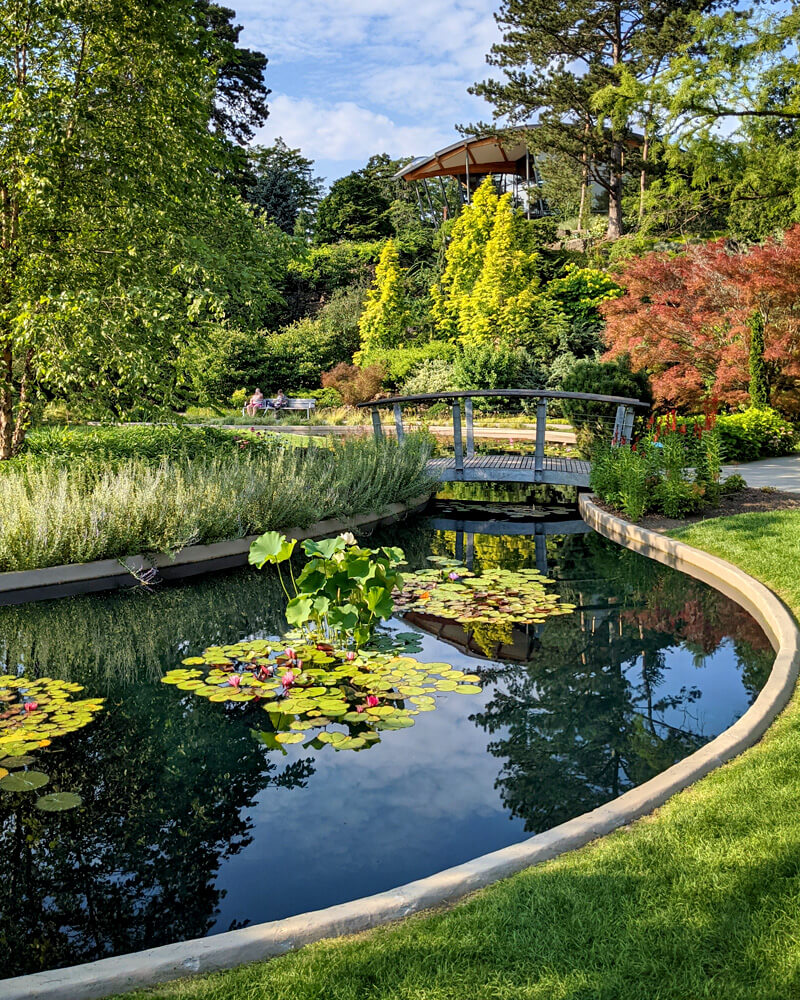 Explore Canada's Largest Botanical Garden
I bet you didn't know that Hamilton is home to our country's largest botanical garden! Okay, so it shares the Royal Botanical Gardens with Burlington as it crosses the city border, but still. More commonly known as RBG, this national historic site protects over 2400 acres of wetland, field, forest and escarpment ecosystems. Over 50 at-risk species along numerous environmentally-sensitive habitats they call home are found within the Royal Botanical Gardens which is why this area of land is so important.
The Royal Botanical Gardens has a number of different areas offering a different variety of plants and experiences. The most popular areas are the RBG Centre and the Rock Garden which you will need to pay admission for. However, the grounds are free to explore! The Laking Garden is home to the RBG's perennial collection but is only open in the warmer months. Hendrie Park has the most variety as it includes a rose garden, medieval garden, medicinal garden and more. You'll also find a number of beautiful sculptures scattered throughout! Head to the Arboretum for one of the most extensive lilac collections in Canada.
RELATED: This is one of the prime spots in the province to enjoy the ephemeral blooms of sakura trees come springtime. Check out my guide on where to find cherry blossoms in Ontario for more details!
My favourite part of the Royal Botanical Gardens has to be the Indigenous Trail. The newest addition to RBG, they worked in partnership with the Mississaugas of the New Credit First Nation to craft this trail which shares plant teachings that are important to the Anishinaabe People. Interpretive signage tells about over 20 different species of trees and plants and what medicinal qualities they offer. It's absolutely fascinating and will show you just how much Mother Nature provides for us!
As I mentioned, you will need to pay an admission fee or a parking fee in some places throughout the Royal Botanical Gardens. However, you can explore some of the trails via the RBG Centre and Rock Garden lots where parking is free.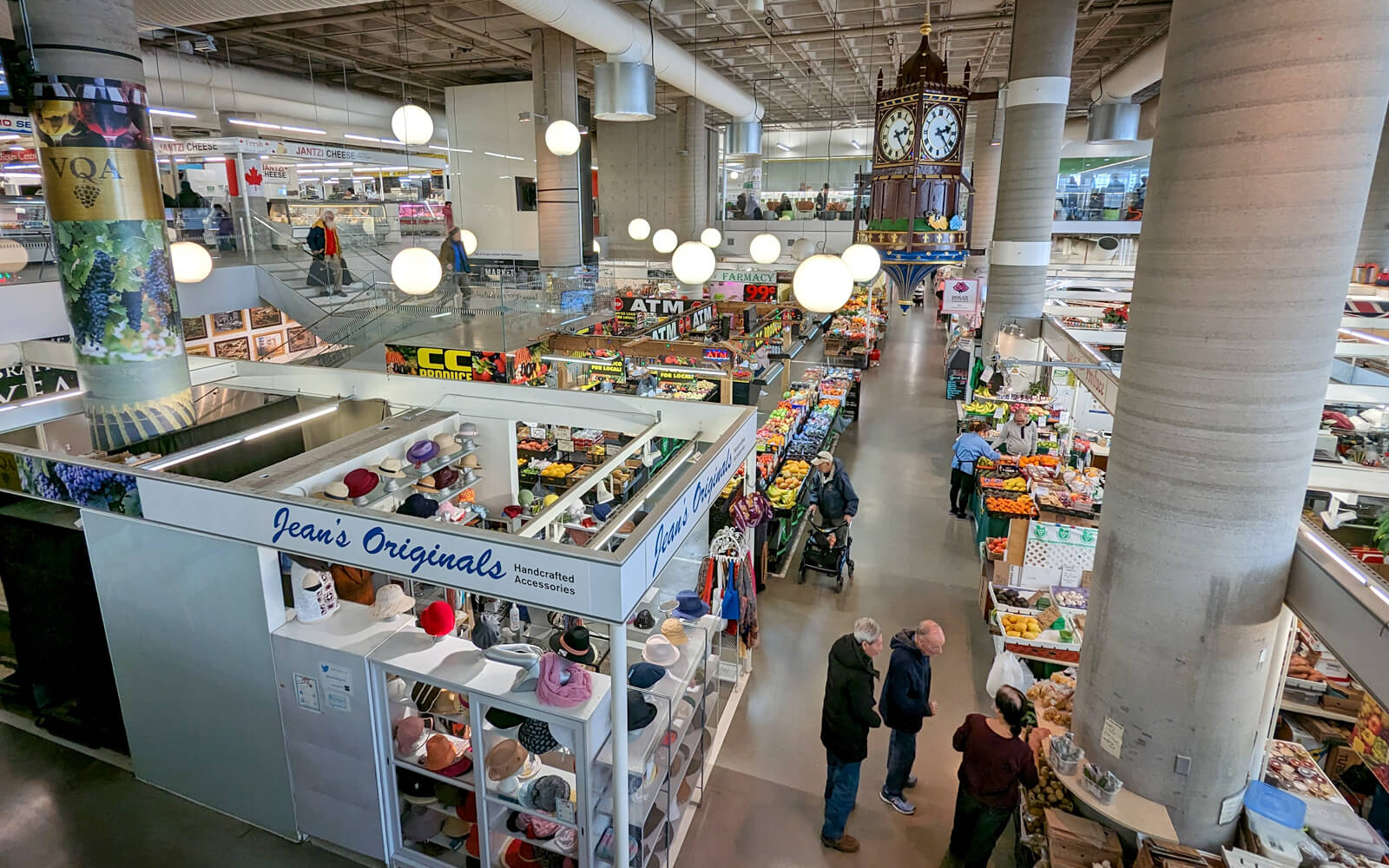 Support Local at the Hamilton Farmer's Market
The Hamilton Farmers' Market is one of the province's oldest markets, dating back to 1837. It's come a long way since the days of vendors operating out of their horse and buggy! While a devastating fire in 1917 and urbanization may have tried to quell its spirit but the market is still going strong today – it just looks a little different. Inside you'll find a number of vendors including local farmers, restaurants, clothing shops, pet supplies, and more!
While it doesn't cost a thing to explore the Hamilton Farmer's Market, it doesn't hurt to have a few bucks in your pocket to support some of the local vendors. Luckily it's easy to stay within your budget as you can choose how much to spend! The Hamilton Farmers' Market is open Tuesdays, Thursdays and Fridays from 9:00 am to 4:00 pm and Saturdays from 8:00 am to 4:00 pm. Market-goers receive an hour of free parking at the York Street Parkade. However, if you don't mind walking, you can find some free parking on the side streets close by.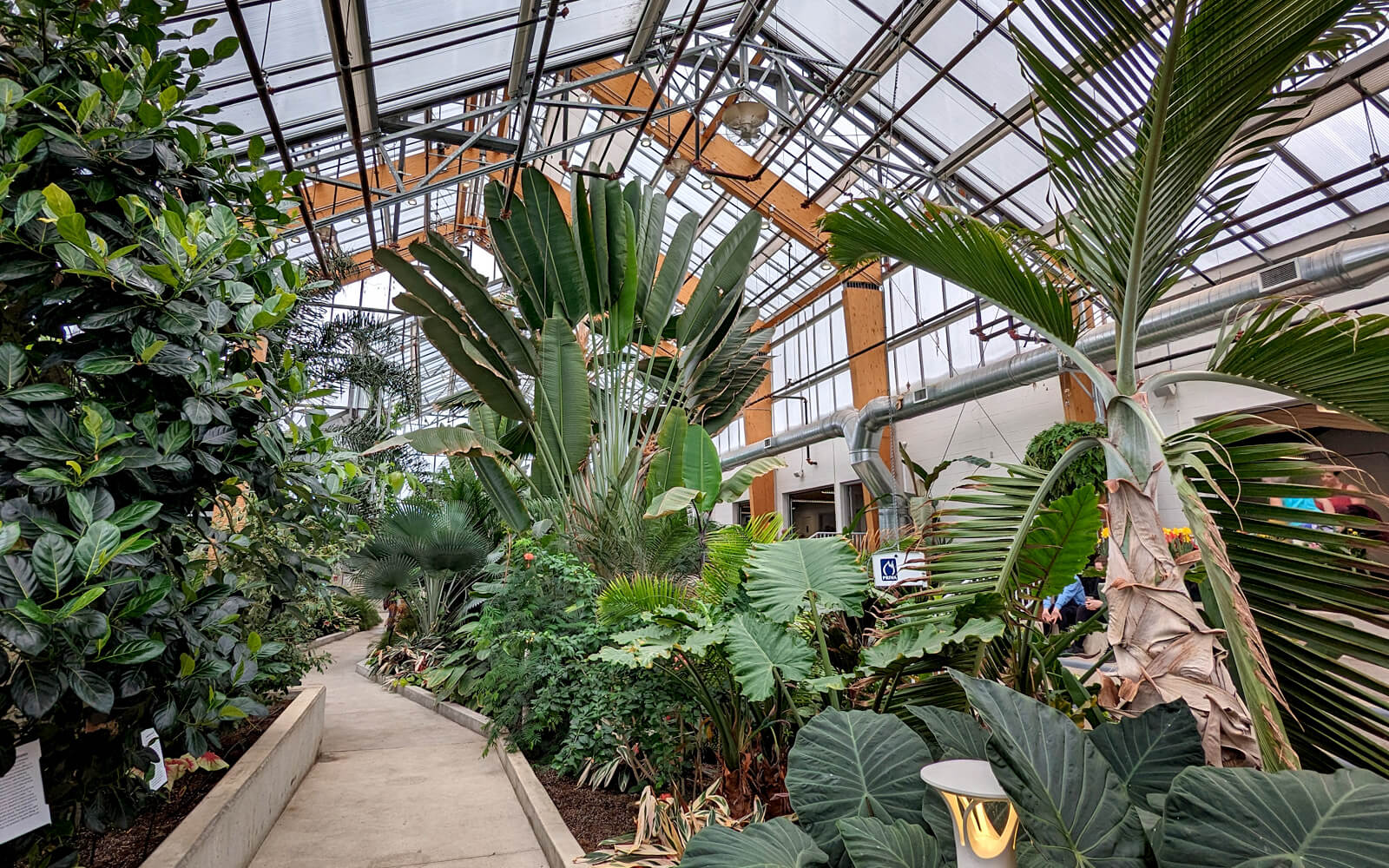 Experience Gage Park's Tropical Greenhouse
If you need a reprieve from the ice and snow, this is one of the top free things to do in Hamilton in winter. It's also a great activity to brighten a rainy day in the city!
Step inside Gage Park's Tropical Greenhouse where you'll find 18,720 square feet of space used for growing plants year-round. You'll find vegetation from all over the world including Cuba, South Africa, Southeast Asia, Mexico, the Amazon Rainforest and even Australia! Meander around and admire the greenery or settle into one of the tables with a book. Whether you spend 30 minutes or 3 hours here, you'll feel rejuvenated on even the dreariest of days!
Also, keep an eye out for special events that the City of Hamilton hosts. You won't want to miss their Spring Tide Bulb Show and Fall Garden and Mum Show as the displays are incredible. Storefronts, campfires, boats – you never know what you'll find!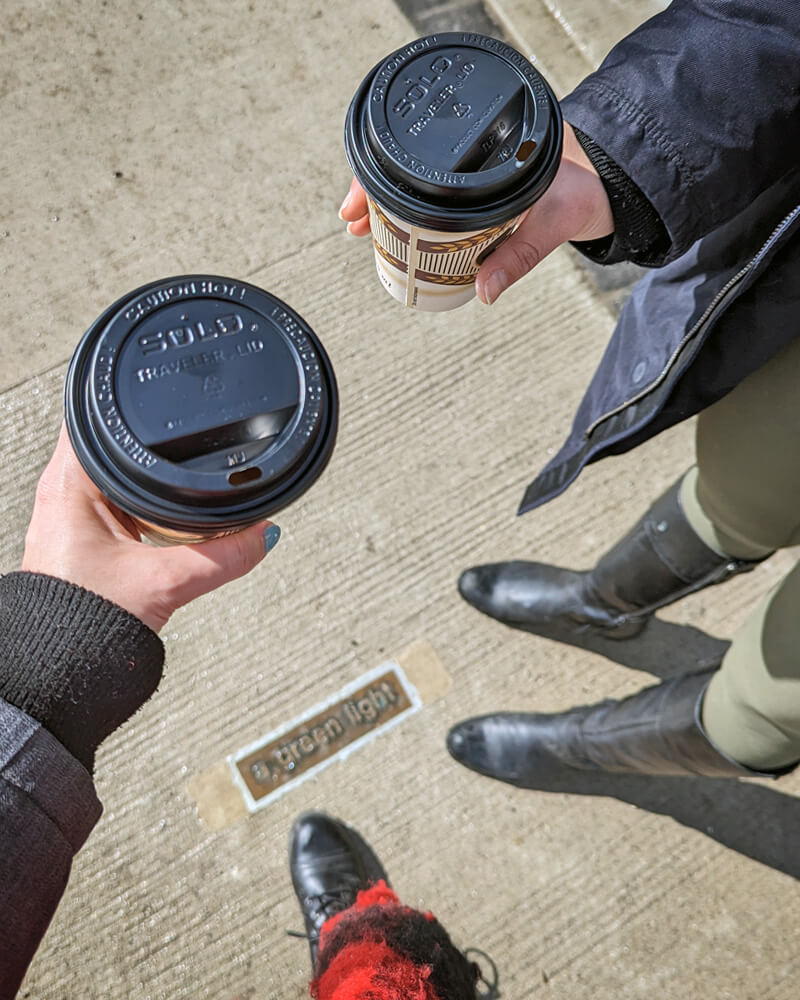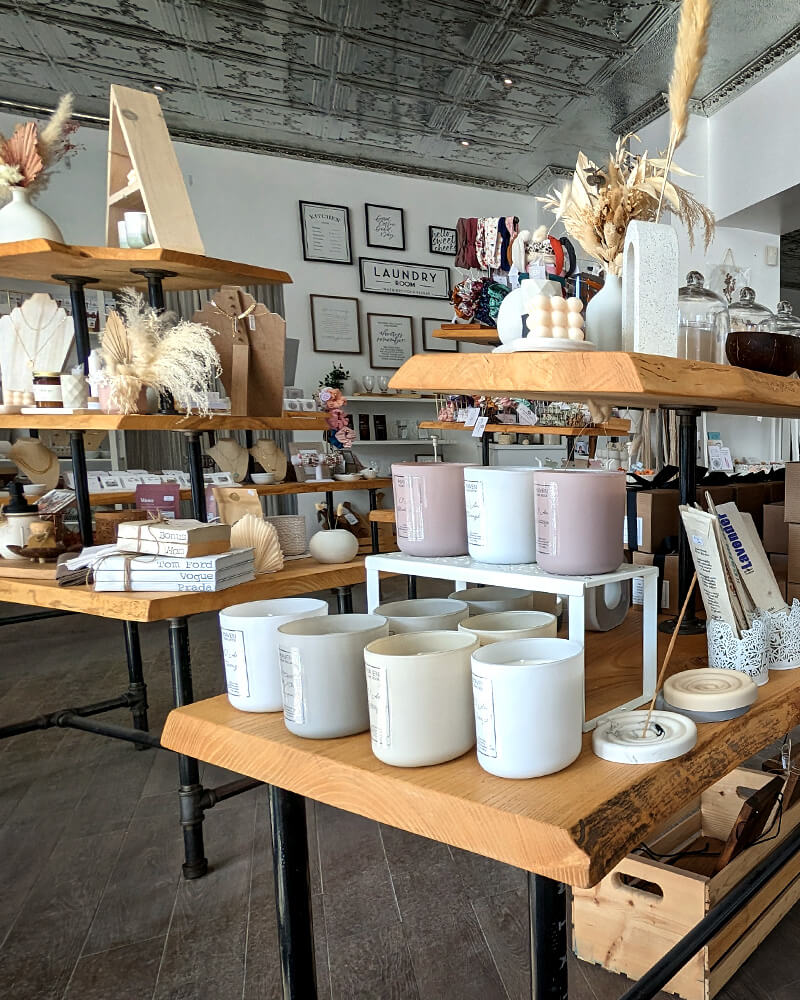 Go For a Stroll Along Locke Street South
Locke Street South is an adorable spot in Hamilton that has become more and more popular over the years. On just this small section of street you'll find over 90 local businesses just waiting for you to explore them! It's the perfect way to spend a leisurely afternoon meandering through the local shops, indulging in great restaurants and just enjoying the overall vibe. 
In the summer, it's even more chill as the road becomes pedestrian only on Saturdays from July to September. Not sure where to go? Some of my favourites include The Local Life on Locke, Nest and F&H Boutique. As for eats, Democracy*, The Burnt Tongue and Hammerhead's are all absolutely delicious. Not to mention if you want a sweet treat, you have to pop by Donut Monster!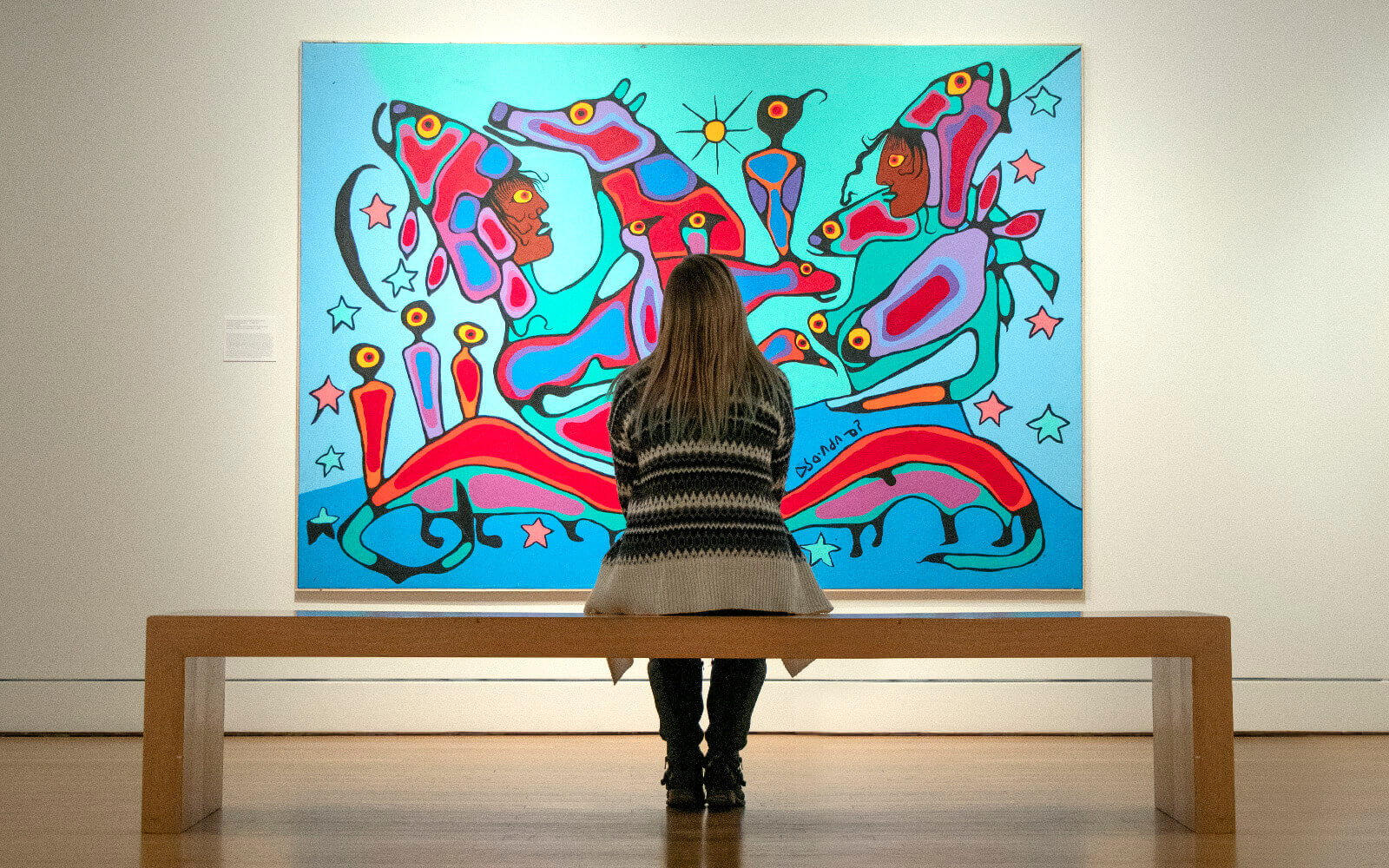 Visit One of the Art Galleries in Hamilton
Chances are art isn't the first thing that comes to mind when you think of Hamiton but that doesn't mean there isn't a crafty side to the city just waiting to be experienced! Hamilton is one of those destinations where art and community intertwine. There are a number of businesses that collaborate to make the arts more accessible to all, meaning it has some incredible talent waiting in the wings. And the best way to experience it is to check out some of the local art galleries!
While a number of the smaller galleries are free to visit at any time, some of the larger galleries like the Art Gallery of Hamilton requires admission. However, the AGH is free every Thursday and hours are extended until 9:00 pm!
RELATED: For more details on what establishments to visit in the city, check out my guide to the top Hamilton art galleries!
Not to mention, Hamilton is home to the epic Supercrawl festival. Founded in 2009 (fun fact: I was there!), it has grown exponentially to become one of the premier arts festivals in the province. You'll find talented musicians, art installations, performance pieces, theatre, fashion – if it's under the umbrella of "art", it will be there. Promoting meaningful connections between the arts, culture, creators and communities, Supercrawl is not to be missed so make sure you keep your calendar free in September! If you can't wait until then, check out their Facebook Page as they host a number of events throughout the year.
Check Out The Monthly Hamilton Art Crawl
Keeping with the artsy theme, Hamilton is home to monthly art crawls that occur along James Street North. The second Friday of every month is the perfect time to experience the city's art, food and music scenes while supporting local artists and shops. You won't find a dedicated schedule or line-up as the Hamilton Art Crawl mainly operates on the common knowledge that galleries, studios, stores and restaurants will be open late. And in case you're wondering, yes they happen throughout the winter too! Grab some friends and head to James Street North for a fantastic evening of just going with the flow.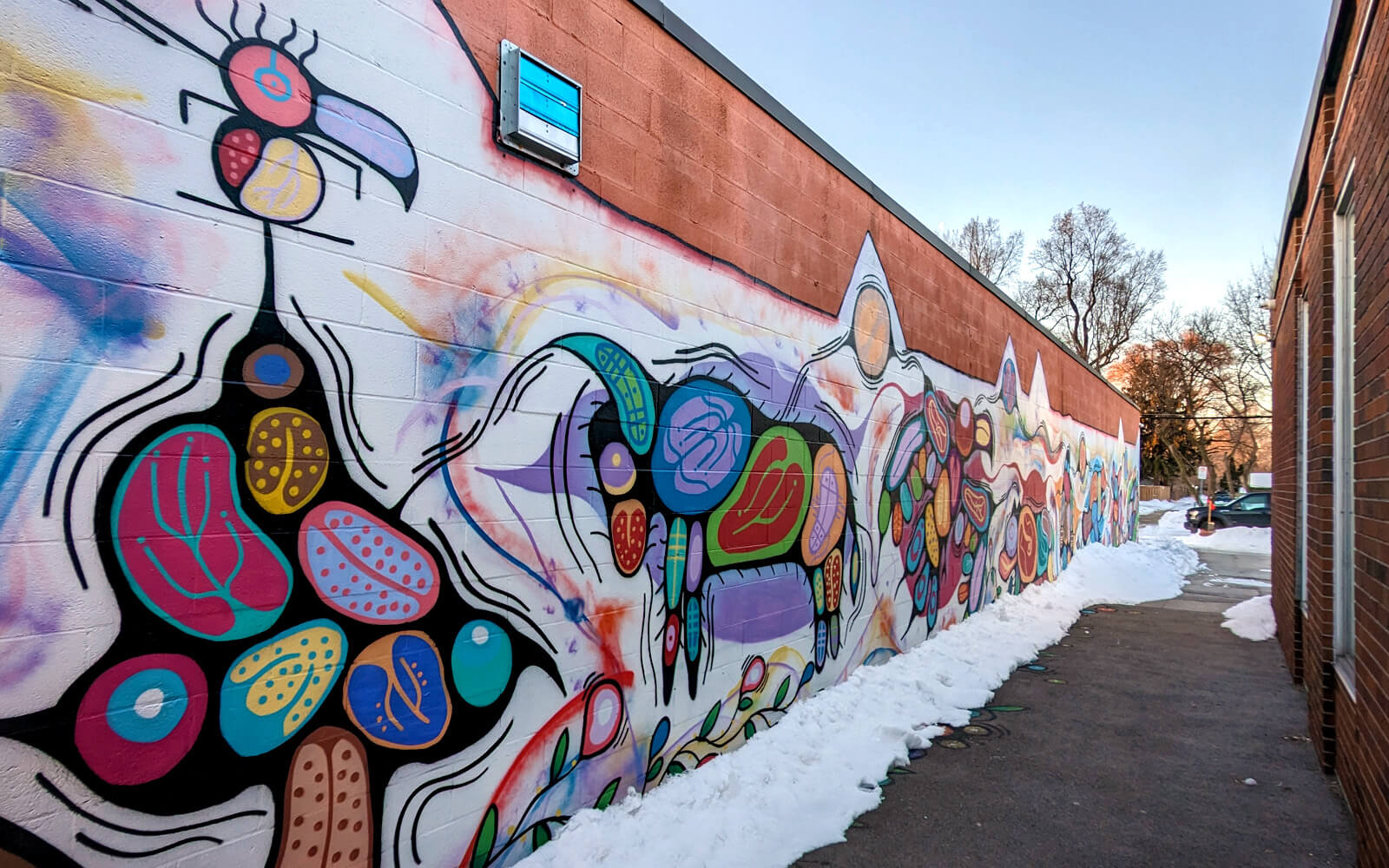 Admire Hamilton's Street Art
This is one of my favourite things to do in Hamilton for free, or in any city for that matter. You could easily spend days exploring all the street art the city has to offer!
If you've read my post about the art galleries in Hamilton then you'll know that James Street North is known as the city's art hub. While you'll find a number of murals in that area, there are more to be uncovered! The downtown core has plenty of gorgeous pieces scattered throughout, though Hess and Barton are certainly two hotspots for them. I have to say though that one of my favourites in the city is the Seven Grandfather Teachings mural done by Haudenosaunee artist Kyle Joedicke at 576 Concession Street. Head up the mountain to check it out and stop by the aforementioned Sam Lawrence Park afterwards for some great views of the city!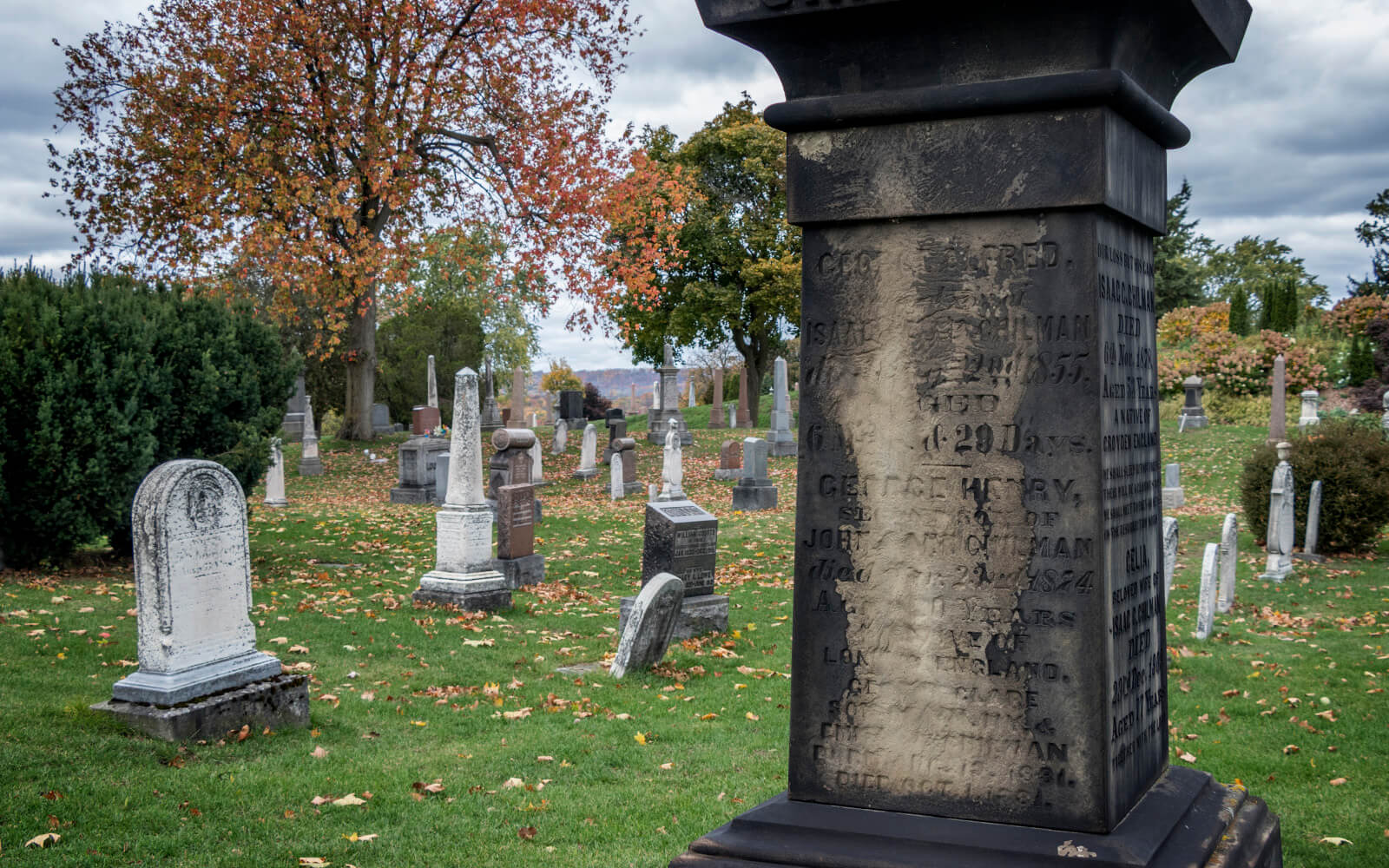 Sleuth For Some Ghostly Encounters
It's no secret that Hamilton has a bit of a darker reputation. The city was a hotbed of activity during the industrial revolution and with that came some distasteful characters. Combine this with notorious sanatoriums, bloody battles, and unfortunate disasters… it really isn't that surprising that Hamilton has some things that go bump in the night.
In my guide to the most haunted spots in Hamilton, read about the darker side of Albion Falls at Lover's Leap, the atrocious committed by staff at the infamous Century Manor, the Lady in White who frequents The Royal Connaught, and more. If you'd like to listen in to some spooky tales as you stroll around Steeltown, this audio guide to the city's haunted destinations might tickle your fancy!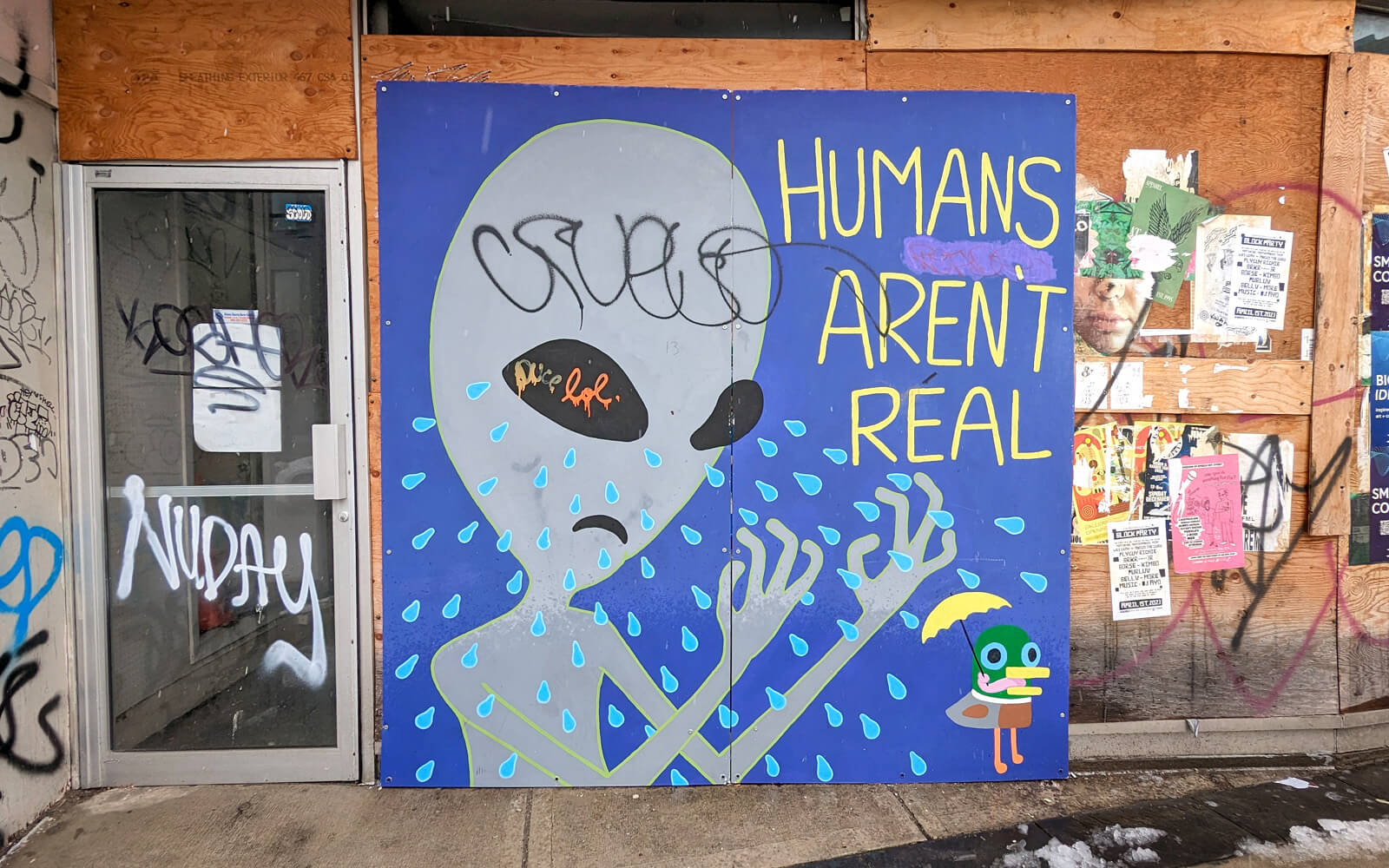 Hunt for The Duck
This is definitely one of the more unusual things to do in Hamilton but certainly an entertaining one! Lewis Mallard is an elusive interdimensional psychedelic duck that you'll occasionally see meandering the streets of downtown Hamilton. You certainly can't miss him as he's bold and bright! Standing six feet in height, you can't help but smile as he quacks away to passers-by. The actual identity of the artist behind Lewis Mallard is a mystery and I'd say that just adds to the fun, especially once you hear about how Lewis Mallard came to be!
Unfortunately, this quirky little quack is moving to Toronto so it might be a little trickier to see him now, but it sounds like he'll occasionally be back in town so keep your eyes peeled! No matter where he is, Lewis has certainly left his mark on Hamilton in more ways than one.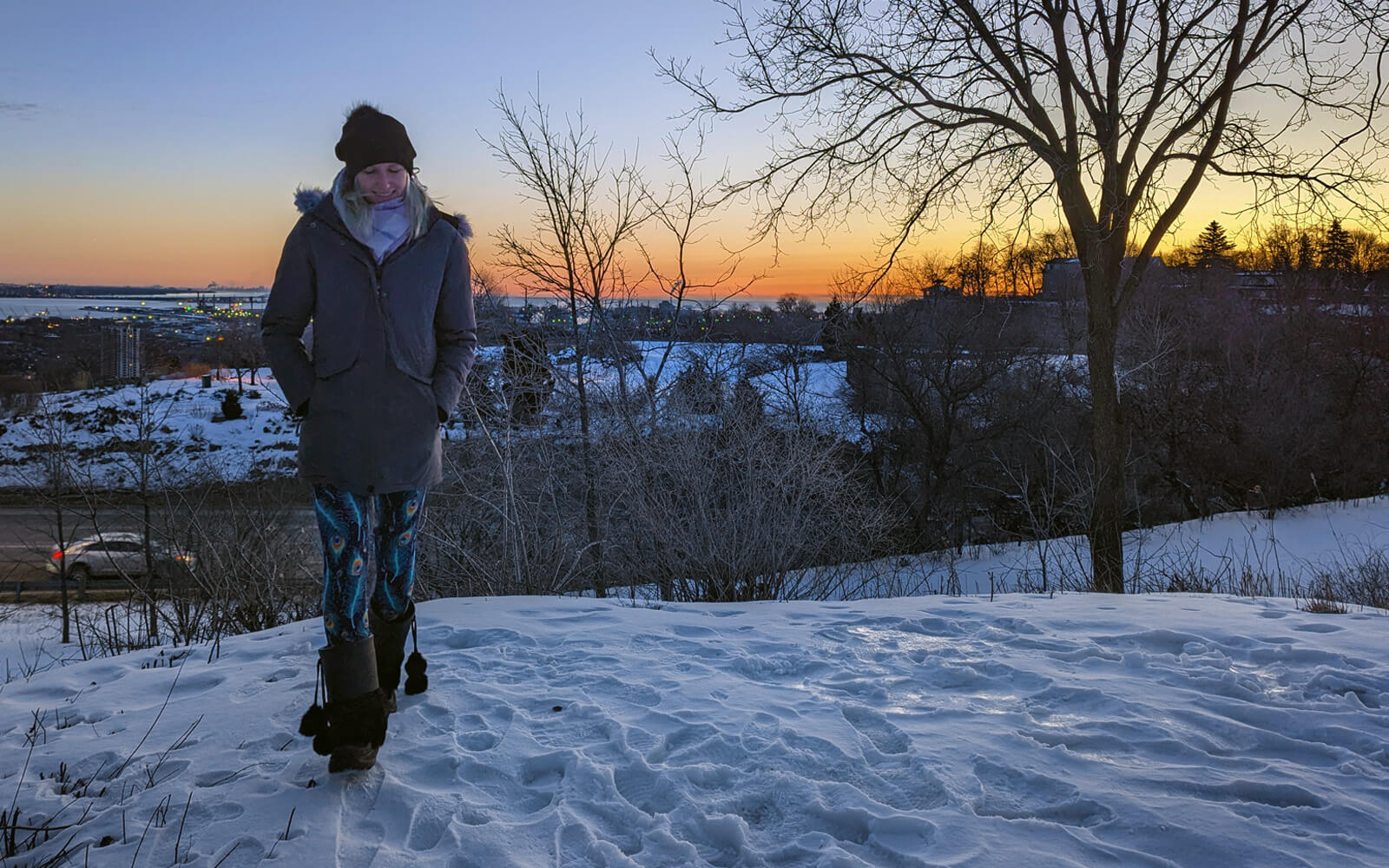 Don't Miss These Free Activities in Hamilton
As you can see, Hamilton has plenty to offer that doesn't require you to tap into your bank account. It's easy to keep yourself busy, you just have to know where to look! If you do have a bit of a budget and are looking for more things to do in Hamilton, check out these great indoor attractions.
If you're looking for some cheap things to do in Hamilton, the city certainly has some fantastic eats. While you can go a little hog wild, there are a number of spots that won't break the bank. Check out this guide to the best Hamilton restaurants for more details!
For More Ideas on What to Do in Hamilton:
Check Out These Amazing Hamilton Art Galleries
Stretch Your Legs With These Top Hiking Trails in Hamilton
Explore Some Crevices at the Eramosa Karst Conservation Area
See A Spooky Side of Hamilton with These Haunted Spots Across the City
Check Out These Top Indoor Attractions in Hamilton
Everything You Need to Know About the Best Hamilton Waterfalls
Plan a Visit to the Largest Botanical Gardens in Canada
Experience Dundas Peak: Hamilton's Epic Lookout
Don't Forget These Free Things to Do in Hamilton Ontario & Pin It For Later!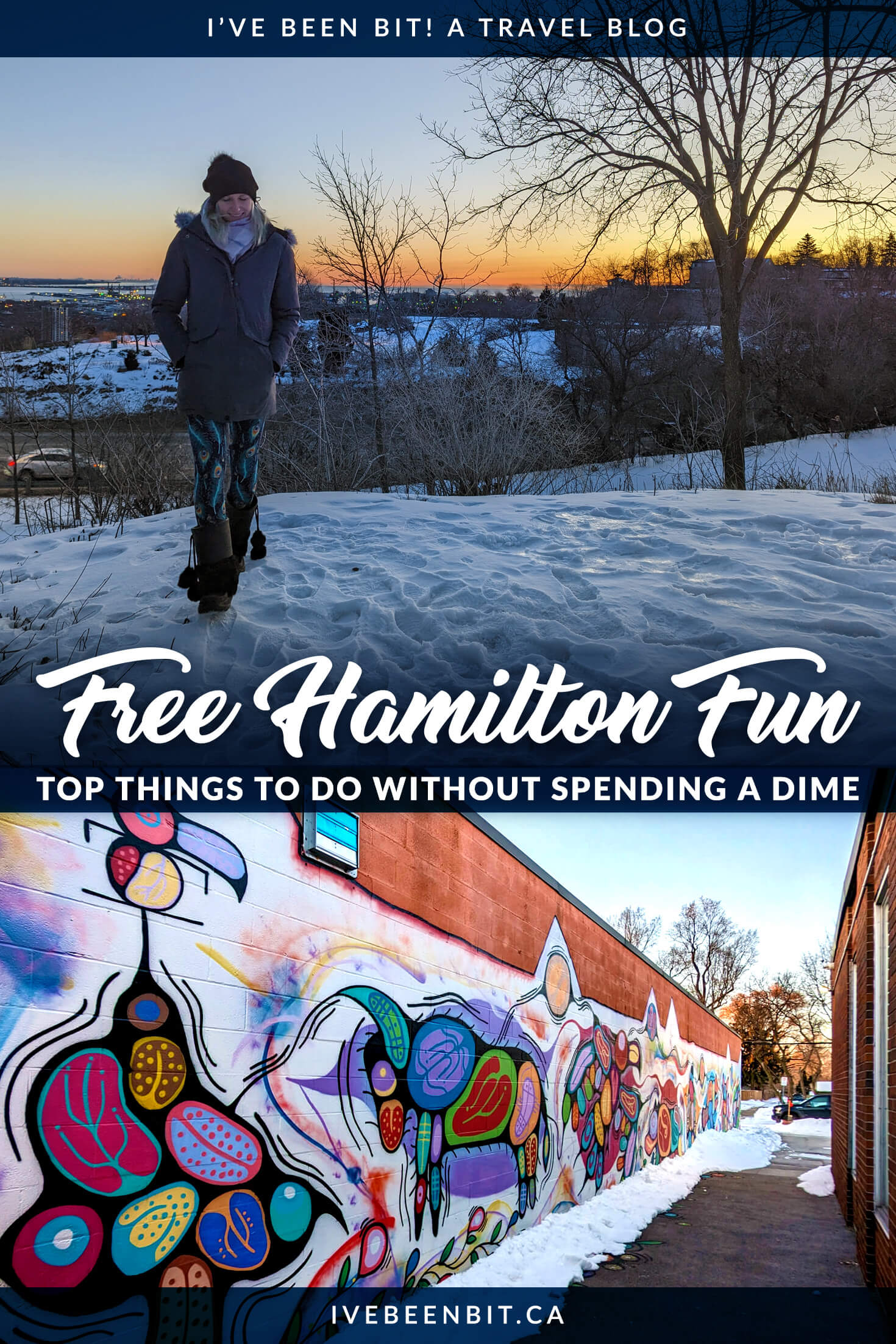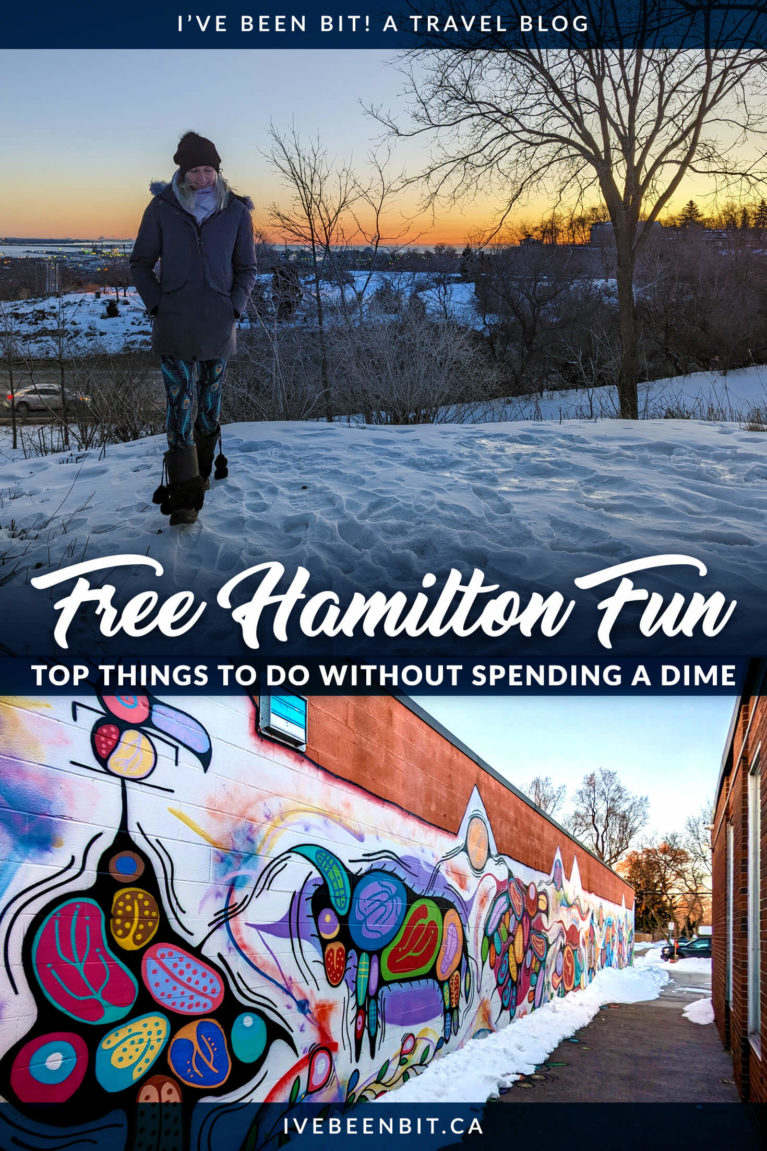 The post Top 12 Free Things to Do in Hamilton Both Inside & Outdoors appeared first on I've Been Bit! Travel Blog.