Wes Anderson's Asteroid City Set Felt More Like Live Theater To The Cast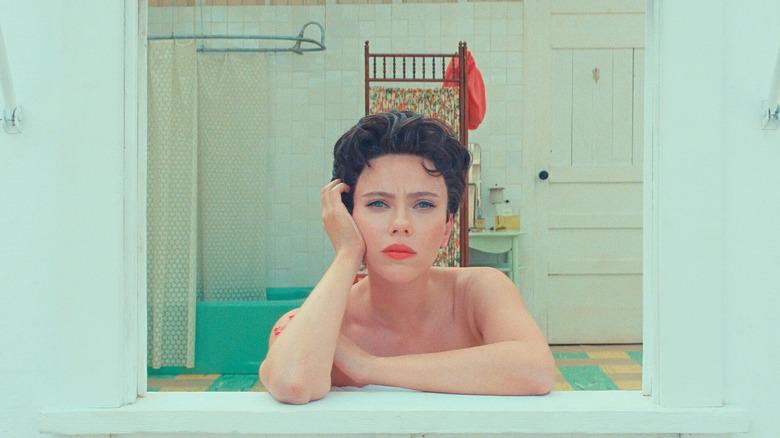 Few filmmakers working today seem to know how to stretch a dollar quite like Wes Anderson. The idiosyncratic storyteller has adopted a no-muss-no-fuss method for making his movies, delivering star-studded visual spectacles such as "The Grand Budapest Hotel" and "The French Dispatch" for a fraction of the cost of your average tentpole. 
His new movie, "Asteroid City," is no exception. In contrast to its budget (which is unknown at the time of writing this, but safe to say it's a relatively modest sum), Anderson's first true sci-fi film boasts a painstakingly detailed and extremely-stylized setting to go with its massive cast, which includes such first-time Anderson movie thespians as Tom Hanks, Margot Robbie, Maya Hawke, Hong Chau, and Steve Carell. That's in addition to the many previously-established members of Anderson's growing acting troupe like Scarlett Johansson, Jeffrey Wright, Jason Schwartzman, Edward Norton, and Bryan Cranston, among many, many others.
"Troupe" feels like the proper word to use there, in light of Johansson's comments about her experience shooting "Asteroid City." Having previously only worked with Anderson in a voice actor capacity on his stop-motion animated feature "Isle of Dogs," Johansson found the director's approach to live-action filmmaking quite invigorating. Here's how she described it to The Hollywood Reporter:
"It is not the familiar process of being on a sound stage and going to your trailer and have all this downtime, which eats up the momentum. It feels very vibrant, much like you are working in theater."
A Love Letter To Performance Art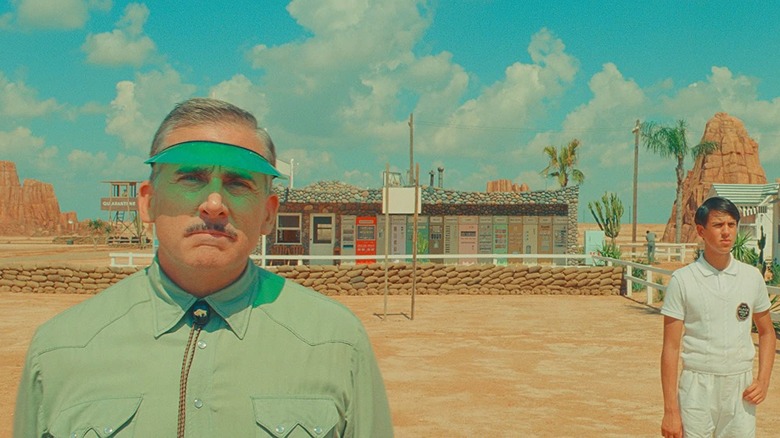 Scarlett Johansson stars in "Asteroid City" as the fictional 1950s film star Midge Campbell, one of the numerous individuals who find their way to the titular small U.S. desert town for a Junior Stargazer convention circa 1955. Recalling the framing devices in "The Grand Budapest Hotel" and "The French Dispatch," however, the main storyline in "Asteroid City" is actually a tale being told by others within the movie's real-world setting. As /Film's Lex Briscuso explains in her review of "Asteroid City" from the Cannes Film Festival, the film is "a play within a teleplay within a film" that's narrated by a retro anthology television series host played by Johansson's fellow "Isle of Dogs" voice actor Bryan Cranston.
"It's a movie about a television show doing a story on a theater," Cranston told THR, adding, "And I think it's Wes' love letter to performance art. He's wrapped his arms around the three major mediums we are involved in."
That's nothing unusual, of course. Anderson has been embracing the deliberately heightened artifice of theater production design for almost his entire career, whereas films like "The French Dispatch" have also seen him integrate the aesthetics of retro television into his repertoire. If anything, he's only leaned further away from realism and deeper into pure formalism over time, refining his craft with each new film. Feel whichever way you want about his work, but nobody makes Wes Anderson movies like Wes Anderson does -- as we're reminded every time another Wes Anderson "parody" goes viral online.
'Just Keep Moving Forward'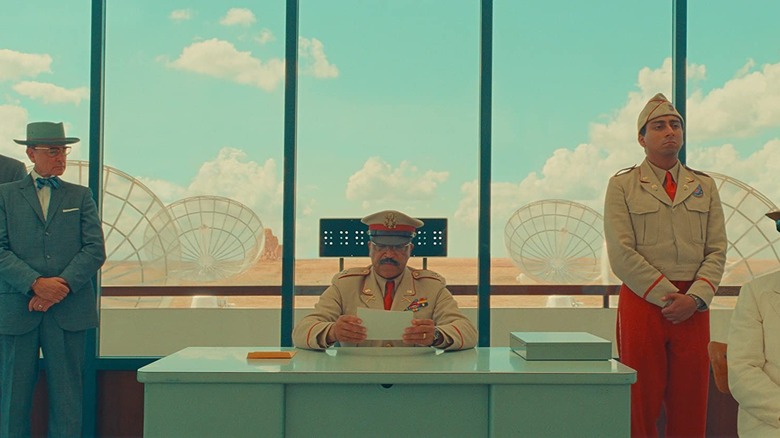 In keeping with his meticulous aesthetic, Wes Anderson is extremely precise about weaving actors in and out of his films, as though they're theater performers moving on and off-stage. Bryan Cranston likened his experience to being a musician in an orchestra. "It feels like Wes Anderson is a conductor of an orchestra. And all of us are players of our particular instrument," he explained, admitting that the actors have to "hyper-focus" on their performances "without really knowing exactly how it's all going to piece together." Cranston doesn't necessarily see that as a problem, though. As he put it:
"There's a part [in 'Asteroid City'] where [Jason Schwartzman's character] Augie goes in and talks to the director and says 'I just don't think I understand the play.' And the director says 'Well, you don't have to, just keep telling the story.' And I think that, in a nutshell, is what the film meant to me. We go through life. We don't know exactly what's going to happen, how long our lives will be, who will be in our lives, how it'll all play out. We just have to keep telling the story. Just keep moving forward, and be a storyteller."
If "The play's the thing," as the line in "Hamlet" goes, then figuring out exactly what that "thing" is appears to be Anderson's primary goal as an artist. To be sure, if you're looking for the thematic motif that firmly links "Asteroid City" to "The French Dispatch," "The Grand Budapest Hotel," and pretty much the rest of Anderson's filmography, it's that telling stories allows us to gain a deeper understanding of ourselves and the very meaning of our lives. 
Curious how "Asteroid City" broaches this idea? Give it a look when it hits theaters on June 16, 2023.
Read this next: The 10 Best Comedies Of The Last 10 Years
The post Wes Anderson's Asteroid City Set Felt More Like Live Theater to the Cast appeared first on /Film.